We aren't here to talk about academic prestige or the average annual salary of graduates. Let's discuss what really matters: how pretty is the campus?
Virginia is absolutely loaded with beautiful colleges, and we've picked our favorites for you. Whether you're a prospective student or just looking for a nice place for a day trip, you'll want to stop by the places on this list.
The Prettiest Colleges in Virginia
🏛 The most beautiful? Probably The University of Richmond. It's just…amazing. (But Washington and Lee and UVA are close seconds.). And Sweet Briar has the most beautiful surroundings. Really, we love them all.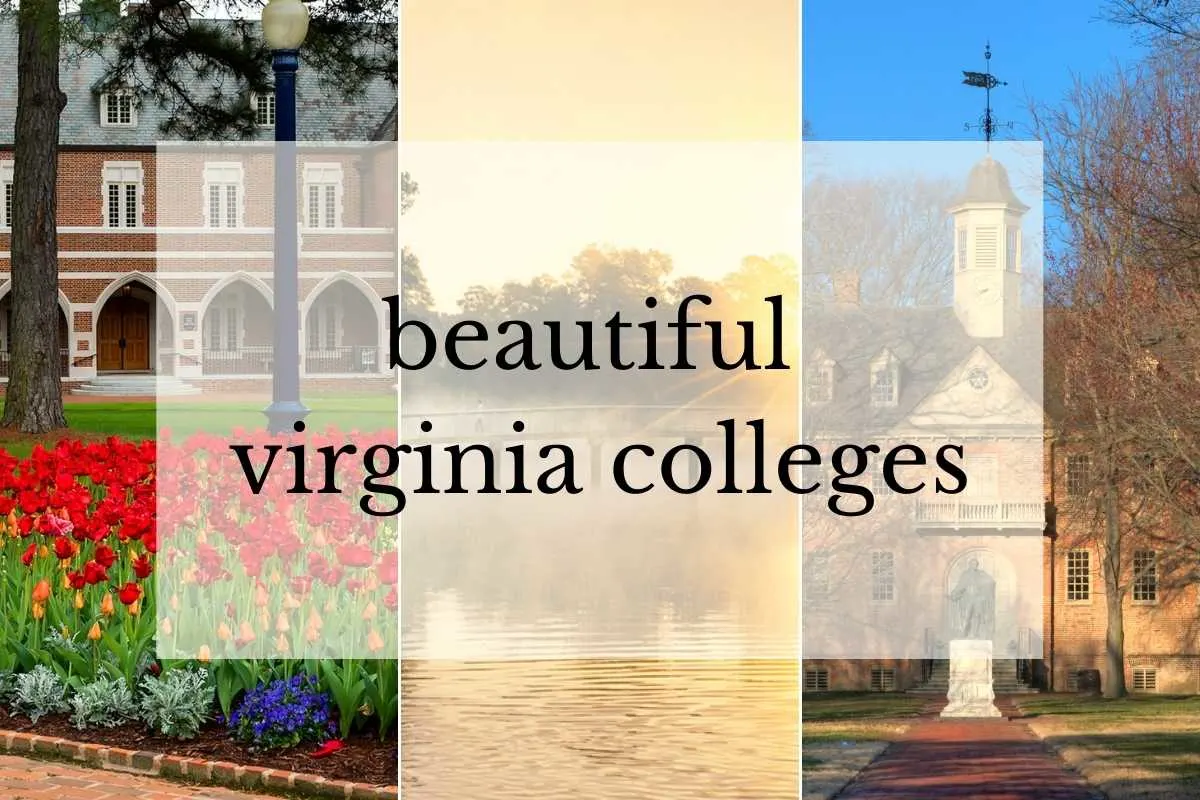 1. University of Virginia
Famous for its classic architecture, the University of Virginia was designed by Thomas Jefferson. The campus is nestled in the foothills of the Blue Ridge Mountains near our third president's famous home.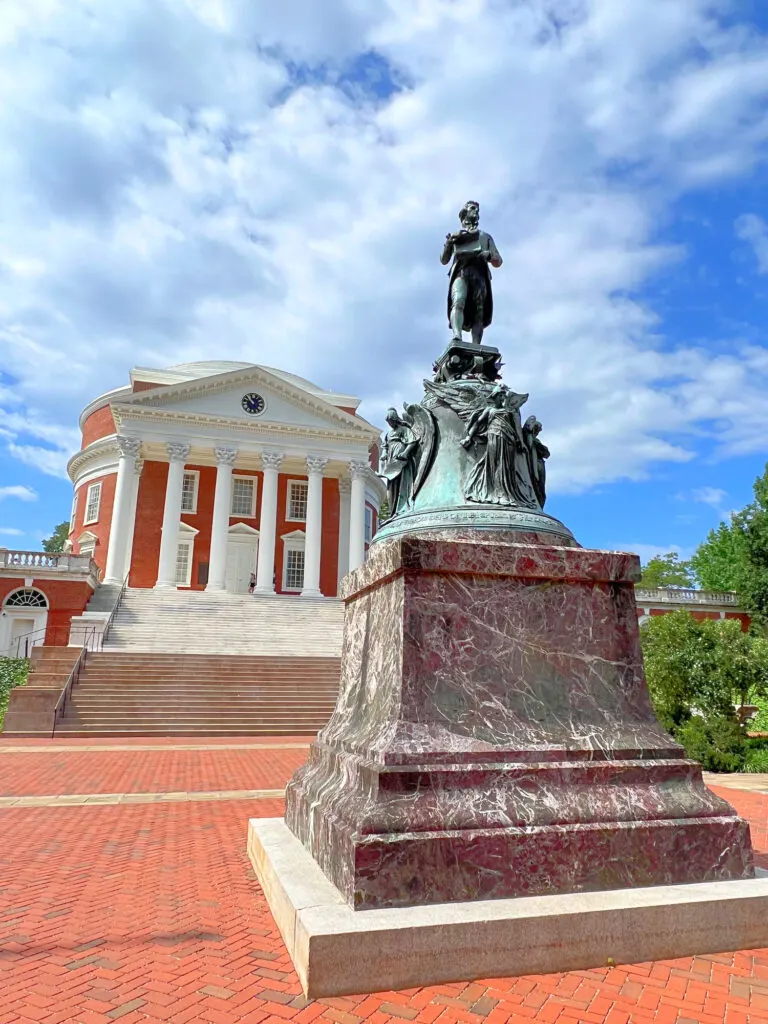 The University of Virginia is a top-rated university in the state of Virginia. UVA offers a great blend of academics, social life, and nightlife. The school has a long history and is known for its prestigious alumni.
As a bonus, Charlottesville is a great town to visit.
Campus must-see: The famous Lawn, a beautifully proportioned and designed green space in the center of the school.
See our tips for visiting the University of Virginia at Charlottesville.
2. Washington and Lee University
Washington and Lee University is a highly respected institution, ranked 4th in Virginia and 62nd nationwide. The campus is lush and well-maintained, with many notable buildings including the Law School and President's mansion.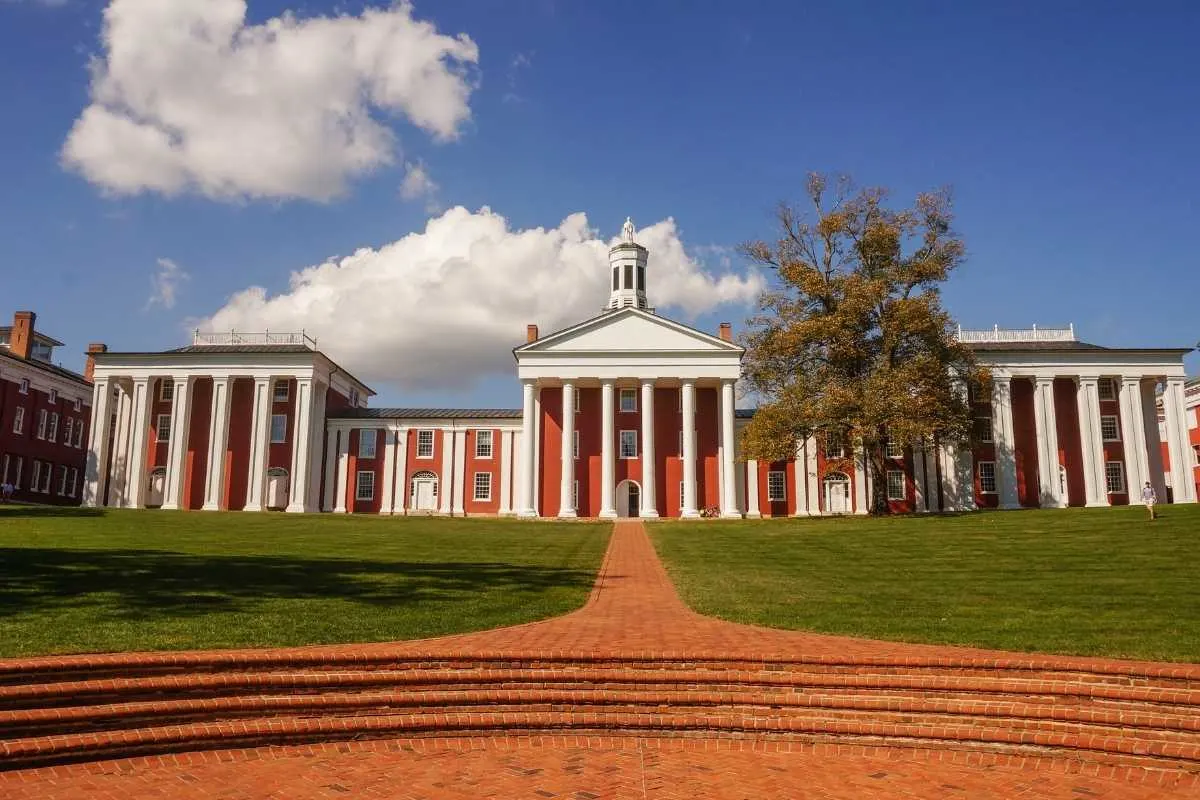 Washington and Lee University is a private liberal arts college in Lexington, Virginia. It was founded in 1749 as Augusta Academy and renamed Washington Academy in 1776 after George Washington donated money to the school. In 1865, it merged with nearby Liberty Hall (which had been founded in 1782) and took on its current name. The main focus of the school is academics, with a student-to-faculty ratio of just 14 to
Washington and Lee University has been consistently ranked as one of the best universities in America by several prestigious publications. U.S. News and World Report, Forbes, and The Princeton Review have all recognized W&L for its rigorous academics, competitive admissions, and stellar faculty.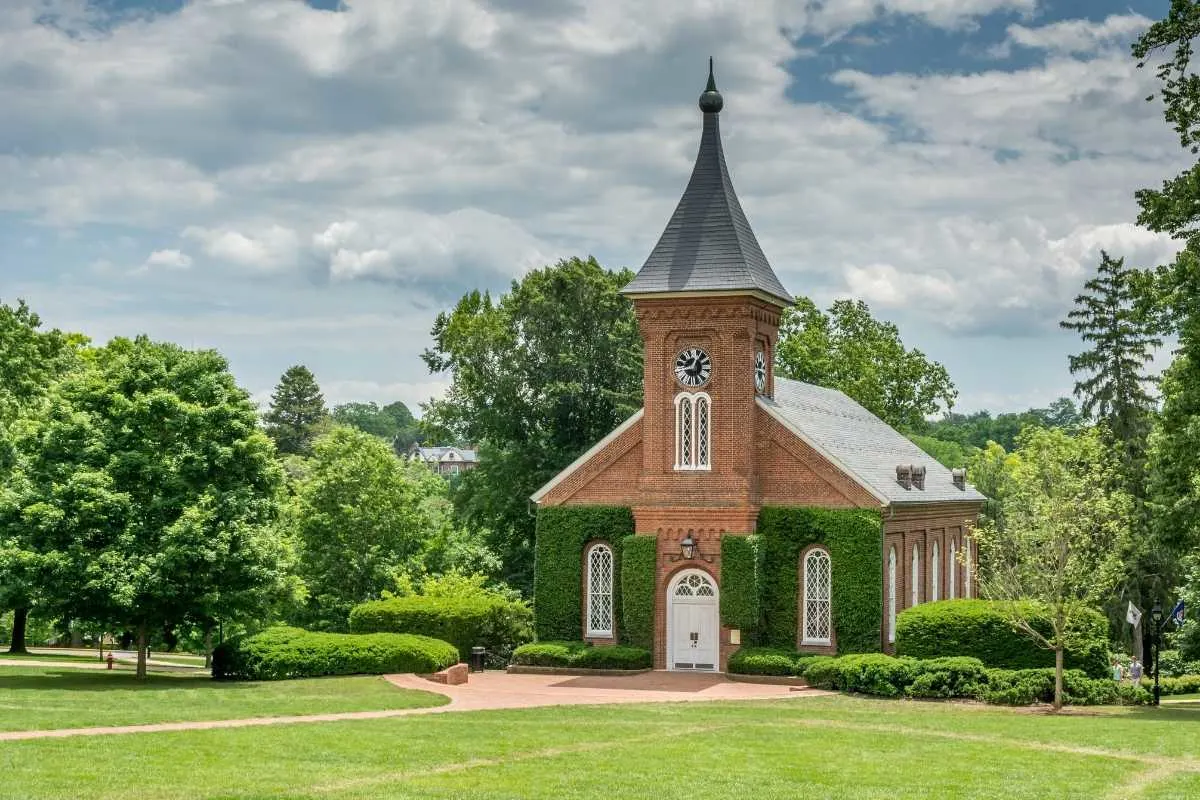 Campus must-see: The University Chapel. Designed by Robert E. Lee himself, it is small and stunningly beautiful.
3. University of Richmond
A hidden gem in the world of more famous Virginia colleges, the University of Richmond is small, expensive, and gorgeous.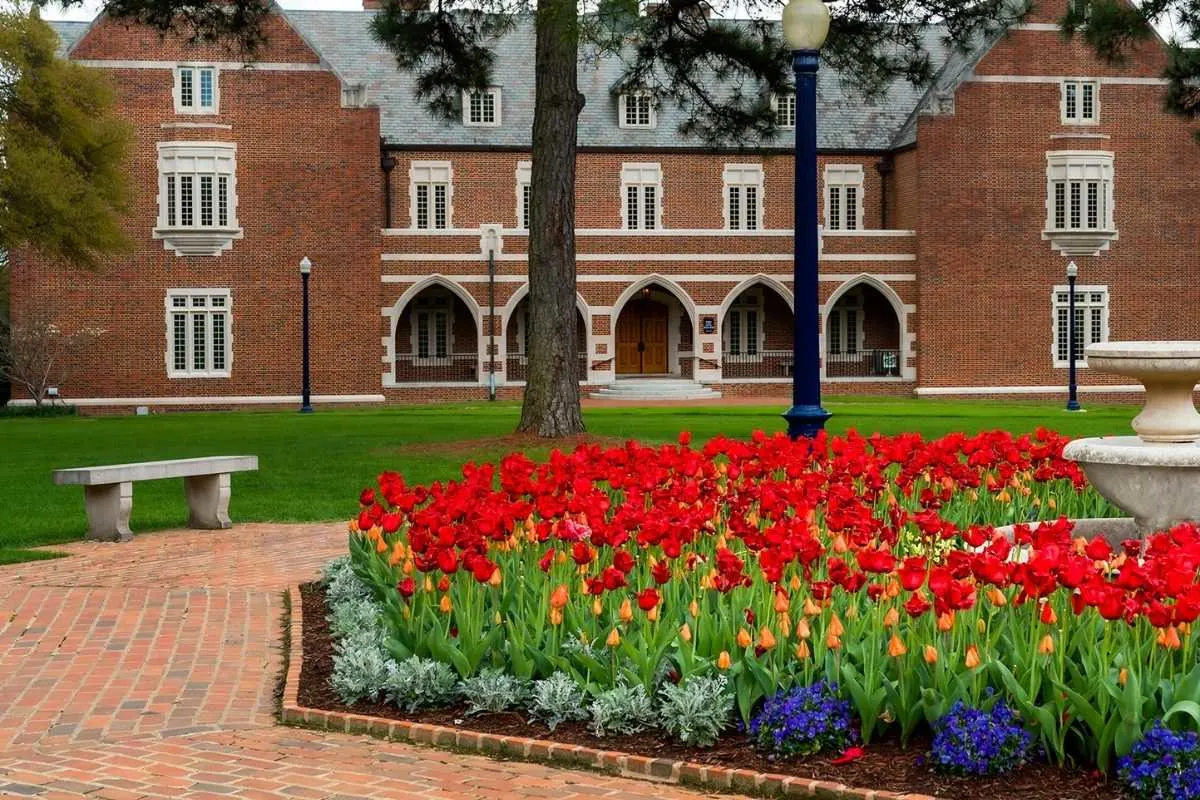 The gothic brick architecture makes the campus look a town of castles. There's even a lake (!!!) in the center of campus, surrounded by Adirondack chairs. And every single corner of campus is impeccably manicured.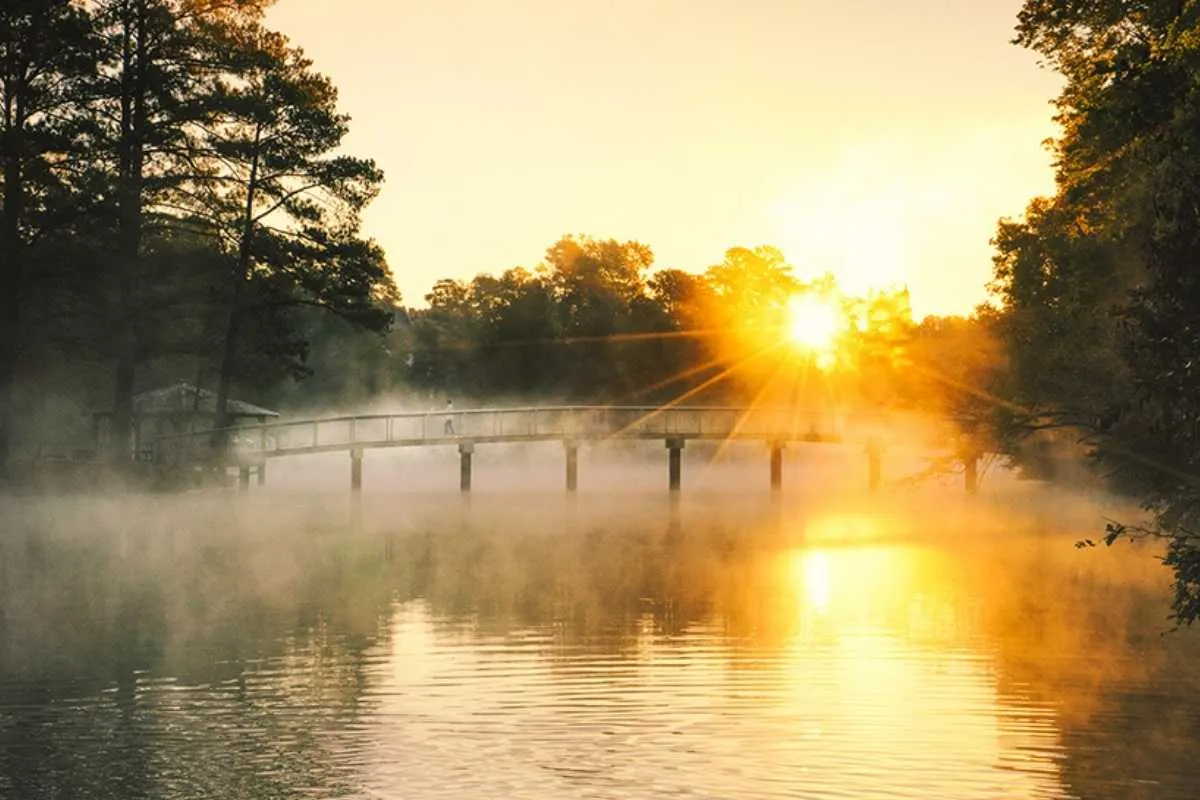 The University of Richmond is a private liberal arts college located in the city of Richmond, Virginia. It's surrounded by some of Richmond's nicest homes.
Campus must-see: The quad, known as Stern Quad. It's perfectly proportioned and lined with beautiful trees. If you can, duck into Ryland Hall, a historic academic building with a stunning interior.
4. Virginia Tech
Virginia Polytechnic Institute and State University, more commonly known as Virginia Tech, is a large public university located in Blacksburg, Virginia. The rural campus is nestled in the Appalachian Mountains and is home to over 30,000 students. The famous "Hokie Stone" buildings give the campus a very traditional vibe.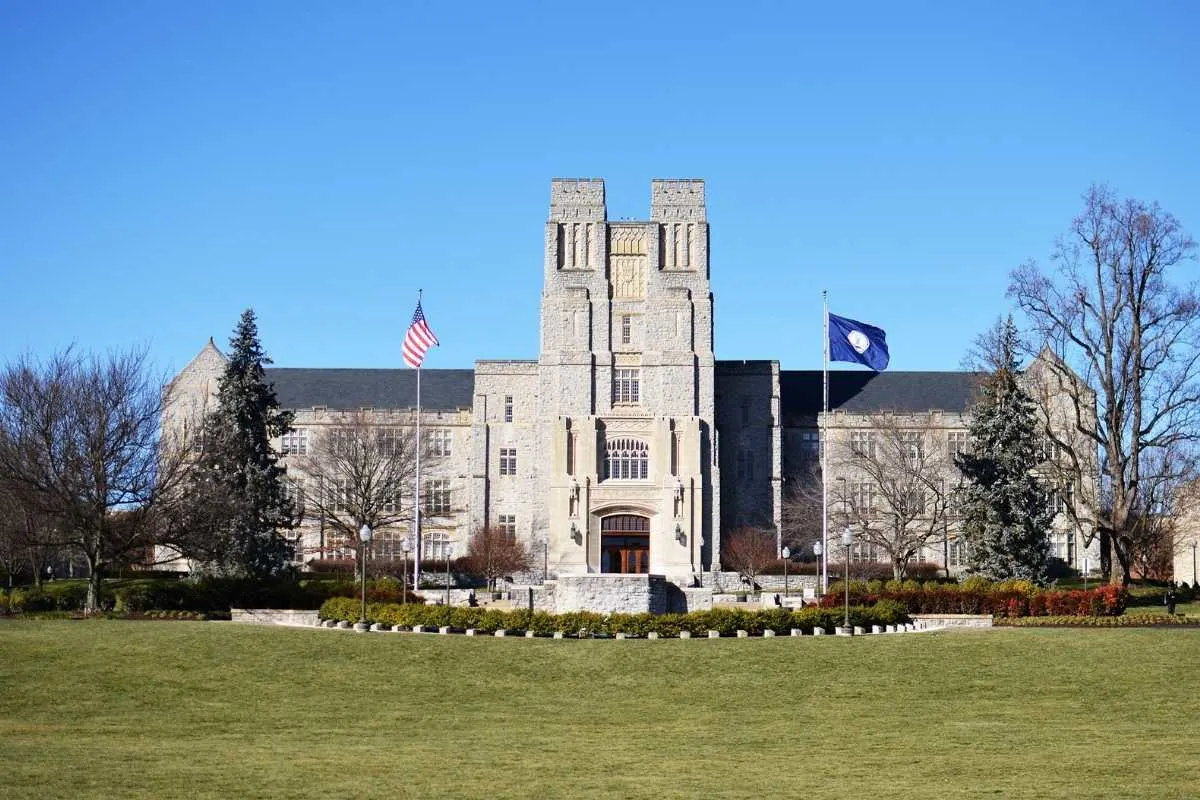 Virginia Tech is a well-known and highly respected institution of higher education in the state of Virginia. The school offers a variety of courses and programs to students, with a focus on engineering and technology. The college has a great athletics program, with many competitive teams. Virginia Tech is also disability conscious and military-friendly.
Virginia Tech is a public, land-grant university that is part of the Virginia Tech System. The school is located in Blacksburg, VA and was founded in 1872 as a military institute. It has since become a comprehensive university with more than 30,000 students enrolled.
Campus must-see: The Drillfield, open grassy space at the center of campus. You can take in the Hokie stone on all sides.
5. Sweet Briar College
Sweet Briar College is a small all-women's college located in the town of Sweet Briar, Virginia. The school has a long and prestigious history, dating back to 1842. The campus is set in the foothills of the Blue Ridge Mountains and is known for its beautiful gardens.
You'll see a lot of the classic Virginia college look here: brick, greenery, and more brick. But Sweet Briar is set in perhaps the most beautiful setting of all: there are views of the Blue Ridge mountains on all sides. It feels like being at a vineyard or resort.
Campus must-see: The Butterfly Garden. Come in the late spring when everything is blooming. It's gorgeous.
6. University of Mary Washington
The University of Mary Washington is a four-year, public liberal arts college located in Fredericksburg, Virginia. It was originally founded as the women's UVA, but became co-ed in the 60s. And you'll notice the architecture is similar to the University of Virginia: lots of brick, white columns, and green spaces.
Sadly, a lot of new construction at the University has not been well done and has failed to capture the beauty of the original buildings. But the heart of campus still looks the same. If you're visiting Fredericksburg, a quick stroll through campus is worth it. UMW has been recognized for its strong academics, diverse student body, and beautiful campus.
Campus must-see: Campus Walk, which runs from the admissions building to the fountain at the center of campus, maintains its centuries-old charm and has all original construction. If you can get into James Farmer Hall, the interior there is beautiful too.
7. Hampden-Sydney College
Hampden-Sydney College is a private, all-male liberal arts college located in Hampden-Sydney, Virginia. The college was founded in 1775 and is the 10th oldest institution of higher learning in the United States.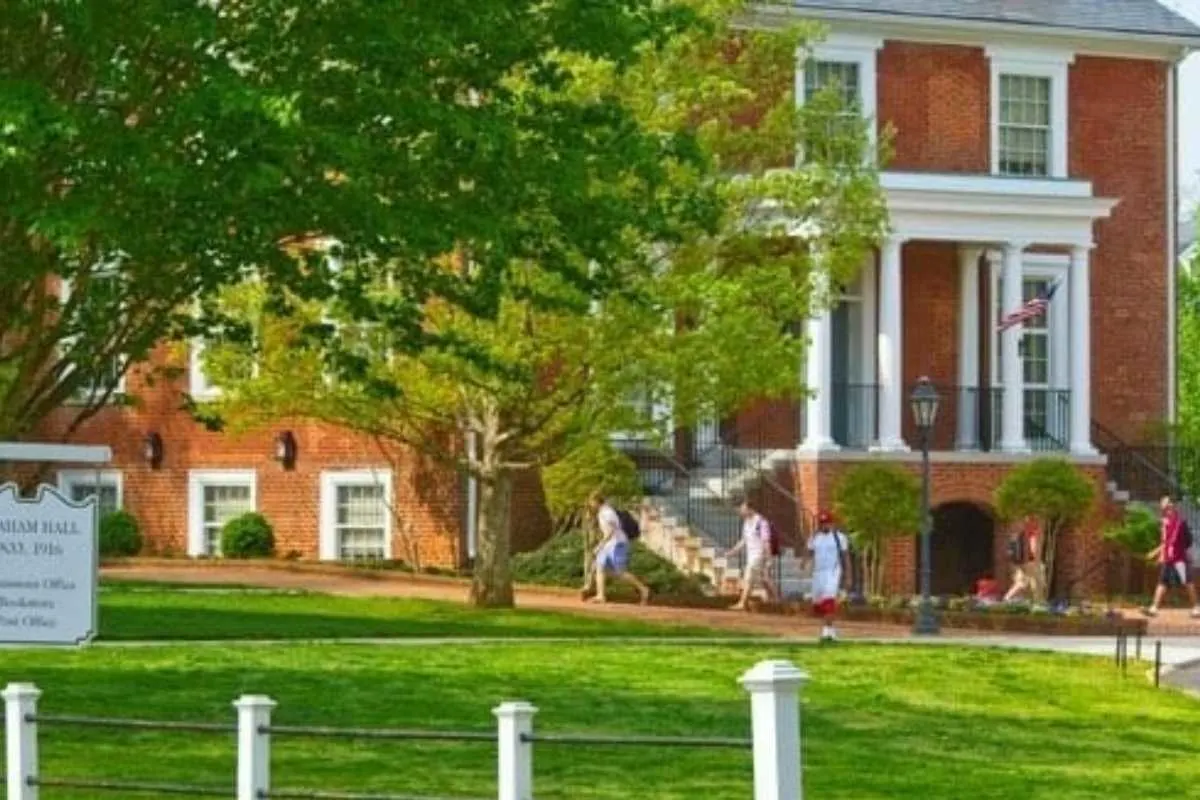 The campus, like many of the colleges in Virginia, is set in a rural area and is very picturesque. The buildings are all brick and have white columns. It's a small college, with only 1,000 students, so you'll get that intimate campus feel here.
Hampden-Sydney is known for its strong academics and focuses on the classics. It is near Sweet Briar. and the schools frequently socialize with each other. It's near Farmville, one of the best small towns in Virginia.
Campus Must See: The very center of campus has buildings that have been in operation since the American Revolution. But the real beauty here is the grounds. Everything from the outdoor stadium to the walkways is beautifully done.
8. Randolph- Macon College
Randolph-Macon College is a private liberal arts college located in Ashland, Virginia. The college was founded in 1892 and has around 1,300 students. The campus is small but lovely. You'll find lots of brick buildings, green spaces, and ivy.
Campus must-see: The Old Chapel is one of the most beautiful buildings on campus. It's made entirely of brick and has an interesting bell tower. It's now an academic building, so you might be able to take a peek inside.
9. William & Mary
Built out of beautiful warm brick, this 17th-century college is historic and gorgeous. It's right outside of Colonial Williamsburg, and visiting it is a fun activity to do with kids in Williamsburg. It has a very intimate and friendly feel.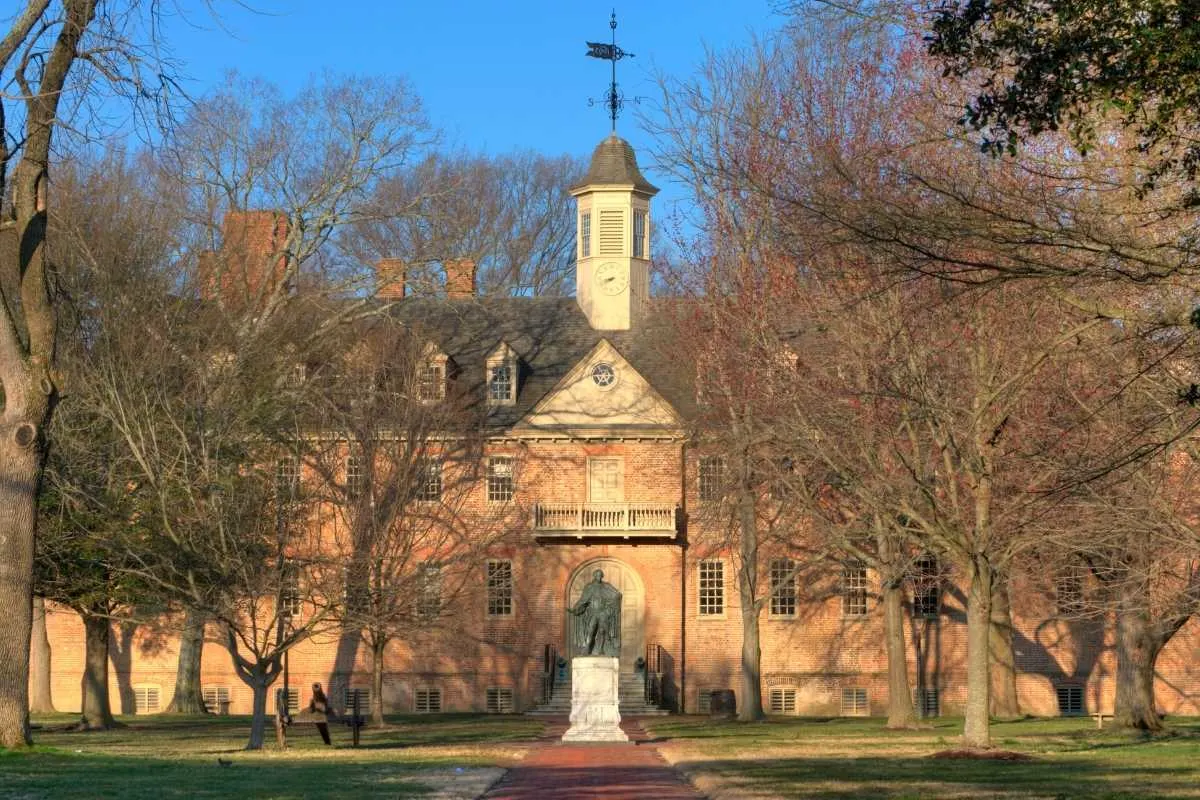 Enjoy these gorgeous campuses
There are many great colleges in Virginia, each with their own unique strengths and offerings. Whether you're looking for a prestigious university with a long history or a smaller school that focuses on liberal arts, there is definitely something to fit everyone's needs and wants. All of the schools on this list have beautiful campuses, so be sure to visit them, even if it's just for fun.