Looking for fun things to do in Fredericksburg?
There are plenty of activities that don't involve the Civil War or feel like a school field trip. There's also shopping and dining to enjoy in this charming city! And for the history buffs, there's plenty of that too. (Be sure to read about the best kid's activities in Fredericksburg if you're traveling with little ones.)
Here are some activities in Fredericksburg Virginia that will make you feel like you're really on vacation.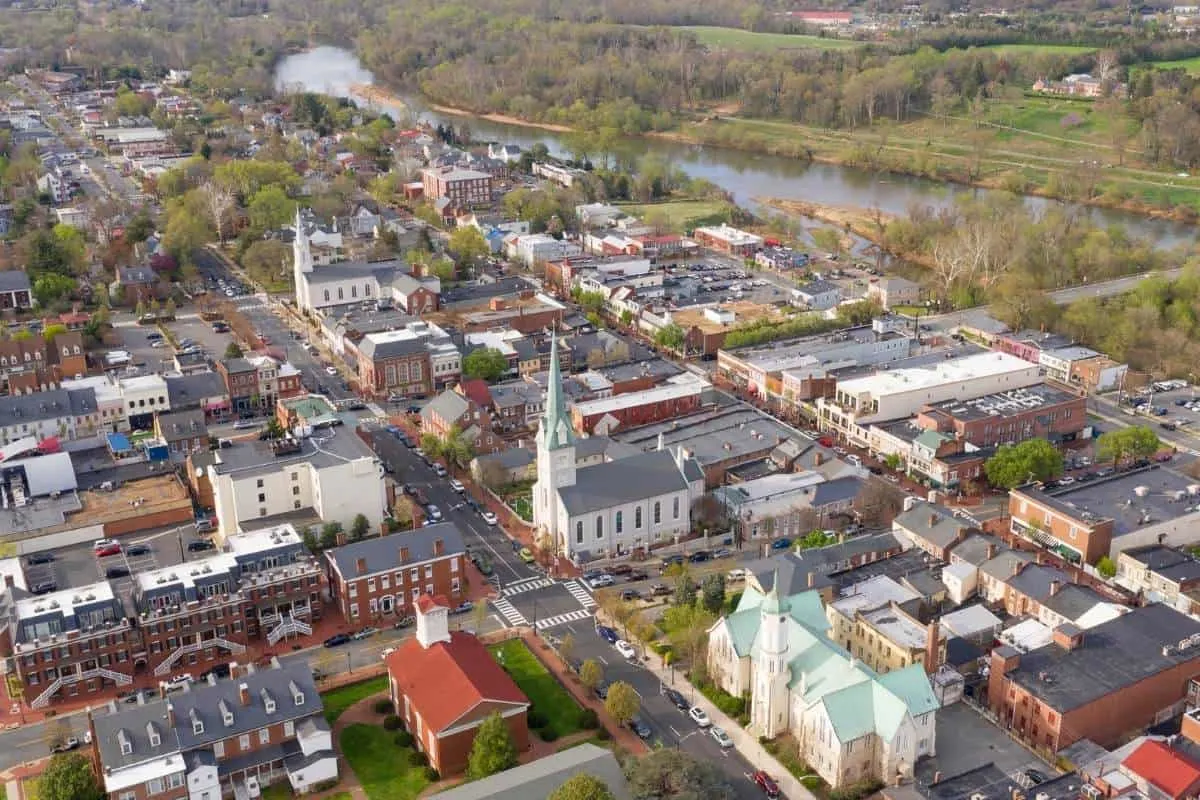 The Best Activities in Fredericksburg Virginia
Our perfect day would start with a tour of Ferry Farm across the river, continue with lunch at Goolricks, shopping along Caroline Street, a walk to the Fredericksburg national cemetery, and end with cocktails at La Petite Auberge before a cozy dinner at the Alpine Chef and an evening walk down Caroline Street.
When you're on a day trip to a charming town like Fredericksburg, you want to soak up the city and still have fun. Cute restaurants, beautiful leafy neighborhoods, and enjoyable destinations loaded with charm.
You don't want to feel like you're on a forced educational march!
So you'll find all the typical historical sites at the bottom of the list. See them if you want to (many of them are great!). But if you just want to enjoy the feel of a historical Southern town, here are the destinations you won't want to miss.
1. Goolrick's Pharmacy
Goolrick's is the nation's oldest continuously operating soda fountain. Try a root beer float, order a milkshake, or just sit and relax in this charming space. It's a fully functioning pharmacy with a cute counter that serves lunch.
Find their menu here: https://goolrickspharmacy.com/docs/menu.pdf (I recommend the chicken salad sandwich and a cherry Coke!)
2. Trolley Tours
While you're visiting, why not enjoy all of the attractions Fredericksburg has to offer by taking a trolley tour? Whether your party is large or small, there are several different tours available running at different times. You can also request custom tours if none of these fit what you're looking for.
Although this seems like it would be boring, the tours are actually very entertaining. The drives are funny and personable, and taking a tour is a great first step in exploring this town. Anything that interests you you can return to later on foot.
3. Smith Bowman Distillery
A tasting room where you can try bourbons and whiskeys made the old-fashioned way. This distillery is a few miles outside of town in Spotsylvania County, but it's worth a stop either on your way in or out of town.
You'll enjoy both the tour of the facilities and the cute gift shop. You can even buy a new flask to bring back your souvenirs!
4. Caroline Street Shopping
If you're looking for some shopping, Caroline Street in the historic district is the place to go. There are many boutiques and shops where you can find unique items: both new and vintage.
This street used to be a boring collection of antique shops, but in recent years has transformed into a fun and vibrant shopping destination
Many of the stores on this street are fun to browse and experience. No need to buy, just enjoy!
Some favorites:
Fraser Wood Elements specializes in reclaimed wood furnishings and accessories that include a unique collection of individually built and produced furniture, personalized items, fireplace mantels, home accents, and salvaged flooring
Jabberwocky Children's Books & Toys is a sweet old-fashioned toy shop with friendly staff and a collection of beautiful, high quality children's toys.
Sugar and Spruce is a full boutique with handmade soaps and the best bath bombs you'll ever use.
5. Dinner at the Alpine Chef
A fun restaurant with a local atmosphere. They have salads, seafood, steak, pasta… all in large portions. Make sure to check out their specials board!
Your food is served family-style, meaning you order some platters for the tables and everyone shared. The food and service and both good, but the best thing is the cozy atmosphere and the proximity to some of the cutest streets in town.
6. First Fridays/ Sip & Stroll
The first Friday of every month, downtown Fredericksburg closes down Caroline Street to host a street fair.
During this time, local merchants stay open late and the streets are filled with food stands, musicians, artists, and other attractions.
You can either visit for just one hour or spend the whole night there! It's great to see all the shops with their doors open, and the streets are filled with people.
One of my personal favorite things to do in Fredericksburg is Sip & Stroll (held on different dates throughout summer).
On these nights, local bars and restaurants host open houses where you can taste their offerings for free!
For up-to-date information on First Fridays, visit the Facebook page here.
7. Drinks at La Petite Auberge
A fun bar and restaurant with a French atmosphere and fine drinks. They usually have live music and a rotating menu of specialty cocktails.
The food is also delicious and dinner here is a favorite with the locals.
Their bar is small and quaint, but a great place to relax with some friends after a long day of touring the town.
This is one of the cutest spots in town, located on Caroline Street next to an antique shop. Make sure to check it out!
8. Shannon Airport Museum
A museum with plenty of WWII memorabilia, including some fighter planes. The gift shop is also interesting!
This is a great place to visit if you have little ones. They have some interactive things for kids and the planes are really cool.
The docents who run it are very knowledgeable and will answer any questions you might have.
Located on Route 2, just a few miles out of town.
9. Walk down charming residential streets
There are so many adorable streets and houses in Fredericksburg to check out.
I always enjoy seeing the different styles and colors of home here, especially when they're all close together! It's also fun to search for mailboxes with fun names or decorations. There's no better way to spend an afternoon than exploring new neighborhood in this historic town.
The two best are Washington Avenue near Kenmore Plantation, and Caroline Street near the Alpine Chef
10. LibertyTown Arts Workshop
This is a local art studio with exhibit space, a gift shop, and classes. They host different events throughout the year including art exhibits, historical lectures on regional artists, and children's story hours.
My personal favorite would be the pottery workshops that they host on Saturdays, but there's always something fun going on here!
11. Chatham Manor
This is a beautiful historic site, also outside of the Fredericksburg city limits. You'll need to take a 5-minute drive over the Rappahannock river but it's worth the trip.
They have tours, an exhibit about the history of the home, and various other events throughout the year.
The building is beautiful inside and out, so give yourself enough time to walk around it all! The grounds have a beautiful river view and plenty of trails for walking.
Like most sites along the Rappahannock, there's plenty of interesting civil war history: the union army attacked the city from this site.
12. Take a tour of Ferry Farm
George Washington's Ferry Farm is also right outside of Fredericksburg situated on the bank of the Rappahannock River.
This is where George Washington lived his childhood, and it is very beautiful.
You can visit the farmhouse where he lived, see replicas of his boyhood belongings, and even play with little toys.
The farm is set up just like it would have been when Washington was young and has plenty of land and trees to explore.
It's a great place for little kids who love history, and you also get beautiful views.
13. Historic Kenmore Plantation
Although it's called a plantation, this grand home of George Washington's sister is located in the heart of downtown Fredericksburg.
George Washington visited here often, and it is much fancier than Ferry Farm. The people who lived there have very interesting histories, and it's a wonderful example of how the wealthy lived during the Revolutionary War.
There's a visitors center you can enter for free, but guided tours of the house are by appointment.
14. Fredericksburg Cemetary
This site is on the edge of the heart of downtown. Dozens of Confederate soldiers are buried here.
I love walking through here, it's such a peaceful place with beautiful trees and an interesting history.
While true Civil War buffs will enjoy the sites outside of town most (like Spotsylvania national military park and bigger civil war battlefields), there is plenty of civil war history in the immediate Fredericksburg area.
15. Hugh Mercer Apothecary Shop
This is located in the heart of the historic district. I love the historical significance of this shop, and they do a wonderful job making it look like an apothecary would have in the 1700s.
I really like how they display all of the different herbs and medicines, and of course I enjoy browsing the gift shop.
16. James Monroe Museum
A tribute to President James Monroe, our fifth president, this is a spot that true history buffs will enjoy. It's mostly a memorial library and collection of items owned by Monroe.
If you are more into shopping and food, you can skip this one.
17. Rising Sun Tavern
This was a home owned by George Washington's younger brother that became a tavern one hundred years later. It has been restored to look like an 18th-century tavern similar to something George Washington himself would have enjoyed.
If you like cooking and want to learn about how people cooked 200 years ago, this would be a fun stop.
Historic buildings, walking tours, and tourist attractions.
Fredericksburg is one of the best weekend getaways from the DC area.
There is so much more to do in the Fredericksburg area we haven't discussed. If you love the American Civil War, you'll want to spend time at Spotsylvania National Military Park, Fredericksburg Battlefield,
Fredericksburg is a charming town with plenty of activities to keep you busy. If you're looking for a weekend getaway that blends good food, historic sites, and a charming town, the Fredericksburg area won't disappoint.