Need an escape? From beautiful blue ridge mountains to the shores of Virginia Beach, the Commonwealth of Virginia is full of exciting and romantic weekend getaways, all right across the Potomac River from DC.
The best weekend getaways in Virginia
Virginia is perfect for any weekend getaway, no matter your interests. Virginia is not only rich in culture but also in the outdoors. With all the beauty Virginia offers, traveling to Virginia for a weekend getaway will allow you to experience Virginia's abundance of nature with all its beauty and glory.
⭐️ Need a quick recommendation? We love Charlottesville for a more active Virginia getaway with historical sites, vineyards, and great restaurants. For seafood, views, and plenty of charm, head out to Cape Charles. For quiet getaways, visit the Homestead Resort in southwest Virginia, one of the most romantic hotels on the east coast. ⭐️
1. Eastern Shore of Virginia
Yes, it's a little bit of a drive: but it's worth it! The Eastern Shore is filled with coastal attractions with a remote feel unlike any other waterfront spot in Virginia. There are many weekend getaway options available on the Eastern Shore.
Virginia's Eastern Shore is home to the Chincoteague National Wildlife Refuge, which has some of the best hiking Virginia offers. Also, nearby Assateague Island is famous for its wild ponies that live year-round!
But the very best of the Eastern Shore is to be found in Cape Charles, a small coastal town with many shops and restaurants.
Cape Charles is the perfect place to relax and enjoy time on one of America's most beautiful coasts. Grab a bite from a local seafood restaurant and sit down for a drink with your special someone.
You can also take advantage of all the fun activities Cape Charles has to offer, including parasailing and kayaking tours out onto pristine
2. Virginia's Blue Ridge Region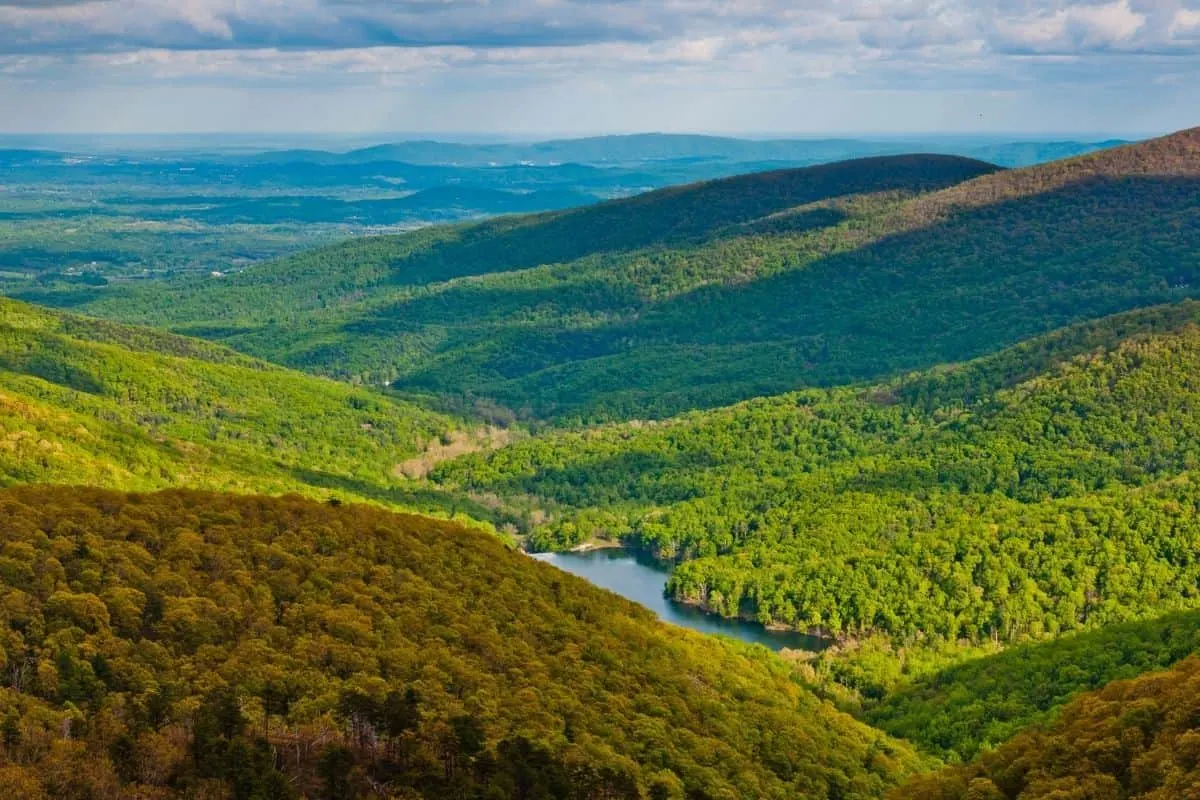 Virginia is home to the Shenandoah Valley, which has some of the most beautiful hiking areas in the country. Virginia also offers many outdoor activities, including white water rafting on rapids or kayaking through small rivers where you can spot Virginia's abundant wildlife ranging from deer to bald eagles.
The Southwestern Virginia region from Lynchburg to Bristol is filled with scenic views and outdoor activities.
If fly fishing and RV camping aren't your thing, it's easy to find a charming inn in one of the small towns in this region. Look for a town along the Blue Ridge Parkway to experience a scenic drive in western Virginia.
Some of our favorite towns in this region:
Blowing Rock
Boone
Sparta
Roanoke
Virginia also offers plenty of hiking trails, including the Virginia Creeper Trail, which will allow you to take in some of Virginia's rich history and culture.
The Virginia Creeper Trail stretches from Abingdon to Damascus at an elevation of 2000 feet above sea level and goes through gorges and Virginia's beautiful Appalachian forest.
3. Charlottesville
If you're looking for an educational and fun weekend getaway, Charlottesville should be on your list! There are many things to do in this fantastic city, including visiting historical landmarks, eating delicious restaurants, and exploring the art scene. Charlottesville is also home to the University of Virginia, which is one of the most prestigious universities in the country.
Be sure to stop by Monticello, the historic and beautiful home of Thomas Jefferson, one of the most interesting historic homes on the East Coast.
4. Massanutten Resort
The Massanutten Resort is a 60,000-acre resort in the southern part of Massanutten Mountain, located in the middle of the Shenandoah Valley.
You can explore mountains, trails, and rivers, as well as go kayaking on the Shenandoah River at the Massanutten Resort.
After a long day of hiking or biking, you can relax by taking a dip in one of their pools or enjoy a relaxing massage at the Spa.
Massanutten Resort also offers Virginia skiing so that you can see all of Virginia's beauty by day and night! The resort also has themed weekends throughout the year so check out their website for more information about these special occasions.
5. Shenandoah National Park
If you are spending the weekend outdoors, Virginia offers plenty of outdoor activities to suit your needs. If hiking is your thing, Shenandoah National Park should be on your must-see list when visiting Virginia.
Shenandoah National Park is a huge stretch of wooden hollows, summits, waterfalls, and mountain streams with over 500 miles of hiking trails available.
6. Hot Springs
If you are can afford it and are in desperate need of a relaxing and healing weekend getaway, stay at the Homestead Resort in Hot Springs. This historical resort is an absolute treasure and has even been designated a National Historic Landmark. You'll love everything from their beautiful outdoor pool to the world-class dining. You'll find golf, tennis, a large spa, and gorgeous garens. It's a must-see!
Hot Springs is located in Bath County, in Southwestern Virginia. This area has many stunning historic resorts that you will want to check out for yourself.
7. Charlottesville
This beautiful city is located in the eastern foothills of the Blue Ridge Mountains in Central Virginia.
Charlottesville is situated Virginia's wine country and you'll find dozens of vineyards to visit during your weekend trip.
Charlottesville features darling boutiques, antique shops, outstanding bookstores, as well as local wineries. You will also find many excellent hiking trails near Charlottesville.
8. Old Town Alexandria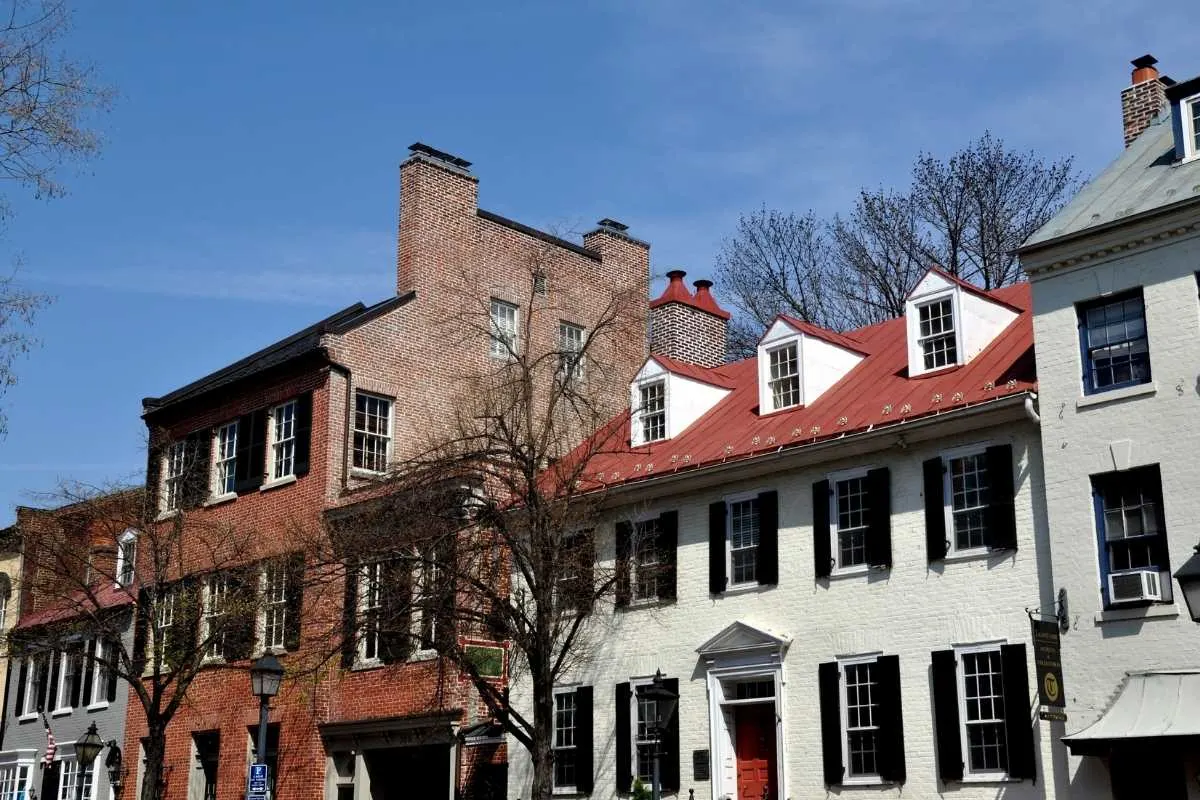 Alexandria is very close to Washington DC, so it would be a great place to visit after doing the obligatory tours of the White House, the Capitol Building, and more. A charming town with lots of opportunities for shopping and dining, Alexandria is a popular weekend getaway for those living in the DC area.
One of the first things you will want to experience in Alexandria is the Old Town which has a plethora of local boutiques and fabulous restaurants and cafes, all nestled along the Potomac River.
Also, be sure to check out Mount Vernon, the home of George Washington.
9. Colonial Williamsburg
If you are looking for a unique cultural experience, Colonial Williamsburg is the place to be. This historic district has over 400 restored buildings built during colonial times.
Don't forget to check out what's in bloom while visiting Williamsburg; this city is known for its spectacular flower gardens! You can take a walking tour of these gardens and admire all of the natural beauty along the way.
Williamsburg is located only about 2 hours from Richmond or an hour and a half from Norfolk, so it would be a perfect day trip if you find yourself in either of those locations.
Stay in the historic Williamsburg Inn if you're looking for a romantic escape. And be sure to visit our favorite restaurant in Williamsburg, Food for Thought.
10. Richmond
Richmond, Virginia, is known for its delicious food. Richmond has it all if you are looking for an amazing weekend getaway in Virginia! Richmond should be on your list of Virginia Weekend Getaways for foodies due to its mouth-watering homemade delights.
Richmond is known for its great food and rich Virginia history. A quick weekend jaunt to Richmond can be very fulfilling and educational to those looking for an escape.
If you love food, then head down to Carytown in Richmond for some amazing restaurants to eat at! You will find that there is a variety of places, such as Italian cuisine down to seafood and steaks served fresh off the grill! If you love beer, you will definitely want to check out Richmond's Beer Trail as well.
While in Richmond, you won't want to miss the expansive arts scene. You'll be able to view various street murals, galleries, and more. If you love art, don't forget to check out the Virginia Museum of Fine Art
11. Virginia Beach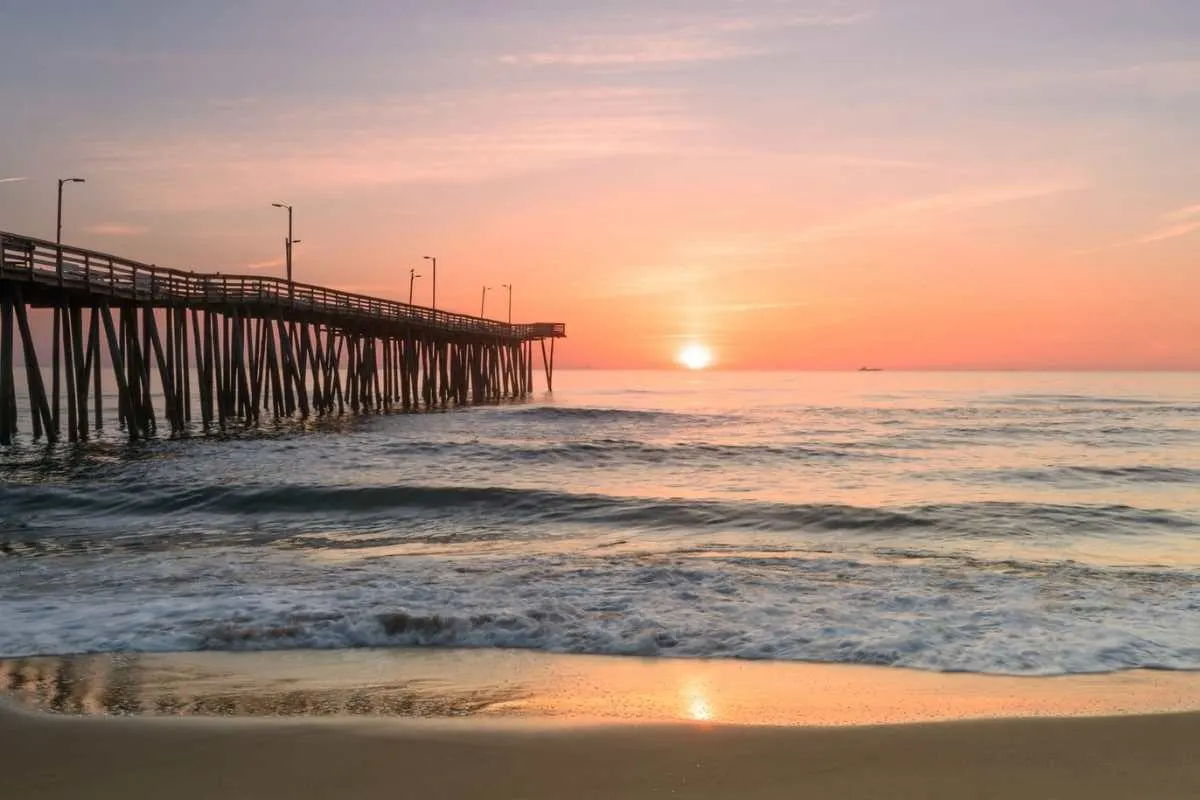 Virginia Beach offers an array of amusement parks, aquariums, and other activities for all ages. Much of Virginia's coastline is on the Chesapeake Bay, but with Virginia Beach's location directly on the Atlantic Ocean, you can enjoy even more activities such as surfing and paddleboarding.
If you're looking for a good time with your significant other, then head on down to Virginia Beach and go horseback riding along the coastline!
What Else Does Virginia Have to Offer?
If you're looking for a shorter, family-friendly day trip, one of these destinations might be more your speed
12. Parks
Virginia is home to beautiful parks, making it an ideal location for Virginia weekend getaways! Virginia contains many national parks, such as Shenandoah National Park, where you can see abundant wildlife.
In addition to Shenandoah National Park, Virginia also contains many more beautiful national parks such as Great Falls National Park, Historic Jamestowne National Park, and more.
Nature lovers will also enjoy New River Trail State Park, where you can ride your bike on a 57-mile trail that follows an abandoned railroad.
Virginia weekend getaways allow you to experience Virginia in a whole new way while being surrounded by nature.
The Chesapeake Bay Bridge-Tunnel spans 17.6 miles and is considered to be the world's most giant bridge tunnel. The Chesapeake Bay connects Southeastern Virginia and the Delmarva Peninsula and offers beautiful routes!
13. For the history buffs
Home to more presidents than any other state and being the heart of the Civil War, there are literally hundreds of weekend trips for history lovers.
Some of the best historic sites:
The American Civil War Museum outside Richmond
The Frontier Culture Museum near Staunton
Colonial Williamsburg is an entire historic city
Stonewall Jackson's house is near many interesting Civil war battlefields.
14. Amusement Parks
If your heart is set on going to an amusement park Virginia has several, including Kings Dominion, which offers wonderful lodging and tickets for over 60 rides and attractions!
Paramount's Kings Dominion is very fun, especially for kids during the summer months because it is a water park and theme park in one. This amusement park spans 400-acres and has many fun things to do that your entire traveling party will enjoy.
Thrill-seekers will love Kings Dominion's scariest ride, the Intimidator 305. This ride can reach speeds up to 90 mph, and riders will experience a massive drop of over 300 feet at an 85-degree angle.
Teenagers and brave adults whore young at heart will enjoy the exciting loops and drops of the many roller coasters at this amusement park. One of the coasters that the park features is the Hypersonic XLC, which is one of the world's first compressed-air launched roller coasters.
15. Busch Gardens Williamsburg
Busch Gardens is a great place to visit if you are up for having lots of fun. The main theme of this amusement park is classic Europe with beautifully landscaped villages inspired by the streets of France, the hamlets of Scotland, and the Oktoberfest celebrations of Germany. Altogether, this park features nine villages inspired by six countries that you will love to explore.
You will also be able to satisfy your craving for adrenaline-fueled adventure with all of the fantastic rides at Busch Gardens. You will find exhilarating rides there, such as the Grover's Alpine Express, Tempesto, The Loch Ness Monster, Invadr, and more.
Start Planning Your Virginia Weekend Getaway Today!
Virginia is a great place to visit for a weekend getaway. There are many things to do in Virginia, including exploring the Shenandoah Valley, amusement parks, and more. Virginia's capital city, Richmond, also has some great food options.
Virginia is also home to many national parks that house some of the most beautiful hiking trails in the country. Virginia offers many other outdoor activities, including white water rafting on rapids or kayaking through small rivers where you can spot Virginia's large population of wildlife ranging from rabbits to elk.
If you're looking for a weekend getaway this summer, Virginia may be just what you need! Virginia is an all-time weekend getaway destination no matter what time of year it is!
Virginia is rich in culture and one of the most beautiful outdoor destinations as well. Both are reasons why Virginia should be at the top of any list for weekend getaways this summer!
Everything from a romantic getaway to state parks
There are many things to do in Virginia, including exploring the Shenandoah Valley, amusement parks, and more. Richmond is also a great city for food lovers. Virginia is home to many national parks that offer beautiful hiking trails and outdoor activities such as white water rafting or kayaking. If you're looking for a weekend getaway this summer, Virginia should be at the top of your list!