In December, you want to enjoy the snow, Santa, and twinkling lights.
Busch Gardens Christmas Town is where families can come together during the holidays, get on rides, enjoy some festive food, and take beautiful pictures. It has a small-town Christmas feel that everyone will love.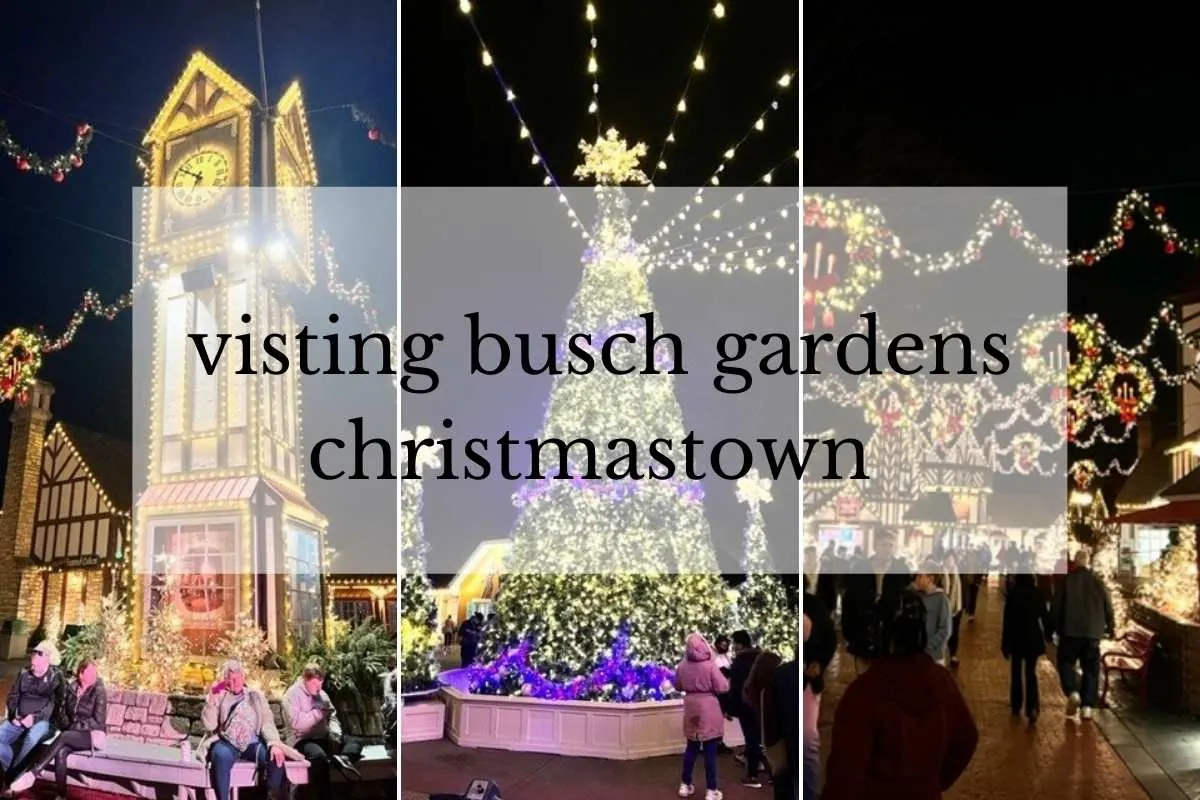 Christmas Magic
Busch Gardens Williamsburg transforms a large amusement park into a stunning holiday wonderland with over 10 million twinkling lights.
It is open from November to early January in Williamsburg, Virginia, and has fun for children and adults, with a fun mix of cocktails and visits to Santa.
If you don't mind the crowds and the price (tickets are pretty expensive), it's a fun holiday outing that does feel magical. (Combined with a visit to Colonial Williamsburg, this makes for a fun Virginia weekend adventure.)
Special tickets are required to enter the area.
Know Before You Go
You'll want to do a little research before heading
Buying tickets
Area residents, military, and season pass holders can get a discounted price.
Children pay slightly less as well.
Parking
Parking is a bit of a pain here. The cheaper lot requires you to board a shuttle to get to and from the park. They frequently run so that you can be on your way with hardly any wait.
General Parking is $25
Preferred Parking starts at $30
VIP Reserved Parking starts at $40
Make sure you remember the name of the lot you park in!
When to go
The park is only open in winter during select dates in late November through early January.
The park opens in the afternoon since the focus is the lights, so there's no use arriving too early.
Our whole family enjoys going in between Christmas and New Years', but this is also when crowds are highest.
What to do once you're there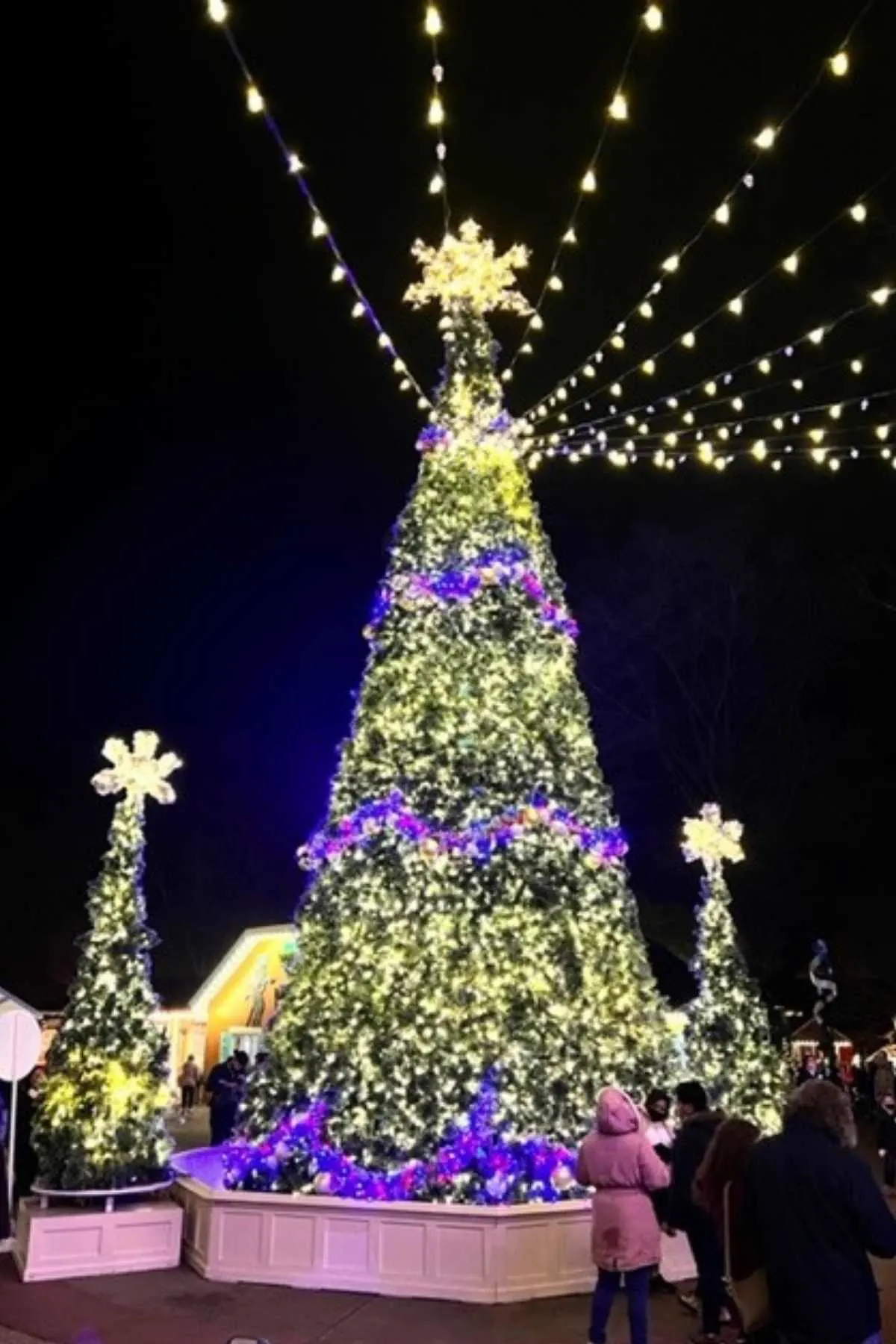 The park is divided into different European-themed areas.
Our whole family enjoys these activities:
Visit Santa in his workshop and get a picture with him.
Take a trip on the railway, the Christmas town Express
Watch live caroling in England
Visit the Sesame Street area, where visitors can enjoy Christmas-themed activities.
Stop by Rudolph's Winter Wonderland to see Rudolph and his friends.
Visit the Clydesdales.
Santa's Workshop
Santa's workshop is located in a charming North Pole village.
Kids can meet Santa, his elves, and Mrs. Claus in a picturesque setting.
You'll get your picture taken with them for free, but if you want to buy a photo or an ornament from the gift shop, it's going to cost extra. They also have Christmas crafts here that kids can do for a small fee.
Rides and Rollercoasters
Busch Gardens Tampa Bay and Williamsburg have various roller coasters and rides open, but the entire park is unavailable, and some rides are closed.
The following rides are open during the winter:
Der Wirbelwind
Verbolten
Prince Elmo's Spire
Oscar's Whirly Worm
Grover's Alpine Express
Busch Gardens Railway
Der Autobahn
Der Autobahn Jr.
Li'l Clydes
Finnegan's Flyer
Le Catapult
InvadR
Alpengeist
Kinder Karussel
Der Roto Baron
Some will close due to the weather on the coldest nights or guidance regarding Covid 19.
Shows & Entertainment
There are many places to see live entertainment, some better than others.
The most popular is the new Celtic Fyre performance in Ireland, which had a very long wait to get in.
Also popular (and convenient) is Upon the Haus Top, which you can watch while dining in Germany.
Unto Us can be watched in an open-air theater and features Christmas classics. Unfortunately, it has been closed for the 2020 and 2021 seasons.
You'll also see many smaller shows, such as live caroling in England.
One of the biggest light displays in the US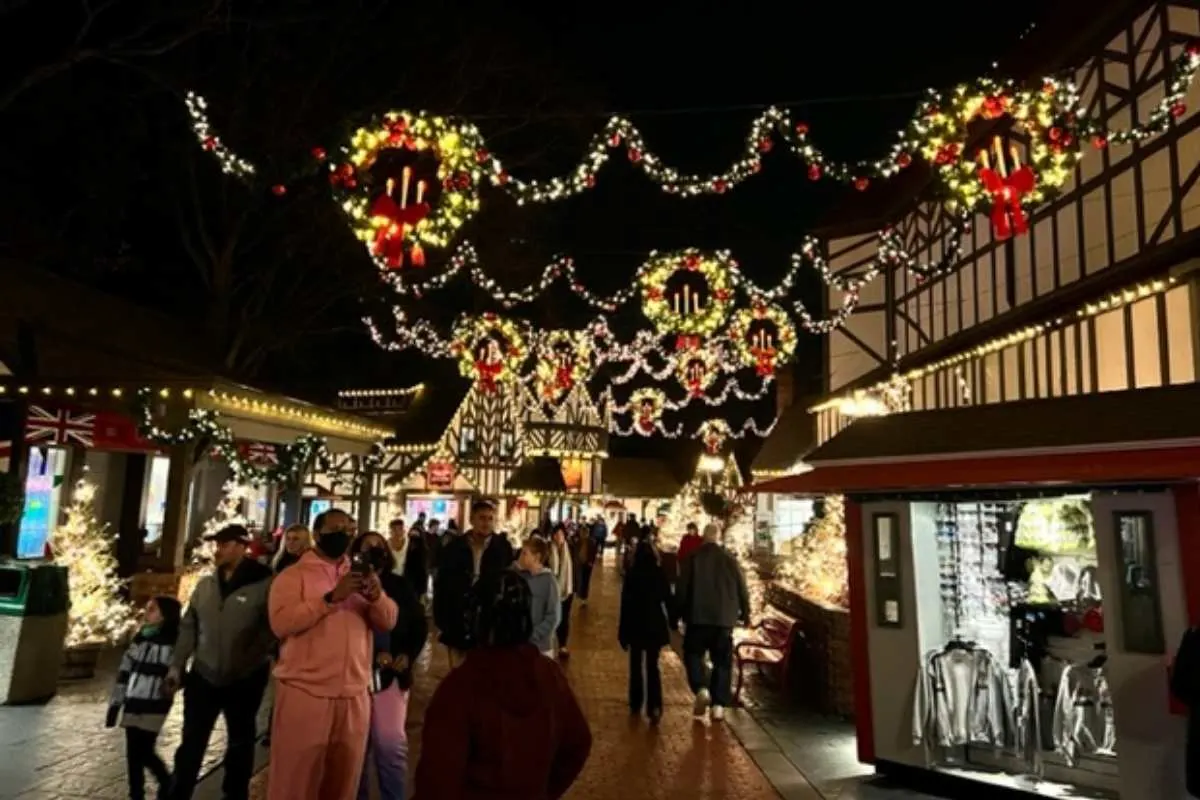 The best part of the whole experience is simply enjoying the light displays.
The park is covered in lights, and every tree has special lighting effects.
It's truly a sight to behold.
There are also massive light displays in the different areas and plenty of photo opportunities.
Try to save the rides and roller coasters for last so you can see them all at night better.
Shopping and Dining
If you aren't a ride fan, you can still have a wonderful time here, enjoying some holiday shopping and snack.
Places to Dine:
One of my favorite places to grab lunch/dinner during any visit to Busch Gardens is at the Trapper's Smokehouse in New France – which includes ribs and smoked chicken – food here is fantastic.
There is a warm seating area to take a break from the cold and enjoy a warm and delicious meal. Also, right near here is the funnel cake shop, and according to my kids – they were pretty awesome!
Or take time to sit down and experience Das Festhaus. It is transformed with Christmas garlands, wreaths, and lights with many dining options, including your typical Christmas menu and roasted sirloin sandwiches, salads, and more.
Our favorite place for sweets and coffee is M. Sweets Confectionery near the park entrance in England.
Holiday Shopping Spots in Busch Gardens
Der Marketplatz: This is the spot for Busch Gardens-themed gifts and souvenirs.
Trapper Dave's General Store: A fun place for kids to pan for gold. They also sell candles, t-shirts, and stuffed animals.
German Gifts: Another fun shop to visit with kids. You'll see cuckoo clocks and other beautiful carvings here.
Christmas Town Ticket FAQ
How much are Christmas Town tickets?
The price varies on many factors. Generally, the earlier you buy, the better the price. As a general rule, admission for a family will be between $100-$200 plus Parking.
Where can I buy Christmas Town tickets?
You can purchase them at the park, online, and select third-party vendors such as military bases.
What are the restrictions on using Christmas Town tickets this season?
The Christmas Town ticket is valid for one day only.
The Christmas Town ticket is not transferable or refundable.
What is included in Busch Gardens Christmas Town?
Admission to the park for one day. It does not include food, drinks, or Parking.
Most of the Christmas Town festivities take place after 4 p.m.
Is Busch Gardens Christmas Town worth it?
If you love Christmas, yes. It's a beautiful theme park, and there is a lot to do for all ages.
But to fully experience the rides and shows, you'll spend a lot of time waiting in line.
Parking and food are both overpriced.
If you're willing to accept this, it's worth the trip.