Charlottesville is full of history, culture, and wine. This beautiful area of Virginia is home to dozens of vineyards. And while they have a lot of similarities (gorgeous views, delicious wine, fun tasting rooms), we definitely have our favorites.
Our Picks for the Best Wineries near Charlottesville
Just want the highlights? Our two favorites are Veritas and Keswick for gorgeous views and fun tastings with wine flights and snacks. If you're really into the wine itself, the highest-rated wines come from Jefferson Vineyards and Stinson.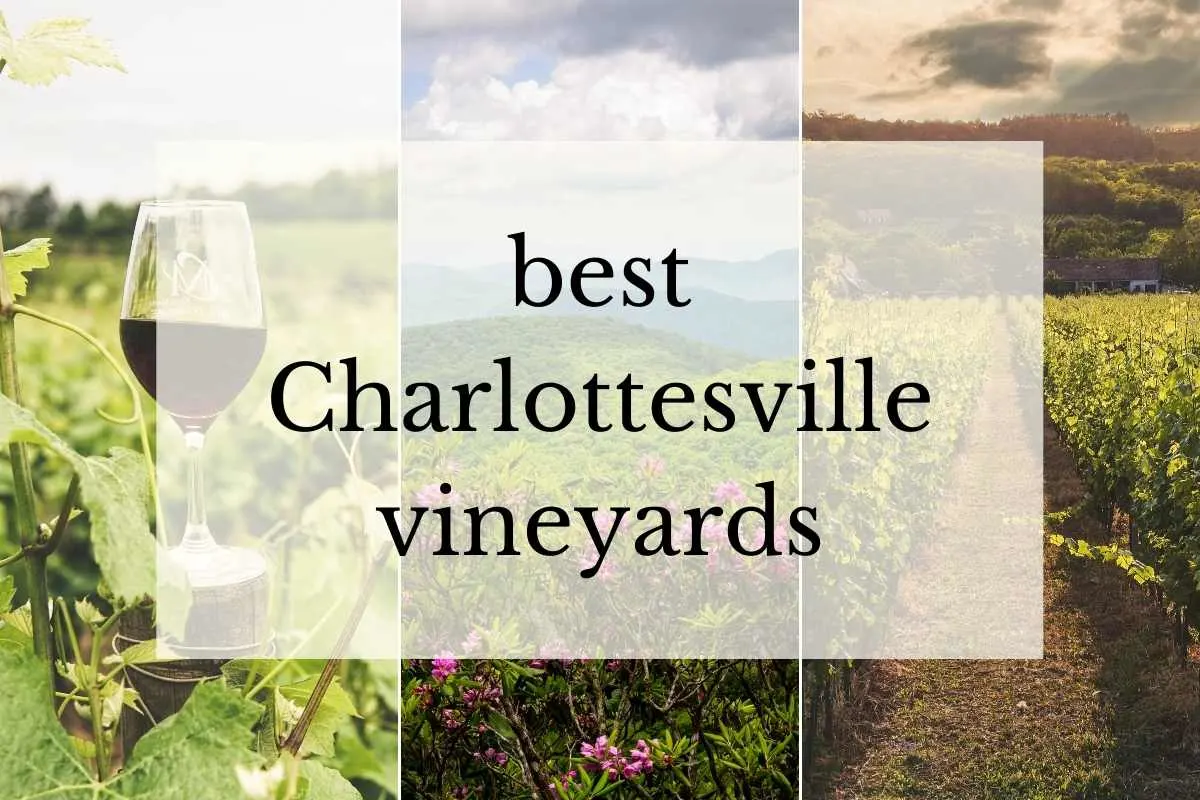 Quick Tips for Planning Your Trip to Virginia Wine Country
Book reservations in advance at the wineries you'd like to visit, or call to make sure they aren't required.
Check the hours of operation! Many of these Virginia wineries close on Monday or Tuesday.
Use the Monticello wine trail route generator to help you plan your journey.
If you don't want to drive, arrange a winery bus tour. Many of them will take your group along a pre-designed route, or you can let them know exactly where you want to go.
Check out the Monticello Wine Trail calendar. This resource is full of information on upcoming events, like wine tastings and vineyard tours, as well as detailed descriptions of each participating winery.
If you have your heart set on a winery tour, check before you go. Some vineyards offer them, but many don't.
Wineries are among the best places to enjoy fall foliage in Virginia. Consider visiting during September or October, some of the best times to see fall color in Virginia, for the most stunning scenery.
Ready to explore more wine destinations in our commonwealth? Here are the Best Vineyards in ALL of Virginia and the Best Breweries in Virginia.
1. King Family Vineyard
King Family Vineyards produces a variety of red and white wines, and they have an on-site tasting room and gift shop.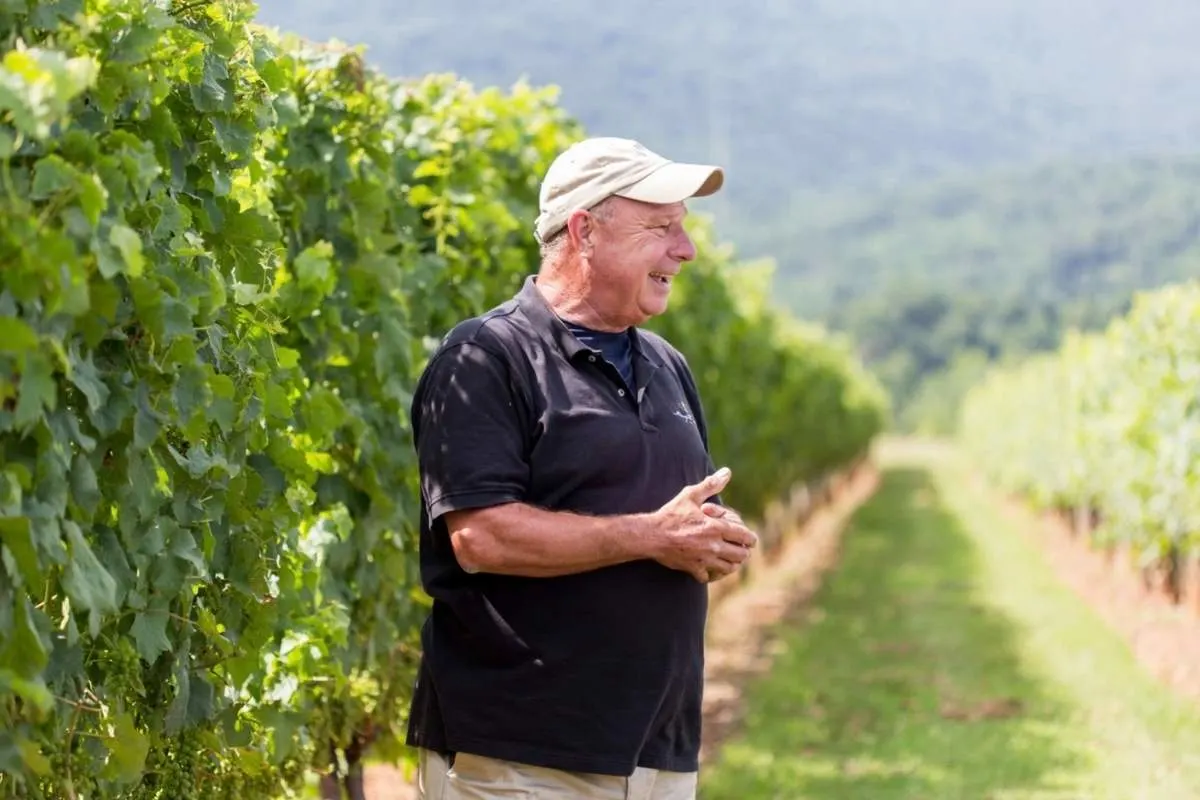 The King Family Vineyards is located in beautiful Crozet, outside of Charlottesville. They produce wine from various grape types, including Zinfandel, Merlot, Cabernet Sauvignon and Petit Verdot.
The wines are available for purchase at the vineyard and through select retailers nationwide.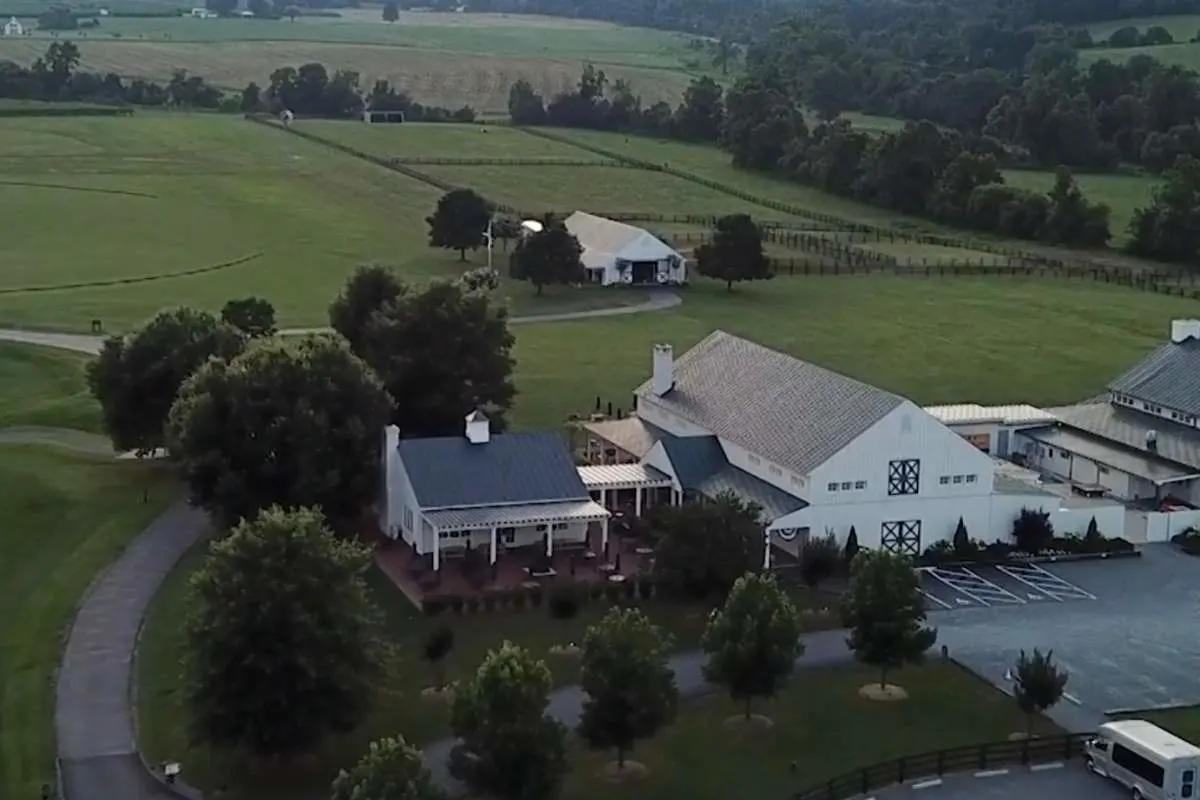 The King Family also offers a variety of events throughout the year, including live music performances and wine tastings.
2. Blenheim Vineyards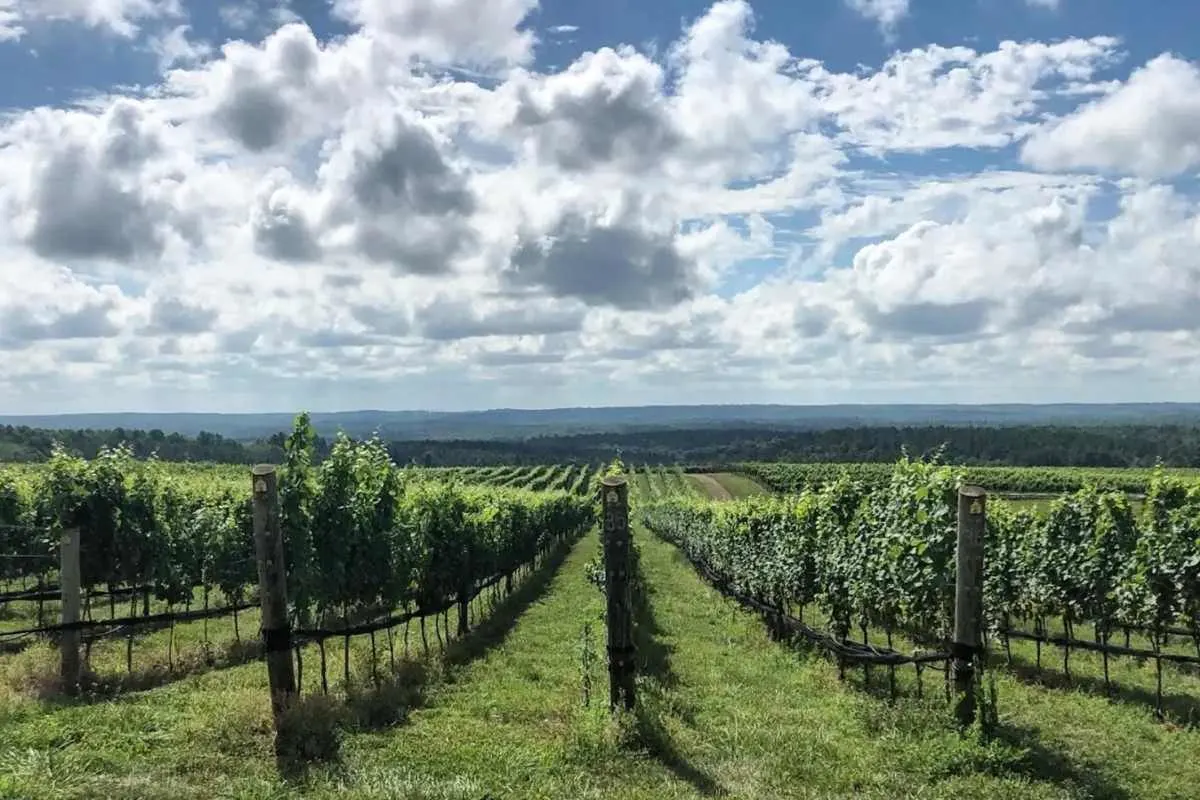 Blenheim is one of Charlottesville's most iconic wineries. It was started in 2000 by Dave Matthews and his brother-in-law, Steve Reeder.
The vineyard grows 14 different types of grapes and produces a variety of red, white, and sparkling wines.
They are currently requiring reservations for their tasting room but they do allow walk-in outdoors. Wine lovers will appreciate the variety (eight wines at the tasting!).
We love their sunny and casual patio that offers a wide view of the vineyard and the mountains in the distance.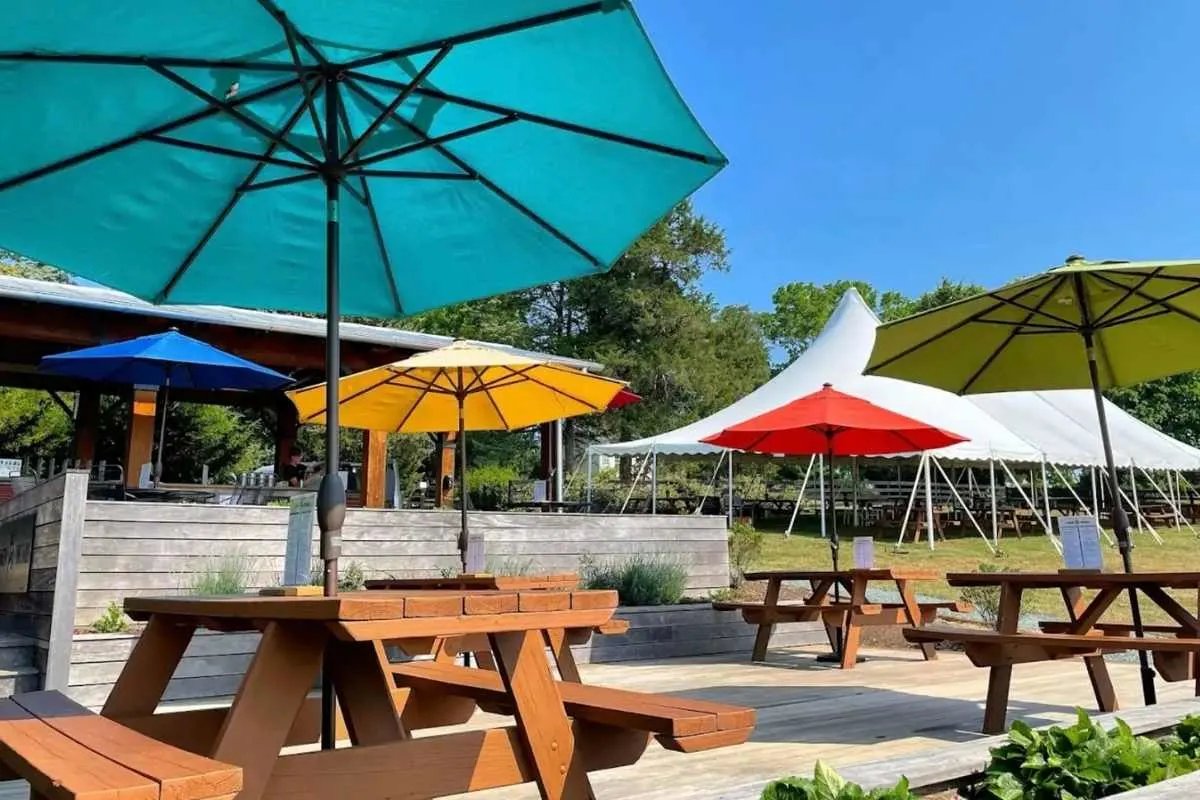 Purchase wine online or at the vineyard.
Related Post: Best Things to Do in Charlottesville
3. Pippin Hill Farm and Vineyards
Pippin Hill Farm and Vineyards is a popular vineyard in Charlottesville, Virginia. It has a beautiful veranda that overlooks the property, which is peaceful and serene. This makes it the perfect spot to relax or take pictures.
They have one of the best tasting rooms in the area because you can pair your wine with delicious food.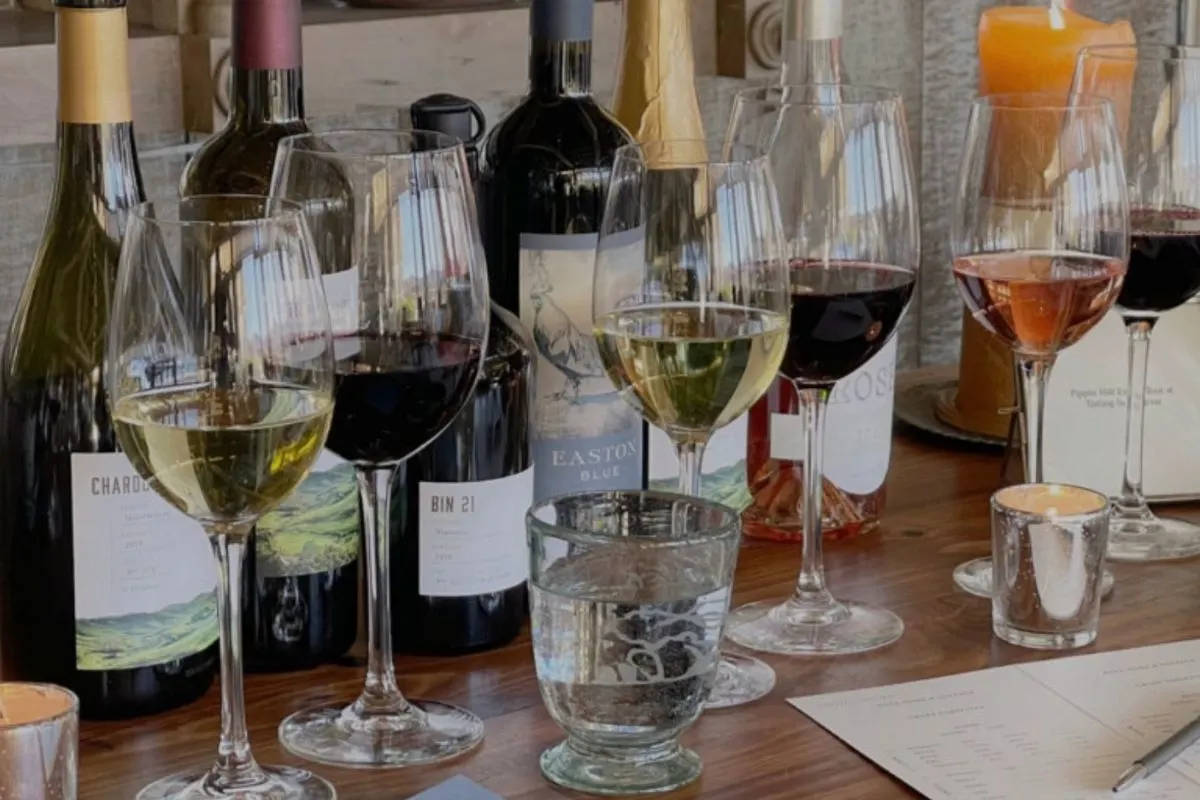 But our favorite spot here is the gorgeous covered patio overlooking the foothills of the Blue Ridge Mountains and fields of wildflowers. Just a beautiful and amazing place.
Check out more about them here.
4. Veritas Vineyard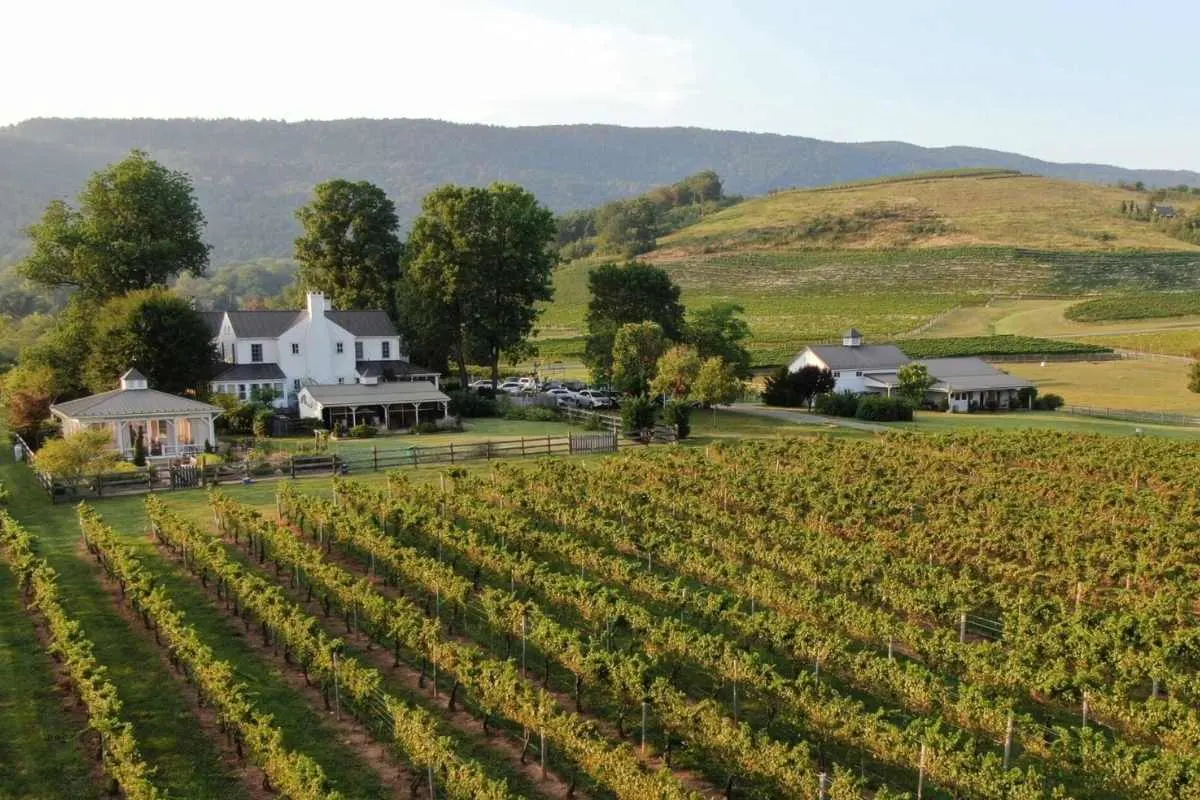 Veritas Vineyards is a winery located in Charlottesville, Virginia. It offers both indoor and outdoor seating, as well as wine tastings and tours.
If you're looking for good wine and some beautiful views, Veritas is the place to go. The wines are delicious and the scenery is stunning. You won't regret stopping by this vineyard on your next trip to Charlottesville.
They offer a reserve tasting of their finest wines for $25, and it's a steal. For an extra fee you can snag a spot by the fire, where you have a great view of the surrounding rolling hills.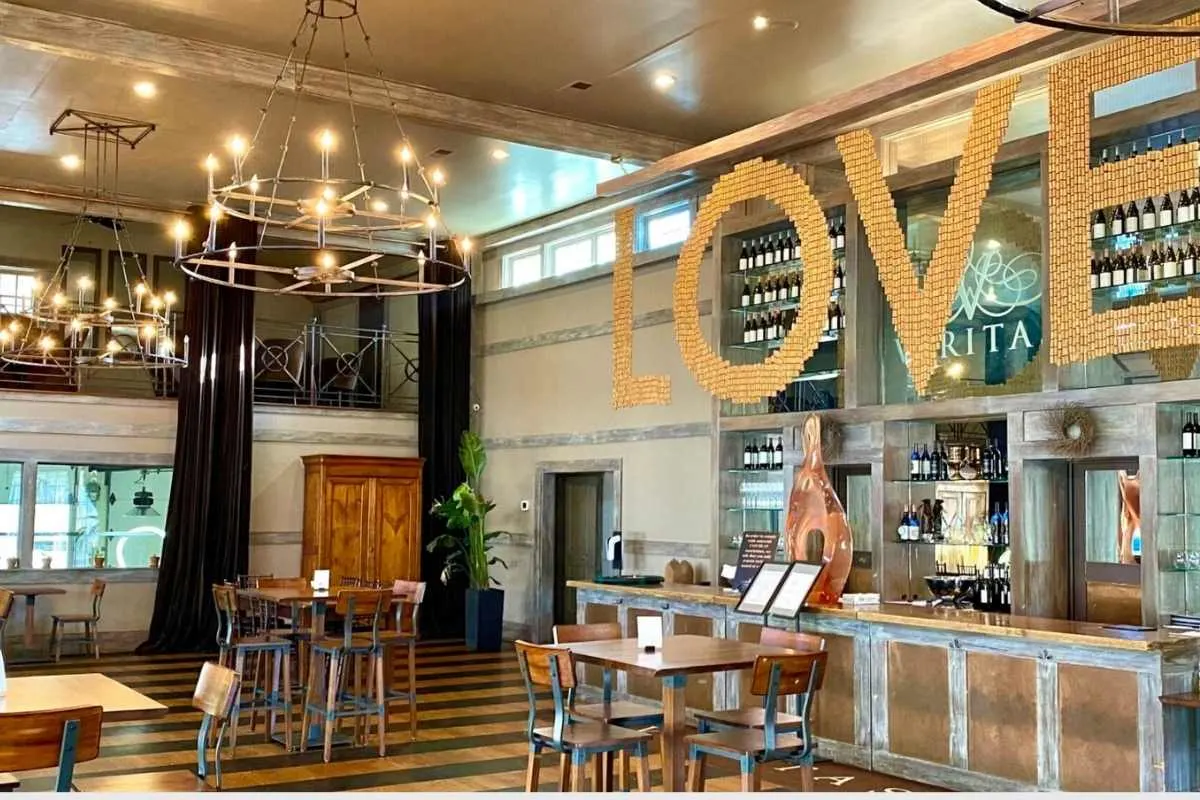 There are tons of spots here to enjoy their award-winning wines: the lawn, a patio, indoor lounges, and more.
Find out more information here.
5. Jefferson Vineyards
Jefferson Vineyards has been owned by the same family for three generations and is a great homage to Jefferson's legacy, as the care they've put into crafting their wines has won them many awards over the years.
Jefferson Vineyards is one of the most highly acclaimed wineries in the Charlottesville area. Wine Spectator magazine even recognized the vineyard as having "one of the region's most consistent track records." Some other varietals you'll find at Jefferson Vineyards include Chardonnay, Riesling, Malbec, Cabernet Franc, and Petit Manseng among others.
This is a smaller spot than most wineries on the list, but don't let that fool you. This is one of the best winemakers in the area.
6. Gabriele Rausse
Gabriele Rausse is a winery located in Virginia that features hip and quirky vibes. The winery offers a variety of wine tastings, events, and tours. They are tucked into tthe woods and have a very laid-back feel.
Gabriele Rausse is a great place to go if you're looking for something fun and different. They have some unique wine flavors that you won't find at other vineyards in the area, so be sure to give it a try. If you love sparkling wine, you'll really love it here.
7. Keswick Vineyards
Keswick Vineyards is a vineyard and winery located in Keswick, Virginia. The vineyard was founded in 2000 by the Marshall family, who still own and operate it today.
The Marshall family has a strong belief in minimal interventionism when it comes to winemaking- they feel that the less you do, the more natural the wine will be. As a result, most of their wines are fermented with native yeast, and they do not filter their red wines. This allows you to enjoy the wine's full flavor profile.
Keswick Vineyards is one of the best wineries near Charlottesville, Virginia. The vineyard has a beautiful tasting room and a retail store where you can buy their wine. You can also purchase their wine online.
Their tasting room is open daily and allows you to pick your four favorite wines.
8. Early Mountain Vineyards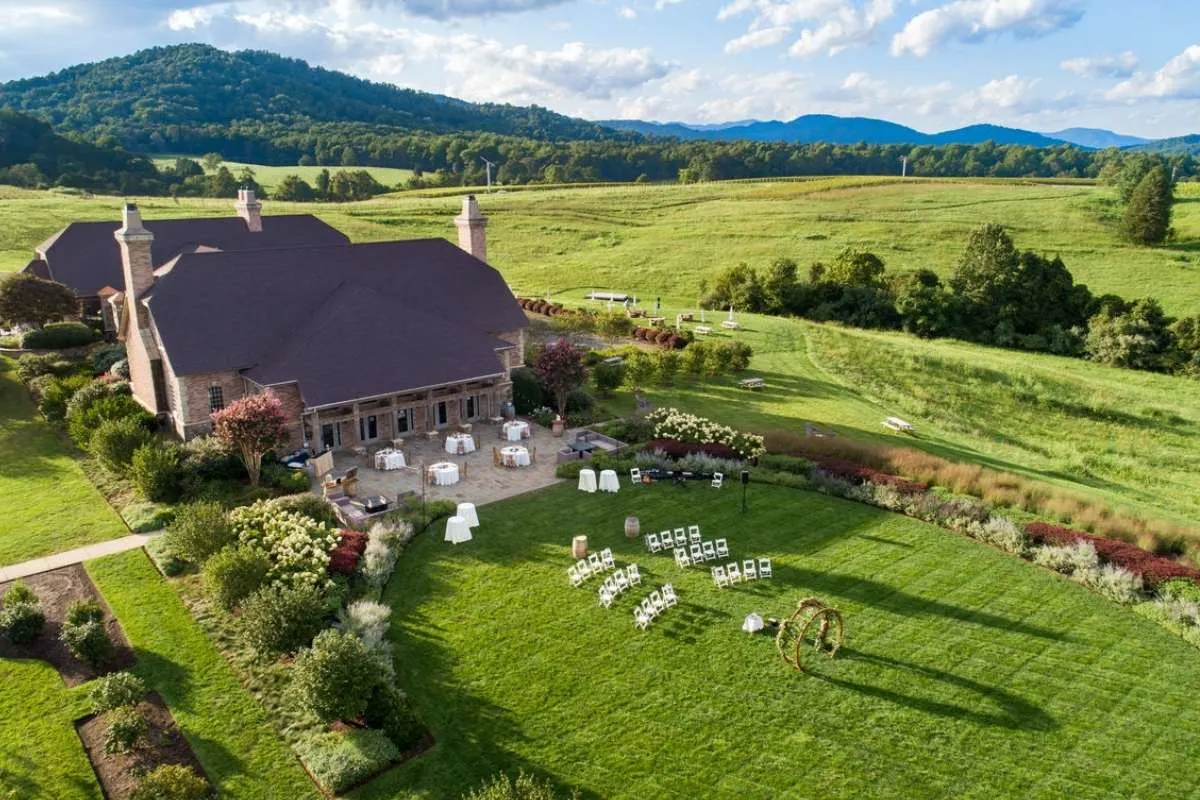 Early Mountain Vineyards is a winery located in Charlottesville, VA. It offers a beautiful view of the mountains and has won numerous awards for its wine. The wine tasting room is situated in a meadow with panoramic views of the mountains and has been voted one of the most scenic wineries in America.
Early Mountain has been praised by notable chefs and journalists alike for the quality of their wines. Some of their most famous wines include a Sauvignon Blanc, a Chardonnay, and a Cabernet Franc.
Their tasting room is bright and beautiful and the staff is super friendly and unpretenious. If you're new to wine, this spot will probably be your favorite.
9. Grace Estate Winery
Grace Estate Winery is located in Crozet, Virginia, one of our favorite spots. The patio has great views of the Blue Ridge Mountains. In the winter, guests can book an outdoor firepit reservation or stay warm inside next to the fireplace.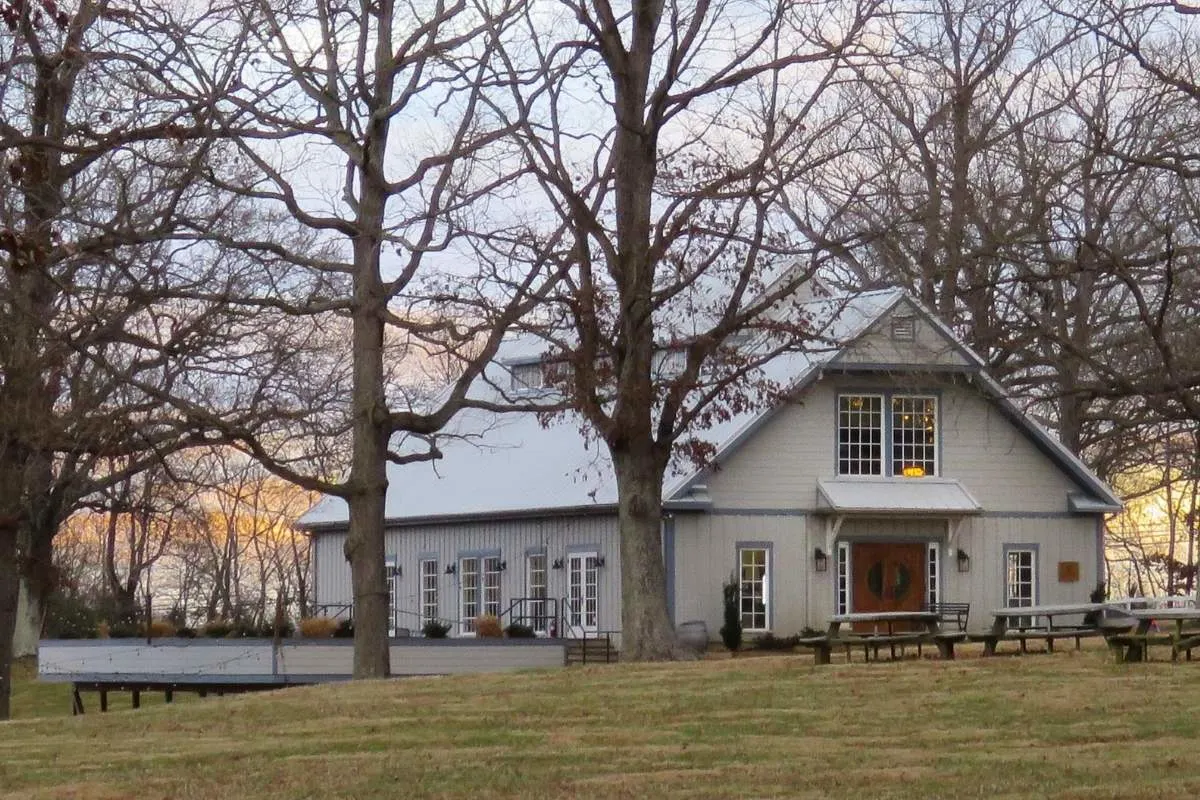 Grace Estate Winery is a family-owned and operated winery that has been in business for over 10 years. The winery grows all of its own grapes on the property, and they make wine from over 15 different varietals.
They have a beautiful tasting room with high ceilings and a lot of natural light.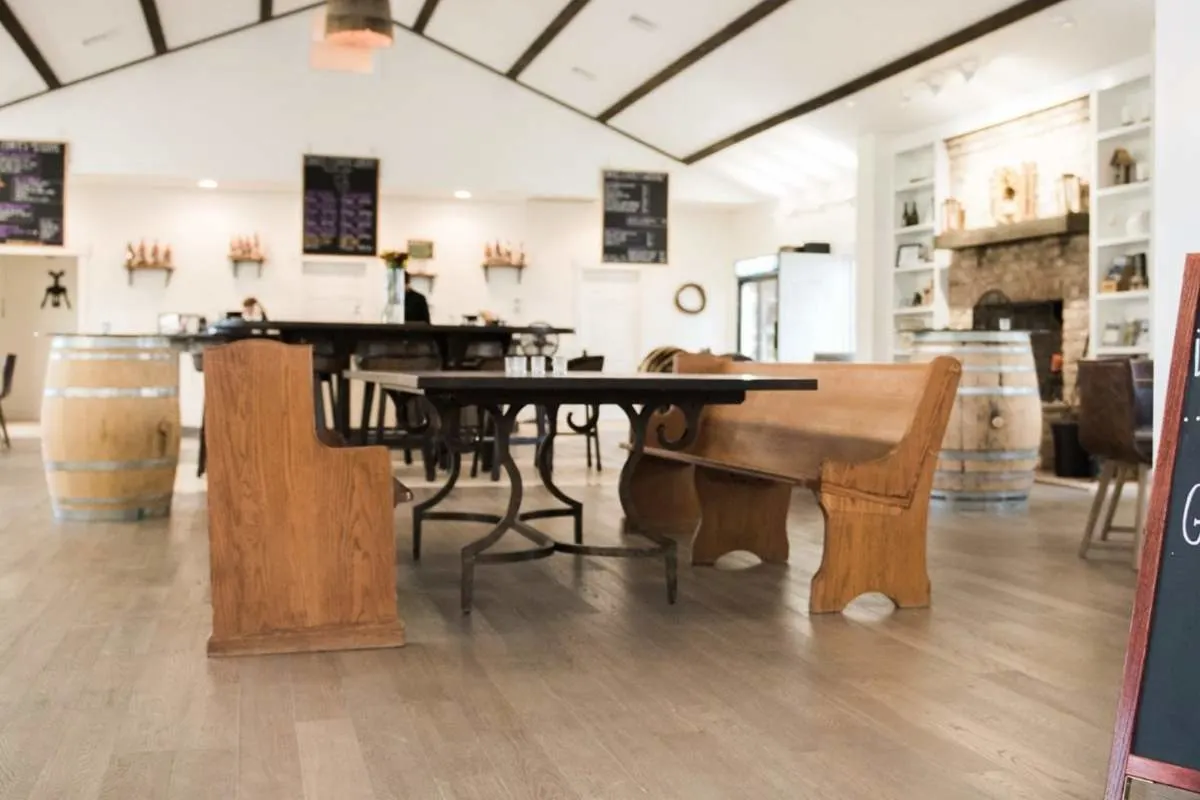 They're open Wednesday through Sunday and welcome outside food.
Visit them online for more information
10. Trump Winery
Trump Winery is a 3,000-acre vineyard and winery located in Charlottesville, Virginia. The vineyard was founded in 2011 by Donald Trump and his son, Eric Trump.
The winery produces a variety of red, white, and sparkling wines. They also offer wine tastings, events, private tours, and weddings.
No matter your thoughts about the owner, this is a gorgeous property with amazing views, delicious European style wines, and impeccable sevice.
They're closed on Tuesdays.
11. Thatch Winery
Thatch Winery offers cozy tasting rooms in a blend of old French and Virginia countryside. This is the only winery in the US with an authentic thatched roof.
This family-owned business began as a small batch wine operation and has now grown to include a 12,000 square foot production facility. The vineyard sits on 30 acres of land with stunning views of the Blue Ridge Mountains.
Their tasting room is quaint and charming, and their wines are top-notch. They have live music every Sunday and are open Thursday through Monday.
Visit Thatch Winery's website here.
12. Stinson Vineyards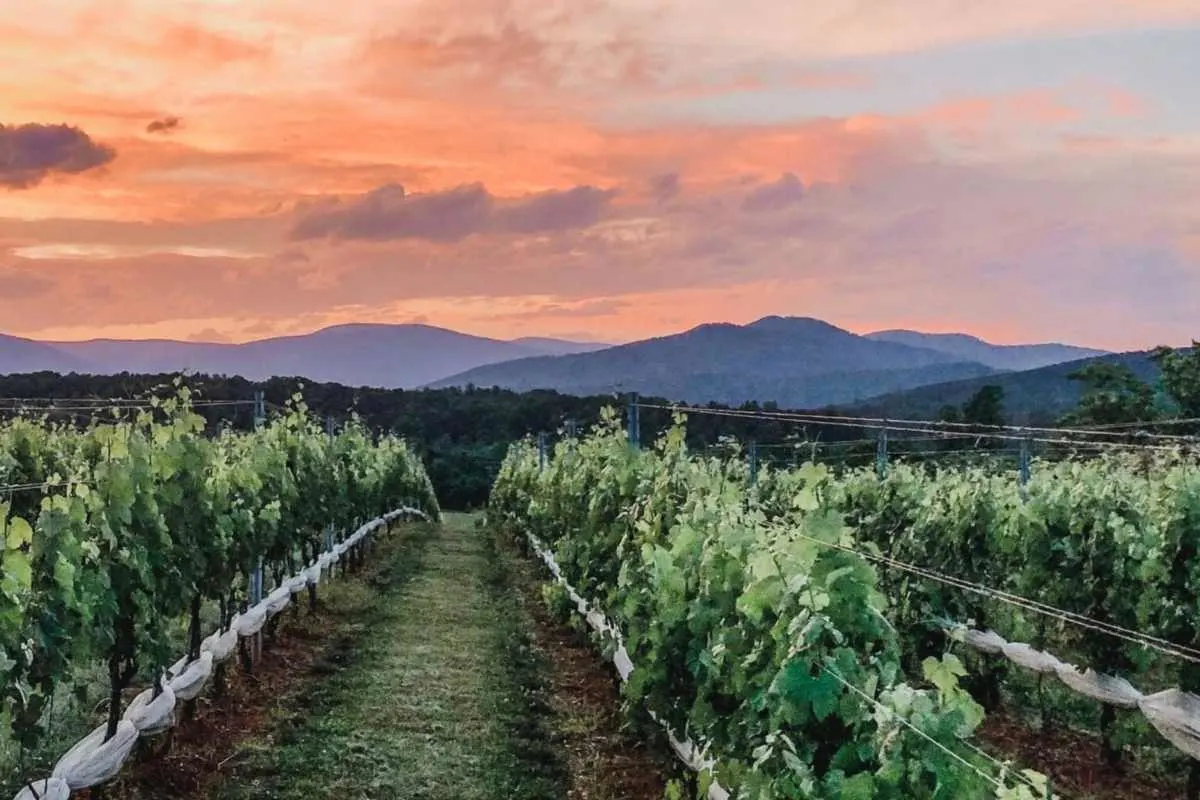 Stinson Vineyards specializes in small-batch wines from classic French varieties like Tannat, Cabernet Franc and Sauvignon Blanc.
The winery has been awarded several accolades, including three medals at the San Francisco World Wine Competition (including Best Zinfandel in 2004 and 2009), as well as a gold medal at the International Wine & Food Classic in 2008.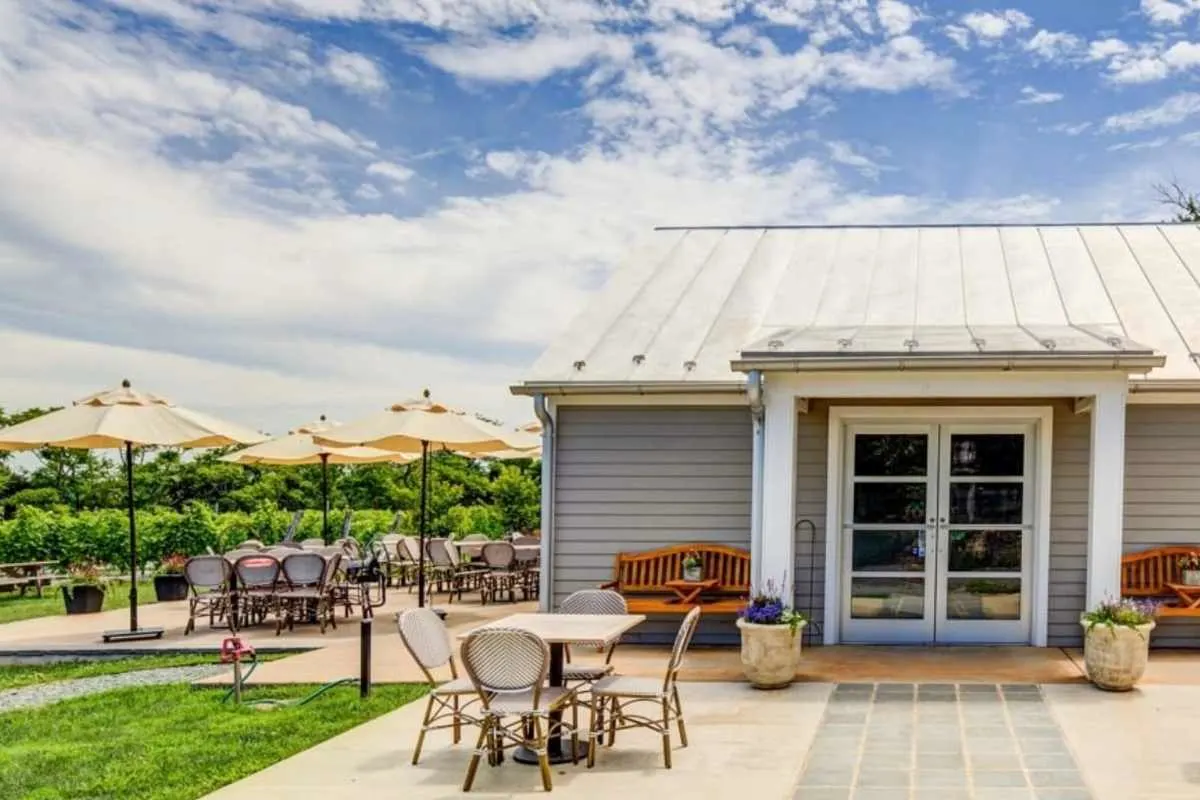 The vineyards are family-owned and operated, and the wine is made using traditional methods. The tasting room is open Thursday through Sunday from 12pm to 5pm.
13. Barboursville Vineyards
Barboursville Vineyards was founded in 1976 by Gianni Zonin, one of Italy's most respected wine producers. The vineyard is situated on 1,300 acres of land in the foothills of the Blue Ridge Mountains on and 18th century estate.
The vineyard has won numerous awards for its wines, and its one of the largest and most beautiful Charlottesville wineries.
They have a delicious restaurant that serves lunch and dinner and celebrates food pairings witth their wines.
The tasting room is open daily from 10am to 5pm and the restaurant is open Wednesday through SUnday.
Visit the Barboursville Vineyards website here.
Wineries Near Charlottesville: When to Visit?
Some wineries are open all year, but the busiest time is typically from April to October.
Check winery websites for information on specific dates and hours of operation, as they may vary depending on the season.
Wineries in the Charlottesville area are located close to one another so it is easy to visit several in one day if desired.
There are a number of wineries near Charlottesville, VA that offer distinctive experiences and wines. Each of these wineries offers a unique experience and produce wine of different styles. Whether you're looking for a place to relax with friends or want to learn more about the wine-making process, these vineyards have something for everyone.
While in Charlottesville, use our tips to visit the University of Virginia campus and be sure to enjoy one of the best restaurants in Charlottesville.