With its sweeping landscapes and rolling hills, Virginia becomes a painter's dream each fall. As the cool air settles, the state's foliage transforms into a mesmerizing palette of reds, oranges, yellows, and golds. Knowing the optimal time to witness this natural spectacle ensures you catch every hue at its vibrant best.
The best time to see fall colors in Virginia is from early October to early November. The transformation begins in the higher elevations of western Virginia in early October and cascades to the eastern and coastal regions by late October to early November.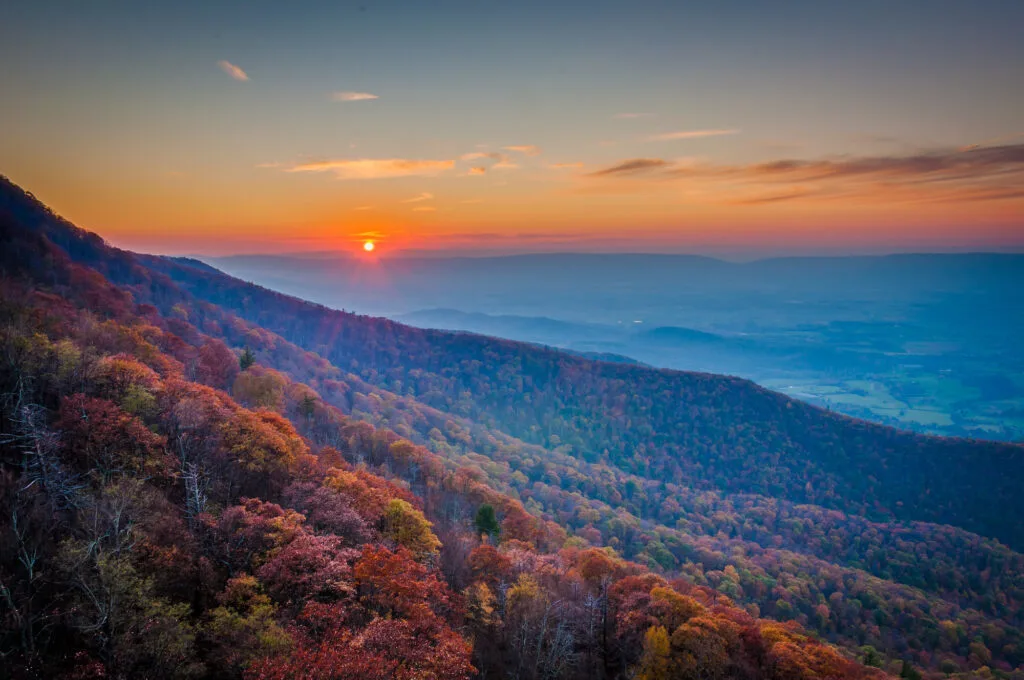 Let's delve into the best times to soak in the fall colors of the Old Dominion.
You will also want to see our list of the 13 Best Places to See Virginia Fall Foliage!
Virginia's Fall Color Calendar: When to Visit
Virginia's fall foliage season has its rhythm and timing, much like a well-orchestrated symphony. The transformation of greens into brilliant shades begins in the higher elevations in early October and gradually cascades down to the lower regions by late October to early November. While the exact timing can fluctuate based on annual variations in weather, the following timeline provides a general guideline for prospective leaf-peepers:
Early October: Begin your foliage quest in the western highlands, particularly in areas like the Blue Ridge Mountains. At these altitudes, cooler temperatures trigger the trees to showcase their reds, golds, and oranges earlier than in the rest of the state.
Mid-October: The vibrant colors trickle down to mid-elevation regions as the month progresses. Localities like Shenandoah Valley and the surrounding mountains come alive with a medley of hues. This period often witnesses a peak in foliage vibrancy, making it a prime time for enthusiasts.
Late October to Early November: Coastal and eastern Virginia, with its lower altitudes, is the last to join the autumnal celebration. Areas such as Williamsburg, Richmond, and the Chesapeake Bay display fall finery during these weeks.
Remember that unpredictable weather events, like early frosts or unseasonably warm spells, can shift this calendar slightly. Whatever the timing, Virginia's fall colors promise a visual feast that's well worth the journey.
See our Ultimate Guide to Fall in Virginia for fun things to do!
Prime Locations for Fall Foliage in Virginia
Virginia's diverse landscapes offer a rich tapestry of foliage viewing opportunities. The state's regions offer a unique perspective on autumn's display, from mountain vistas to historic landmarks. Here's a list of must-visit spots to catch the best of the fall colors:
Blue Ridge Parkway: Often referred to as "America's Favorite Drive," this scenic byway offers uninterrupted views of the Appalachian Highlands. As you traverse its winding path, you'll encounter overlooks that offer panoramic views of a sea of fall colors.
Shenandoah National Park: Skyline Drive, the park's main artery, stretches for 105 miles and boasts 75 overlooks. Here, you can hike, picnic, or simply drive to immerse yourself in a world of autumn hues. Popular trails like Old Rag Mountain and Hawksbill Mountain offer a bird's-eye view of the foliage spectacle below.
Great Falls Park: Located just a short drive from Washington, D.C., this national park showcases the Potomac River's dramatic cascades against changing leaves. It's a great spot for both nature and photography enthusiasts.
George Washington and Jefferson National Forests: Spanning a vast area, these forests present endless opportunities for camping, hiking, and soaking in fall colors. Hidden valleys and serene water bodies amplify the serene experience.
Historic Jamestowne and Colonial Williamsburg: Experience autumn with plenty of history in the Williamsburg area. The ancestral trees that have witnessed centuries of history transform with the season provide a picturesque setting for these iconic landmarks.
Abingdon: Known for the Virginia Creeper Trail, this town and its surroundings offer a serene setting to view fall colors. The trail, popular among cyclists and walkers, meanders through forests, farmlands, and trestle bridges, is all awash with autumnal shades. When in Abingdon, check out Shot Tower State Park nearby. Climb the tower for great aerial views of the area.
Remember, while these are some prime locations, Virginia's beauty in the fall is pervasive. Sometimes, a simple drive down a country road can yield views as breathtaking as those from the most popular spots.
Elevation and Its Influence on Color Timing
Elevation plays a pivotal role in dictating the timing and intensity of fall colors. The higher the elevation, the earlier you'll witness the onset of autumn's hues.
Higher elevations experience cooler temperatures sooner than lower regions. As the nights get colder, the chlorophyll breakdown in leaves accelerates. This allows other pigments, like carotenes and anthocyanins, to shine through, revealing brilliant reds, oranges, and golds.
In contrast, lower elevations, which remain warmer for longer, see this transformation later. Trees in these regions might still hold onto their summer greens, while higher altitudes already showcase a full spectrum of fall colors.
Therefore, if you're planning a foliage tour in Virginia, starting in the higher altitudes in early October and gradually moving to lower regions can provide a prolonged and sequential viewing experience of the state's fall beauty.
Must-do Scenic Drives During Fall
Virginia's highways and byways come alive with color during fall, offering some of the most scenic drives in the country. Here are a few must-do routes to experience the grandeur of the season:
Blue Ridge Parkway: Stretching over 469 miles, this iconic roadway is a feast for the eyes in autumn. The parkway connects the Great Smoky Mountains National Park in North Carolina to Shenandoah National Park in Virginia, ensuring continuous views of vibrant forests, rolling hills, and majestic overlooks.
Skyline Drive: Nestled within Shenandoah National Park, Skyline Drive spans 105 miles and is renowned for its breathtaking views of the Shenandoah Valley and the Piedmont. Numerous overlooks along the drive allow travelers to stop, take photos, and soak in the vistas.
Colonial Parkway: Linking the historic triangle of Jamestown, Williamsburg, and Yorktown, this 23-mile scenic route provides not just a visual treat of fall colors but also a journey through American history. The drive is especially enchanting with its tunnels of golden-yellow trees.
Virginia Scenic Byway 5: Also known as the James River Plantation Parkway, this byway runs between Richmond and Williamsburg. The drive offers a unique blend of natural beauty and historical significance, passing by some of Virginia's oldest plantations.
The Journey Through Hallowed Ground: This route, stretching from Gettysburg, Pennsylvania to Monticello near Charlottesville, Virginia, is not just about fall colors but also a deep dive into America's history.
The drive covers sites from the Revolutionary War, the Civil War, and several presidential homes, all against vibrant foliage.
These drives, with their combinations of natural beauty and historical landmarks, offer travelers a multi-sensory experience. The colorful tapestry of Virginia's fall foliage, paired with the serenity of these drives, makes for an unforgettable journey.
Events and Festivals Celebrating the Autumn Hues
Virginia's fall foliage isn't the only thing that draws crowds during autumn. The state celebrates the season with many events and festivals that embrace the spirit and hues of fall. Here are some notable gatherings:
Shenandoah Autumnfest: Set against the backdrop of Shenandoah Valley's vibrant colors, this festival is a family-friendly event that combines wine tastings, craft vendors, live music, and horse racing. The event encapsulates the essence of the fall in Virginia.
Virginia Fall Foliage Festival Art Show: Held in Waynesboro, this festival transforms the downtown area into an outdoor art gallery. Artists from across the country display their works, taking inspiration from the natural beauty surrounding them.
Graves Mountain Apple Harvest Festival: Celebrated several weekends in October, this festival in Syria, Virginia, pays homage to the apple-picking season. Visitors can pick apples, enjoy bluegrass music, and indulge in delicious apple-infused treats.
Mount Vernon Fall Harvest Family Days: Located at George Washington's Mount Vernon, this event takes visitors back in time. Activities include wagon rides, wheat treading in the 16-sided barn, and a straw bale maze, all while celebrating the season's bounty.
Clifton Day: Set in the picturesque town of Clifton, this annual event boasts arts and crafts, antiques, live music, and various food vendors. The town's historic charm and the surrounding fall foliage make it an event to remember.
Leaf Peeper Festival: Hosted in the mountain town of Davis, this festival celebrates the peak of fall colors with craft shows, a parade, and various musical performances.
Attending any of these festivals offers a visual treat and an immersive experience of Virginia's culture and traditions set amidst the splendor of autumn hues.
Tips for a Memorable Fall Foliage Trip in Virginia
Embarking on a fall foliage trip in Virginia is a magical experience. To make the most of your journey and ensure it's memorable, consider these tips:
Plan Ahead: Popular spots can get crowded during peak foliage season. Book accommodations and plan your itinerary well in advance to avoid last-minute hassles.
Stay Updated: Foliage conditions can change rapidly. Use online resources or local visitor centers to stay informed about peak viewing times in specific areas.
Pack Layers: Virginia's fall weather can be unpredictable. It might be sunny and warm during the day but chilly in the evenings. Packing layers ensures you're comfortable throughout your trip.
Start Early: Especially if you're driving to popular spots like the Blue Ridge Parkway, starting early helps you avoid the crowds and capture the beauty of the morning light on the changing leaves.
Respect Nature: While the urge to get that perfect photo might be strong, always stick to designated trails and viewpoints. Avoid trampling on vegetation or disturbing local wildlife.
Embrace Flexibility: Sometimes, the best foliage spots are the unplanned ones you stumble upon. Be open to detours and exploring lesser-known areas.
Extend Your Stay: Consider spending a few days in one location. This allows you to immerse yourself in the local culture, enjoy multiple hikes, and witness the subtle changes in foliage.
Include a Mix of Activities: While driving offers a panoramic view of the fall colors, combining it with hiking, local festivals, or even canoeing can provide varied and immersive experiences.
Keep Safety in Mind: If you're stopping to take photographs or enjoy a view, ensure you're in a safe spot and not blocking traffic. Also, be prepared for varied road conditions in mountainous regions.
Create Memories: While capturing photos is great, don't forget to take moments to just breathe in the crisp air, listen to the rustle of leaves, and truly experience the beauty around you.
With a little preparation and the willingness to change your plans depending on Mother Nature, your fall foliage trip in Virginia can become a cherished memory you will revisit year after year.