Where is the best place to see fall foliage in Virginia?
During foliage season, there's something for everyone: from the Appalachian Trail along the Blue Ridge mountains to the quaint towns of Virginia's piedmont surrounded by giant hardwoods.
The leaves are changing, and it's time to find some of the most beautiful places for viewing this natural phenomenon. There are many great locations for viewing fall foliage in Virginia, but these are our favorites!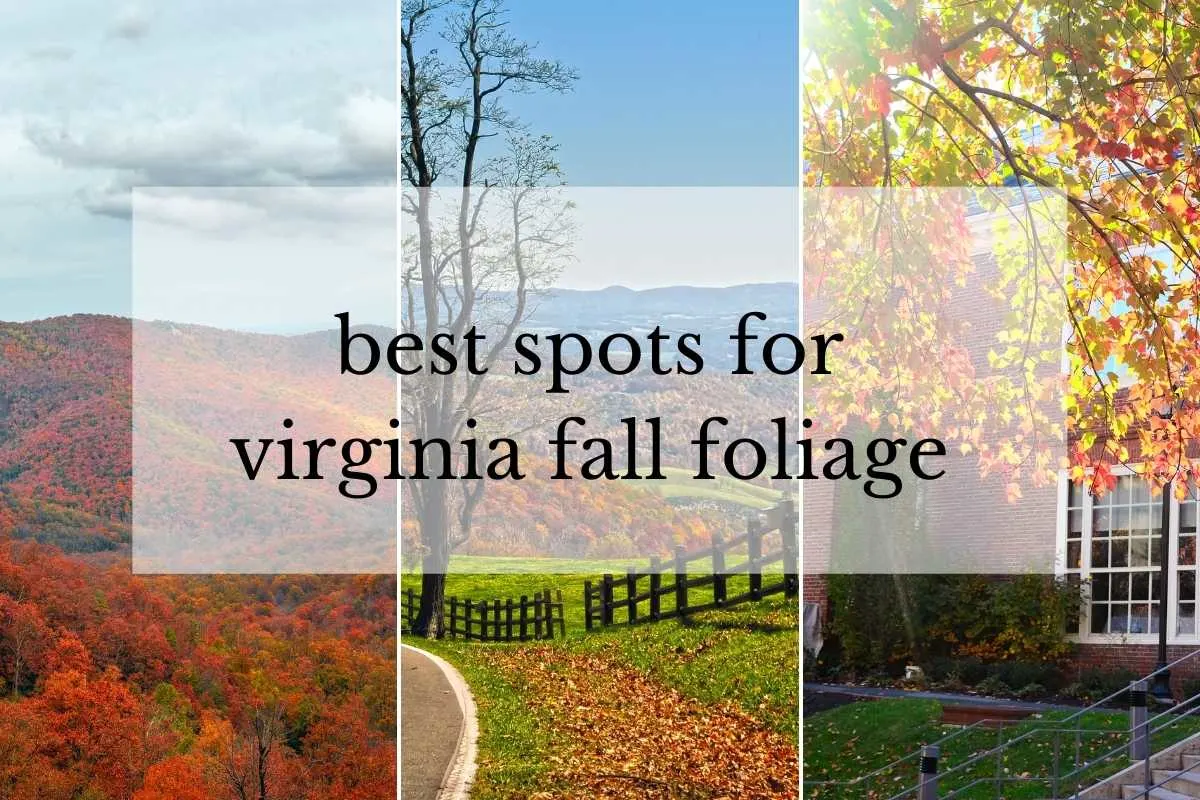 Virginia's Blue Ridge Mountains are loaded with places to see fall colors.
Now, these famously blue-tinged mountains run up and down the whole length of the state, so we have a lot of ground to cover. But to enjoy the natural beauty of a Virginia fall, start there.
We've organized this list from north to south.
Fall Foliage in Northern Virginia
Shenandoah National Park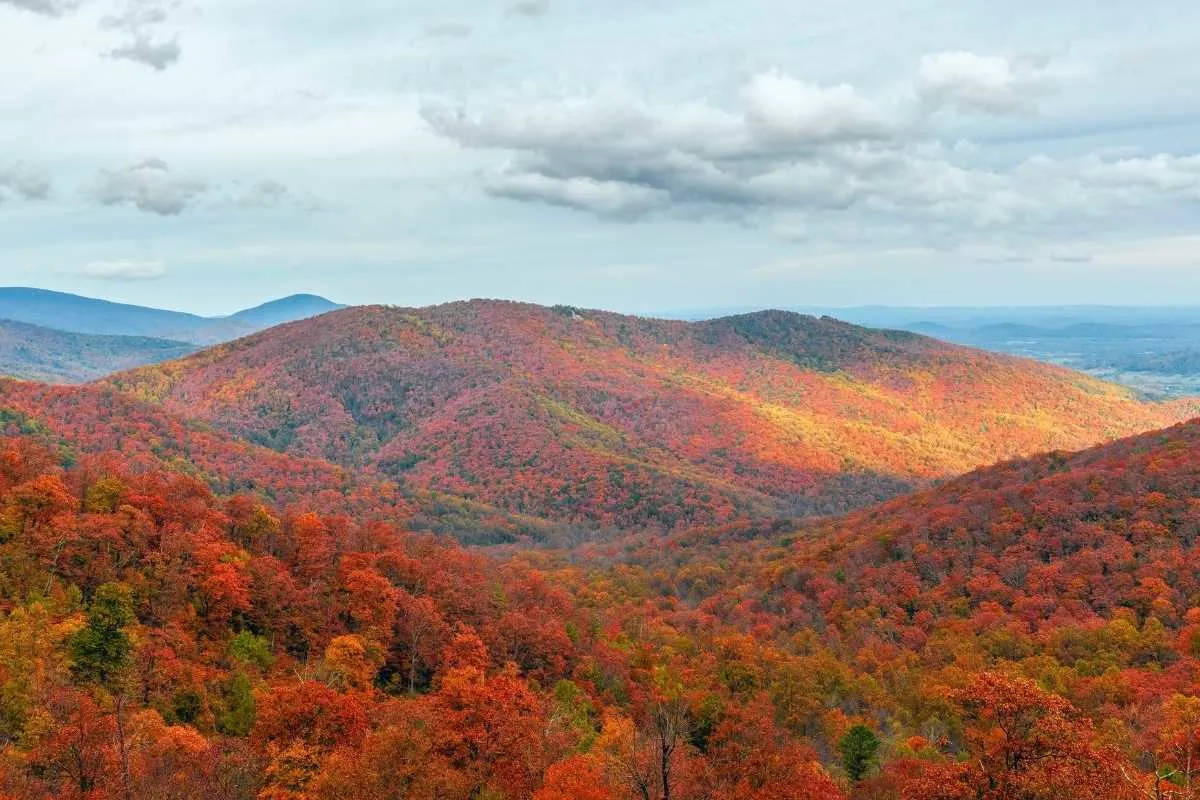 Located along the famous skyline drive, you can't talk about fall foliage in Virginia without mentioning this classic destination.
Shenandoah is an enormous park with hiking trails (from grueling climbs to kid-friendly strolls) and multiple campsites. Its hiking trails cover part of the Appalachian trail, and the fall color is stunning.
Of course, Shenandoah national park isn't exactly a hidden gem. You will deal with crowds during peak fall color seasons. But there's nothing like the Blue Ridge Mountains in the fall.
Potomac Heritage Trail
A mile away from Washington DC may seem an unlikely place for autumn foliage. Still, the Northern Virginia section of the 712-mile Potomac Heritage Trail travels across some of the most beautiful scenery in North America.
Hike the leafy 10-miles between Great Falls Park and Algonkian Regional Park for a fantastic seasonal excursion.
Great Falls Park
Autumn at the Great Falls is one of those fall experiences that just might become an annual tradition. The Potomac River crashes over jagged cliffs into the narrow Mather Gorge to form the famous Great Falls, where you can take in the fall colors along two easily accessible overlooks.
Stony Man Overlook Trail
This is a moderate hike with some of the most beautiful views in Northern Virginia. This lovely walk takes you to a unique perspective of the Shenandoah Valley.
Anywhere else on the Blue Ridge Parkway
This beautiful road runs all through the Virginia mountains, and it's a scenic drive the whole time. The northern section is a short drive from the DC suburbs and is a lovely Virginia weekend getaway.
If you want to see fall foliage, head to the Blue Ridge Parkway and go for a drive. (But remember that the color will peak here weeks before DC!) As one of the best scenic drives in Virginia, you won't be disappointed.
Fall Foliage in Central Virginia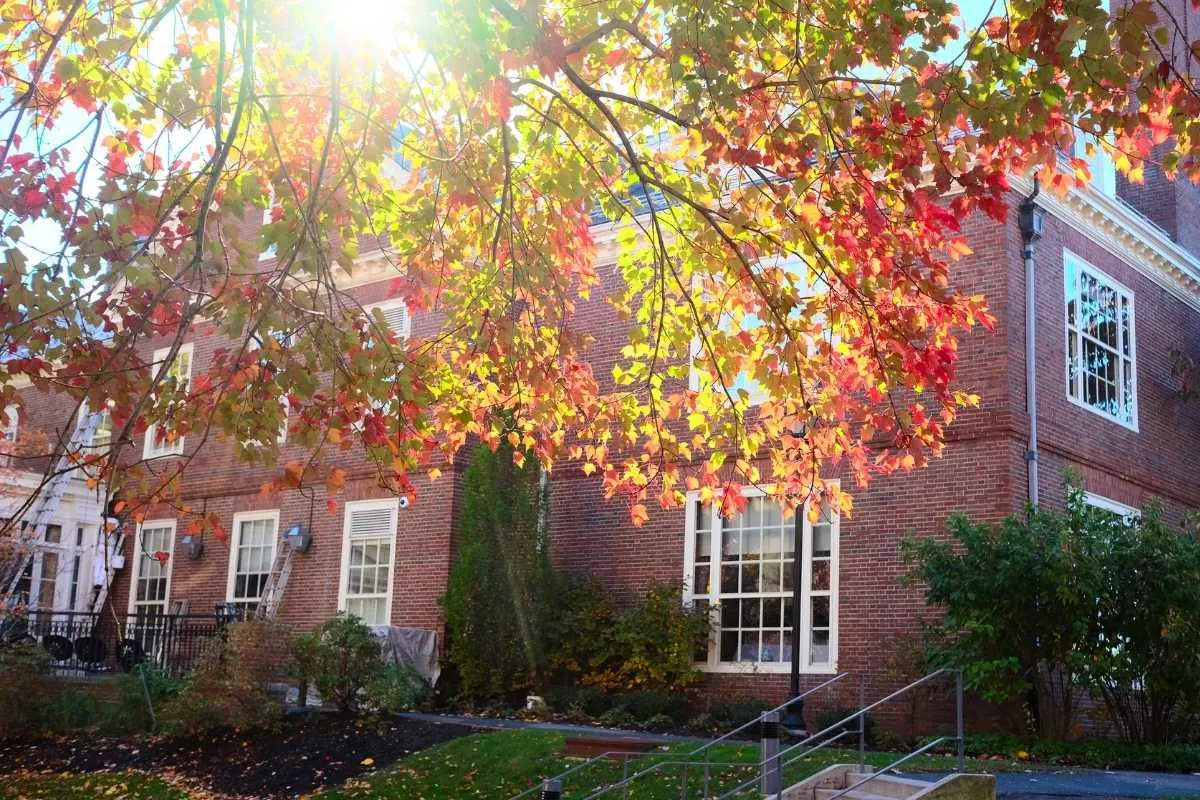 Charlottesvillle
The University of Virginia campus, the vineyards and wineries near Charlottesville, and Monticello are all gorgeous in autumn and are some of the best fall foliage sites that don't involve a trip to the mountains.
The Charlottesville area also has fall festivals and a lively collegiate scene.
Culpeper
Fall foliage isn't all about the mountains. Culpeper is a charming town surrounded by hardwoods. Take a drive around the area and enjoy the colors of fall.
Old Rag Area
The 200,000-acre Shenandoah National Park has excellent fall colors. The principal arteries in the park are Skyline Drive and Skyline Drive. These stretch over 75 scenic spots. You can also reach some of Shenandoah's finest views from a walking route over more than 500 miles of trails.
Try hiking Mary's Rock to the northern part of the park and enjoy breathtaking panoramas over Thornton Gap, as well as making the long climb at Old Rag (near the park boundary, in Sperryville), one of the few fully freestanding cliffs on a mountaintop.
Southwest Virginia Leaf Peeping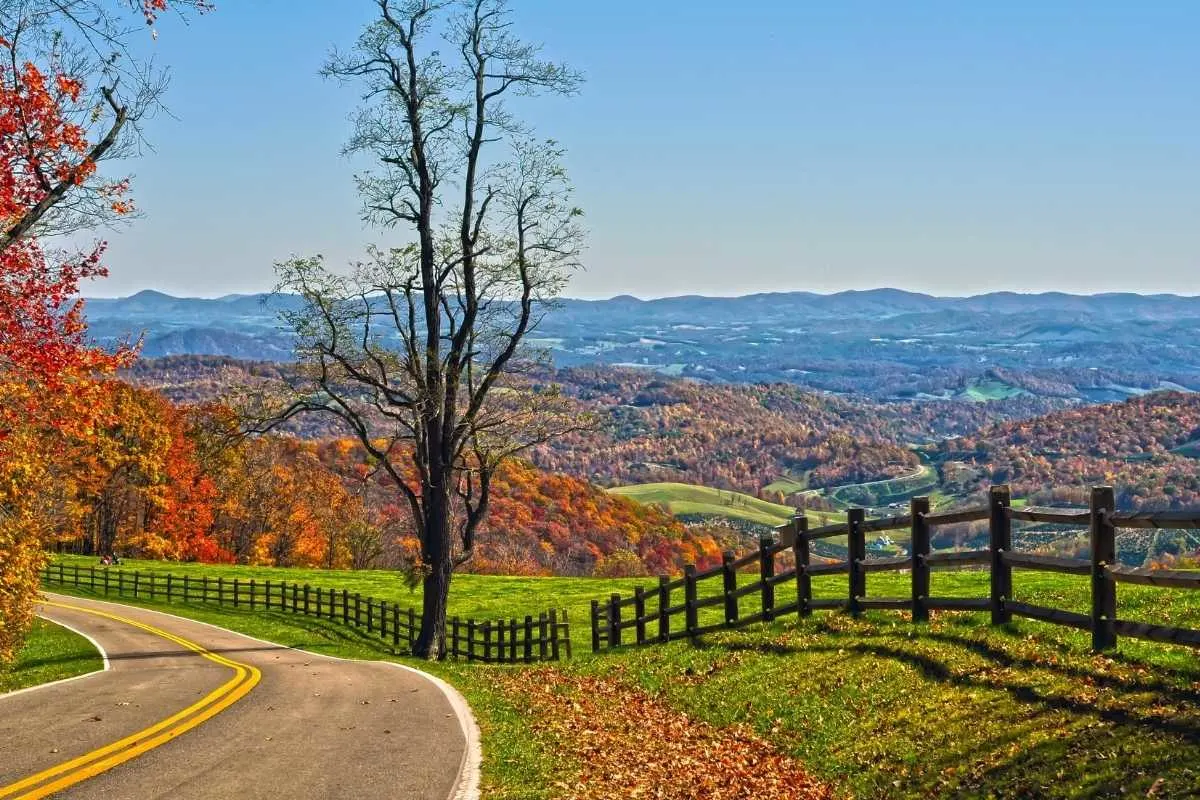 The peak fall color of this region generally occurs during early October to late October, and this is often the best season to go when you plan a visit centered around seeing the beautiful foliage. This region features views of peaks that you can expect to come across in a postcard.
Hidden Valley Lake
The rapidly changing foliage maybe even more impressive under a glass roof at Hidden Valley Lake, which lies within Brumley Mountain just outside the town of Abingdon, VA.
The lake will be popular with anglers seeking bass if you want to go higher. Admire the seasonal change by hiking along the wilderness-controlled trails or heading for the boat launch in the northern part.
Hungry Mother State Park
The park boasts 108 acres of lake surrounded by woodland-framed mountains and an abundance of scenic beauty lacking in Southwest Virginia. Enjoy the forests that blanket the park on the lake loop, or take the 1.9 mile Molly Knob Path and add the aptly named Vista Trail.
Enjoy the autumn colors and all that these beautiful places have to offer! If you're looking for a beautiful and scenic place to view the leaves changing color, then be sure to check out one of these locations.
The best time to go is typical during the middle of October, but be sure to check local forecasts so that you can plan your trip accordingly.
Channels State Forest
Channel State Forest covers 4,836 acres in Washington and Russell Counties – Virginias best-kept secrets. In fall, visitors may see red and burnt orange trees of the mixed hardwoods of the protected area.
The sandstone formations sit on the southern side of Clinch Mountain near Middle Knob.
For photographers, this labyrinth of ice-age geological formations provides a unique backdrop.
Mabry Mill
Mabry Mill is a stop along the Blue Ridge Parkway and one of the most photographed locations in Virginia. Fall foliage in the background of this picturesque mill is irresistible.
Natural Bridge State Park
This national park is home to the 150-foot tall natural bridge outside charming Lexington, Virginia. It is also home to some of the best autumn colors. If you are looking for a short hike with great views, this park is a great spot.
It's family-friendly, with easy access from the highway, plenty of picnic areas, and a visitor center.
What is the best time to see fall colors in Virginia?
Fall foliage generally peaks during early October to late October.
Generally, the leaves will change first in higher elevations in the state's western portion, starting in early October. Central and Southeastern Virginia will typically peak in late October to early November.
Where can I see fall colors in Virginia?
You will find the very best colors of the fall season throughout the entire Appalachian Trail, which runs up and down western Virginia.
Does Virginia have fall foliage?
It sure does. Many areas in the southeast have mostly pine trees, but the Virginia Piedmont and The Blue Ridge Mountains have beautiful hardwoods and rambling scenic byways.
Virginia is a great place to go for fall foliage. Whether you prefer the wide beauty of Shenandoah national park or a fall festival in a town with cafes and historical places, you'll find the perfect fall destination in this beautiful commonwealth.