Looking for a list of historical things to do in Virginia? Look no further! Here are some of the most popular historical sites and attractions in the state. They range from the early days of Jamestown to the more recent history of George Washington's office. There's something for everyone on this list!
1. Mount Vernon
Mount Vernon is the most popular tourist destination in Virginia and one of the most popular in all of America. George Washington lived here from 1754-1799.. He added on to the original house and made many changes to make it more comfortable. You can see how people lived back then by looking at the well-lit rooms that are bright in color compared to most historic homes which tended toward dark colors because they were difficult to see in sunlight.
There is also a lot of history on the grounds which you can explore through a variety of activities.You can even visit his grave site at the public national cemetery on the plantation!
If you're looking for an interesting day trip while in Virginia, MOUNT VERNON should definitely be your top pick!
2. Historic Jamestown
Jamestowne is the site of the first permanent English colony in America. Located just a few miles away from Yorktown, it's another important part of the Historic Triangle. Here you can find archaeological excavations ongoing at Jamestowne, with periodic tours available throughout the day to take you past the dig sites as guides explain findings and their historical significance.
3. Monticello
Monticello is one of the most popular tourist destinations in Virginia and for good reason. The estate was the lifelong project of Thomas Jefferson and it's an amazing sight to behold. Jefferson spent many years living at Monticello and he considered it his personal achievement.
Today, visitors can wander the grounds, tour the home and pay their respects to Jefferson's final resting place on top of Monticello. The views from the estate are fantastic and it makes for a great place to relax or spend time with your family. If you're interested in history, then be sure to check out the ruins of the original Monticello while you're there!
4. Colonial Williamsburg
Colonial Williamsburg is an important place in American history. This historic destination is located in Virginia and is filled with period actors who play the role of everyday townspeople, shopkeepers, tradespeople, and political figures of the Colonial era. "DoG Street" is a great place to find restaurants, shops, and upscale accommodations within the grounds of this living history museum – all easily accessible!
There are a lot of historical sites at Colonial Williamsburg that tourists can enjoy such as haunted houses and carriage rides. Be sure to check their website for updated events and shows!
5. The Virginia State Capitol
The Virginia State Capitol is a beautiful building that was first occupied by the legislature in 1788. The Capitol offers self-guided tours seven days a week, and guided tours are available for groups of ten or more with an appointment. The Capitol is fully handicapped accessible, and there are many other tourist attractions nearby in Washington D.C.
6. Yorktown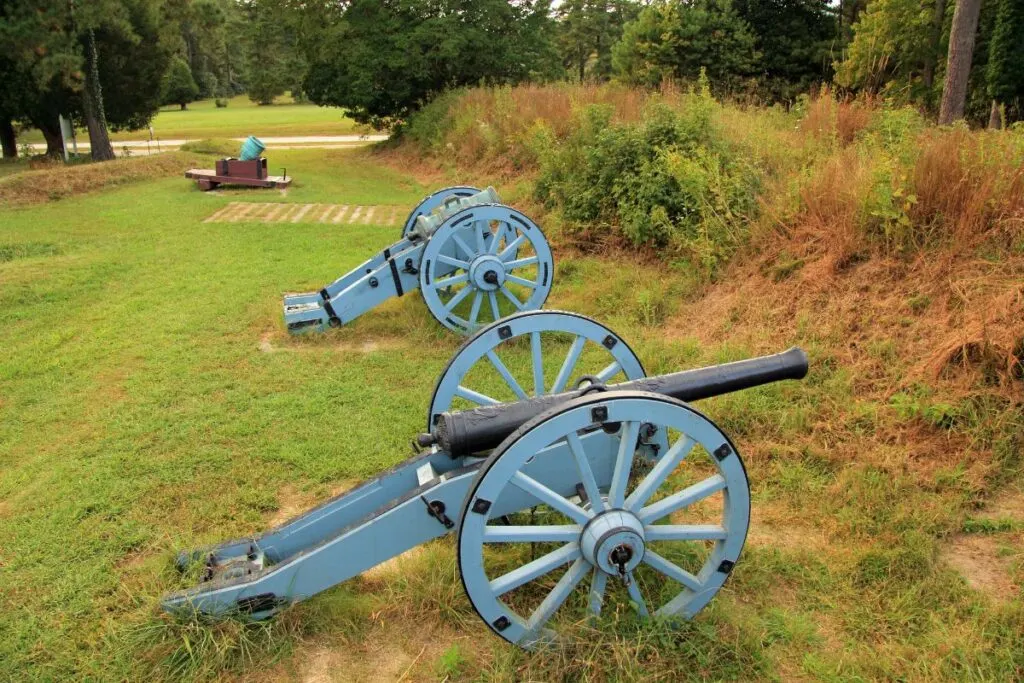 Yorktown is a historic site, home to the Siege of Yorktown and George Washington's victory. The museum includes a restored battlefield and siege lines, which are open during the summer months.
Yorktown also has a new American Revolution Museum. The walk through exhibits is an excellent way to learn about daily life for civilians and soldiers in 1781 and how medicine has changed since then.
7. Stratford Hall
When you visit Stratford Hall in Virginia, you'll be able to explore a wealth of history. For example, this is the birthplace of Confederate General Robert E. Lee. Plus, the architecture from the Colonial era is simply incredible. If that's not enough, there are also several museums on-site for visitors to enjoy.
Leashed pets are allowed at Stratford Hall, but they must be accompanied by responsible owners at all times.
8. Montpelier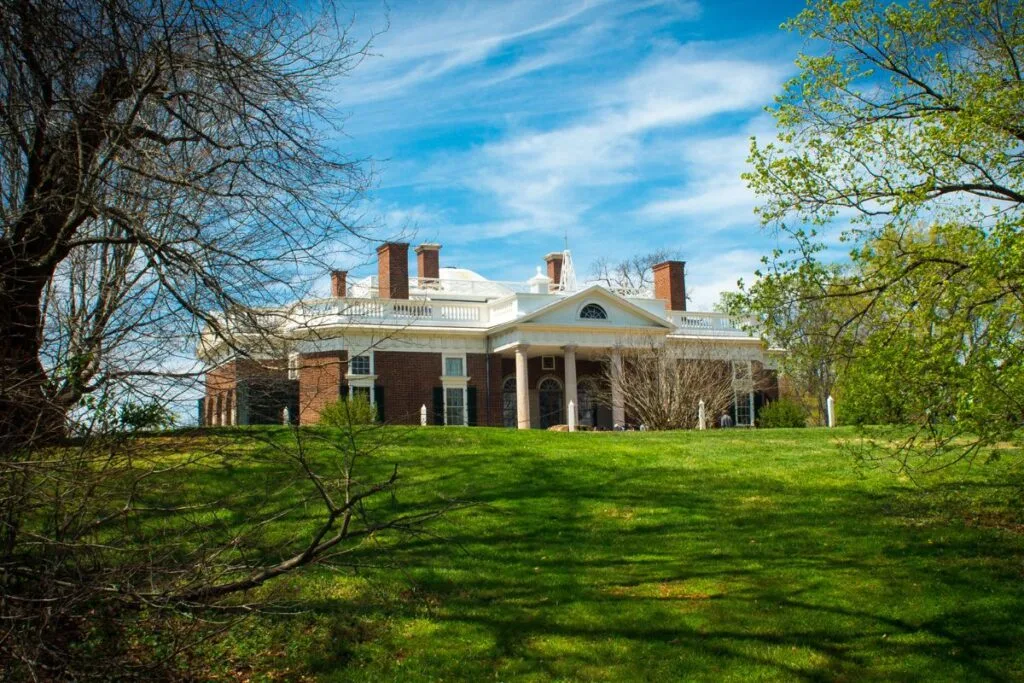 If you're looking for a historical place to visit in Virginia, look no further than Montpelier. This estate is the home of James Madison, the Father of the Constitution and Architect of the Bill of Rights. Tours are available for visitors for a small fee, and there's plenty to enjoy outdoors as well. The formal gardens and trails make Montpelier a great place to spend an afternoon with your leashed pet.
9. James Monroe's Highland
Monroe's home was originally built in 1793, and today visitors can tour the property and learn about his life and career. The site features exhibits on James Madison, as well as 10-minute video presentations on the crossing of the Delaware River and the Louisiana Purchase. There is also a self-guided audio tour available.
The gardens at James Monroe's Highland are beautiful, and provide a perfect spot for visitors to relax and enjoy nature. The estate was eventually sold to William & Mary College, but thanks to the efforts of the Monroe Foundation, it has been preserved and is now open to the public.
10. The Crooked Road
The Crooked Road is a 300 mile scenic trail in Southwest Virginia that winds over the migration routes used by European settlers as they moved south during the late 18th century.
The Crooked Road offers fun live music performances and plenty of opportunities to experience Virginia's rich history and culture. So if you're looking for an interesting and unique way to spend your vacation, be sure to check out The Crooked Road!
11. Appomattox
The Appomattox Court House and National Historical Park was where the Civil War ended in 1865, but also where Lee surrendered his army. The surrender of the Army of Northern Virginia in 1865 signaled the end of a civil war.
It's easy to see why this location is so important–it's where General Lee and General Grant signed terms of the surrender, concluding the most brutal chapter in American history.
Today, visitors can take a Ranger-led guided program or hear about the Surrender from an historian at Appomattox Court House.
There's also a new film shown at the theater which provides more information about what happened there. The park has a lot of hiking trails, as well as nature and history walks for visitors to enjoy.
12. Cape Henry Lighthouse
It's located in Virginia Beach and was constructed as part of America's first federal project.
This light house has been standing since 1792. Not only does it offer stunning views, but it's also a great place to learn about American history.
13. Crystal Spring Pump Station
The Crystal Spring Pump Station is a historic site located in Roanoke, Virginia. It was built in the late 1800s and used to pump water into downtown Roanoke. The museum is open to the public from Monday-Friday 9am-5pm, and offers information on how to schedule a visit with the Smithsonian.
Crystal Spring Pump Station is definitely worth visiting if you're ever in Times Square New York!
14. St. John's Church
If you're interested in history, St. John's Church is definitely worth a visit! This church has quite the interesting past–it was visited by some of the most famous Americans including Thomas Jefferson, George Washington, and Patrick Henry. In fact, it's known as the place where the revolution against Great Britain was decided upon during Patrick Henry's "Give me Liberty or give me death" speech in 1775.
These days, you can take a liberty of death tour through 9 actors portraying the second Virginia Convention in 1776 at St John's Church. The tour lasts 30 minutes and sometimes they hold special events too. Plus, this church is centrally located on Main Street so it's easy to find!
So if you're looking for an interesting historical site to explore, be sure to check out St. John's Church!
15. Arlington National Cemetery
The Arlington National Cemetery is a beautiful and solemn place to visit. Established in 1864, it is the final resting place for soldiers and nurses who died serving their country. It is also the final resting place of President John F Kennedy, his wife Jackie Kennedy, and their two children.
Tours are available at the cemetery, as well as changing of the guards at the Tomb of the Unknown Soldier. It is an honor to be buried here at Arlington National Cemetery. In 2013 Congress passed a law to spend $84 million on planning, design, and construction of new graves.
16. Edgar Allan Poe Museum
The Edgar Allan Poe Museum is a great place to learn about the life and work of one of America's most famous authors. The museum is open from 10 am to 5 pm Tuesday-Saturday and 11 am to 5 pm on Sundays.
The museum grounds are inspired by a famous poem about the author's hometown of Richmond, Virginia. The poem was written by Poe himself in 1849 and called "To Helen."
Poe spent his childhood in Richmond and returned there often throughout his life. The museum has a lot of interesting historical artifacts for visitors to explore!
17. Yorktown Windmill
The Yorktown Windmill was built in 1711 and is one of the oldest sites in Yorktown, Virginia. The mill not only produced flour, but it was a guidepost for travelers on the York River. It appears in many paintings from George Washington's campaign at Yorktown, including Washington and his Generals at Yorktown by John Trumbull from 1784.
18. Luray Caverns
If you're looking for a unique tourist attraction in Virginia, be sure to check out Luray Caverns. This cave system is home to some of the most impressive calcite formations in the state, including the Titania's Veil. Visitors can explore the caverns on guided tours, or take a break from sightseeing at the Car & Carriage Caravan Museum or Luray Valley Museum.
Conclusion
Whether you're interested in the early days of colonization or the more recent history of the United States, Virginia has something to offer. Be sure to check out some of these historical sites and attractions the next time you're in the state!
You'll also love