The best ice cream spot in Northern Virginia is a hotly debated topic, with everyone having their favorite. But we've done the work for you and have narrowed down some of the best ice cream shops in Northern Virginia to include on your next trip! Whether you are looking for something creamy or fruity, there is an option here for you!
(If you're looking for the best ice cream in the rest of Virginia, we've got you covered. We never turn down a good scoop.)
Top places to get ice cream in Northern Virginia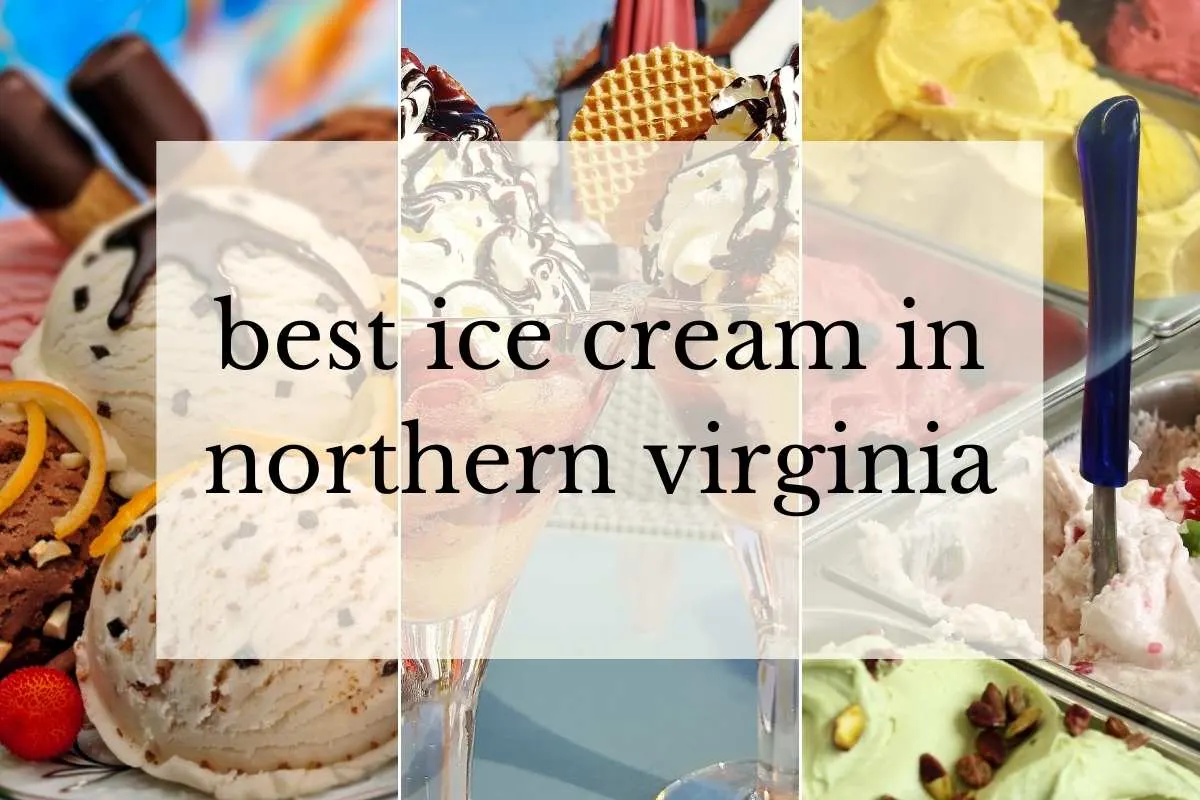 🍦 There are a lot of ice cream parlors in the area, and we love each and every one on this list. If you forced me to pick my number one, it would be Gruto's. If you don't like soft-serve, I'd go with Sugar Mamas. But all of them are great!
1. Gruto's Soft Serve (Loudon)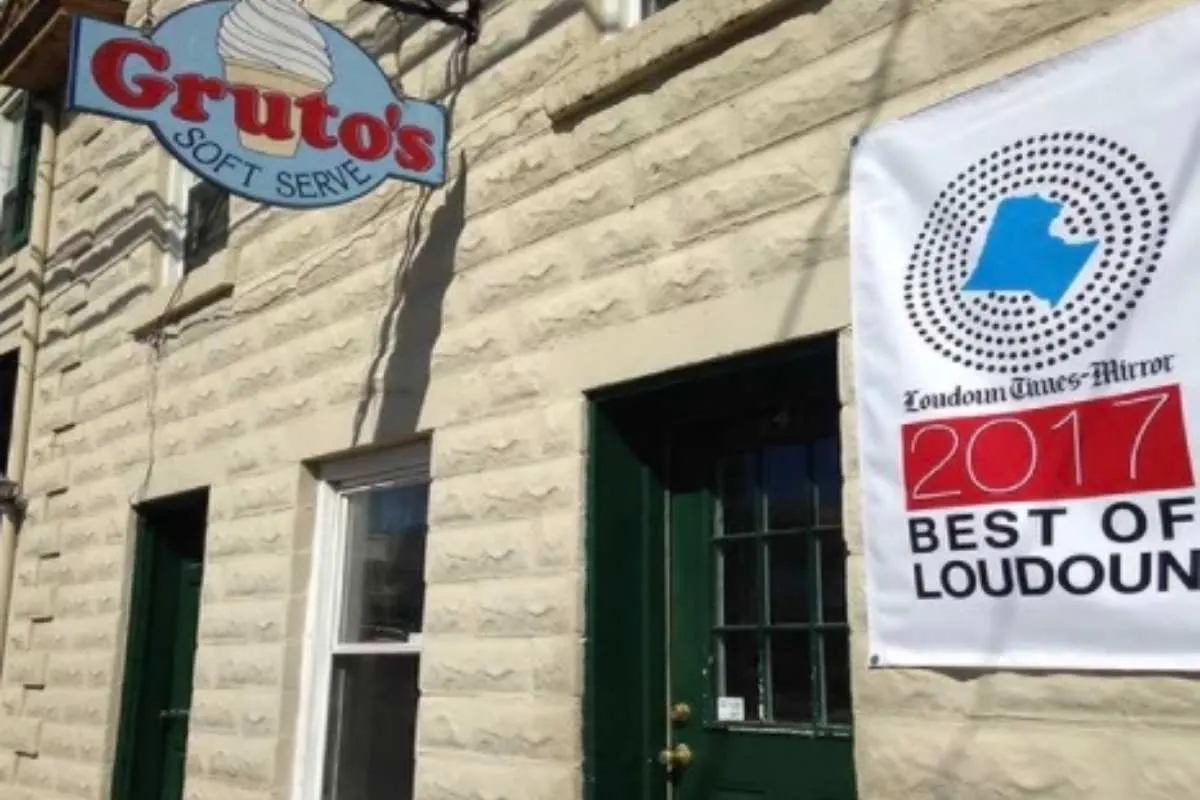 With two locations, (Purcelllville and Leesburg), this soft serve spot is growing and is a local favorite. They make all of their ice cream in house and have a constantly rotating roster of flavors. You can get cups, cones, or a specialty shake or sundae.
Family-owned and operated, they are very friendly and will make you feel right at home.
Open March through October.
2. Woody's Ice Cream in Fairfax
In historic downtown Fairfax, Woody's is in a cute location and has delicious ice cream. They serve up more than 30 flavors of hand-dipped ice cream from a local creamery, sundaes, milkshakes, soft serve, non-dairy options, and seasonal flavors like pumpkin and cinnamon.
They have a cute little seating area outside so you can enjoy your ice cream while people watching. They're dog-friendly too!
Here's their menu.
Woody's is open Tuesday-Sunday from 12-8, spring through fall.
3. Sugar Mamas in Fairfax
The Sugar Mamas is a great place to find some of the best ice cream in Northern Virginia. It's all classic, hand-scooped and made with real cream and sugar.
With a variety of flavors and scoops, as well as sundaes, milkshakes, and turtle sundaes, there is something for everyone at this restaurant. (They also do amazing ice cream cakes).
You'll also find a selection of homemade old-fashioned candy.
Open all year long in downtown Fairfax, they are closed on Mondays.
4. MooThru in Fauqier County
Yes the cute town of Remington in Fauqier County is a bit out there, but it's totally worth the trip for this ice cream parlor
They have a huge variety of flavors, including some unique options like blackberry merlot and lavender honey. They sell pints and quarts to go, so pack a cooler and load up.
Every product comes from local dairy farms (and they sell milk too!)
They have other locations farther south too.
Open Tuesday-Sunday.
5. Battlefield Country Store in Fredericksburg
It's debatable whether Fredericksburg is in northern Virginia, but if you think it is, this is one of the best ice cream places.
(Really, The Battlefield Country Store is a great place to shop for a variety of items. They have a wide selection of products, and the store is always well-stocked.) In addition, they sell some delicious ice cream!
They have a long list of ice cream flavors, as well as shakes, malts, and sundaes. They have some of the most creative milkshakes in the area. Be sure to try the Shake of Thrones, with red velvet cupcake, chocolate ice cream, and plenty of whipped cream.
The Battlefield Country store is open all year long, but closed on Sundays.
6. Lazy Mike's (Falls Church)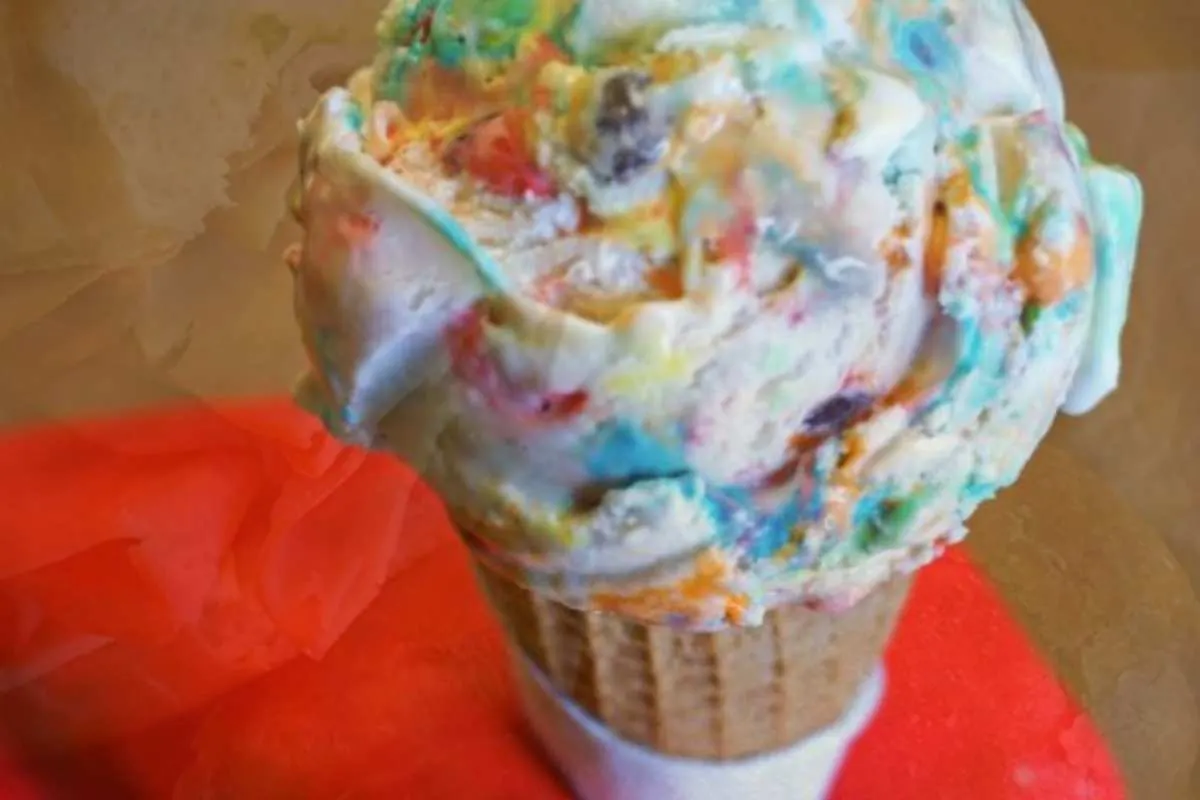 A full restaurant with a famous deli, Lazy Mike's has the BEST sundaes around. It's a great place to go for lunch or dinner and get a yummy ice cream treat afterwards.
The portions are large, so come with a hearty appetite. The banana split is a customer favorite and comes with three scoops of ice cream, fresh bananas, whipped cream, nuts, and a cherry on top.
They have a wide variety of flavors to choose from, with something for everyone. They also make their ice cream fresh in store, so you know it's always going to be delicious. Finally, their prices are very reasonable, making it a great option for budget-minded customers.
7. Jeni's Splendid Ice Creams (Arlington and Alexandria)
This is a nationwide chain, but it still makes the list because it's so darn good.
Jeni's has a wide variety of flavors to choose from, as well as vegan and dairy-free options. They also have a seasonal menu so you can always try something new.
They have a wide variety of flavors, including classics like vanilla and chocolate, as well as more exotic options like lavender honey and Thai iced tea. The ice cream is made with high-quality ingredients, so it tastes great every time. Jenni's also offers sundaes, milkshakes, and other desserts.
Be sure to get a scoop of my favorite, the pineapple upside down cake ice cream.
The Alexandria location is right in Old Town and stays open until 11pm.
8. Yard Milkshake Bar
The Yard Milkshake Bar (of Shark Tank fame) is a unique take on traditional ice cream and milkshakes. They create specialty milkshakes with lots of "extras" and serve them in a super cute mason jar.
The Yard Milkshake Bar wins awards year after year. This restaurant started as a corporate lawyer-turned-entrepreneur who wanted to create a unique space for people to gather and enjoy delicious food and drinks.
The Yard Milkshake Bar is a creative ice cream shop that specializes in boozy flavors. They make unique and delicious ice cream flavors, many with a boozy twist. Some of their most popular flavors include the "Coco Loco" (a chocolate coconut shake made with Cruzan rum) and the "Key Lime Pie Martini" (a shake made with Absolut Citron vodka, key lime juice, sweetened condensed milk, whipped cream).
9. Little City Creamery
If you're looking for a great place to get your ice cream fix, look no further than Little City Creamery. This mom-and-pop shop offers some of the best ice cream in town, with unique flavors that will tantalize your taste buds.
The owners of Little City Creamery are passionate about their craft, and it shows in the delicious ice cream they produce. They use only the finest ingredients from happy dairy cows, and their ice cream is handcrafted using traditional methods.
You can also get amazing coffee and smoothies here.
They have a rotating menu plus some classic flavors, and the best strawberry in town.
Check out all the flavors here.
10. Great Falls Creamery
The Great Falls Creamery is a cafe in Great Falls, VA that sells hand-scooped ice cream and soft serve. The owners are friendly and down-home service is provided in the quaint village of Great Falls. Ice Cream: dairy products like milk, ricotta cheese, butter, cream, And have a long list of chocolates, coffees, and sobets.
The Great Falls Creamery is located in the Broad Street area of Falls Church and is a super-popular place to visit. The creamery has plenty of seating outside, but they also sell ice cream inside as well. The business is known for its delicious ice cream and its wide variety of flavors that are made from quality ingredients such as fresh fruit, coffee beans, and chocolate chips!
11. Peterson's Ice Cream Depot
Peterson's Ice Cream Depot is a local favorite in Clifton, Virginia. There are over 30 flavors of homemade ice cream to choose from, including some unusual ones like Hot Fudge Nuts and Cookies 'n' Cream Ice Cream Pie. Customers can select their desired flavor or create their own custom flavor by choosing a base—like chocolate or vanilla—and adding toppings such as Oreo cookies or M&Ms. The favorite flavors of the day at the Depot change on a regular basis.
The Dog Pound offers hot dogs, Carolina barbecue, hand-cut fries, and more. (It's one of our favorite restaurants in Clifton.) You can bring your dog to enjoy a Pup Cup! The website contains information on the company and its product offerings.
Peterson doesn't only have ice cream to offer! The list varies from soft served ice cream to shakes and malts. Some of the hte locals favroits are: Black walnut, Caramel ripple, Chocolate chocolate chip, and the list goes on!
12. Milwaukee Frozen Custard
Milwaukee Frozen Custard is a hidden gem in Northern Virginia. They rotate out one new flavor every day, and you can check their website to see what Flavor of the Day you'll find before your visit. You can choose from sundaes, splits, and malts.
This is a chain, but it's one of our favorites.
13. Swirlie's Soft Serve (Haymarket)
If you're looking for a delicious treat in Haymarket, Swirlie's Soft Serve is the perfect spot. Offering both soft serve and ice cream cakes, this creamery has something for everyone. Whether you're in the mood for a classic sundae or want to try something new, Swirlie's Soft Serve has you covered.
Right off Route 66, Swirlie's provides dessert-seekers a variety of frozen treats to enjoy. Soft serve ice cream, sundaes, banana splits, flavor burst cones, Razzle's, Hawaiian shave ice and more. Kick back and enjoy listening to oldies music or take in an outdoor movie on Saturday night at this family-friendly spot.
Swirlie's summer hours are Fridays and Saturdays:11:00 am-11:00 pm, Sunday thru Thursday 11:00 am to 10:00 pm.
14. Frostie Moose (Woodbridge)
If you're looking for a great place to get your ice cream fix, Frostie Moose is the place for you! They have a wide variety of flavors to choose from, as well as all the classic toppings.
They also serve shakes, malts, and floats – which include ice cream! So whether you're in the mood for something sweet and creamy or icy and refreshing, Frostie Moose has you covered.
Open seasonally, Frostie Moose provides numerous soft serve flavors, frozen yogurt, a "featured" special of the day and plenty of yummy toppings. Enjoy your sweet treat in a cup traditional cone, sugar cone, dipped waffle cone or waffle bowl. Bring your pup (they have doggy ice cream) and relax at one of the outside tables.
They are open Friday-Sunday
15. Jimmy T's Soft Serve (Dumfries)
Jimmy T's Soft Serve believes that you should never have to limit your taste in ice cream, so they offer over 26 different flavors of Soft Serve ice cream for you to enjoy. In addition to soft serve, they also have shakes, sundaes, shaved iced and banana splits on their menu. With over 14 different flavors (pina colada is my fave), your perfect sundae is only an order away.
There are a lot of great ice cream shops in Northern Virginia, so it can be hard to choose just one. If you live in the area, make it your mission to visit them all!