Lexington, Virginia is filled with both history and nature. It's also in the heart of the Blue Ridge Mountains, which makes sure everywhere you turn there's beautiful scenery.
If you are planning on visiting this charming little city any time soon then keep reading because I have put together my list of things you should do while there. This is one of our favorite Virginia historic towns.
Our favorite things to do in Lexington
1. Walk through gorgeous Washington and Lee University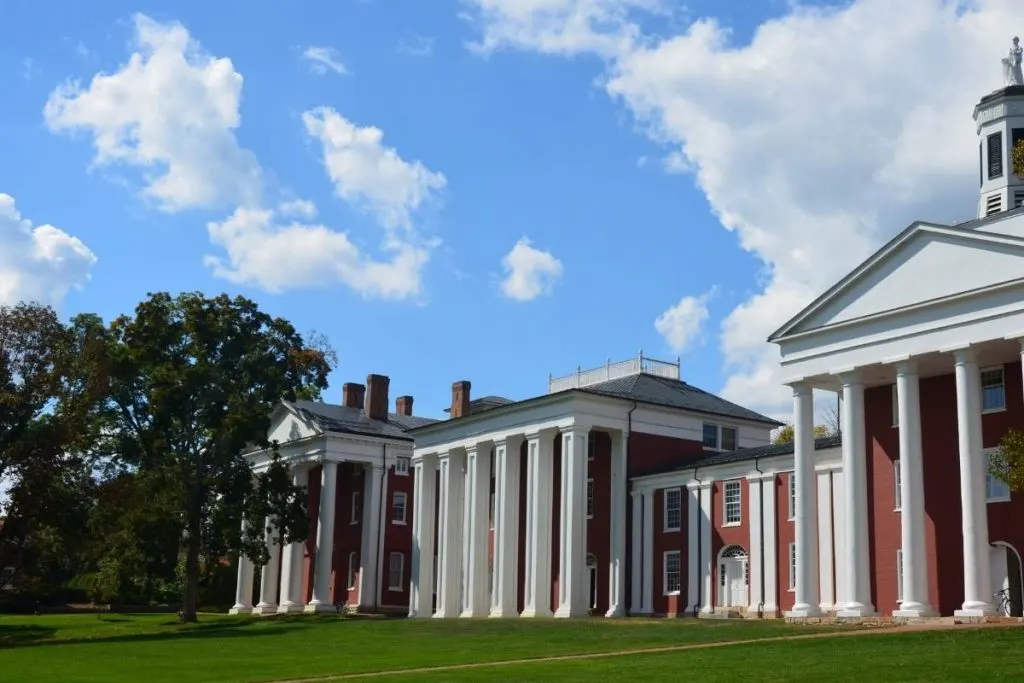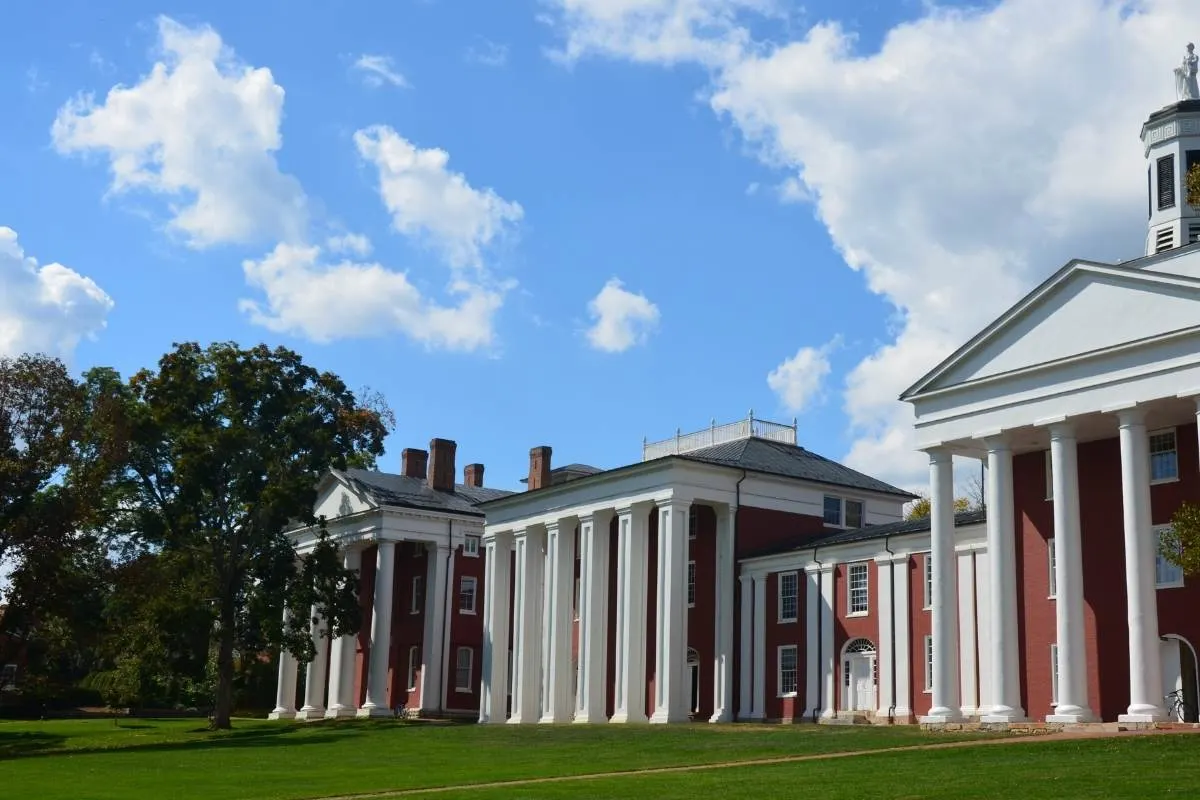 Washington and Lee University is one of the most beautiful campuses in Virginia. The school is a private institution with liberal arts programs and an undergraduate student body of about 2,300 students. Washington College was renamed Washington Academy before becoming Washington College in 1838. Robert E. Lee served as president of the college for five years before his death.
The university is great for visitors: it has a beautiful campus to walk around with many things to do including lectures by its professors outdoors near campus grounds if weather permits.
2. Admire the Lee Chapel and Museum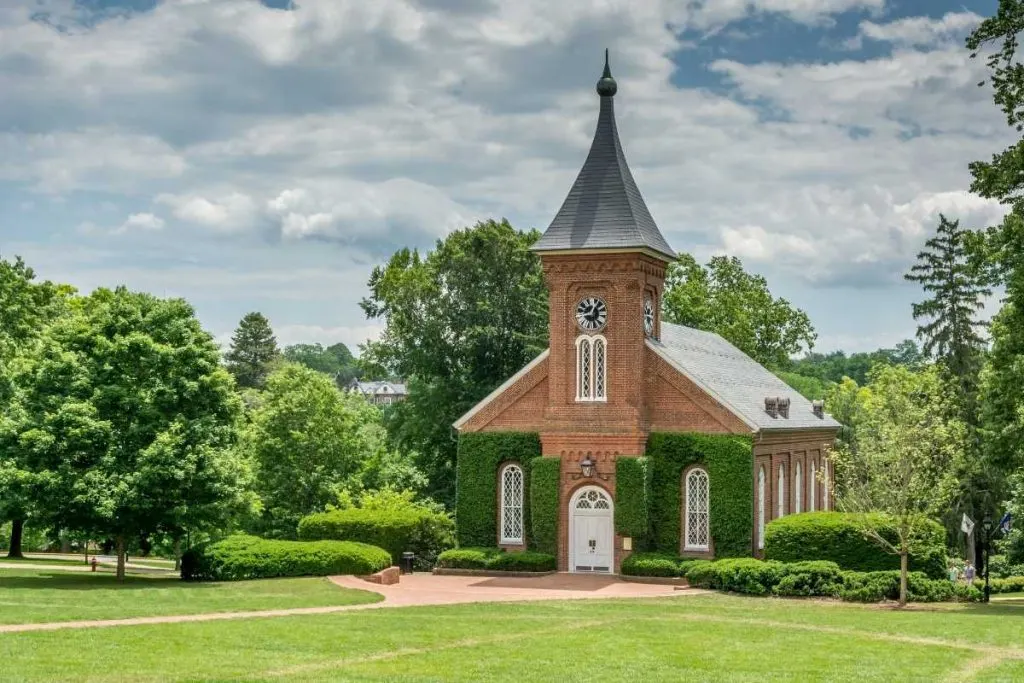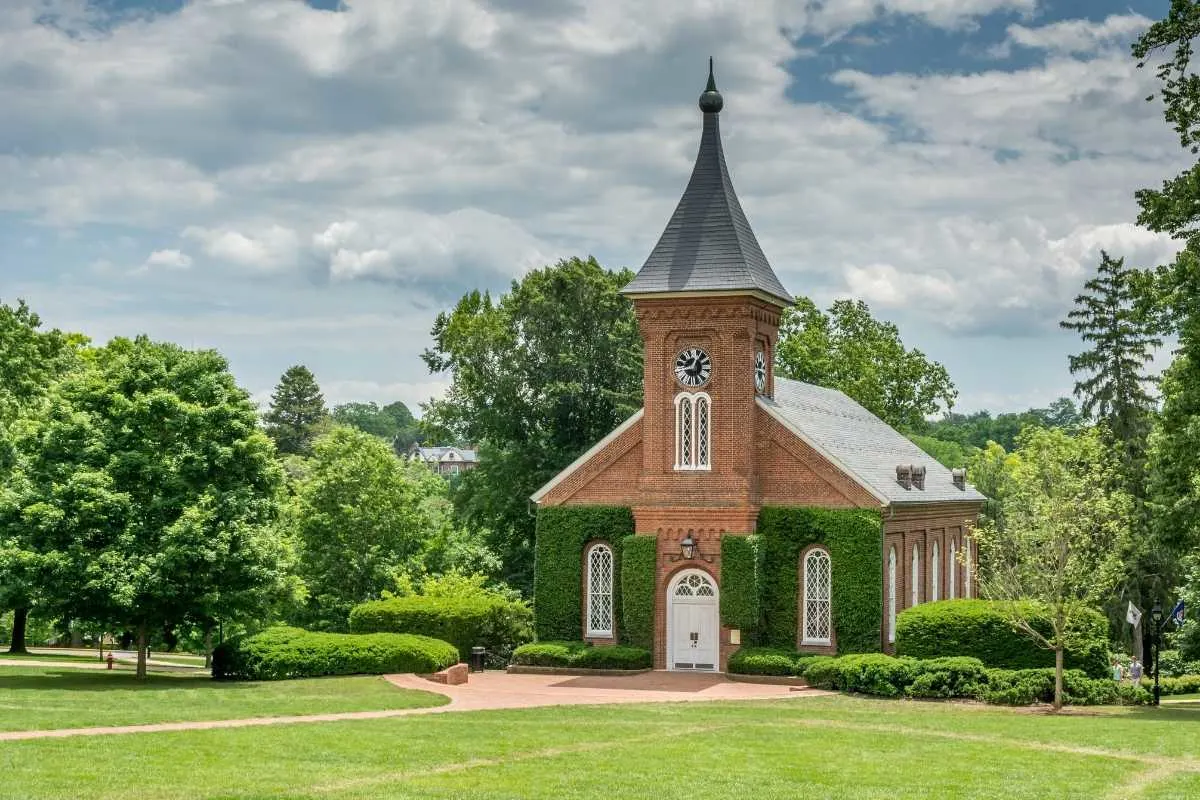 If you're looking for a historical and educational site to visit while in Lexington, Virginia, look no further than the Lee Chapel and Museum. This chapel was originally named Grace Episcopal Church, and it is where Robert E. Lee and his family are buried on the grounds. In addition to being a place of worship, this building also served as George Washington Lee's office when he was president of Washington and Lee University.
Today, the Lee Chapel and Museum is home to some of the most important academic events at Washington and Lee University. Guests can also enjoy its state-of-the-art museum which features a preserved office of President George Washington Lee. If you're interested in American history or just want to learn more about one of our country's greatest leaders, this is a must-see.
3. Learn about 19th Century life at Miller's House Museum
This museum is a great place to visit for those who want to learn more about the everyday life of a typical family during the Civil War. The Miller's House Museum was home to the Miller family, who were slaveholders. This historic house has been carefully preserved and restored to look as it did in the 1860s.
The museum offers guided tours that take you through the different rooms of the house and explain what life was like for the family and their slaves. You'll also learn about the role Lexington played in the Civil War and see some of the artifacts that have been found on the property.
4. Go back in time at the Stonewall Jackson House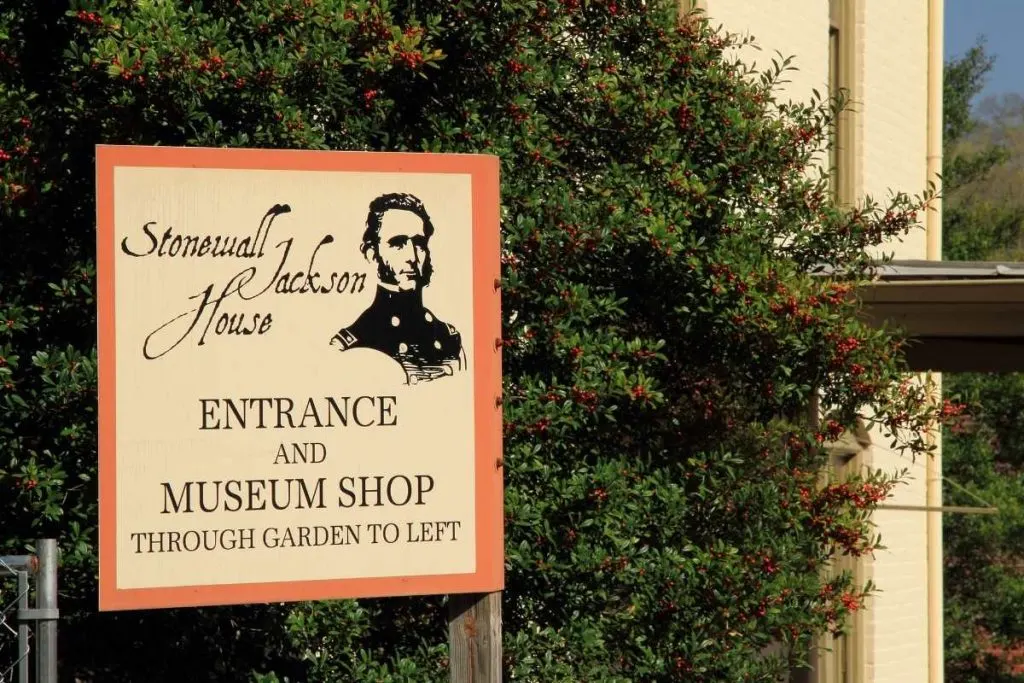 The Stonewall Jackson House is a museum in Lexington, Virginia that reconstructs the house to its former splendor. It was in 1979 when the Museum of Virginia History reconstructed the house and it is worth visiting if you're interested in some history time. The furniture from the period matched up with what Jackson's family had at home during his lifetime.
Stonewall Jackson's life as a professor at VMI and husband are also covered in detail in the museum. General admission includes a tour of Jackson's home and garden; the gift shop is free to visit but general admission costs $5.
You can visit the garden for free, but a paid tour is required to view Stonewall Jackson House. The entrance fee is $10.
5. Learn about military life at Virginia Military Institute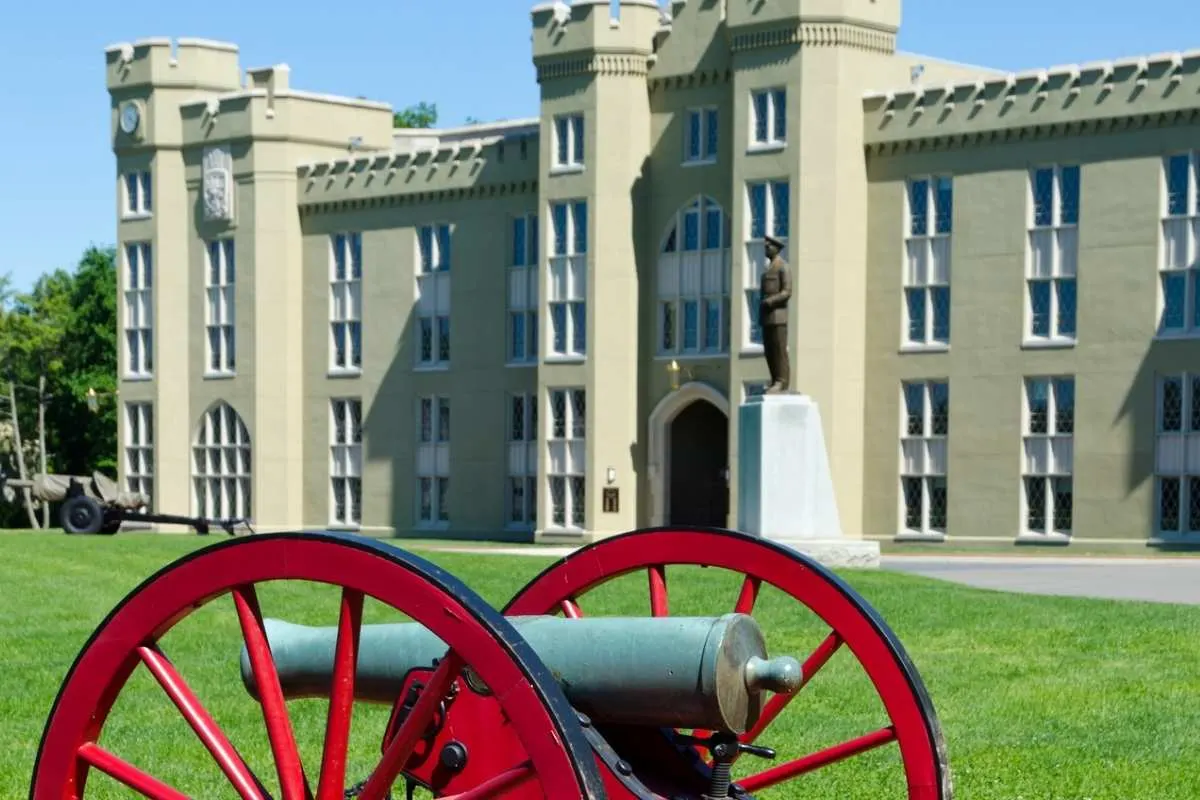 If you are interested in the military and want to attend a prestigious school, Virginia Military Institute is an excellent choice. VMI is a military institution that offers a liberal arts degree that prepares graduates for service in the Army or Navy. The school has been around since 1839 and has a long tradition of preserving the best of both the Army and Navy.
One of the highlights of visiting VMI is its library. It features 15,000 items from the school's past, including uniforms, weapons, and maps. There are also tours available at VMI during summertime. You can take a personal tour with one of the cadets or join a guided group tour through the museum collection.
(In addition, there is a 45-minute cadet parade on the VMI parade grounds most Friday afternoons at 4:35 pm. If you're lucky enough to be in Lexington on a Friday afternoon, make sure to catch this impressive event!)
6. Do a beer tasting at Devil's Backbone Brewing Company
The Devil's Backbone Brewing Company is a top-rated attraction in Lexington. They take their time making lagers and beers due to the slow nature of their brewery. The slogan "slow by nature" reflects the slower, leisurely pace at which the brewery operates. Devil's Backbone provides eight standard beers and seasonal and unique creations. Special brews, such as Bright (sparkling ale made with tangerine) along with Hibiscus's Hard Lemonade are also available.
The slogan for Devil's Backbone Brewing Company is "slow by nature." Devil's Backbone Brewing Company uses German brewing techniques to create prestige beers. The company has been recognized for their eight core lagers at the World Beer Cup and Great American Beer Festival. Oktoberfest is offered during the fall season, with specialty brews like Bright and Hibiscus Hard Lemonade available for purchase at time of visit.
7. Get into nature at Boxerwood Nature Center and Woodland Gardens
If you're looking for something fun to do outdoors in Lexington, check out Boxerwood Nature Center and Woodland Gardens! This nature center has an arboretum with exotic trees and shrubs, as well as a variety of trails for hikers of all levels. Kids will love playing on the trails, and adults can join in events or symposiums.
The parking fee is $5, but it's free on the honor system. There are also several activities for kids at Boxerwood Nature Center and Woodland Gardens, like a mud kitchen, and archaeology dig. So bring your family out for a day of fun and learning at this beautiful nature center!
8. Learn about George C. Marshall at the George C. Marshall Museum and Library
The George C. Marshall Museum and Library in Lexington, Virginia is a great place to learn about the life of this American general and statesman. The museum preserves General George C. Marshall's legacy and showcases various aspects of his life and career. It also has a research library where students can learn about the history of those times.
Marshall Museum focuses on military topics alongside the five exhibition areas with permanent exhibits. These exhibitions present Marshall's journey from a VMI candidate to a great general, as well as his work after World War II in creating the Marshall Plan to rebuild Europe. Some features of the museum include his Nobel Peace Prize and vintage '43 Jeep Willy.
Marshall was an accomplished military man, winning many honors including the Nobel Peace Prize in 1953 for his work as an officer in the US Army and president of the American Red Cross. If you're interested in learning more about this fascinating figure, be sure to visit the George C. Marshall Museum and Library in Lexington, Virginia!
9. Pay a visit to the Cyrus McCormick Farm and workshop
The Cyrus McCormick Farm and Workshop is a National Historic Landmark in Lexington. The museum today has eight still-standing buildings that sit on five acres of land. The McCormick farm is a historical site that people can visit for free and get information about the history of Cyrus McCormick.
The main manor houses an old carriage house where visitors can learn more about the history of the farm. Visitors can also tour the blacksmith shop, grist mill, smokehouse, slave quarters, and schoolrooms at this attraction located near Lexington, VA
10. Take a tour of the Oak Grove cemetery
Oak Grove Cemetery is the final resting place of many famous and important people, including Stonewall Jackson. This historic cemetery is a great place to visit if you're interested in Virginia's history, and it's well worth taking a tour of the grounds.
The cemetery is located in Lexington, Virginia, and it's easy to find–just look for the 316 S Main St address. The National Register of Historic Places listed Oak Grove Cemetery in 1980, so you can be sure that you're seeing something special when you visit.
There are plenty of shade trees and green grass at Oak Grove Cemetery, making it a peaceful and relaxing place to spend some time. You'll also find many interesting monuments and gravestones here, so be sure to take your time exploring everything this beautiful cemetery has to offer.
11. Take a hike at the Chessie Nature Trail
The Chessie Nature Trail is a great place for a hike, and it's mostly a public walking trail. It's also enjoyable for biking. The trail has various geographical features that are fun to explore such as differential water levels, fields, pastures, and woods. In addition, the trail is used by the Virginia Military Institute for training marches.
The Chessie Nature Trail is a 7-mile route between Lexington and Buena Vista, VA. The old railbed as well as the river guide visitors on the path that winds through forests, open fields, and farmland. Visitors must take one small deviation from the path to traverse the river at various points along its course.
The trail is also a 5K race site and access to great fishing areas, which include bass and trout.
12. Get some awesome pictures at Natural Bridge State Park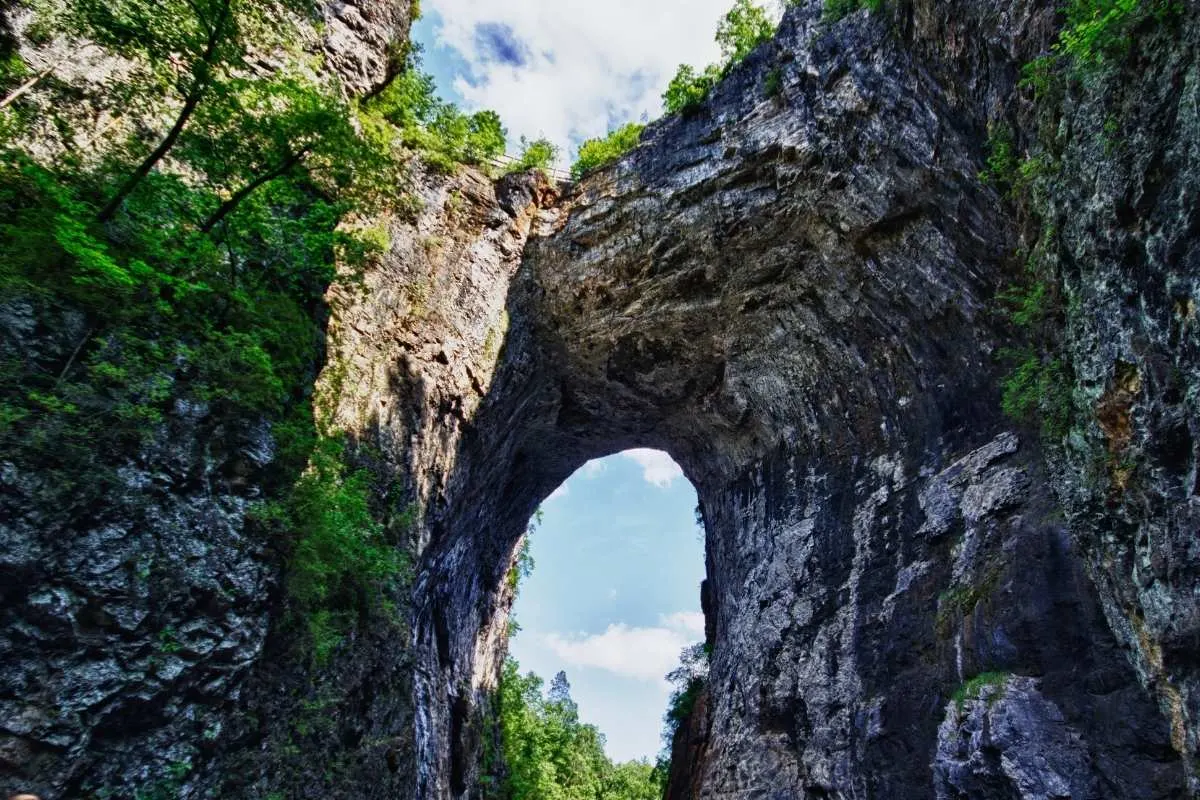 Rockbridge County is filled with natural and historical wonders, but the most obvious place to visit first is Natural Bridge State Park. The park was designated a state park in 2016 and spans 535 acres of land, including the natural feature that gave Rockbridge its name. If you're looking for an easier way down the stairs, it's possible to take a shuttle from the Visitor Center.
The park is also home to Native American history, culture, and heritage. In fact, America's Founding Fathers are connected to Natural Bridge in some way, shape, or form. George Washington likely surveyed the area in 1750 and his initials "G W" are inscribed on a large stone at one of the bridge's inner walls as well as on a map drawn by Thomas Jefferson himself.
If you're looking for an even more adventurous hike, check out Cedar Creek Trail which leads under the bridge and to Monacan Living History Exhibit and Lace Falls.
13. Take a horse-drawn carriage tour of downtown Lexington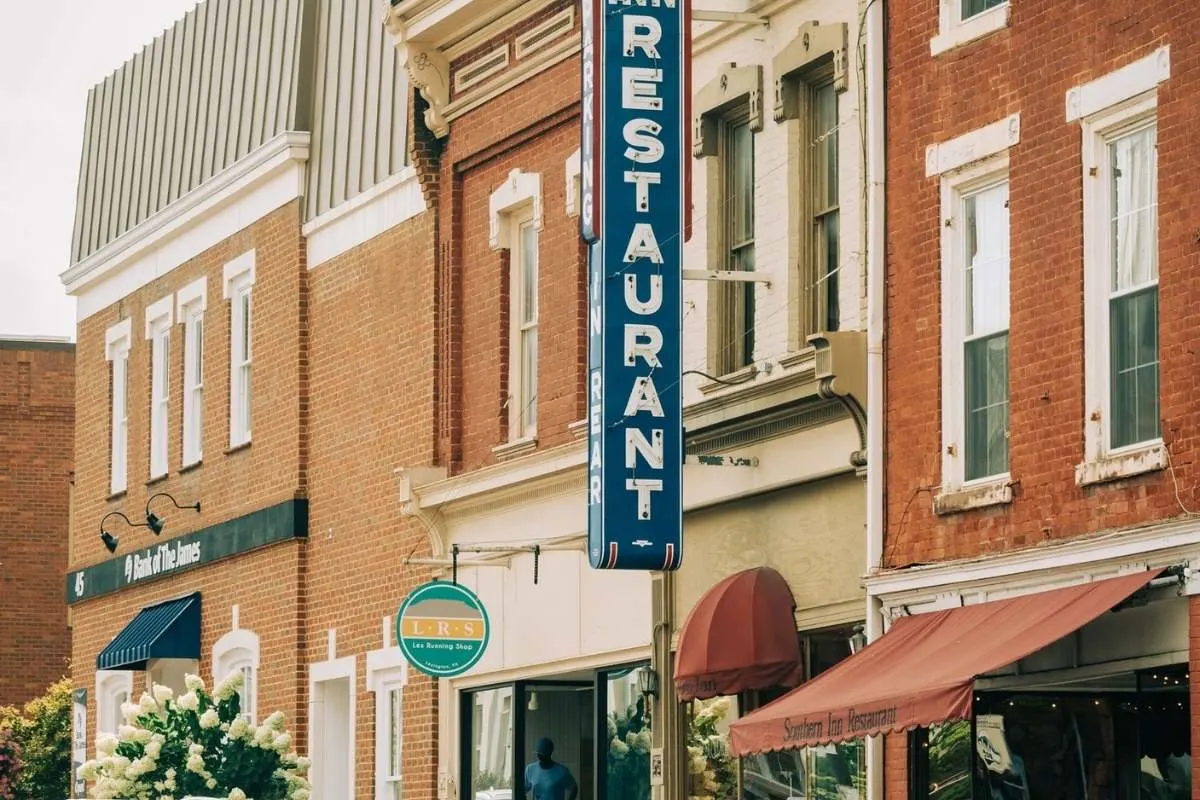 If you're looking for a unique way to see Lexington's charming downtown, consider taking a horse-drawn carriage tour. The Lexington Carriage Company offers this option and provides visitors with a relaxing way to see the sights at a leisurely pace.
Lexington is home to two important military figures in American history: Lee and Stonewall Jackson. You can learn more about these men at the Virginia Military Institute and Washington and Lee University, both of which are located on Letcher Ave in Lexington. In addition to these campuses, Lexington also has museums, cemeteries, plantations, and historic college campuses that are popular destinations for visitors.
The Lexington Carriage Company provides a horse-drawn carriage tour through these sites and provides rest for weary feet by slowing the pace to match hoof beats. After your horse-drawn carriage tour, there is an additional package for you to enjoy. The Lexington Carriage Company offers a day of tours in Lexington and Colonial Williamsburg, VA. This package includes admission to VMI Museum and W&L's Wilson Museum as well as a guided tour of each campus.
14. Enjoy a wine tasting at Rockbridge Vineyard
If you're looking for something relaxing with a beautiful view, Rockbridge Vineyard is a great option. It's located just 20 minutes from Lexington and offers beautiful views of the Blue Ridge Mountains.
The vineyard offers tastings of its award-winning wines, and you can also tour the property. It's a great way to spend an afternoon, and you'll get to see some of the most beautiful scenery in Virginia.
15. Get a workout in by hiking House Mountain Trail
The House Mountain Trail is located in the Shenandoah Valley and is a moderately strenuous hike. The trail has beautiful views and a brief rest or snack at the Brown Mountain Shelter.
The trail winds you along the crest of mountains, 105 miles long. Along the way, stop to swim in the Maury River; stroll across the swinging bridge; hike Jump Back mountain; fish for some fresh water trout; or just relax while taking in all that beauty.
House Mountain offers spectacular views of the Shenandoah Valley to the northeast. Wade's Mill is a 1750s grist mill and still produces flour today. The Stonewall Jackson Memorial Cemetery is the final resting place of many Confederate veterans, including Stonewall Jackson.
Lexington is a small yet bustling city full of history with plenty of things to do (even if you don't like history!) You can visit the sites associated with George Washington and Thomas Jefferson, take a carriage ride around town, go wine tasting, or hike one of the area's trails. No matter what you choose to do, you're sure to have a great time in this beautiful Virginia city.