Williamsburg is one of our favorite places in Virginia, and it's probably the best place in the whole commonwealth to take the kids.
Of course, Colonial Williamsburg is a considerable attraction, but there are plenty of other fun things to do with the little ones (even toddlers!). We're here to share our favorites.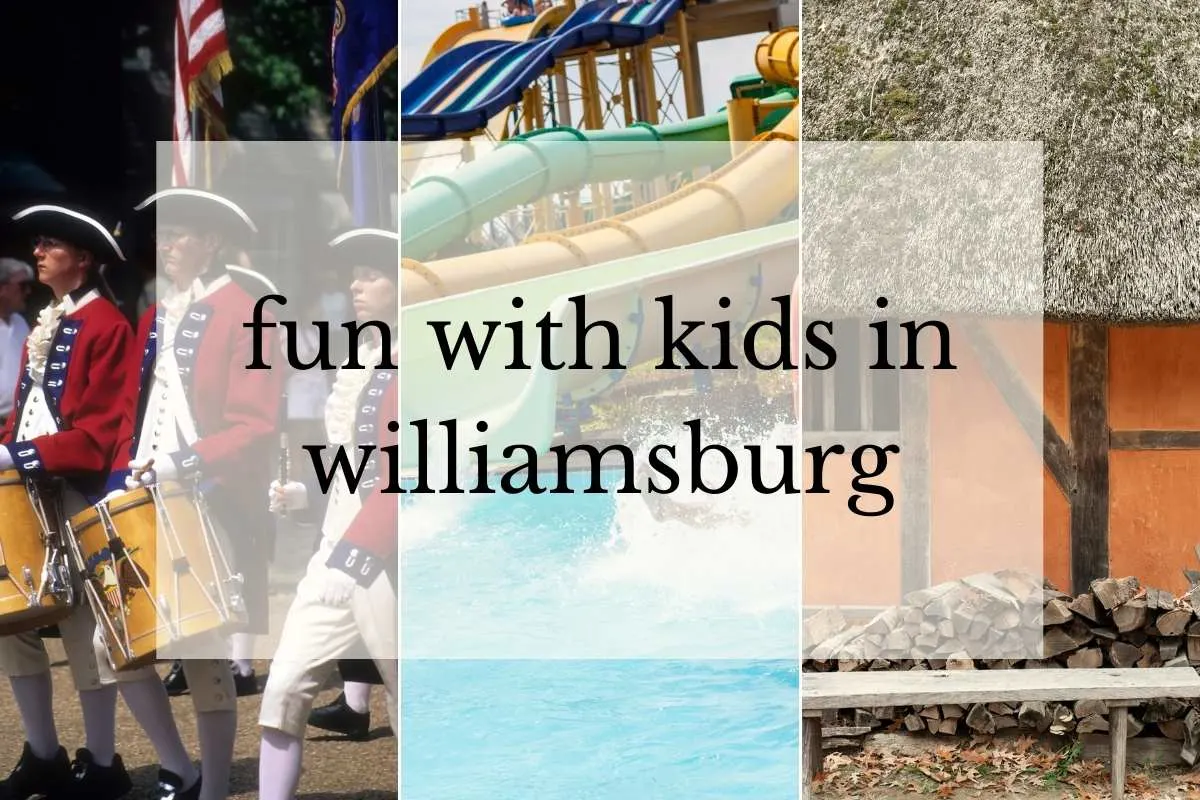 Williamsburg for kids: What makes it great?
Visiting historic Williamsburg with a kid allows you to "time travel" as you see what it feels like in colonial times. Visit Williamsburg with kids teaches kids about the history in a way that feels interesting and "real" to them. Our children started to enjoy the historic town at around age 6.
Even younger kids can enjoy other attractions in the Williamsburg area. Toddlers will enjoy Great Wolf Lodge (the kiddie pool area) and the Williamsburg botanical garden.
But if you're traveling with school-age children, this historic area around the York River is the perfect family vacation.
Where to stay in Williamsburg with Kids?
Staying in an official Colonial Williamsburg hotel is usually pricy, but you can't beat the location.
If you're on a tight budget, just a few miles away are many, many affordable hotels, and they are all family-friendly.
Tips for planning your visit:
Keep in mind that if you are traveling from the north, especially in the summer, you will deal with traffic on I95! Try to hit the road as early as possible.
A lot of these attractions are spread out a few miles from each other. If you. want to see the Jamestown Settlement, Busch Gardens, and Colonial Williamsburg, you'll need to drive between all three.
Christmas is our favorite time to go. Visiting Colonial Williamsburg in December is gorgeous, with fresh greenery everywhere. You can visit Busch Gardens Christmastown, loaded with Christmas lights and holiday treats.
The ten best things to do with kids in Williamsburg
To be honest, Colonial Willliamsburg is the star. But our kids also love Great Wolf Lodge.
1. Colonial Williamsburg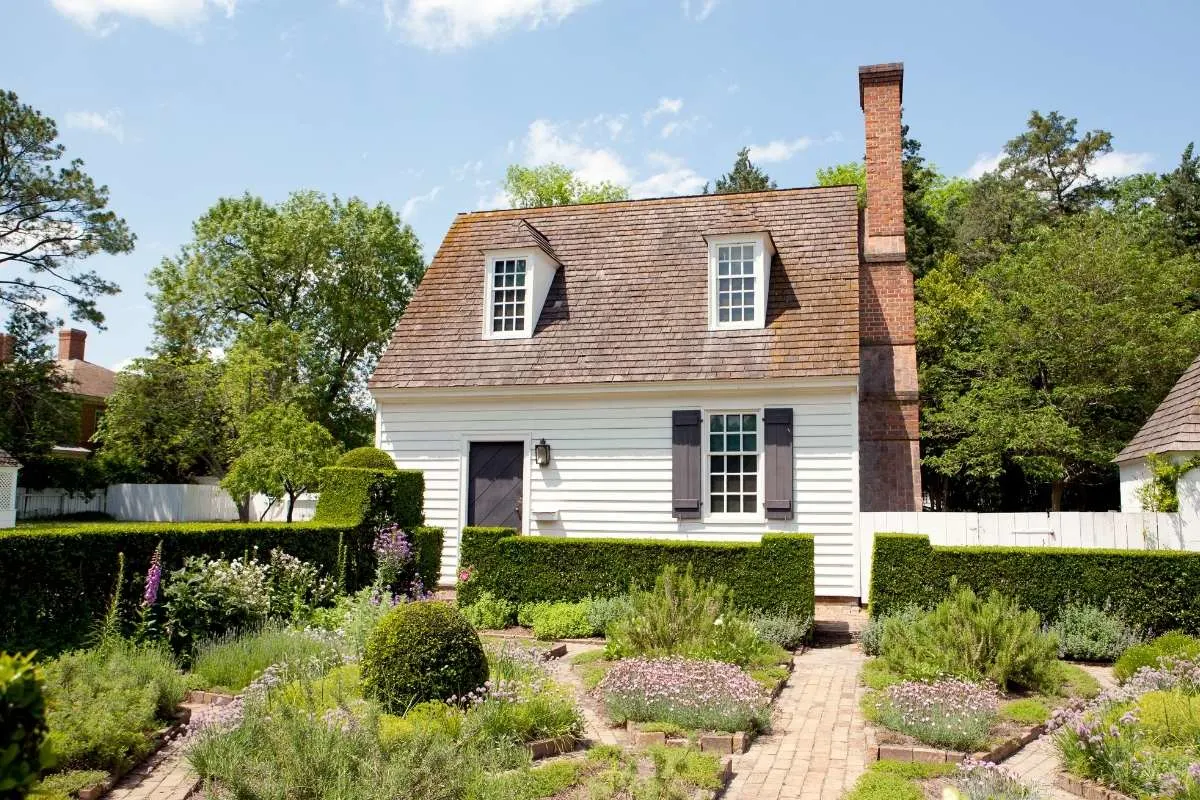 Colonial Williamsburg is an American living-history museum located in Williamsburg, Virginia. It comprises hundreds of restored and reconstructed buildings from the 18th century.
Colonial Williamsburg is very well done, with a large and beautiful visitor center, historic taverns and shops, and many living history exhibits that will teach kids all about life in the 18th century.
You can stroll through the area free of charge and just enjoy the scenery. But to enter most of the historical sites such as the Governor's Mansion, dress shop, or (my favorite) the post office, you'll need to pay admission.
Better than any of the history museums you've ever been to, Colonial Williamburg will top any list of things to do with kids in Williamsburg.
This historic town is one of the most popular tourist attractions in the state, with over 1.5 million visitors each year.
(Our childrens' favorite spots in Colonial Williamsburg? The candy shop and the cannons in the central street that fire twice a day. Check the schedule to see when there will be a demonstration.)
2. Freedom Park
Freedom Park is a 20-mile bike trail, hiking, and animal park.
Freedom Park is a great place to visit with kids. It has a rich history dating back to the Revolutionary War, and it covers an area of 1,500 acres. It includes gardens, a theater, ponds, and wildlife habitats.
In addition to the many activities available, Freedom Park is also a beautiful public space that welcomes all to come and enjoy its natural beauty. Whether you want to picnic in the gardens, go for a walk, or skate on the pond in wintertime, there's always something to do at Freedom Park.
3. Great Wolf Lodge Williamsburg
Great Wolf Lodge is a family-friendly indoor water park resort in Williamsburg, VA. It features a variety of water slides and attractions, a large arcade, and several restaurants. They have a wave pool, lazy river, and more.
Most of all, our kids love "MagiQuest," an interactive game where they roam around the hotel, solving riddles and earning points.
One night here is all you need.
Tip: escape the resort to eat. The restaurants are kid-friendly but overpriced. You're right next door to Pierce's, one of the best barbecue places in Virginia, and there are lots of other great places to eat in Williamsburg.
4. Jamestown Settlement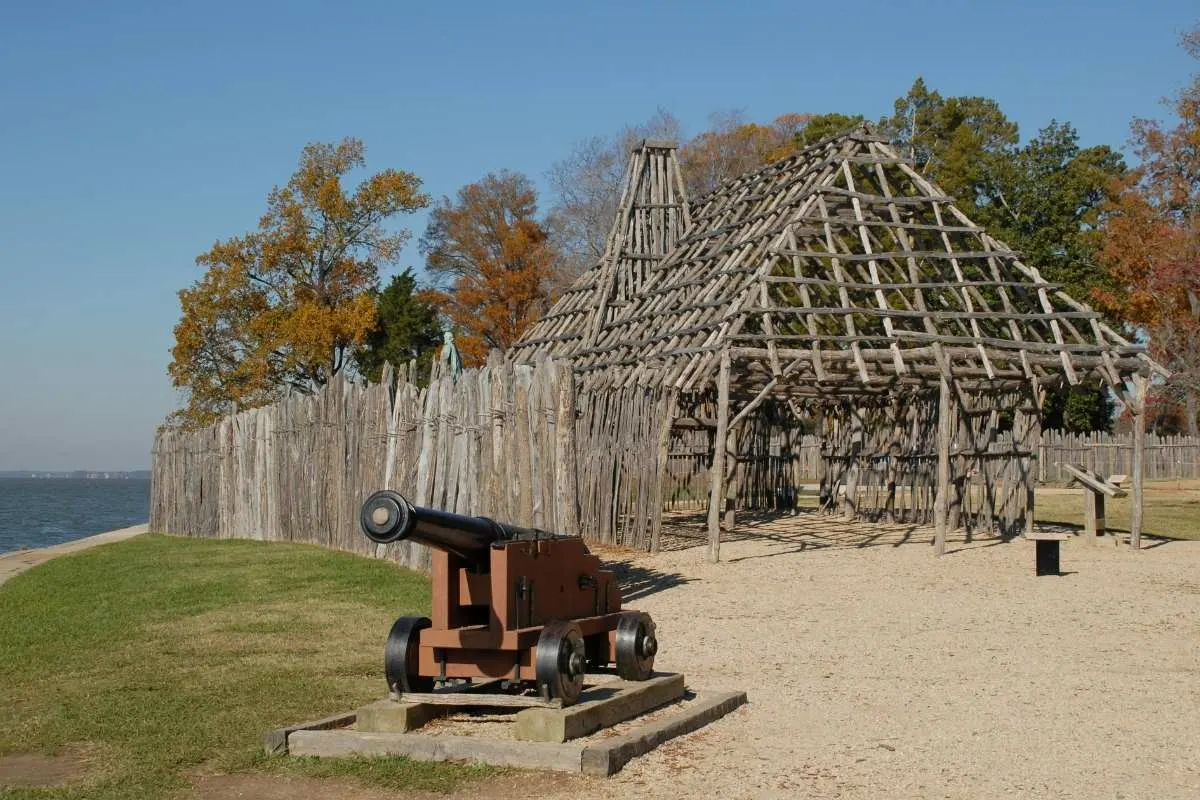 Save money and purchase America's Historic Triangle Ticket when visiting the historic triangle. This ticket gives you access to all Colonial Williamsburg sites, Historic Jamestowne, Jamestown Settlement, American Revolution Museum at Yorktown, and Yorktown Battlefield for seven consecutive days.) (Note: Colonial Williamsburg, Jamestowne settlement, and Yorktown comprise the Historic Triangle linked via the Colonial Parkway.
Jamestown Settlement is an outdoor living history area that contains three re-created areas: a Powhatan Indian Village, replicas of the three ships that carried settlers from England to Jamestown, and a re-created fort. Jamestown is the first permanent English settlement in the United States.
For starters, visitors can climb aboard one of the replica ships and experience life as it would have been lived in tight quarters. They can also explore a colonial fort, watch costumed interpreters demonstrate traditional crafts, or listen to children's stories in the outdoor theater.
The indoor gallery of exhibits at Jamestown Settlement includes a variety of shows that chronicle the nation's 17th-century beginnings in Virginia. The Powhatan, English, and West African cultures are represented through interactive displays and multimedia experiences.
In addition, the Jamestown Settlement has a movie theater with a unique feature of 1607: A Nation Takes Root. There are also different exhibition areas that have items related to British history on display.
5. Busch Gardens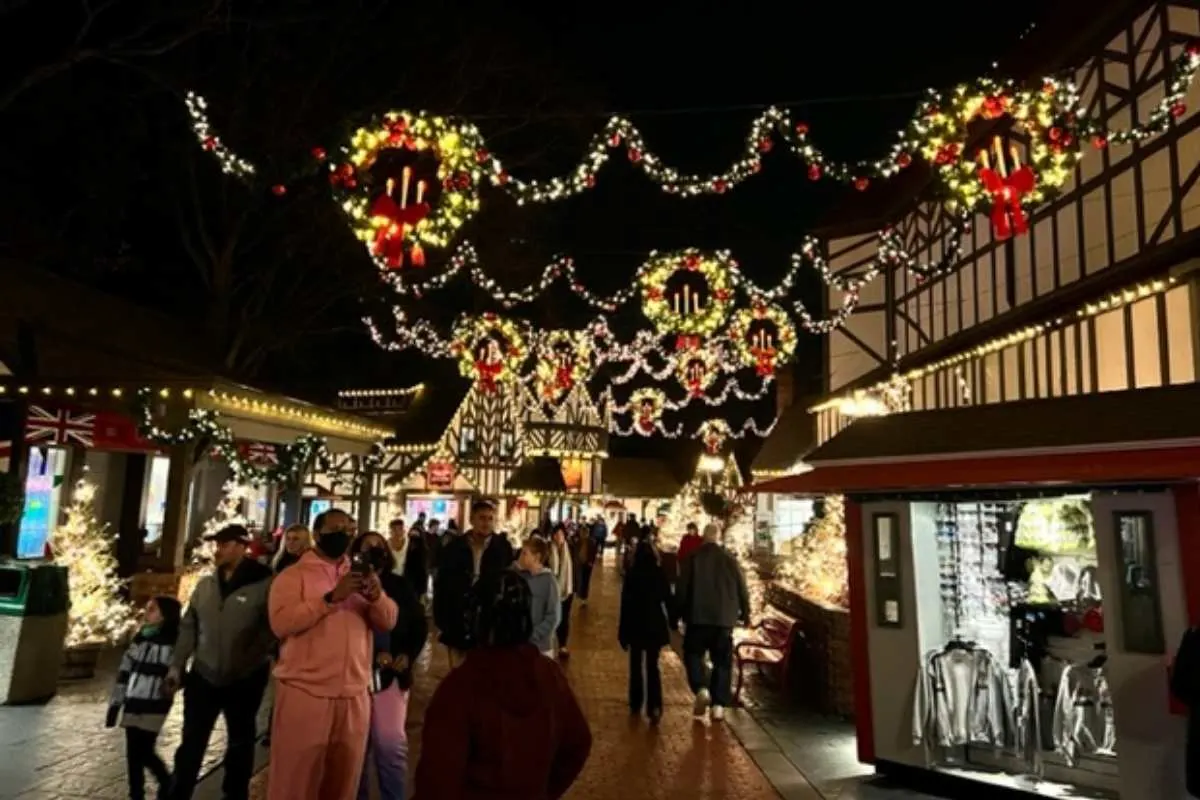 Busch Gardens is a theme park located in Williamsburg, VA. It offers plenty of things to do for people of all ages, including rides, shows, animals, food options, and shopping. There are also plenty of areas for those not interested in rides.
Kids will enjoy the Sesame-Street area and a few kid-friendly rides in the other areas.
Busch Gardens is based on a European theme and has areas devoted to European countries. (They are closed from January until late spring.)
6. Williamsburg Premium Outlets
The Williamsburg Premium Outlets are a popular destination for shoppers in the Williamsburg, Virginia area. The outlet mall has a variety of stores, including Tommy Hilfiger, Aeropostale, and Sperry.
Kids might not love this so much, but it's sort of fun to stop by on your way in our out of town, and it's outdoors, which is nice.
7. Ripley's Believe It or Not
Ripley's Believe It or Not is a popular tourist attraction in Williamsburg, VA. The museum has a variety of exhibits that include pictures of unusual individuals and games for visitors to play. Some of the more popular exhibits are the shrunken heads and the interactive games.
Ripley's Believe It or Not is not just a museum of oddities. There are also exhibits, and games that are themed after the bizarre. This makes it a great place for kids to spend a day out. They can explore the different areas and have lots of fun while learning about some amazing facts.
8. Virginia Living Museum
The Virginia Living Museum is a top choice among families with kids in Williamsburg, VA. The museum has a variety of attractions that are sure to please kids of all ages, including the Dinosaur Discovery Trail, the Children's Garden & Playground, and the Abbitt Observatory.
The Virginia Living Museum is a great place for kids to explore and learn. The museum offers a variety of interactive exhibits, including an outdoor living history museum. Kids will love the hands-on experiences available at this museum, including canoe carving using only oyster shells, jewelry making, and much more.
9. College of William and Mary
The College of William and Mary is the second oldest college in America. It was founded in 1693 and has a very intimate feel with small class sizes.
It's a beautiful campus that welcomes visitors. If you want to go for a walk with the kids after you're done with Colonial Williamsburg, this is a great option.
10. Go Karts Plus
Go-Karts Plus is a thrill ride park designed for families. It offers go-karts, bumper boats, mini golf, and an arcade.
There is more to do at Go Karts Plus than just racing around in Go-Karts. The Figure 8 track is the more Grand Prix style course, competing with other cars, racing around curves and over and under a bridge. This area also has a play zone for toddlers, so parents can bring their kids and have some fun too.
11. Willlilamburg Botanical Garden
The Williamsburg Botanical Garden is a wonderful place to spend an afternoon with the family. The garden has a variety of plants and gardens, as well as a Children's Garden. The Children's Garden is home to a variety of plants and animals, including turtles, frogs, and fish.
It's also not very crowded.
12. Water Country USA
Tired of historical stuff? If you're visiting in the summer, stop by this outdoor waterpark that's part of Busch Gardens. It has a lazy river, tons of water slides, and a toddler-friendly splash area.
You you can find tickets for Busch Gardens Williamsburg and Water Country USA as a package.
13. Mini Golf!
There are a lot of mini golf places in the area, and many of them have pretty elaborate courses.
If you're looking for some fun family time that doesn't require a lot of planning, mini golf is always a good option. You can find mini golf courses all over Williamsburg.
Enjoy your time in Willliamsburg with your little ones!
When it comes to kids and Williamsburg, VA, there are so many things to do that it can be hard to choose. From museums geared towards children all the way up through theme parks like Busch Gardens, Virginia Living Museum or College of William and Mary with small class sizes – this city has something for everyone! If you're looking for a fun place where your child will have an unforgettable time while learning about some amazing facts along the way too, Williamsburg is one of the very best family destinations in Virginia.