Yes, Virginia is part of the south, and yes, there are tons of excellent barbecue places in Virginia.
We've done the research for you and compiled a list of 10 different restaurants that serve up some of the best BBQ in the state. Whether you're looking for traditional fare or something a little fancier, there's something on this list for everyone!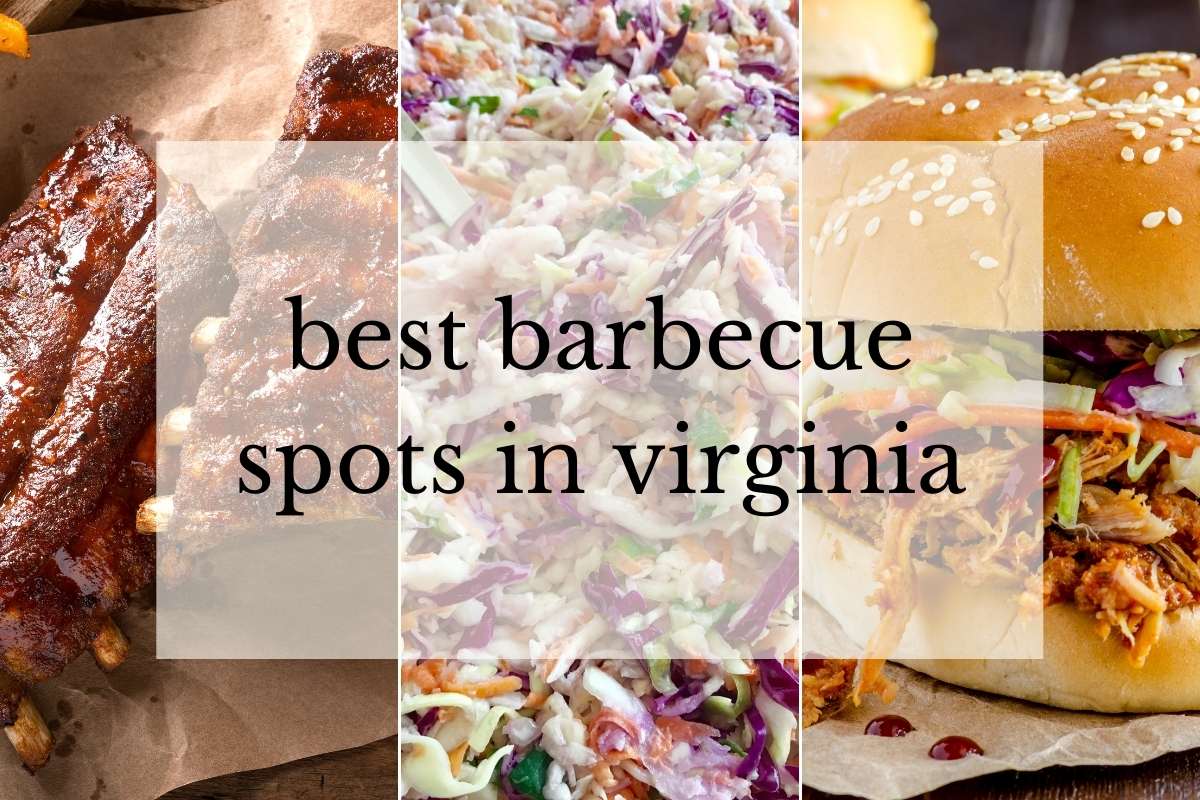 The Best Barbecue in Virginia
Note: there is no authentic "Virginia-style" barbecue, but most locations serve North Carolina-style pulled pork shoulder. However, a few serve Texas-style or Kansas barbecue and other fare like smoked chicken. We like all kinds (and hope you do too!).
Our very favorite? Buz and Ned's for the best ribs and potato salad. Like, THE BEST.
1. Alllman's BBQ in Fredericksburg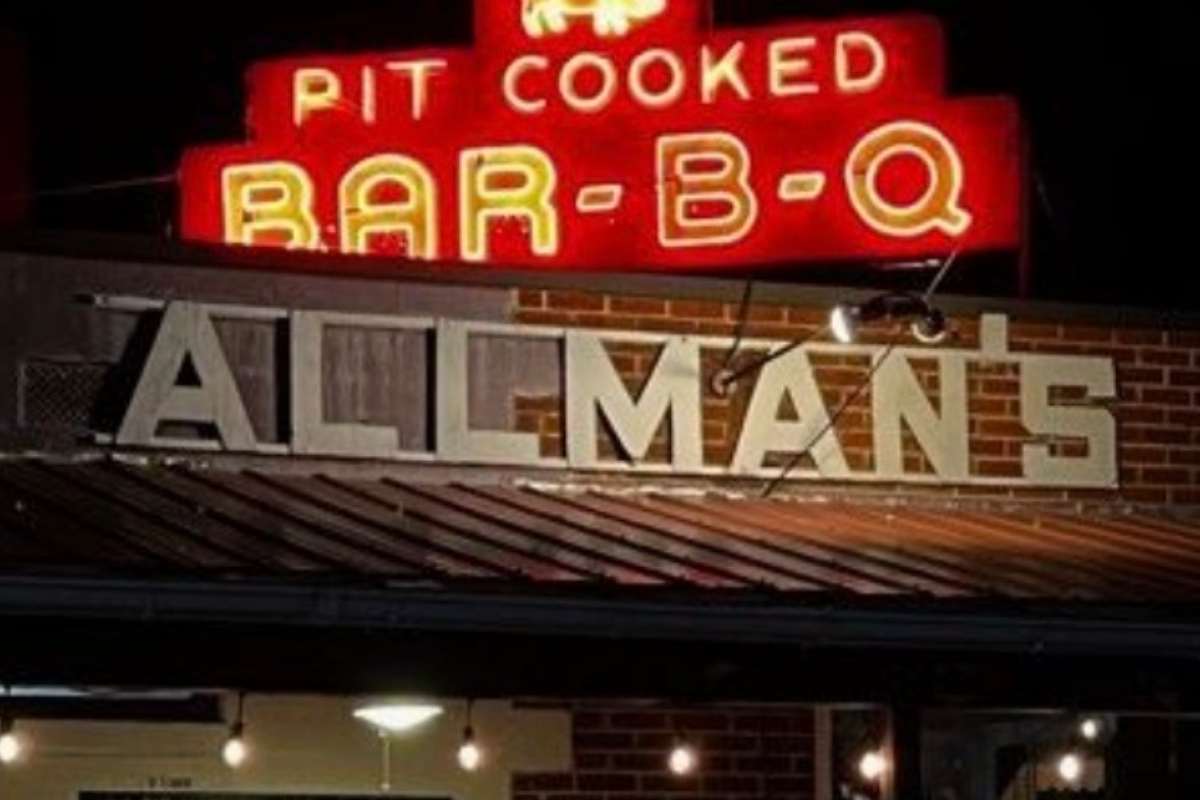 If you're looking for a good pulled pork sandwich in a laid-back, authentic atmosphere, this is the spot for you.
Allman's BBQ is a popular barbecue restaurant in Fredericksburg, Virginia. The restaurant serves a traditional hand-pulled pork barbecue sandwich. They feature a vinegar-based sauce.
Allman's BBQ also offers great sides (they are most famous for their creamy coleslaw, which is our favorite coleslaw of any barbecue restaurant.). They've recently hired a new pitmaster and expanded their menu, but they've been serving their classic sandwiches for decades.
They are right outside the heart of downtown Fredericksburg in a small, authentic-feeling restaurant with outdoor seating.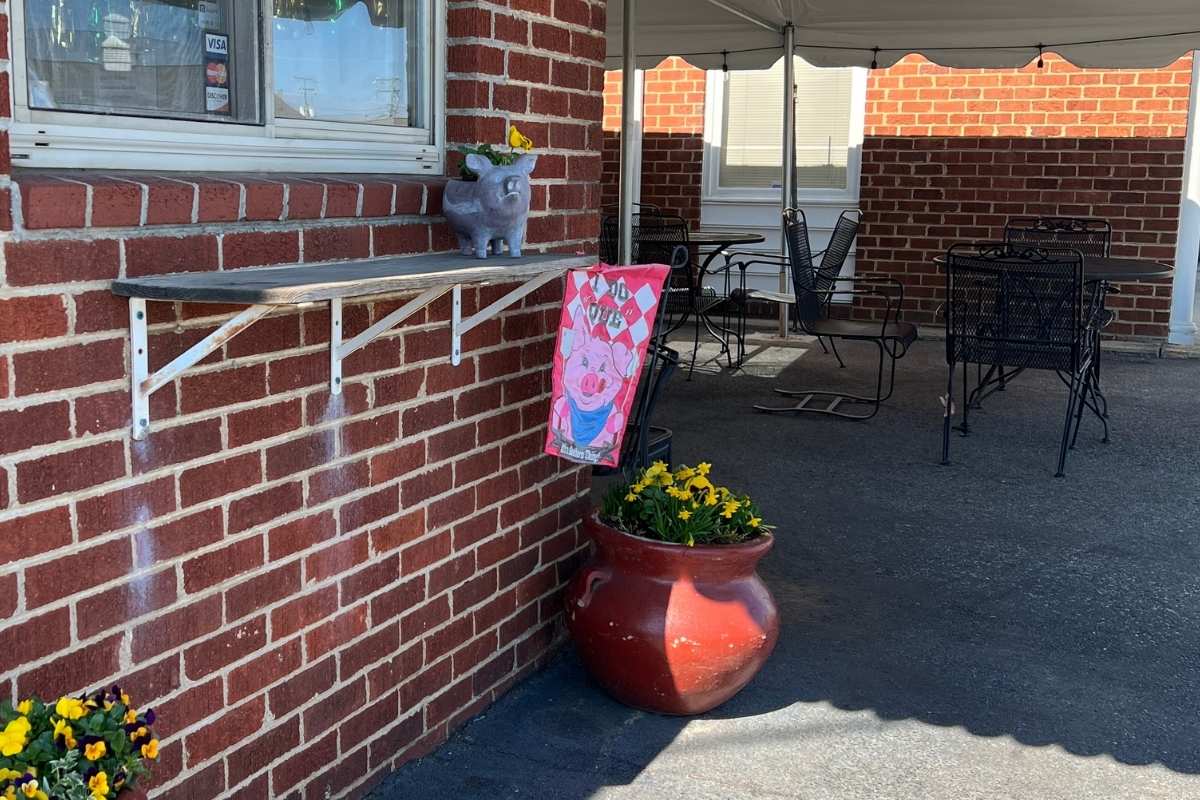 They're closed Mondays. (Check out our favorite restaurants in Fredericksburg if you need another option.)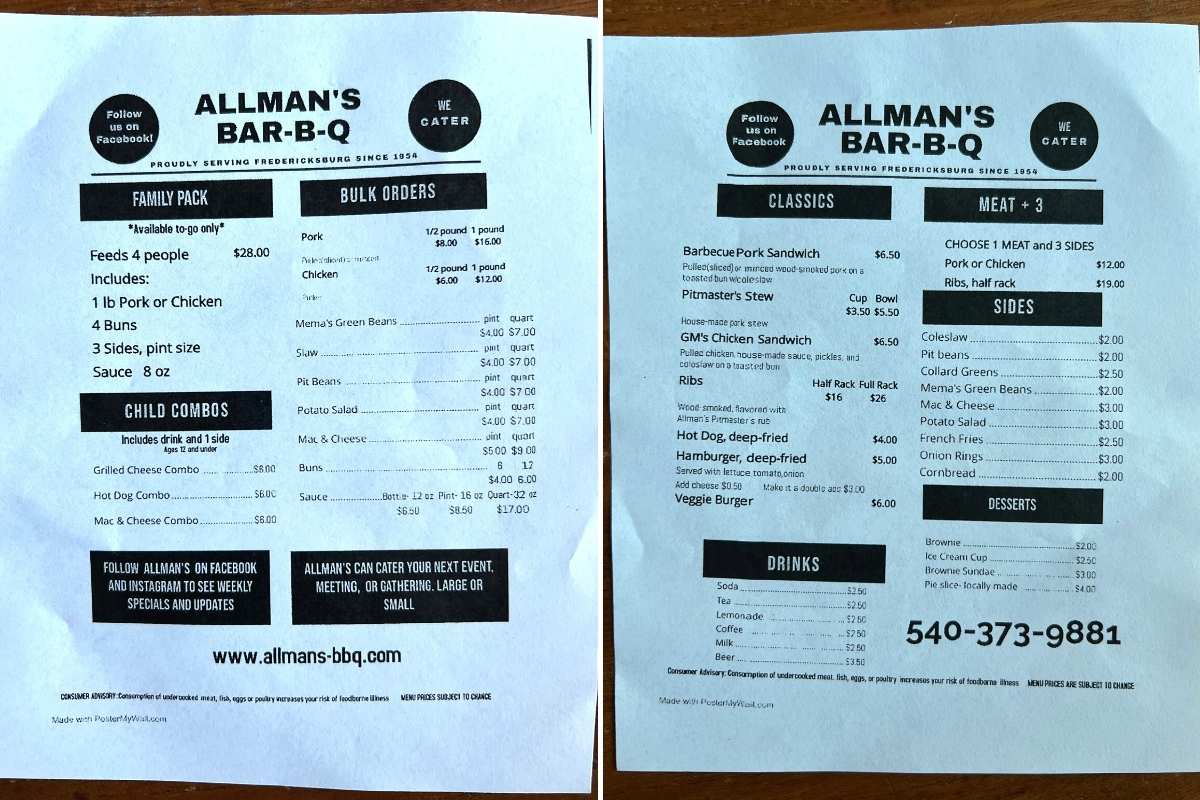 2. Buz and Ned's Real BBQ in Richmond
Buz and Ned's Real BBQ is a barbecue restaurant located in Richmond, VA. The owner, Buz Grossberg, has appeared on the television show "Throwdown with Bobby Flay" (winning the episode) as well as the show "Man vs. Food." The restaurant is known for its delicious barbecue dishes.
At Buz and Ned's, you can get a complete meal with two sides and your choice of barbecue pork, pulled BBQ chicken, beef brisket, smoked wings, or combos. The menu also has several different types of ribs that are all smoked on-site with 100% hardwood. We love the baby back ribs in a slightly sweet sauce.
(It's our favorite.)
3. Pierce's Pitt Bar-B-Que in Williamsburg
Before the rise of Buz. and Ned's, Pierce's was widely considered the best barbecue in the state, and it's still one of the most famous bbq joints on the east coast.
At Pierce's Pitt Bar-B-Que, you can enjoy some of the best pulled pork and ribs. The specialty items include sliced beef, Famous Ribs, sandwich platters, smoked turkey, brisket, pulled pork, pork ribs, chopped brisket, Texas hot links, pulled chicken, smoked turkey, and st. Louis's ribs.
Pierce's Pitt is a barbecue restaurant in Williamsburg, VA, that sells bulk barbecue and specialty sandwiches. The restaurant is frequented by locals and tourists alike for its delicious food and reasonable prices.
(It is not really near Colonial Williamsburg, but it IS within walking distance to Great Wolf Lodge. So if you're staying there, it's worth a stroll next door.)
They have great brisket, fantastic Brunswick Stew (a type of chicken stew famous in Virginia), and delicious cookies.
4. Checkered Pig Barbecue in Martinsville
The Checkered Pig Barbecue is a restaurant in Martinsville, Virginia, in operation since 1997. The restaurant is known for its award-winning barbecue and has won more than 250 awards.
Even though it's in a small town, this is a popular BBQ joint frequented by barbecue enthusiasts from all over the country. The food is terrific, and they have excellent service.
They have some of the best brisket and deep-fried hush puppies around.
5. Old City Barbecue in Williamsburg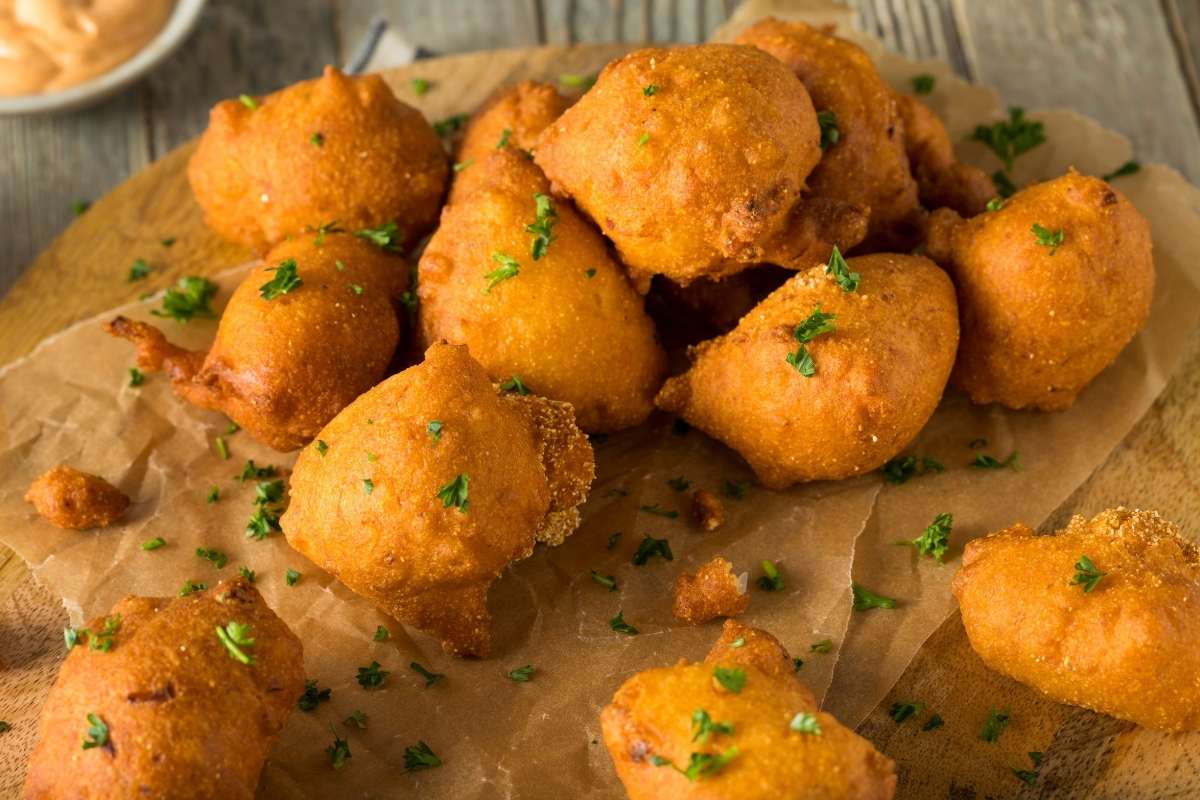 This restaurant, like Pierce's, is in Williamsburg but has a TOTALLY different vibe: sort of upscale and hipster (some might find it pretentious, but we don't).
Old City Barbecue specializes in traditional barbecue methods. This includes smokers fueled by hardwood coals and the use of only the highest quality meats that are pasture-raised, locally sourced, and certified humane.
At Old City Barbecue, visitors can enjoy some of the best barbecue in Virginia. The restaurant serves up prime brisket, pasture-raised chicken, Heritage Farms ribs, and pork belly, along with sides like collard greens, baked beans, and coleslaw. Everything is made from scratch using high-quality ingredients.
Many of the BBQ joints on this list don't serve alcohol, but Old City serves craft beer.
6. Bubba-N-Franks Smokehouse in Hampton
At Bubba-N-Franks Smokehouse, you can enjoy smoked pork, chicken, beef brisket, ham, turkey, and sausage. The restaurant has one of the most extensive selections of smoked meats.
You have to try the BBQ nachos and the baked beans. They also have a few desserts, and the banana pudding is excellent.
7. Bone Fire Smokehouse in Abingdon
Bone Fire Smokehouse is a restaurant in Abingdon, Virginia, specializing in ribs, barbeque, and southern cuisine. The restaurant has been featured on the Travel Channel's show "Man v. Food" for their delicious food.
They take a purist's approach to barbecue. All of the meats are smoked without any sauces added to enjoy the authentic flavor of the meat.
The restaurant has been praised by locals and visitors alike for its delicious food and friendly service. They also have super cute outdoor seating.
They have live music, cocktails, and a full menu of salads and sandwiches for anyone who doesn't like barbecue.
You can find their extensive menu here.
8. Moe's Original Bar-B-Que in Charlottesville
Moe's Original Bar-B-Que is a Barbecue restaurant located in Charlottesville, VA. It's part of a chain across many southern states, but it's just as delicious as the smaller, family-owned BBQ joints.
They offer a full range of traditional barbecue fare, including ribs, chicken, turkey, and sandwiches. They are known for their delicious food and friendly service.
But one of their most famous dishes isn't BBQ, but is the "Southern Fried Catfish." This is a Golden brown fried catfish on a toasted bun, including creamy tartar sauce, cool crisp slaw, and pickles. (It's delicious! See if you can share it and the ribs with your dining partner so you can try both.)
(Find more of Charlottesville's best places to eat here)
9. King's BBQ Restaurant in Petersburg
King's BBQ Restaurant is a barbecue joint in Petersburg, Virginia, serving up some of the best barbecue in the state for years. The restaurant is known for its delicious brisket, which is lean, tender, and has excellent flavor. In addition to the brisket, King's BBQ also serves up ribs, chicken, pork, and sausage, all of which are cooked to perfection.
The staff here is great, filled with friendly and professional servers. (They also run a busy take-out side to their business.) It makes for a great dining experience.
Unlike many of the places on this list, King's serves breakfast.
10. Smoked Kitchen & Tap in Crozet
Another barbecue place a little on the fancier side; this is more of a restaurant than a BBQ joint.
Smoked Kitchen & Tap is one of the best barbecue joints in Virginia. It offers a variety of dishes that are all cooked on the smoker. The restaurant has a few "signature" items, but a few more simple offerings are great for those who don't want the fuss and stress of a sit-down menu.
Smoked Kitchen & Tap is one of the best barbecue joints in Virginia. They have a wide variety of beer and wine options to choose from, as well as an outdoor seating area for people who want to enjoy the weather while they eat their food.
(Try the smoked wings and nachos!)
Enjoy!
The ten places on this list serve up some of the best barbecue in Virginia. We hope our top ten have inspired your appetite and given you everything you need to find delicious BBQ wherever it may be hiding around the state. If not, let us know where we should have included- the chances are good that if it serves fantastic food, we'll want to go try it out too!