This charming city is not only rich in history and culture but also boasts a vibrant dining scene that caters to all palates and preferences. From cozy cafes and farm-to-table bistros to upscale eateries and international delights, Fredericksburg has it all.
If you haven't been to Fredericksburg in the last 5-10 years, a lot has changed on the dining scene. Here's where to go first.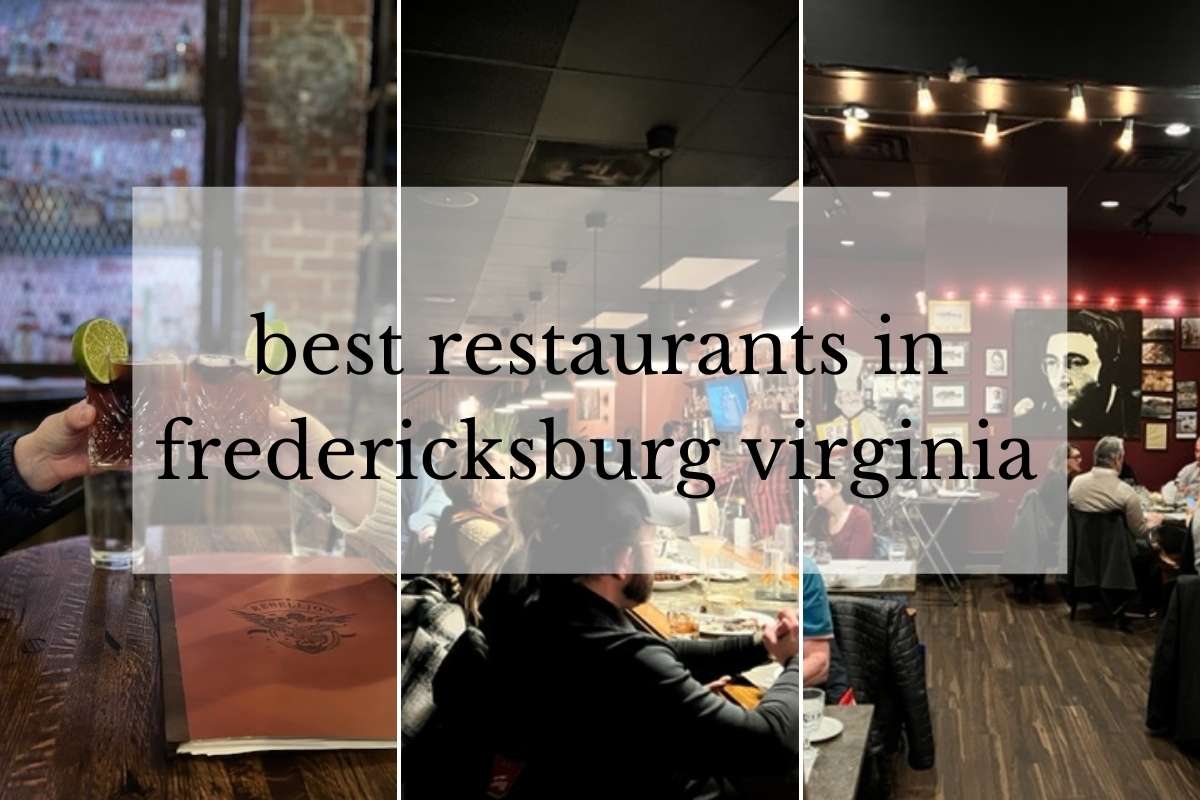 Top Restaurants in Downtown Fredericksburg
🍔 Need the short version? Go to Foode for dinner and cocktails. Stop by the Mason-Dixon Cafe or Sammy Ts for more casual meals or for picky eaters.
Foode
Foode has become one of the most popular restaurants in all of Fredericksburg.
It's easy to see why – their atmosphere is friendly and inviting, they offer great specials for both lunch and dinner, and their food is absolutely delicious. With an American farm-to-table focus, the food here is always done well. The menu is smaller, with a lot of rotating specials, and you can't go wrong with whatever you decide.
The Pimento cheese toast appetizers and the short ribs are some favorite menu items. If they have their fried chicken on the special menu, be sure to try that.
They have a fantastic brunch and cocktail menu as well. (Try the Shipwrecked Cocktail!)
If you'll only be in town for one meal, this is the restaurant to pick.
La Petite Auberge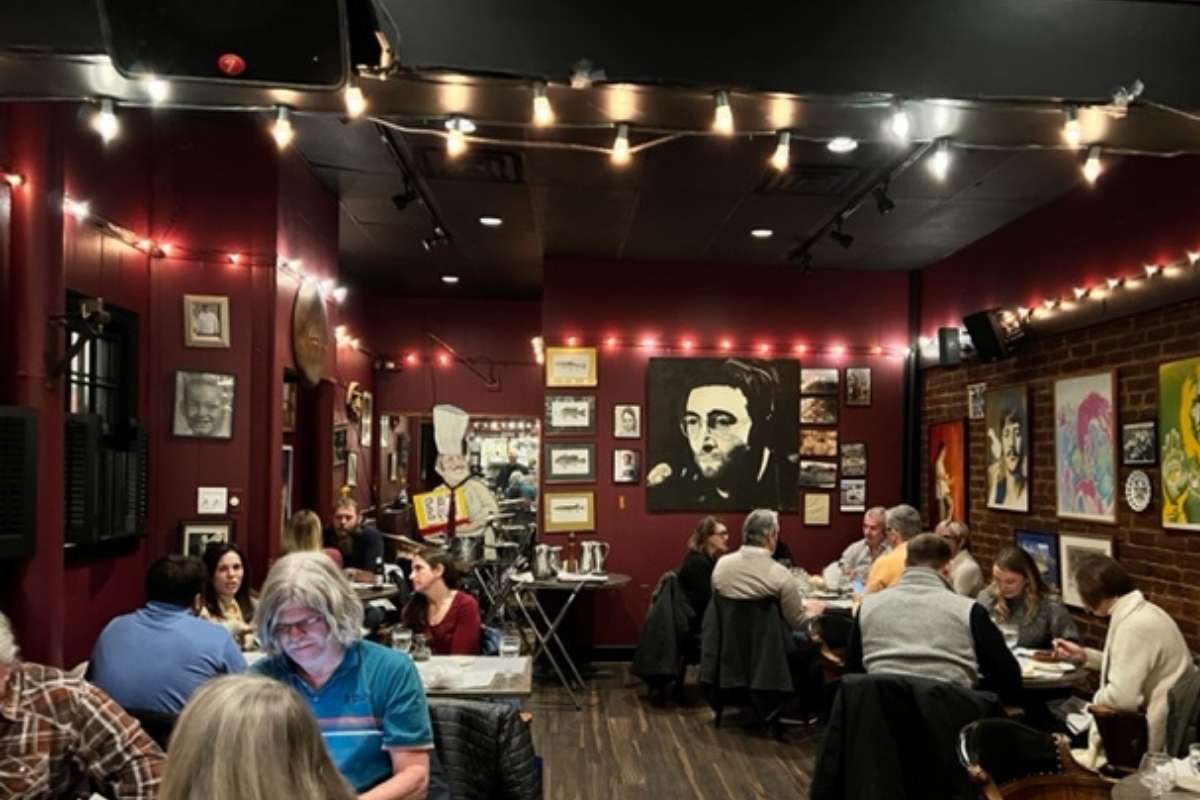 If you're in the mood for French food, La Petite Auberge is the place to go.
This gourmet restaurant welcomes guests with a warm atmosphere and quality service. The menu offers both traditional French dishes like steak au poivre and escargot (which are delightful) and more American items like grilled salmon.
No matter what you order, it's sure to be excellent.
La Petite Auberge is one of the top restaurants in Fredericksburg for a reason. The food is excellent and so are their cocktails -they are locally famous for their espresso martinis. If you want an appetizer before your meal, you'll want to try the calamari, the best in Fredericksburg.
There's a more casual bar/ lounge area in the front of the restaurant (highly recommended), and a stuffier/ more formal dining room in the back.
Related: fun things to do in Fredericksburg (that aren't all about the Civil War)
Ristorante Renato
Renato is one of the most popular Fredericksburg restaurants for a reason. It's easily accessible, has an upscale atmosphere, and offers delicious, authentic Italian food.
Their menu offers everything from pasta dishes to seafood options, so there's something here for people of all tastes.
Some favorite menu items are the rigatoni bolognese, the wild boar ragu, and any of their pizzas.
If you want to save room for dessert, their panna cotta and tiramisu are some of the best in the city!
Tip: ask for a table outside if weather permits; they've recently set up a beautiful patio area with lights, flowers, and outdoor heaters.
Benny Vitali's
This little spot is located in the heart of historic downtown Fredericksburg and only sells pizza. But of all the pizza places in town, it's by far the best.
It's a small restaurant but a fun place to eat with a cozy eat-in section. There's also a busy to-go side to their restaurant.
Their pizza is New York style, so it has a thin crust and is served in large slices. Bring the whole family or plenty of friends because their pizza is enormous.
Here's their menu, but keep in mind the specialty pizza will change.
Related: family-friendly Fredericksburg activities
El Jimador
While it's not in downtown Fredericksburg, but a few miles north, this restaurant has authentic Mexican food, excellent service, and absolutely every item on the menu is a winner.
When you're heading out of town, be sure to put their address into Google Maps. It's just a few minutes away from the 95 exits and is worth the stop. You can eat very well here for less than the cost of a visit at a fast-food place.
(This is one of our top-3 favorite restaurants anywhere!)
Browse their extensive menu here
Mason Dixon Cafe
This cafe is a few blocks away from the center of town, on Princess Anne street.
If you're looking for a relaxed American cafe filled with locals, this is the place to go.
Their menu offers everything from classic omelets and quiches to sandwiches and burgers. Its cozy atmosphere makes it ideal for an afternoon or evening meal.
Some favorite menu items are the breakfast burrito, the avocado sandwich, and the pimento burger. Try their fresh-baked chocolate chip cookies for a sweet treat after your meal.
Osan Japanese Restaurant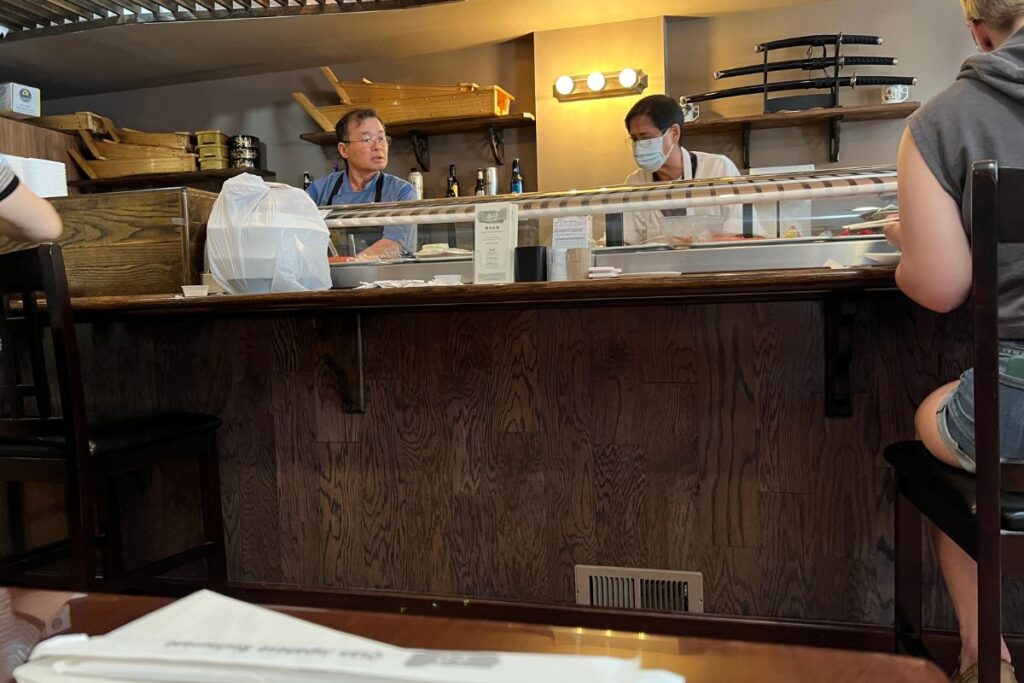 Are you looking for some great Japanese food? Osan is the place to go.
Their menu offers both traditional Japanese dishes like miso soup and sushi and more "fusion" options like salmon teriyaki. Their lunch specials are a great deal, with bento boxes very affordably priced.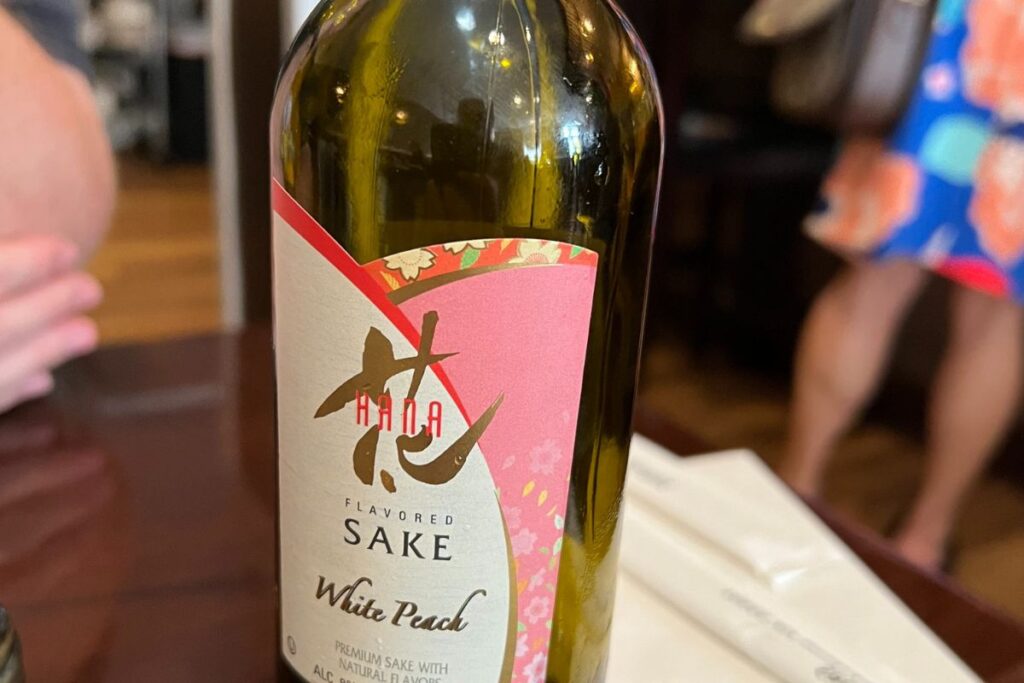 Their sushi is terrific, using only the freshest ingredients. (You have to try "The Worst Roll") They have a small bar too. Try the peach sake.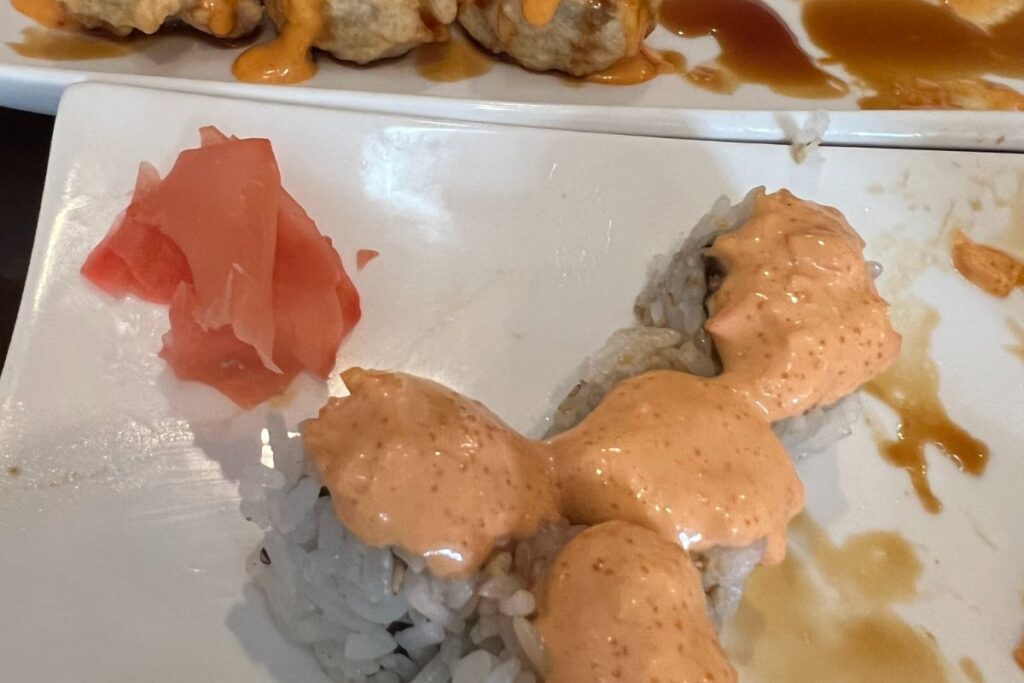 Osan is a cozy restaurant with a quiet, relaxing atmosphere – perfect for date night.
You can look at Osan's menu here
Soup and Taco
This restaurant has been around for decades and has always been a favorite with college students and locals.
Their menu offers a wide variety of items, including (obviously) soup, salads, gourmet tacos, and much more.
If you want a quick lunch or dinner on the go, this is the perfect spot. (Try the carne asada tacos!)
There is one location downtown, and then Soup and Taco 2, closer to the University of Mary Washington.
Fahrenheit 132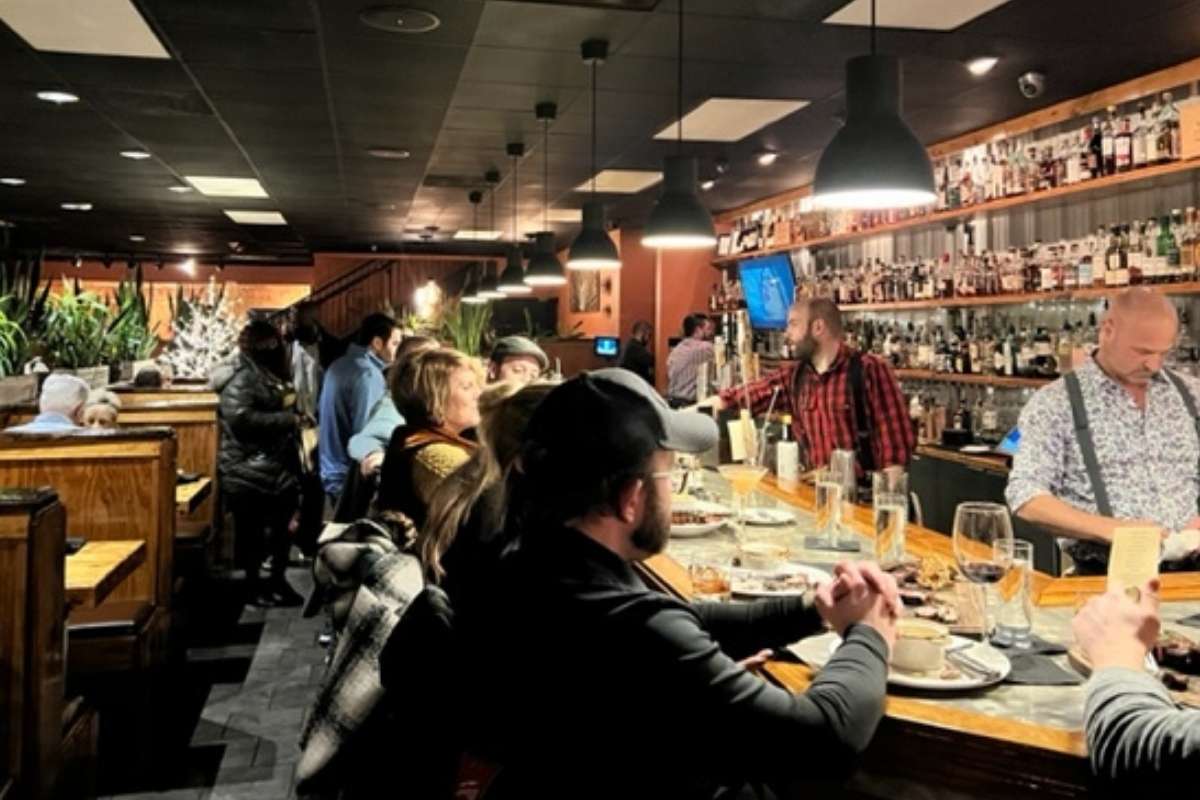 The best place in town for a perfectly cooked steak, this casual but elegant steakhouse also serves delicious seafood, unique specialty cocktails, and the best French onion soup.
It's unpretentious but has excellent service and good food, making it perfect for a laid-back anniversary or birthday dinner.
One of their specialties is a filet mignon dinner for two, with a selection of their best dishes to share with your husband or another favorite person.
Like many of the best restaurants in town, there is a good bar with comfortable seating if you're dining alone.
2400 Diner
Another local favorite on our list of Fredericksburg restaurants is a diner you'll absolutely love for breakfast or lunch. On the weekends, you might need to wait thirty minutes or more for a table, but it's worth it.
Their menu offers everything from eggs benedict to classic Greek favorites; almost every menu item is under $10.
Here's a photo of their menu from Facebook, they don't have a website.
Bangkok Cafe
If you're looking for a delicious and authentic Thai meal, this is the restaurant to go to.
Every dish on their menu is packed with flavor and spice, so be ready for it. They also offer excellent Thai iced tea.
Their yellow curry is always a great choice for anyone wondering, as are their spring rolls and pad Thai.
Note: since 2020, they have only offered takeout, but hopefully, this will change soon.
Cork and Table
The most expensive and formal of Fredericksburg restaurants on our list, this is a fixed-menu restaurant with very fresh, upscale entrees and amazing desserts.
The interior is tiny and a bit awkward, but the food makes it worth it!
This is the only place on this list where we wouldn't recommend wearing jeans.
Alpine Chef (formerly Bavarian Chef)
Near the train station and a short walk from Caroline Street, you'll love the cozy atmosphere in this German restaurant.
All dishes are served family-style, which is fun (when you like who you are dining with) and allows you to try more sides than usual.
Of particular note are the sausage platter, potato dumplings, and dark bread. Of course, be sure to sample the beer as well.
Sammy T's
This is a classic American restaurant, with very good service and good food. If you're with someone who needs vegan options, this is a great choice.
Even though they have these options, their steak and burgers are delicious.
There's a great selection of beer on tap. It's one of the best restaurants for picky eaters, with a big selection of sandwiches and salads and a surprisingly good pizza.
Honorable Mentions: Other Fredericksburg Restaurants Still Worth the Trip
While the following restaurants all have their flaws, they still make the list because of some special things about them. Please don't go to one of these expecting perfection, but embrace them for what they are.
Brock's Riverside Grill
Located right on the Rappahannock River with a considerable riverfront outdoor deck, you go to Brock's for the atmosphere, not the food.
There's no better spot in town on an afternoon with nice weather to enjoy the scenery. Later in the evening, there is live music, and it turns into more of a bar scene.
Their appetizers and cocktails are perfectly adequate but don't go there expecting fine dining.
Colonial Tavern
This is a fun bar with live music that serves food but is definitely not one of the most delicious Fredericksburg restaurants.
But there's excellent service, a great atmosphere, and a fun mix of people. If you're already eaten and are looking for a place to relax and have a snack with a friendly staff, there's no better spot.
Old Town Butcher
To be honest, I don't know if you can even mention this on a list of restaurants because it's primarily a store selling prepared foods and butcher cuts. But attached to it is a cute sandwich shop that serves a nice lunch, and the shop itself is worth a trip.
Billiken's Smokehouse
Great location, and a beautiful restaurant. The interior looks like a colonial plantation home and the exterior has exposed brick and a very nice outdoor seating section, complete with an outdoor bar and game for the kids. They also have a fantastic happy hour, making this a great place for drinks.
The only downside? The food is quite inconsistent. But in general, a good solid pick, if you're willing just to enjoy the Virginia atmosphere.
There is a new bar that has opened on the third floor.
(Looking for the best restaurants outside of Fredericksburg? Be sure to visit Ricks on the River and the Battlefield Country Store)
Fredericksburg is a charming town with a great food scene that gets better every year. While we used to be overrun with fast food and Texas Roadhouse-type places, the culinary scene here is now definitely worth a little trip.
Whether you want American food, Italian cuisine, or seafood, there's something for everyone in Fredericksburg, VA. Our list of the best restaurants will help make sure that your dining experience is memorable and delicious!
You'll also love