Whether you're a local resident, planning a golf vacation, or simply passing through, these golf courses will make your stay in Fredericksburg memorable. Let's tee off and explore these golfing gems that make Fredericksburg, Virginia a golfer's paradise. Each has its own character and appeal.
✅ Key takeaway: We love Augustine and Fredericksburg Country Club most for their nice clubhouse, well-maintained course, and overall "vibe." For something a little more unusual, you'll enjoy the cemetery and the "longest hole" at Meadows Farms.
1. Gauntlet Golf Club at Curtis Park: An Oasis of Golf Excellence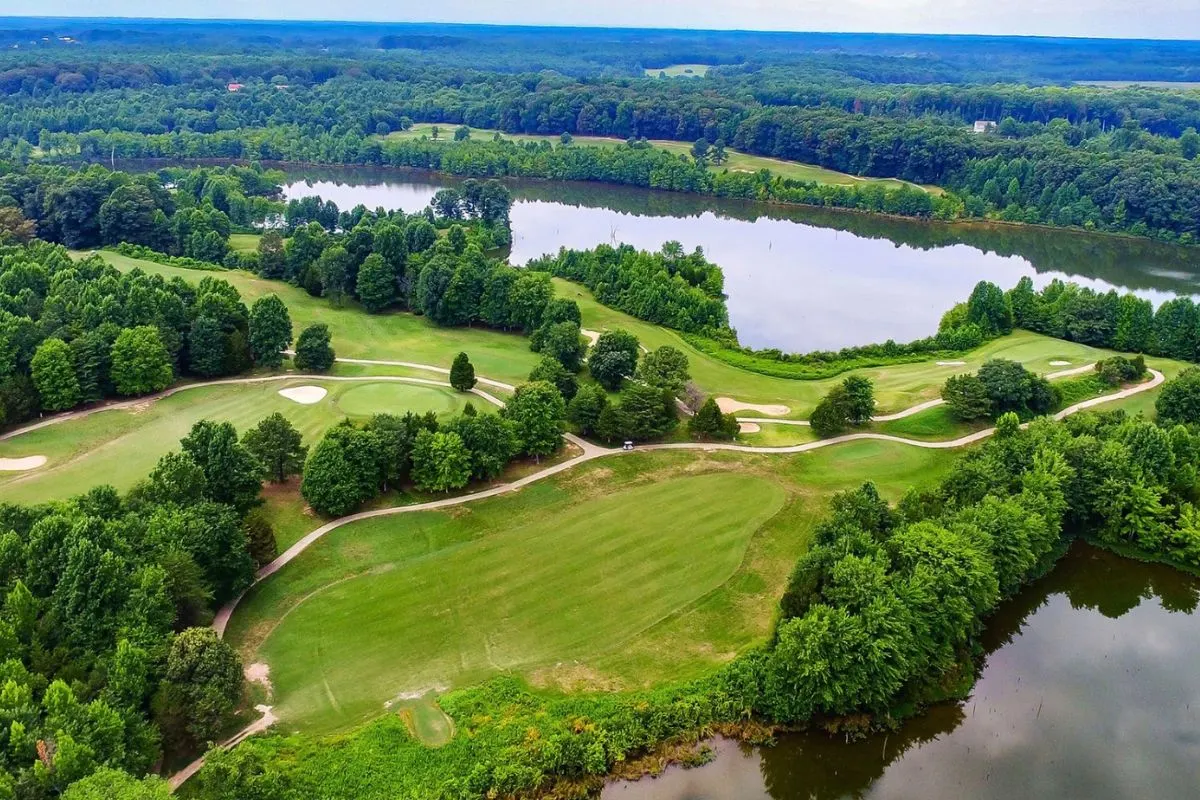 Golfing at Gauntlet Golf Club is an unparalleled experience, and its uniqueness lies in its blend of the natural environment and exceptional course design. Located within the leafy expanse of Curtis Park, the golf course carves a path through mature hardwoods, creating a seamless blend between nature and the manicured fairways and greens. Each hole presents a distinct challenge, testing both your technical skills and strategic acumen.
The immersive experience of playing at Curtis Park enhances your golfing journey. With beautiful surroundings that change with the seasons, the golf course provides a tranquil backdrop for a round of golf. As you navigate the meticulously maintained fairways, you'll be captivated by the surrounding natural beauty – all while facing the golfing challenges that Gauntlet is known for. Playing at Gauntlet Golf Club isn't just about the game; it's about experiencing the harmony of nature, challenge, and the love of golf in one unique setting.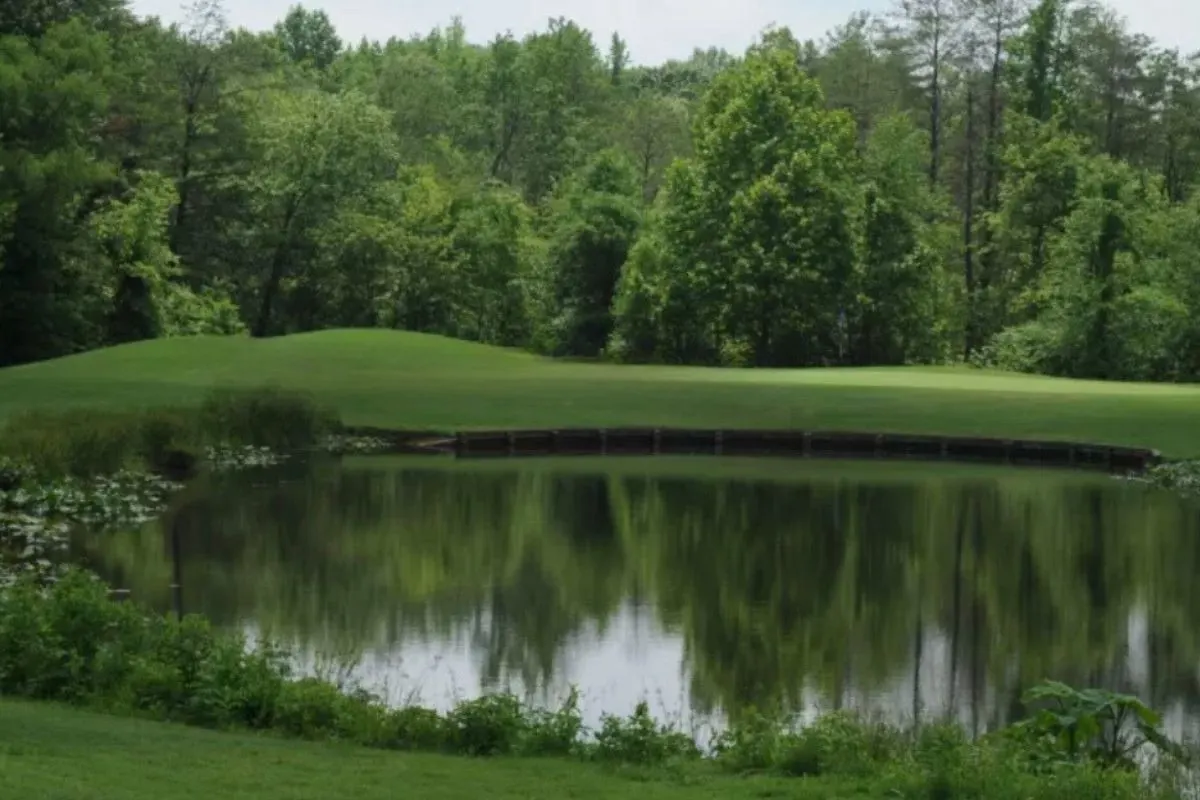 Set amidst a backdrop of mature pines and rolling hills, Lee's Hill Golf Club offers a serene retreat from the hustle and bustle of everyday life. Often considered a hidden gem of Fredericksburg, the golf club is renowned for its scenic beauty. As you walk the fairways, you're treated to breathtaking views of untouched natural beauty. The landscaping of the course has been carefully preserved to maintain its natural allure, providing an authentic golfing experience in the heart of nature. It is one of the most affordable and unpretentious courses in the area.
But don't let the casual setting fool you; Lee's Hill Golf Club is also home to a testing golf terrain. Designed by renowned golf course architect Bill Love, the course offers a range of challenges that require skill, strategy, and patience. From strategically placed bunkers to varying elevations, each hole presents a unique challenge set that tests every aspect of your game.
3. Augustine Golf Club: A Seamless Blend of Golf and Nature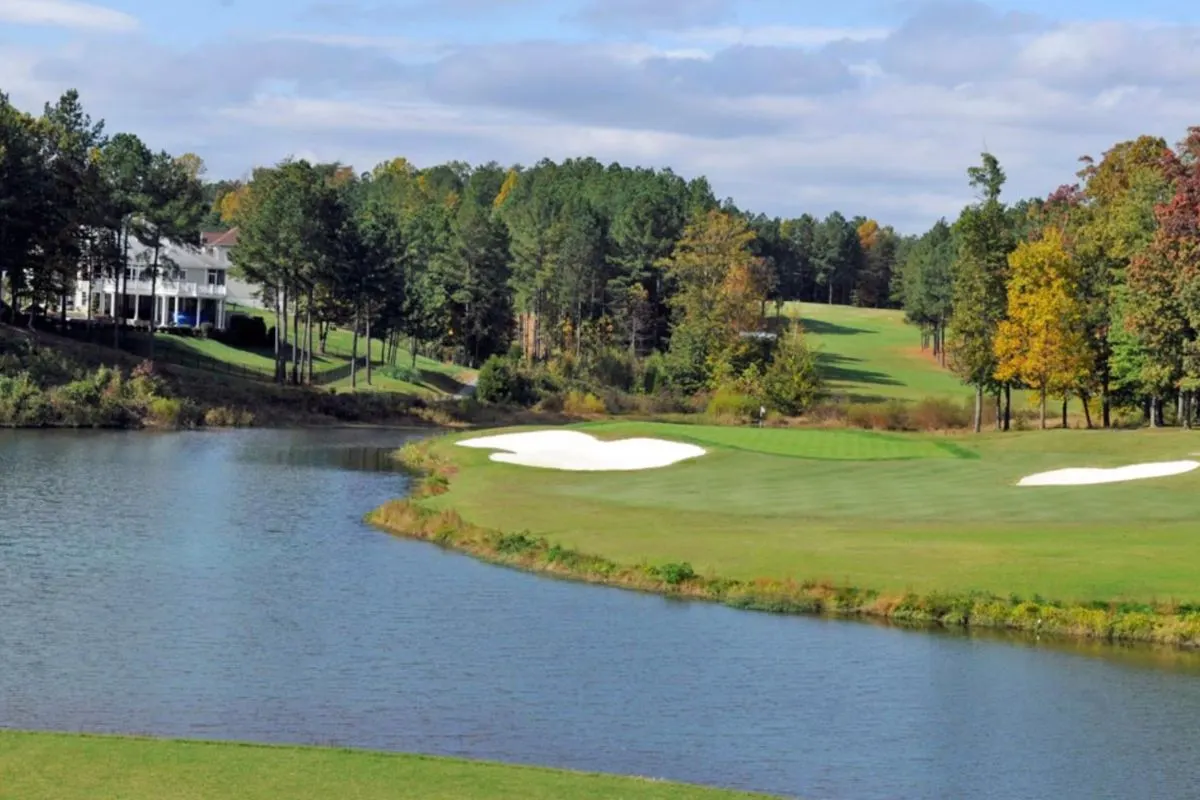 Augustine Golf Club offers a beautifully designed course that perfectly blends with the natural landscape. Crafted by Rick Jacobson, an architect known for his meticulous design approach, the course demonstrates a keen understanding of the topography, integrating each hole into the land's existing contours. Each fairway, green, and bunker has been carefully designed to provide a visually appealing layout and an engaging and challenging play.
Jacobson's signature design style is evident throughout the course, as he cleverly uses the land's natural features to shape the golfing challenges. The use of water bodies, the strategic positioning of bunkers, and the careful sculpting of the fairways and greens demonstrate the attention to detail that went into designing Augustine Golf Club. As a result, the course is as pleasing to the eye as it is challenging to play.
Augustine Golf Club is renowned for its challenging yet rewarding gameplay. While posing significant challenges, the course layout remains fair, offering an enjoyable game for golfers of all skill levels. Each hole requires careful strategy and thoughtful shot selection, allowing golfers to test their skill and decision-making abilities. However, overcoming these challenges is incredibly rewarding, adding a sense of accomplishment to the joy of playing in such a beautiful setting.
4. Meadows Farms Golf Course: The Quintessential Golf Adventure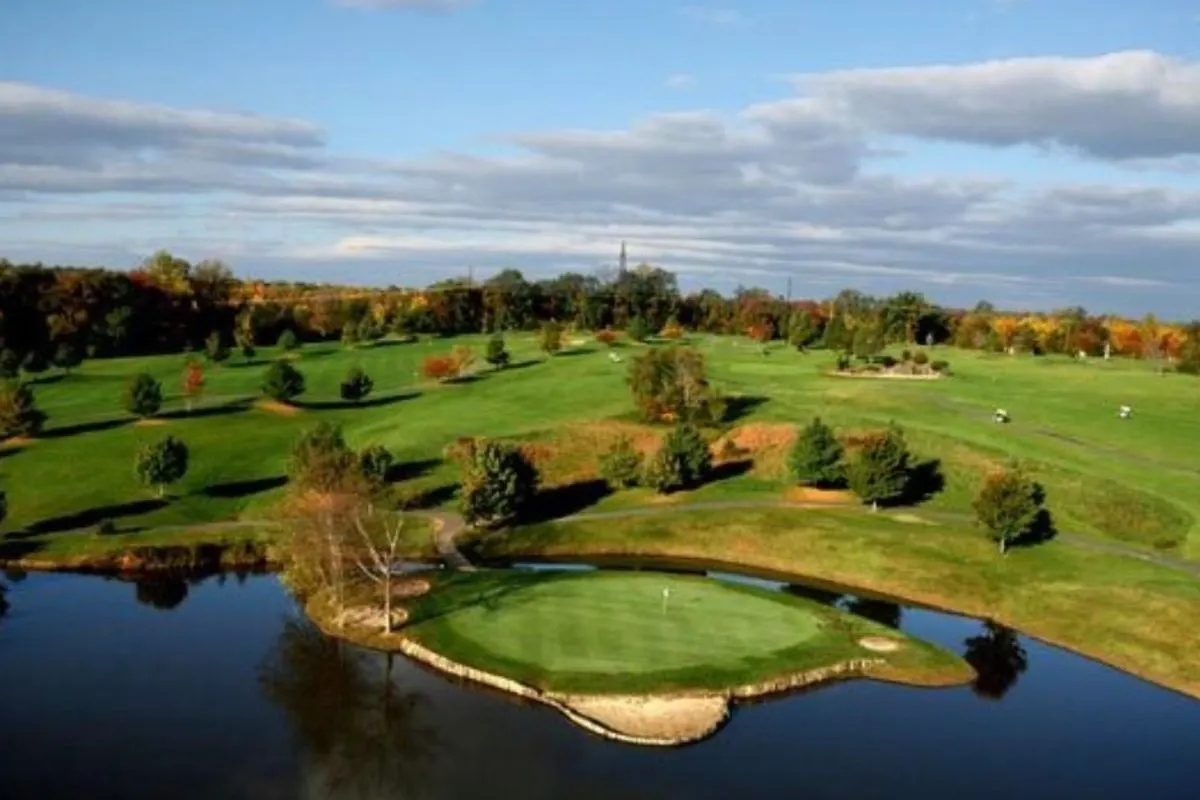 Regarding uniqueness and character, Meadows Farms Golf Course is in a league of its own. This course is far from your typical golfing venue; it's an adventure that combines traditional golfing elements with innovative features that add a fresh twist to the game. Nestled amidst the rolling Virginia countryside, the course offers a mix of links-style holes and tree-lined fairways, offering a diverse playing experience that's bound to keep every golfer engaged.
But what truly sets Meadows Farms apart is its penchant for the extraordinary. The course has some unique features you won't find anywhere else. For example, the course carefully maintains and respects a green on the island in the middle of a lake and an old cemetery.
Perhaps the most distinctive feature of Meadows Farms Golf Course is the longest hole in U.S. golf. Known as the "Longest Hole," this par six is a whopping 740 yards long! Playing this hole is an experience that every golfer should have. It's not just about the challenge of covering such a long distance; it's about strategy, patience, and skill. Each shot matters, and every yard counts as you make your way toward the hole.
Playing at Meadows Farms is more than just a round of golf; it's a unique adventure that tests your skills and provides a fun, entertaining, and memorable golfing experience. Whether navigating the course's unique features or tackling the Longest Hole, Meadows Farms offers an experience beyond the traditional golf outing.

5. Somerset Farms Golf Club: An Exciting Journey Through the Natural Terrain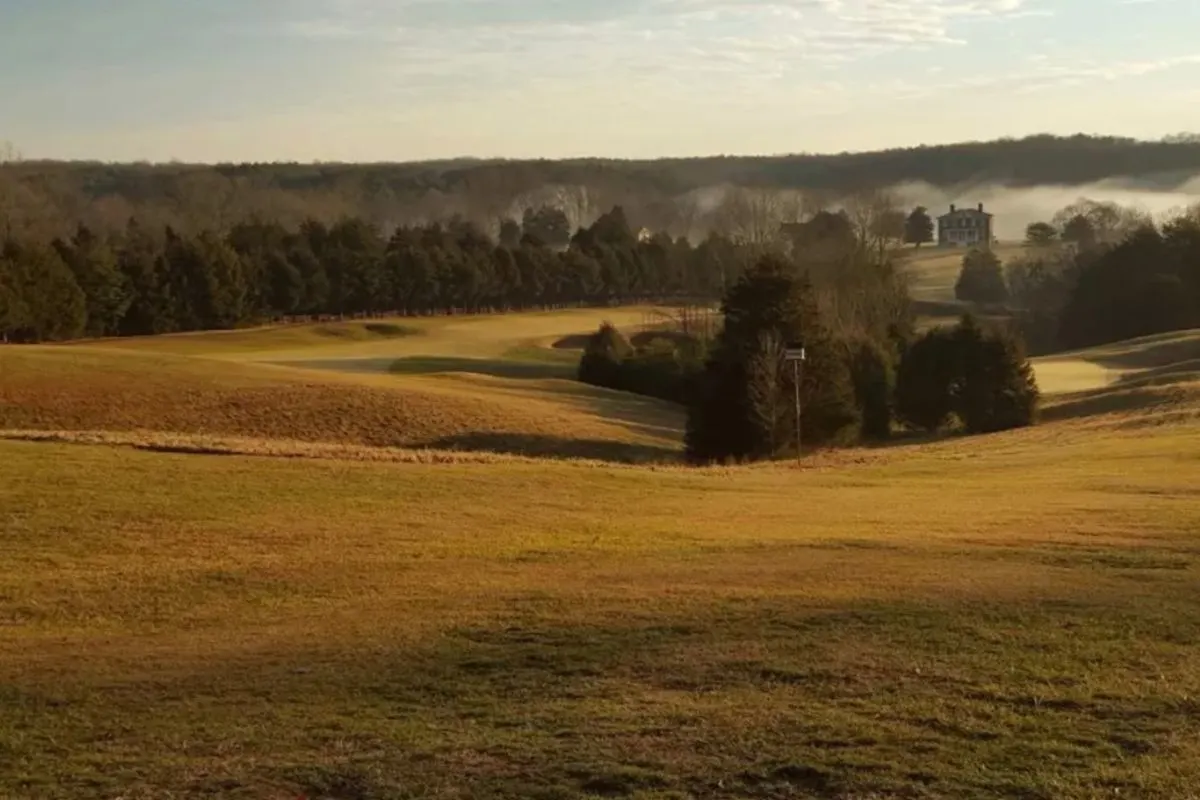 The course design embraces and preserves the natural landscape, adding a unique charm to every hole. Whether it's the gentle babbling of the Rapidan River that accompanies you on several holes or the spectacular views of the Virginia countryside that greet you at every turn, the beautiful landscaping at Rapidan Golf Club enhances your golfing experience, making each round more than just a game, but a journey through nature's canvas.
But the this gold club, (formerly Rapidan Golf Club) experience extends beyond its beautiful scenery. The club offers a rewarding golfing experience that caters to a variety of skill levels. The course layout features a blend of challenging and forgiving holes, providing an equal mix of tests and opportunities. From strategically placed bunkers that challenge your shot-making skills, to wide fairways that allow for a more forgiving play, Rapidan offers a balanced and enjoyable game.
Furthermore, the course's fast, well-manicured greens require precision and focus, rewarding players who master their short game. Whether you're a seasoned player looking to test your skills or a beginner keen to improve, the Somerset Farms Golf Club experience is both challenging and rewarding.
In essence, Somerset Farms Golf Club offers a golfing journey that is as pleasing to the eye as it is exciting to play. The course's natural beauty and engaging layout come together to create a truly enjoyable and memorable golfing experience.
6. Forest Greens Golf Club: The Perfect Woodland Golf Course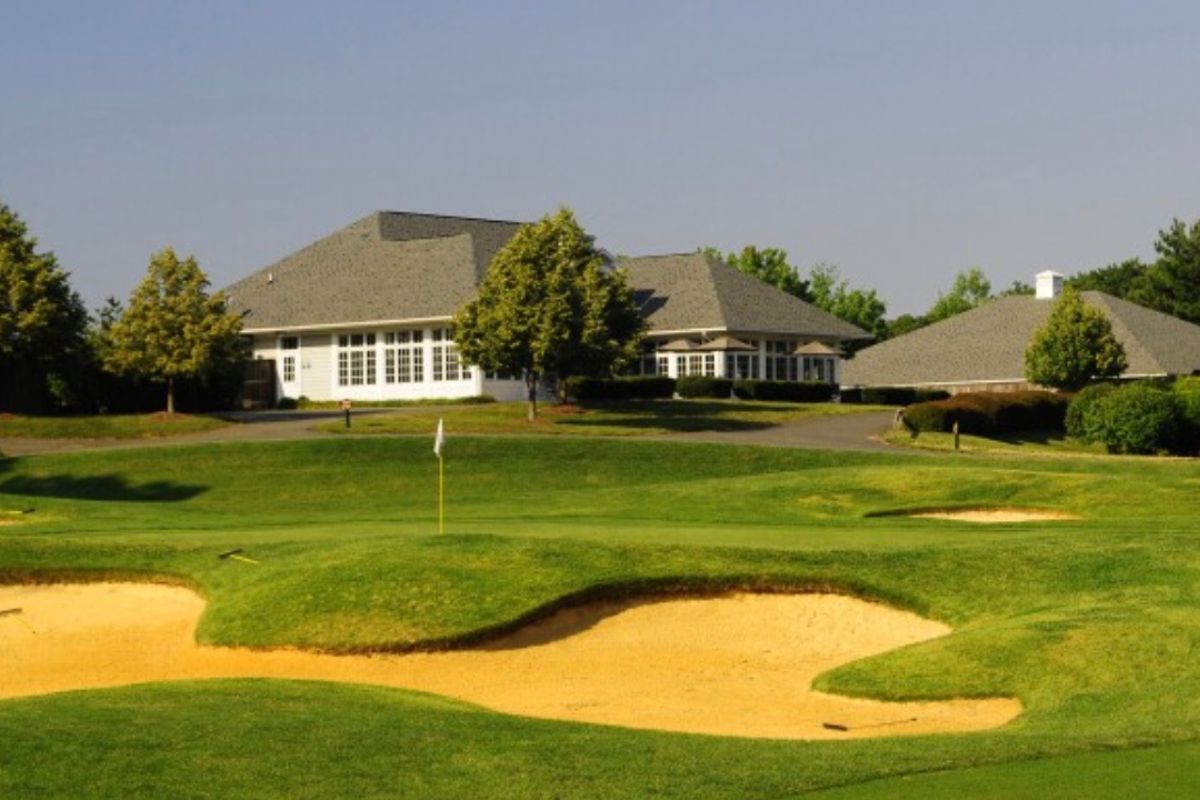 At Forest Greens Golf Club, the game of golf and the splendors of nature coalesce, providing an exceptional woodland golf experience. As the name suggests, this golf course is beautifully nestled within a forest, providing a lush, green environment that takes golfers on a journey through the tranquility of nature. Tall, mature trees frame the fairways and greens, adding a layer of serene beauty to every hole.
But the woodland setting is not just about aesthetics; it forms an integral part of the golfing challenge at Forest Greens. Playing amidst the forest environment requires careful shot planning and execution. The trees lining the fairways create natural barriers, demanding accuracy off the tee and precision on approach shots. Similarly, the undulating terrain typical of a forest landscape adds another layer of complexity to the game, influencing shot selection and strategy.
Playing Forest Greens Golf Club requires a strategic approach to golf. Each hole presents a unique set of challenges that must be carefully navigated. The positioning of hazards, the greens' layout, and the land's natural contours require thoughtful planning and solid execution. Whether choosing the right club for a shot, deciding on the line of play, or managing risk and reward, strategy is an integral part of a round at Forest Greens.
In essence, Forest Greens Golf Club is the perfect woodland golf course. Its beautiful forest environment and strategic golfing challenges provide an engaging and enjoyable experience that will delight golfers of all skill levels. Whether you're admiring the beauty of the surroundings or plotting your next shot, a round at Forest Greens is an unforgettable experience.
7. The Fredericksburg Country Club: More Than Just Golf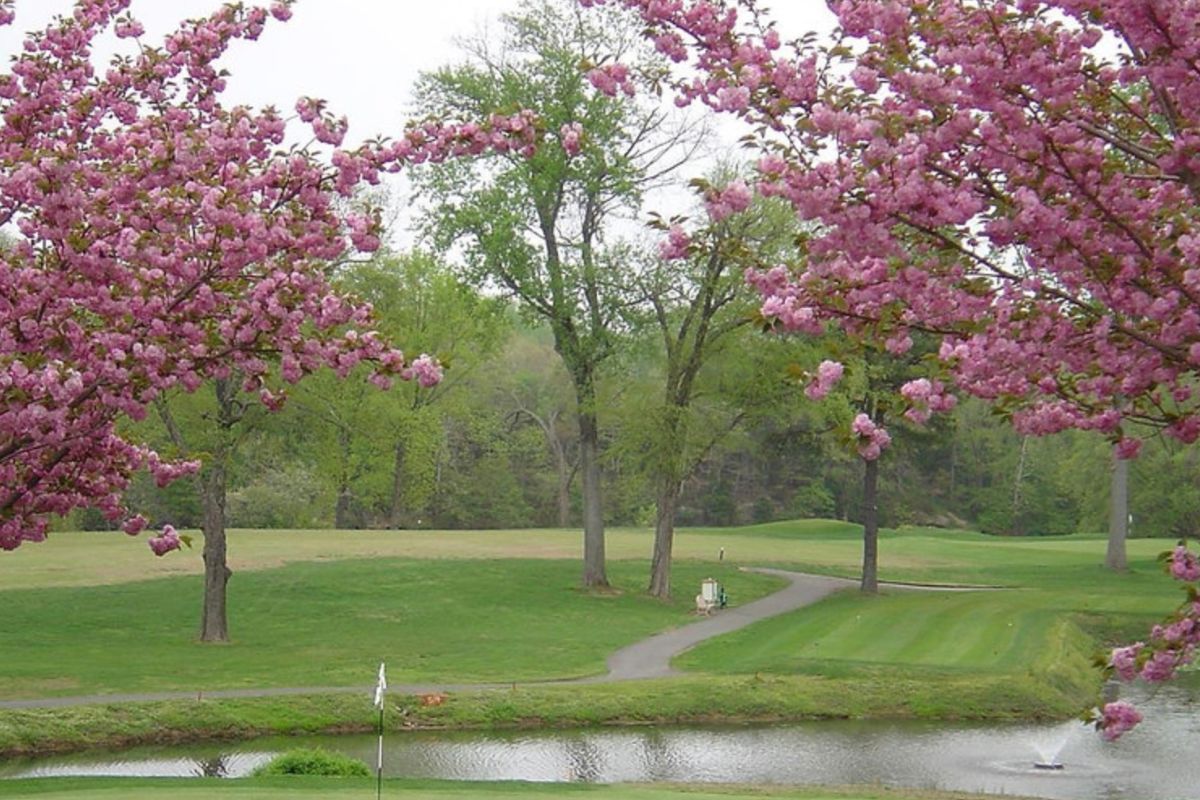 Note that this is a country club open only to members and guests, except for a few public events and fundraisers.
When you step into Fredericksburg Country Club, you're stepping into more than just a golf club. This place offers a complete lifestyle experience that goes beyond the golf course. Here, members and guests can enjoy a range of amenities, including tennis courts, a swimming pool, a fitness center, and dining facilities. There's always something to do at Fredericksburg Country Club, whether you're looking to play a game of golf, swim some laps, or relax and enjoy a meal. It's a place where you can enjoy your leisure time to the fullest.
But the golfing experience at Fredericksburg Country Club is something truly special. The club boasts a well-designed golf course that provides a great challenge for players of all skill levels. The layout of the course is thoughtfully planned, featuring a mix of holes that require different shots and strategies. You'll find open fairways that reward long drivers, as well as tricky greens that test your putting skills.
In addition, the golf course is beautifully maintained, providing excellent playing conditions year-round. The lush fairways and fast greens are a pleasure to play on, and the scenic surroundings add to the overall golfing experience.
8. Fawn Lake Country Club: The Serene Golf Retreat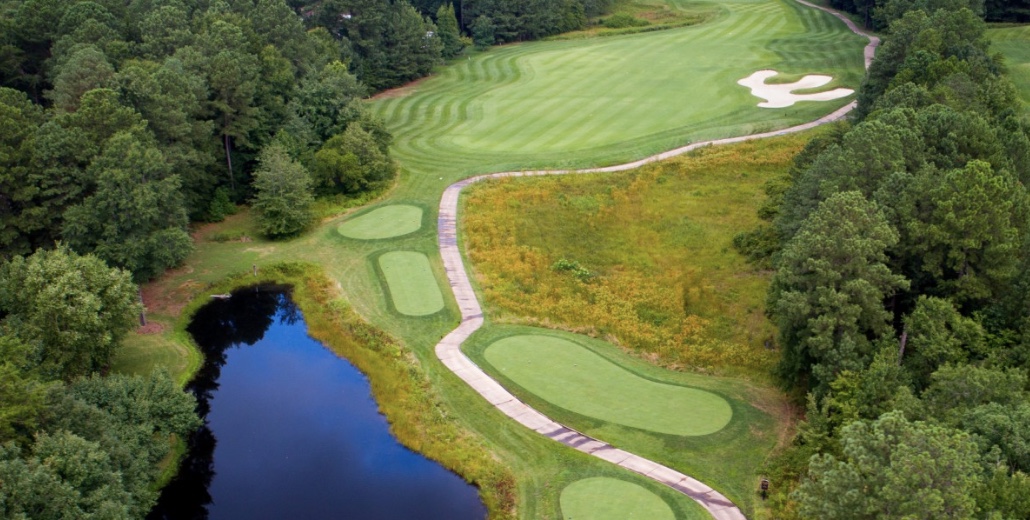 Note that this a country club open only to members and guests.
Fawn Lake Country Club is a serene golf retreat nestled in the heart of Virginia's countryside. This beautiful club is home to a golf course designed by none other than golf legend Arnold Palmer. The design carries the signature touches of Palmer, seamlessly blending the area's natural beauty with a challenging yet playable layout. Each hole has been carefully crafted, integrating the surrounding lakes, forests, and hills to create a visually striking and enjoyable course.
At Fawn Lake Country Club, you can expect a golfing experience that strikes the right balance between challenge and fairness. The course layout is designed to test golfers of all skill levels. It has its share of challenging holes, with tricky fairways and strategically placed hazards that will test your skill and strategy.
Yet, the course also provides opportunities for good scores, with some holes offering wider fairways and larger greens. This mix of challenge and fairness makes each round of golf exciting and rewarding, whether you're a seasoned player or a beginner.
In essence, Fawn Lake Country Club offers a serene retreat for golf lovers. With its beautiful Arnold Palmer-designed course and balanced gameplay, it's a place where you can enjoy a great round of golf in a relaxing and beautiful environment. Whether you're looking to test your skills or enjoy the outdoors, Fawn Lake Country Club is a destination worth considering.
For more fun in Fredericksburg Virginia: