From rolling hills and verdant vineyards to sun-soaked beaches and historic landmarks, Virginia is more than just a state; it's an unforgettable experience. If you're contemplating your next vacation destination, let's put Virginia under the spotlight. With its vibrant cultural scenes, immersive history, outdoor adventures, and all the southern hospitality you could dream of, Virginia offers an abundance of reasons to make it your next stop.
✅ In a nutshell: Virginia is a big state with a lot to see. But we have our favorites. If you're just coming for a weekend, pick an area and enjoy it. Northern Virginia? Stay in Old Town Alexandria and see Mount Vernon. Western? Damascus is the perfect blend of small town culture and gorgeous outdoor adventure. Eastern? Cape Charles is the perfect laid-back weekend getaway.
1. Unearth History at Colonial Williamsburg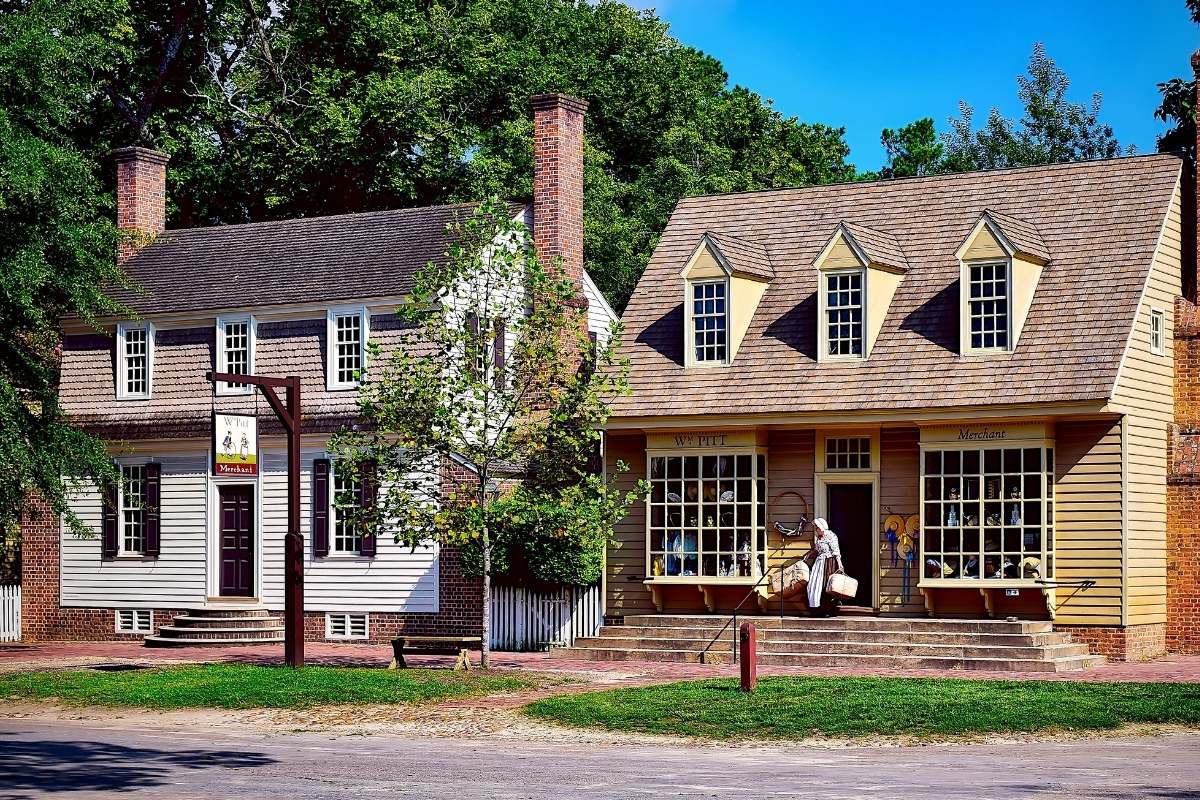 Immerse yourself in America's historical roots in Colonial Williamsburg. This isn't your standard museum; it's an entire colonial town brought back to life, offering a deeply interactive and engaging look at our past.
Step Back in Time: The Colonial Era Reimagined At Colonial Williamsburg, you're not just learning about history; you're living it. Watch as blacksmiths hammer out tools, carpenters shape wood with age-old techniques, and actors in period costume breathe life into tales from the past. It's a complete reimagining of the colonial era, offering an educational experience that's also heaps of fun!
Not to be Missed: Colonial Williamsburg Highlights While all of Colonial Williamsburg is a gem, there are some highlights that shine especially bright. The Governor's Palace, the Capitol, and the Bruton Parish Church are just a few stops you can't afford to miss. And don't forget about the Raleigh Tavern – it's the perfect place to grab a ginger cake and a root beer after a day of exploration.
🇺🇸 Read More: The Best Things to Do in Williamsburg for Families 🇺🇸
2. Scenic Drives on Blue Ridge Parkway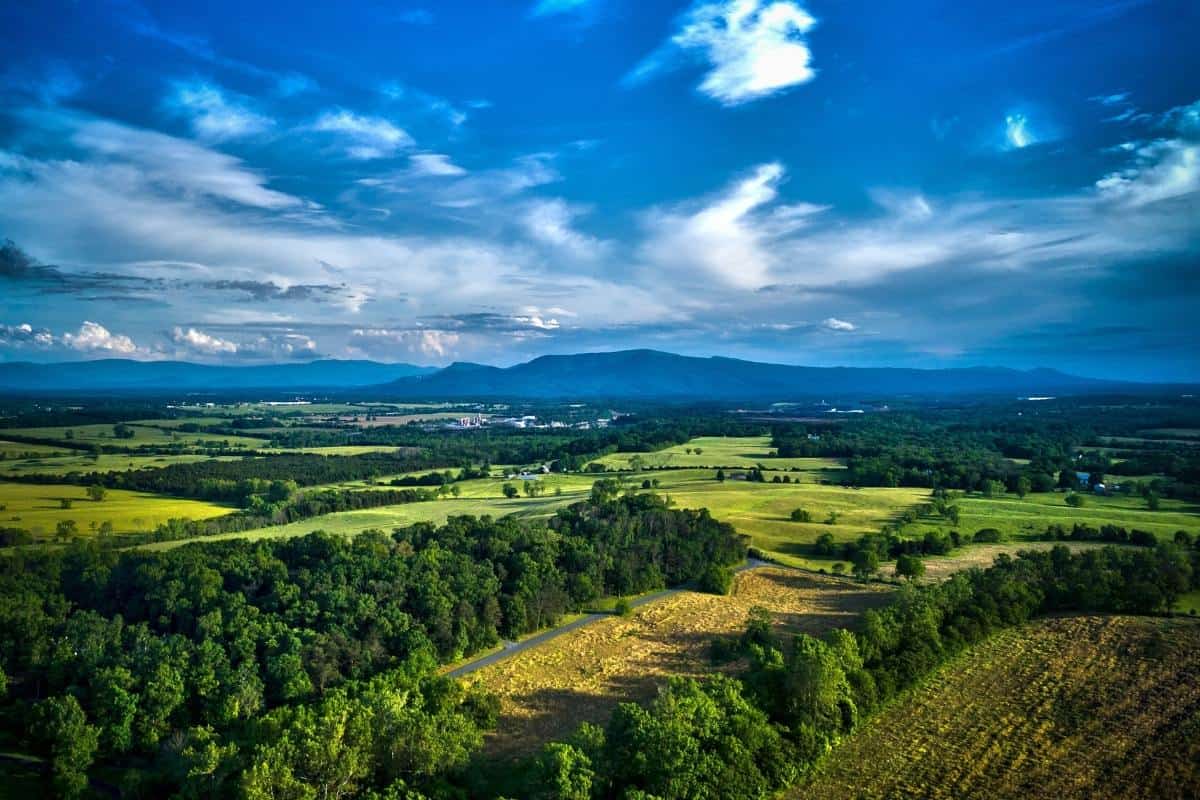 Hailed as "America's Favorite Drive," the Blue Ridge Parkway is a must-see on your Virginia visit. Stretching over 469 miles through the heart of the Blue Ridge Mountains, this scenic byway offers breathtaking vistas, abundant wildlife, and an intimate look at the cultural history of the American South.
A Drive to Remember: Navigating the Parkway Navigating the Blue Ridge Parkway is an experience like no other. As you traverse the winding roads, you'll pass by lush forests, serene farmlands, and endless mountain views. Make sure to take it slow – the drive isn't just about reaching the destination, it's about soaking up the journey.
Snapshots from the Parkway: Best Views and Lookouts On your drive, there are countless spots to pull over and soak up the scenery. Some of the must-visit lookouts include the Peaks of Otter, Humpback Rocks, and the James River Visitor Center. And don't forget your camera – these viewpoints offer some of the best photo ops in the state, if not the country!
🚗 Read More: The Best Scenic Drives in Virginia 🚗
3. Mount Vernon, Home of George Washington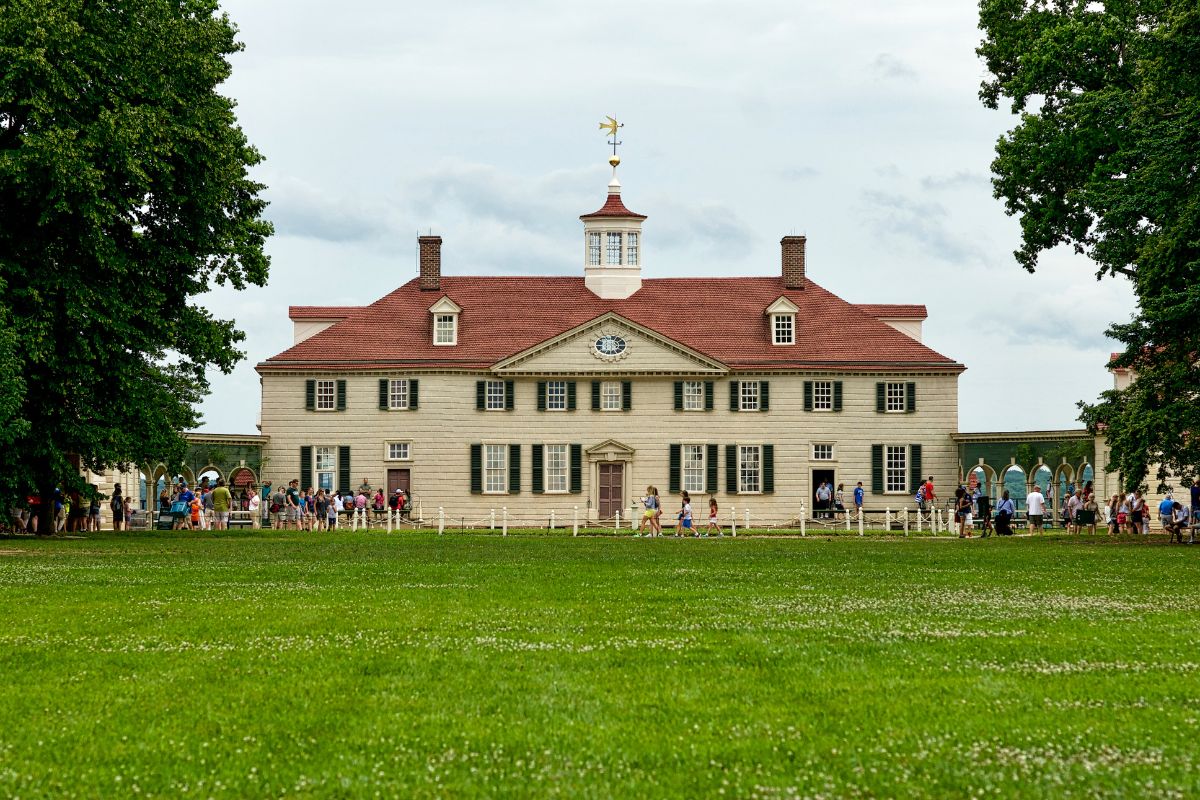 If you're a history buff or just curious about America's first president, a visit to Mount Vernon, George Washington's homestead, is a must. Overlooking the Potomac River, this impressive estate offers a detailed glimpse into the life and times of this iconic figure.
Behind the Scenes: Unveiling George Washington's Home Step into George Washington's shoes as you explore his beautifully preserved mansion. With a rich history and a wealth of period details – from the stately dining room to Washington's personal study – it's a behind-the-scenes look that offers a truly unique perspective on one of the nation's founding fathers.
Exploring the Grounds: Must-See Spots at Mount Vernon Mount Vernon's charm extends beyond the mansion itself. The estate's grounds include a four-acre demonstration farm, a distillery and gristmill, and a multitude of well-maintained paths leading through lush gardens. And don't miss the final resting place of George and Martha Washington, a poignant reminder of the couple's lasting legacy.
🕰 Read More: The Best Historical Destinations in Virginia 🕰
4. Adventure in Shenandoah National Park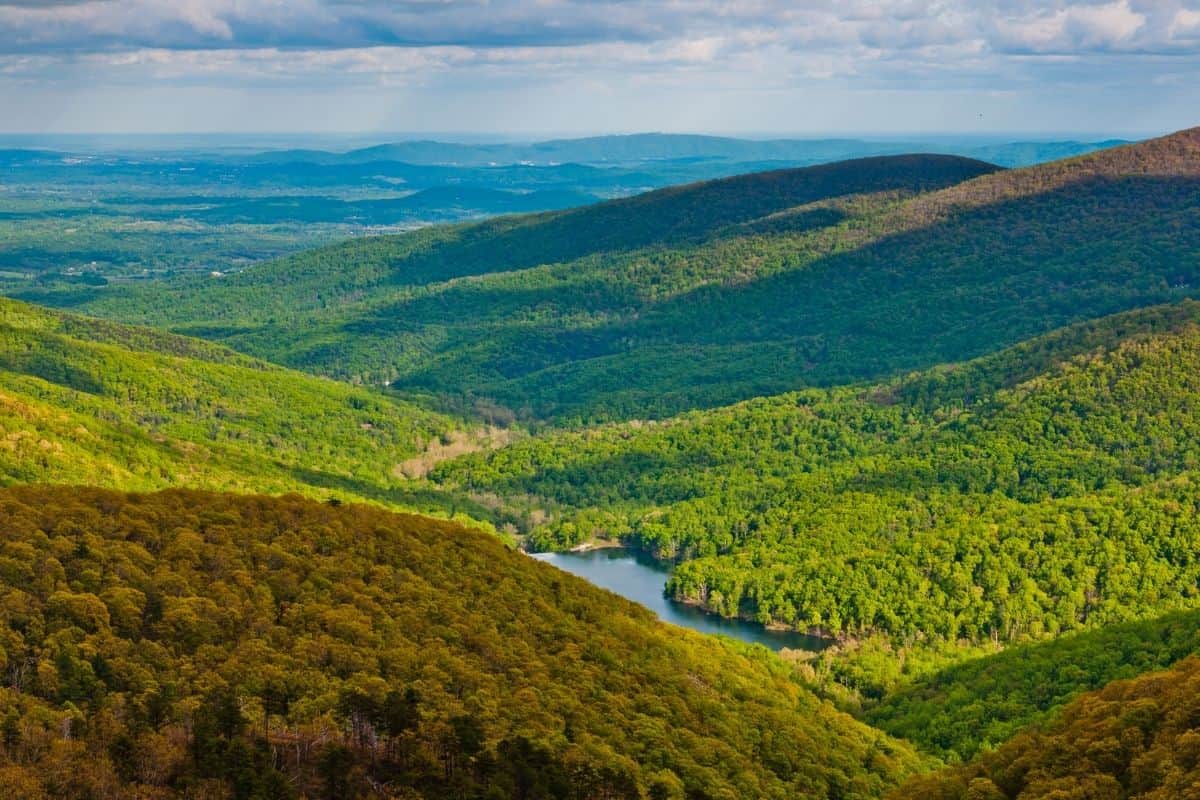 If you're craving a dose of the great outdoors, Shenandoah National Park is your perfect playground. With over 200,000 acres of protected lands filled with cascading waterfalls, serene woodlands, and majestic peaks, this park is a treasure trove of natural beauty. Whether you're an avid hiker or a casual nature enthusiast, Shenandoah will leave you awestruck.
The Great Outdoors: Best Hiking Trails Shenandoah National Park is a hiker's dream with over 500 miles of trails, including a chunk of the famous Appalachian Trail. Among the must-try hikes are the Old Rag Mountain for a challenging scramble, Dark Hollow Falls for a waterfall view, and the Stony Man for family-friendly trails and breathtaking views. There's a trail for every skill level, each offering its own unique slice of Shenandoah's beauty.
Shenandoah's Wildlife: Flora and Fauna Spotting While the panoramic views are a huge draw, don't forget to look around for the park's diverse wildlife. From white-tailed deer to black bears and over 200 species of birds, the park is teeming with creatures big and small. As for flora, the park is home to over 850 species of flowering plants. Visit in spring to witness the bloom of wildflowers or in autumn for a stunning display of fall foliage. Just remember – leave no trace and keep a safe distance from all wildlife
🏔 Read More: The Very Best Virginia Parks 🏔
5. Virginia Beach Boardwalk Fun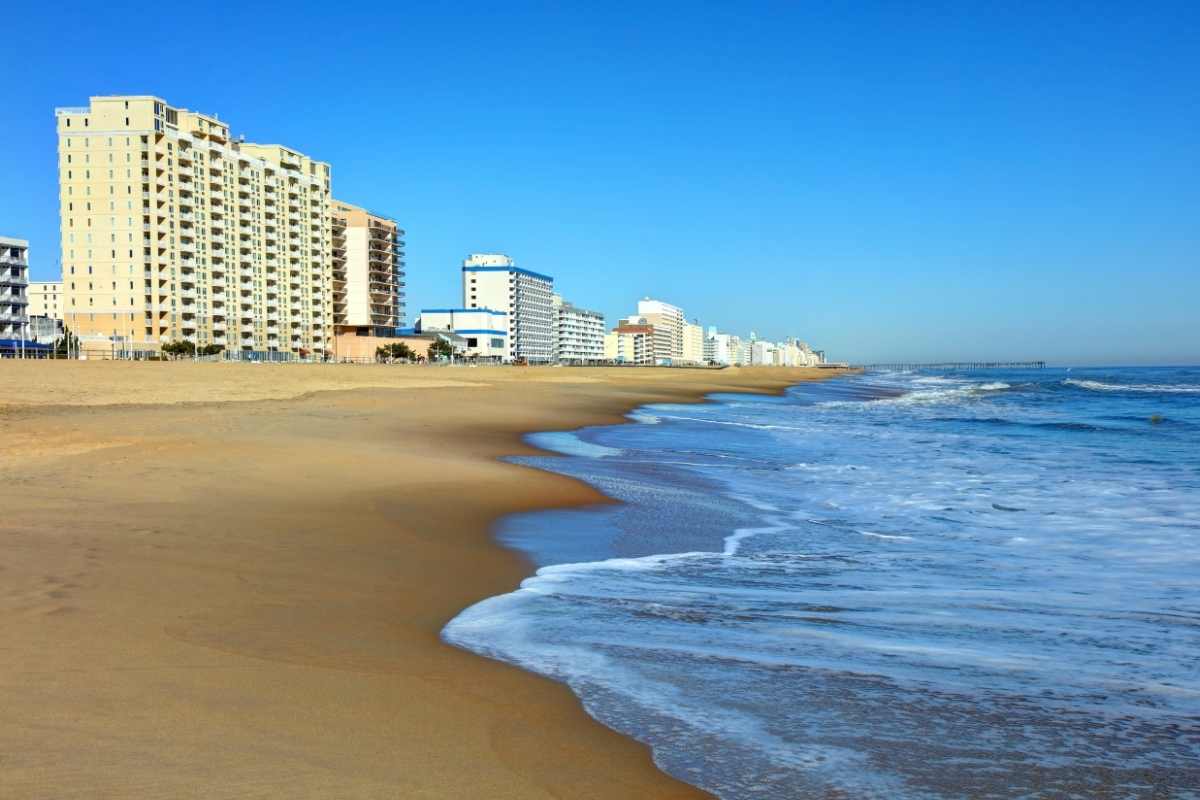 Sun, surf, and sand – Virginia Beach is a quintessential seaside destination. But it's not just the waves that draw visitors. The bustling boardwalk is brimming with fun, offering everything from fantastic dining and shopping to live entertainment and special events.
Oceanfront Strolls: Enjoying the Virginia Beach Boardwalk Stretching for three miles along the oceanfront, the Virginia Beach Boardwalk is perfect for leisurely strolls. With beautiful views of the Atlantic, the boardwalk is lined with a host of restaurants, boutiques, and attractions. You can rent a bike or a surrey for a different pace, or just take your time exploring on foot. Don't forget to snap a selfie by the iconic King Neptune statue!
More than Sand: Beach Activities and Events Virginia Beach offers a calendar full of events and activities beyond the typical beach fun. You can check out live music performances at the boardwalk stages, enjoy thrilling rides at the amusement park, or participate in one of the numerous beach sports events. And if you're visiting in the summer, make sure to catch the fireworks display every week – it's a spectacle you won't want to miss!
🌊 Read More: Free Things to Do at Virginia Beach 🌊
6. Delight in Monticello's Architectural Wonder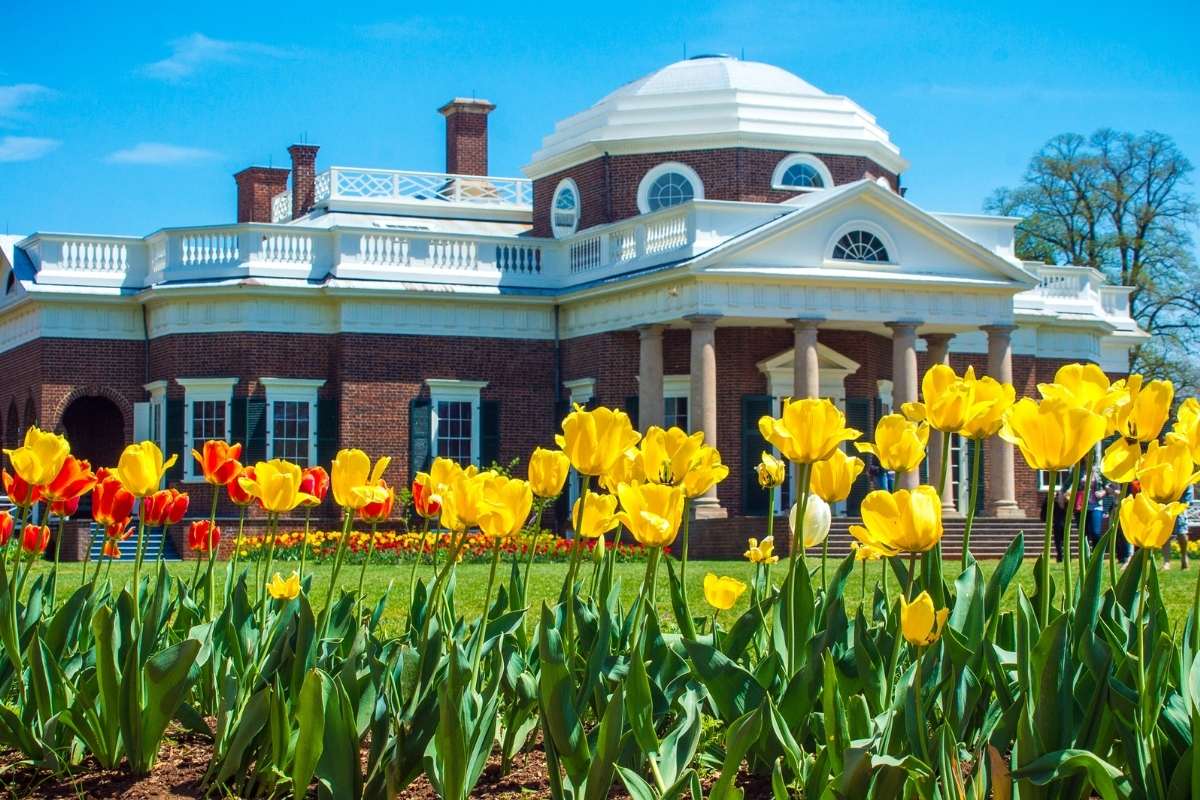 Nestled in the heart of Virginia, Monticello, the home of Thomas Jefferson, stands as a testament to the third U.S. President's architectural prowess and innovative spirit. This UNESCO World Heritage site, with its neoclassical design and ingenious features, offers a fascinating peek into the mind of one of the country's most influential figures.
Behind Monticello's Design: Thomas Jefferson's Vision Thomas Jefferson was more than just a president – he was also a skilled architect. Monticello is his masterpiece, a blend of European architecture and his own unique ideas. From the iconic dome to the hidden dumbwaiters in the dining room, every detail reflects Jefferson's vision. The house is a captivating demonstration of how Jefferson believed design and functionality could coexist beautifully.
Wandering Monticello: What to Expect from Your Visit When you visit Monticello, you'll get more than just a walkthrough of an old house. You'll explore Jefferson's private suite, the unique octagonal room, and the beautifully preserved kitchen. Outdoors, you can meander through the flower and vegetable gardens that Jefferson meticulously designed. And a visit to the slaves' quarters sheds light on the darker side of Monticello's history. By the end of your tour, you'll have a deeper understanding of the man behind the Declaration of Independence and the complex world he inhabited.
❤️ Read More: Historical and Fun Things to see in Charlottesville ❤️
7. James River Plantation Tours
Immerse yourself in a journey back in time with a tour along the historic James River plantations. These grand homes, surrounded by acres of lush fields and gardens, stand as enduring symbols of Virginia's past. They offer a captivating glimpse into the lives of the early settlers, their struggles, and their triumphs.
Plantations and History: A Walk Down Memory Lane A plantation tour is more than just sightseeing; it's a walk through history. As you explore these estates, you'll uncover tales of early American life, from the affluent lifestyles of plantation owners to the grim reality of enslaved Africans. Each house, with its preserved furniture and artifacts, tells a story, offering an intimate look at the people who lived there.
Top Plantations to Explore: Sights and Sounds Among the many plantations along the James River, there are a few standouts that you shouldn't miss. Shirley Plantation, the oldest in Virginia, boasts stunning gardens and a glimpse into the lives of eleven generations of one family. Berkeley Plantation is steeped in history as the birthplace of a U.S. President and the site of the first official Thanksgiving. And then there's Sherwood Forest Plantation, home to President John Tyler, with its remarkable 300-foot front facade. Each offers its own unique sights and stories, ensuring a memorable journey through Virginia's rich history.
8. Wine Tasting in Virginia's Vineyards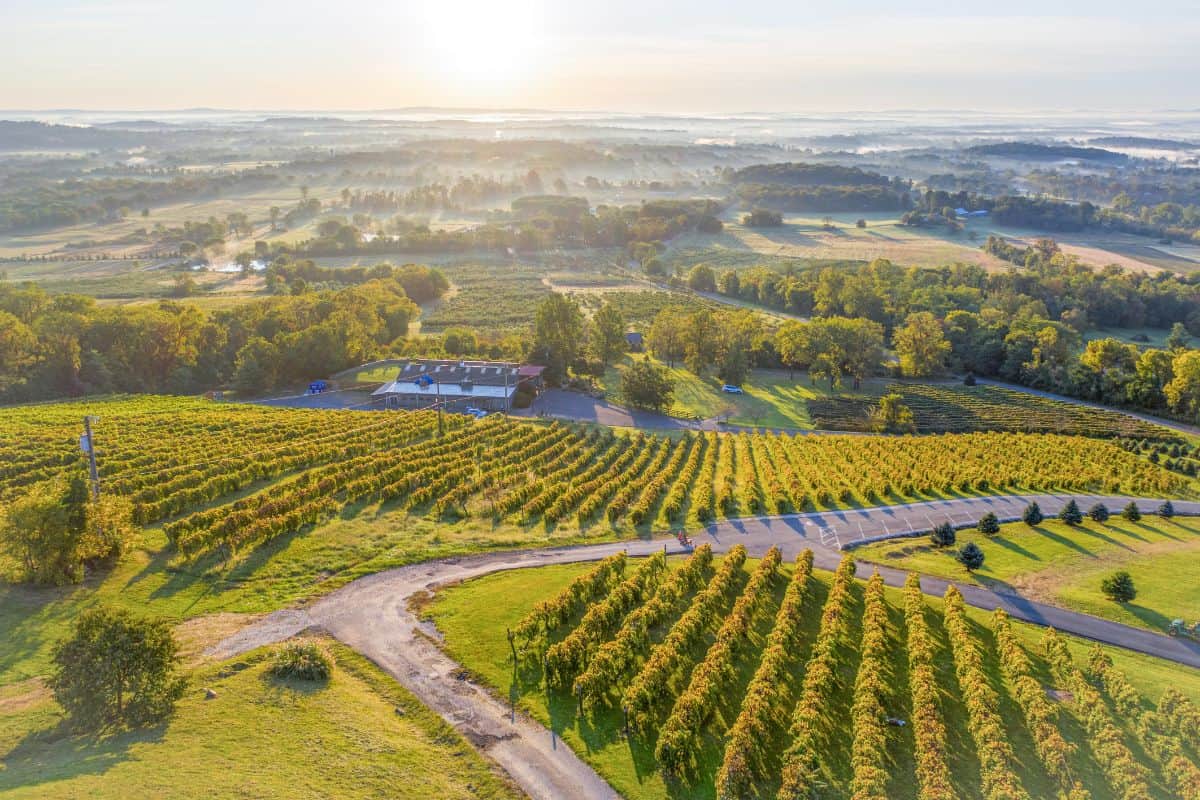 Virginia and vineyards go together like cheese and fine wine. With its fertile soil and ideal climate, Virginia is home to over 300 wineries, making it a prime destination for wine lovers. Whether you're a connoisseur or a casual sipper, the Virginia wine country has something to delight your palate.
Sip and Savor: Virginia's Wine Country When it comes to wine tasting in Virginia, it's all about the experience. Imagine this: you're sitting on a sun-drenched patio, overlooking rolling vineyards, with a glass of award-winning Cabernet Franc or Viognier in hand. Sounds divine, doesn't it? From robust reds to crisp whites, and even some outstanding sparkling, Virginia's wine country offers a diverse selection to sip and savor.
Virginia Vineyards: The Best Wineries to Visit With so many vineyards to choose from, where do you start? Barboursville Vineyards is a must-visit for its historic ruins and top-notch wines. Chateau Morrisette Winery offers not just great wines, but also a stunning view of the Blue Ridge Mountains. And you can't miss Early Mountain Vineyards, praised for its elegant tasting room and impressive wine list. Each winery brings its own charm and selection of wines, promising a tasting tour that's as varied as it is enjoyable.
🍷 Read More: Our Very Favorite Virginia Wineries 🍷
9. Exploring Luray Caverns' Underground Beauty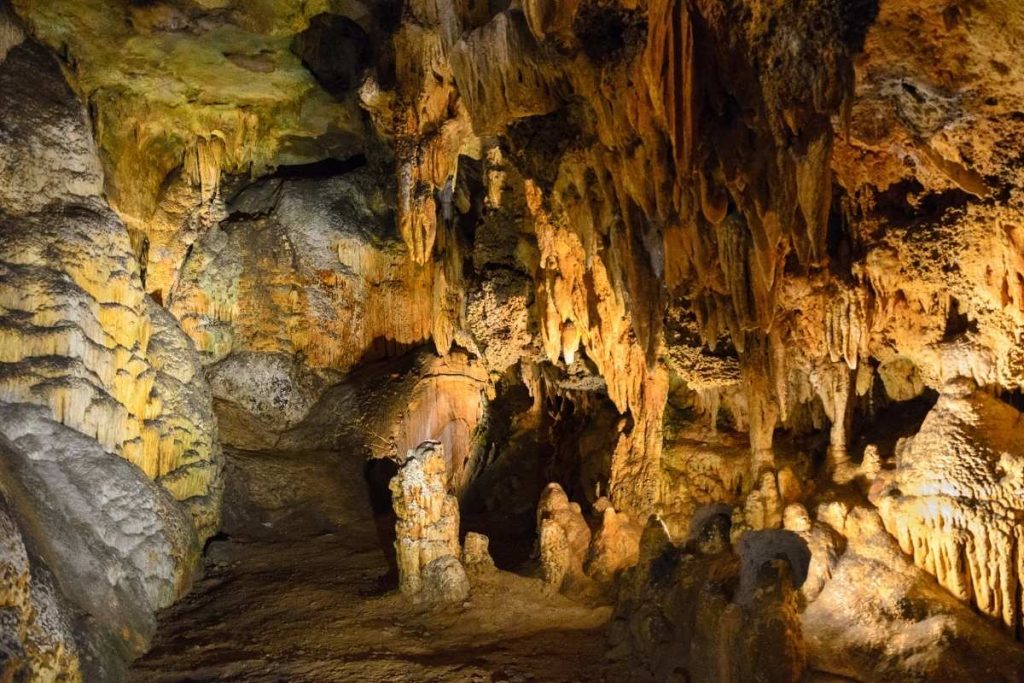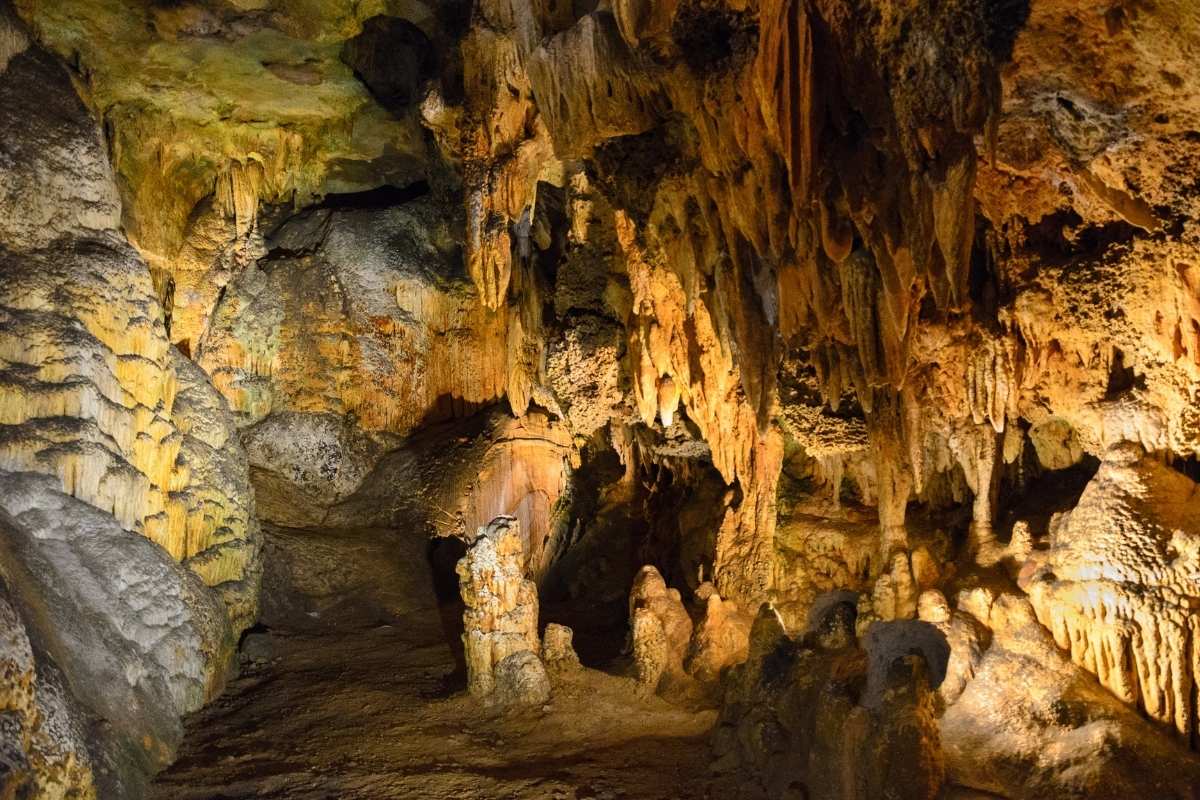 Ready to swap the Virginia sunshine for something a bit more subterranean? Head to Luray Caverns, where an underground world of wonder awaits. This natural landmark, with its towering stalactites, massive stalagmites, and shimmering pools, is sure to leave you in awe of Mother Nature's underground artistry.
Into the Depths: Touring Luray Caverns Walking through Luray Caverns is like exploring another world. As you wind your way through cathedral-sized rooms, you'll marvel at the towering stone columns and the delicate draperies of mineral deposits. Listen closely and you'll hear the haunting sounds of the Great Stalacpipe Organ, the world's largest musical instrument. And don't forget to look down – reflective pools mirror the cavern's beauty, creating captivating optical illusions.
Unseen Wonders: Hidden Gems in Luray Caverns While the caverns themselves are a sight to behold, they also hide several lesser-known wonders. Take the Dream Lake, for instance, which is only about 20 inches deep but gives a perfect reflection of the stalactites above, creating the illusion of a subterranean lake. Then there's the Wishing Well, a green-tinted pool that's home to thousands of coins. Remember, every tour through Luray Caverns reveals something new and enchanting – so keep your eyes peeled and your camera ready!
🪨 Read More: Things to Do in Luray (Besides The Caverns!) 🪨
10. Embrace Solitude at the Natural Bridge State Park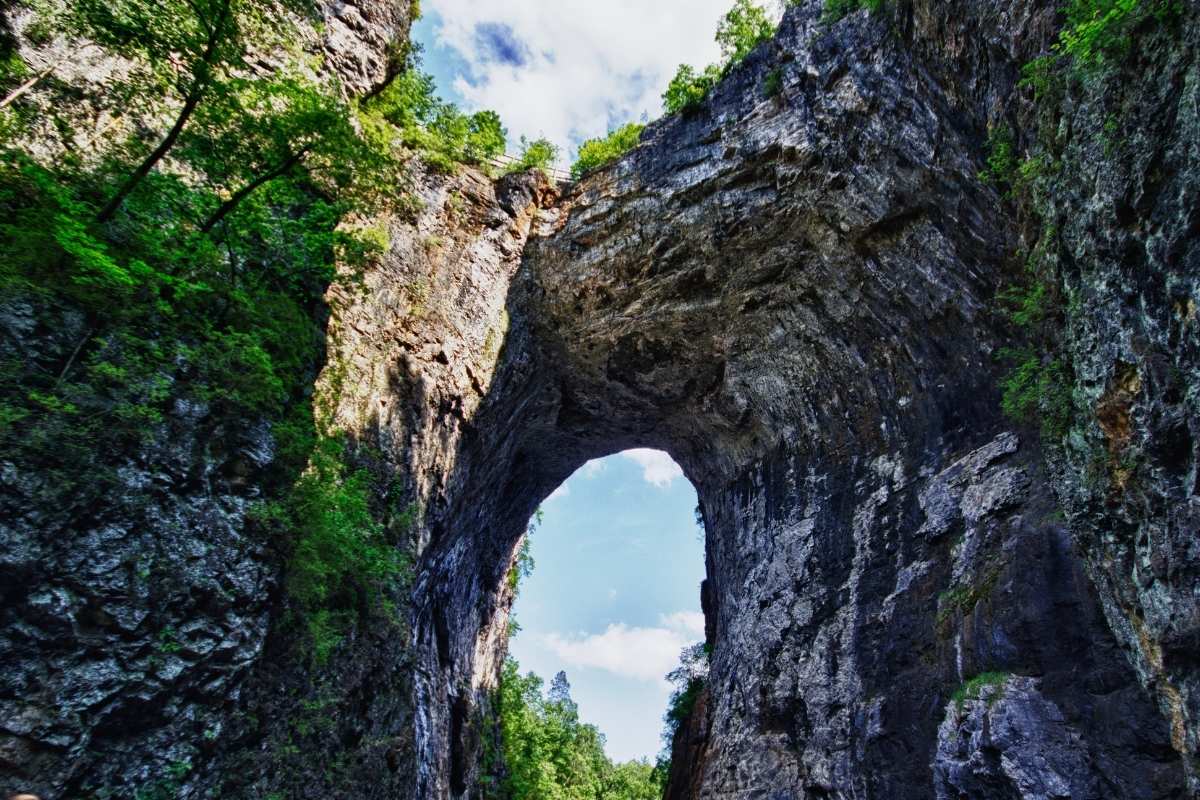 Looking for an escape from the hustle and bustle? Head to Natural Bridge State Park, where solitude meets natural splendor. This park, named after its most famous feature, the Natural Bridge, promises a tranquil getaway filled with scenic beauty and outdoor adventures.
Nature's Masterpiece: The Natural Bridge One of the Seven Natural Wonders of the World, the Natural Bridge is a sight to behold. This 215-foot tall limestone bridge, carved out by Cedar Creek over thousands of years, is truly a testament to nature's artistry. As you stand beneath the bridge, gazing up at this massive stone arch set against the blue Virginia sky, you'll understand why it has fascinated visitors for centuries.
Outdoor Fun: Hiking and Wildlife Viewing at Natural Bridge State Park Beyond the bridge, Natural Bridge State Park has plenty to keep the outdoor enthusiast entertained. Miles of hiking trails weave through the park, leading you past historic sites and stunning vistas. Keep an eye out for a variety of wildlife, including deer, foxes, and a plethora of bird species. And when you're ready for a break, the park's picnic areas provide the perfect spot to kick back and soak in the serenity. Whether you're an avid hiker or just looking for a peaceful place to reconnect with nature, Natural Bridge State Park delivers.
🏘 Read More: Exploring Charming Nearby Lexington Virginia 🏘
11. Small Town Charm Meets Mountain Beauty in Damascus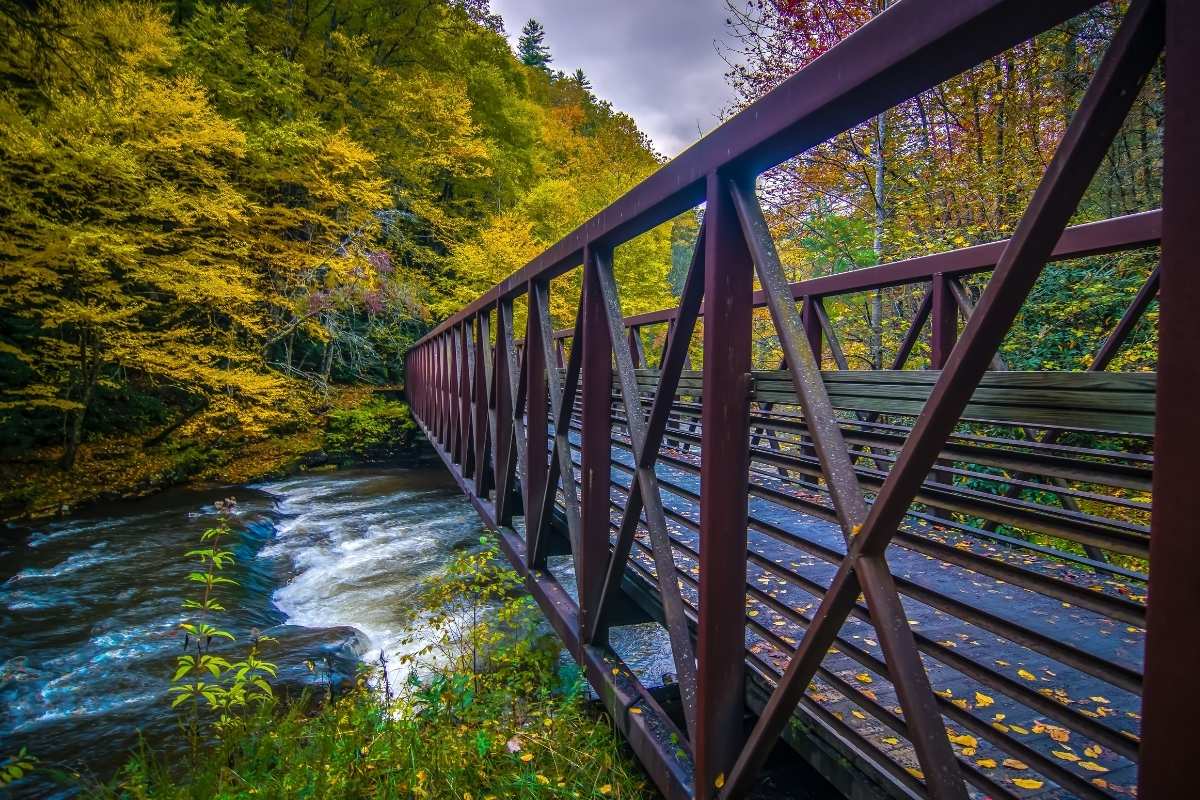 There's something undeniably enchanting about small-town life. Combine that with the raw beauty of the Appalachian Mountains, and you get Damascus, a quaint little town in Southwest Virginia that's brimming with charm. Known as "Trail Town USA," Damascus is the perfect destination for anyone seeking a taste of Virginia's scenic mountain landscapes and cozy, small-town atmosphere.
A main street like yesteryear. The friendly locals will make you feel right at home from the moment you set foot in town. The tree-lined streets are filled with family-owned businesses, from homey diners serving hearty Southern fare to quirky shops selling locally made goods. And despite its small size, the town has a surprising number of festivals and events, like the famous Trail Days, that bring the community together and infuse the town with an infectious energy.
Trail Town USA. But it's the natural beauty surrounding Damascus that truly sets it apart. Nestled in the heart of the mountains, the town is surrounded by a network of famous trails, including the absolutely stunning and family-friendly Virginia Creeper Trail. These trails offer endless opportunities for hiking, biking, and horseback riding, with breathtaking views at every turn. And after a day of outdoor adventures, nothing beats relaxing by the riverside, soaking in the peace and tranquility.
Whether you're an outdoor enthusiast, a lover of small-town charm, or just someone seeking a quiet getaway, Damascus promises a truly memorable experience. So pack your hiking boots, bring your sense of adventure, and get ready to fall in love with this charming mountain town.
🚵‍♀️ Read More: Beginner's Guide to Damascus Virginia 🚵‍♀️
12. Enjoy History and Culture in Fredericksburg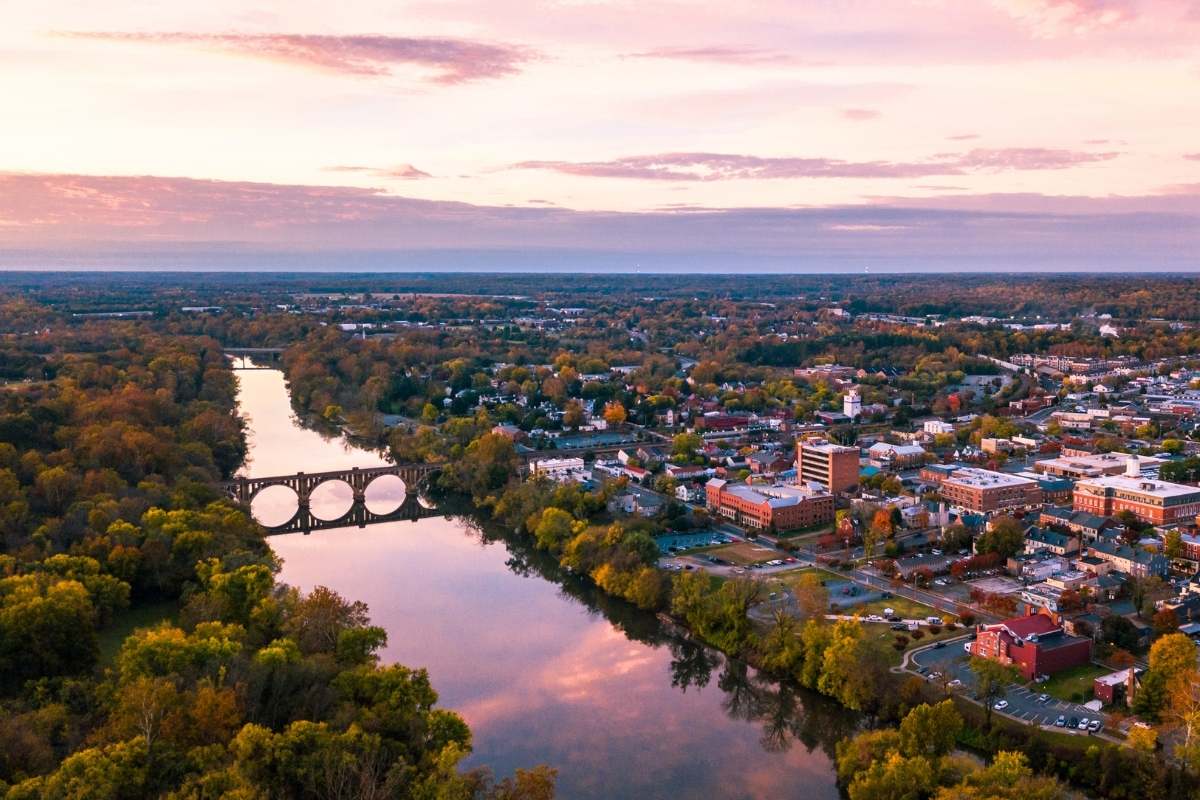 Looking to step back in time while enjoying a cultural smorgasbord? Look no further than Fredericksburg, Virginia. This charming city, with its historic downtown and vibrant arts scene, serves up a delightful mix of history and culture that'll keep you entertained and enlightened.
Fredericksburg is a city steeped in history. Walking its brick-lined streets feels like stepping back into the past. You can visit the boyhood home of George Washington or stroll the grounds of the Mary Washington House, where his mother spent her final years. The city was also a pivotal battleground in the Civil War, and the Fredericksburg & Spotsylvania National Military Park offers a solemn reminder of this tumultuous period in American history.
But there's more to Fredericksburg than history. The city also boasts a vibrant cultural scene. You can explore a variety of art galleries showcasing local and national talent, catch a performance at the Riverside Center for the Performing Arts, or enjoy live music at one of the many local bars and restaurants.
For a taste of local flavors, the city's burgeoning culinary scene won't disappoint. From farm-to-table restaurants serving up Southern fare to boutique wineries offering locally produced wines, there's something for every palate.
In Fredericksburg, every street corner tells a story, and every venue offers a taste of local culture. So, whether you're a history buff, an arts enthusiast, or a foodie, Fredericksburg, Virginia, has something to offer you.
🇺🇸 Read More: The Very Best Restaurants in Fredericksburg Virginia 🇺🇸
13. Enjoy the energy and beauty of Old Town Alexandria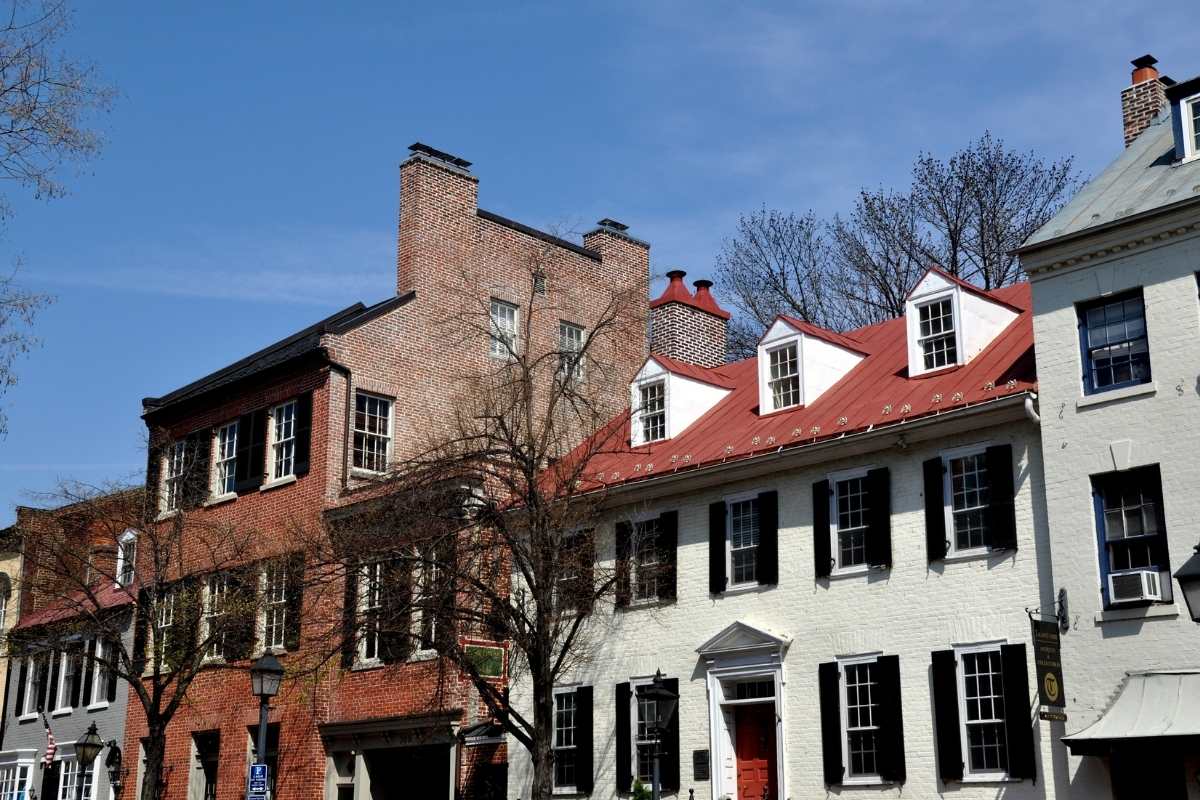 Welcome to Old Town Alexandria, a place where cobblestone streets meet contemporary fun! If you're looking for a day filled with historic charm, eclectic shopping, mouthwatering cuisine, and waterfront views, then you're in the right spot.
Plenty of history: Old Town Alexandria is a playground for history buffs. You can explore landmarks like the George Washington Masonic National Memorial or Gadsby's Tavern, where Thomas Jefferson and other notable figures once dined. Want to delve even deeper into the past? The Stabler-Leadbeater Apothecary Museum showcases medical artifacts from the 18th and 19th centuries, giving you a unique glimpse into the early days of medicine.
Shopping and dining: Shopping aficionados will adore the unique boutiques and antique shops that line King Street, known as one of the "Great Streets" of America. From home goods to fashion to one-of-a-kind trinkets, you'll find a treasure trove of items you didn't know you needed until you spotted them in a storefront window.
For foodies, Old Town Alexandria is a dream come true. With an array of eateries offering everything from seafood to steakhouses to international cuisine, deciding where to eat might just be the hardest decision you make all day. Don't forget to satisfy your sweet tooth at one of the delightful local bakeries or candy stores!
Finally, you can't leave without taking a stroll along the Potomac River waterfront. With its stunning views, it's the perfect spot to unwind after a day of exploring. And if you're feeling adventurous, hop on a boat tour or rent a kayak for a different perspective on the city.
Old Town Alexandria has a way of combining the old with the new, creating a vibe that's both historic and hip. So get ready to step back in time, embrace the present, and create some unforgettable memories!
🍔 Read More: Our Favorite Alexandria Restaurants 🍔
14. Virginia's Horse Country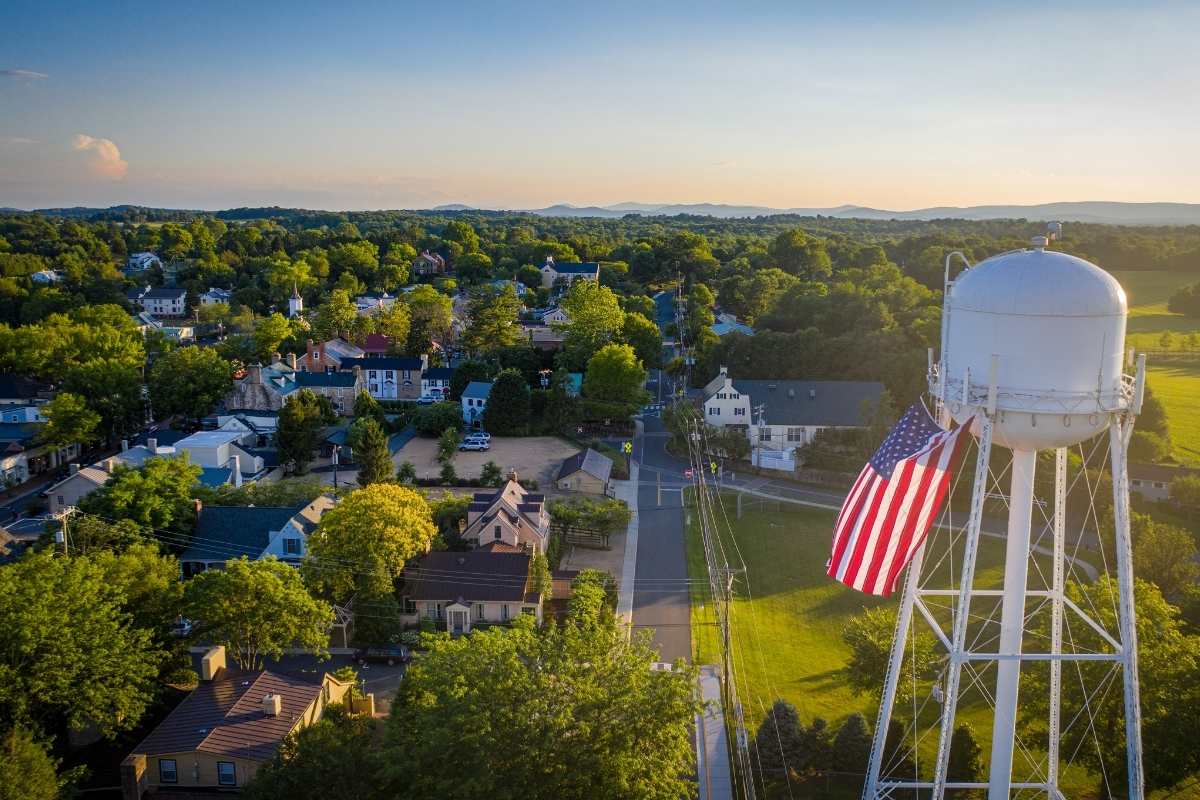 Ah, Middleburg! If there was ever a place that embodied the soul of Virginia's horse country, it's this charming small town. Nestled in the heart of Loudoun County, Middleburg offers a perfect blend of natural beauty, historic charm, and plenty of fun activities that'll make your visit memorable.
First things first, Middleburg's love for horses is legendary. Known as the "Nation's Horse and Hunt Capital", it's a dream come true for equestrian enthusiasts. Catch a polo match, go for a horseback riding adventure, or time your visit to coincide with the annual Middleburg Hunt or the Virginia Fall Races, where the town's equestrian culture comes alive in a spectacular way.
If history tickles your fancy, Middleburg won't disappoint. The town dates back to the 1700s, and its historic district is a lovely place for a leisurely stroll. Don't miss the Red Fox Inn and Tavern, a historic building that's played host to a bevy of historical figures over the years.
Middleburg is also a haven for wine lovers. The surrounding area is home to a plethora of vineyards and wineries, where you can savor the local flavors and enjoy some of the best views in Virginia's countryside. The town is part of the Loudoun County Wine Trail, so it's a perfect base for a day (or two) of wine tasting.
Craving some retail therapy? You'll adore Middleburg's unique boutiques, which offer a variety of goods from equestrian gear to antique furniture to locally made crafts.
And when it's time to refuel, you'll find no shortage of culinary delights in Middleburg. From cozy cafes to gourmet restaurants, the town offers a range of dining options that'll tantalize your taste buds.
In Middleburg, every turn is a surprise, and every activity is a chance to make lasting memories. Whether you're an equestrian fan, a history buff, a wine connoisseur, or just someone who loves small-town charm, Middleburg is sure to steal a piece of your heart.
🐴 Read More: Beginner's Guide to Middleburg Virginia🐴
15. Enjoy Relaxing Luxury at the Homestead Resort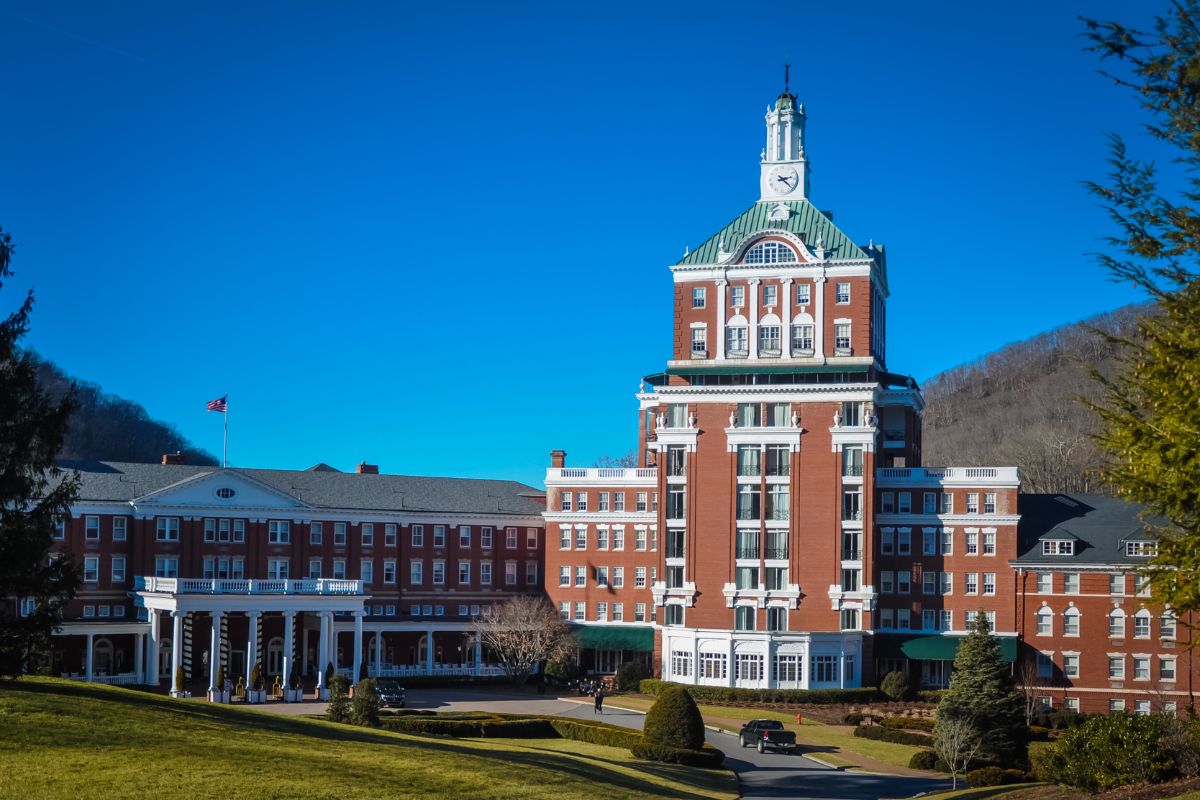 When it comes to luxury meets adventure, few places can match the allure of The Homestead Resort in Hot Springs, Virginia. Nestled amid the stunning Allegheny Mountains, this historic resort is a treasure trove of activities for all ages, ensuring that your stay is as relaxing, thrilling, or rejuvenating as you wish.
Golf and skiing: The Homestead Resort is a golfer's paradise, boasting two championship golf courses. The Old Course, home to the nation's oldest first tee in continuous use, and the Cascades Course, often ranked among the best mountain courses in the country, offer the perfect blend of challenging play and natural beauty. If you're more about snow than greens, come wintertime, the resort transforms into a snowy wonderland. You can hit the slopes for some skiing, snowboarding, or even tubing. Not a fan of downhill? No worries, the resort also offers snowshoeing and ice skating for a different kind of winter fun.
Pools and spas: The spa at The Homestead is a must-visit for anyone seeking a little pampering. From hot stone massages to rejuvenating facials, you'll walk out feeling refreshed and revitalized. And don't forget to take a dip in the historic Jefferson Pools, the naturally warm mineral springs that have been a hallmark of the resort for over two centuries. There is a also brand new pool with a lazy river and slides.
Adventure seekers will be thrilled with the resort's outdoor activities. You can explore the scenic Virginia countryside on horseback, tackle the resort's zipline course, or set out on a hike across the resort's many trails.
For the little ones, the resort features an array of family-friendly activities, like falconry, archery, and a mini golf course. There's also an expansive indoor pool and a game room that are perfect for keeping the kiddos entertained.
Foodies won't be disappointed either. With multiple dining venues offering everything from casual fare to fine dining, there's a delicious dish to satisfy every craving.
Whether you're after a serene retreat, a family vacation, or an action-packed adventure, The Homestead Resort has got you covered. So pack your bags and get ready for a Virginia getaway you won't soon forget!
Read More: Explore the Nearby Town of Hot Springs, Virginia
16. See wild ponies on naturally beautiful Chincoteague Island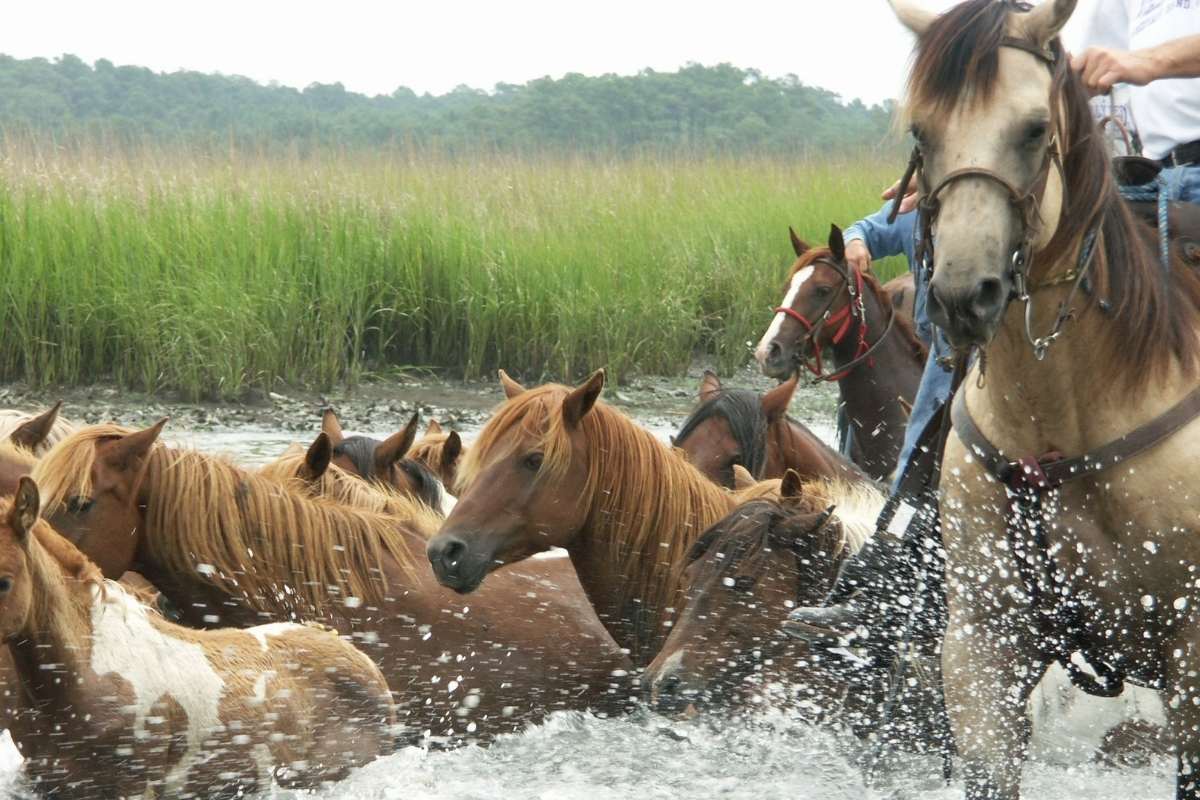 a taste of island life with a uniquely Virginian twist, Chincoteague Island is the place to be. Known for its wild ponies, stunning beaches, and the quaint charm of a small seaside town, Chincoteague Island offers a variety of fun and relaxing activities.
Chincoteague National Wildlife Refuge is a must-visit for nature lovers. Here, you can stroll along nature trails, birdwatch, or just revel in the breathtaking beauty of the marshlands. The Refuge is home to the famous wild Chincoteague ponies – if you're lucky, you might just spot a herd grazing or galloping along the shoreline.
Speaking of shoreline, a visit to Chincoteague Island would not be complete without spending some time at Assateague Beach. The pristine, sandy beach is perfect for sunbathing, picnicking, or simply taking a leisurely stroll. You can even dip your toes in the Atlantic, or if you're feeling more adventurous, try your hand at surfing or bodyboarding.
Avid cyclists or those simply seeking a relaxed bike ride will love exploring the island on two wheels. The flat terrain and scenic routes make biking a popular activity. Cycle around town, down to the beach, or through the wildlife refuge.
If you're a fan of fresh seafood, then you're in for a treat. Chincoteague Island is renowned for its clams and oysters. You can try these delicacies at one of the island's many restaurants or seafood shacks. And if you're visiting in July, don't miss the annual Chincoteague Island Blueberry Festival, a celebration of all things blueberry, from pies to pancakes!
For a bit of local history and culture, check out the Museum of Chincoteague Island. Here, you'll learn about the island's storied past, the famous wild ponies, and the historic Assateague Lighthouse.
Chincoteague Island is a place where you can tune into the rhythm of coastal life, soak up some sunshine, and create unforgettable memories. Whether you're an outdoor enthusiast, a seafood lover, or just looking for a relaxed getaway, Chincoteague Island has got you covered.
🐴 Read More: Beginner's Guide to the Wild Ponies of Virginia 🐴
17. Enjoy Virginia's Eastern Shore at Cape Charles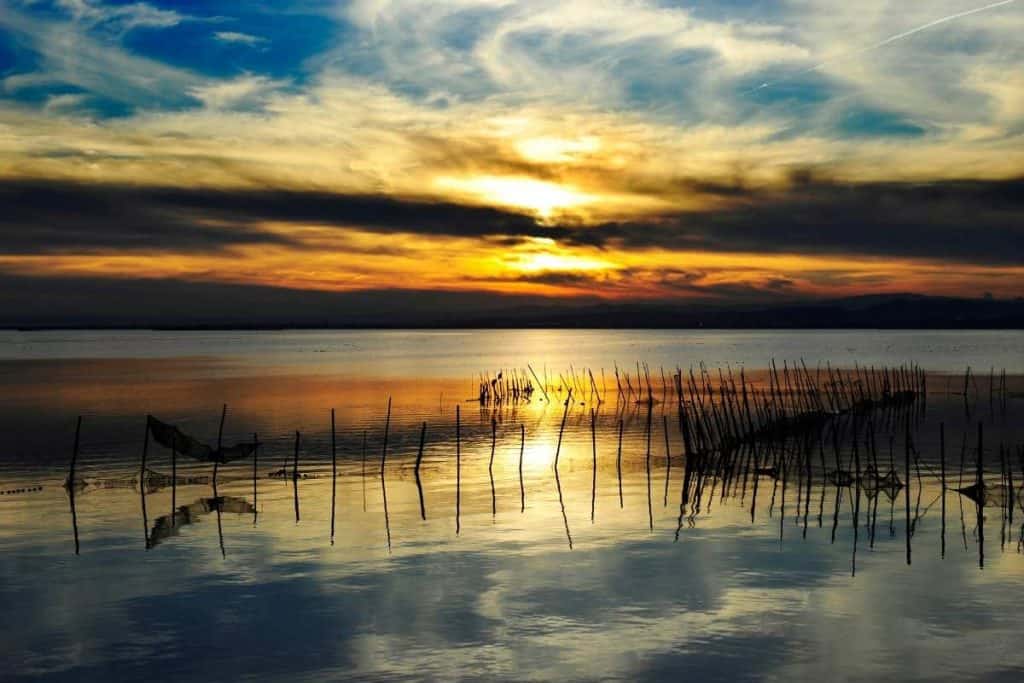 Set foot in Cape Charles, and you'll quickly see why this charming bayside town is a must-visit spot in Virginia. Combining natural beauty, history, and a laid-back vibe, Cape Charles offers a variety of fun-filled activities that'll make you fall in love with this little slice of coastal heaven.
Let's start with the beach, because who doesn't love a good beach day? Cape Charles Beach, with its shallow waters and soft sandy shore, is perfect for a family-friendly day out. Whether you're looking to build sandcastles, collect seashells, or just sit back and enjoy the sun, this beach has got you covered. Plus, the spectacular sunsets are a sight you don't want to miss.
For a dash of outdoor adventure, check out Kiptopeke State Park. It's an outdoor lover's paradise, offering opportunities for hiking, bird watching, and fishing. There's even a beach within the park for another dose of sun and surf.
History buffs will enjoy a visit to the Cape Charles Museum and Welcome Center, where you can learn about the town's railroad and ferry history. Be sure to also take a leisurely stroll down Mason Avenue, the main street of Cape Charles, lined with beautifully preserved historic buildings.
Golf enthusiasts can tee off at the Bay Creek Resort and Club, which boasts two signature golf courses with stunning views of the Chesapeake Bay. Meanwhile, anyone in need of some retail therapy will appreciate the unique shops offering everything from antiques and artwork to locally made crafts.
And let's not forget about the food. Seafood lovers will be in heaven here, with local eateries serving up fresh catch daily. You'll also find a number of wineries and breweries in the area perfect for a tasting tour.
Whether you're into history, love being active outdoors, or are all about that beach life, Cape Charles has something for everyone. So come on down and see for yourself why this Virginia gem should be on your travel bucket list.
Enjoy
Virginia truly is a place that caters to every kind of traveler, from history buffs and nature enthusiasts, to foodies and adventure seekers. It's a place that invites you to slow down and soak in its rich history, immerse yourself in its abundant natural beauty, and savor its mouth-watering culinary delights.
Whether you're strolling along the picturesque beaches of Cape Charles, gazing at the architectural wonder of Monticello, or sipping a glass of wine amidst the scenic vineyards, Virginia embraces you with open arms, inviting you to create your own unique memories.
Our list merely scratches the surface of the myriad experiences that await in Virginia. There's so much more to discover, and the best way to do so is to get out there and explore it for yourself