When you're done with a day in Colonial Williamsburg, you'll probably be ready to sit down somewhere air-conditioned and eat something delicious. Here are our top picks.
1. Fat Canary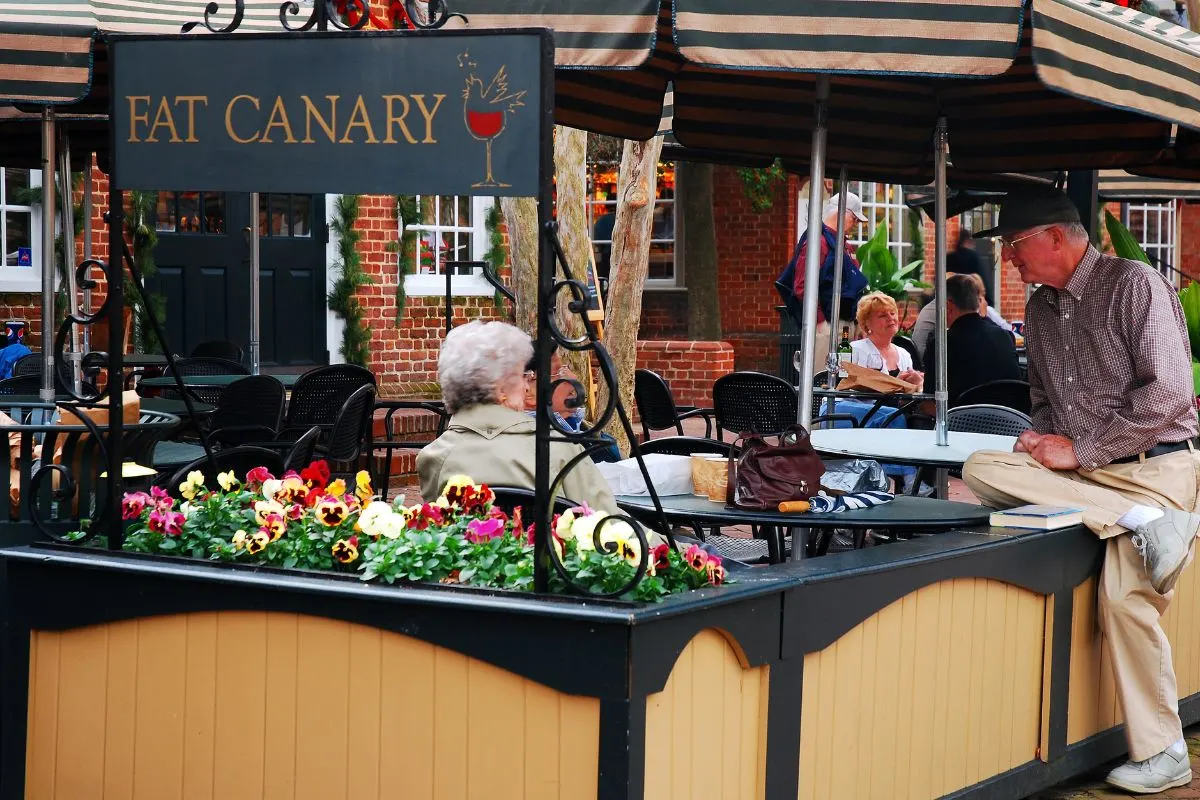 A fine dining experience featuring seafood and gourmet cocktails. This isn't a place for picky eaters, but foodies will appreciate menu items such as crispy Rappahannock oysters served with sweet onion, tomato, and green chili salsa or lobster fettuccine with peas and pistachios as appetizers.
There are pan-seared sea scallops and grilled Atlantic salmon as a toss-up entrée with lamb shank, celery root, and roasted peppers. Don't miss out on the locally grown greens served with strawberries, goats' cheese, almond crackers, and port wine vinaigrette. Or, try the grainy Arugula with roasted beets, fennel, citrus, walnuts, and dried apricots.
The cocktails show America's early spirit with the Wright brothers' Gin, Luxardo, elderflower, and citrus! The delectable desserts include a blackberry shortcake with a cream cheese frosting served with locally grown berries and a Macadamia nut pie with vanilla bean ice cream and pineapple brulée! All dishes are paired with the finest and handpicked wines.
Cuisine: Fine dining – Global menu
Location: 410 W Duke of Gloucester St, Williamsburg, VA 23185
Operating Hours: Lunch from 12 (Wed to Sun); Dinner from 5pm (Wed to Sun)
Contact: 757-229-3333
Website: https://fatcanarywilliamsburg.com/
2. Second St Bistro
You've arrived at the 'all American bistro'! Second St Bistro, is upscale without pretension. Menu choices for lunch and dinner are plenty; you can come for a Sunday brunch. You can dine indoors or do it the curbside-way. Second St is known for its 'Pig And Fig' pizza – bacon smoked in Applewood and fig preserve, gorgonzola, parmesan, and a balsamic dressing!
Culinary specialties are Chesapeake Blue crab roasted in lemon butter and a flash-seared tuna with a sesame crust served with a seaweed salad! Second St is home to the 'famous' O-rings, Sriracha sauce, and panko fried shrimps in a Thai chili glaze!
Second St's burger is also a signature item – the Applewood smoked bacon topped with mushrooms, grilled onions, and cheese. And the crab remoulade with toasted brioche is delish. Sunday brunch is a treat with homestyle-cooked eggs, bacon, and southern-style patties served with creamy cheese grits and a freshly baked buttermilk biscuit.
Brunch is time for cocktails you can have with crispy waffles topped with house-made chicken tenders with drizzles of honey and pancake syrup. There's freshly squeezed OJ, strawberry in a sparkling brut, and Second St's own 'Bacon Bloody Mary' – bacon-infused Vodka (Bakon) and an over-the-top garnish!
Cuisine: American-style bistro
Location: 140 Second Street, Williamsburg
Operating Hours: 11:30 am to 9:00 pm (Sunday – Thursday); 11:30 am to 10:00 pm (Friday & Saturday); 11:30 am to 3 pm ((Sunday brunch); Monday closed.
Contact: 757-220-2286
Website: https://secondst.com/
3. King's Arms Tavern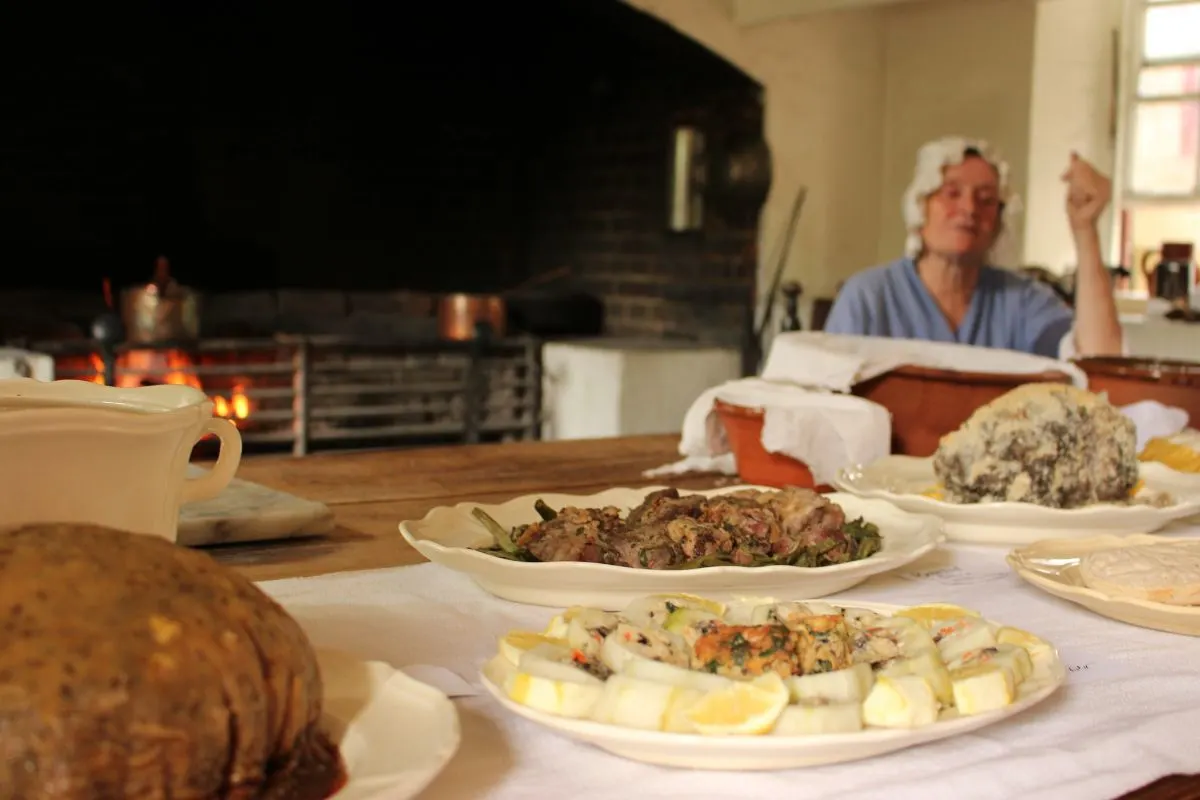 If food tells a story, it's at the King's Arms Tavern that you can experience the tastes of yesteryear. The classic (and original) Jane Vobe's 1772 recipes have given a contemporary twist in the 250-year-old chophouse's history. The atmosphere and décor are still like the meeting place of intellectuals who exchanged ideas in the early days.
The King's Arms Tavern is a relic of Williamsburg's past and the era that marks the beginning of this City named after England's King William 111. Nothing is spared in reproducing the ambiance – from the décor to the servers' dress and pewter candlesticks! And the menu has prime cuts of beef, pork, and serves fowl.
The menu has Middle English entries like King's cut prime rib or beef. There's a duck from the 'Smoak House,' and the classic macaroni has freshly foraged mushrooms. A vegetarian option is the butternut 'steak' with a wild mushroom ragout and parsley chili pesto. But, the 'Hunter's game pye' draws customers – tender venison, rabbit, and duck stewed in the finest port wine.
Cuisine: Southern Dining
Location: 416 East Duke of Gloucester Street, Williamsburg
Operating Hours: 4:30pm to 8:00pm (Wed to Sun)
Contact: 855 240 3278
Website: https://www.colonialwilliamsburghotels.com/dining/kings-arms-tavern/
4. Colonial Pancake House
The Colonial Pancake house serves breakfast and lunch. It is known for its 'two, two and two' pancake combo – two pancakes, two eggs, and two racks of bacon. We love the omelets here for those of you who aren't into sweet breakfasts. A breakfast treat is a burrito – 3 scrambled eggs, ham, and cheese in a tortilla.
The Colonial Pancake House has gluten-free meal options too. But you are here because of the pancakes – stacks of three and plenty of fillings. The 'pig in a blanket' stands out and is three sausages wrapped in pancakes. Besides the pancakes, there's French toast, waffles, Turkish sausage patties, and corned beef mash.
Cuisine: American pancake bar
Location: 301 Page St, Williamsburg
Operating Hours: 7am to 2pm (daily)
Contact: 757 253 5852
Website: https://www.colonialpancake.com/
5. Amber Ox Public House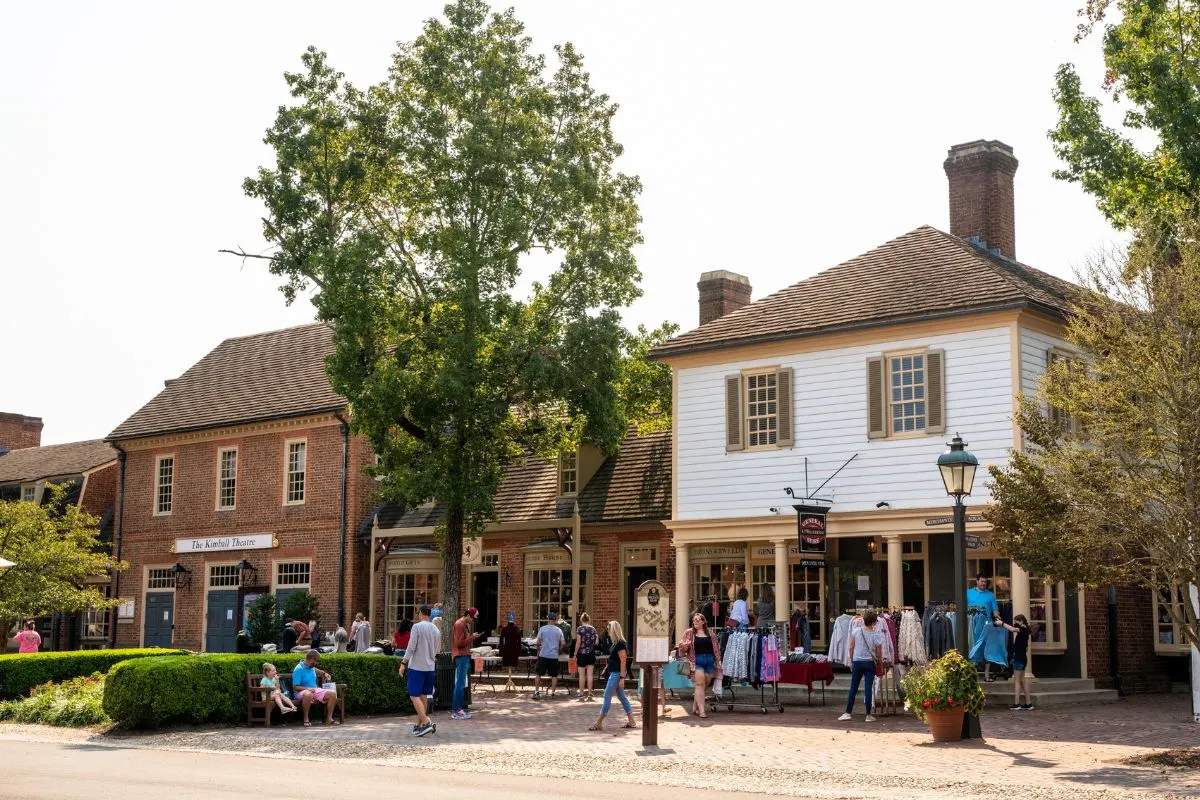 The Amber Ox Public House brings something new to colonial Williamsburg – a brewpub with a modern look and menu. The ambiance is slick. Shared plate options are pulled BBQ duck, pickled red onion, smoked cheese curds, kale chermoula, and a poached egg or a plate of smoked burrata with French sorrel and curry-leaf pesto. Make sure you book – everyone wants to be here!
You can have a prized DelMonico steak or seared Corvina in a pistachio crust and served with a gooseberry, cucumber salad, and Matcha yogurt. The wild boar option appears as a favorite. The chefs confess their inspiration comes from the best and freshest ingredients that make the menu stand out.
Amber Ox Public House takes on cult status with a foodie following and special nights like Chicken and Waffle Wednesday, Smash Burger Thursday nights, and a Saturday and Sunday brunch. There are soiree events and locally brewed artisanal beer.
Cuisine: Contemporary American
Location: 525 Prince George St, Williamsburg
Operating Hours: Closed on Tues; 2pm – 9pm (Mon, Wed to Fri); Brunch 10am to 2pm (Sat and Sun)
Contact: 757 790 2299
Website: https://www.theamberox.com/
6. The Hound's Tale
The Hound's Tale is a story of owners Steve and Michelle Sieling's travels abroad, which became the inspiration for owning their own bistro. The two met at grad school in Iowa, spent a couple of years traveling, and when their son was born, they came to Williamsburg from Chicago. The only place to raise a child, they say.
The Hound's Tale is an English pub with a large patio to lounge and chat, even with local doggies. Yes, The Hound's Tale is dog-friendly with a range of treats like doggy beer and wine! This is the spot to meet the locals and get to know a bit of life in Williamsburg.
Italian deli options are home-cured prosciutto, pepperoni, and gorgonzola. Fresh garden greens come with a twist, strawberries, and prosciutto. The pair also brought recipes home, like the Korean short rib with kimchi and coconut rice. The Hound's Tale Dog's all-time favorite is a beef quarter-pound hotdog with homemade sweet mustard, pickles, and fries.
And there's a variety of regional and artisanal beers on sale at the Hound's pub, the Barkery. Locals know this is the place for Virginia's drafts and ciders! A sign in the pub spells out what to do: gather! From a Busky tart cherry cider to the Centre of the Earth Pocahoptas beer, there's plenty of fun.
Cuisine: Casual Bistro, Deli, And Pub
Location: 515 Prince George St, Williamsburg
Operating Hours: 4pm to 10pm (Tues to Sun)
Contact: 757 221 6678
Website: http://www.thehoundstale.com/
7. Shields Tavern
Shields Tavern, a family dining experience, has a menu influenced by the 18th-century British colonial Empire. Many patrons agree that Shield Tavern is part of Williamsburg's colonial heritage. Some of the British colonies' best tastes can be had here, like dishes with sugar, molasses, and rum from the West Indies and Portuguese, Spanish and Italian wines.
Favorites include Shields Tavern's crayfish, shrimp stew, and chicken in apple cider. Shields tavern also holds annual events like the July 4th Independence buffet – an event that celebrates, through food, America's 200-year history! These events are bookings only.
Cuisine: World Cuisine
Location: 422 Duke of Gloucester St, Williamsburg
Operating Hours: Special events only
Contact: 855 268 7220
Website: https://www.colonialwilliamsburghotels.com/dining/shields-tavern/
8. Josiah Chowning's Tavern
Taverns are great gathering places, and Chowning's Tavern is no exception. The colonial-inspired pub puts on a food fare that matches its alehouse atmosphere. And, after a day in Colonial Williamsburg, the richness of cultural tours and the experiences of early colonial days retold, there's no better place to unwind.
The menu is novel, with not only classic foods, but the recipes include cooking instructions and the originators' names. The menu items are marked as 'Colonial Williamsburg Favorite' and are delectable. If one's traveling, one can't help but think it's a pity to forego some of these tastes! Or wait till the next visit.
Ala pub-style, there are choices of sandwiches on Chowning's home-baked bread – a country ham, cheddar cheese, mustard, and a glass of good wine doesn't go amiss. There's also a traditional stew made of 'young fowl and beef with corn' and the classic 18th-century 'supper,' Salmagundi – ham, chicken, cheese, and eggs.
But what's a must is the duck done 'the French way' that comes from Martha Washington's 1759 cookbook (the menu says). Or a Miss Dandridge's Chicken Hash served on a wooden board. John Farley's beef stew in The London Art of Cookery (1878) also finds a place on the menu – the stew is slow-cooked for over 4 hours! Or, order an 'onion pye' devised by a Dr. Lobb in 1767!
Cuisine: Colonial–inspired cooking
Location: 109 E Duke of Gloucester St, Williamsburg
Operating Hours: 11.30am to 9:00pm daily
Contact: 757 229 2141
Website: https://www.colonialwilliamsburghotels.com/dining/chownings-tavern/
9. Kilwins
On a list of places to eat and taste, Kilwins is a must. This is where locals come for fresh waffles, and Kilwins has become a culinary landmark near the historic Williamsburg. Visitors worldwide ensure that as much as they want to experience colonial history, they get a taste of Kilwins.
And to see homemade caramel and chocolate fudge paddled on a marble slab. It doesn't take long to know that this is where the best homemade ice cream is – made from fresh milk and cream at local dairies. Kilwin's also serves fresh fruit juices from orchards in the area.
Cuisine: Artisanal Confectionary
Location: 421 Prince George Street, Williamsburg
Operating Hours: 11:00am to 9:00pm (Mon – Thurs); 11:00am to 10:00pm (Fri); 10:00am to 10:00pm (Sat); 10:00am to 9:00pm (Sun)
Contact: 757-378-2727
More Virginia: