Located in the quaint town of Irvington, VA, the Tides Inn is the perfect place to escape the hustle and bustle of city life. The Tides Inn offers everything you need for a relaxing and rejuvenating weekend getaway with its gorgeous water views, delicious restaurants, and luxurious hotel rooms.
Best of all, it's just a short drive from Washington DC or Richmond.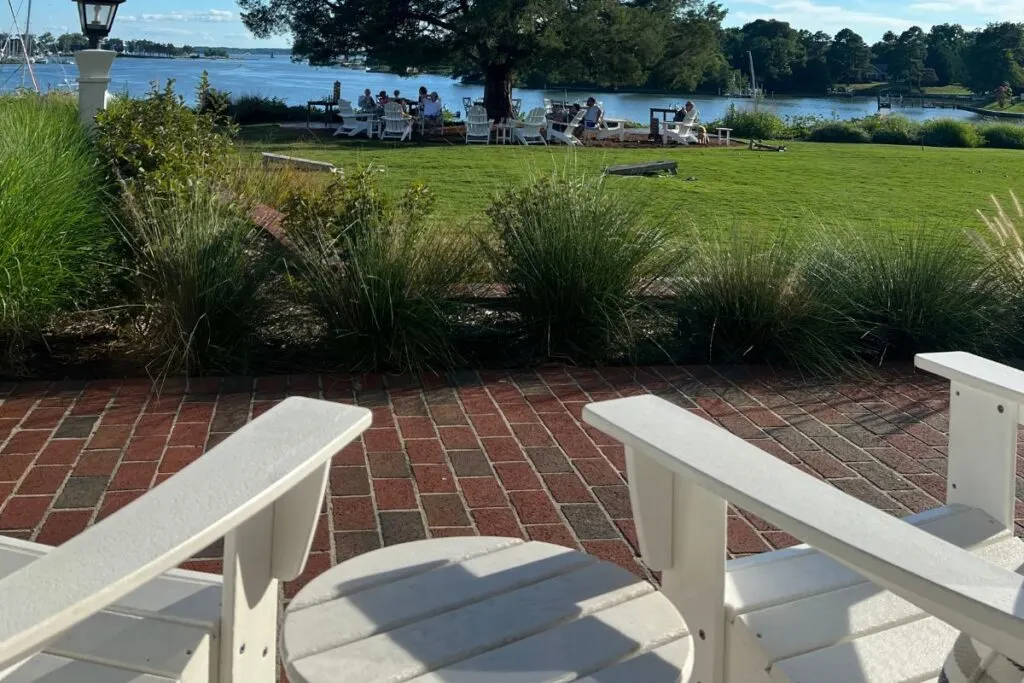 ⭐️ The short version: The Tides Inn is a beautiful resort situated on the Rappahannock River in Virginia's Coastal Region. The Inn offers stunning waterfront views, an award-winning spa and salon, golf, tennis, pickleball, boating, and more. The food is excellent, with fresh seafood and produce sourced from local growers. The service is top-notch, and the grounds are impeccably kept. If you're looking for a relaxing weekend getaway, the Tides Inn is an excellent choice. It is expensive, but I would not say it is overpriced.
Overview
Tides Inn is a 106-room resort located on Carter's Creek, offering comfort in a Southern and coastal style. You'll find huge windows with gorgeous views, lots of nautical decor, and some of the best seafood ever. Tides Inn has remained a Northern Neck icon for over 50 years.
Accommodations
The Tides Inn offers a variety of beautifully appointed hotel rooms to suit your needs. Whether you're looking for a deluxe king room with a balcony and water views or a cozy queen room with a fireplace, the Tides Inn has something for everyone.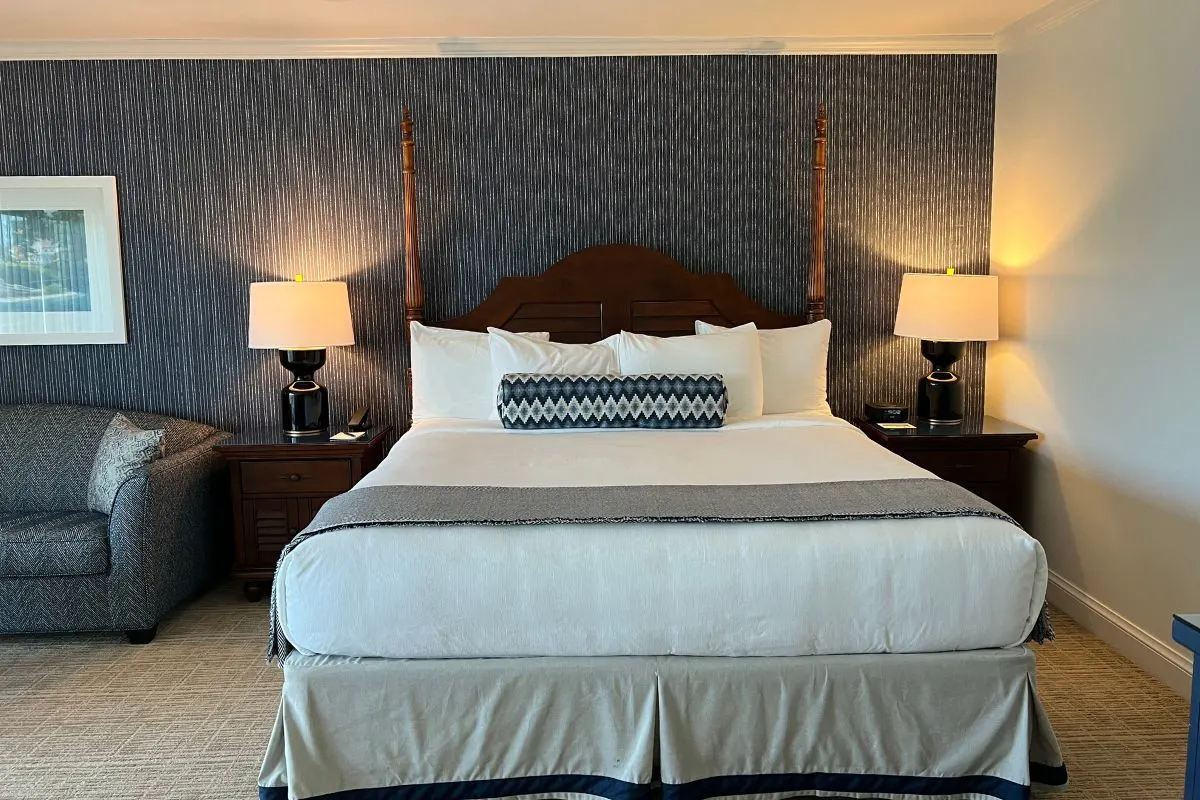 If you are traveling with family or friends, the Tides Inn also offers spacious two-bedroom suites that are perfect for groups. Regardless of your room, you are sure to enjoy the luxurious accommodations and amenities that the Tides Inn offers.
We stayed in the Lancaster House, a few minutes walk from the main building. Our room was huge and had a huge bathroom. We also had a full balcony with a great water view.
The distance to the restaurants and bars didn't bother us, but I could see some people not liking it. If you want a room in the main building, specify when you make your reservations.
We had excellent housekeeping, with our room cleaned daily and a turn-down service nightly.
Restaurants
The Tides Inn has two restaurants and another full bar.
The main dining room is the Chesapeake., an upscale (and highly-priced) restaurant serving three meals daily. The menu features locally sourced seafood and produce and a wide selection of wine. We had dinner there one night and it was excellent, although not cheap.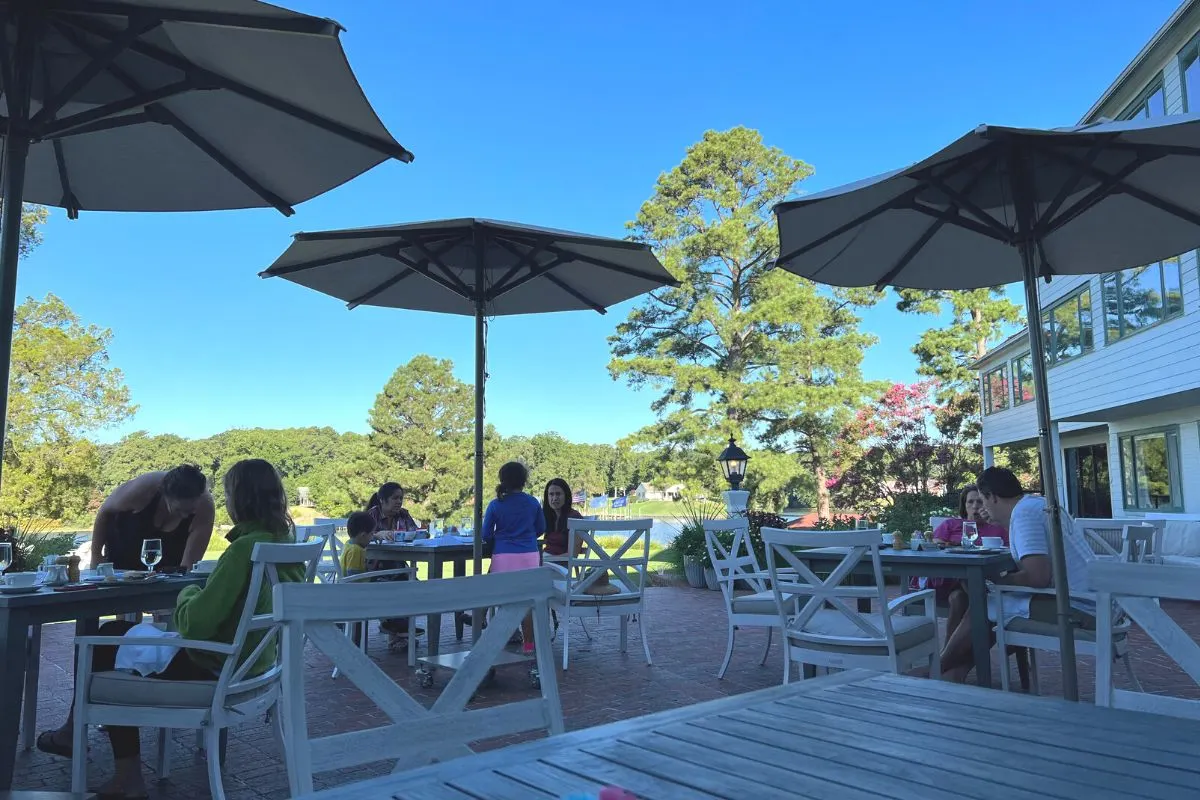 The other restaurant is the more casual Fish Hawk, which has a bar and outdoor seating overlooking the water. The tavern serves lunch and dinner and is more fun and relaxed than the Chesapeake. We ate there twice and enjoyed both the food and the atmosphere.
There is also a full bar in the main lobby. We didn't spend much time there, but the bartender was super friendly, the views were lovely, and it was a perfect place to grab a drink before dinner.
If you are spending a weekend at the resort, you will probably eat at both and like both. The food is expensive but everything is fresh and very well done.
Our favorite picks from our meals were the fried pickles and crabcake sandwich at the Fish Hawk and the crab soup and brown butter strawberry shortcake at the Chesapeake.
Water Activities
The hotel is situated in Carter Creek, a river that flows through the Rappahannock. Children can pedal up the creek and paddle on free kayaks, canes and canoes.
Several water activities are offered:
Boat rentals
Sunset cruises
Educational boat tours that teach you about oysters and the creek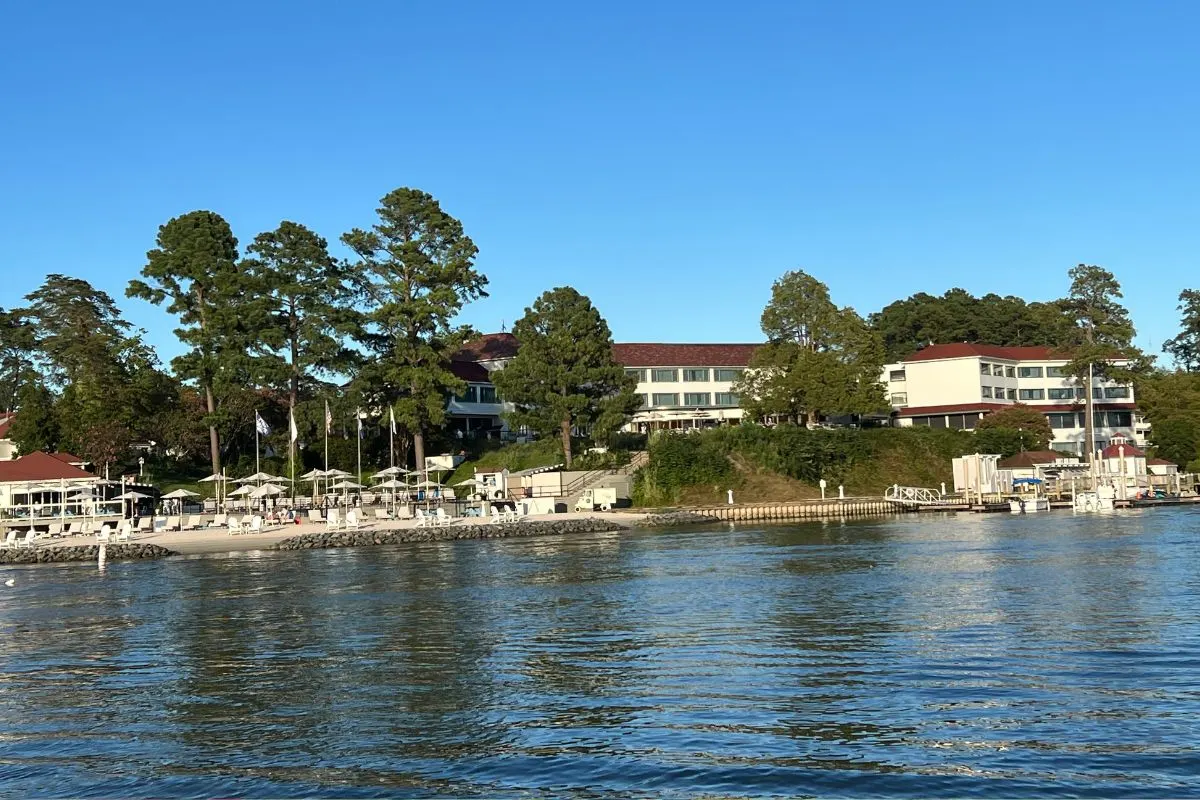 You can also fish off the pier, and they will even provide you with bait and tackle.
We did notice a ton of jellyfish during our stay, but I'm not sure if that was seasonal or if you'll find them there year-round.
Fun and Relaxation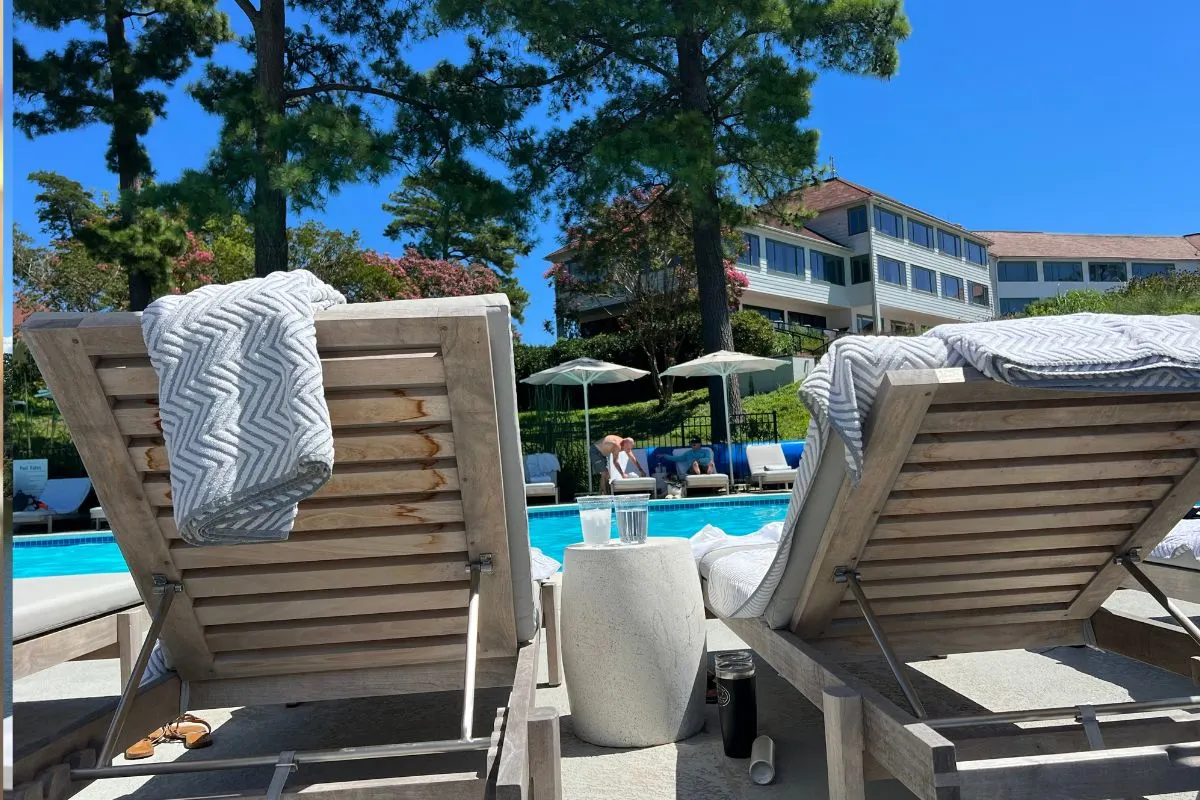 There is a large and recently refurbished pool with lots of nice lounge chairs, umbrellas, and cabanas. The pool area is very secluded and feels very private, which is nice.
There is also bar service in the pool area, so you can get drinks without leaving your spot.
You can golf, play tennis or pickleball, or enjoy cornhole or bocce ball on the grounds. None of these were crowded and we could play whenever we wanted.
There is also a full-service spa on-site, which offers massages, facials, and salon services. I didn't have time to visit the spa this trip, but it looked beautiful and the staff was amiable.
Things to Do Nearby
The coastal Virginia town of Irvington is tiny but charming, with a few cafes, boutiques, and art gallery. You'll see the whole thing in about an hour.
You can borrow bikes from the resort for free, which is about a ten-minute bike ride away. It would be easily walkable too.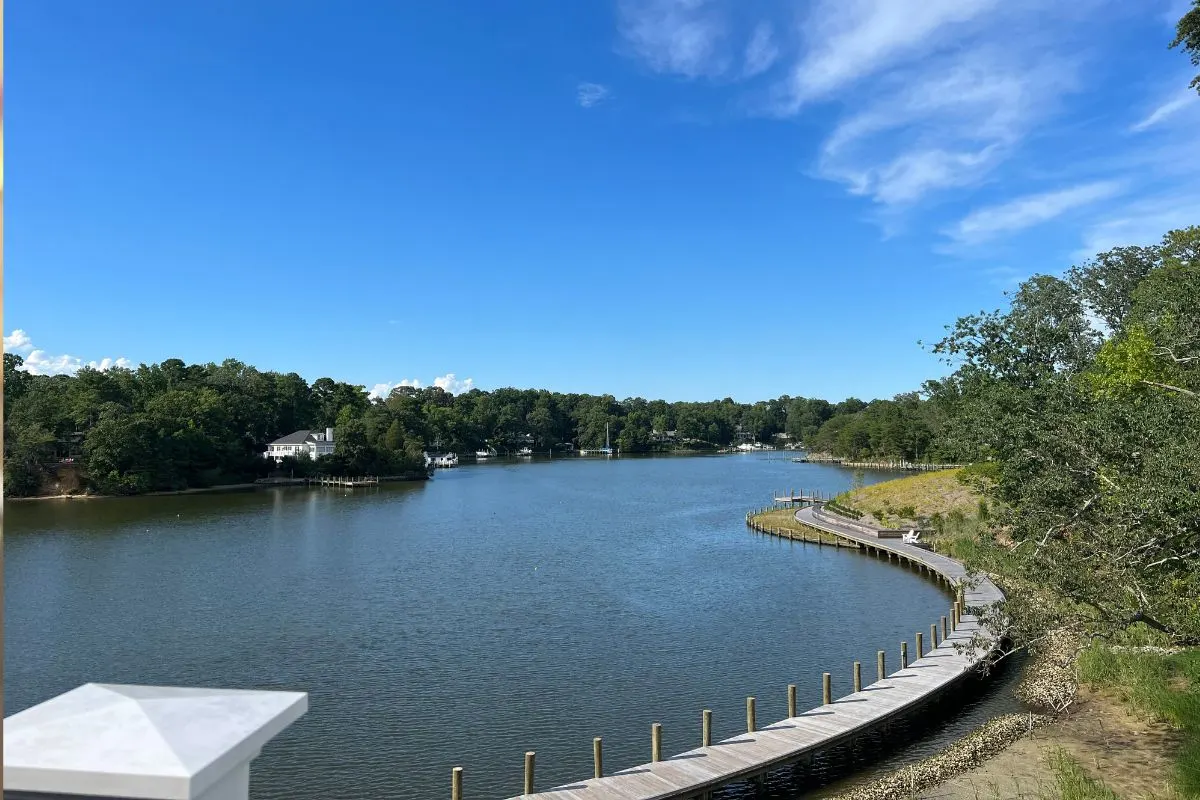 The town is an "extra", and the resort is the main attraction. That being said, it is always nice to have a few options if you're looking to explore.
Related Posts
Our Honest Review
Overall, we had a great experience at the Tides Inn and would definitely recommend it. It was not. cheap but it didn't feel overpriced. The service was top notch and the grounds were gorgeous. The Tides Inn would be a great honeymoon location in Virginia.
It was an easy drive from our suburban Virginia home near Fredericksburg and accessible from many populated areas.
This is not your spot if you're looking for an exciting, action-packed weekend. But if you want a lovely, relaxing stay with great food, this is absolutely perfect.
Interested in more of our hotel reviews? Check out our review of Hotel 24 South in Staunton.