Looking for a little getaway your kids will love and you can…tolerate?
Great Wolf Lodge is a family-friendly resort that lets your little ones splash, wave wands around, and eat popcorn while you (sort of) relax.
You'll be glad to get there and glad to leave. And that's okay.
⭐️ Key takeaway: Great Wolf Lodge is overpriced with mediocre food. But the rooms are fine, the waterpark is clean and well-staffed, and for a quick weekend trip with the kids, it's just the thing.
Table of contents
The Hotel Rooms
The rooms at Great Wolf Lodge Williamsburg are just fine. They're not anything to write home about, but they're clean and comfortable. If you're planning to spend most of your time at the waterpark, you won't be spending a lot of time in your room anyway.
For our stay, we had a room on the first floor with a sliding door that opened to a patio. Standard rooms have two queen beds, which hold a family of four nicely.
The bathroom was large, surprisingly clean, and the beds were comfortable. There was a separate seating area with a pullout couch.
You can pay a bit more for rooms with a fireplace, hot tub, and/ or loft area where kids can sleep upstairs. These are nice upgrades and are worth the cost in our opinion.
Included in your stay
Access to the water park (and outdoor pool when open)
Free Wifi
Free Parking
Storytime and Dance Party events in the lobby
The Waterpark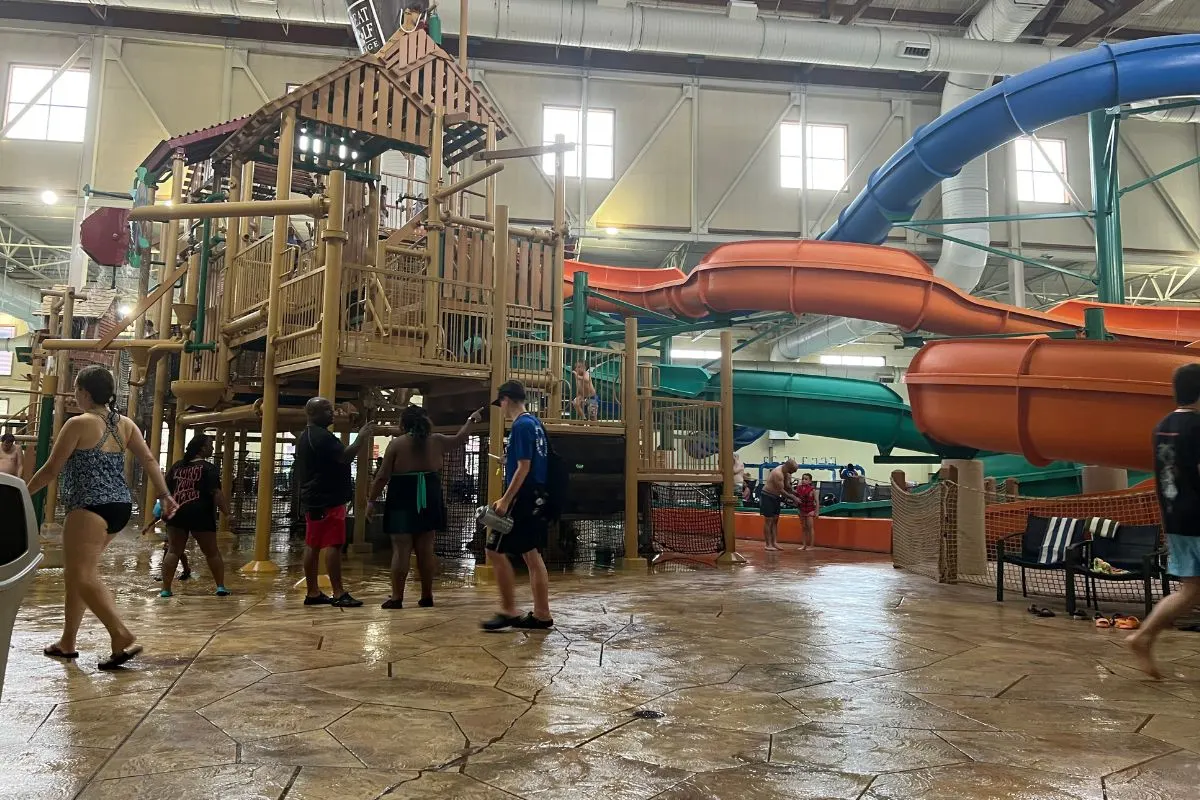 This is the reason you're staying at Great Wolf Lodge, right? The waterpark is huge and has something for everyone.
There are slides for both parents and kids, a lazy river, a wave pool, and even a surfing simulator.
The waterpark is well-staffed with lifeguards everywhere. If your kids are good swimmers, you can feel pretty comfortable letting them go off on their own while you relax or watch younger kids.
The one downside to the waterpark is that it gets crowded. Really crowded. If you want to avoid the crowds, plan to arrive early in the day or late in the evening. There can be long lines for the more popular slides, and the young kid's pool area can get crazy.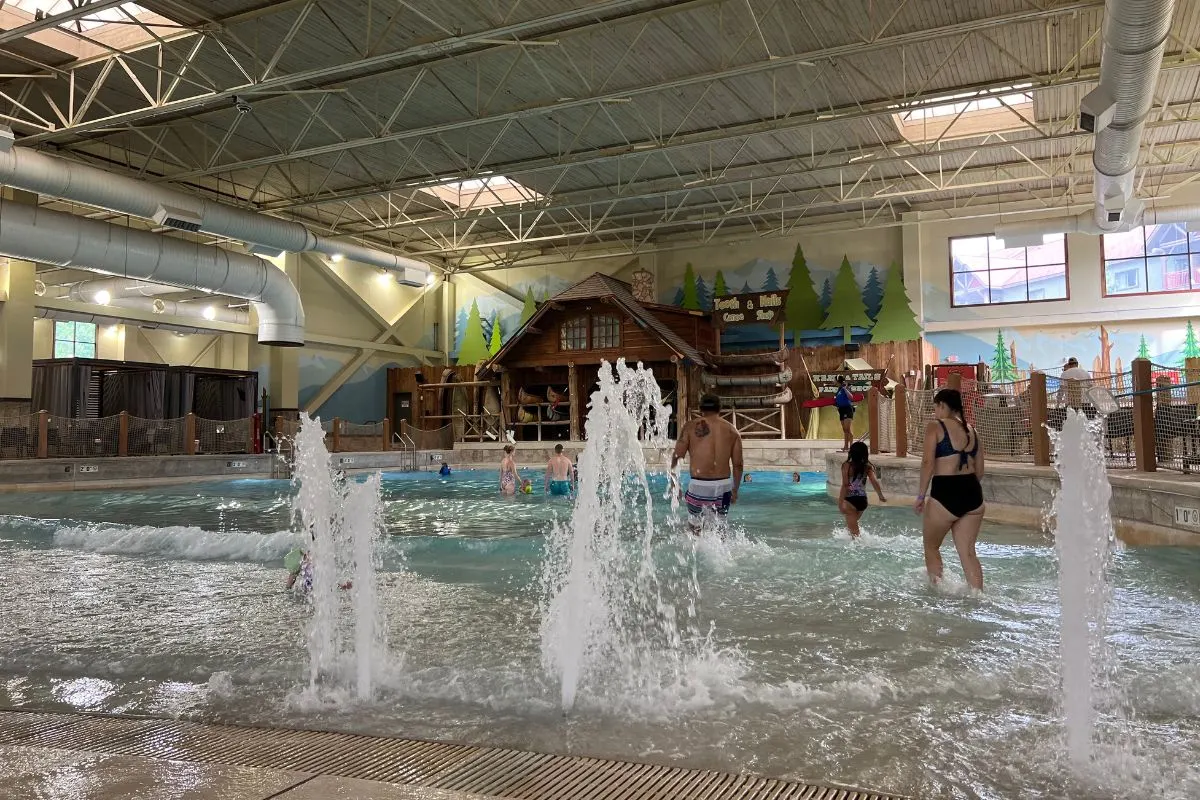 Dining
The food at Great Wolf Lodge is… just okay. You're paying high resort prices for average food.
There are a few dining options inside the lodge, including a sit-down buffet-style restaurant and a pizza place. A few hundred yards away, across the parking lot, is a more "upscale" restaurant called the Huntsman's Grille which is more expensive and still nothing special.
There is a quick-service station inside the waterpark serving hot dogs and such. You'll also find a few snack stations: one serving popcorn, an ice cream shop, and a candy shop. In the lobby are two Dunkin Donuts, which are great for your morning coffee.
Your best bet is to totally escape the compound and visit one of the many delicious restaurants in Williamsburg. We love Food for Thought and Oceans & Ale, which are about a 5-minute drive. For lunch, there's an IHOP and Chick-fil-a nearby.
For the adults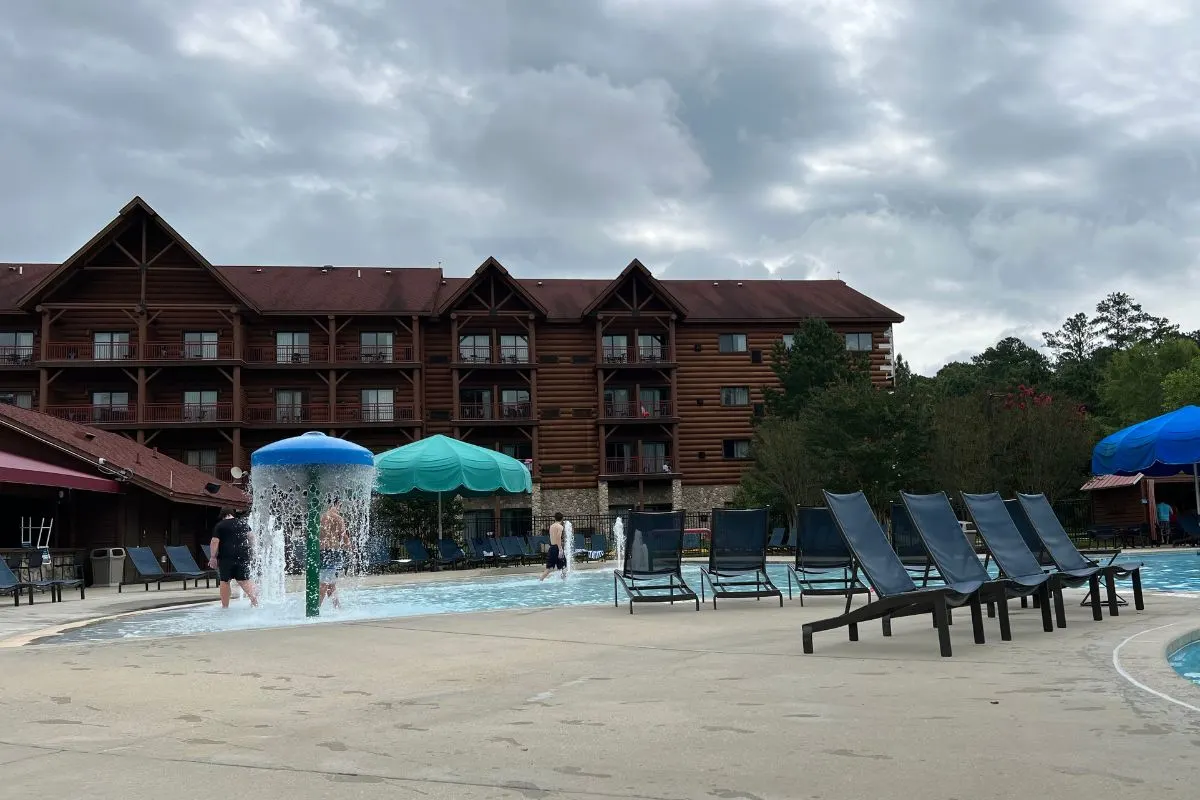 To be clear, you would never come here without kids. It's not like Disney World. It's only fun for kids.
Having said that, in the summer, the outdoor pool is nice and calm and there's a poolside bar.
FAQS
Can you combine a trip to Great Wolf Lodge and Colonial Williamsburg?
Sure! But you'll need a car. They're not within walking distance of each other. The Williamsburg area is great for kids.
Is it fun for the whole family?
No, just for the kids. I mean… it's fun in the sense that when your kids are old enough, you can just relax while they enjoy the park.
What is there to do besides the indoor waterpark at Great Wolf Lodge?
There's a bowling alley, an arcade, and a pretty nice outdoor pool. But the kids will be most excited about MagiQuest, an interactive game involving a computerized wand. (Yes, it costs extra… both to get the wand and play the game.)
Is Great Wolf Lodge expensive?
Yes, rooms here range from $200 to $500 a night. Keep in mind that this includes the pools and waterpark, but does not include food.
Will it be fun with a baby or toddler?
There is a section of the indoor water park made just for small people with a zero-depth entry and small slides. The outdoor pool also has a splash pad. You'll be able to entertain younger kids, but I wouldn't go there specifically for them.
Is it clean?
Yes, reasonably so.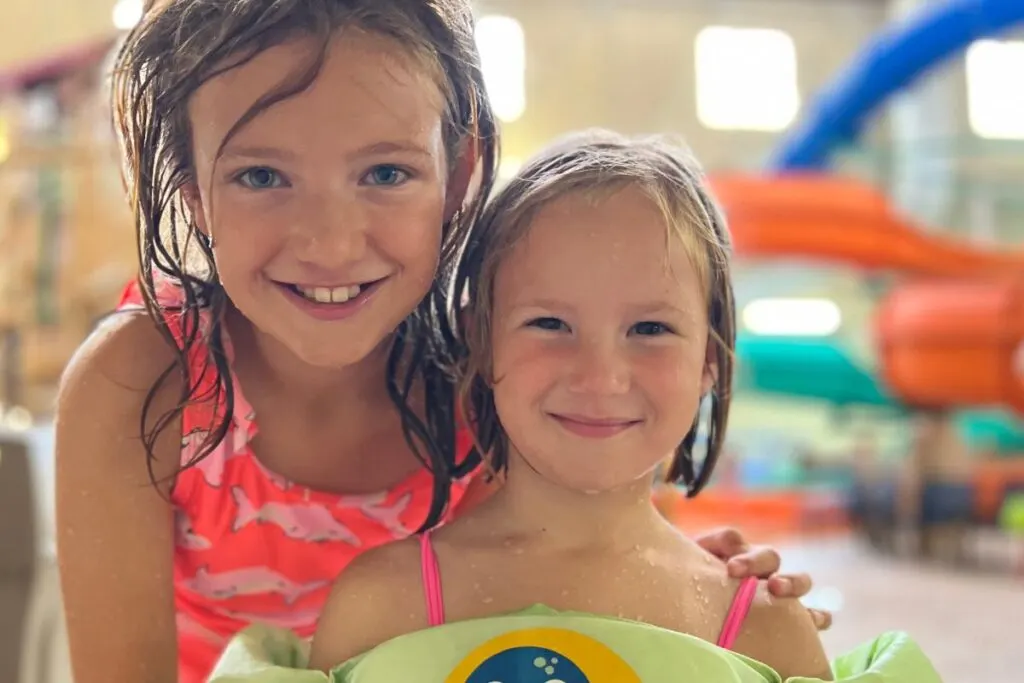 Tips:
To save money on your trip, book in the middle of the week. You'll also find deals in the fall when school starts. Avoid school holidays and long weekends.
Life jackets are available so you don't need to bring one.
Lounge chairs fill up fast. Get there early to grab a prime spot.
If it's your first visit, just stay one night. You'll have seen it all in about 24 hours.
The MagicQuest game is well done and very popular with kids 8 and older. It's worth the price and you can use the wand during your next visit.
The last word
This is so much fun for your kids. It's great in the middle of winter when everyone has cabin fever, or during a long summer when you can't do a long vacation. Just accept that it's a bit overpriced and try to enjoy it for what it is.