Virginia is a historic place, and with history comes… ghosts! Those historic Virginia towns you love all have a spooky side, and if you come back after dark, you'll learn all about ghosts from Colonial and Civil war-era Americans who frequented these locations during their lifetime.
Some of the most haunted places in Virginia are towns, roads, bridges, and cemeteries. This list is a complete guide to all the haunted spots in Virginia that you can visit for an unforgettable experience.
👻 If you're visiting in the fall, be sure to read our guide on what to do in Virginia this autumn.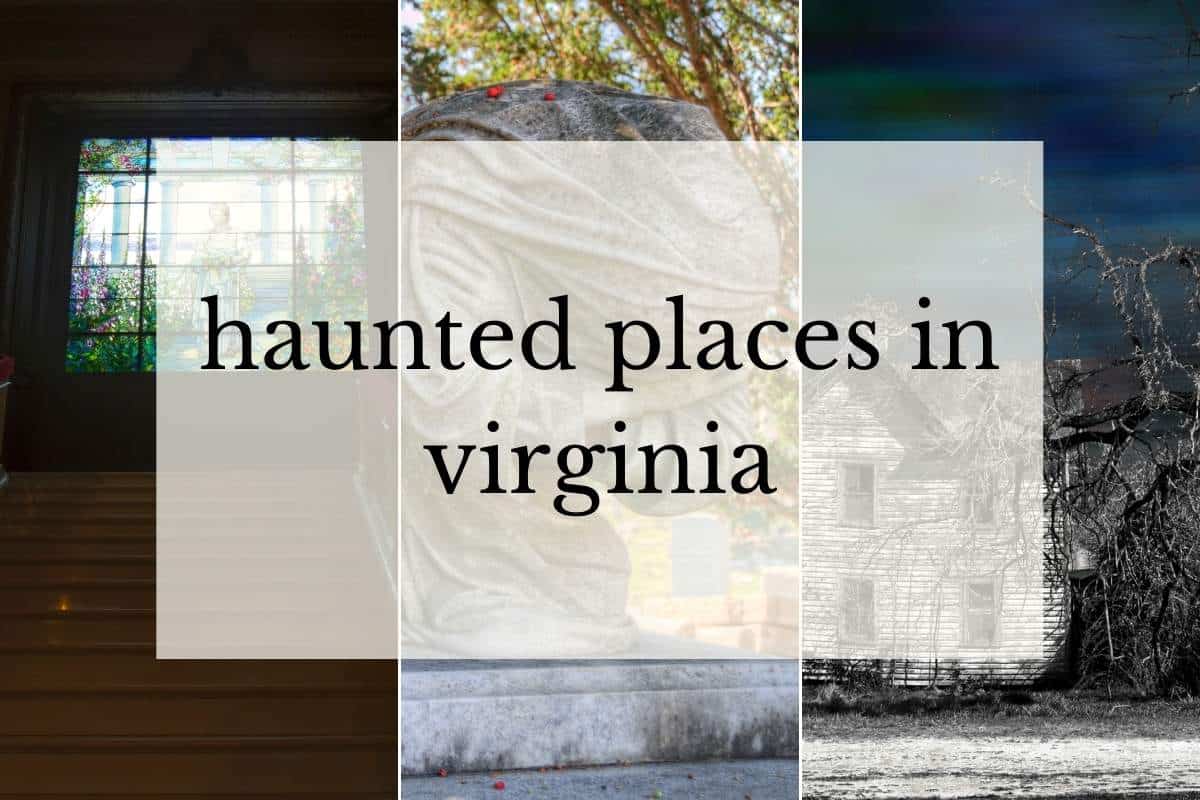 The most haunted places in Virginia:
Whether you believe in them or not, all these spots are fun to visit. Here are our favorites.
1. The Martha Washington Inn & Spa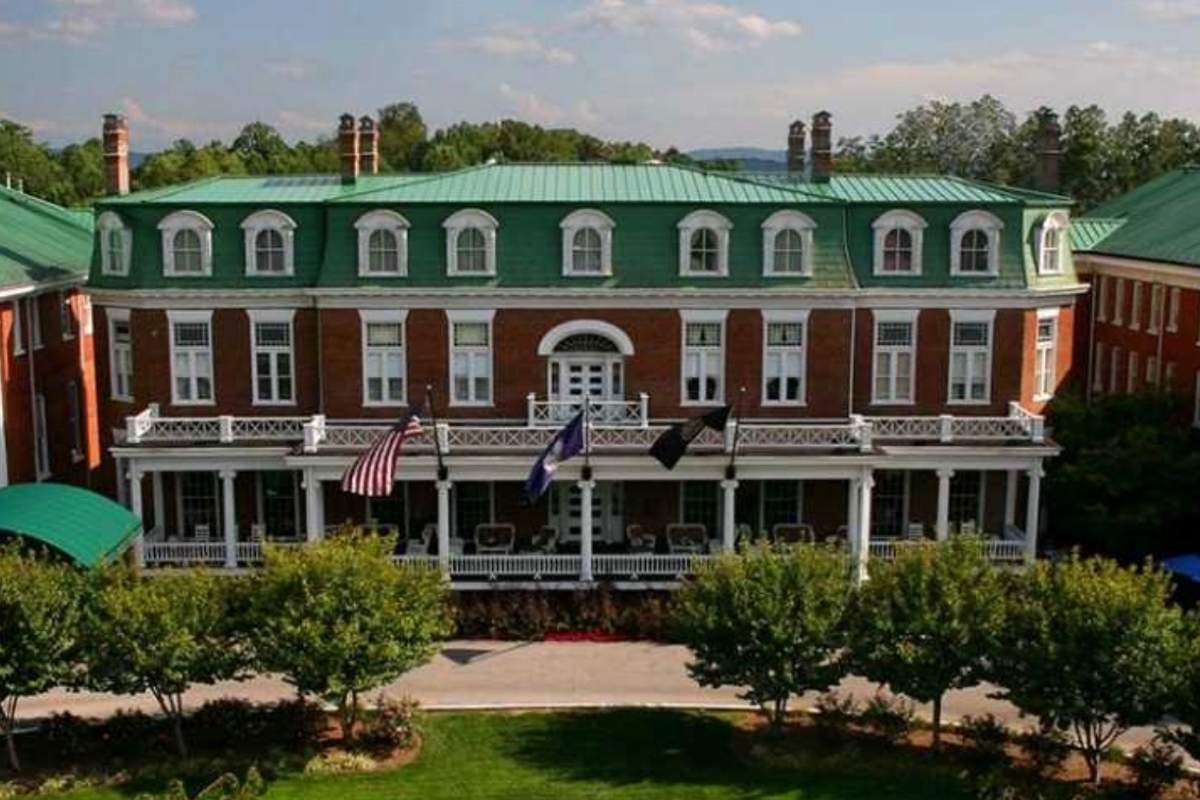 The Martha Washington Inn & Spa is a historic hotel in Virginia that has been featured on Travel Channel's "Ghost Adventures." Some of its rooms are said to be haunted by the ghosts of Confederate soldiers who were treated in the makeshift hospital during the Civil War. Guests have reported eerie feelings and bloodstains appearing from time to time in some of the rooms. The Yankee Sweetheart has also been seen on camera as a white mist walking the halls of the hotel.
2. Stonewall Jackson Memorial Cemetery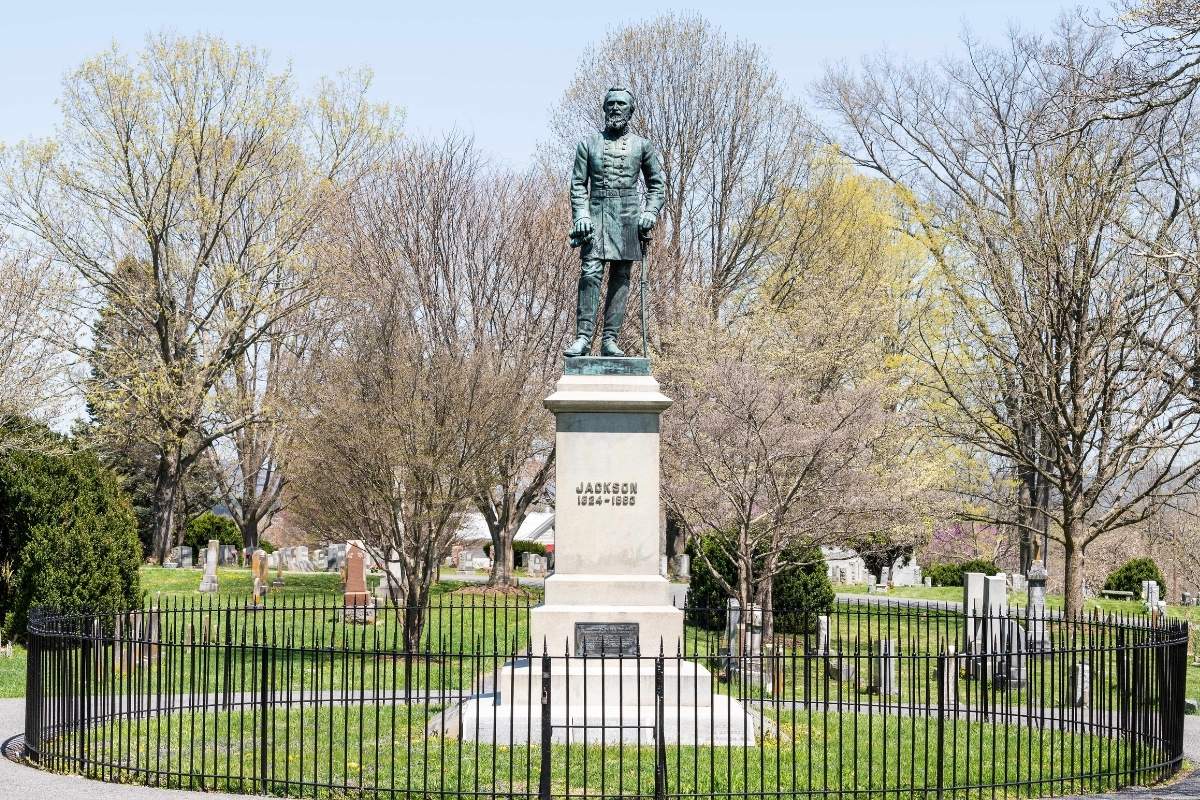 The Stonewall Jackson Memorial Cemetery is a historic site located in Lexington, Virginia. This cemetery is home to the graves of many famous people, including Stonewall Jackson and Robert E. Lee.
This cemetery is often visited by tourists during Halloween because it's said that you can sometimes see the ghosts of these two famous Confederate generals walking around. In fact, the Lexington Ghost Tour offers haunted tours of this cemetery specifically!
Aside from the ghosts, this cemetery is also known for its beautiful scenery. It's set in a picturesque location and contains many wildflowers. There's also a sculpture mourning over the grave of Stonewall Jackson, which has been vandalized in recent years.
Lexington is a historical city with many haunted locations, but few are as creepy as the Stonewall Jackson Memorial Cemetery
Tip: If you're in Lexington during October check out "Haunting Tales" an entertainment company that offers spooky tours. The tour visits historical sites and concludes with a visit to the cemetery, where entertainers dressed in old-fashioned attire take you through ghost stories from Lexington and its surrounding areas.
3. Gadsby's Tavern Museum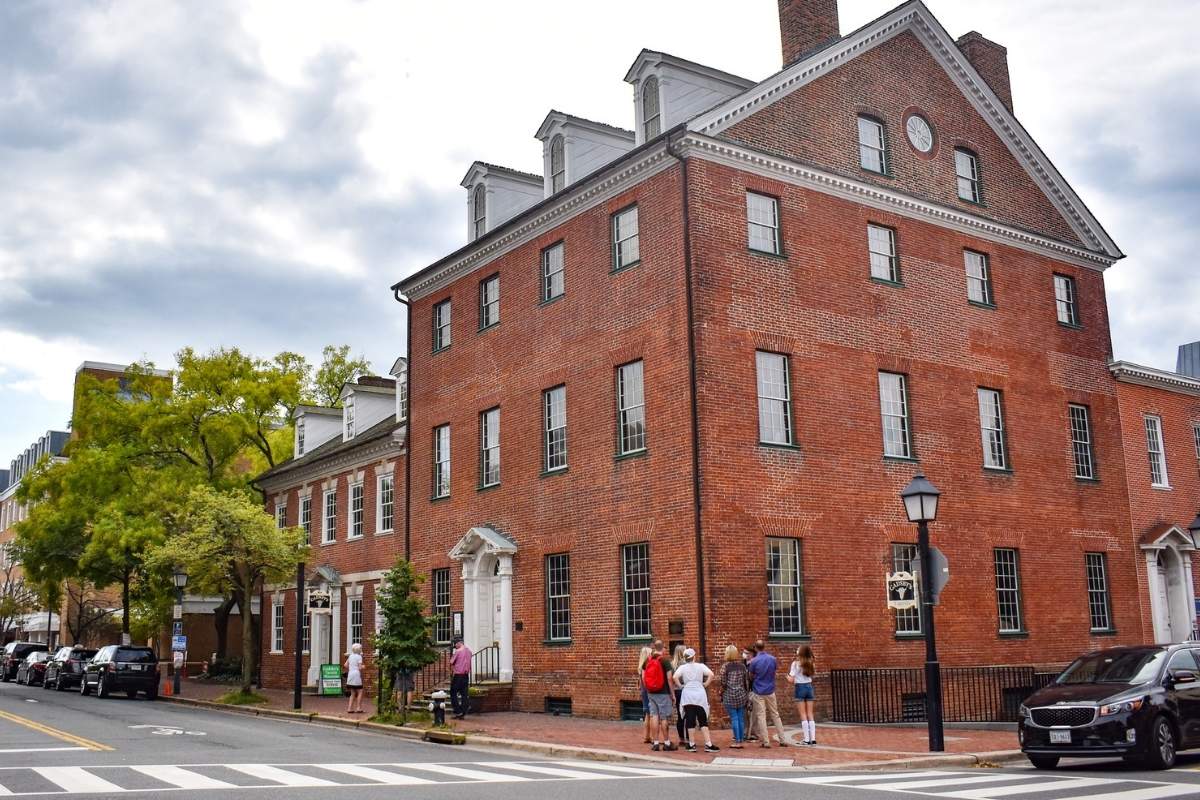 Gadsby's Tavern Museum in Old Town Alexandria is the site of one of the most curious mysteries in Virginia history. In 1796, John Wise purchased a lot and opened the bar. The young woman contracted a disease on her journey, which led to an infection and ultimately death at Gadsby's Inn. There is an unknown woman buried at St. Paul's Cemetery who is supposedly haunted by a ghost with the name of "Female Stranger".
The couple that arrived in room 8 requested anonymity and was wealthy. The man was described as both handsome and strangely unwell. The woman died, and the husband erected a memorial to commemorate her life as "The Female Stranger."
Gadsby's Tavern Museum is a popular tourist destination in Alexandria, Virginia. The hotel boasts the spirit of one woman who had lived there all her life and was never portrayed as bad or hostile.
4. Hollywood Cemetery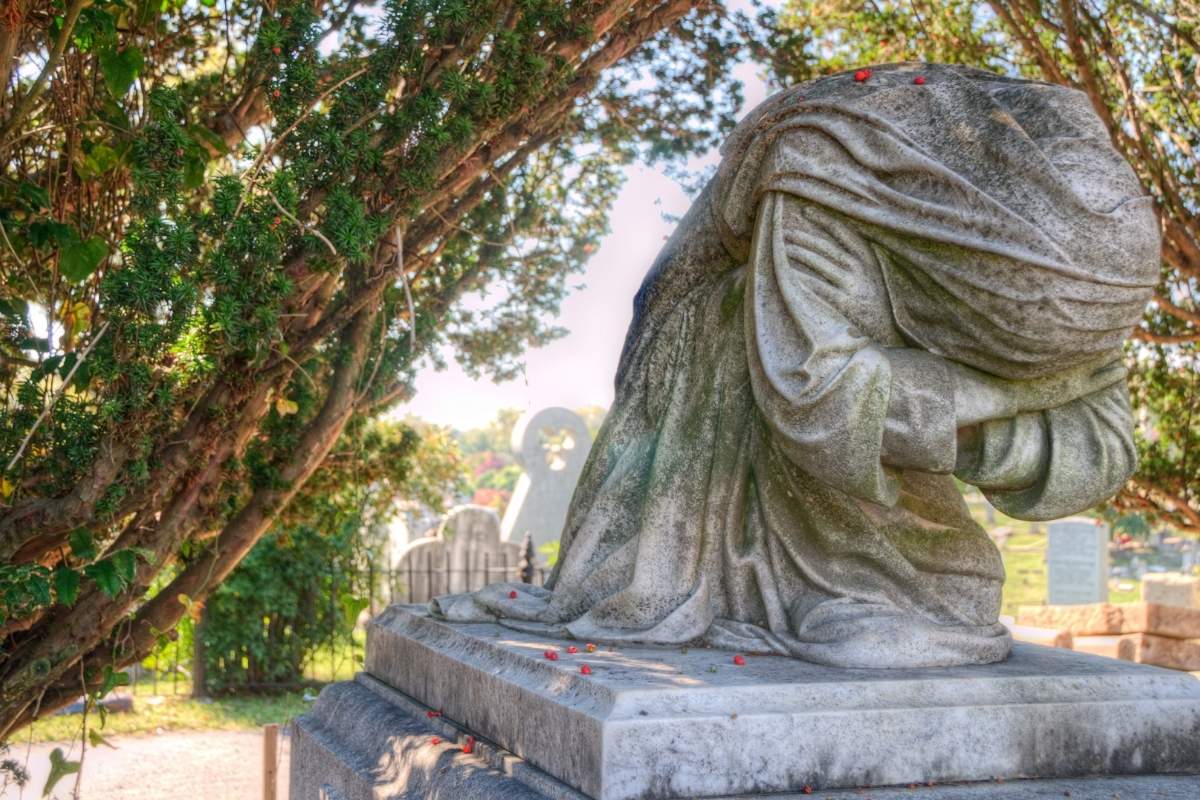 Hollywood Cemetery is a popular tourist attraction in Richmond, Virginia. This historic cemetery is well-known for being haunted by the spirits of Confederate soldiers and other deceased residents of Richmond. Perhaps the most famous ghost at Hollywood Cemetery is that of President James Monroe, who is buried there.
One of the most interesting graves at Hollywood Cemetery is that of a Newfoundland dog named Sailor. The story goes that a young girl named Alice died tragically in 1862 and her grieving parents had her buried with her beloved dog. To this day, visitors to Hollywood Cemetery report seeing the statue of the Newfoundland dog guarding over Alice's small grave.
Another allegedly haunted spot at Hollywood Cemetery is W. Poole's tomb. Some people claim that you can hear strange noises and see shadowy figures inside the mausoleum-style grave, but there is no concrete evidence to support these claims. Nevertheless, Richmond residents still refer to it as "the Vampire's Grave."
5. St. Albans Sanatorium
St. Albans Sanatorium is a haunted location in Virginia and the east coast of the United States. The site has been known for its troubled spirits from the earliest days as a competitive school to its more recent history as a sanatorium filled with abuse and suicide.
The most vulnerable patients at the sanatorium were subjected to cruel experimental treatments which often lead them to be permanently disabled or even die from shock therapy or induced comas. Many patients would die due to these torture methods and/or take their own lives just to escape the abuse they faced.
Albans Sanatorium was a mental institution that closed in the 1990s after severe understaffing and unlivable conditions. The site of St. Albans has long been associated with ghostly apparitions, shadow figures, and hearing footsteps during visits. Many people who have visited St. Alban's have reported seeing cannon fire and gun-power smoke from the Civil War era when it was still an active mental institution
6. Bacon's Castle (The Arthur Allen House)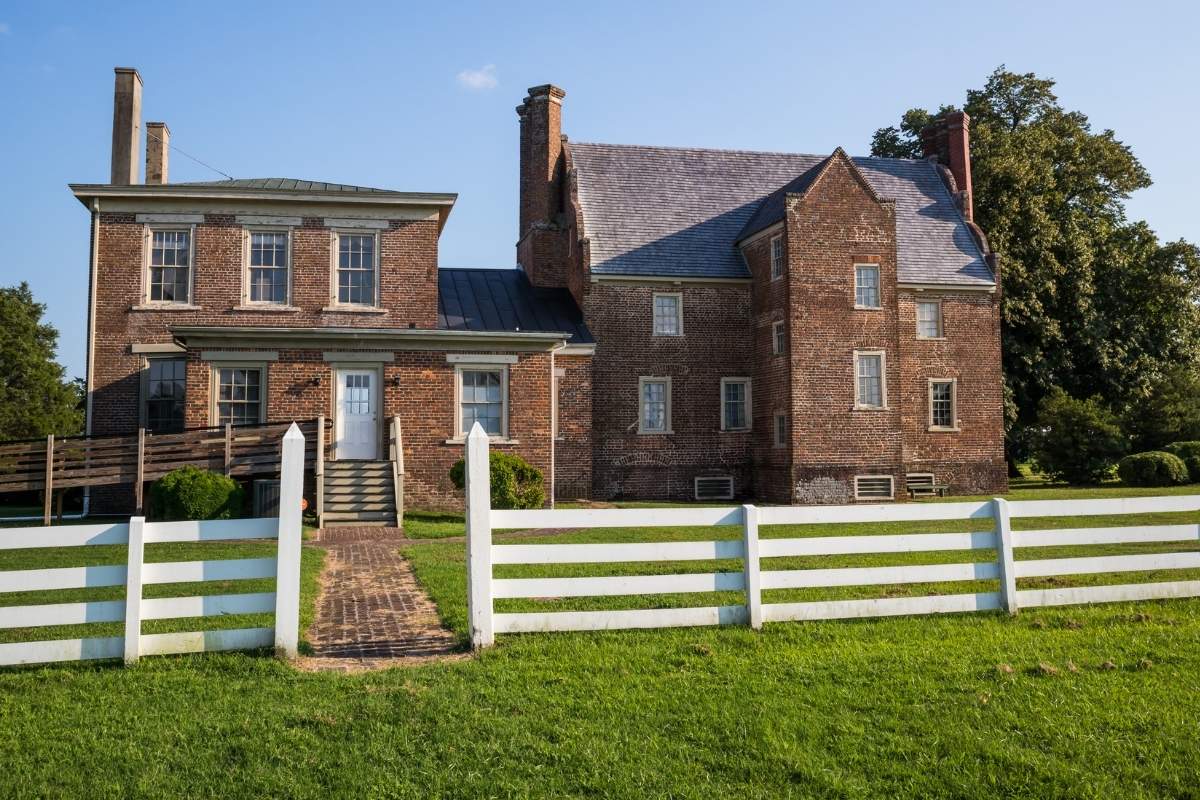 Bacon's Castle is a historic house in Surry County, Virginia. The home was built in 1665 by Arthur Allen and it is now known as Bacon's Castle after Nathaniel Bacon seized it during the rebellion of 1676. If you're visiting in October, don't miss Bacon's Castle Haunt Nights! This event is jam-packed with spine-chilling fun, including ghost tours, psychic readings, and more!
Jamestown is a historic site less than an hour away from Bacon's Castle that makes for a rewarding add-on to the trip. Jamestown was the first permanent English settlement in North America and it is now a UNESCO World Heritage Site. Make sure to check out the replica of John Smith's ship while you're there!
Bacon's Castle is a historic house with ghosts who have been known to sometimes move objects, shoving visitors, and clamping noisily down the stairs. The castle is said to have been haunted for over 300 years. Some believe that this may be due to the fact that Nathaniel Bacon seized it during the rebellion of 1676. The house is old, and it has a lot of turbulent history. Paranormal Research and Investigation has been investigating the property for six years and they have found that there have been reports of sounds, cries, laughter, and footsteps made by ghosts who inhabit the location. If you're brave enough, make sure to visit Bacon's Castle Haunt Nights in October!
8. Wise County Orphanage
The Wise County Orphanage is a place where there isn't much information, but the creepiness surrounding it is felt almost instantly. Daring explorers have heard disembodied giggling of children and seen floating lights from within the abandoned building. People have reported seeing ghostly figures in the windows of the abandoned orphanage, which is rather frightening.
Many people are interested in the paranormal and claim to hear youngsters giggling and see bouncing balls and floating lights when they visit this location. The orphanage is said to be haunted by spirits left behind after they were abandoned there.
9. The Public Hospital in Williamsburg
The Public Hospital was built in 1773 and is the oldest standing hospital in America. It's also one of the most haunted places in Williamsburg. The hospital was used to treat both British and American soldiers during the Revolutionary War, and it's said that many died there from their injuries.
One of the most common paranormal activities reported at the hospital is disembodied voices. Visitors have also claimed to see shadowy figures walking the halls, and some say they've even felt hands touch them. There have been numerous reports of objects moving on their own, as well as strange noises coming from inside the building.
If you're looking for a truly spine-chilling experience, then be sure to visit The Public Hospital in Williamsburg!
10. Public Gaol in Colonial Williamsburg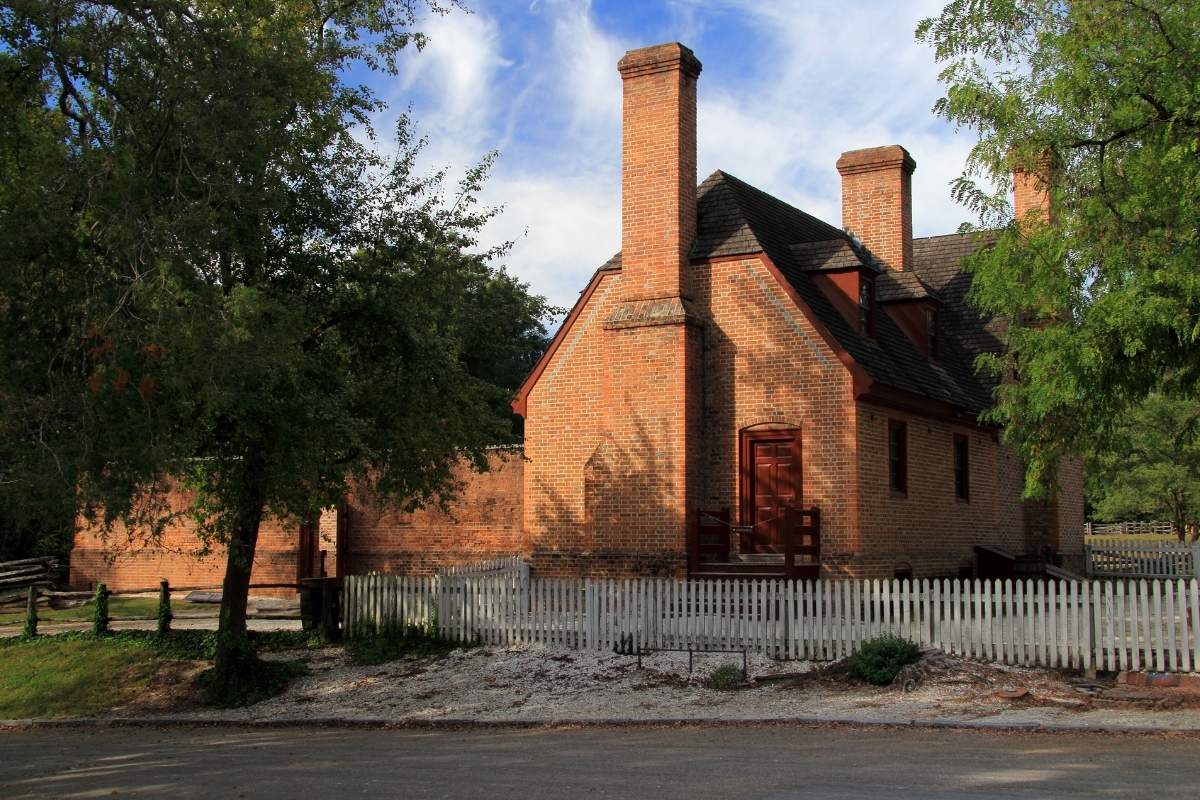 The Public Gaol was built in 1719 and served as a jail until 1885. It is now a museum that is featured on Colonial Ghosts ' comprehensive tour of Williamsburg. The jail's inmates during colonial times included the city's most vicious individuals and pirates. The conditions at the Public Gaol were as bad as its occupants – freezing cells, terrible food, and widespread typhus. The jail is said to have had chains moving on their own and screams coming from cells while touring the prison. There are a lot of rumors about this building being haunted.
11. Bunny Man's Bridge (Clifton in Northern Virginia)
The legend of Bunny Man Bridge is an urban legend. It's possible that other escaped inmates could be hiding on or near the bridge. The story likely originated in October of 1970 when the Washington Post reported police were searching for a man who likes to wear a "white bunny rabbit costume" and throw hatchets through car windows.
Bunny Man Bridge was created in the 1970s, and it's located at 6497 Colchester Road in Clifton. The residents of the Bunny Man Bridge are typically not happy to have people visiting it, so please be respectful if you choose to go!
12. Boxwood Inn Bed & Breakfast
The Boxwood Inn was originally built in 1897 as a family home. It is now a popular bed and breakfast that is said to be haunted by a ghost named Lizzie. The attic is the most likely place for her to haunt, and she is known to make herself quite chatty with guests!
Many people believe that the Boxwood Inn is one of the most haunted places in Virginia. This may be due in part to the fact that it saw so much bloodshed and violence during the Civil War. There's even a room at the inn named after its famous ghost!
13. Elbow Road
Elbow Road is said to be haunted by the spirits of an old woman and a child. Drivers have seen the old woman walking while bloodied and battered, searching for her home. If you stop on Elbow Road at night, wet footprints of a child may appear walking towards you.
14. Captain Timothy Hill House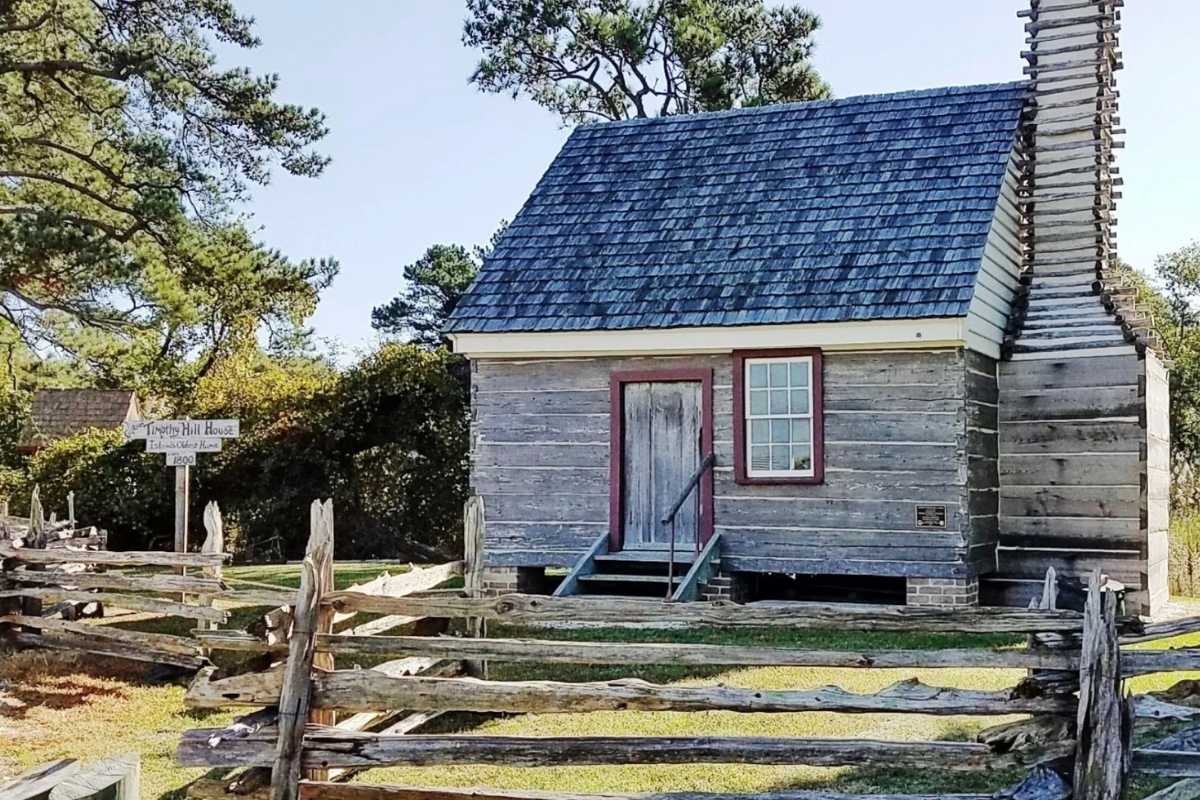 The Captain Timothy Hill House is said to be haunted because of a tragic love story that occurred there. The house is one of the most famous landmarks on the island and can be found in Chincoteague, VA.
The Captain Hill House was built in 1800 and is located on Chincoteague Island, Virginia. This house is one of the creepiest haunted houses in Virginia. Jennie's presence remains a haunting mystery.
15. Swannanoa Palace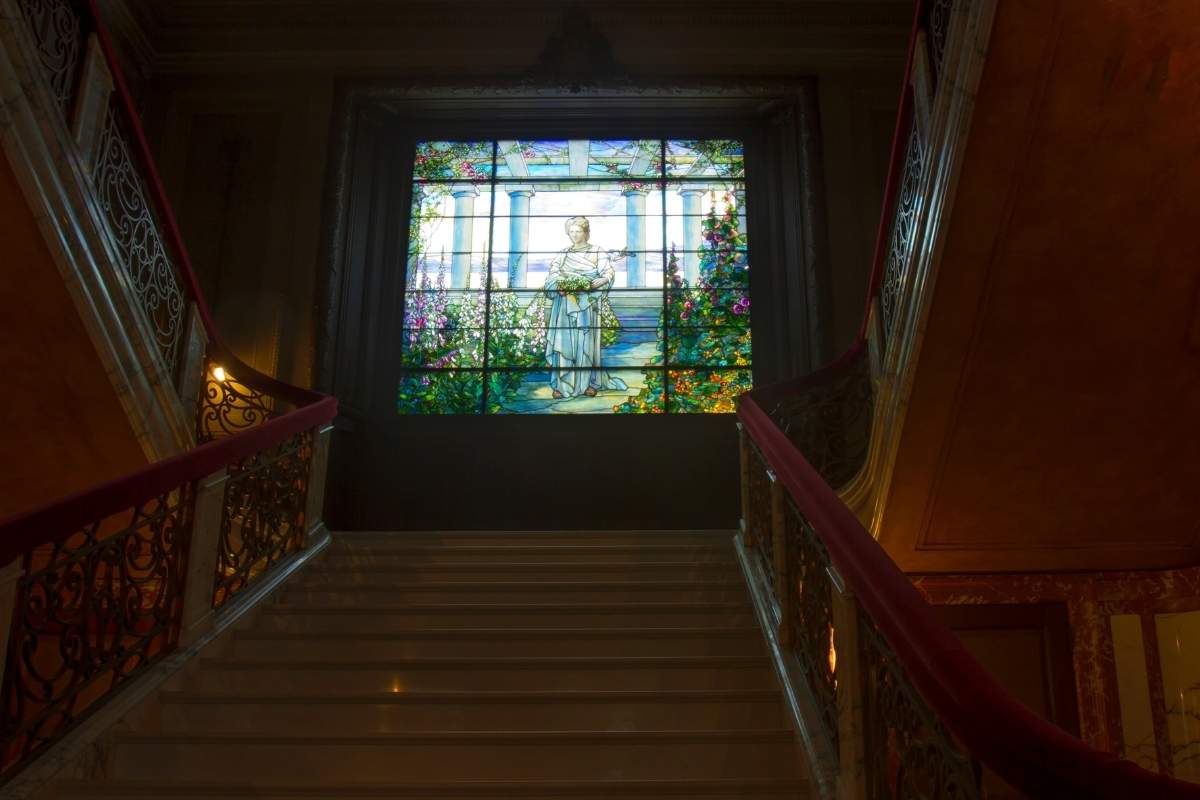 The Swannanoa Palace was constructed in 1912 and named for the nearby town of Swannanoa. The property is a vacation house for James H. Dooley's wife Sallie, who died two years later from a stroke before she could enjoy it.
A paranormal investigation took place at the palace in 2008 and 2010, with no evidence found to support the claims made by tourists about seeing ghosts on site.
Sallie, the ghost of a young woman, has been spotted on the third level of Swannanoa Palace. The spirits have been seen and heard throughout this mansion that seems to be caught in a state of limbo.
16. Battleship Wisconsin at Nauticus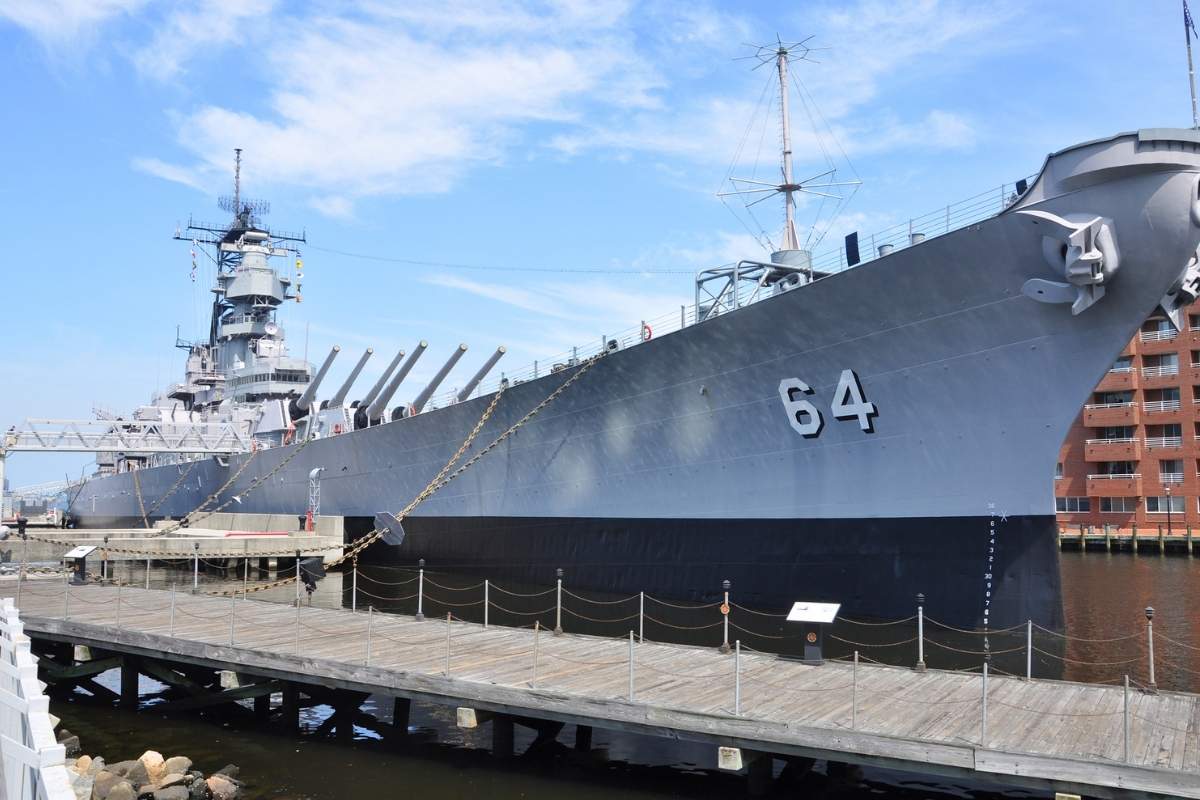 The Battleship Wisconsin is said to be haunted by the spirits of former military servicemen. Guests have the opportunity to learn about the history of the ship and meet with the spirits of former military servicemen who once called it home. These ghosts are said to be some of the most active on the ship, and they can often be seen or heard by visitors.
17. Ferry Plantation House
The Ferry Plantation House is a beautiful plantation home that's nearly 300 years old. This property has been witness to many different events throughout its long history, and it's now one of the most haunted places in Virginia Beach.
When you visit this house, you'll be able to see the ghosts of colonial- and civil war-era Americans who frequented the house during their lifetime. Some of these spirits include shipwreck victims, a former painter who called it home, an 1810 death of one of the house's former owners, Henry, and Sally Rebecca Walke who mourns her Confederate soldier fiancé.
What makes this plantation so haunted? It could be because it's been in so many different hands over the years. With each new owner comes a new story and a new ghost. So visitors will have to contend with many different spirits when they come here!
18. Bracey General Store
The Bracey General Store was originally opened in 1900. The general store provided staples, furniture, and dry goods for residents of the town.
Disposable coffins were sold at the local general store from travelers passing through town – who also came to purchase supplies for their homes on their way out of town.
The Bracey General Store has been visited by restless travelers who may have taken a wrong turn.
Enjoy these haunted spots (if you dare!)
If you want to explore some of the scariest haunted places in Virginia, we've got a list for you! Whether it's your first time or tenth time visiting these spooky locations, there are plenty of opportunities to see ghosts and experience paranormal activity.