Inside: your guide to the best pumpkin patches in Fredericksburg, Virginia.
A crisp fall day calls for a trip to the pumpkin patch. Lucky for you, Fredericksburg, Virginia's rural heritage, guarantees some of the best family-friendly farms around. Here are our top picks for weekend fun with your little ones this season.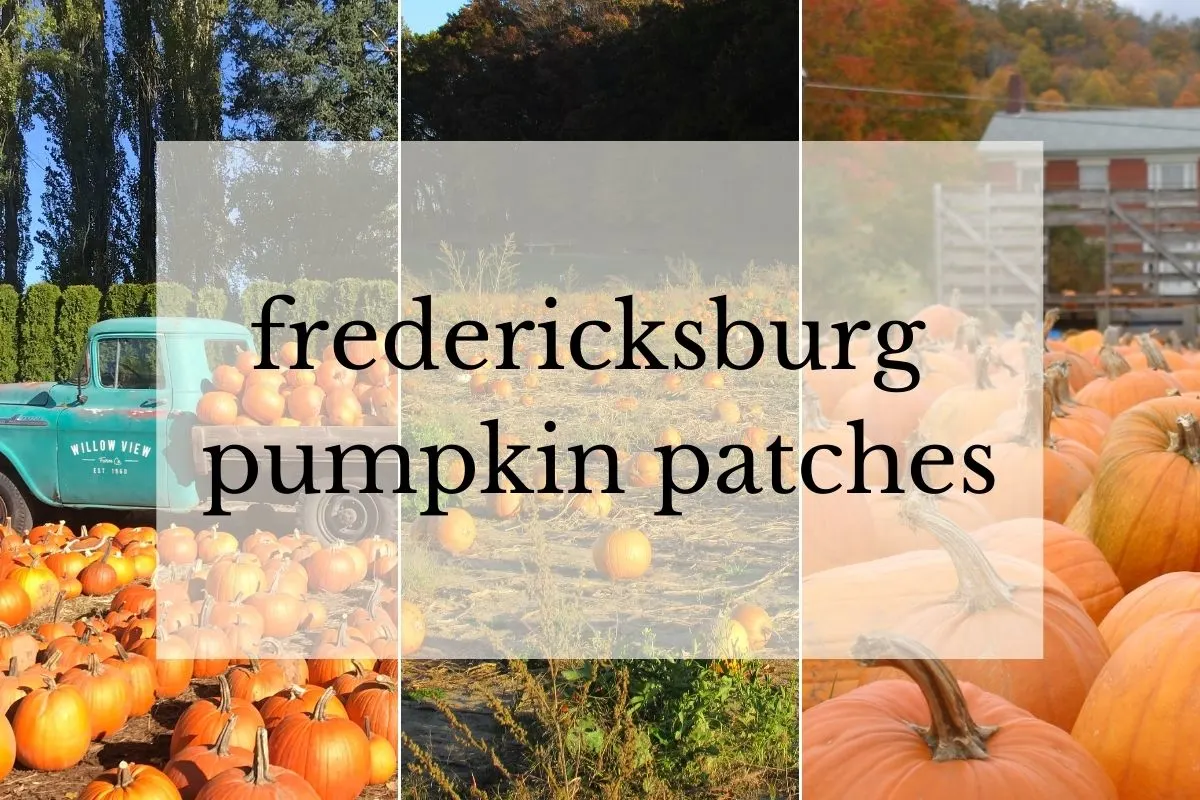 The best Fredericksburg VA pumpkin patches
Need the short version? Our favorite is Snead's Farm for low crowds, an authentic feel, and just being beautiful. If you prefer a more extensive operation with rides and a big store, Belevedere is right up your alley.
Miller Farm's Market
Miller Farms is an excellent choice if you're looking for a pumpkin patch with lower crowds and great prices.
You won't find a full-on festival like you will find at some of the other farms, but you'll find a beautiful working farm with a huge pumpkin patch, hayrides, and a maze.
There is a little store on site that sells homemade donuts and cider and plenty of fresh produce and beef.
Miller Farm is a farm located near Fredericksburg, VA. They produce a variety of fruits and vegetables for the local community. In addition to their market on-site, they also sell their produce through various other outlets. Late in the season, you can get wheelbarrows of pumpkins at a discounted price, which is a steal for fall decorating.
The Miller family has owned and operated the Farm for over 170 years, making it one of the oldest family-owned businesses in Fredericksburg. The market is open every day except Thanksgiving and Christmas, and they have a wide variety of seasonal produce, including pumpkins.
The Miller Farm's Market has been in the Miller family for over 170 years. It is a picturesque farm that grows all sorts of fruits and vegetables, but they are most well-known for their pumpkins and Christmas Trees.
In addition, Miller Farm's Market offers a variety of bakery items, condiments, and more.
The downsides? Miller Farms is in Spotsylvania Count and a hike from downtown Fredericksburg. And if you're looking for a spot with a lot going on, it might be too slow-paced for you.
Snead's Farm
Snead's Farm is a Fredericksburg farm that will be open from September 11-October 31. They have a variety of activities for the whole family, including a pumpkin patch, hayrides, and more.
If you're in the mood for some seasonal fun, Snead's Farm is a great place to go. In addition to a pumpkin patch where you can find the perfect pumpkin, there will also be concessions, including donuts and cider, through Halloween.
There are vast fields of sunflowers, an old barn with swings and giant piles of high, and a hayride that gives you a tour of the grounds. The hayrides go right past the pumpkin patch, so it's easy to see what's available.
Snead's Farm is about twenty minutes from downtown Fredericksburg but is absolutely worth the trip. It is the prettiest of all the pumpkin patches on this list. It does not feel touristy as it's a working farm that supplies local restaurants and sells CSA shares.
The downsides? Snead's is a bit far away, and the food available on-site is minimal.
Belvedere Plantation
Are you looking for a giant pumpkin patch with something for everyone? Braehead Farm is your destination.
It's the most expensive pumpkin patch on this list but offers a lot for the price beyond pumpkins and hayrides.
Belvedere is enormous, with multiple shops, shows, pig races, and rides. There are giant slides, a barrel train, a huge bounce pad, and a massive climbing wall. It's almost like a county fair.
The pumpkin patch sells thousands of pumpkins, but there are plenty more on the grounds for purchase if you don't find what you're looking for.
There are plenty of places to get food, all of which are delicious. Your food options include:
The Red Rooster Grill (chicken tenders, BBQ and burgers)
Pizza
Funnell Cakes
Kettle Corn
The downsides? The crowds and the price. It's hectic and can get expensive.
Braehead Farm
Braehead is just a few minutes from Downtown Fredericksburg but feels like it's well off the beaten path.
There are animals to see, including goats, pigs, cows, and chickens. You can go on a hayride or do some shopping in their store full of fun pumpkin-themed items.
If you're looking for a laid-back place to let the kids burn off some energy, this is a great choice.
During the fall, you'll find:
sunflower walk
visit with "The Great Pumpkin"
hay barn
corn pit
swings
farm animals
Braehead Farm offers annual passes, which are well worth it to enjoy the play spaces all year long.
There's also a tiny dine-in restaurant serving hot dogs, sandwiches, and other simple fare.
Like most of these pumpkin patches, if you want to browse the shop (it's stocked with local jams, honey, eggs, and other goodies), you won't need to pay an admission fee.
The downsides? Braehead is the most kid-centered pumpkin patch on this list, and you might feel a little bit out of place if you don't have kids. In addition, this pumpkin patch can get pretty busy on the weekends.
More seasonal Virginia fun
Virginia has beautiful autumns and mild winters. Here are even more fun seasonal trips to enjoy in the commonwealth.
Find the best fall foilage in Virginia
Visit Christmastown in Williamsburg once winter rolls in
Explore the best kid-friendly activities in Fredericksburg
Enjoy pumpkin season
If you're looking for a great place to find the perfect pumpkin, Fredericksburg has no shortage of great pumpkin patches. Whether you're looking for a family-friendly outing or somewhere more secluded to pick your pumpkins, we've got you covered. Our list includes a variety of farms with different amenities, so there's something for everyone. Make sure to check out our list and enjoy all that Fredericksburg has to offer this fall! We hope you found just the right pumpkin patch for your family to enjoy the fresh air this season. They are all great destinations, and you can't go wrong!