Just an hour from Washington D.C. lies the charming town of Culpeper, Virginia. Whether you're interested in history or just looking for a quaint and pretty small town, Culpeper has something for everyone.
Try out one of the many amazing things to do in this charming town. Whether you're a history buff, an art enthusiast, or a foodie, Culpeper is going to be one of your favorite Virginia destinations.
If you're looking for more Virginia adventures, check out our favorite historic towns in Virginia and the best places to live in Virginia. (And there's plenty to do in Fredericksburg, which is nearby!)
Our favorite sights in downtown Culpeper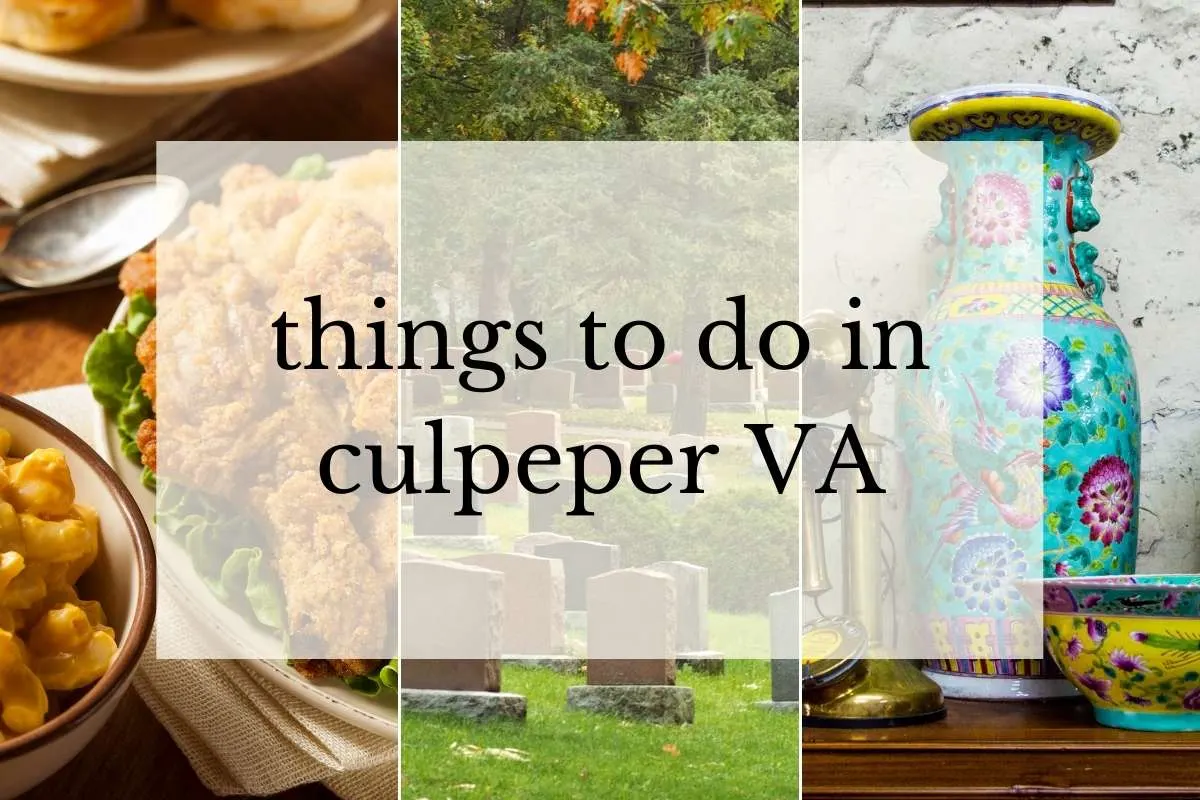 In recent years, Culpeper has become a popular day. trip destination from DC and Northern Virginia. Things are always changing here, with new restaurants and tourist attractions popping up. Be sure to stop by their visitor center for a map.
1. Shop for Antique Toys at Museum of Culpeper
The museum has a variety of exhibits that tell the story of Culpeper County, from its early days as a colonial outpost to its role in the Civil War. There's also an extensive collection of artifacts on display, including weapons, tools, and furniture.
One of the most fun things about this place is the gift shop! They have historical toys, books and more.
The staff is extremely knowledgeable about Culpeper history and is super friendly.
Admission is $5/ per person.
2. Experience 19th Century life at the A.P. Hill Boyhood Home
The A.P. Hill Boyhood Home (built c. 1770) is a great place to visit if you're interested in history, as it offers a look into the life of General A.P. Hill–a Confederate general during the Civil War. This attraction is free to visit, but you must make a reservation and pay for parking.
On the second floor of the boyhood home, there's an exhibit that provides information about A.P. Hill as well as what to do in Culpeper and other places around Virginia.
3. Enjoy the view at Mountain Run Winery
If you're looking for a fun and relaxing day trip, make sure to check out Mountain Run Winery. The winery is located just five minutes from downtown Culpeper, and it produces some award-winning wines. In addition to wine tastings, the winery also has an Adirondack chair seating area and corn cribs.
Mountain Run is a beautiful winery with a commanding view of the flood plain below. If you're looking for something more scenic, Oldhouse Vineyards, Moving Meadows Farm, and Museum of Culpeper are all located near Mountain Run. And if you're interested in history, the Culpeper National Cemetery is within walking distance from Mountain Run Winery.
4. Get a cinnamon bun at Moving Meadows Farm
The Hudson family has been farming in Hudson, Virginia for more than a century. They are the 4th generation to farm the land and today they operate Moving Meadows Farm. In addition to farming, they also offer fresh-milled flour that can be acquired at their bakery in Culpeper, Virginia.
But best of all in their cafe/ bakery. You can find soups and sandwiches prepared from scratch. They specialize in breads and cinnamon buns made with freshly milled flour. You can also purchase some of their flour to take home with you and bake your own goodies.
5. Have a glass of wine at Old House Vineyards
If you're looking for a fun and relaxing day out, be sure to check out Oldhouse Vineyards in Culpeper, Virginia. This vineyard offers beautiful views of the surrounding countryside, and you can enjoy tastings of their award-winning wines. You can also purchase wine to take home with you, and they have a wide selection available.
Oldhouse Vineyards is located next door to Moving Meadows Farm and offers wine, art, and antique items for sale. You can also enjoy a glass of wine on their porch while listening to music on Saturdays throughout the summer and enjoying a view of the Blue Ridge Mountains.
6. Stroll through Culpeper National Cemetery
If you love Civil War history, this is a must-see.
The Culpeper National Cemetery is a six-acre burial place located in Culpeper, VA. It was founded in 1867 and has expanded many times over the years to accommodate the needs of veterans. The cemetery was officially established through an act of congress and has been growing without restrictions since then. Several monuments can be found at the cemetery, including notable Civil War generals such as General George Meade and General Robert E Lee, among others. There are more than 7,500 people buried there since the Civil War and expansion into Virginia. The Armed Forces Monument honors the soldiers who fought in the Battle of Cedar Mountain, while the National Military Cemetery memorializes unknown soldiers from that conflict.
7. Explore Burgandine House
The Burgandine House is a historic home. It was originally built as a log cabin in the 1700s and has been passed down through private families until it was given to the town of Culpeper. The interior of the house is mostly original, with a few places being rebuilt after fires or weather damage.
The Burgandine House is listed on the National Register of Historic Places and served as the headquarters for the Culpeper Historical Society before it was restored and added to the National Register of Historic Places in 1990s.
8. Have a Southern-style lunch Grass Rootes
Grass Rootes is a restaurant with tons of charm and character. They feature fresh, seasonal ingredients sourced locally
Grass Rootes is housed in an original tobacco warehouse and features Civil War-era buildings and other historic items from the area that are rumored to be haunted.
The restaurant offers a wide range of menu options with a focus on Southern cuisine like fried green tomatoes, gumbo, blackened catfish sandwiches, and peanut butter pie for dessert.
The exposed brick wall is most noticeable in the basement. The red banquettes along the border create an appealing ambiance, including bright cushions.
9. Visit Historic Andora Farm
Andora Farm is located on Route 3 in Culpeper County, Virginia – just outside of downtown. The farm has a rich history that spans over two centuries. It was home to Daniel Boone and a major stop along the Trail of Tears. The Civil War brought about 30,000 Union soldiers to Andora Farm for rest and resupply. General George Armstrong Custer led forces through the ford during the Battles of Signal Mountain and subsequent engagements.
Today, Andora Farm is open to visitors who want to experience its rich history firsthand. Cattle Drive weekends are open to experienced and novice riders of all ages from March through October. The main farmhouse was built around 1758, assessed by George Washington during the American Revolution.
10. Shop Aboriginal Art at The Cameleer on Main Street
The Cameleer is a downtown shop that sells Aboriginal art from over 80 nations.
The Cameleer is the only shop of its kind in the area and offers a variety of unique art pieces, including jewelry, sculptures, paintings, and more.
The store owner is a member of the Australian Aboriginal community and has been working with Aboriginal artists for over 35 years. He travels to various villages throughout Australia to select pieces for the store, ensuring that only the best and most authentic art is sold.
11. Taste Southern Cuisine at The Red Rooster
The Red Rooster is a restaurant in downtown Culpeper that serves up classic southern cuisine.
The restaurant has been around for over 30 years and is a favorite among locals. It offers a wide range of dishes, including shrimp and grits, chicken and waffles, and peach cobbler.
The Red Rooster is known for its friendly service and relaxed atmosphere.
12. Have a Pint of Beer at Beer Hound Brewery
If you're looking for a good place to have a pint of beer, look no further than the Beer Hound Brewery. This microbrewery produces and serves its beer to consumers at the brewery, and all their beers have companion dog names to establish a connection between the beer type and the hound. The goal of Beer Hound Brewery is to keep brewing local by producing and serving beer on site.
Each week, Beer Hound Brewery offers a Thursday Night Special for $10. Brewers can bring friends or make new ones while enjoying some delicious craft beers. And if that's not incentive enough, this brewery is also an official bar – they serve food and brew their own beer on-site!
There are plenty of things to do in Culpeper VA, from visiting art galleries and beer breweries to dining at local restaurants. With something for everyone, Culpeper is the perfect place to spend a weekend or afternoon exploring all that it has to offer. If you're looking for a charming town with historic sites and culture, be sure to add Culpeper to your list of places to visit!