Virginia caverns and caves are the perfect place to escape the heat or get out of the cold. These underground attractions are perfect to visit any time of the year!
Many of the caverns in Virginia have been operating for over a century. Not only are they rich with geological history and wonder, they are also full of local history and national importance.
Most of the caverns in VA have additional activities on site, such as museums or gem mining. A few have RV campgrounds, cottages or a hotel on site!
These natural wonders offer something for everyone. From the adventure seeker to the history buff, there's a cave that will fit your interests.
Luray Caverns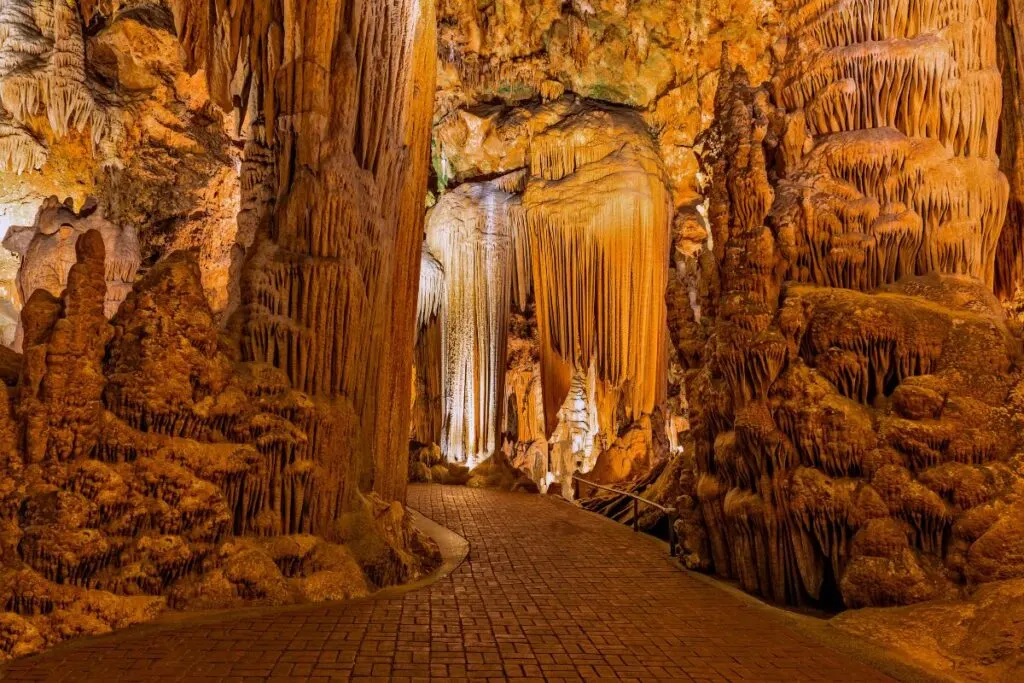 Luray Caverns are a National Landmark through the National Park Service and one of the most popular tourist destinations in Virginia.
The caverns are the largest show cave in the Eastern United States.
There is something special about these caverns, and visitors can enjoy the unearthly beauty of the stalactites and stalagmites formations that have taken thousands of years to form. You will walk through rooms with ceilings 10-stories high and marvel at Mother Nature.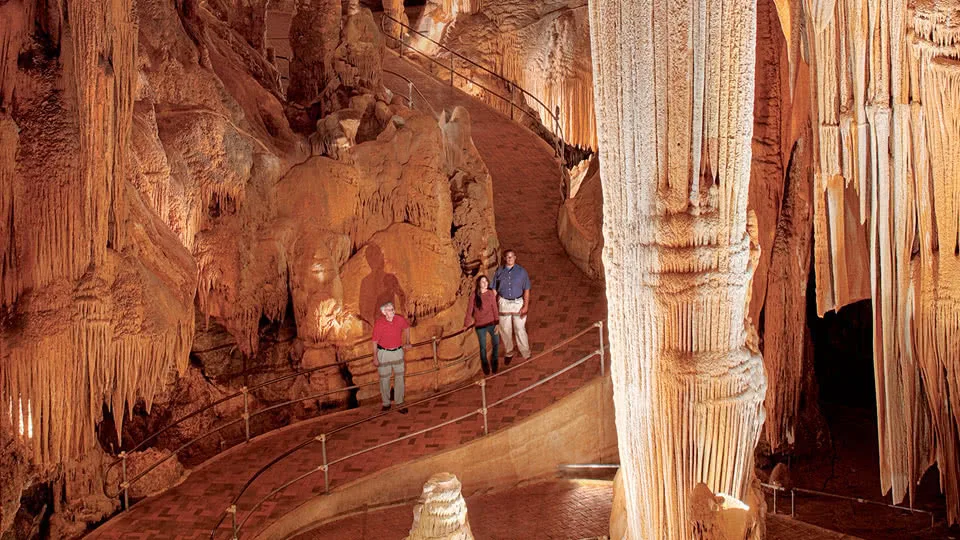 The Luray Caverns has a symphony concert that features music echoing through the caves. The Great Stalacpipe Organ is the world's largest musical instrument. Stalactites that spread over 3.5 acres in the caverns are wired with small rubber mallets to create a musical symphony that should be on everyone's Virginia Bucket List!
The temperature in the caverns remains at 54 degrees Fahrenheit year-round (with a feels-like temperature of 65 degrees), so it's a great place to visit any time!
In addition to the natural wonders of the caverns, there is also a lot to see outside of them.
Every Luray Caverns ticket also includes admission to The Car and Carriage Caravan Museum, Shenandoah Heritage Village and Toy Town Junction.
For an extra fee, you can let the kids run off their energy in the Garden Maze or enjoy the Rope Adventure Park at Luray Caverns.
Visitor Information
101 Cave Hill Road, Luray VA
(540) 743-6551
Website
Tickets: Adults $32; Children $16; Seniors $29; Kids Under 6 Free.
Parking: Free
Wheelchair Accessible: Yes (Luray Caverns is not listed as handicap accessible, however the paved walkways and step-free entrance are accessible. Moderate grades of the walkways could require assistance.)
Pet Friendly: Yes. Small pets can be carried on the tour. Leashed pets are allowed outside.
Strollers Allowed: Yes
Food and Drink: None allowed in caves. Snacks are available onsite and you can bring your own picnic.
See our guide to 16 Fun and Delicious Things to Do in Luray, VA
Skyline Caverns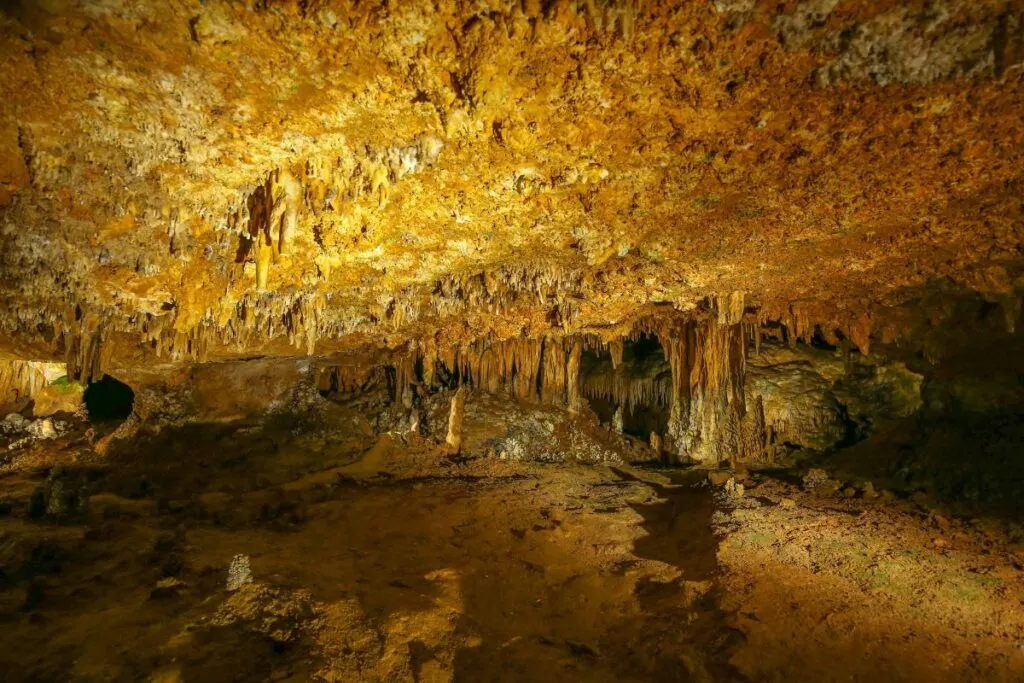 Skyline Caverns are the closest caverns to Washington D.C. and are home to the world's oldest and largest known anthodite formation, Chandelier.
Anthodites look like white flowers with many calcium carbonate spikes, making them a stunning sight to behold.
Unlike many over Virginia caverns, this one was not found by accident. Instead, a geologist studied surface topography and used scientific analysis to find the underground caves in 1937.
The caverns have three underground streams visible to visitors, as well as an abundance of geological features.
Rainbow Waterfall is a 37-foot underground waterfall inside the caverns, along with fun formations such as Fairyland Lake, Rainbow Trails, Wishing Well, Painted Desert and Grotto of Nativity.
Tours are guided and take about one hour. No reservations are needed, and tours leave every 30 minutes.
For the kids, there is a miniature train and mirror maze for an additional fee, as well as trails to explore outdoors.
Visitor Information
10344 Stonewall Jackson Hwy, Front Royal VA
(800) 296-4545
Website
Tickets: Adults $28; Children $14; Kids 5 and Under Free.
Parking: Free
Wheelchair Accessible: No (There are 73 steps.)
Pet Friendly: Yes. Small pets can be carried on the tour.
Strollers Allowed: Yes (Will need to be carried on the steps.)
Food and Drink: None allowed in caves. Snacks are available onsite in the gift shop and you can bring your own picnic.
Shenandoah Caverns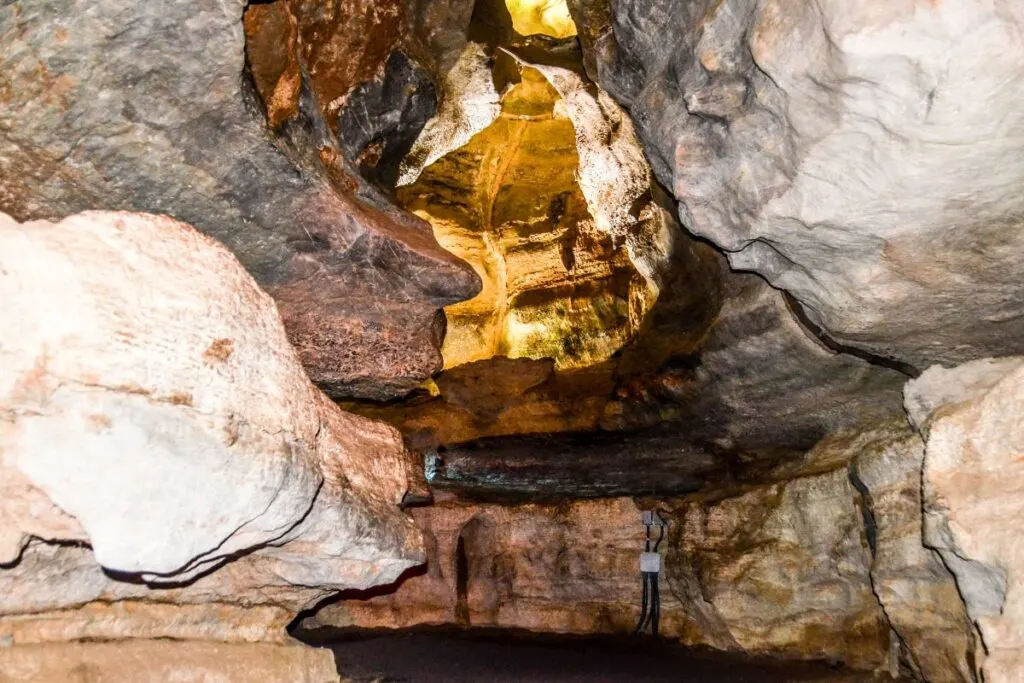 If you hate then long walks and stairs to get down into Virginia's caverns, then you will want to visit he Shenandoah Caverns. The are they only caverns in Virginia with an elevator!
Shenandoah Caverns have been open for more than a century, guiding visitors through a wonderland of unique formations such as the Diamond Cascade, Rainbow Lake, Breakfast Bacon and Capitol Dome.
Tour are guided along a one-mile walk and they last about an hour. While you don't need to make a reservation, you will need to wait until the next scheduled tour when you purchase your tickets.
Outside of the caverns, you can enjoy a self guided tour of the Main Street of Yesteryear, an exhibit of old-fashioned animated department store window displays, which is included in your admission ticket.
American Celebration on Parade, a museum of parade floats, as well as a gemstone mining sluice are also on property and can be enjoyed for an additional fee.
Shenandoah Caverns is a family-friendly destination with exhibits and hands-on activities for kids.
Visitor Information
261 Caverns Road, Quicksburg VA
Website
Tickets: Adults $32; Children $15; Seniors $28; Kids 5 and Under Free.
Parking: Free
Wheelchair Accessible: No (While 80% of the caverns have wheelchair accessibility, you would need assistance with pushing the wheelchair cup inclines.)
Pet Friendly: No
RV Parking: Yes
Food and Drink: A 1950s Caverns Cafe is located on site.
Endless Caverns
The 6-mile long Endless Caverns were discovered in 1879 yet there are still areas yet to be explored!
Guided cavern tours are around 75-minutes and under a mile in length. During certain times of the year, tours are only held every two hours.
The caverns also have an RV campground as well as cottages to rent. The camping resort has a zero-entry pool, catch and release pond, hiking trails and a gem mining sluice.
Visitor Information
1800 Endless Caverns Road, New Market VA
(540) 896-2283
Website
Tickets: Adults $25; Children $14; Kids 3 and Under Free.
Parking: Free
Wheelchair Accessible: No
Pet Friendly: No
Strollers: No
RV Parking: Yes
The Caverns at Natural Bridge
Located near Roanoke, The Natural Bridge Caverns are a popular tourist destination in Virginia. The caverns are the deepest on the east coast and offer a 60 minute guided tour with plenty of sightseeing opportunities.
These caverns are open seasonally from March through November. From December through February, the caverns are open only on the weekends.
You'll see stalactites, stalagmites, flowstones, and draperies throughout the caverns.
Gem mining and a hiking trail are also found on the site.
The Natural Bridge Caverns are located near Natural Bridge State Park.
If you want to make a weekend out of your visit, there is an historic hotel on-site at the caverns.
Visitor Information
15 Appledore Lane, Natural Bridge VA
(540) 291-2121
Website
Tickets: Adults $20; Children $13; Kids 2 and Under Free.
Wheelchair Accessible: No
Grand Caverns
Grand Caverns is the oldest continually operated show cave in the U.S. After being discovered in 1804, it was opened for tours in 1806 and has been delighting visitors ever since.
The caverns are a National Natural Landmark.
Grand Caverns has been known by many names over the years, including:
Weyers Cave (named after Bernard Weyer, who discovered the caverns while retrieving a hunting trap)
Amon's Cave
Amen's Cave
Grottoes of the Shenandoah
Interestingly, these caverns were ranked #2 in the United States by a science editor for Parade magazine based on their overall beauty, room size and other scientific details.
The Rainbow Room is among the favorite rooms in these caverns, with colored lights illuminating the formations.
Then largest room is Cathedral Hall, which is 70 feet high and almost 300 feet long.
There are formations ranging from columns to shield formations made of limestone and dolomite. You'll also see some flowstone, draperies, columns, stalactites and stalagmites.
Both Confederate and Union Civil War soldiers are known to have visited these caverns. Over 200 verified civil war signatures are found in the cave, and a few are pointed out during the tour.
Reservations are required for tours.
There are several types of tours available at Grand Caverns depending on how adventurous you want to get exploring:
Grand Caverns Walking Tour
History Tour
Geology Specialty Tour
Rock Bottom Adventure Tour
Grottoes Crawl in Grand Caverns
The Gauntlet Adventure Tour
Above the caverns, you will find picturesque land that has trails for hiking and biking.
A mini golf course, playground, and picnic shelters are also great ways to enjoy your time at Grand Caverns.
Visitor Information
5 Grand Caverns Drive, Grottoes VA
(888) 430-CAVES
Website
Tickets: Grand Caverns Walking Tour is Adults $25; Children 3-12 $15.50; Seniors $23.50; No Children Under 3 Allowed. AAA, Military, AARP and Public Servant discounts are available. Other tours have higher prices.
Dixie Caverns
Named after Dixie, the dog who fell down a hole that resulted in the discovery of the caverns, these caverns have been delighting visitors for over 100 years.
Tours of Dixie Caverns are about 1/4 mile long and last around 45 minutes.
After the tour, enjoy shopping in their antiques store, which has more than 40 vendors. Or shop in the rock shop.
A campground is located at the caverns, too.
Visitor Information
5753 West Main Street, Salem VA
(540) 380-2085
Website
Tickets: Adults $18; Children $8; Kids 4 and Under Free.
Parking: Free
Wheelchair Accessible: No
Strollers: No
Gap Caverns
Gap Caverns is actually a karst cave. Located in Cumberland Gap National History Park, it is a huge cave with several levels.
There are at least 14 miles in this cave, but not all are accessible to the public.
In fact, visitors will only be able to see 1.5 miles of the cave. It is a moderately strenuous walk with 183 stairs and 3 levels.
Lots of water features (both active and inactive) can be found inside Gap Caverns, which was formerly known as Cudjo's Cave.
The National Park Service leads guided tours seasonally from April to late September. Tours are only once a day and not every day of the week, so be sure to check their website for information.
Reservations are required by the day before your tour date.
The NPS acquired the cave in 1992. Up until that point, private individuals owned the cave and there is a decent amount of graffiti and damage inside. Under the federal Antiquities Preservation Act, and because of environmental concerns, the NPS is discouraged from cleaning up the graffiti.
Visitor Information
Route 58, Ewing VA
(804) 248-2817
Website
Tickets: Adults $8; Interagency Senior Pass and Access Pass $4; Children $4; Kids 4 and Under Free.
Parking: Free
Wheelchair Accessible: No
Pet Friendly: No
Strollers: No
Sand Cave
Located in the Cumberland Gap National Park, the Sand Caves are a must-see for anyone visiting the state. These stunning caves can only be accessed by hiking or horseback riding and they are worth the journey!
It is a 3.9 miles hike to get to the entrance of the caves. Entrance to the trail is via the Thomas Walker Civic Park in Ewing.
The caves have vibrant colors that will take your breath away and are perfect for photos!
Further along the hike (at 5.2 miles) you will also get a beautiful view of the surrounding states, including Kentucky and Tennessee.
Sand Cave was created by wind erosion over many years. It's 250 feet wide, so make sure to bring your camera! The interior of the cave is made up of soft sands that feel like sand on a beach. It's an amazing experience that you won't want to miss.
Visitor Information
SR 724, Ewing VA
(276) 346-4629
Website
Tickets: Free Admission
Parking: Free
Wheelchair Accessible: No
Strollers: No
BONUS: Natural Tunnel State Park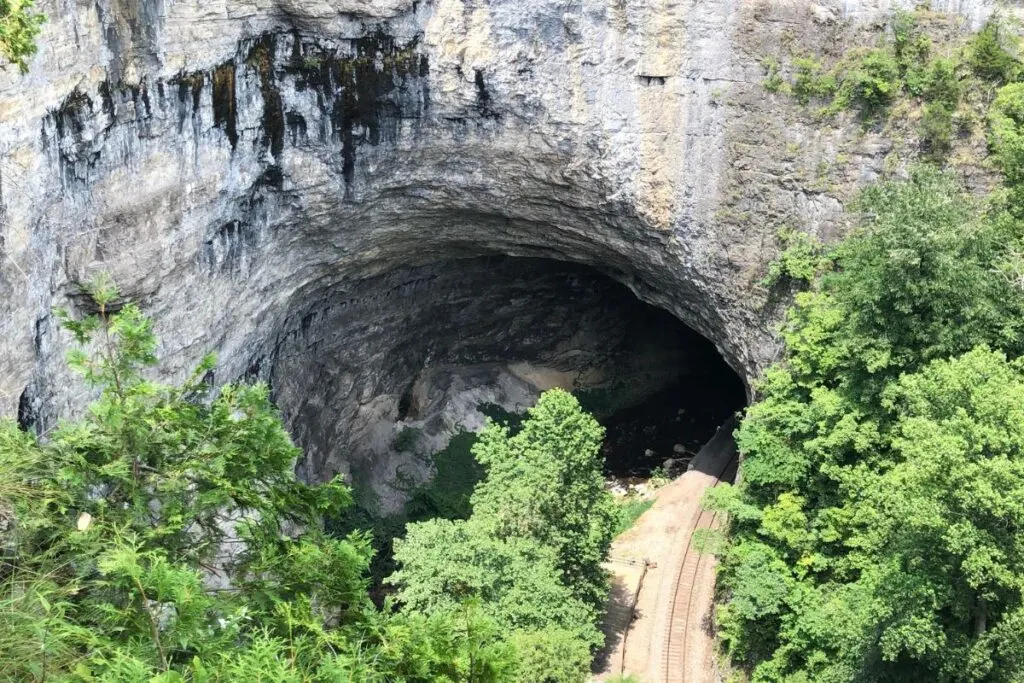 Chances are, if you are searching for caves and caverns in Virginia, you want destinations that you can go in and explore. We wanted to include Natural Tunnel State Park, though, because it is so unusual.
While you cannot enter this cave, you can see the massive entrance from your hike.
The tunnel was formed by glacial erosion over one million years ago, making it easy to use as a railroad tunnel.