Roanoke, Virginia is a charming small city that is big on arts, culture and railroad history. Located in the foothills of the Blue Ridge Mountains, there is also a lot of outdoor sports and activities to enjoy, as well. If you are planning on visiting the area just off of the Blue Ridge Parkway, you will be surprised at all of the fun things to do in Roanoke, VA.
We enjoyed a 3-Day stay in the city. If we had added on some hiking and more outdoor activities, we could have easily enjoyed a week.
I'm sharing the 26 favorite attractions and restaurants that we enjoyed during our stay. As well as the hotel and VRBO guest house we suggest for a great experience.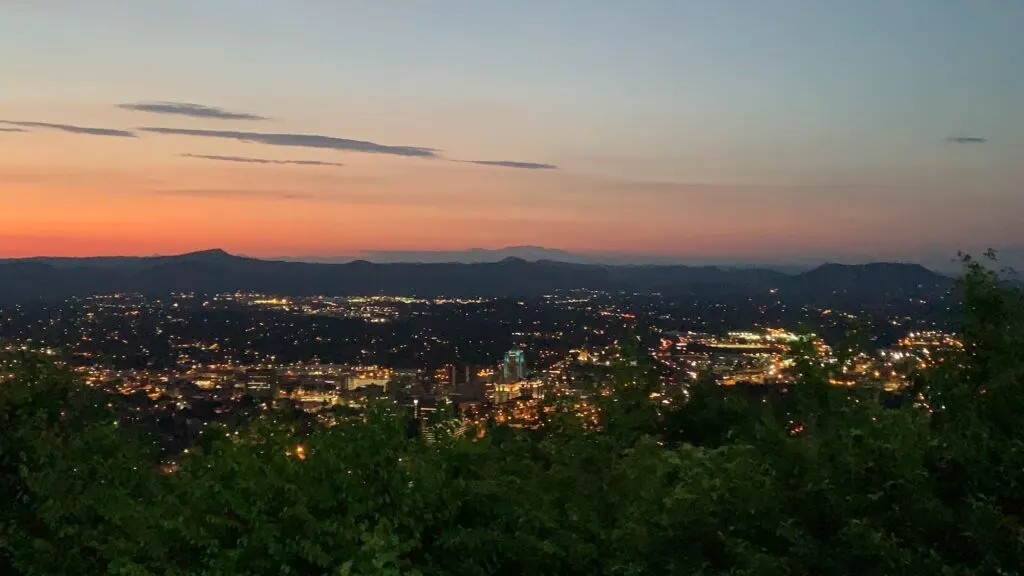 Many of these destinations are free. For those with an admission price, I highly suggest using the VBR Savings Pass while visiting Roanoke. I used the app and saved a lot of money during our travels. It is free to get, so be sure you take advantage of these savings!
1. Roanoke Star
Have you really visited Roanoke if you haven't gone to the Roanoke Star? I don't think so.
The Roanoke Star is the iconic symbol of Roanoke and can be seen throughout the city. Located on top of Mill Mountain, the 88.5 foot tall star is illuminated every night by 2,000 feet of neon tubing.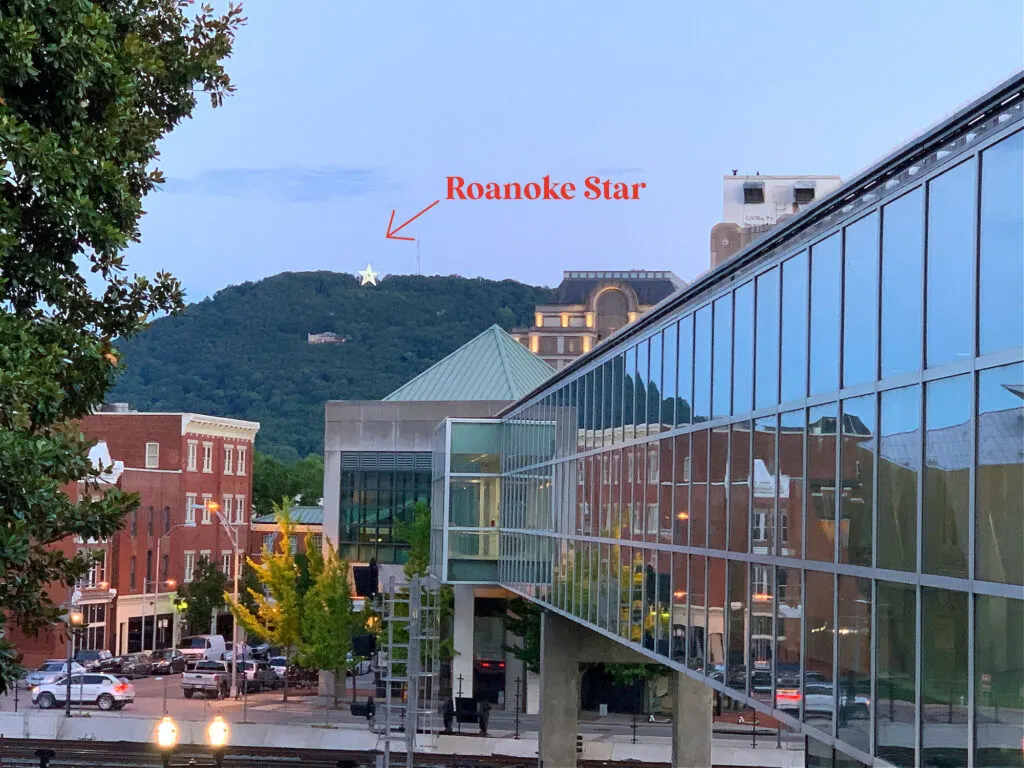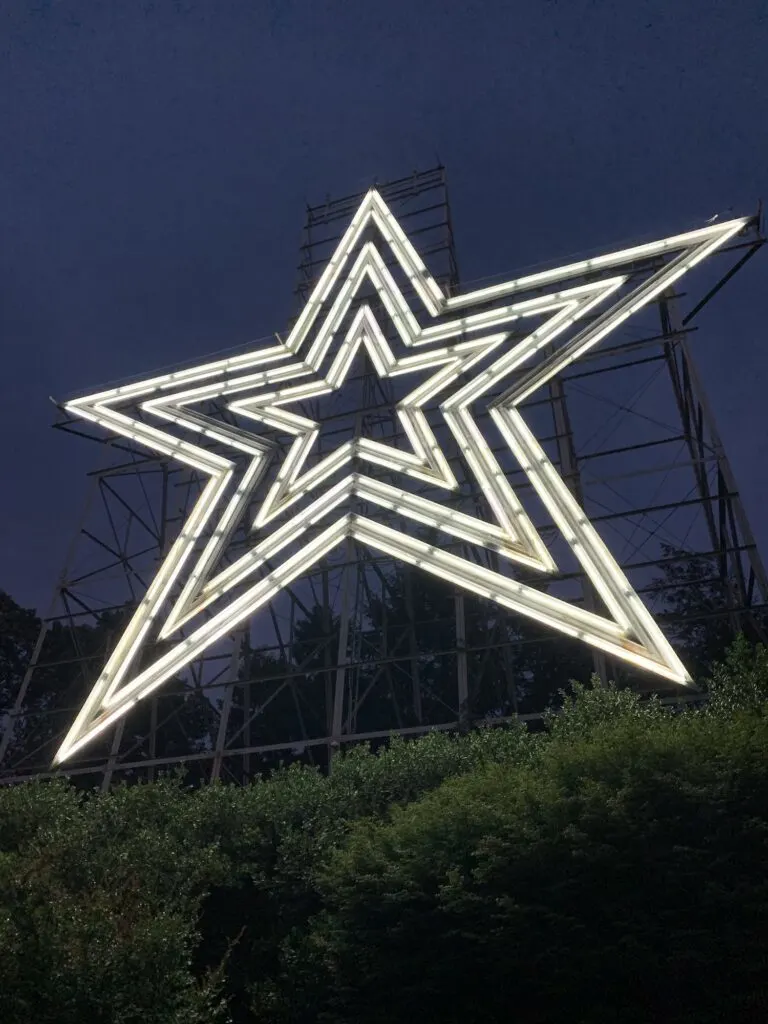 Admission is free to the star, as well as the overlooks at the base of the star that give visitors gorgeous views of the city below.
The star is a Christmas decoration that just never got taken down! You can probably relate. LOL
Yep, the Roanoke Star originally was constructed in 1949 as a holiday decoration for the Christmas shopping season. It was so beloved, though, that it has stayed ever since. Today, it is the largest, free-standing, man-made, illuminated star in the world.
2. Mill Mountain Zoo and Discovery Center
If you are at the Roanoke Star, why not visit the Mill Mountain Zoo also located on the mountain top?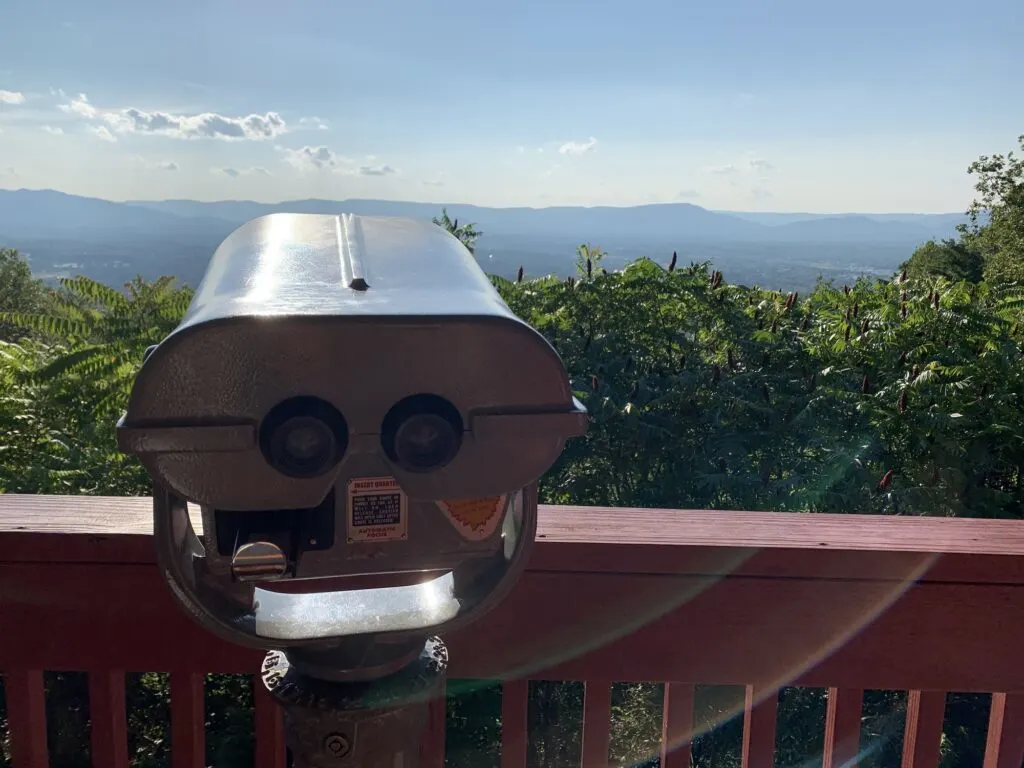 You can technically walk between both locations, though it is a bit of a steep stroll if you have kids or, let's face it, are just out of shape.
Accredited by the Association of Zoos and Aquariums, you will find over 170 animals from almost 90 species, 21 of which are vulnerable species.
The wooded pathways and overlooks with aerial views of Downtown Roanoke make this a zoo unlike most that I've visited. In fact, sunset from the overlook in the zoo is amazing!
This destination is ideally suited for kids, though adults might enjoy walking among the birds in the aviary or watching a giant Black Bear enjoy a snack, too.
If you plan your visit right, you can drive the Blue Ridge Parkway during the day, stop at the Mill Mountain Zoo in late afternoon, and walk over the the Roanoke Star when it is lit up at dusk for perfect sunset views.
3. O. Winston Link Museum
If you have ever stood in awe while staring at an old photo of a powerful steam engine locomotive, then you absolutely must visit the O. Winston Link Museum.
And if you haven't yet had that experience, then I beg you to visit the museum to understand the significance of the vanishing railroad history preserved in photos.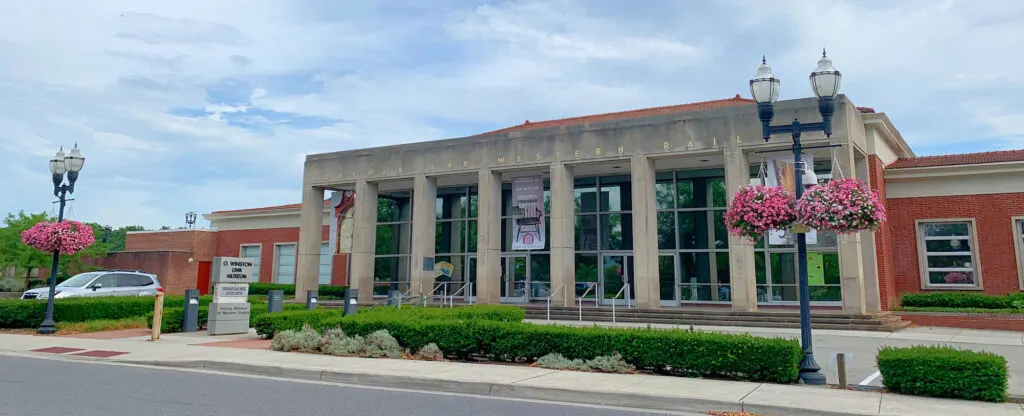 Housed in a former Norfolk and Western passenger train station, the O. Winston Link Museum is dedicated to the photography, audio recordings and videos taken by famed photographer Winston Link. He dedicated years of his life to preserving the last days of steam trains on the Norfolk and Western Railway.
Inside, you will find captivating images of steam powered locomotives, as well as a wealth of train memorabilia and history from the region.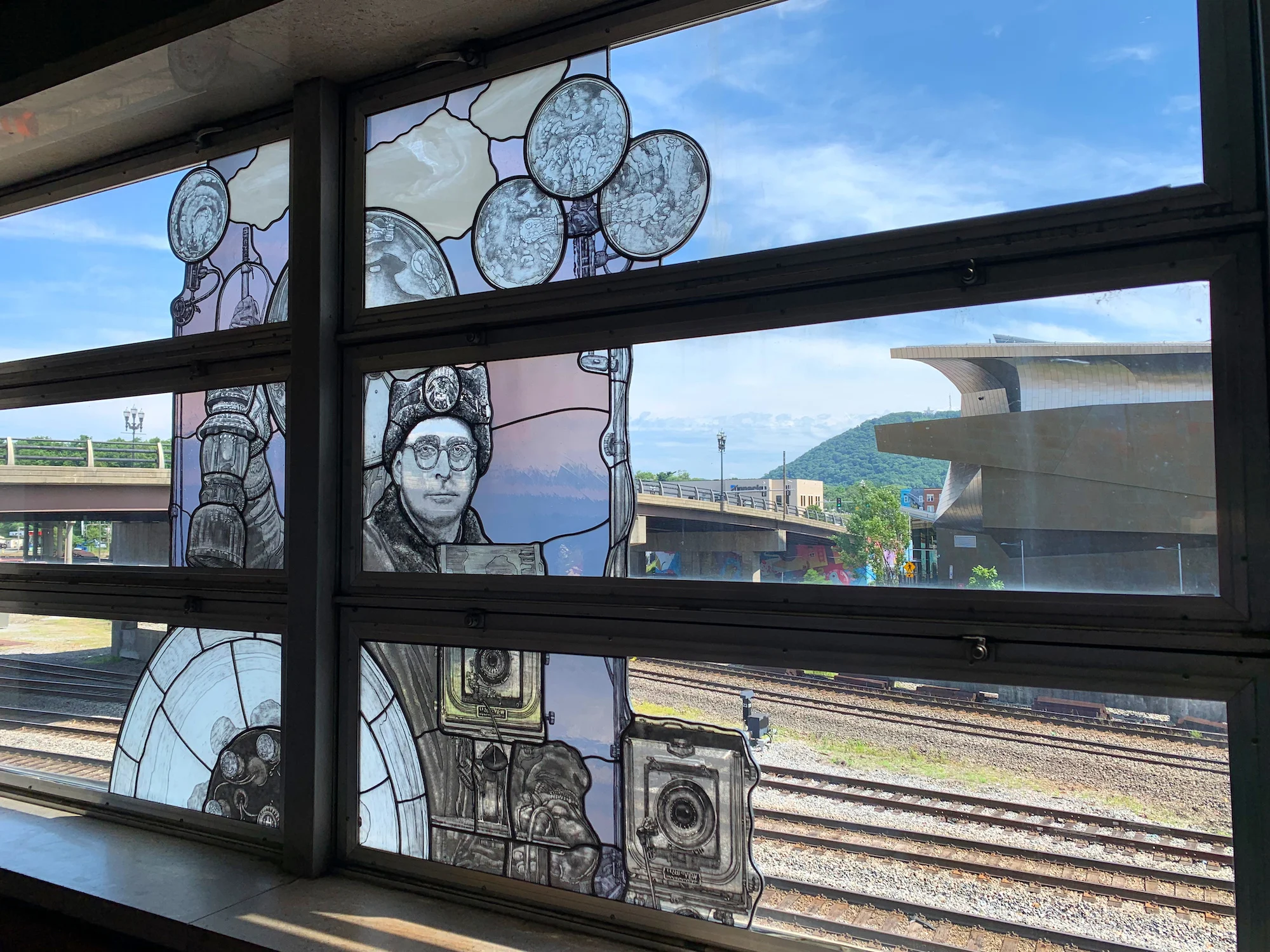 Most astonishing, though, are the stories behind some of Link's most famous works of art. Weeks of planning would go into creating one photograph. Heavy equipment had to be moved across rugged landscapes. Lighting conditions were analyzed and modified. Models had to be on site at the right time for the perfect juxtaposition of modern living with ancient transportation.
You will walk away in awe not only of steam transportation, but also what photographers have to do in order to get that one perfect shot. Be sure to also watch the short film at the museum to truly understand the significance of these works.
Located on the train tracks across from The Hotel Roanoke and Conference Center (you can easily walk to there from the hotel) and the Taubman Museum of Art, it is very easy to stop in to the museum for an hour or so.
4. Virginia Museum of Transportation
The official transportation museum of Virginia showcases not only the region's famous railroad history, but other forms of transportation from the U.S. and around the world.
The Virginia Museum of Transportation is home to two of the most powerful steam locomotives in existence today: the Norfolk & Western Class A 1218 and the Norfolk and Western Class J 611.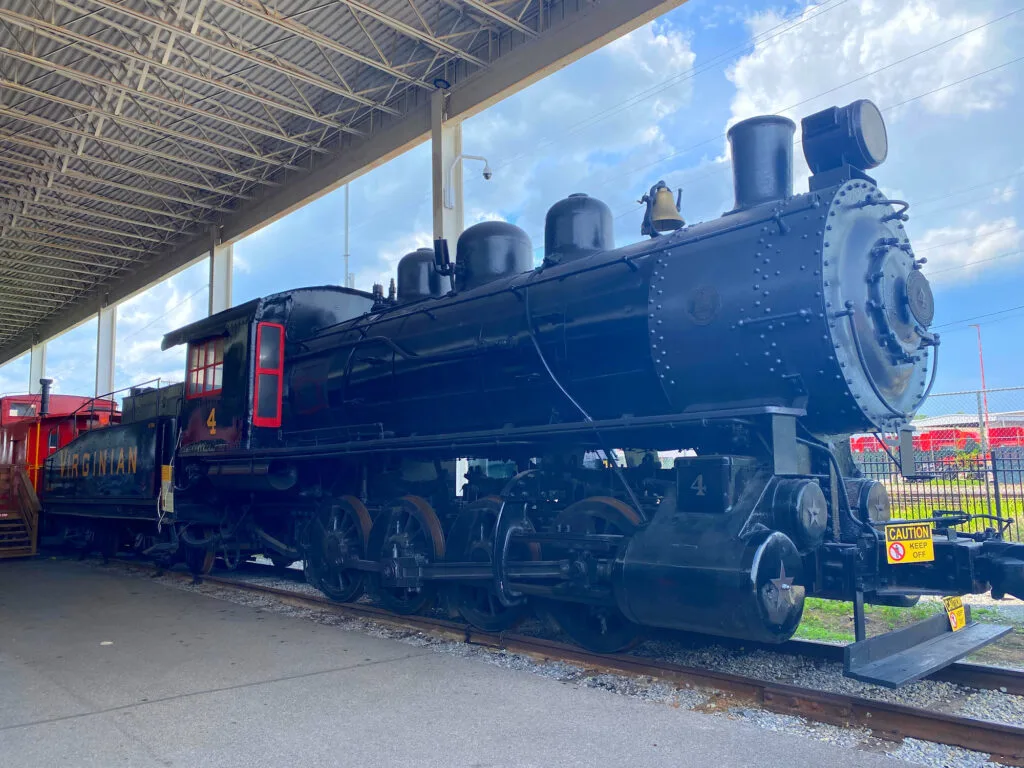 The N&W Class J 611, a National Historic Engineering Landmark by the American Society of Mechanical Engineers, is the sole survivor of 14 Class J steam locomotives designed and built by the Norfolk & Western Railway.
Although the rail equipment and memorabilia is one of the biggest draws at the museum, there are many exhibits and artifacts of other types of transportation, such as airplanes, antique cars, buses and other types of vehicles. A model railroad is also at the museum.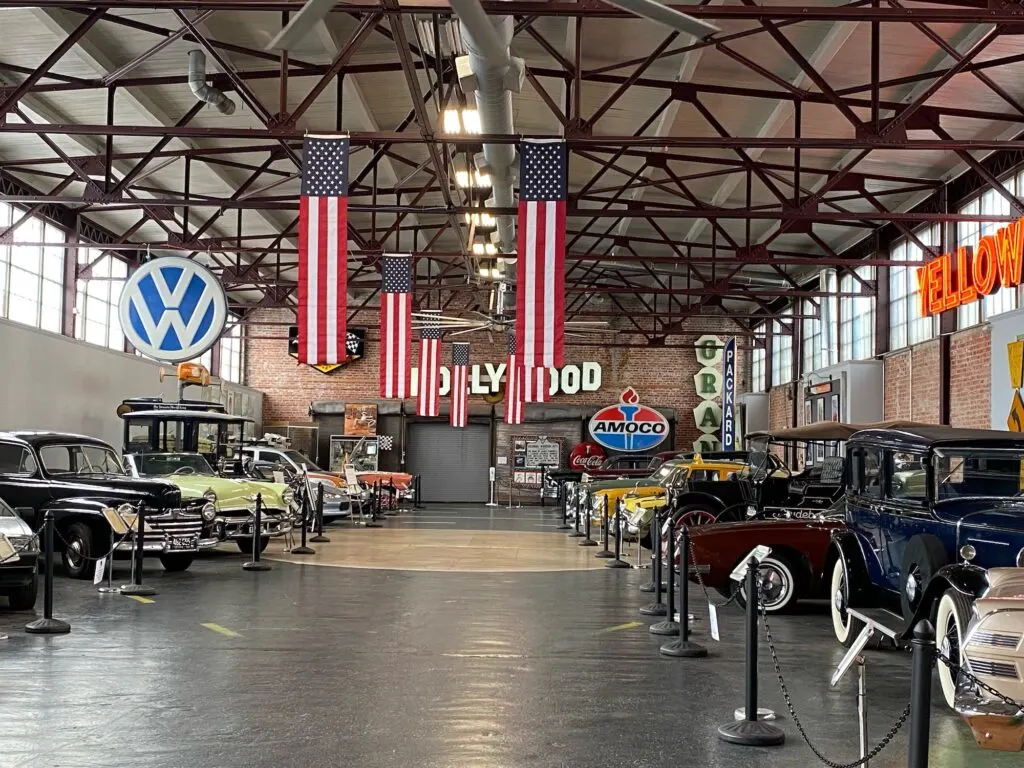 The museum is closed on Mondays and Tuesdays, so be sure to plan your visit around operating hours.
If you are going specifically to see the historic locomotives, be sure to check to see if they will actually be there. It sounds silly for a train to actually be missing, but when we were there the N&W Class J 611 was actually being used in Pennsylvania for the season. It was a big disappointment to not see the steam train.
5. Walking Tour of Railroad History
To understand how important the railroad was to the history and development of Roanoke, VA, take time to walk along the storied railroad tracks that are still in use today.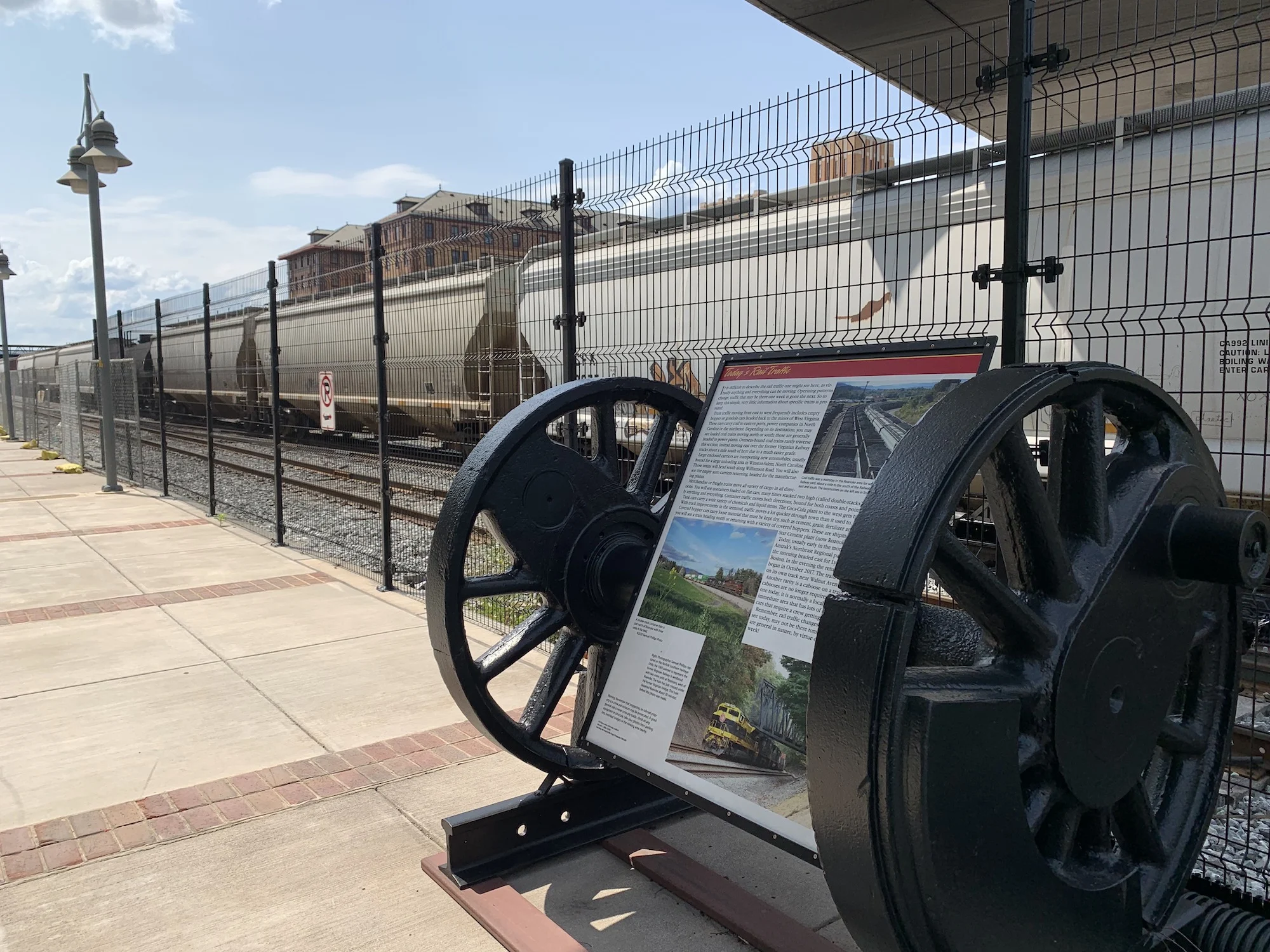 Informational placards can be found on a walking path right next to the train tracks. If you are lucky, you will be reading about the ancient days of train transportation as a modern-day train rolls by on tracks in the distance.
The learning stations are clustered around the downtown area and lead up to the modern-day Amtrak platform. Yes, passengers can still arrive in Roanoke via train and walk directly into downtown, just as generations of travelers have done in the past.
If you love railroad history, be sure to enjoy a day trip to Clifton Forge.
6. Taubman Museum of Art
Located in Downtown Roanoke, the Taubman Museum of Art not only is a work of art in its own right, but it houses fascinating pieces of art, as well.
While the art is amazing, so, too, is the fact that admission is free to the Taubman Museum of Art.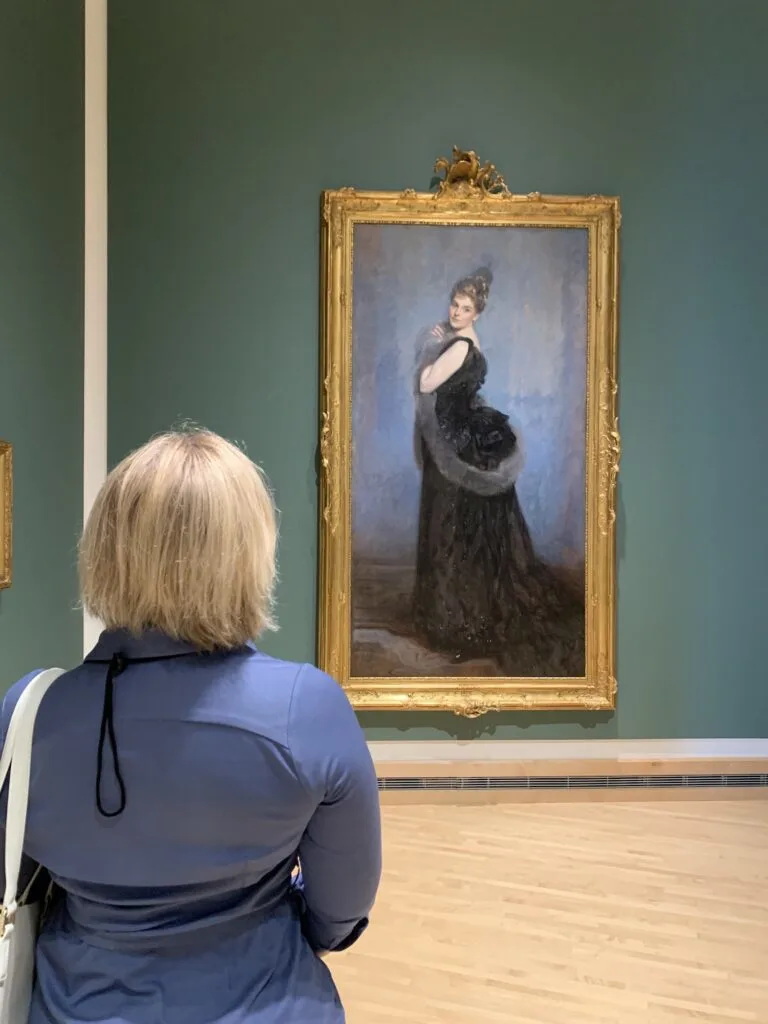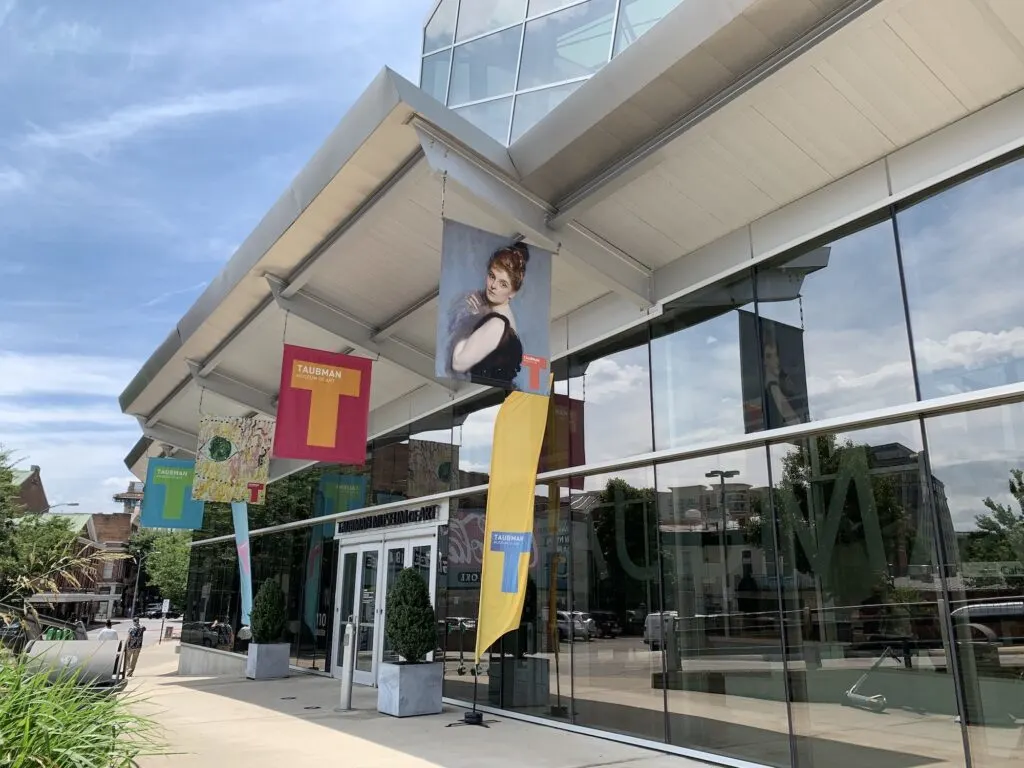 The stunning building is a bold mix of modern materials designed to honor the natural elements of Roanoke. Architect Randall Stout interpreted the highlights of the city by using a 77-foot glass peak in the atrium, which resembles a point of the Roanoke Star, as well as a metallic roofline that seems haphazard, until you realize that is paying homage to the rolling hills of nearby Blue Ridge Mountains.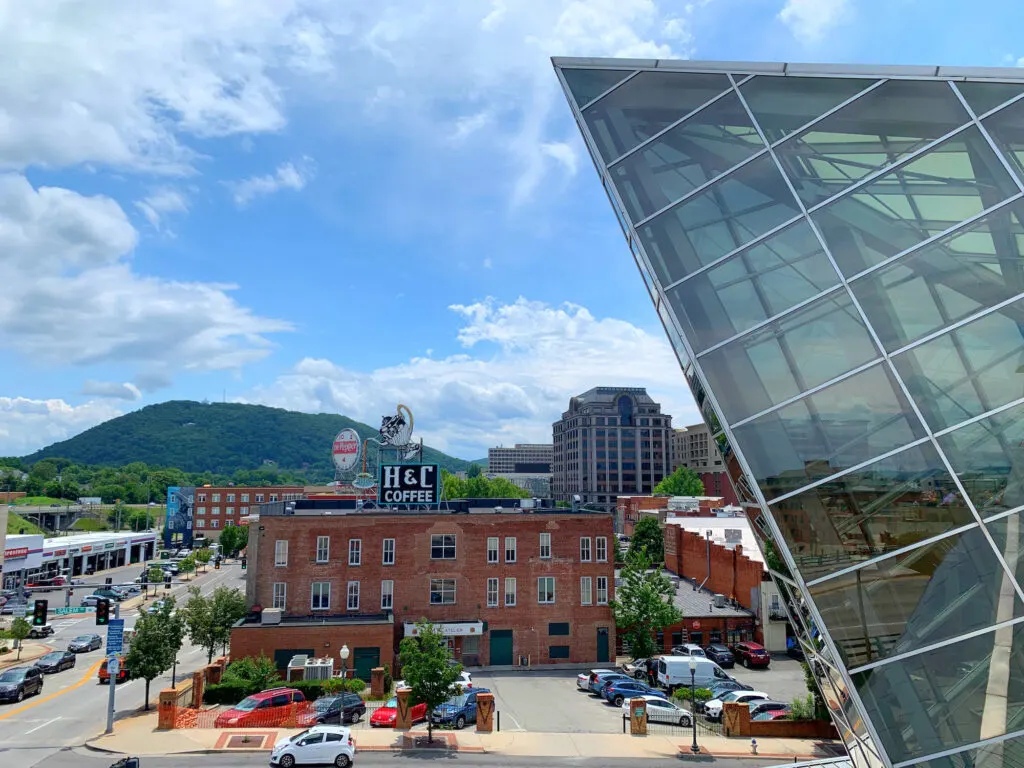 Be sure to make time to go to the upper balcony of the museum, for a great view of downtown and the surrounding mountains.
Just be sure to be mindful about the opening hours. While admission is free, the museum is only open Friday-Sunday for limited hours.
See more from the Taubman Museum of Art, and more of the best things to do in Roanoke, in our Youtube video:
7. Black Dog Salvage
Whether or not you have seen the famous show Salvage Dawgs, this eclectic shopping destination is worth a visit! Over 40,000 square feet of architectural salvage, along with home and decor items, are available to browse and purchase.
It is the perfect chance to bring home a unique souvenir for your home. (We brought home a mid-century poodle statue for the yard and think about Roanoke every time we see it!)
Black Dog Salvage can be overwhelming, there is so much to see! From the weird and unusual, such as rows of old toilets, to modern art and custom-made furniture, this is the perfect place to come if you are wanting to add some items to your home.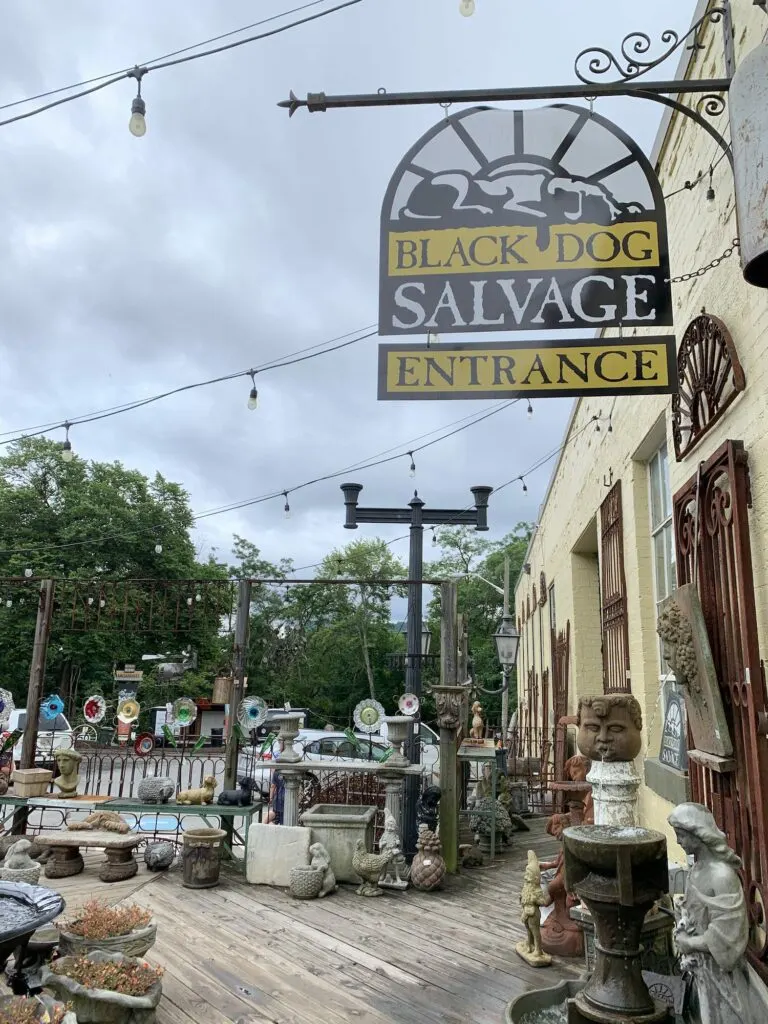 Of course, if you are fans of the show, there is lots of Black Dog Salvage merchandise to buy, too.
Chances are good that you will see Mike or Robert walking around and tending to business. They are always happy to talk and take pictures. (Mike was actually the one that sold us our poodle dog!)
The famous black dogs can also be found wandering around the salvage store, enjoying loving from visitors.
Special events are held in "The Dog Bowl."
8. LOVEworks Signs
The slogan "Virginia is for Lovers" is world famous! Just about everyone has heard about it. The state decided to capitalize on their slogan and spread LOVE across Virginia.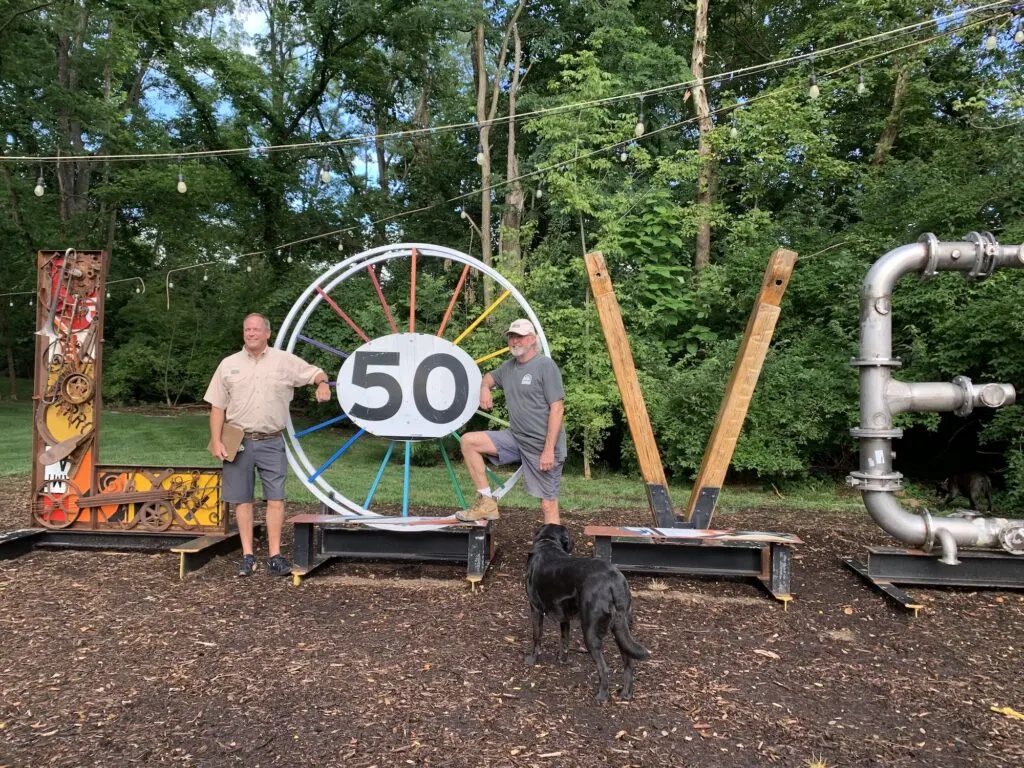 There are more than 300 LOVEworks signs in the state. A few signs can be found in Roanoke, such as this one located at Black Dog Salvage.
9. Buy Chocolates
ChocolatePaper is a unique find that serves up chocolates, along with books, stationery, gifts and paper goods.
The smell in this store is so delicious, we challenge you to buy a greeting card without also buying some chocolate truffles!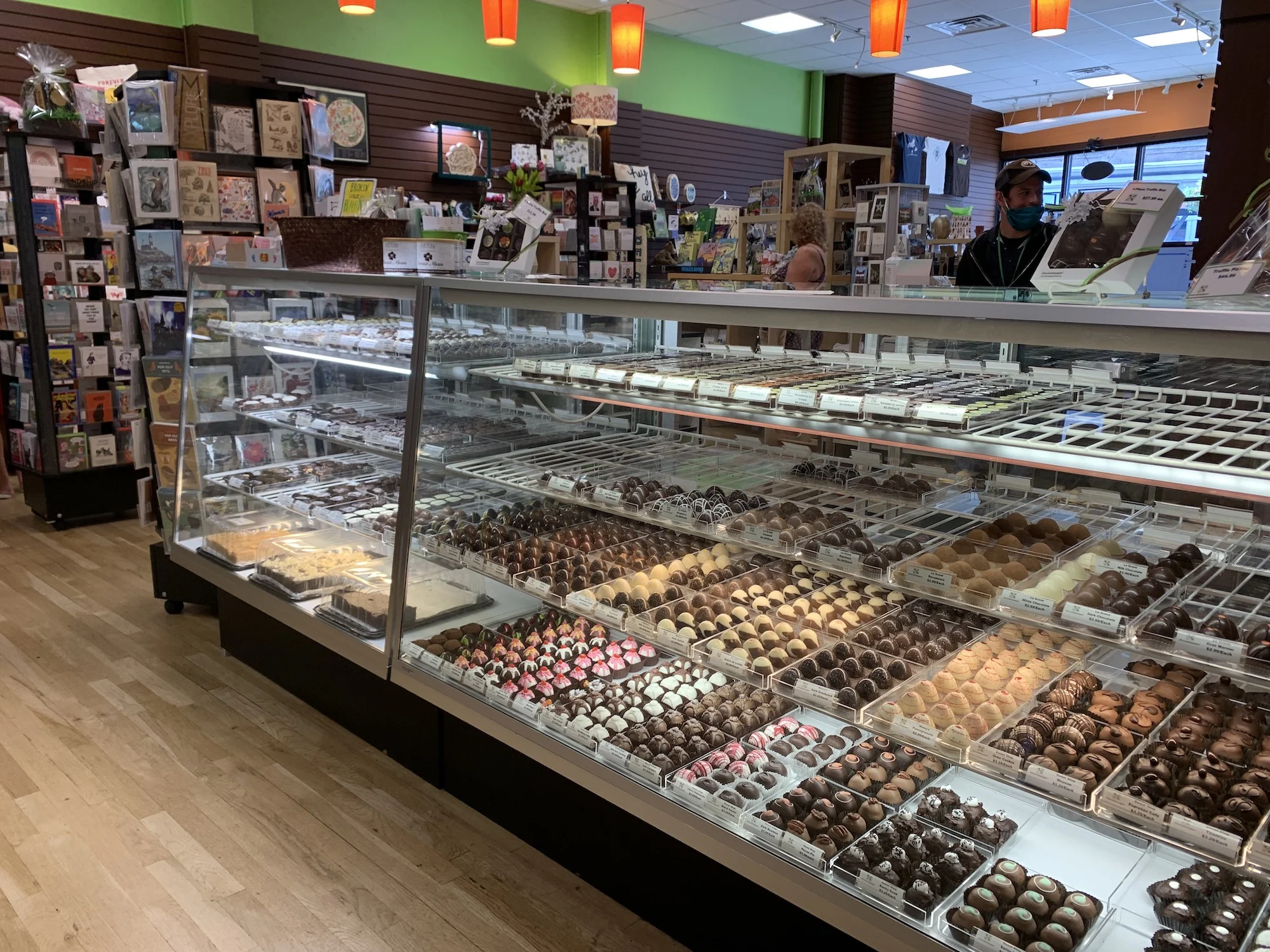 10. Enjoy the Murals Downtown
Be sure to take some time to stroll through downtown. There are plenty of shops and restaurants to enjoy in the area. But even if you are not eating or buying souvenirs, there is still a lot to see.
Murals that look like old-fashioned advertisements can be found throughout the city streets.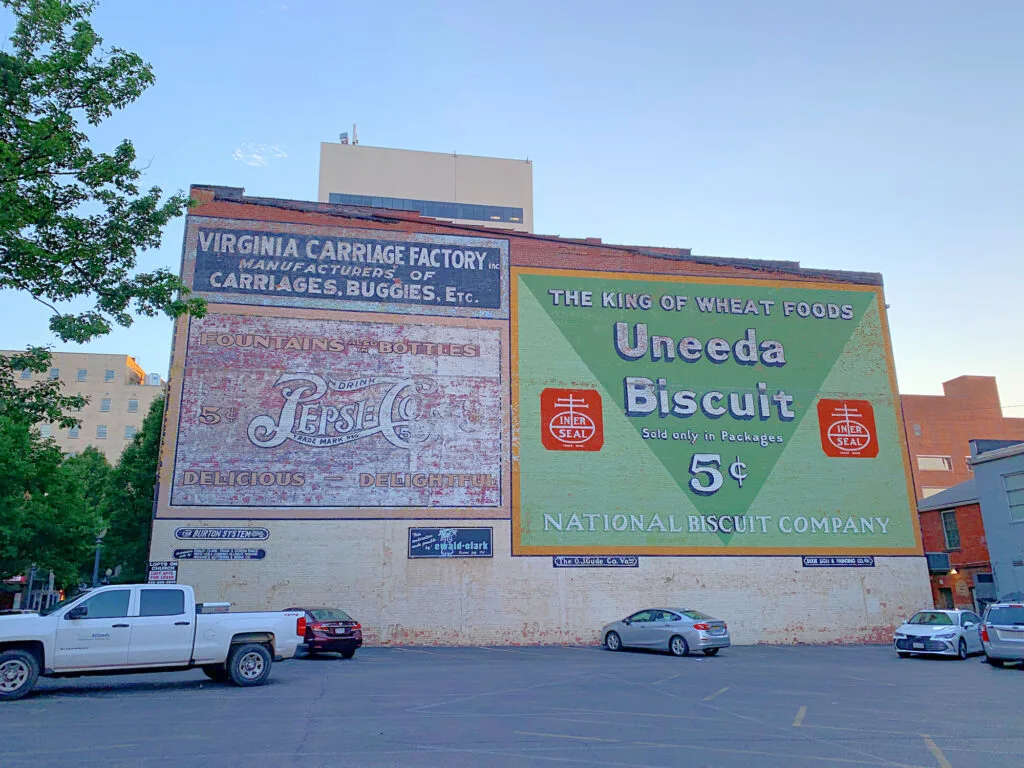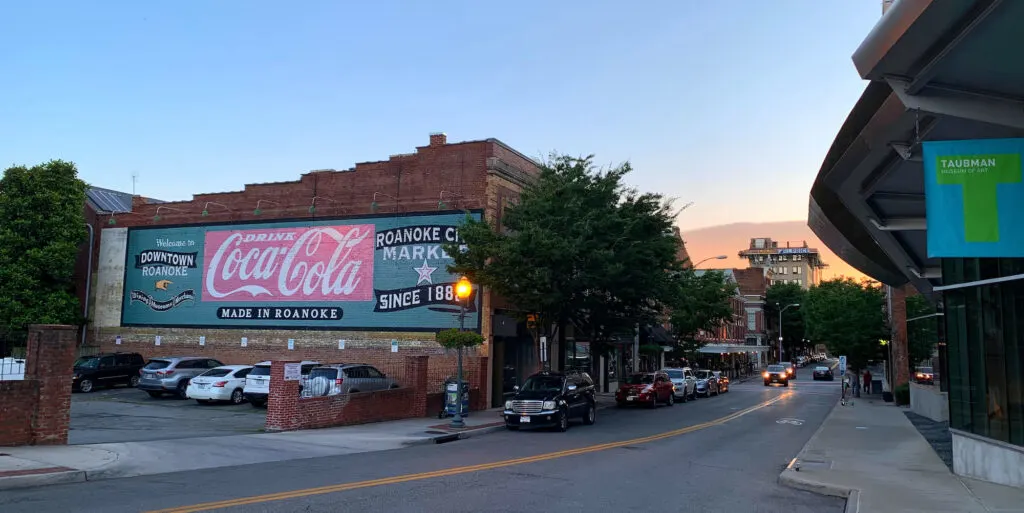 Of course, there are unique murals, too, like this unique one located beside the Taubman Museum of Art.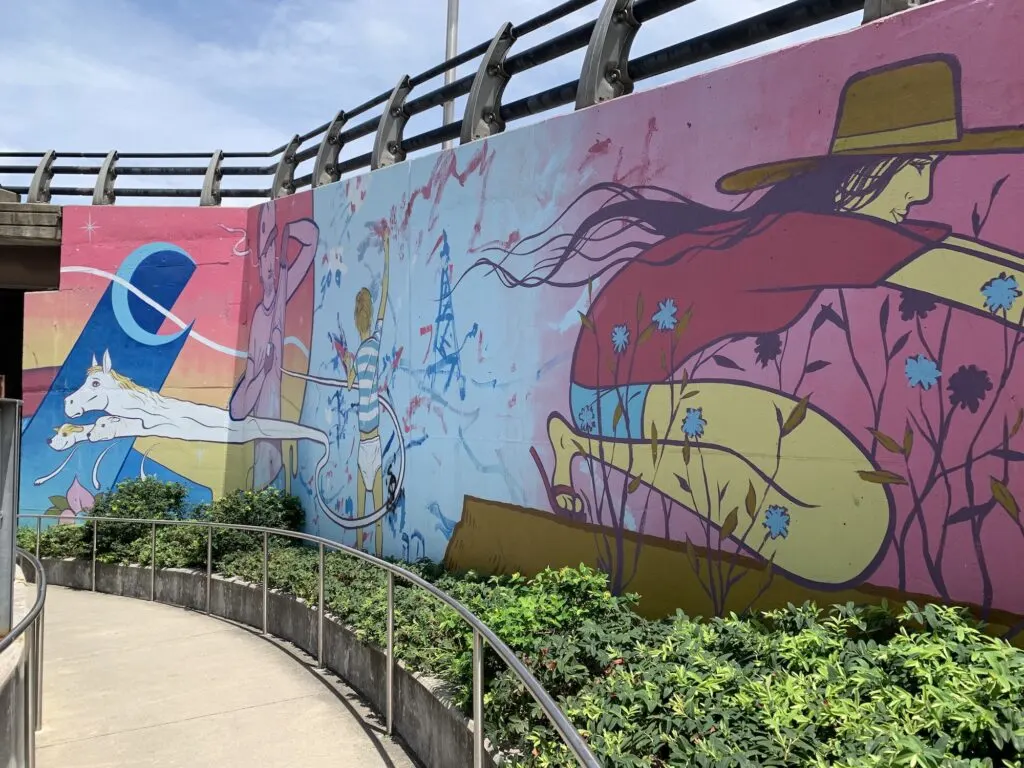 See a map of all of the mural locations online from the Downtown Mural Project.
11. Buy a Barrel of Candy
Mast General Store is one of our favorite stores in the Southeast. They have plenty of outdoor apparel and gear, along with Southern gifts and souvenirs. Each Mast General Store also has merchandise unique to their hometown.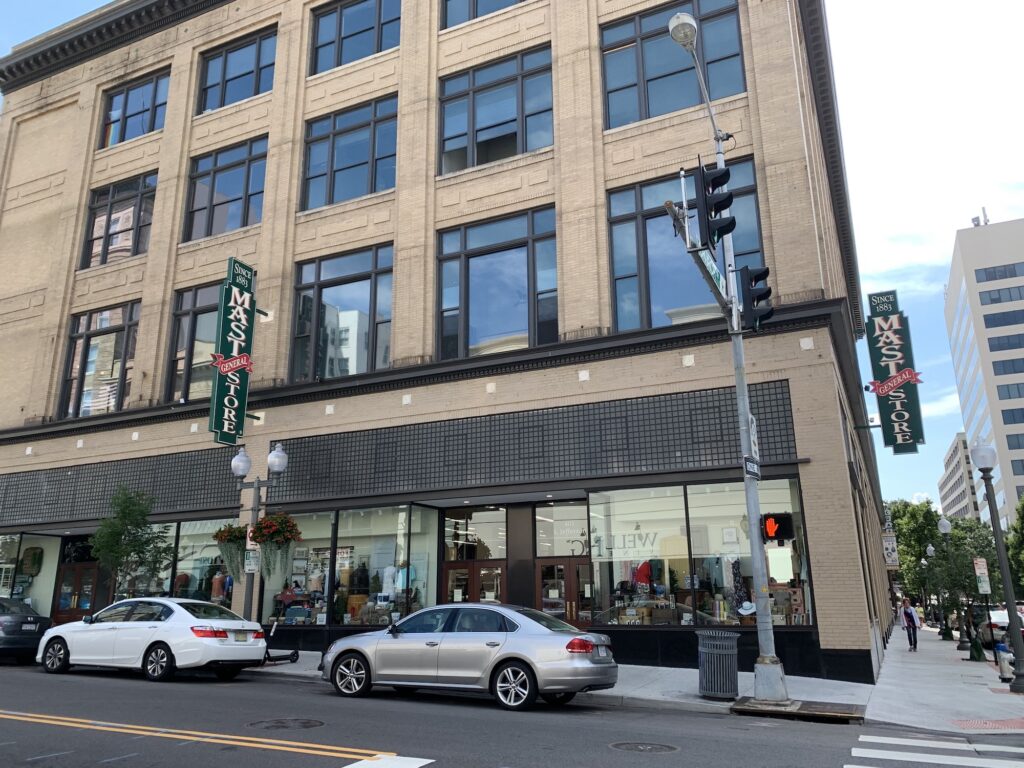 One of the fun things to do is get a wooden barrel and fill it with candy. Mast General Store has huge wooden barrels filled with old-fashioned candies to choose from.
Grab one of their mini barrels and choose which sweets look good for you. It's a great snack for the trip back!
12 – 18. Center in the Square
If you have kids that are bored, then the Center in the Square is a one-stop destination for tons of activities that they will love. The building is home to:
Roanoke Pinball Museum
Science Museum of Western Virginia
Roanoke STARCADE
Kids Square Children's Museum
Harrison Museum of African American Culture
Living Coral Reef Aquarium
Mill Mountain Theatre
With so much to do all in one space, this place is loud and crowded! But there is an energy here that kids will love. Keep in mind, even though all of the locations are under one roof, they do have separate entrance fees.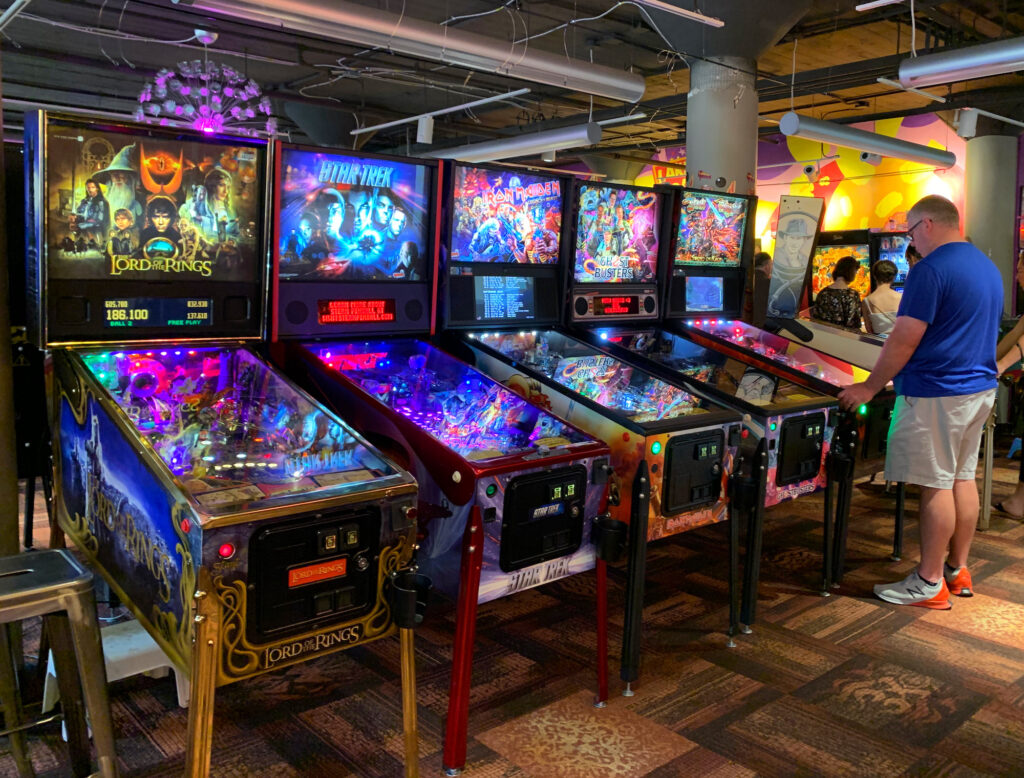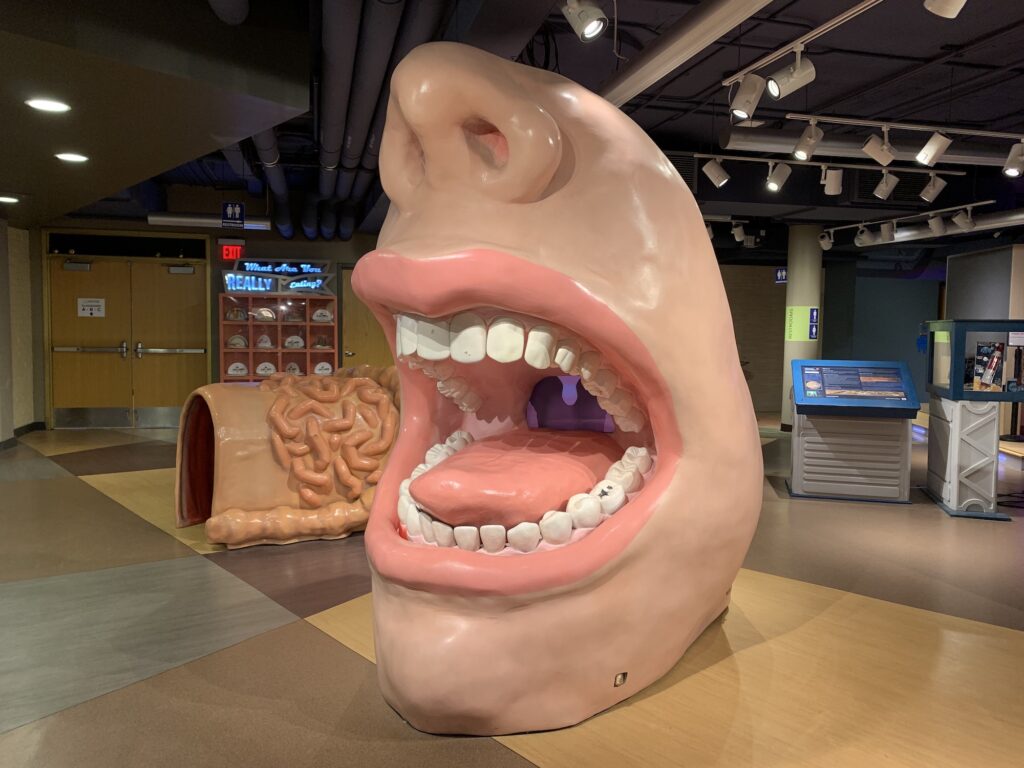 The aquarium and rooftop koi pond are free admission. All other attractions have an admission fee.
19. Blue Ridge Parkway and Hiking Trails
It would be easy to spend a week in Roanoke just taking advantage of the numerous hiking trails in the area, along with enjoying the Blue Ridge Parkway.
The Blue Ridge Parkway is a 469-mile road that winds through Virginia and North Carolina. Operated by the National Park Service, it is the most visited unit in the NPS system, and for good reason.
You can enter and leave the Blue Ridge Parkway at a variety of exits, so you can travel just a small portion at a time. It is perhaps the easiest way to enjoy the beautiful views of the Blue Ridge Mountains.
So many trails are available, and there's so much to do on the Parkway, that it's hard to narrow down one must-see activity. Just make sure to spend some time outdoors. Here's a list of Roanoke hiking trails and how easy – or hard – they are.
20. Texas Tavern
This small building (and I do mean small!) is big on history and nostalgia in Roanoke. Founded in 1930 by an advance man for the Ringling Brothers Circus, Nick Bullington considered quite a few cities for settling down before deciding on Roanoke due to its being a railroad town. It continues to be run by the Bullington family, today.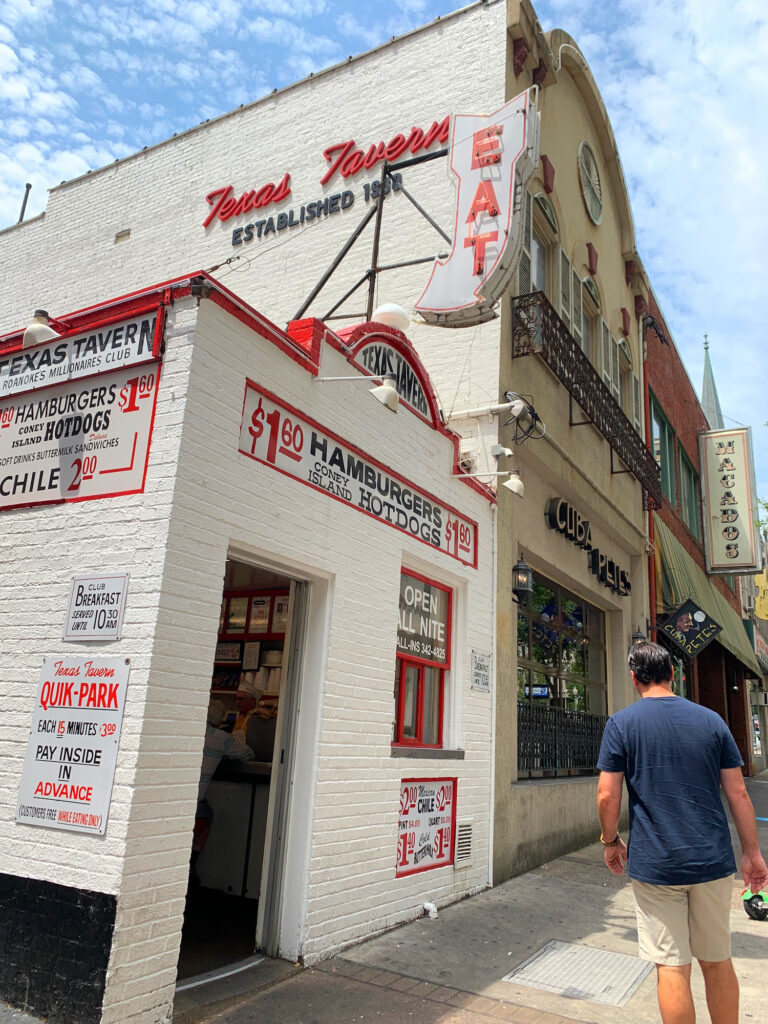 Open 24 hours a day, 7 days a week, the Texas Tavern is an affordable place to grab a quick meal for both locals and visitors. We stopped in for their famous cheesy western and were not disappointed!
Most items on the menu are under $3. Texas Tavern is the epitome of quick service, somewhat greasy diner food (is there any other way?!) and local hospitality that will surprise you.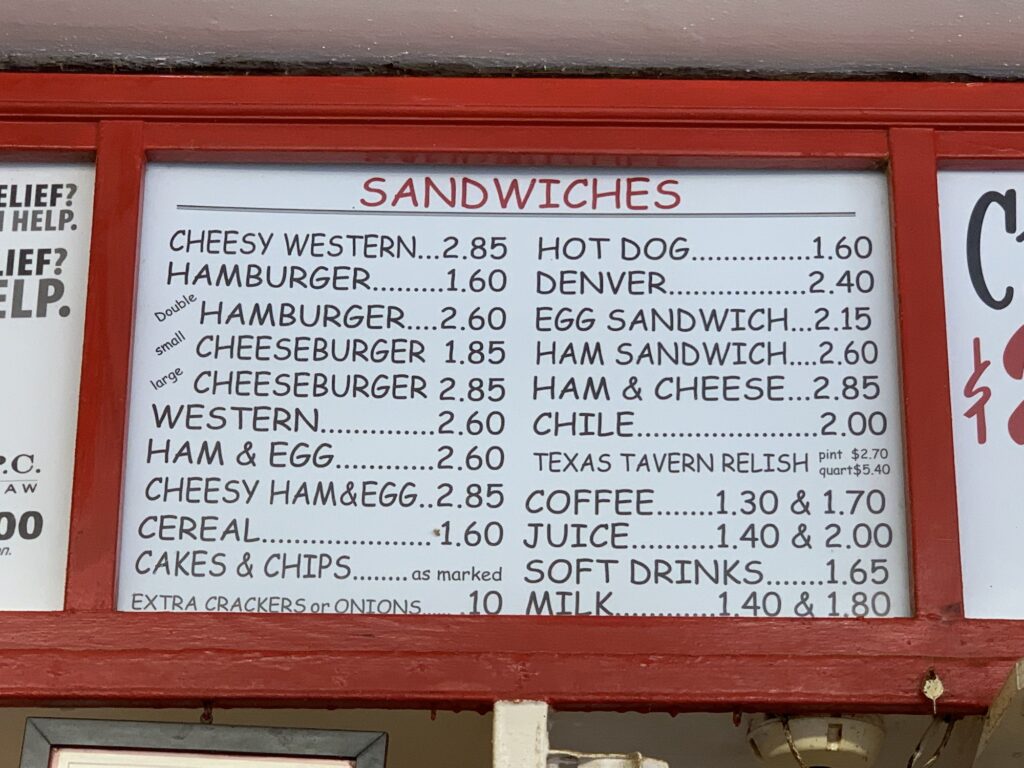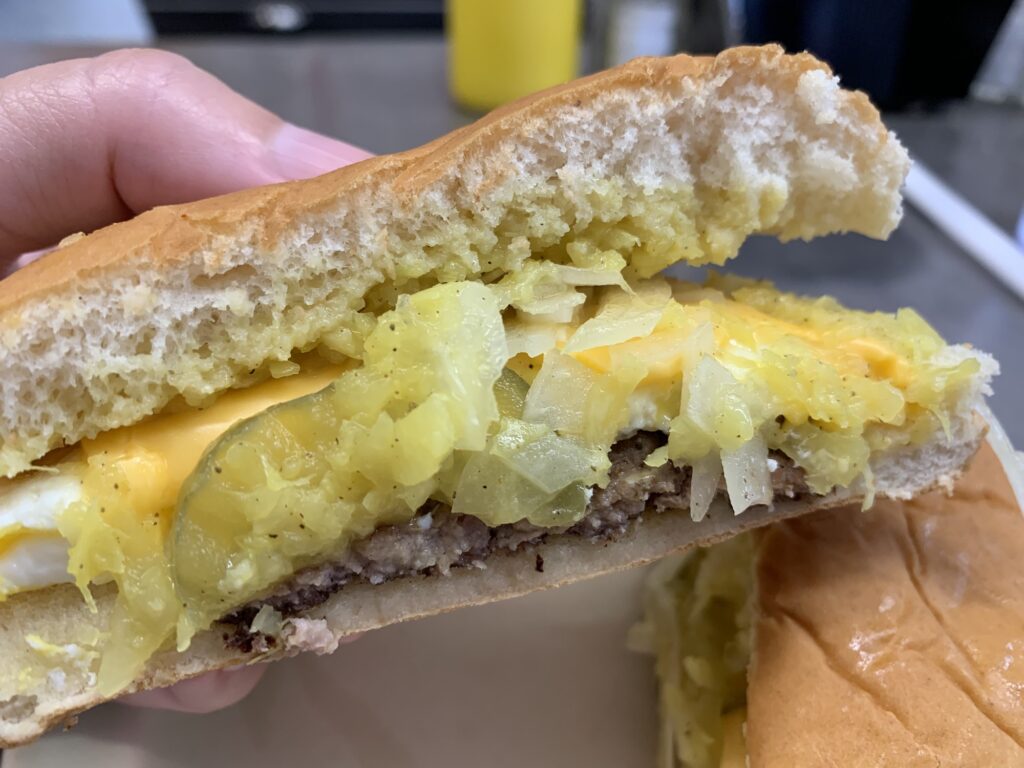 If you want a heads up about the menu choices (it can be a bit confusing), check out the Texas Tavern lingo beforehand.
21. Learn Railroad History and Roanoke Architecture
While you can learn about Roanoke's railroad history on the ground next to the tracks, there's another unique way to explore the transportation heritage, too. The covered bridge over the train tracks is full of informational signs and unique aerial views of the trains coming through the city.
The covered walkway starts from downtown, next to the Taubman Museum of Art, and extends to The Hotel Roanoke and Conference Center. It is free for everyone to enjoy, and you don't need to be staying at the hotel to use it.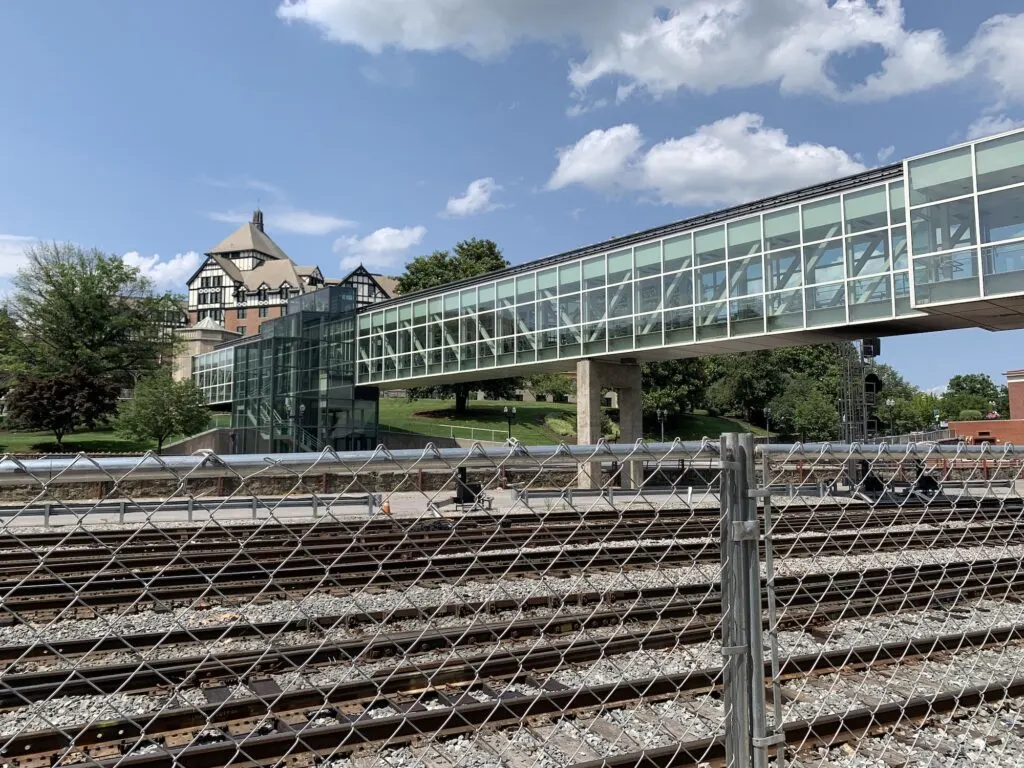 If you are interested in architecture and history, there is a lot of information and historical photos about the building and renovation of The Hotel Roanoke at the end of the bridge near the hotel. It is quite fascinating to see how this hotel has been so integral to the formation of Roanoke.
While we used the bridge, we saw runners coming through, fashion shoots, and families letting their kids enjoy looking at the trains. It really is great for everybody.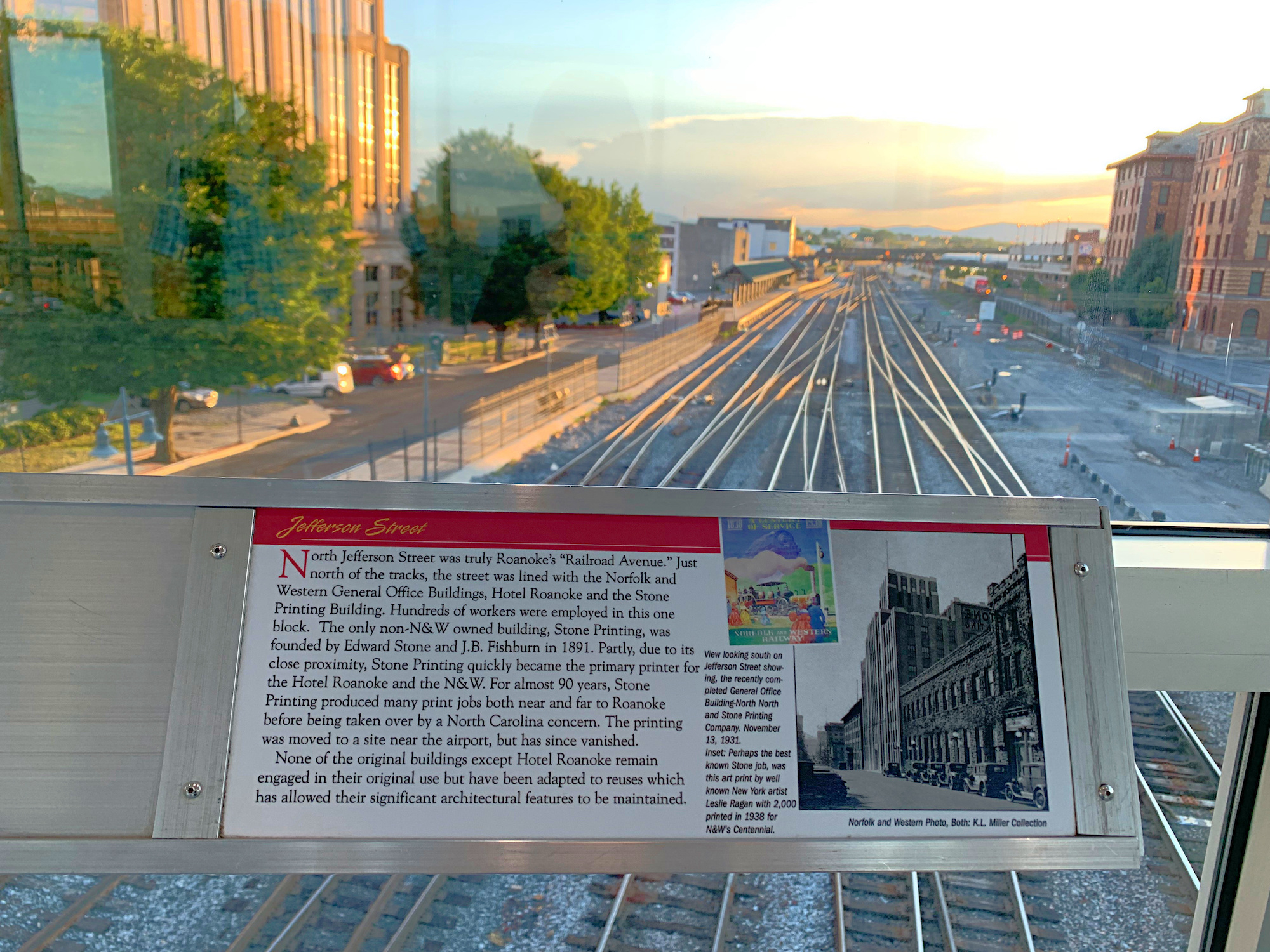 Taking the covered bridge is also a great way to get to the O. Winston Link Museum if you are downtown.
This bridge is not conditioned inside, so it can get quite warm in the summer when the sun shines in.
22. Sculpture Walk
There is quite a variety of accessible art in Roanoke. Anyone can walk or bike past sculptural pieces found in the city.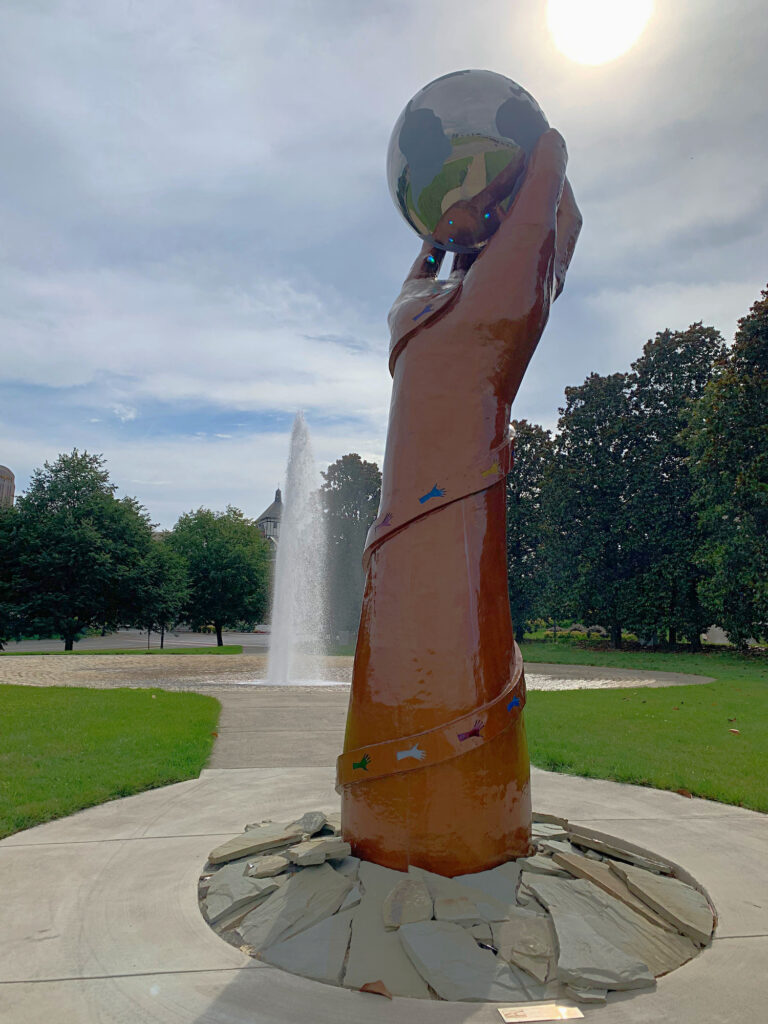 23. Roanoke Weiner Stand
Located adjacent to Center on the Square, Roanoke Weiner Stand is a great location for families or teens to enjoy an inexpensive meal.
While you can get some BBQ or a Sloppy Joe, hot dogs are really the must-eat menu item. That's why they are considered some of the best hot dogs in Roanoke!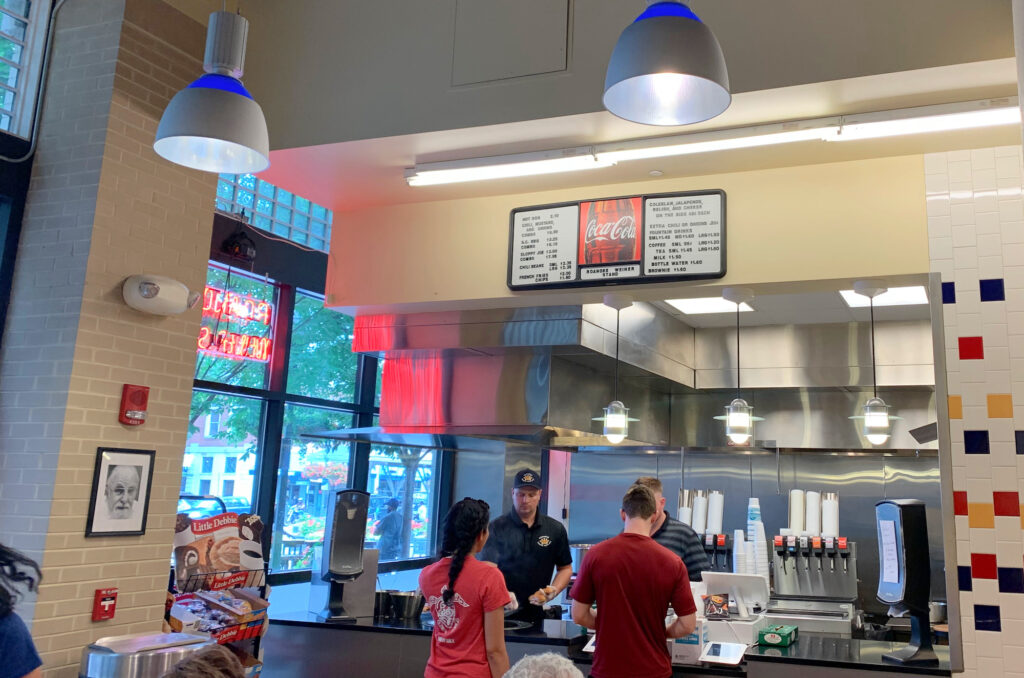 24. The Regency Room
We splurged on a fancy meal at The Regency Room and were thrilled that we did. The four diamond awarded winning restaurant puts on a serious show of French-inspired Southern cuisine for dinner, with live music in the restaurant.
Outdoor dining on the patio is also available, though I think it lacks the atmosphere of being indoors and listening to the music.
Keep in mind, the patio is on the same side as the portico with arriving traffic in the front of the hotel. So if you are imagining a hushed and quiet dining experience outdoors, you will be disappointed.
The restaurant first opened in 1938. The dishes that you will be dining on are actually very historic and highly coveted! They can't be easily replaced, as they were part of the original hotel.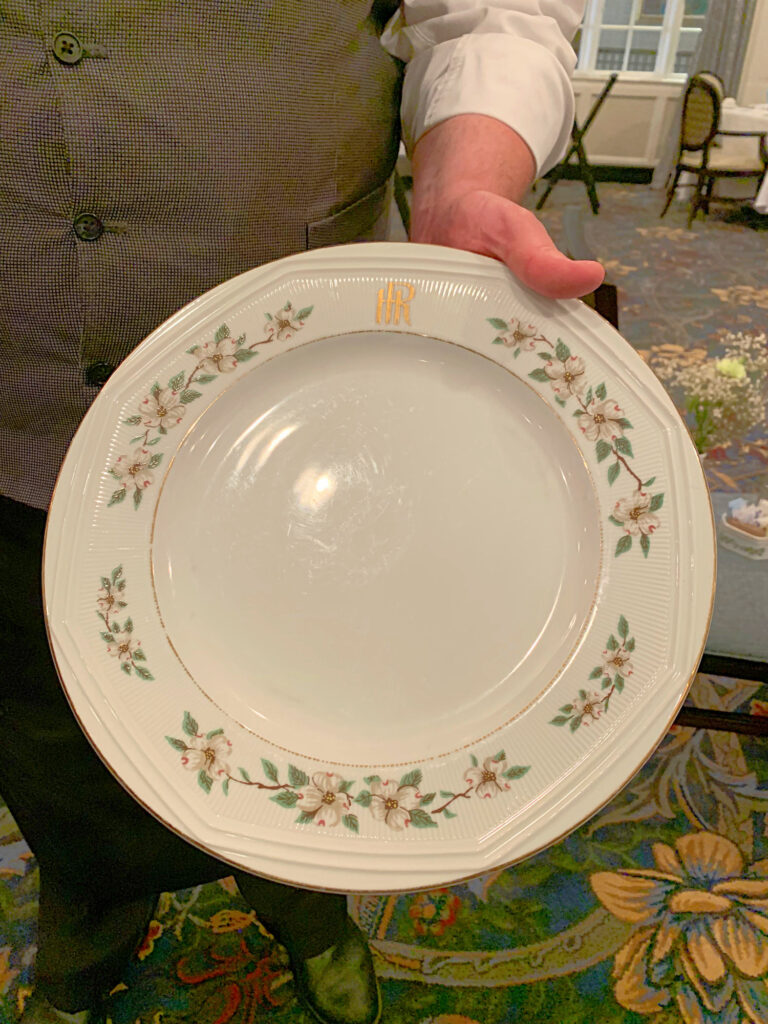 A Grand Sunday Brunch Buffet is also available and is super popular. It has been named one of the Top 100 Brunches in America! It also features live entertainment, as well as live carving stations.
25. Cocktails at the 1882 Bar
We loved staying at the Hotel Roanoke and Conference Center (see details below). Whether or not you are staying at this historic hotel, be sure to visit the lobby and grab a cocktail or some food at the 1882 Bar.
The beautiful bar is adjacent to the lobby. It feels like you are relaxing underneath the night sky.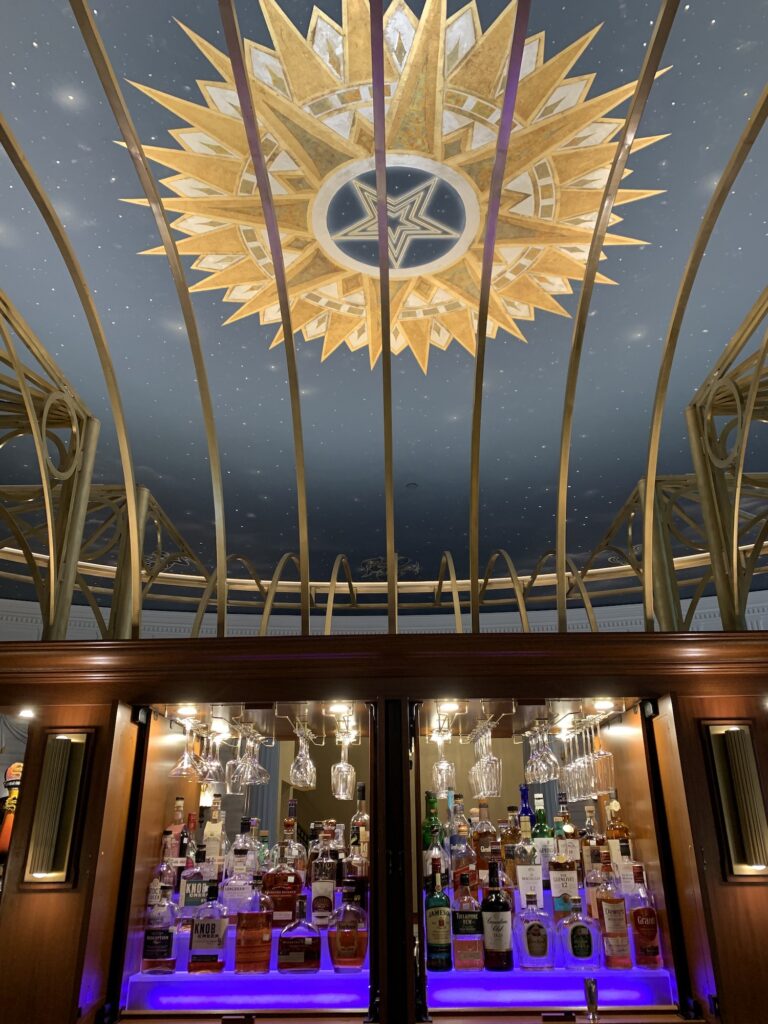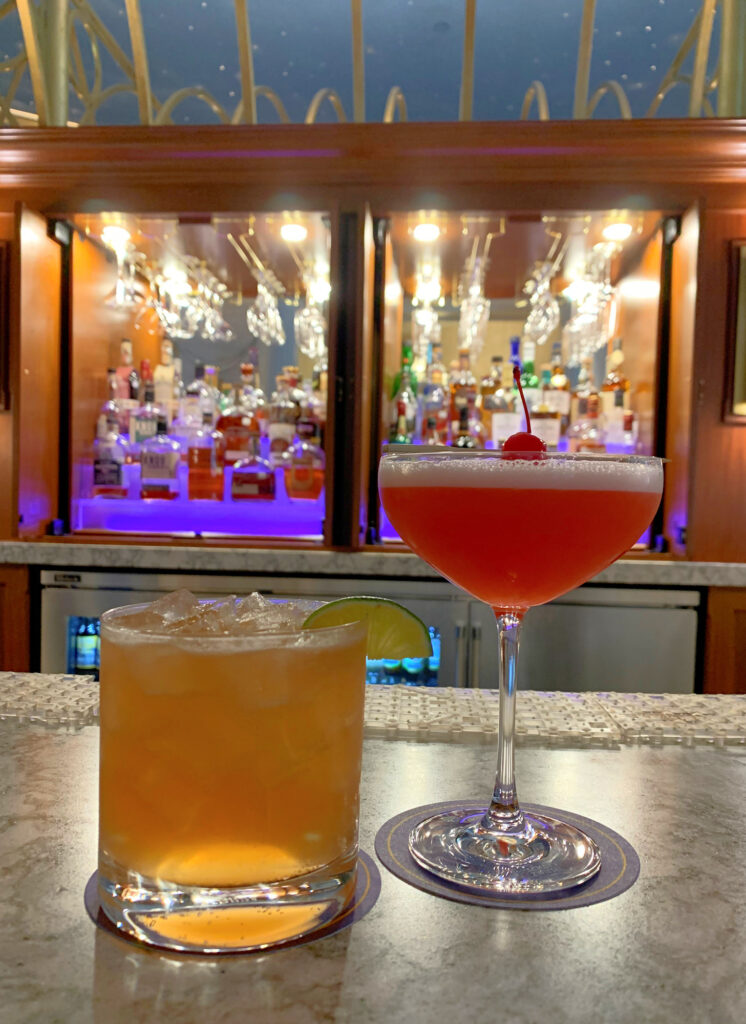 Food can be ordered at the bar. It's not just snacks, you can enjoy a full meal from The Pine Room Restaurant located adjacent in the hotel.
This is a great stop after walking the covered bridge over the railroad tracks to cool off before heading back downtown.
26. Self-Guided Bicycle Tours
Roanoke is easy to see by bicycle, and I am quite impressed with the amount of self-guided bicycle tours the city has put together for residents and visitors to enjoy.
There is a HUGE selection of themed bicycle tours already planned out for you. Some are funny, some are historical. RIDE Solutions offers information on each tour, including a map that you can download to your device, along with information about terrain and elevation changes.
I am surprised there is an Alien Invasion Bicycle Tour for the city!
Where to Stay in Roanoke
The Hotel Roanoke and Conference Center
We are big fans of staying in a location where you can easily walk to most of the major attractions. The Hotel Roanoke and Conference Center was the perfect location for use to see everything we wanted in Roanoke.
Listed on the National Register of Historic Places, the 1882 Tudor-style hotel is a blend of history and modern conveniences.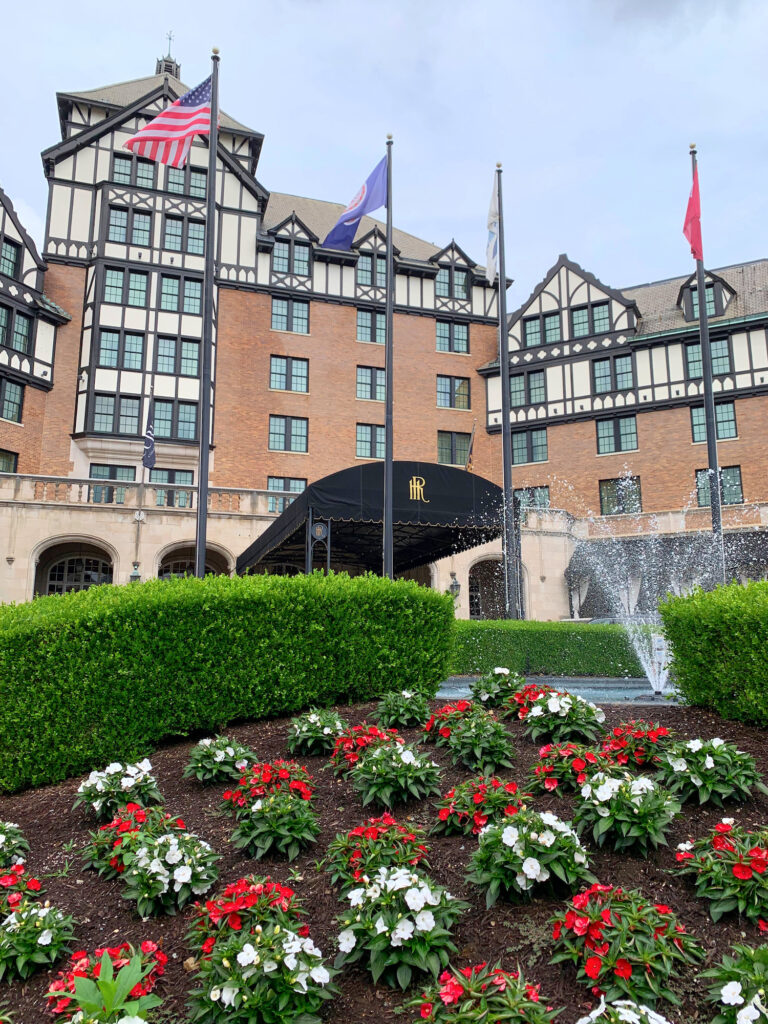 It is located right next to the railroad tracks and downtown Roanoke, with an easy walk through the covered bridge the crosses the tracks. In fact, the covered walkway is really interesting with historical plaques about the history of the area, and plenty of opportunities to watch the trains travel underneath the bridge.
Though the hotel is close to the train tracks, we never had a problem with noise or rumbling felt inside the hotel. We asked for a room overlooking the train yard and were not disappointed. It was really interesting to look outside and see trains every now and then.
Of course, if you don't care about train history as much as we do, there are plenty of other views to choose.
The 1882 Lobby Bar was our favorite place to grab a drink or a meal. The ceiling features a stunning night-sky mural that has been restored and was part of the pre-1939 hotel. You can order a full meal from the Pine Room restaurant and enjoy it in the lobby bar while people watching.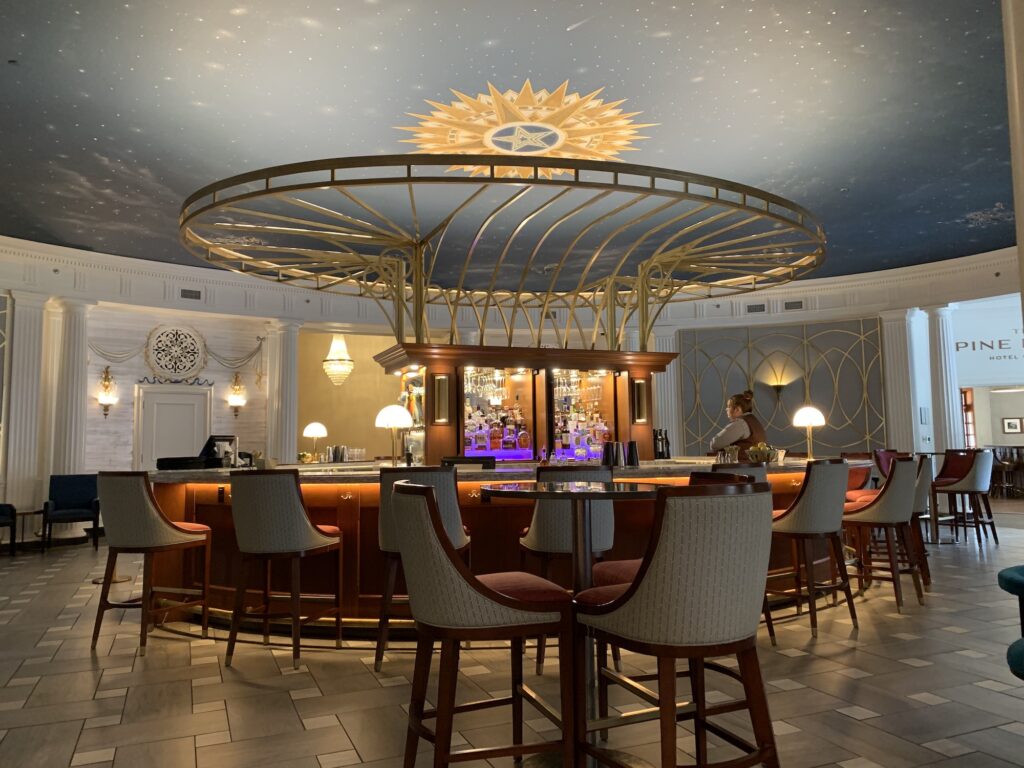 We definitely did not enjoy dining in the Pine Room for lack of atmosphere, so it was nice to grab a seat under the faux night sky to dine.
The Pine Room does serve up good food, but I'd suggest grabbing a table on the outdoor patio if you want to dine there. The Regency Room was a special splurge.
We liked our room a lot, although there was a decent amount of noise coming from the neighbors. I don't know if that's because there were a lot of partiers at the hotel at the time, or if the walls are just super thin. It is hard to tell when there is literally a party being held in the room three doors done the hallway until 2 a.m.
Either way, I was having a hard time getting a good night's sleep and we ended up leaving a day early to go home.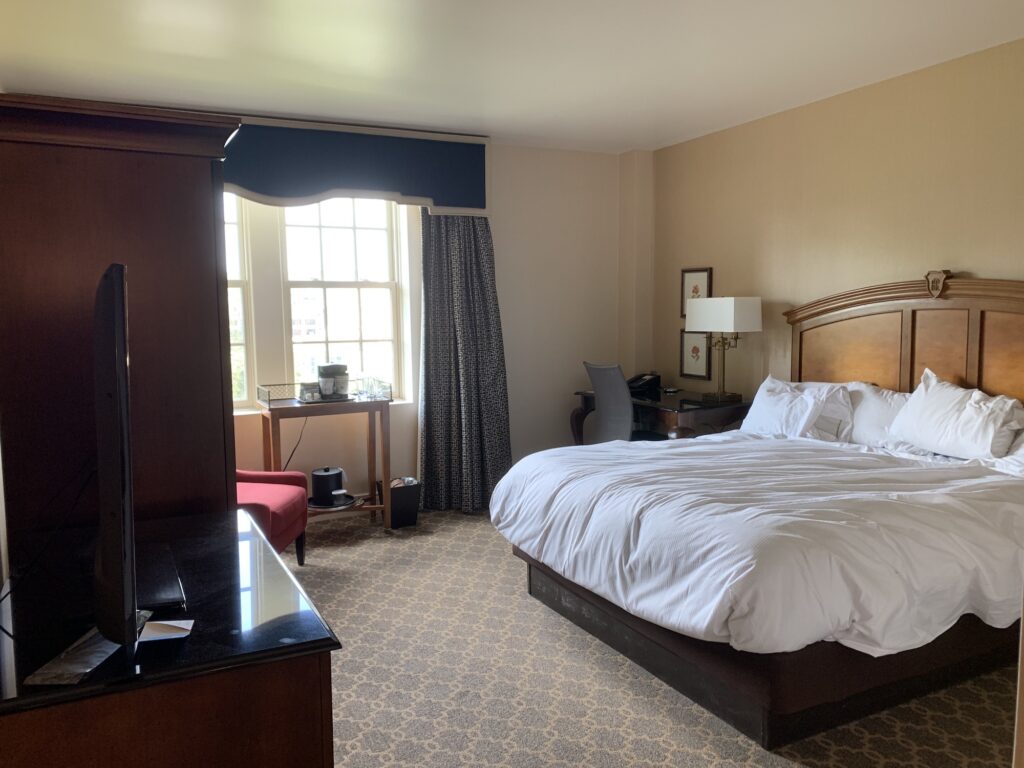 The pool was a really nice area to enjoy being outside, and the individual cabanas are fun.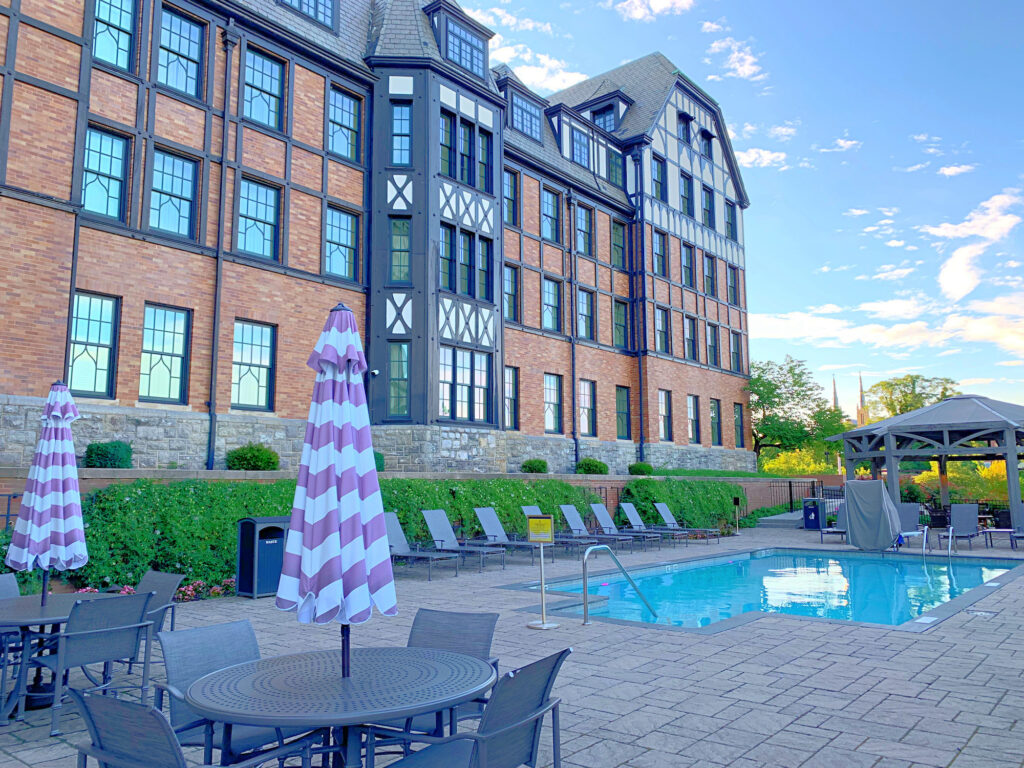 I'd suggest dropping off your luggage before parking the car as the walkway to the hotel is not smoothly paved and is up a hill.
If you are arriving to Roanoke by train and staying at The Hotel Roanoke, you can walk from the train station to the hotel via the covered bridge.
The Stone House at Black Dog Salvage
This renovated home is located on the property of Black Dog Salvage. Just like in the show, the Salvage Dawgs have used architectural salvage pieces to create a stunning home away from home that is perfect for large families or to share with friends.
We were thrilled to be able to get a tour of The Stone House from Robert. See our video below for all of the unique details of what was used to renovate and decorate this vacation rental.
Be sure to save this guide to Pinterest for helpful vacation planning later!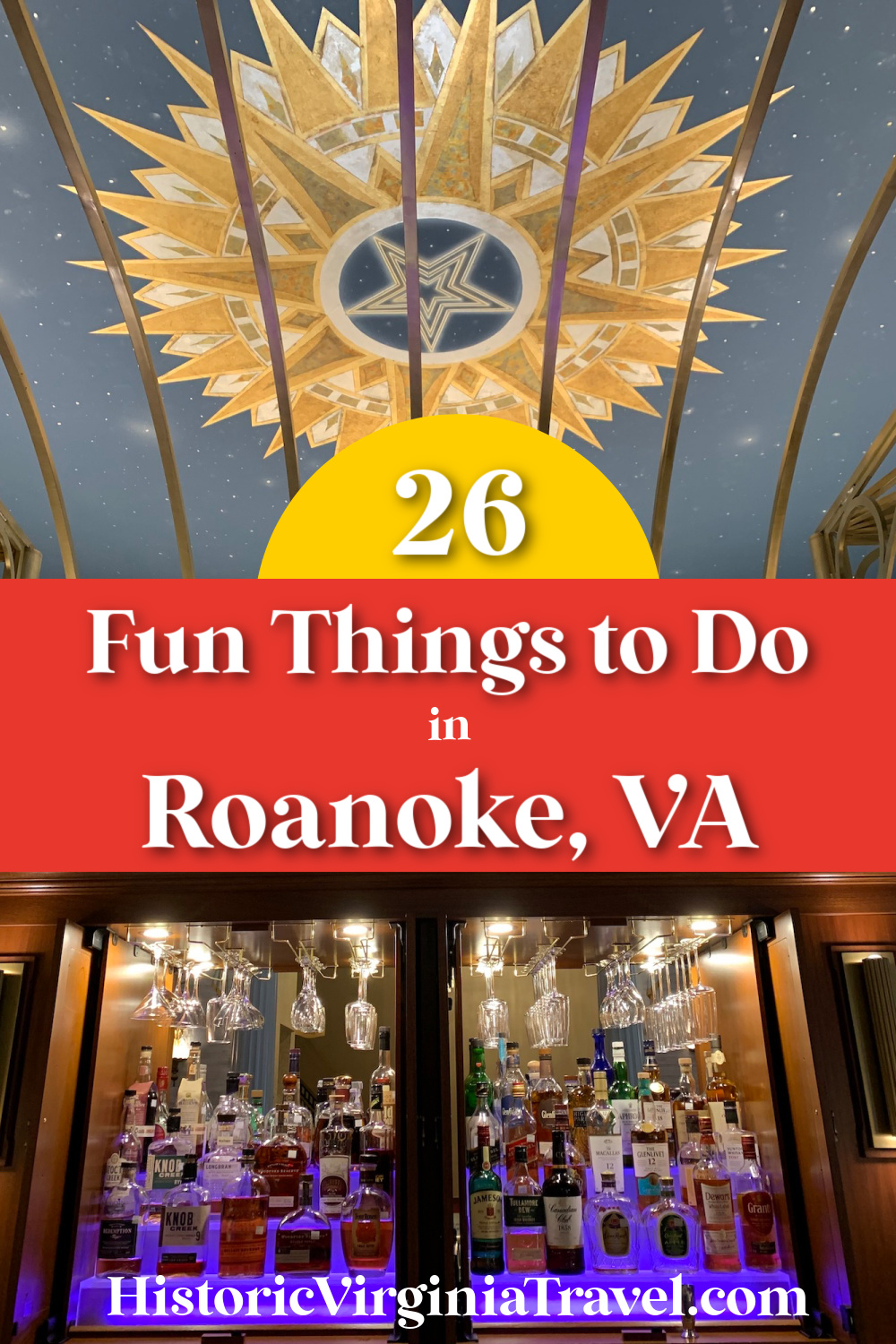 There are so many fun things to do in Roanoke that it is one of our favorite mountain towns in Virginia. Be sure to check out these nearby attractions, too: