Want to explore more in southwestern Virginia? Though there are so many things to do in Roanoke, there are also a lot of unique destinations just an hour or two from the city.
Keep in mind that a visit to Thomas Jefferson's Poplar Forest and the National D-Day Museum can be done in one day. There is a combo ticket that will save you money by visiting both attractions.
1. Thomas Jefferson's Poplar Forest
President Thomas Jefferson's Monticello home near Charlottesville has always been world famous. Even in 1772, Jefferson found the need to get away from the crowds and visitors to his home and find some peace and quiet. That is when he retreated to Poplar Forest.
There is a lot of similarities between Monticello and Poplar Forest. You will probably notice the similar design immediately.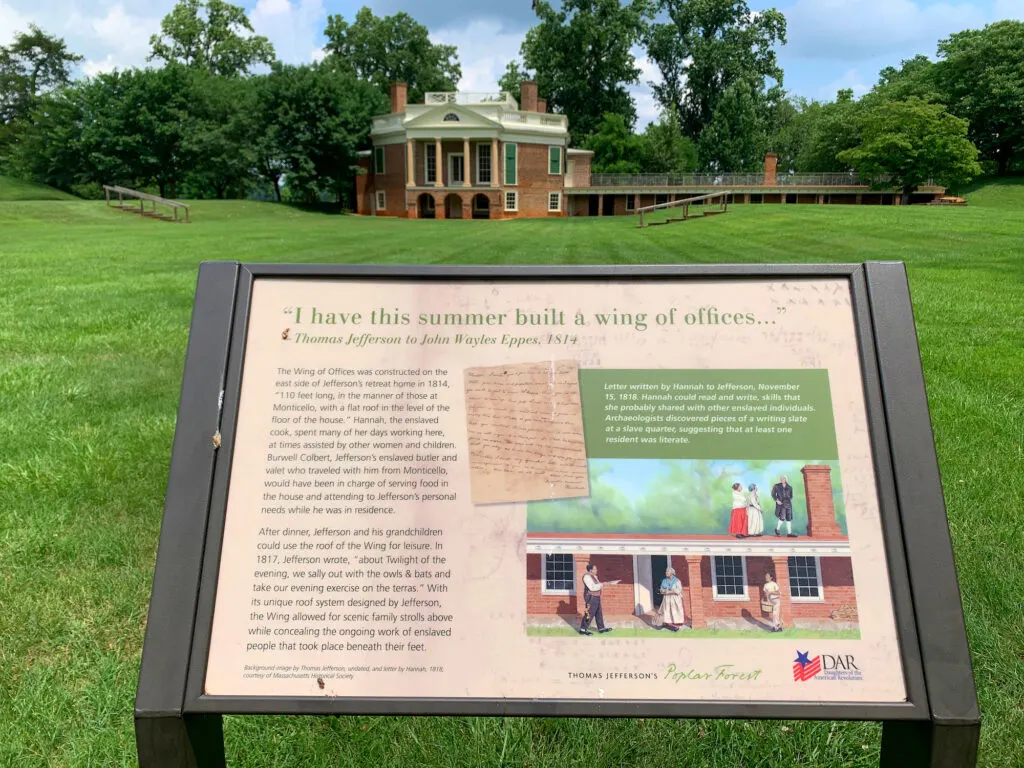 Jefferson used Poplar Forest as a summer getaway. He would journey to the home to spend time with his granddaughters, and to get away from the pressures of Washington, D.C. politics.
Though Jefferson and his family lived at the home for weeks each year, the home was never completely done. He was still in the process of designing it and renovating the indoors when he passed away.
Poplar Forest has been left in the state of renovation that Jefferson was planning for. It is a unique mix of Presidential history and a glimpse into the architecture and design of the day.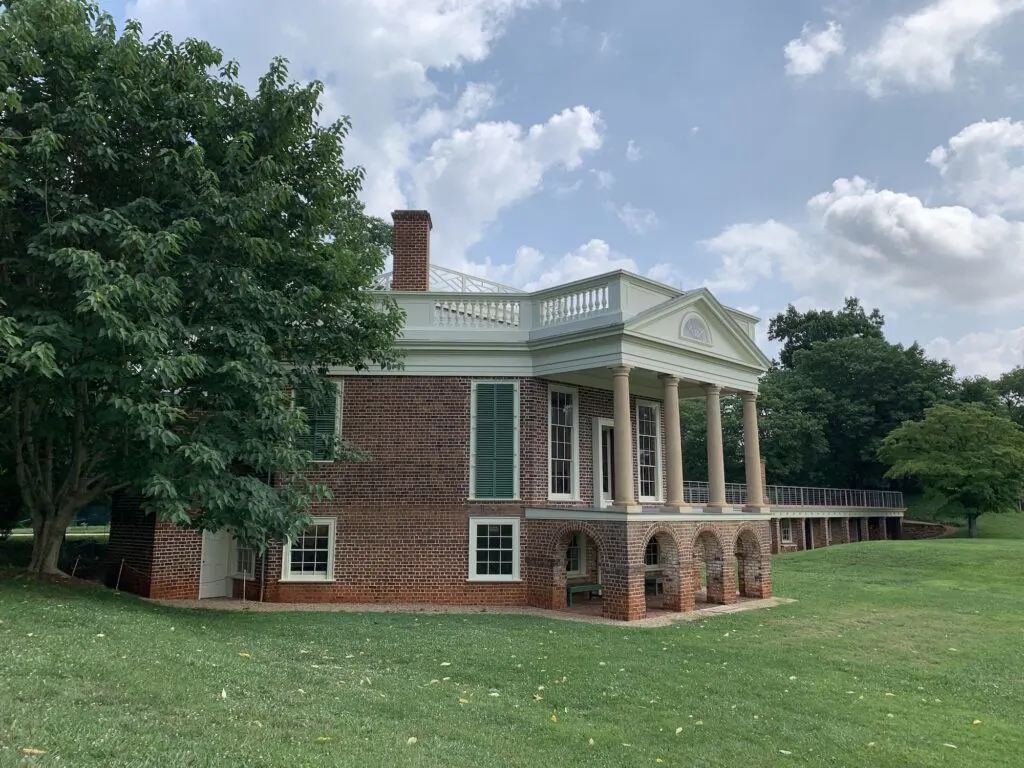 Be Sure to Get a Docent-Led Tour
A docent-led tour is definitely worth it for touring Thomas Jefferson's Poplar Forest. The guided tours are included in the price of your admission.
Only four docent-led tours are available each day. The hours are 10:30 a.m., 12 p.m., 1 p.m. and 2:30 p.m.
Be sure to sign up for a guided tour when you purchase your tickets. They are limited during the day and will book up in advance quickly.
While you can do a self-guided tour, it just loses some of the magnificence as hearing the tour guides talk about the architectural history. There is no discount for choosing to do the self-guided audio tour compared to the docent-led tour.
Helpful Tips
GPS brought us to the back employee entrance of Poplar Forest in the middle of a residential neighborhood. Check to see if your route is bringing you to the front entrance.
You will be walking across a field to get to the home. Bring appropriate shoes.
The flies and gnats here were horrible when we visited in July. We suggest bringing a hat with ear guards or insect spray that will repel gnats.
Admission is required to visit the grounds, even if you are not doing a guided tour.
Online sales for tickets stop 24 hours in advance. If you are deciding to visit at the last minute, you will need to call the Museum Shop or wait until you get to Poplar Forest and hope there is an opening for a tour time.
Dog kennels are available.
Location: 1542 Bateman Bridge Road Forest, VA 24551
Hours: 10 a.m. – 5 p.m., March 15-December 30
Cost: $18 for adults (Look into the $20 Combination Pass with Poplar Forest if you are visiting both.)
2. National D-Day Memorial
The National D-Day Memorial tells the story of one of World War II's most pivotal battles.
Most visitors ask why it is located in Bedford, VA. The town of Bedford experienced the most severe D-Day loses per capita compared to any other U.S. town or city.
This moving memorial stretches over 50 acres of monuments and displays.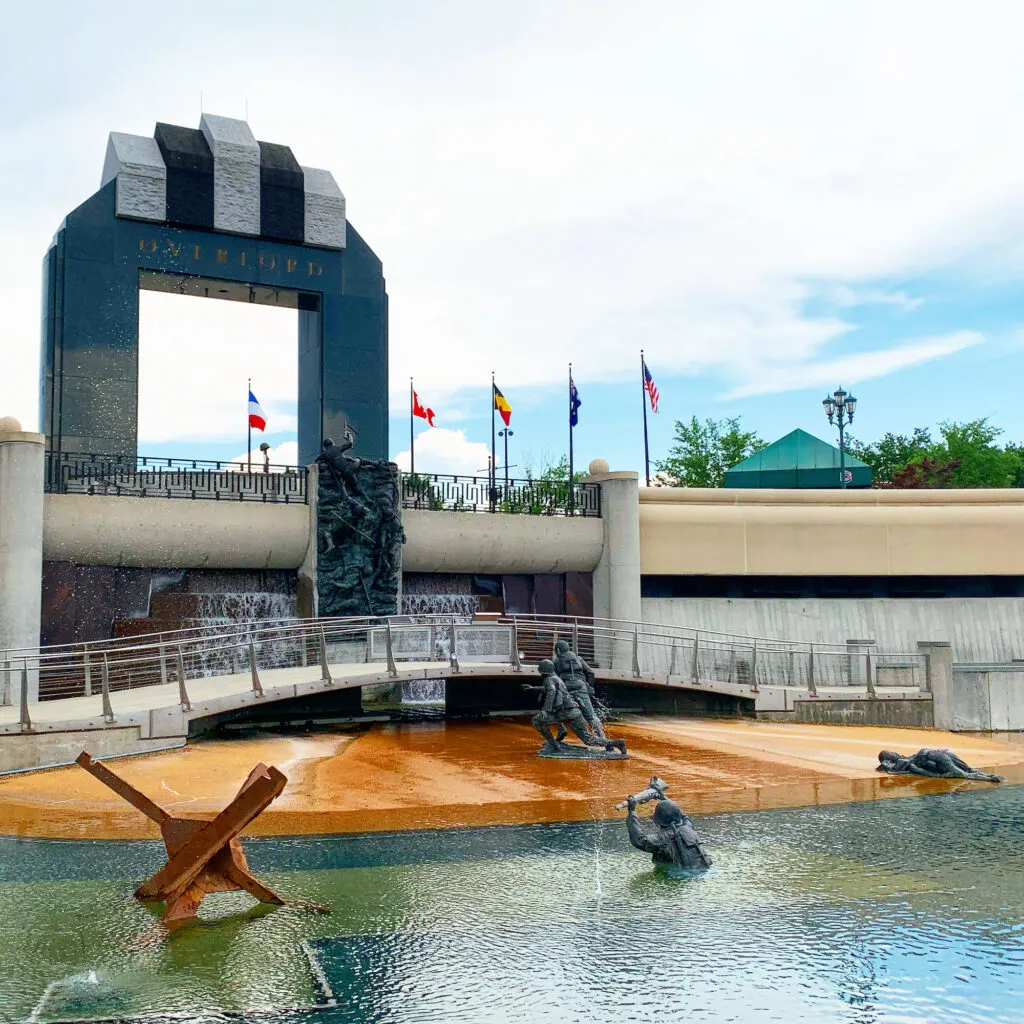 The most poignant and powerful is a symbolic re-creation of the Normandy beaches. Gun shot noises (created by air blasts) can be heard as powerful blasts of water shoot through the air, representing what the brave men had to endure when they ran onto the beaches in France.
Personally, I think the National D-Day Memorial is an absolute must-see for teaching kids the importance of history, and to pay respect to the brave men and women that lost their lives in the fight.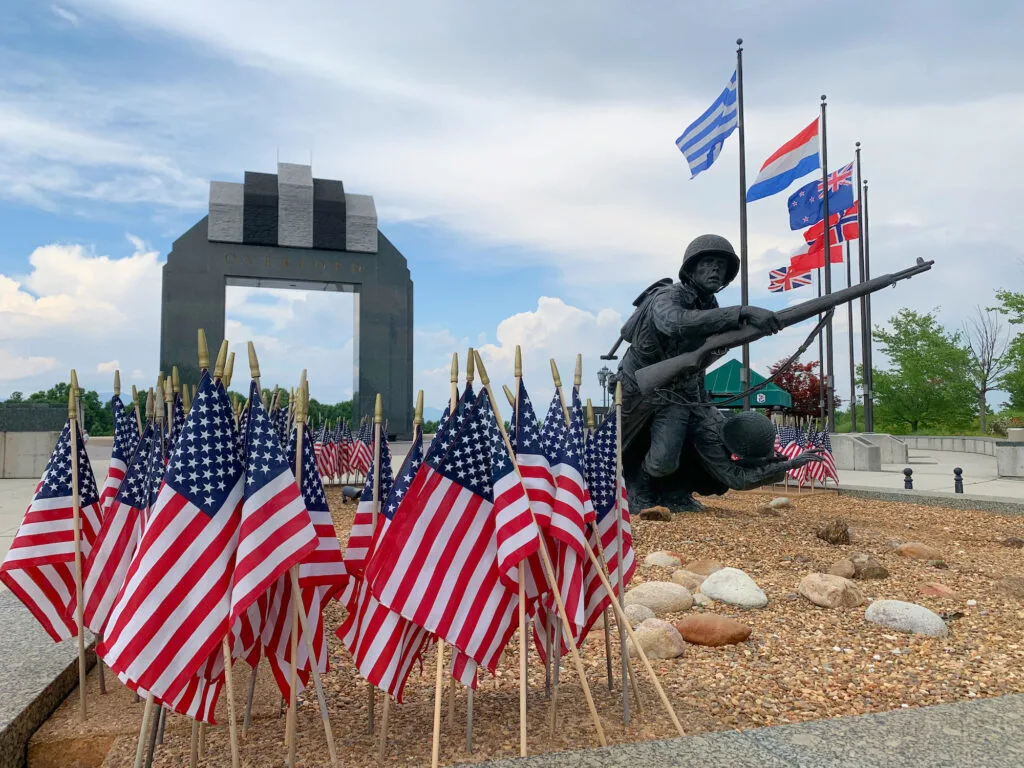 Indoor exhibits are available, too, if you are visiting during inclement weather.
Helpful Tips
Guided walking tours are available. They are included in the price of admission.
Self-guided tours are available, as well.
Golf carts are sometimes available for those with mobility issues.
Bring an umbrella or hat during the summer months to protect against the sun. There is little shade and you will be outdoors for quite a while.
Dog kennels are available.
There is ample space for RV parking! Don't worry if you are traveling with a big rig. You will easily find a place to park.
Location: 3 Overlord Circle, Bedford, VA 24523
Hours: 10 a.m. – 5 p.m.; Closed on Mondays from December-February
Cost: $12 for adults (Look into the $20 Combination Pass with Poplar Forest if you are visiting both.)
See our tour of both Thomas Jefferson's Poplar Forest and the National D-Day Memorial in our Youtube video:
3. Clifton Forge
Clifton Forge, VA is a railroad town just about an hour from Roanoke.
The small downtown is a great place to shop, dine and enjoy unique architecture.
The C&O Heritage Center is a must-do attraction for anyone that loves the railroad! You can walk through train cars and climb aboard cabooses for the ultimate rail fan thrill!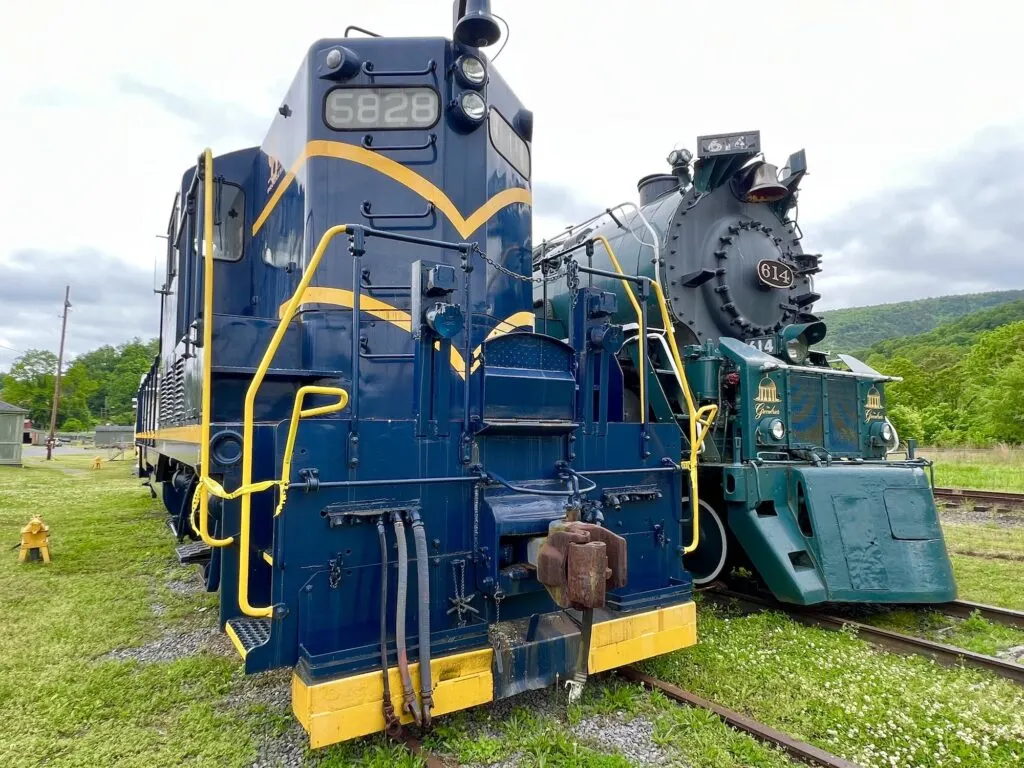 We have a great guide to Clifton Forge that shares more of the unique things to do in the town.
4. Hot Springs, VA
Hot Springs is well-known for the luxurious Homestead Resort, but that's not all you will find in this cute town!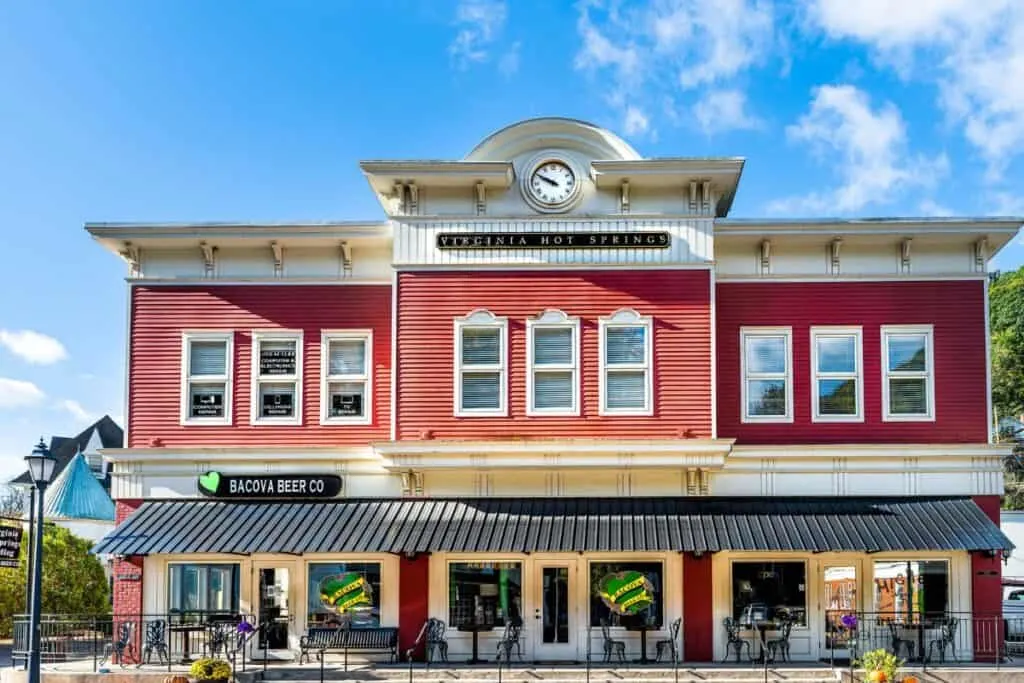 Yes, you can find actual hot springs in the town!
There are also plenty of wonderful places to enjoy nature and escape crowds.
Check out this list of 7 Top Things to Do in Hot Springs, VA.
More Virginia Day Trips
Want more day trip ideas? Check out these great guides: