Located in the mountain city of Roanoke, the Virginia Museum of Transportation is a celebration of the state's impressive transportation history. From the golden age of steam locomotives to the cutting-edge advancements in modern transportation, this museum offers a captivating experience for visitors of all ages.
The Virginia Museum of Transportation is one of our favorite things to do in Roanoke. It is a must-visit destination for railroad enthusiasts and history buffs alike. Plus, it is a lot of fun for kids!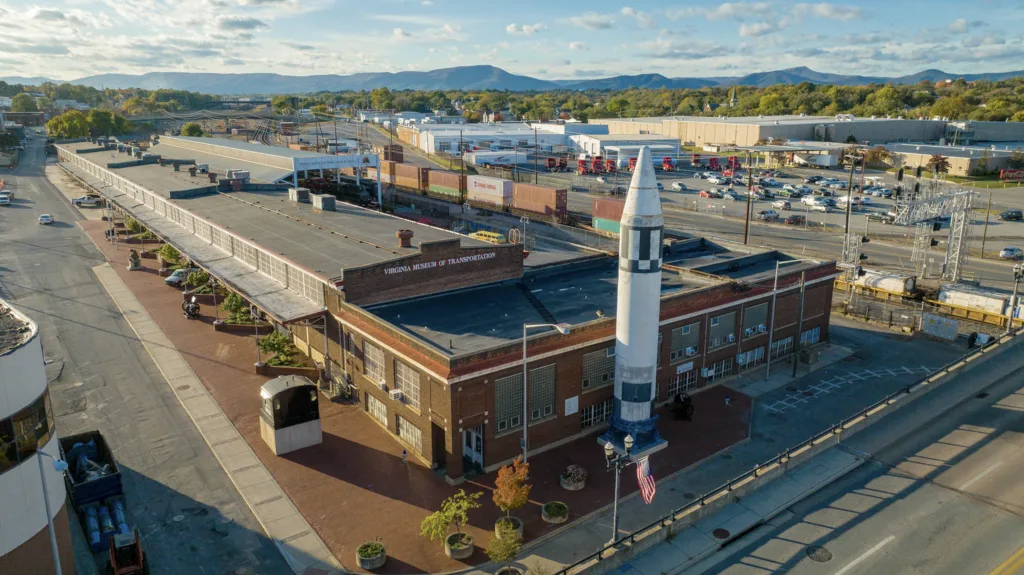 Virginia Museum of Transportation: Why It Is Important
The Virginia Museum of Transportation has a varied history that dates back to its establishment in 1963.
Originally focused primarily on railroad artifacts, the museum has changed over the years to become a comprehensive institution showcasing all aspects of transportation history.
The museum was initially established by a group of passionate individuals who recognized the need to safeguard the state's significant contributions to transportation and to provide a platform for education and exploration in this field.
In its early years, the museum's collection primarily consisted of railroad-related artifacts. Roanoke, being a prominent hub for the Norfolk & Western Railway (N&W), played a crucial role in the development of the region's railroad industry.
The N&W Railway, known for its steam-powered locomotives and extensive network, was an integral part of the area's economy and transportation infrastructure. The museum strived to honor this legacy by acquiring and showcasing various locomotives, rolling stock, and railway memorabilia.
The Norfolk & Western Class J 611 steam locomotive, which remains one of the museum's most iconic artifacts, holds a special place in the institution's history. The locomotive, often referred to as the "Queen of Steam," was a marvel of engineering and represented the pinnacle of American steam power. Restoring and preserving this historic locomotive was a monumental undertaking for the museum, and it has since become a beloved symbol of the museum's commitment to preserving Virginia's transportation heritage.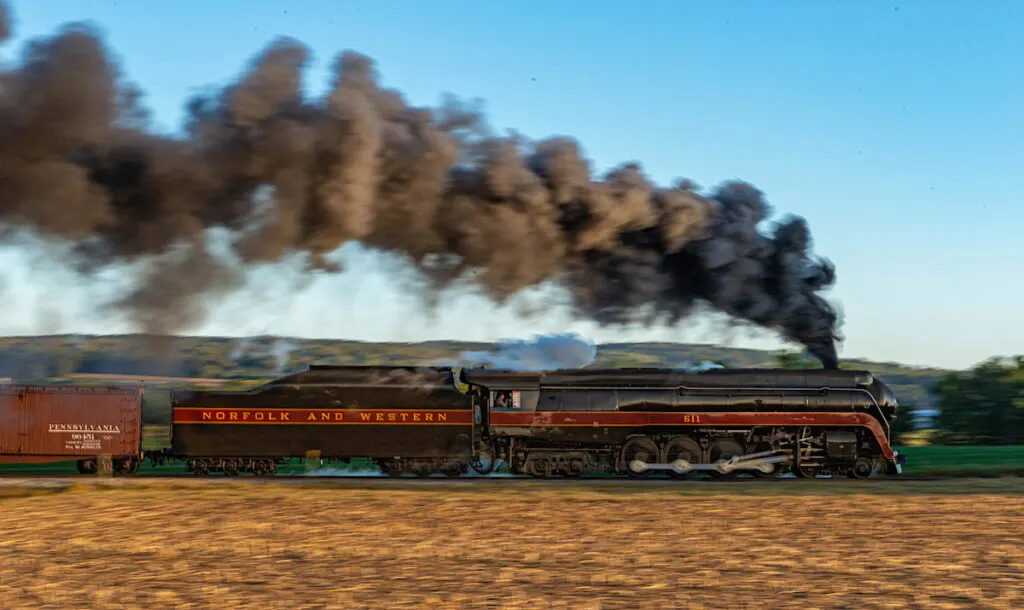 Over time, the museum expanded its focus beyond rail transportation. Recognizing the importance of aviation and automobiles in shaping Virginia's transportation history, the museum diversified its collection to include aircraft and vintage automobiles.
The museum's commitment to education and its focus on STEM subjects have made it a valuable resource for students and educators alike.
Exhibits and Collections
Rail Collection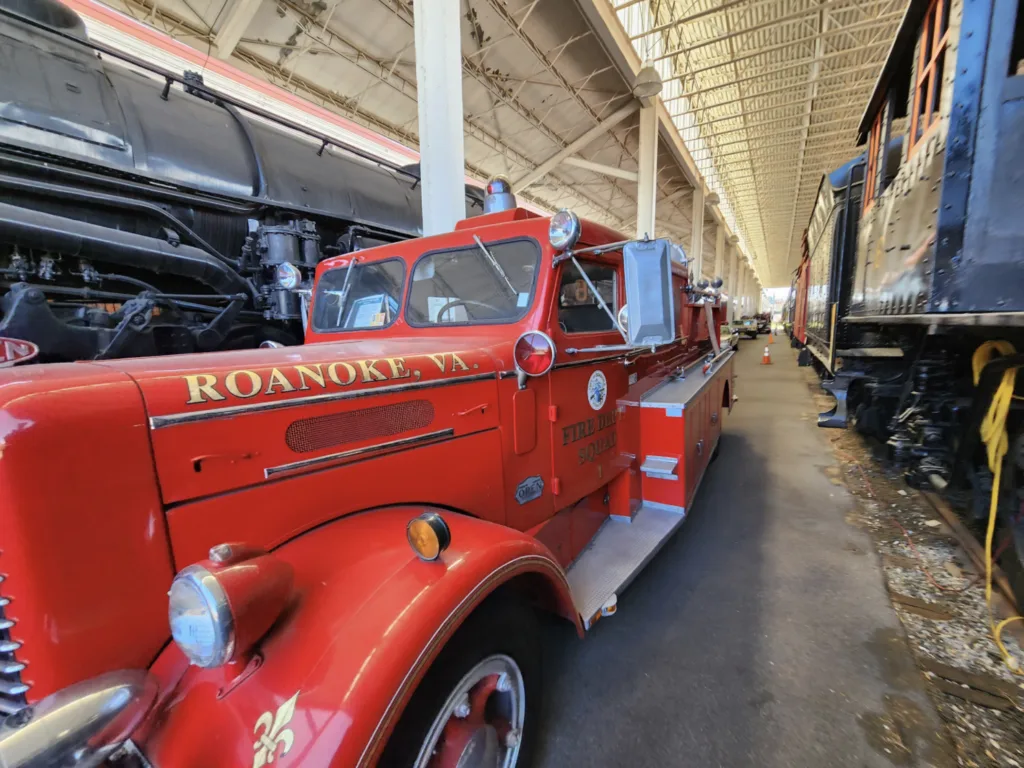 At the heart of the museum's exhibits is an impressive collection of vintage locomotives and rolling stock. Visitors can marvel at the iconic Norfolk & Western Class J 611 steam locomotive, which was once the epitome of American steam power.
The Rail Yard features a wide array of railcars, cabooses, and maintenance-of-way equipment, providing a glimpse into the operational aspects of rail transportation.
Inside the museum you can explore exhibits telling the story of railroading in the state of Virginia, how the railroad advanced the state and the nation's history.
Kids and adults can experience several hands on displays and climb into the real cab of a Norfolk & Southern Railroad SD40 diesel locomotive.
Also, be sure not to miss the museum's expansive O-gauge model railroad layout!
✳️ Read more about a day trip to Clifton Forge, VA to see more railroad history!
Automobile Collection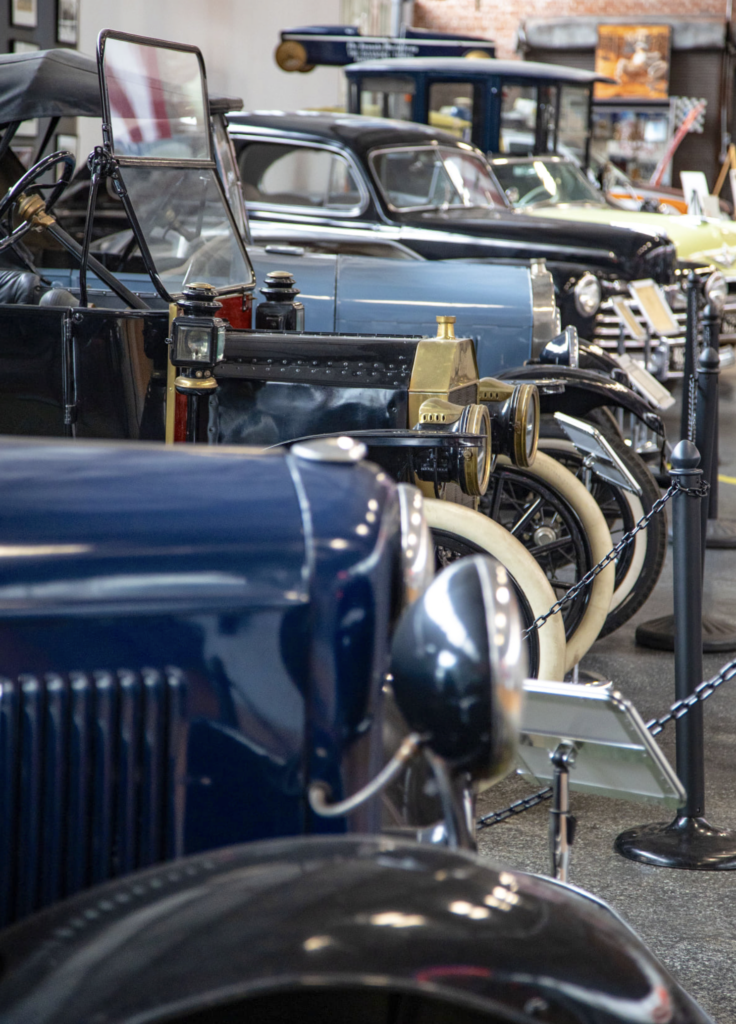 If you love vintage cars, you will be delighted by the impressive assortment of antique cars and motorized vehicles. With 30-plus cars on display, from classic models to unique prototypes, the automotive exhibit highlights the evolution of transportation on wheels relative to the history in Virginia and the surrounding area.
Visitors can witness the craftsmanship and design of vehicles from different eras, providing a nostalgic journey through automotive history.
From Model T's, to vintage race cars from famous racers hailing from Virginia, to modern day classic muscle cars, there are plenty of incredible vehicles to explore.
✅ Learn more about the best day trips from Roanoke, VA!
Aviation Collection
The museum boasts an extensive collection of aircraft, showcasing the evolution of flight. From biplanes to fighter jets, visitors can explore the history and technological advancements in aviation.
The highlight of the aviation exhibit is the iconic B-29 Superfortress "Virginia Belle," a World War II bomber that saw active service in the Pacific theater.
Special Exhibitions and Events
The Virginia Museum of Transportation regularly hosts special exhibitions and events to enhance the visitor experience. These temporary exhibits delve deeper into specific themes, offering a fresh perspective on transportation-related topics.
Looking for a unique place to host your child's birthday party or a school field trip? The museum can accommodate both of these fun activities for your next group event. While there, the kids can check out the cool interactive, hands on exhibits specifically tailored for younger children.
Additionally, the museum organizes events such as lectures, workshops, and guided tours to engage visitors and foster a deeper appreciation for transportation history.
Education and Homeschooling
The museum is committed to education and outreach, offering various programs for schools, families, and individuals. The transportation museum provides interactive exhibits and hands-on activities, allowing children to explore the principles of science, technology, engineering, and mathematics (STEM) through transportation.
The museum also offers guided tours and workshops that cater to different age groups, making it an ideal destination for field trips and educational outings.
Visitor Information
Location and Hours
The Virginia Museum of Transportation is located at 303 Norfolk Avenue SW, Roanoke, Virginia.
The museum is open from Tuesday to Sunday, from 10 am to 5 pm and closed on Mondays.
Admission
General admission is:
$12.66 for adults
$10.55 for seniors (age 60+)
$8.44 for children (ages 3-12)
$10.55 for students with a valid ID
Children under 3 years of age can enter free of charge.
Tickets are available for pre-purchase online or at the front desk during normal business hours.
Military and AAA discounts are available at the box office.
Parking
There is a limited number of free spaces directly in front of the museum.
Otherwise you will need to pay for street parking or the adjacent Salem Avenue parking garage.
We found it easier to walk from our downtown hotel in Roanoke to the museum as many of the major attractions in Roanoke are within walking distance of each other.
The Virginia Museum of Transportation is one of the great things to do in Virginia. Be sure to check out these fun finds, too: