Clifton Forge, VA is a charming small town on the Jackson River in the western part of Virginia, close to the West Virginia border. Known for its railroad history and as a current stop on Amtrak's Cardinal train route, it is a perfect place to spend the day shopping, eating and learning more about how the railroad helped shape this town.
Clifton Forge is a great day trip from Roanoke or as you are driving to other destinations in Virginia, West Virginia and North Carolina.
Whether you are visiting for the day, a long weekend or as a short stop on Amtrak, here are all of the best things to do in Clifton Forge, Virginia, including hotels and restaurants.
Where is Clifton Forge?
Clifton Forge is located in western Virginia in the Allegheny Mountains.
Clifton Forge to Roanoke: 1 hour
Clifton Forge to Charlottesville, VA: 1 hour 30 minutes
Clifton Forge to Lynchburg, VA: 1 hour 30 minutes
Clifton Forge to Charleston, WV: 2 hours 20 minutes
Clifton Forge is one of the stops on Amtrak's Cardinal train line.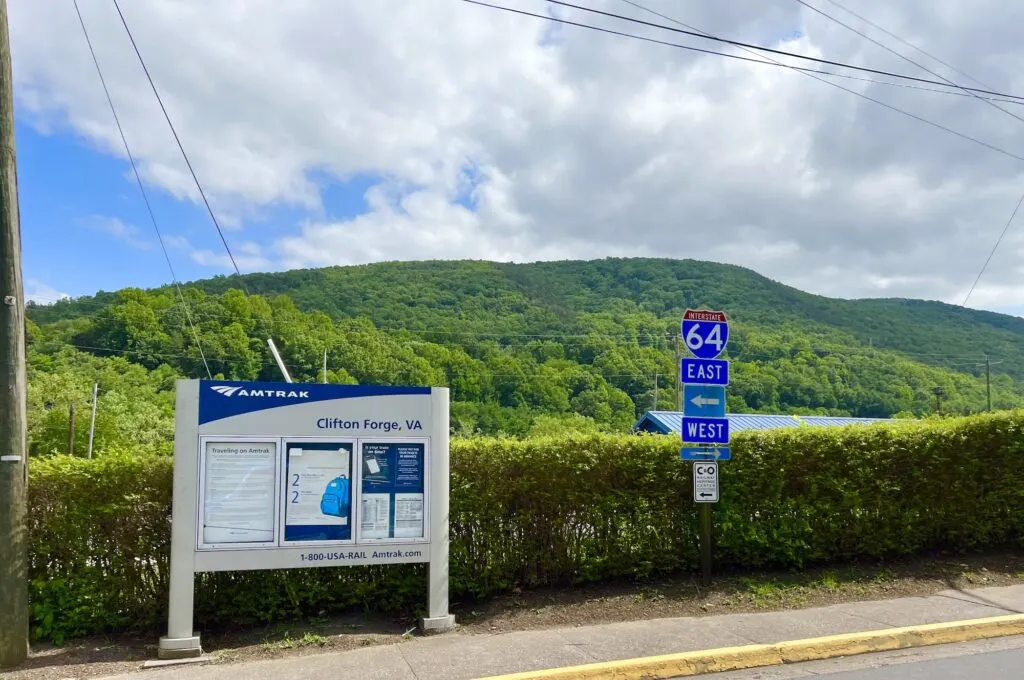 Things to Do In Clifton Forge, Virginia
We have visited Clifton Forge, Virginia twice on day trips and it has always been to see the C&O Railway Heritage Center.
This is a railroad town that is proud of their history. You really can't go far in Clifton Forge without being reminded of the rail history that built this mountain community.
However, mountain sports are starting to become more well known in this area, which has been named the Top Adventure Small Town twice.
C&O Railway Heritage Center
If you love to explore trains and train history, you must visit the C&O Railway Heritage Center.
Located right on the train tracks, you can watch trains go by in the distance as you wander around locomotives and cabooses parked on the rails in the heritage center.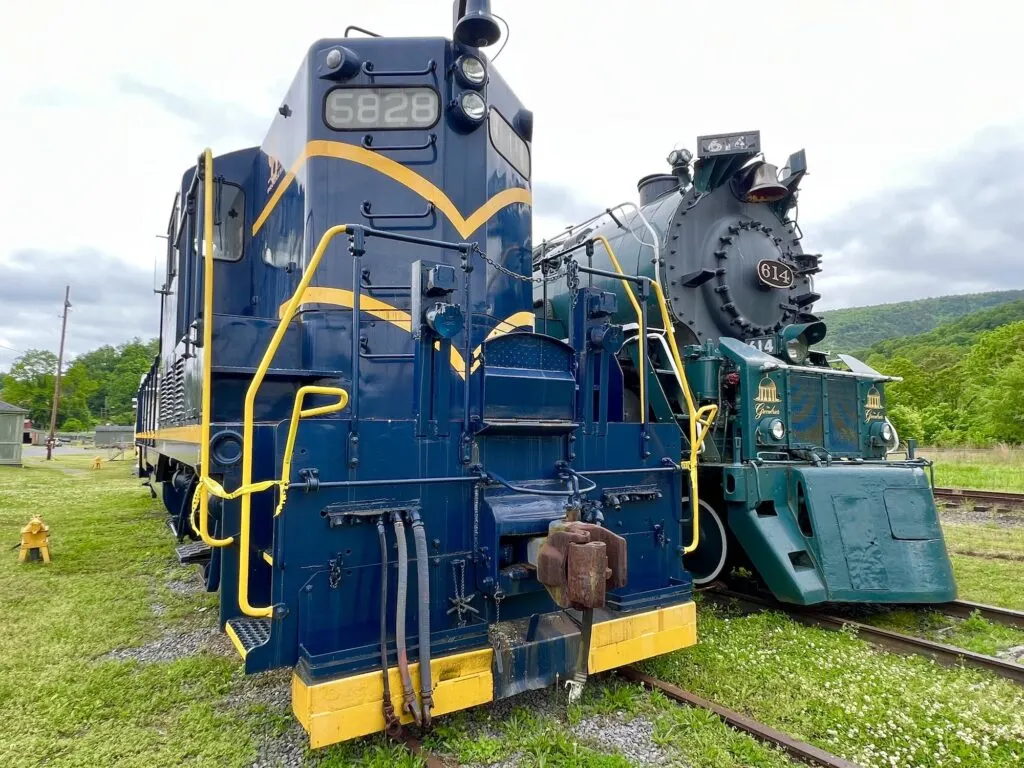 There are several historic trains to see, including:
C&O 4-8-4 Greenbrier Locomotive No. 614
Franklin Delano Roosevelt's train car
J.P. Morgan's Business travel train car
You can climb up and board several of the trains, which are great for photos.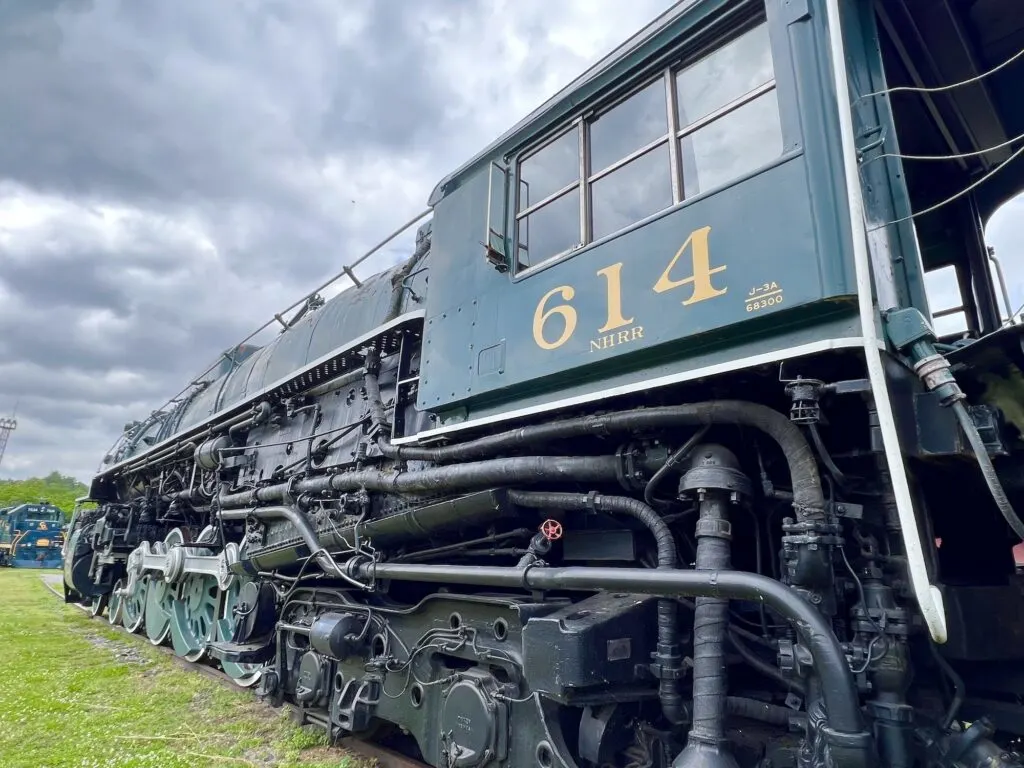 Read the fascinating history of The Chesapeake & Ohio No. 614 (found at the Heritage Center)!
The train museum is a wealth of information about the C&O railroad, as well as train history in general. There is a miniature train track, as well as lots of artifacts and memorabilia.
Kids will love the small train rides that they can take around the center. These are not always available, so be sure to call ahead for the schedule.
See what the C&O Railway Heritage Center looks like in our YouTube video:
If you are interested in railroad history, be sure to visit the nearby Virginia Museum of Transportation.
Alleghany Highlands Arts and Crafts Center
Local and regional artists are showcased at the Alleghany Highlands Arts and Crafts Center. Inside the walls are covered with impressive artwork (yes, even in the bathroom!).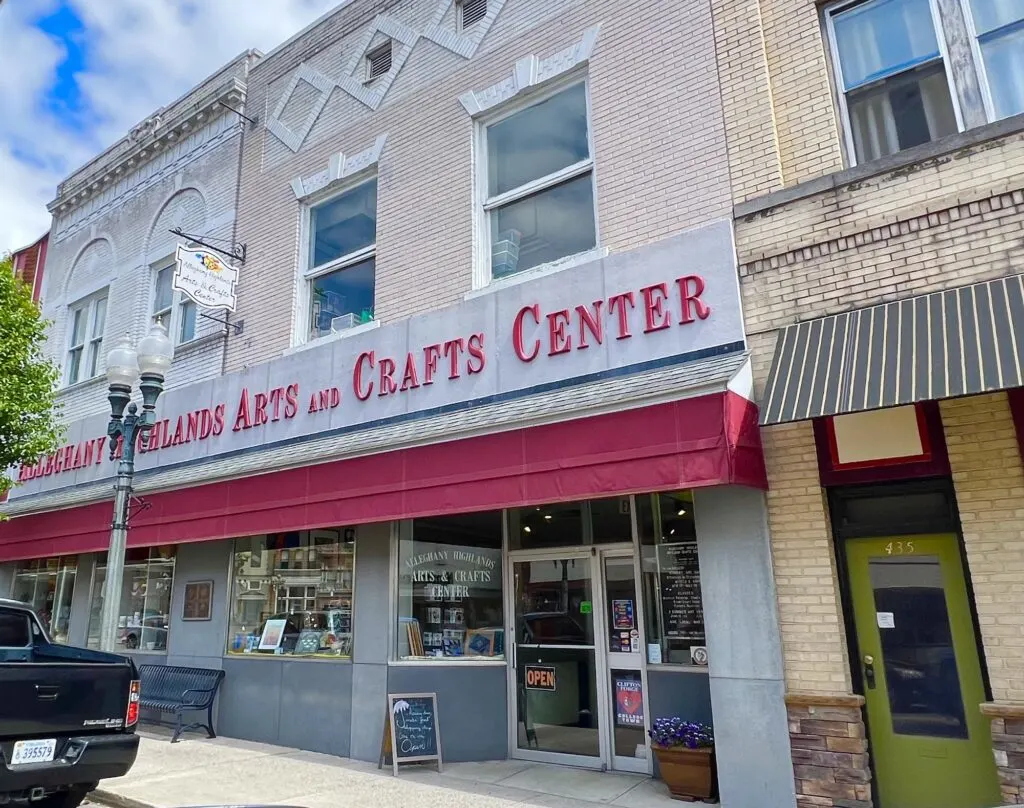 A gallery showcases rotating artwork.
The shop can be found in two rooms and is brimming with a variety of basketry, jewelry, cards, brooms, fine art and other great souvenirs to take home.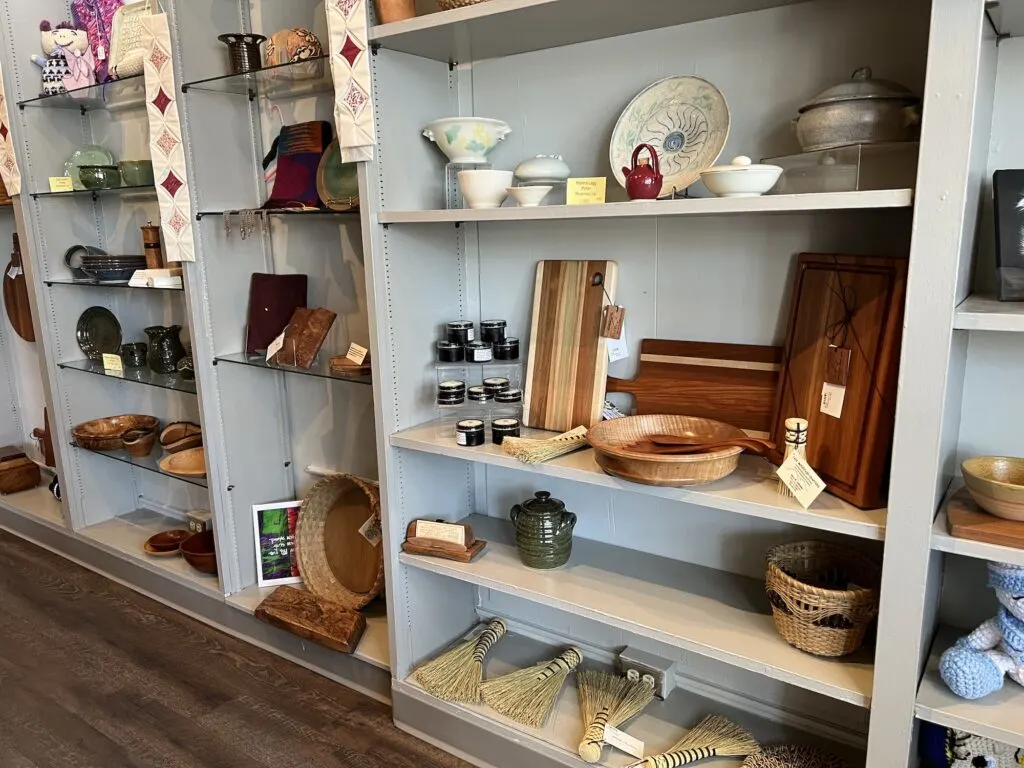 You will find a selection of price points, so don't be afraid to stop inside even if you are on a budget.
Shop Along Main Street
There are quite a few delightful stores along Main Street perfect for shopping. This downtown area is small, so you can easily see all of them in just an hour or two.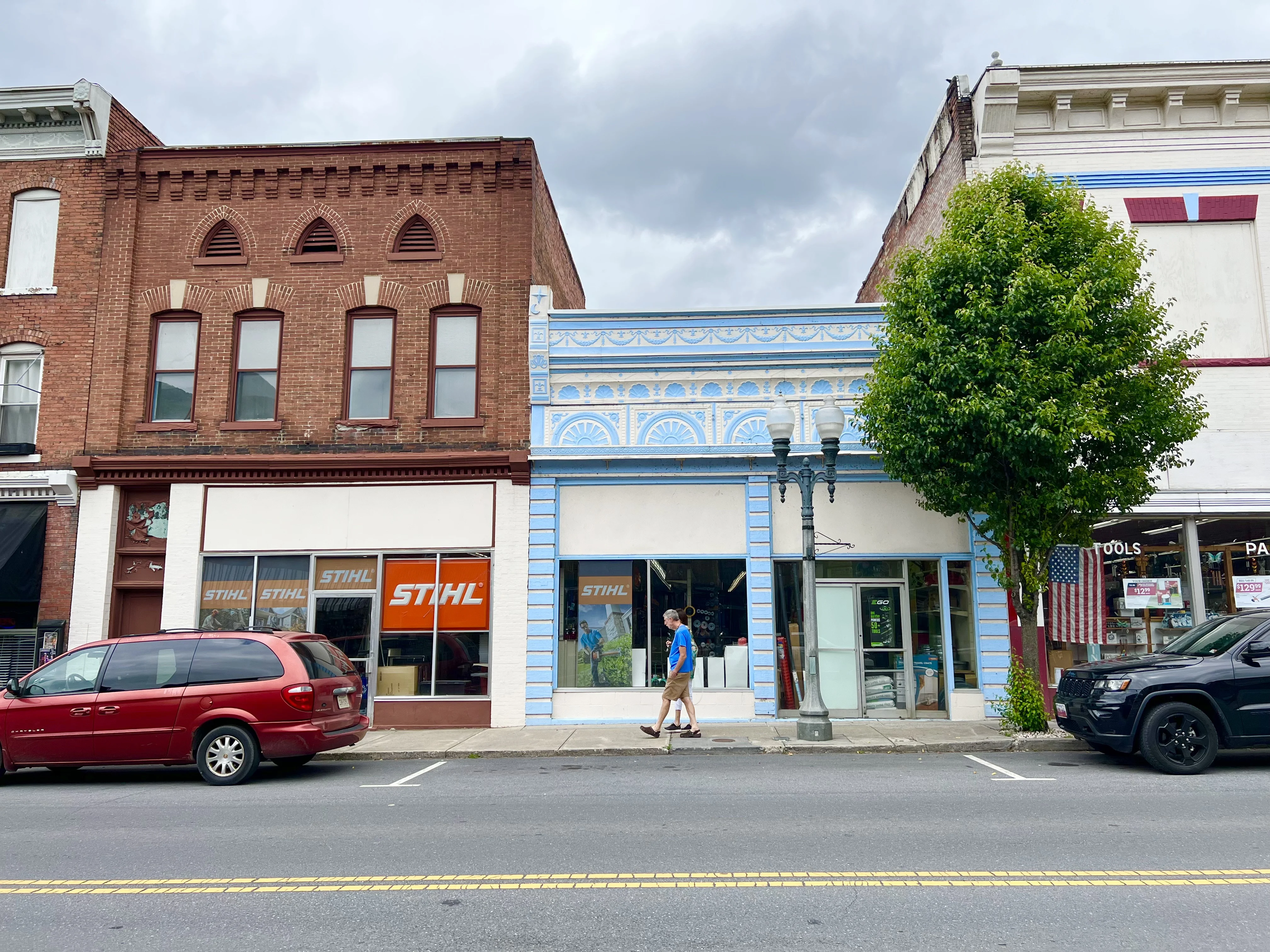 Among my favorites are:
Mountain Field Market (local artists and food)
The Bee Hive Stand (with lots of honey items!)
Hamilton Roots Plant Shop (a tiny store with lots of house plants!)
Lollie's Quilt Shop (a fun destination for anyone who loves colorful fabric!)
Ace Hardware Clifton Forge, VA (I love any hardware store located on a Main Street!)
Alleghany Highlands Arts and Crafts Center
When walking around Main Street, be sure to appreciate the architecture of downtown. There are so many colorful and unique store fronts. While showing their age and being worn down over time, you can imagine the colorful and vibrant city center that existed during the railroad days.
Historic Masonic Theatre and Amphitheatre
Gene Autry, Hopalong Cassidy, Burl Ives and The Drifters have all played at the circa-1906 Clifton Forge Masonic Theater in downtown.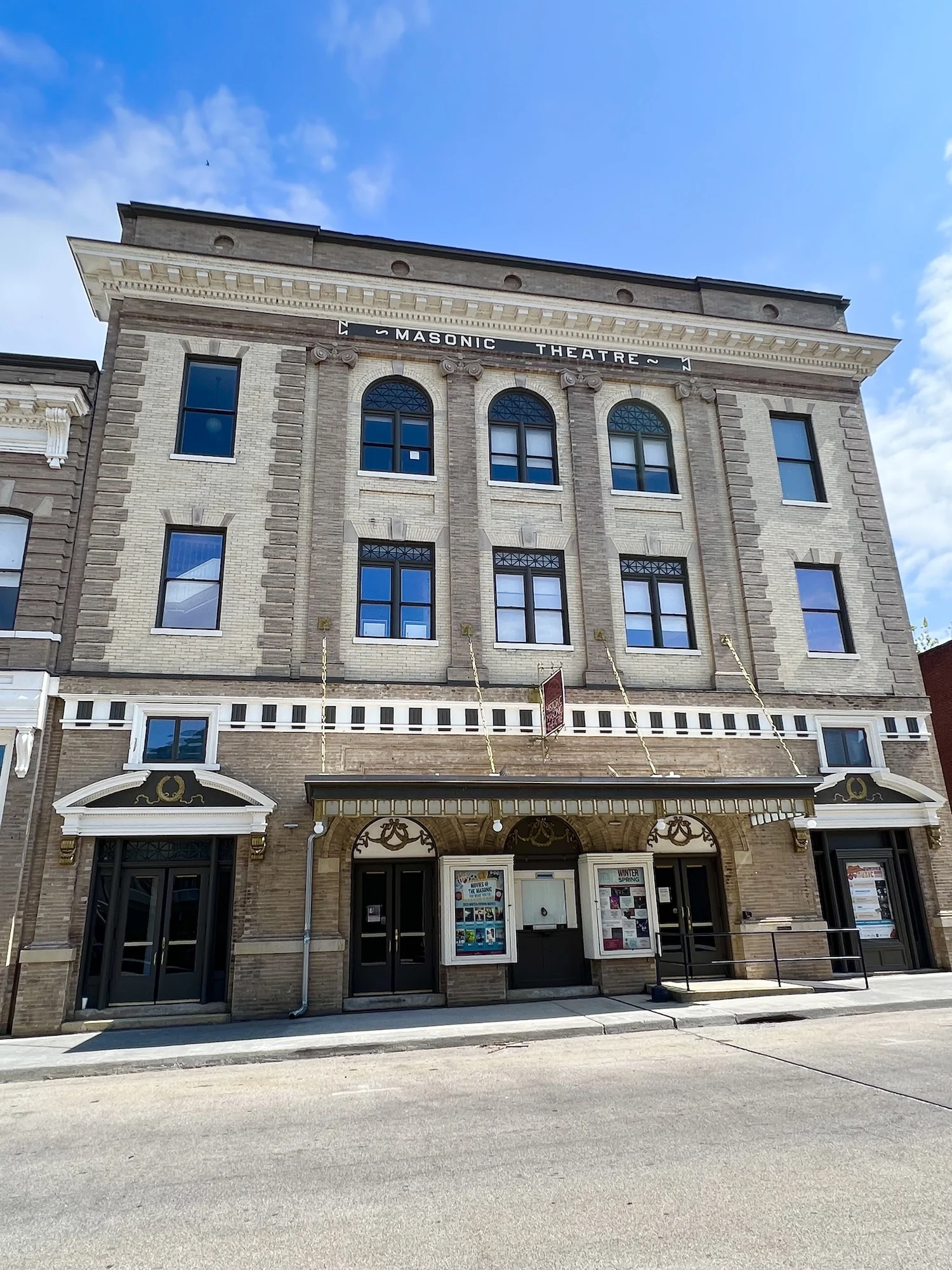 Plan your visit around one of the shows held throughout the year in this stunning Beaux-Arts building.
If you aren't in the town of Clifton Forge during a performance, be sure to walk by to appreciate the architecture!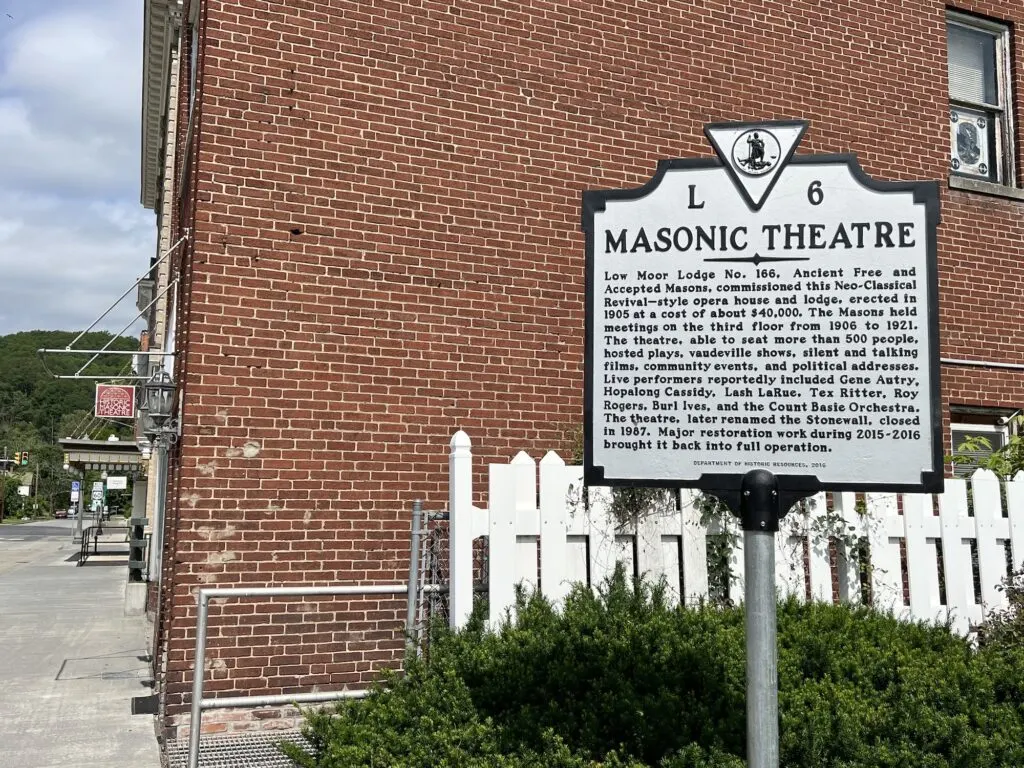 We have seen that they might have free tours of the building, but they need to be scheduled in advance and it depends on availability.
Mountain Field Market
Located just off of Main Street, you won't want to miss a visit to Mountain Field Market. Inside, there are a variety of handicrafts for sale made by local crafts people.
You can also pick up some edible gifts, such as jams, jellies and preserves. Or get a sandwich or huge cookie to-go.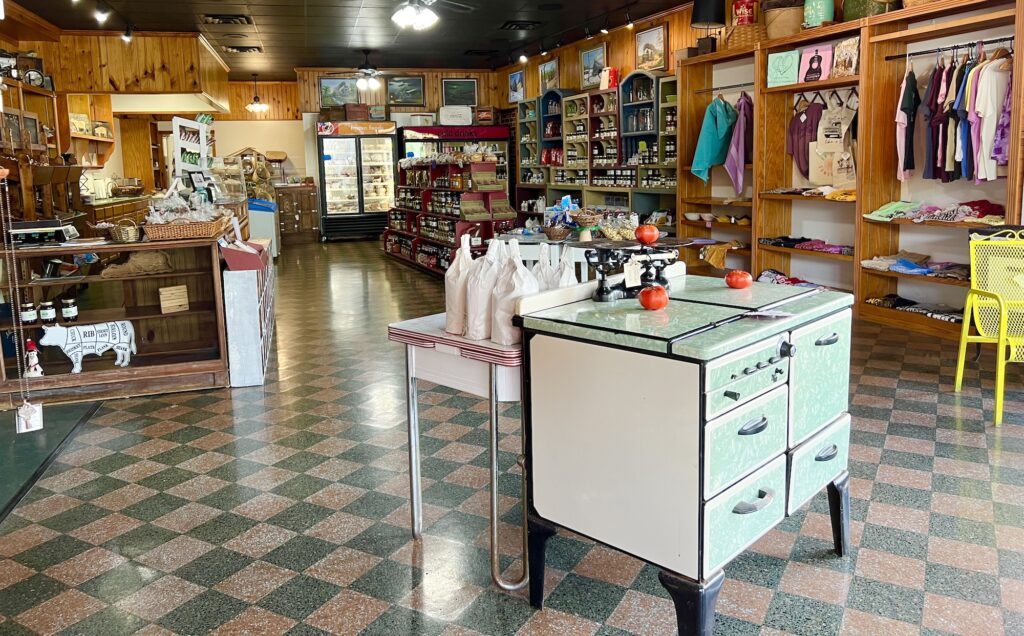 Museum of Antique Coffee Mills
A quaint museum created by a collector of antique coffee mills, this impressive collection is housed in the Caffe Museo, which is also one of the best places to eat in Clifton Forge!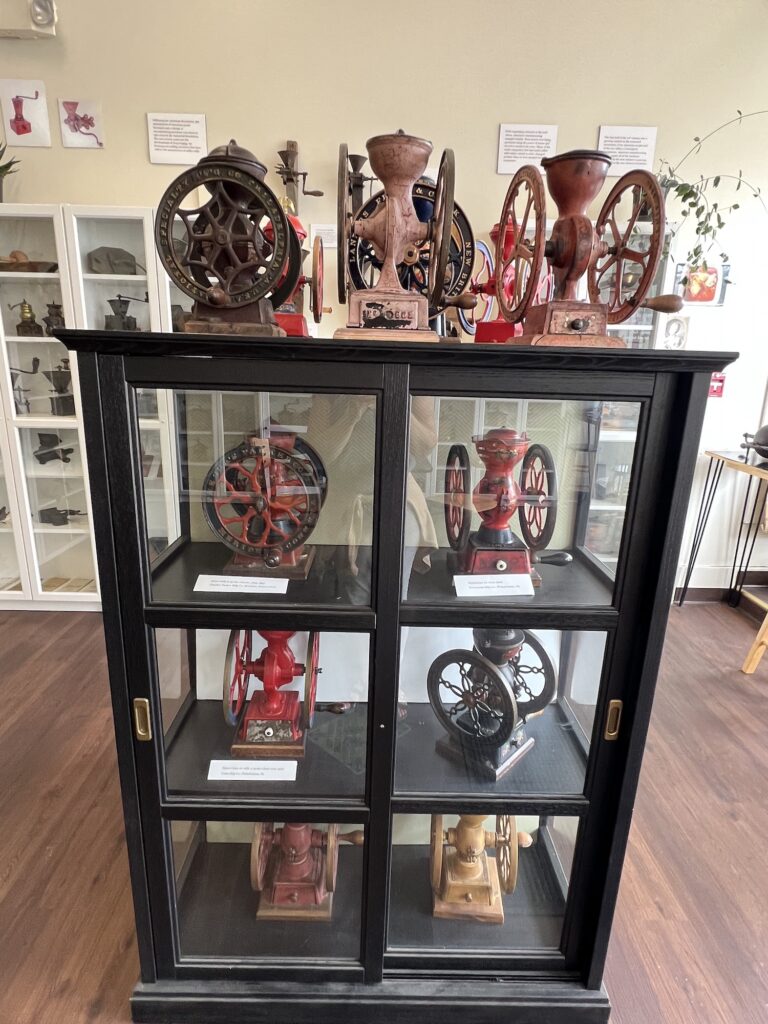 The owner's husband's family lived in this building over the years. What a wonderful way to come back to your hometown and make it better for the next generation.
There is also art and coffee to buy, as well.
See a tour of the museum in this YouTube video:
Clifton Forge School of the Arts
Sign up for a class or just enjoy the art exhibits at this arts education facility on Church Street. There are a variety of classes for kids and adults.
Is Parking Free in Clifton Forge?
Yes, there is free public parking on Main Street, as well as public parking lots.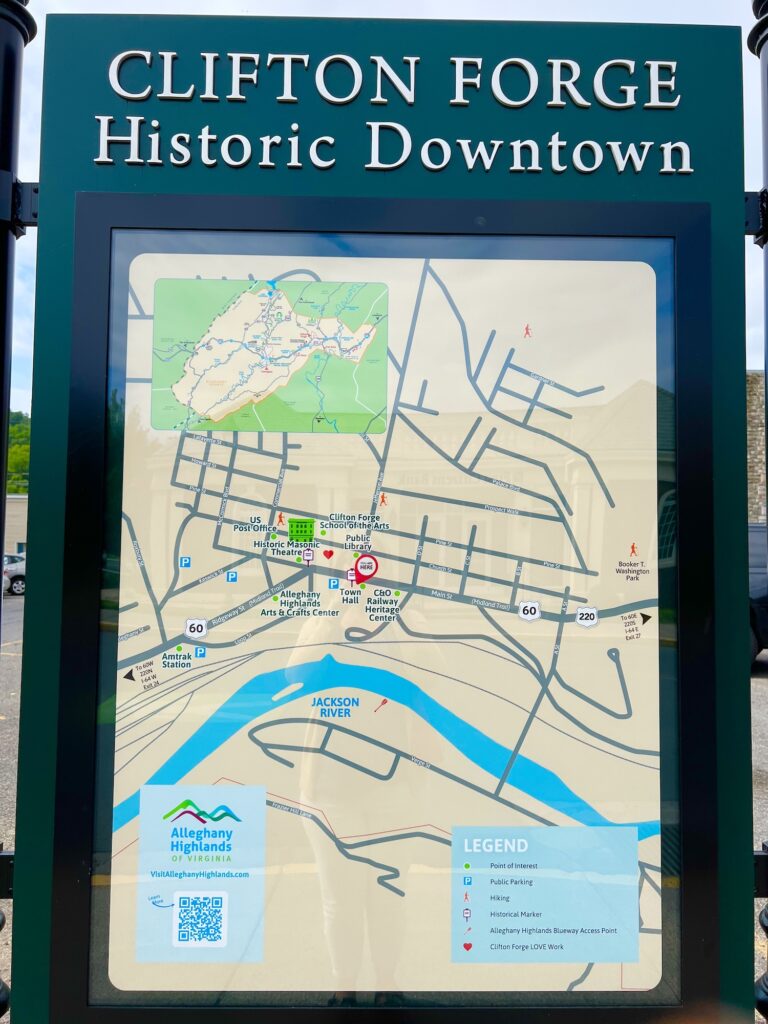 If you are traveling with an RV, you could probably park at the C&O Heritage Center as long as you have a smaller Class C or Class A motorhome. Those traveling with a long travel trailer might have a hard time turning around in the parking lot.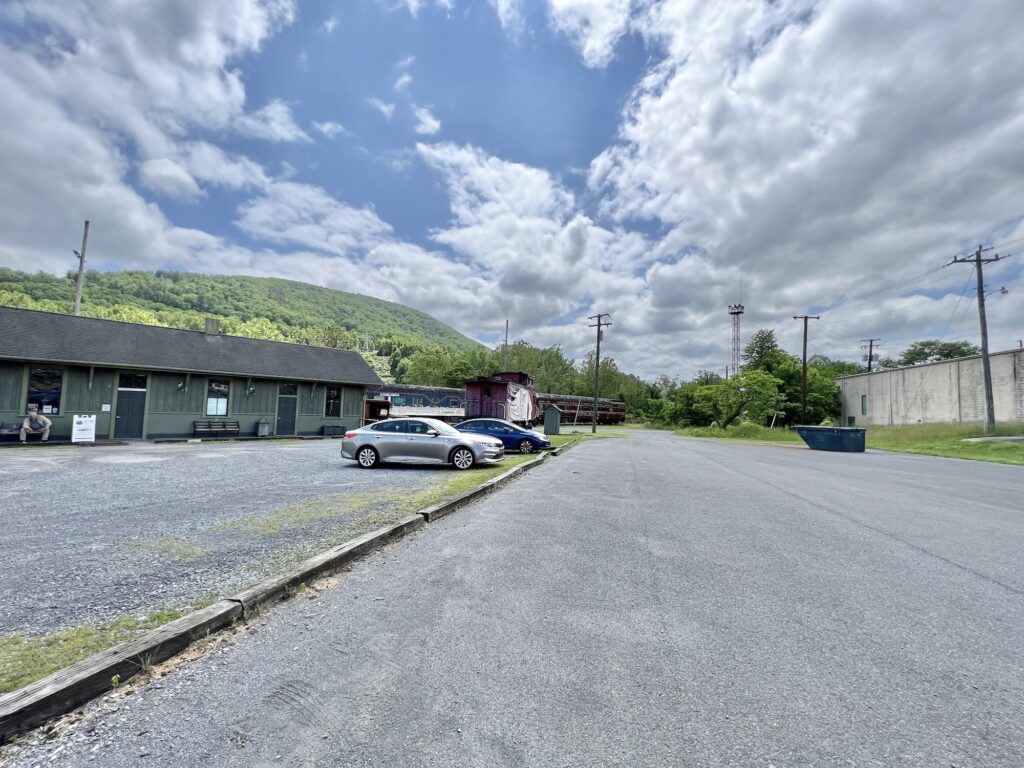 Restaurants in Clifton Forge, VA
There are quite a few places to get a great meal in Clifton Forge. We tried out as many as we could during a one-day stay!
Michael's New York Style Pizza
Michael's Pizza is in the middle of Main Street next to the Allegheny Highlands Arts and Crafts Center. Michael's New York Style Pizza has huge pizzas, of course, as well as a variety of hot sandwiches and a salad bar.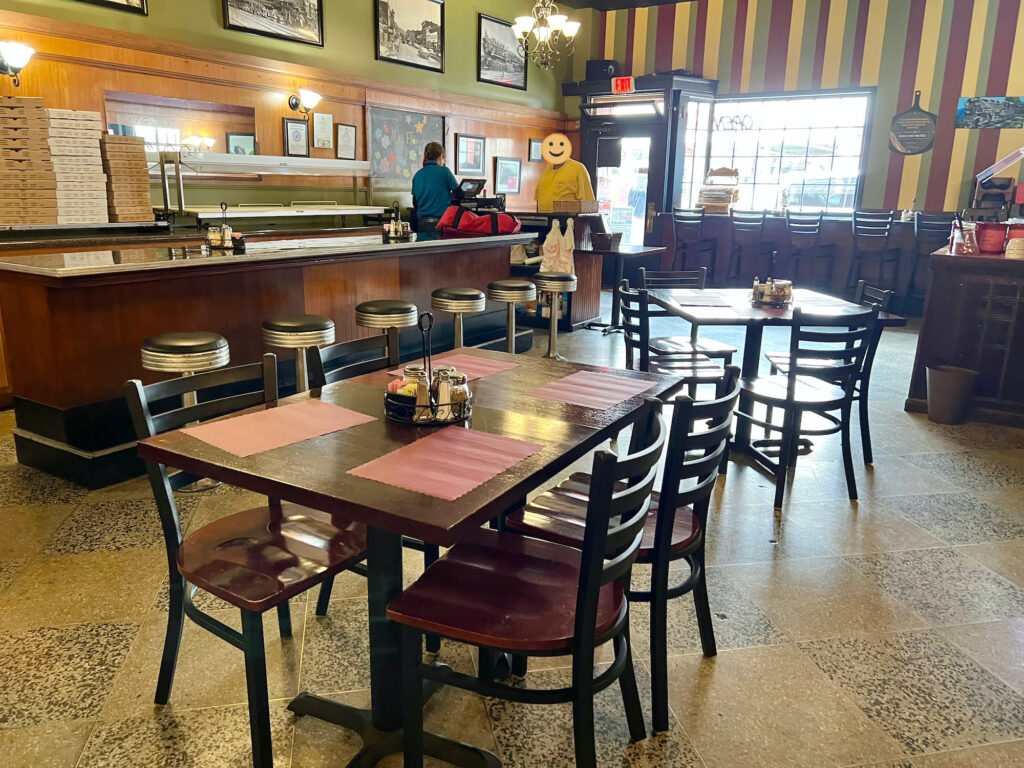 We tried two slices of meat-lovers pizza and the Elroy's Special (or Enzo's Special…I can't remember) hot sandwich which was amazing!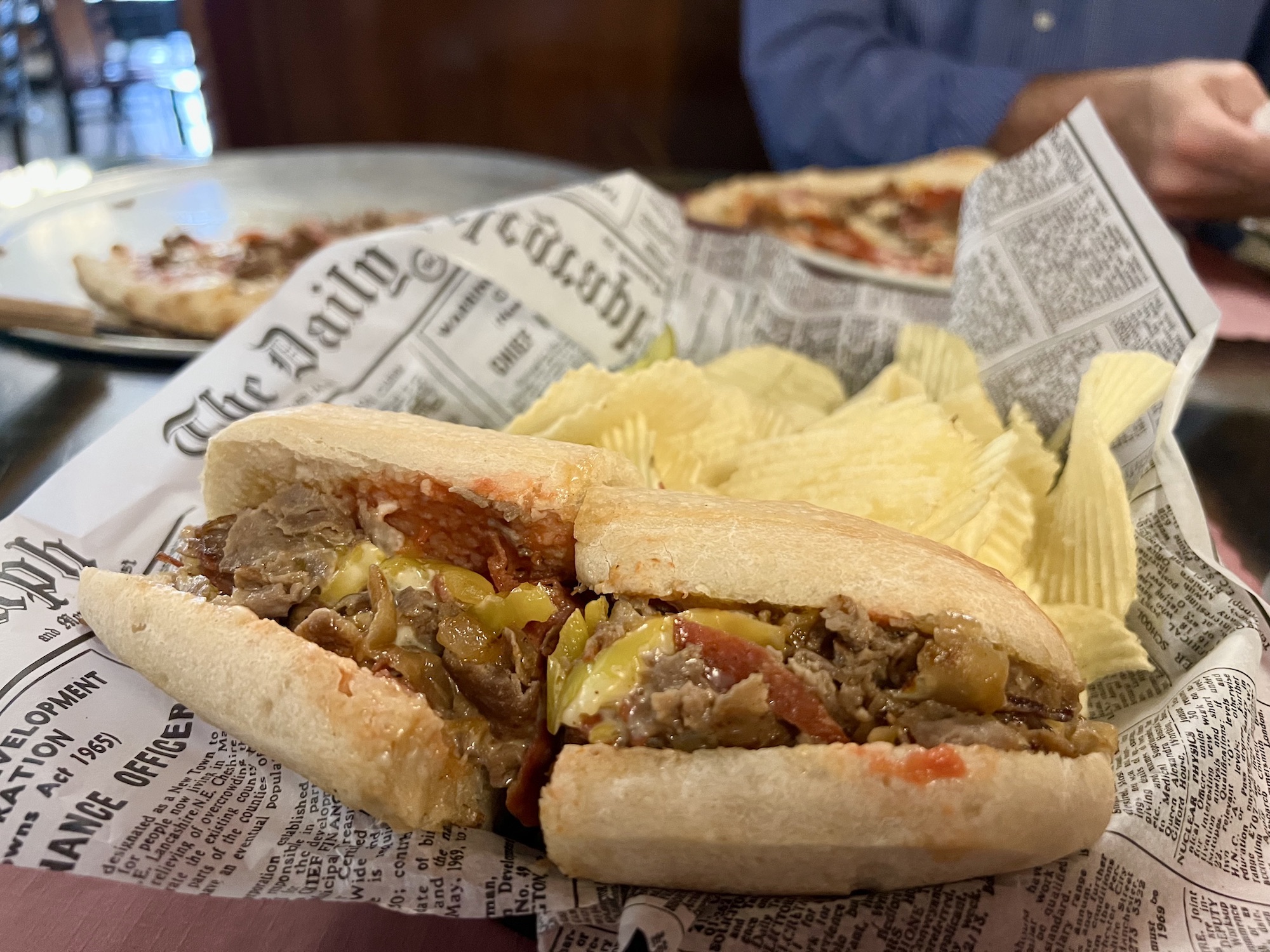 Caffe Museo
Caffe Museo was a surprising find! This coffee shop and cafe is in America's only antique coffee mills museum!
In addition to the coffee, lattes and teas, you can order a light meal or some of the bakery goods. I tried the apple and cheddar panini and it was delicious.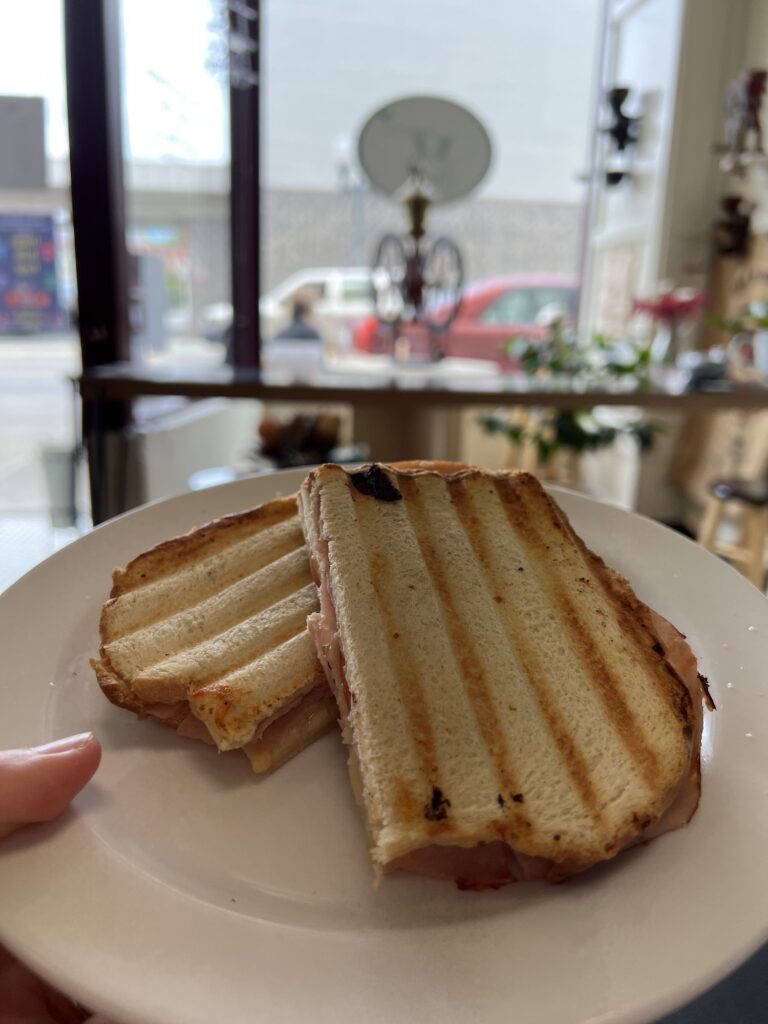 Get a scoop of gelato here in a variety of flavors. We had the tiramisu gelato and it was fabulous, with big pieces of lady fingers sponge cake in a creamy gelato. I highly recommend!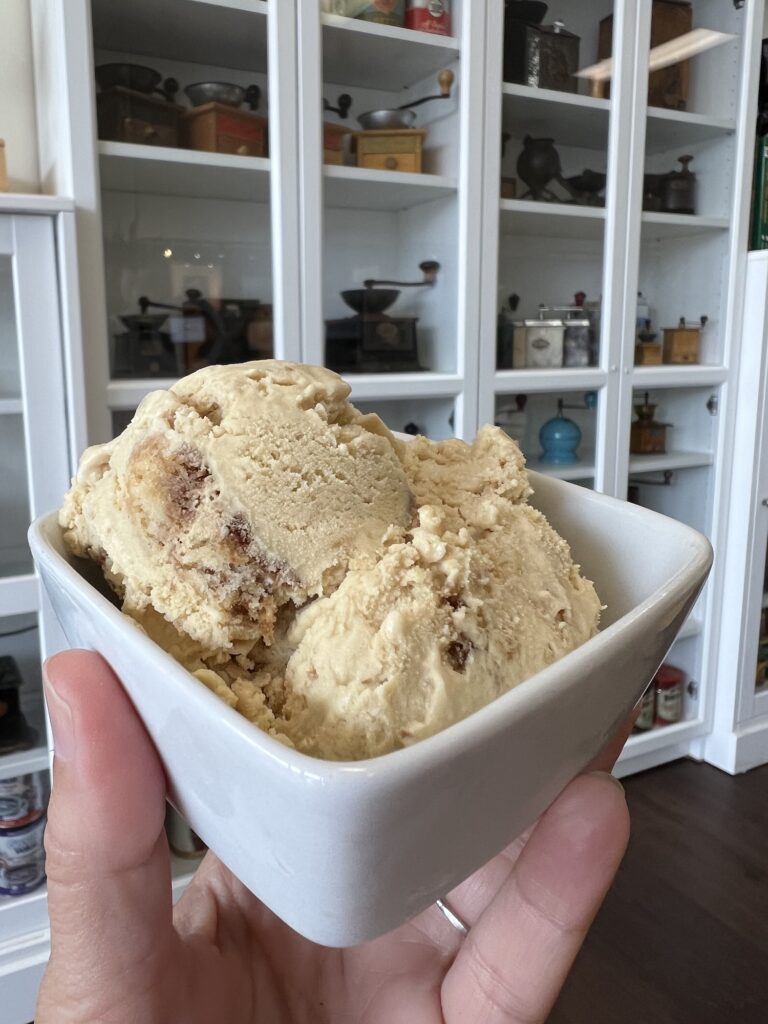 The Way Coffee Shop
The Way Coffee Shop is a blessing to the community with their messages of faith inside and a lovely selection of free Christian books to enjoy.
Breakfast and lunch are served, though the menu choices are limited. We picked up a huge cinnamon roll to go and it was delicious!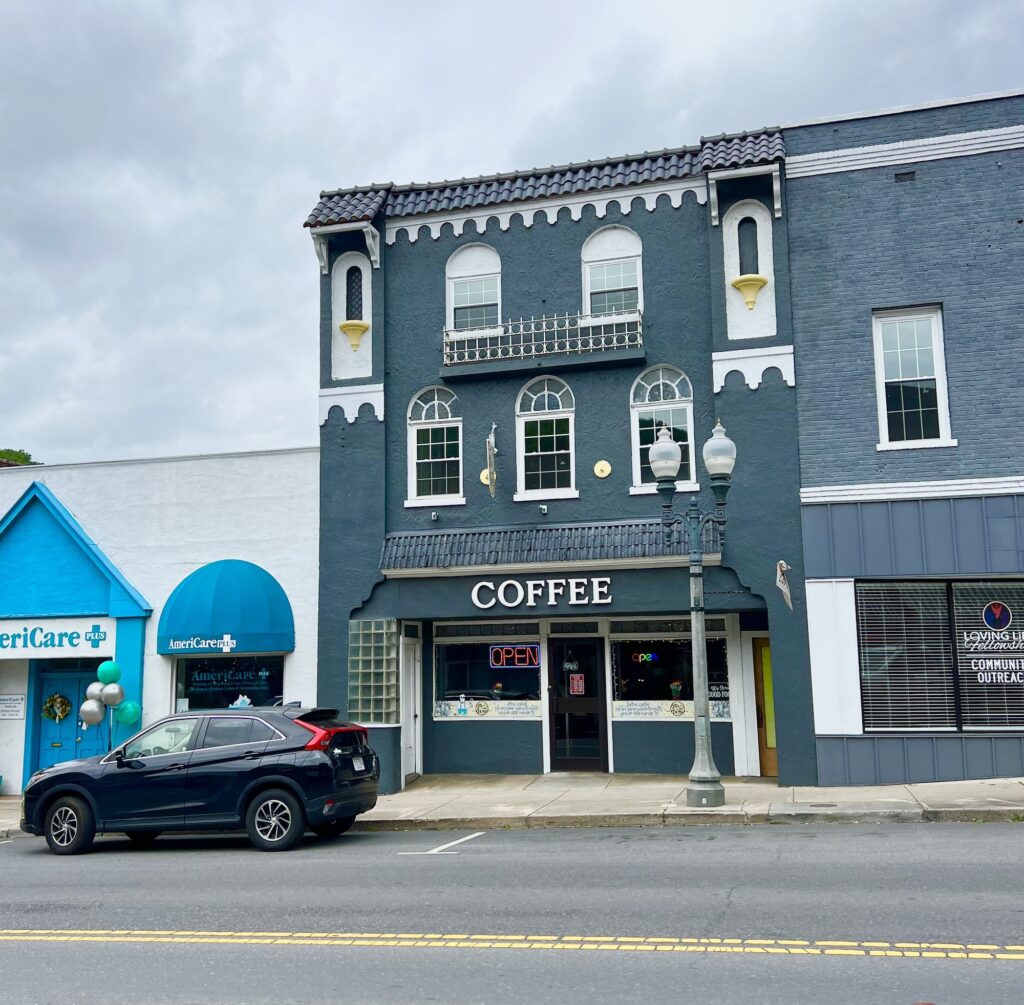 This is a great place to get some work done, too, in their window-front work area with plenty of outlets for staying connected.
Honorable Mentions
We didn't have time to eat everywhere, but here are some more Clifton Forge, Virginia restaurants:
Jack Mason's Tavern & Brewery
42 Deli
Clifton Forge, VA Hotels
When we made plans to visit Clifton Forge, our original intent was to spend the night. However, after looking at hotel options in the town, we quickly decided to make the destination a day trip from Roanoke, VA.
There are limited hotels in Clifton Forge, VA. If you plan to spend the night, be sure to book a room as soon as you can.
Clifton Forge Bed and Breakfasts include:
The Red Lantern Inn This bed and breakfast has several rooms, but few have private bathrooms. Red Lantern Inn is located within easy walking distance of downtown (just a block or two away).
Ridgley Bed, Breakfast and Historic Gardens A lovely small inn with just a few rooms. The tranquil gardens are a selling point, as is the hot breakfast. If you are coming into town on Amtrak, the hosts will pick you up at the train station. Ridgley Bed and Breakfast was top on our list of places to spend the night, but there is a two-night minimum on the weekends and we didn't have enough to do in the area to justify spending two nights.
Hillcrest Mansion Inn This 7-room bed and breakfast offers luxury accommodations in Clifton Forge. Hillcrest Mansion Inn has gourmet, multi-course breakfasts, afternoon wine socials, chocolates for turn down service, nightcaps and other amenities Each room is decorated to a different time period and every room has a private bath.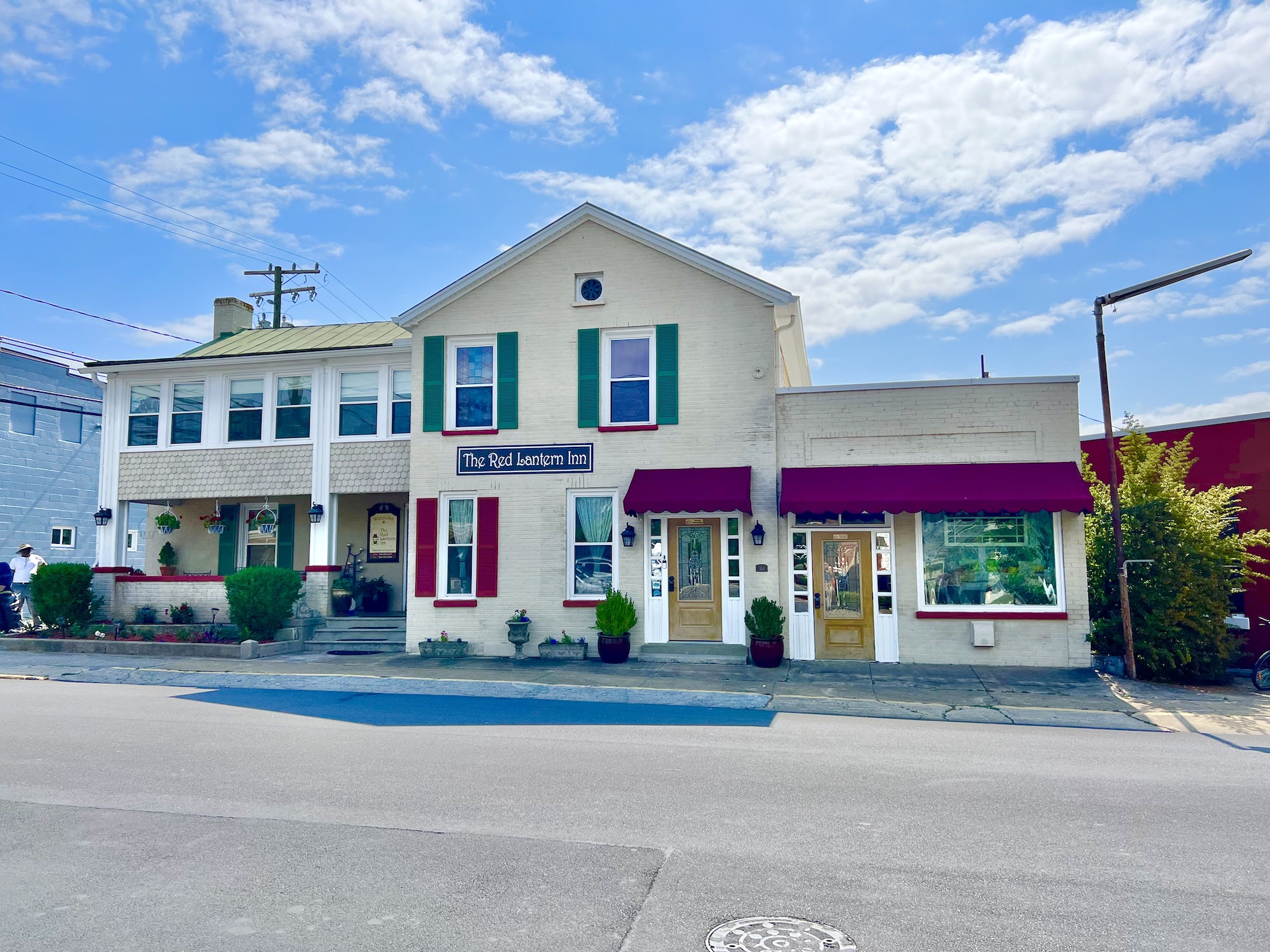 There are a few Air BnBs available in Clifton Forge, including one on Main Street.
When we couldn't find a room in Clifton Forge for a Friday night, we started looking at nearby towns for a hotel. We soon discovered there aren't a lot of options that are close to the town and also budget-friendly.
Covington, VA was the closest city with chain hotels, but the prices were insane considering we were basically staying in the middle of nowhere with nothing else we wanted to do besides go to Clifton Forge, which is about 8 miles away.
If rooms had been available at bed and breakfasts in Clifton Forge during our visit, they would have been comparable with the prices at a Hampton Inn in this city.
The next nearest city with budget-friendly hotel chains was North Roanoke. This is where we stayed at the Tru by Hilton and suggest it as a great place to spend the night. It is a little less than an hour away from Clifton Forge.