Whether you're looking for a weekend getaway or a beautiful place to live, you'll find the perfect spot in one of these Virginia mountain towns.
The Blue Ridge mountains are filled with small towns that everyone will love. If you want outdoor adventures, there are plenty of Virginia state parks nearby for hiking and camping.
And if you just want to explore charming main streets with historic buildings and cute restaurants, you're my kind of person. Let's find your new favorite spot in the Appalachian Mountains.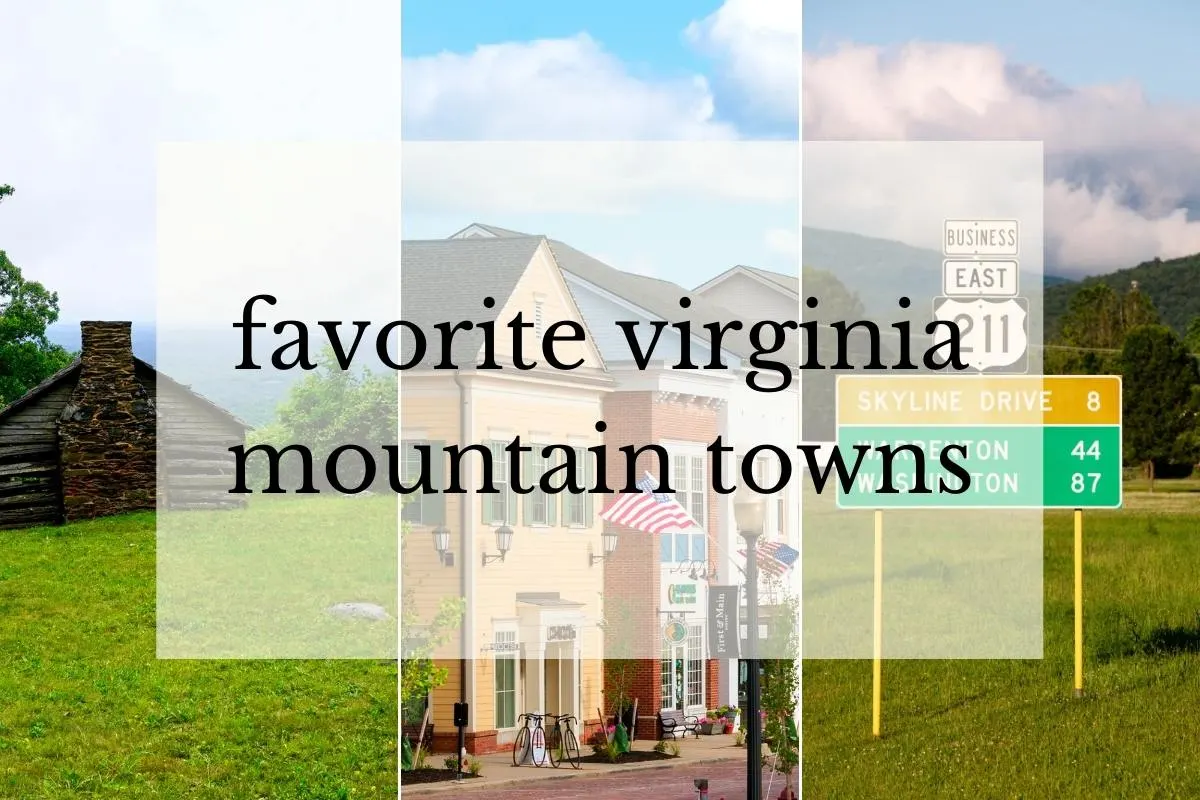 Here are the best Virginia mountain towns
⭐️ Need a quick recommendation? If you want a weekend stay with a cute town and nearby adventure, pick Luray. It's an easy drive from the DC area, with lots of great restaurants and coffee shops and plenty to do. ⭐️
1. Galax
Galax is a mountain town located in Virginia at the nexus of water trails, rail trails, and hiking trails. This makes it a great place to visit for those who love the outdoors. There are plenty of activities to keep you busy, including fishing, hiking, biking, and more.
Galax is a town in Virginia best known for the Galax Old Fiddler's Convention, which has been held there every year since 1935. Musicians from all over the country come to compete in this prestigious event, and the townspeople take great pride in their annual tradition.
In addition, the Blue Ridge Music Center is located just 12 miles away from Galax. This center is a great place to learn about traditional Appalachian music and its history. There are also plenty of outdoor activities available in the area, such as hiking, biking, and fishing.
2. Pearisburg
Pearisburg is a town in Virginia located at the convergence of the lower New River and the Appalachian Trail. The city has a rich history and is a popular tourist destination for those who love the outdoors. Visitors can see where the two trails cross paths under the mantle of Peters Mountain.
Situated on the banks of the New River, Pearisburg is a town that epitomizes the best of Virginia mountain towns. With ample opportunities for river and mountain recreation, it's no wonder that this charming town has become a popular destination for those looking to get away from it all.
Blessed with both river and mountain recreation held fast against the West Virginia border, Pearisburg makes for a great mountain getaway.
Pearisburg, Virginia, is one of the best-kept secrets in the state. This small town is located in the heart of the Blue Ridge Mountains and offers a wealth of history and outdoor activities. Take a walk through the historic district where brick buildings date back to another time or explore the miles of hiking and biking trails surrounding the town.
From Pearisburg, Virginia, you can take a short walk to the world-famous Appalachian Trail and enjoy a panoramic view of the surrounding New River Valley. The town is also home to the Gathright Dam and recreation area, which offers fishing, boating, and swimming opportunities.
3. Hot Springs
Hot Springs is a town in Virginia known for its natural hot springs. The city has many hotels and spas and restaurants and other attractions.
Warms Springs and Hot Springs offer different activities, such as hiking, swimming, and biking.
But of course, the real attraction here is the Omni Homestead Resort, a beautiful and high-class resort with golf, tennis, and fabulous restaurants.
(The Homestead Resort is probably our favorite Virginia weekend getaway if you're having a hard time deciding. But it's definitely a different experience from the small towns on this list.
4. Damascus
The city of Damascus is located in the heart of Virginia's Blue Ridge Mountains and is considered a gateway to the Appalachian Trail. The trail runs right through the town center, making Damascus a popular destination for hikers and outdoor enthusiasts. In addition to its natural beauty, Damascus also offers a variety of shops, restaurants, and other amenities.
You can kayak and fish for trout in the streams flowing amidst the bergs in Damascus. The scenery is beautiful, and there's plenty of outdoor recreation to enjoy.
In addition to the natural wonders, Damascus is home to some great small businesses. Hiking is a popular activity here, and there are plenty of trails to choose from in Mount Rogers High Country. If you're looking for a taste of Virginia's highest point, you'll find it here. And don't forget the wild ponies!
5. Floyd
Floyd is a small town in Virginia that has a population of just over 800 people. The town is known for its friendly community and rich music history. Many well-known musicians got their start in Floyd, and the town hosts several music festivals throughout the year.
The Friday Night Jamboree at the Floyd Country Store moves outside and becomes a backyard festival in the summer. The event will now take place outdoors and has games such as corn hole, giant Jenga, and more.
In addition to its natural beauty, Floyd is also home to The Crooked Road: Virginia's Heritage Music Trail. This trail celebrates the rich music history of the state, with a focus on bluegrass and old-time music.
6. Buchanan
Buchanan is a town located in Virginia known for being a river town and the launch point for many outdoor excursions. Visitors can enjoy hiking, fishing, and kayaking in the surrounding area. The town also has several charming local businesses and restaurants.
Buchanan is one of Virginia's most beautiful mountain towns, boasting stunning scenery and rich history. It's also a popular stop along Route 11, with iconic architecture like the swinging bridge and the neon marquee of the Buchanan Theatre.
The Buchanan Fountain & Grille transports you back to the '50s with its classic counter, shakes, and burgers. You can even drop a quarter in the jukebox for an extra bit of nostalgia.
Buchanan is a town that is home to many unique treasures. One of the best places to find these items is at The Best Place Antiques. This store has two floors full of fun items and collectibles – both old and new. You're sure to find something special for your home or collection!
7. Salem
Salem is a town in Virginia that is located in the Roanoke Valley. The town is home to Roanoke College and definitely has a college town feel. Salem offers a variety of dining and shopping options for those living, working, or visiting the town.
Salem, Virginia, is home to many attractions: the Olde Salem Brewing Company. This brewery is housed in one of Salem's oldest buildings and serves some of the best handcrafted beer around. If you're looking for a great time and some delicious brews, be sure to check out Olde Salem Brewing Company!
The Salem Farmers Market is open on Saturdays from 9 a.m. to noon through March. Then, Monday through Saturday from 7 a.m. to 4 p.m. April through December, providing the community with fresh produce and other goods are grown or made in Virginia.
8. Bedford
Bedford is a small town in Virginia framed by some of the most beautiful scenery in the state. The town is home to various businesses and cultural attractions, and its residents are proud of their community spirit. Bedford is also located close to several larger cities, making it a great place to live for those who want the benefits of small-town life but don't want to be too far from urban amenities.
Bedford is located in the Blue Ridge Mountains of Virginia and is home to the National D-Day Memorial. This memorial honors American veterans of D-Day, which was the Allied invasion of Normandy during World War II.
Bedford is a small town in Virginia that has plenty to offer visitors. One of the best places to visit is Falling Creek Park, which has a network of hiking and trail running trails. There are also BBQ facilities at Beale's restaurant, so you can enjoy a meal after a day of exploring the park.
9. Luray
Luray is a town in Virginia known for its Shenandoah National Park, which offers stunning views of the Blue Ridge Mountains. The park also has a variety of outdoor activities, such as hiking and camping. Luray is also home to an underground adventure cave and the Luray Valley Museum.
Luray is a town located in Virginia that is great for outdoor recreation. The nearby caverns mean that there is a bit of a touristy feel here, more so than the others.
In particular, Luray has many stores and restaurants that are sure to satisfy any appetite or thirst. From pizza places to sandwich shops, Luray has something for everyone. And if you're looking for a cold drink or a hot cup of coffee, you'll be able to find that too.
10. Lexington and Buena Vista
Lexington, Virginia, has been a historic town attracting tourists for years because of its proximity to Natural Bridge – one of the most popular tourist destinations in the state. The town is also home to various businesses, including restaurants, hotels, and shops.
The Virginia Military Institute and Washington and Lee College are in Lexington, so you'll find plenty of casual local restaurants and bars.
There are some excellent options for recreational activities. Boating, fishing, and swimming are all popular on the Maury River. The town is also home to some of the best hiking in Virginia.
In Lexington and Buena Vista, visitors can enjoy the natural beauty of the Virginia mountains. The Blue Ridge Parkway and Appalachian Trail are options for scenic drives or hikes in the area. There is also plenty of fishing, camping, and other outdoor activities.
11. Big Stone Gap
Big Stone Gap is a town in Southwest Virginia located by the Powell River. The town was founded in 1882, and it is famous for its location. The town has also been featured in a number of movies and books, including the novel Big Stone Gap by Adriana Trigiani.
Big Stone Gap is a town in Virginia that has been voted the best place to live by many magazines and websites. The town has many attractions, all within walking distance of one another. These include the Southwest Virginia Museum, The Meador Coal Museum, and the Appalachian Trail.
In particular, the town of Big Stone Gap is a great place to live if you love spending time outdoors. There are plenty of opportunities for outdoor pursuits, such as hiking Stone Mountain and fishing the Powell River. You can also enjoy biking or camping in the area's many state parks.
In addition, the food and shopping in Big Stone Gap are also worth checking out. The town has a variety of quaint shops, including a few antique stores and art galleries. Several restaurants serve up delicious local fare.
Honorable Mentions:
Sperryville is absolutely gorgeous and has a delicious pizza place. But the downtown is very small and is more of a cute spot for lunch than a weekend destination.
Harper's Ferry isn't actually in Virginia (it's right over the state line in West Virginia) but if you want a bigger town with lots of restaurants and charm, it's an amazing choice.
The best parts of the Virginia mountains are found in small towns. The 11 charming and nostalgic mountain towns we've provided all offer something unique: whether it be a historic town with plenty to see or an outdoor enthusiast's dream destination. We hope you enjoy exploring these communities.