On the hunt for small-town charm? From the Eastern Shore to the edges of Shenandoah National park, there are plenty of small towns in Virginia with adorable historic homes, restaurants, and shops.
We've compiled a list of some of our favorite small towns in V.A. and why they are worth visiting. Whether you want historic sites or outdoor activities, these Virginia small towns have something for everyone.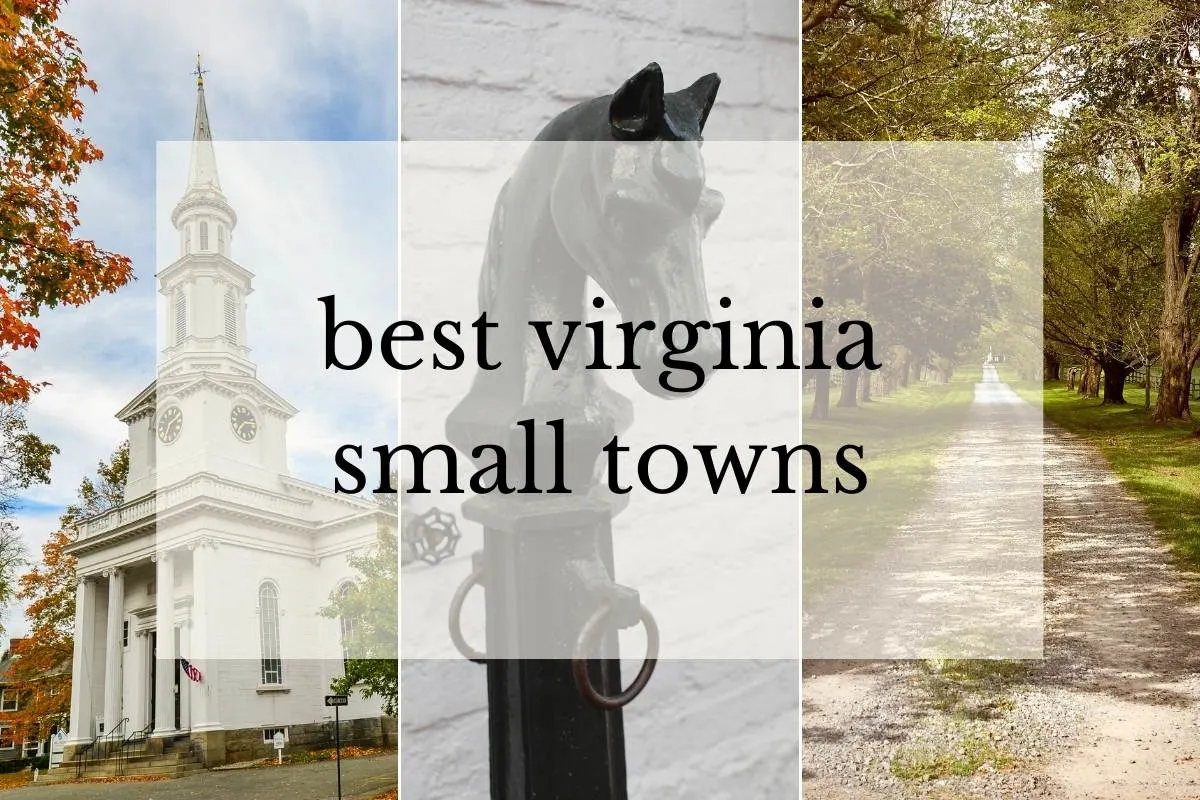 The best Virginia small towns
Are you looking for an idyllic escape from the hustle and bustle of city life? Pack your bags and head to one of these charming towns for a weekend getaway. (If you're the adventurous type looking for natural beauty, check out our list of Virginia mountain towns and the best Virginia state parks.) This list focuses on small towns with a proper main street and downtown area.
Our favorites: Lexington is a college town with an authentic Southern feel and many cute shops and local restaurants. If you're looking for something closer to Northern Virginia, the Middleburg historic district is beautiful and nearby many local wineries.
1. Damascus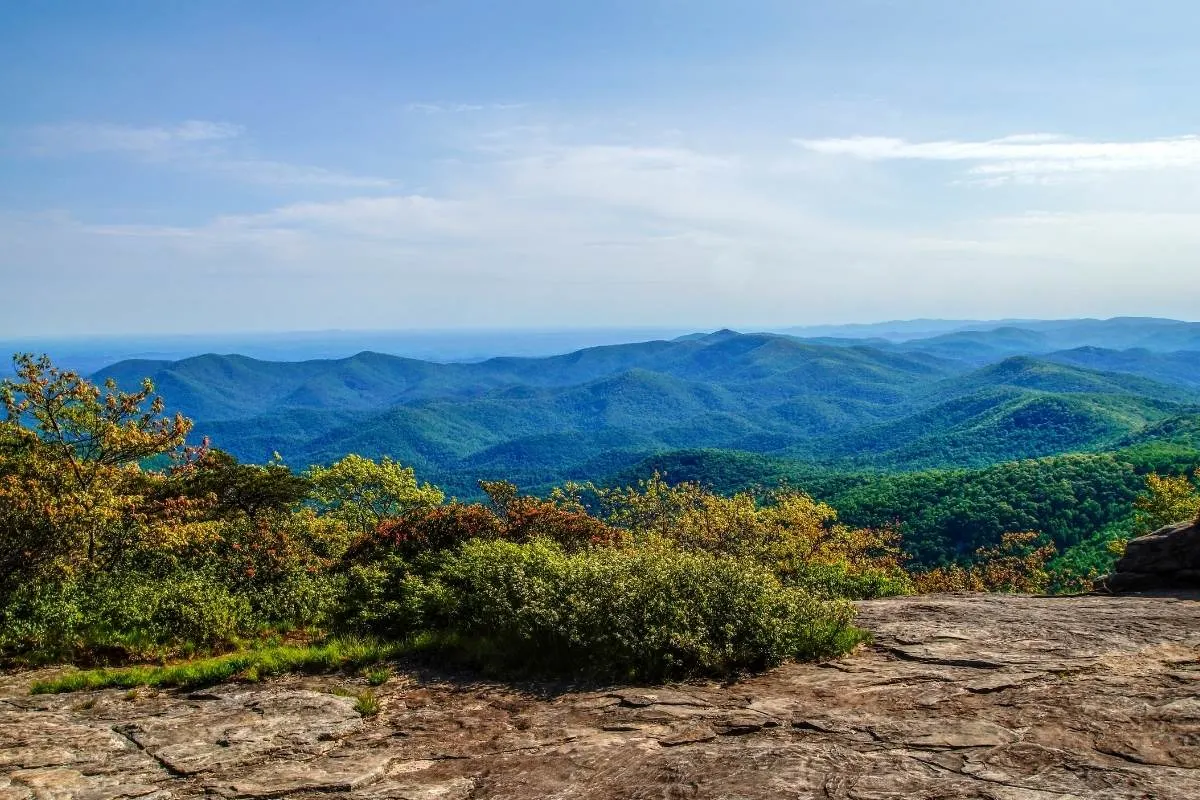 Damascus is located in the Blue Ridge Mountains of Virginia and is known as a famous town for hikers. The town is at the convergence of 4 popular hiking trails: Appalachian Trail, U.S. Bicycle Route 76, Iron Mountain Trail, and Virginia Creeper Trail.
Damascus, Virginia, located in the Blue Ridge Mountains, is a top destination for those looking for outdoor adventure. The town has an abundance of hiking and biking trails and fishing streams. Visitors often come to photograph the rustic beauty of Damascus and its many waterfalls.
Damascus is a small town in Virginia that offers an authentic laid-back experience. If you're looking to chat with locals or hikers passing through, this is the place for you.
But don't fret; Damascus has local shops and a small-town feel. For the best experience, we recommend staying in bed and breakfast, stopping by the local farmer's market, and visiting the diner.
2. Gordonsville
Gordonsville is a small town located in Orange County, near Charlottesville. It was founded in 1851 and named after James Gordon, the owner of the property on which the town was built. During the Civil War, Gordonsville was a receiving hospital for more than 70,000 troops.
Today, Gordonsville is a charming town with a historic downtown district. You'll find quaint shops and art galleries that showcase modern styles alongside antiques and country sensibilities. Be sure to check out Restaurant Rochambeau, which serves up contemporary French cuisine. And if you're in the mood for some traditional Southern cooking, don't miss the Gordonsville Famous Fried Chicken Festival!
3. Bristol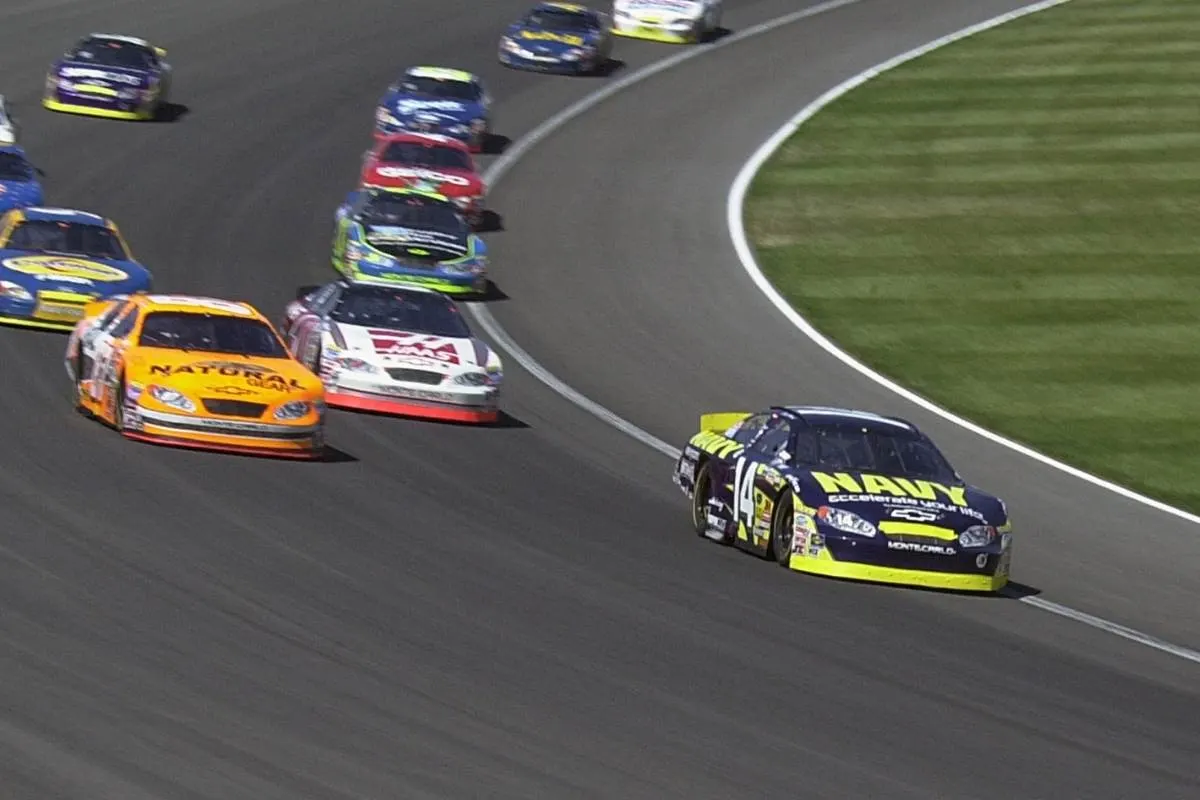 Bristol will be a favorite if you're looking for an authentic downtown feel with historic buildings. Located in Southwestern Virginia on the Tennesse state line, half of the town is in each state, which kids will find very entertaining.
Barter Theatre began in 1933 with one man's idea to have patrons pay with produce and has grown today into a year-round theatre with more than 160,000 visitors each year.
The Birthplace of Country Music® Museum, a 24,000 square foot facility, which opened in August 2014, in affiliation with the Smithsonian Institute, tells the story of Bristol's musical heritage. The museum provides the BCM with a new, permanent facility to house its operations, including the museum, educational programs, and artistic programming.
4. Abington
Abingdon, VA, is a historic town located in Southwest Virginia. It was founded in 1778 and had a rich history. The city is home to many attractions, including the Barter Theatre, the Martha Washington Inn, and the Abingdon Mural Project.
Many outdoor activities are available in the area, such as biking, walking, running, and horseback riding. In addition, Abingdon hosts various events throughout the year that cater to all interests.
One of the best things about Abingdon is its historic downtown district, which is worth exploring on foot. There are a lot of charming shops and restaurants in the area, as well as beautiful architecture that will make you feel like you've stepped back in time.
5. Kilmarnock
Kilmarnock is a small town located in Virginia's Eastern Shore. It is close to the Potomac and Rappahannock Rivers and the Chesapeake Bay. Easy driving distance to D.C. makes this a popular weekend getaway.
Kilmarnock is a town located in Virginia that has been growing in popularity. People are drawn to its location on the Potomac and Rappahannock Rivers and the Chesapeake Bay. In addition, there are plenty of activities to enjoy in Kilmarnock, such as kayaking, fishing, and hiking.
The Tides Inn is a popular tourist destination in Kilmarnock. The inn is known for its traditional Scottish cuisine and beautiful architecture, featured in magazines and travel websites.
6. Occoquan
Occoquan is a historic, tiny town located on the banks of the Occoquan River in Virginia. The town square covers six square blocks and is full of shops and restaurants.
Home to more than boutiques and restaurants, this little area is right on the waterfront and easily accessible from Interstate 95.
It's so small you wouldn't really want to spend more than an afternoon here, but if you're passing through Northern Virginia, it's worth a stop.
Tip: Occoquan hosts a spring and fall arts and crafts festival. It's a great time to visit, but traffic and parking will be a challenge.
7. Lexington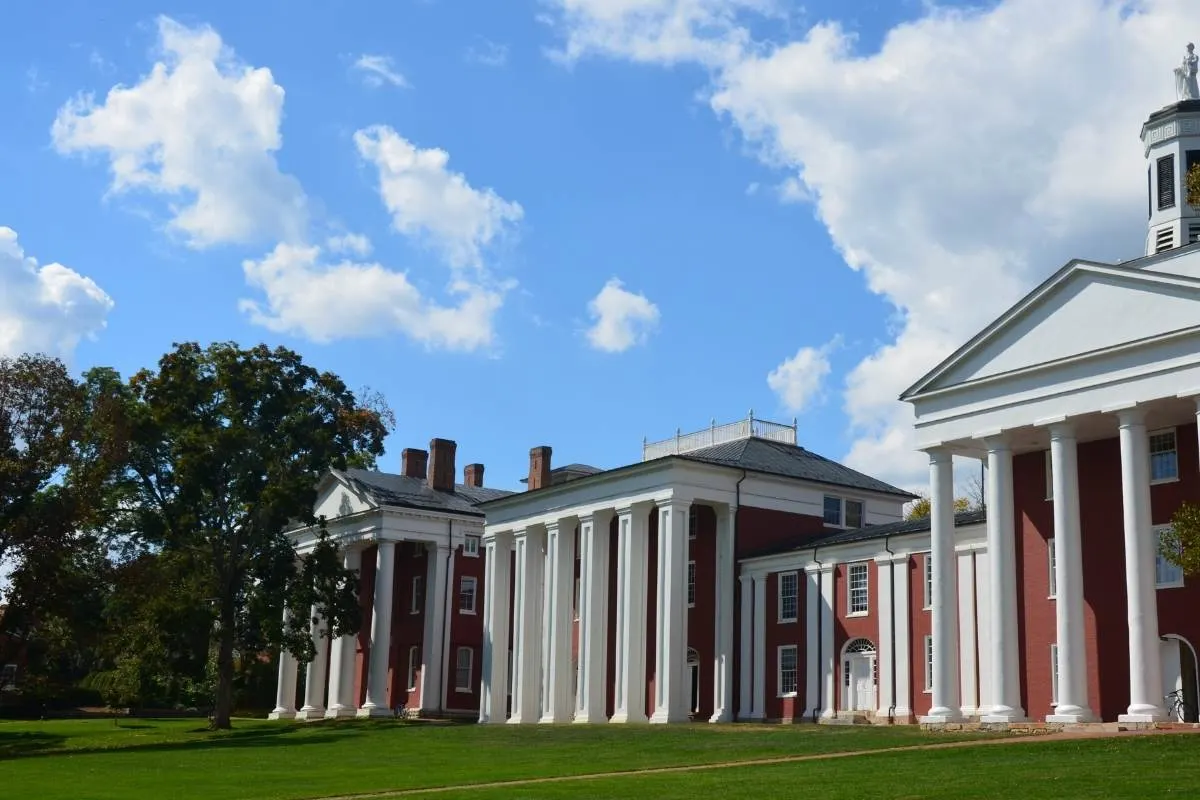 Lexington, Virginia, is a charming small town home to a wide variety of cultural and outdoor offerings. The town is also home to the Virginia Military Institute and Washington and Lee University. These two prestigious schools draw people from all over the country, making Lexington a vibrant and diverse community.
Lexington is rich in both historical sites and monuments. In addition, Lexington has several top-rated restaurants that are sure to please any palate. Whether you are looking for a place to eat or want to learn more about American history, Lexington has something for everyone.
In particular, Lexington is known for its Southern charm. It boasts a wide variety of cultural and outdoor offerings, including the Virginia Horse Center, Stonewall Jackson's Headquarters Museum, and Natural Bridge.
8. Staunton
Staunton is a town in Virginia that was once the state's capital. The city has a rich history and was even the capital of Virginia during the American Revolution. It is located in the Shenandoah Valley and is known for its historic district.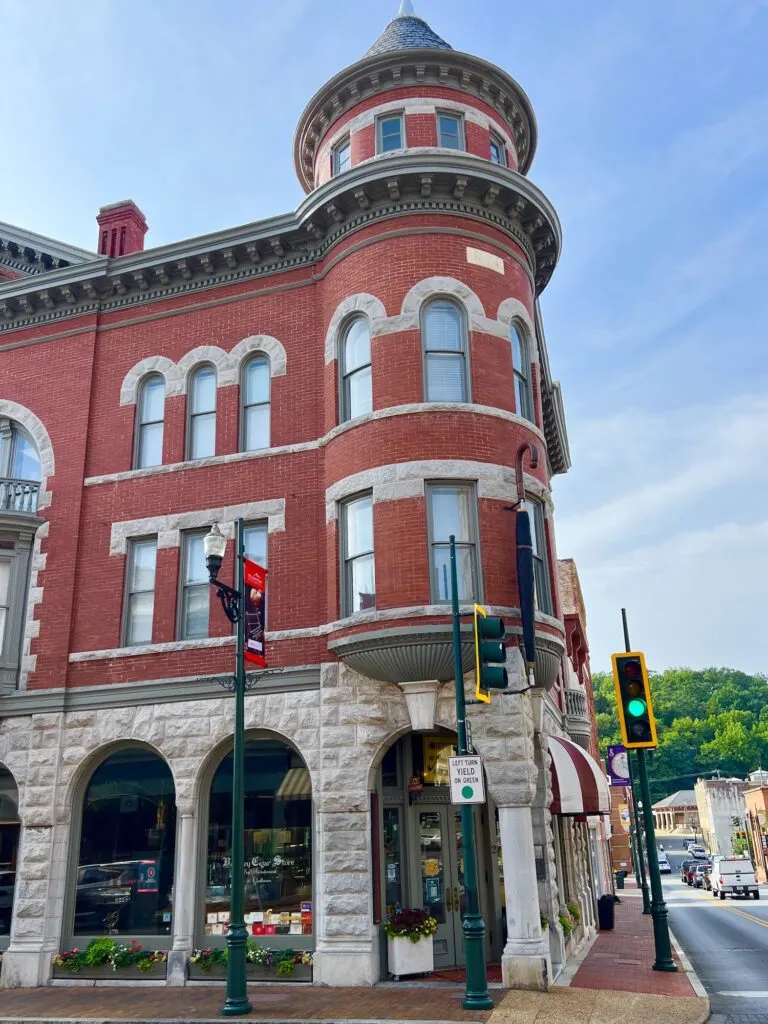 Staunton, Virginia, is a charming town home to several attractions. The American Shakespeare Center, Blackfriars Playhouse, Woodrow Wilson Presidential Library, and Museum are all located in Staunton. In addition, the town boasts a variety of restaurants and shops.
See our list of the best attractions in Staunton!
Visitors of Staunton can enjoy a variety of restaurants that offer different types of cuisine. In addition, there are several coffee shops in the town where people can relax and enjoy a cup of coffee.
In addition, Staunton is known for its Victorian homes that You can admire up and down the streets. The town has a rich history seen in its architecture, and many of the residents are passionate about keeping it alive.
There are 25 Free Things to Do In Staunton for a budget-friendly visit!
Tip: the name of the town is pronounced: "STAN-TON." Calling it anything else will mark you as a tourist!
9. Middleburg
Middleburg is a small town located in Virginia. It was established in the late 1700s, and its historical landmarks include the Red Fox Inn and the National Sporting Library. The town is known for its equestrian culture, and many residents commute to Washington D.C. for work.
Middleburg has preserved its 18th and 19th-century buildings, unlike much of Northern Virginia. It's one of the few places with a good downtown area with lots of local shops and historic architecture. The town also has a lively arts community, with galleries, restaurants, and shops.
If you're driving to Shenandoah National Park from the D.C. suburbs, be sure to stop here!
10. Farmville
Another college town, home to Longwood University and a stone's throw from upscale Hampden Sydney (an all-boys college with a beautiful campus), you'll find plenty to do in Farmville.
If you're in the market for new furniture (or even if you aren't!), be sure to visit Farmville's Green Front Furniture, an enormous furniture depot with something for every taste.
Virginia has a lot of beautiful small towns that offer something for everyone. Whether you want historic sites or outdoor activities, these towns have something to offer and are worth visiting if you're looking for someplace new to explore in Virginia.