There are so many bars in Fredericksburg VA, it can be hard to find the right one.
We've got you covered with this list of the best bars in downtown Fredericksburg VA. Whether you're looking for a great appetizer or a cozy atmosphere, there's something downtown for everyone. . The best part? They're all within walking distance from each other! So if you've enjoyed one of our favorite Fredericksburg restaurants and it's time for a drink, you'll love one of these!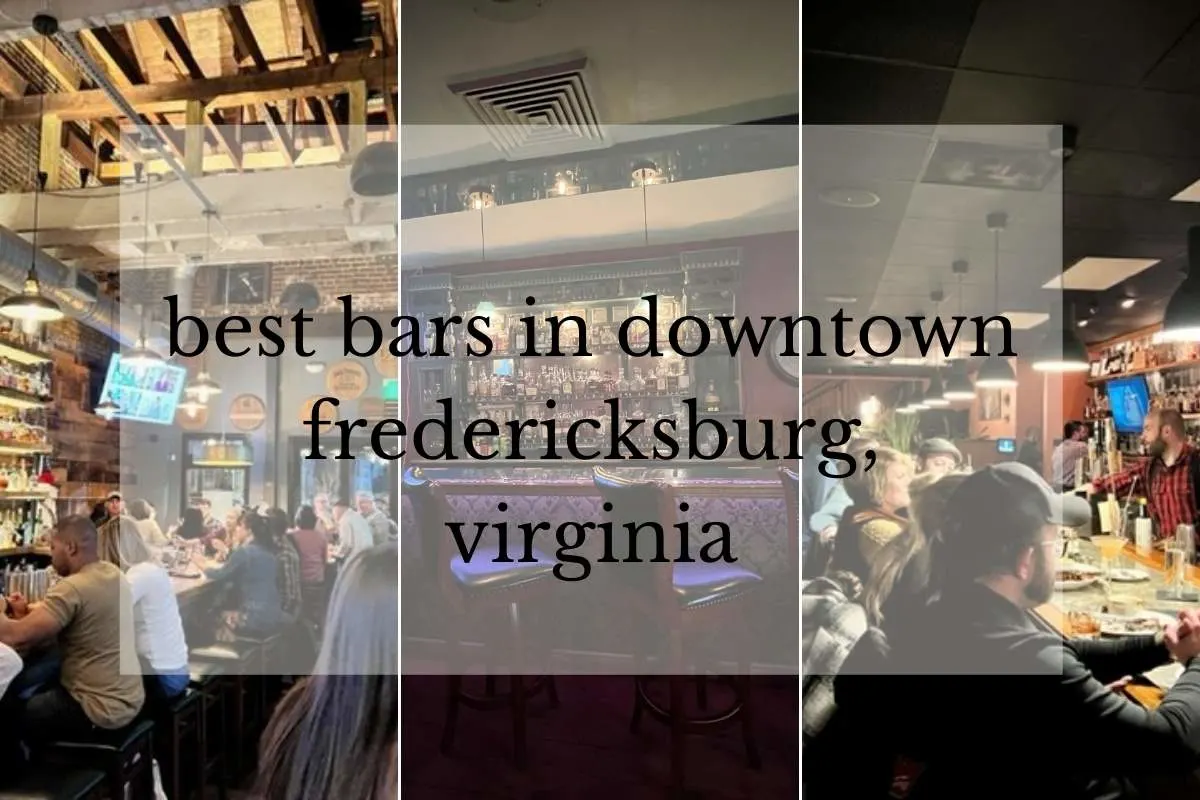 The Very Best Bars in Fredericksburg VA
🍸 Our favorites: La Petite Auberge for a cozy, casually elegant spot with great food and exceptional service. For a fun casual spot, head to Billikken's outdoor area when the weather is good.
1. Brock's Riverside Grill
Brock's is one of the best spots to be in summer, with a large deck that features plenty of table seating and even a separate bar. There's
Brock's dinner menu specializes in steak and seafood entrees, while their bar offers drinks including cocktails, martinis, wine, and beer.
During the summer Brock's Riverside Grill and Bar host local live music acts on Thursday, Friday, and Saturday nights.
Throughout the rest of the year, different events take place such as themed parties for Halloween and Christmas.
Brock's is highly popular with the local students at the University of Mary Washington, and as a result, you may occasionally find the crowd to resemble the typical demographic of a college fraternity party.
2. Cafe New Orleans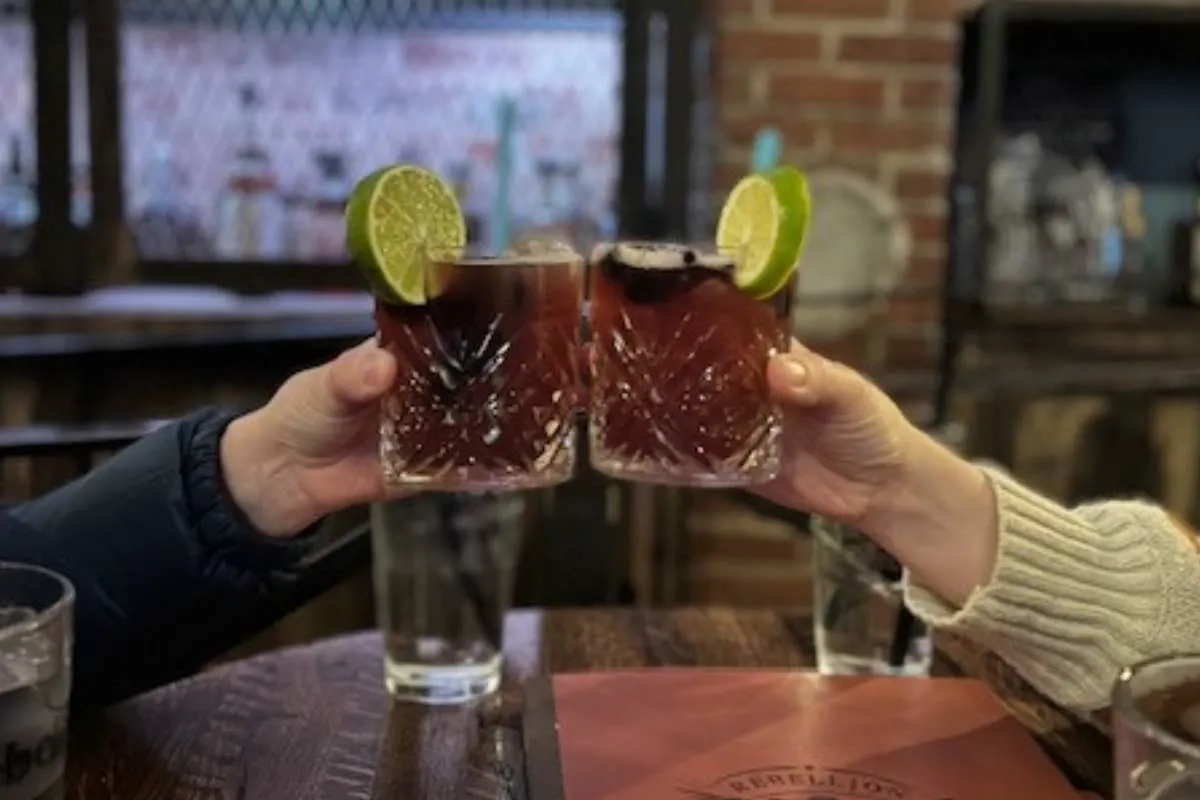 The cafe is known for its Creole and Cajun cuisine, but more for its late-night music scene.
The cafe regularly hosts live music events, including rock and roll, metal, EDM, and more.
The menu includes moderately priced food that is delicious.
3. Sunken Well Tavern
The Sunken Well Tavern is a few blocks outside the heart of downtown Fredericksburg with a cozy, neighborhood feel.
The food here is very good, so if you're looking for a bar to enjoy a meal, this is a great choice.
The crowd at The Sunken Well Tavern is generally older and includes hippies, retirees, and young families.
The staff is friendly and welcoming, making it an ideal place to relax after exploring the busier areas of Fredericksburg.
It is very small and can get quite crowded in the evening.
4. J Brian's Tap Room
J Brian's Tap Room is a rustic-old school taproom with an Irish pub theme.
It is a full-service restaurant with half of the building more of a bar and the other half set with tables.
They have a very good selection of beer and cider on tap and one of the BEST happy hours in Fredericksburg. They also provide free board games and trivia at every table.
J Brian's offers outdoor dining in the form of a secluded patio that is pet-friendly. It's a great place to gather with a group of friends.
5. Billiken's Smokehouse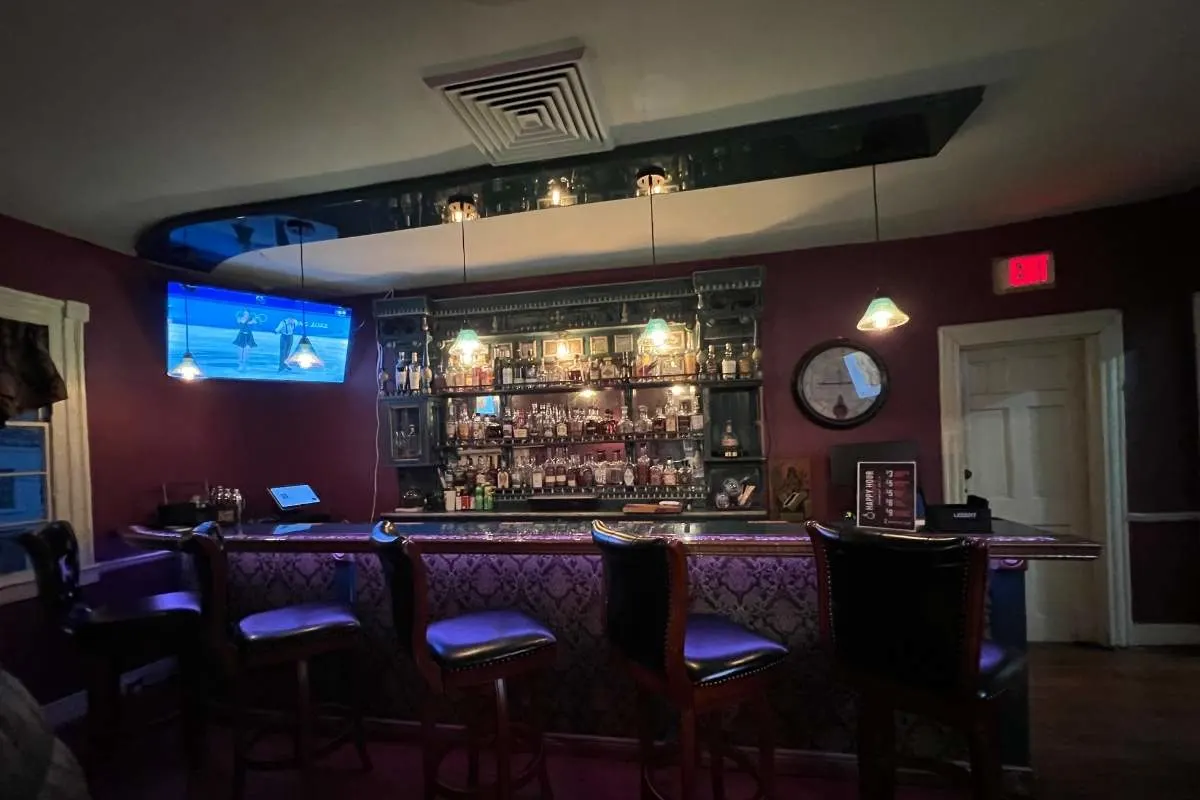 The establishment offers American cuisine and is known for its barbecue-style meals.
There are two bar areas here that are both fun:
In the summer, you'll love the outdoor area with plenty of table seating, a full outdoor bar, and misters on hot days. There is a small stage for live music, outdoor games, and even fun things for the kids like a playhouse and wheeled toys. It's perfect for letting the little ones run free while mom and dad enjoy a drink.
When the weather isn't so great, try the new "comfortably-casual bar and lounge", open on the second floor of the restaurant. They have a supe-creative cocktail menu and appetizer specials.
Billiken's Smokehouse is open seven days a week.
6. Colonial Tavern
Colonial Tavern is a restaurant that serves Irish-style cuisine, but is really, at heart, a bar and live music venue. It has live music performances pretty much every week throughout the year.
The Colonial Tavern is adjacent to Lafayette Boulevard, just as you drive into downtown Fredericksburg.
Their drink menu includes creative cocktails and craft beers and a pretty good selection of standard bar food.
One of the best things about this location are the friendly patrons and staff. You can come by yourself, find a seat alone, and feel totally comfortable.
The biggest event of the year at The Colonial Tavern is St. Patrick's Day, when the bar is packed.
7. La Petite Auberge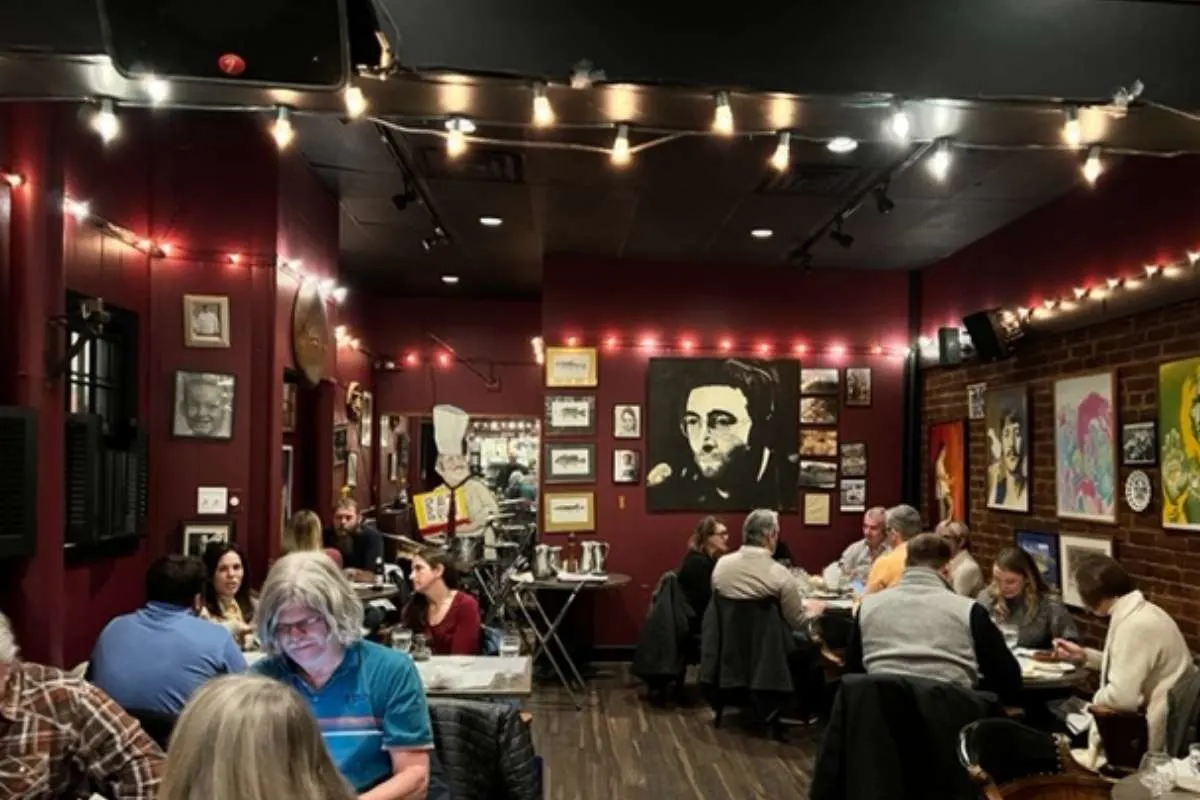 La Petite Auberge has a reputation for being one of the nicest restaurants in Fredericksburg, but the front half is a casual and fun bar.
They have amazing cocktails (try the espresso martini!) an extensive wine list, and some of the best food in town.
La Petite Auberge is a little more high-end than some of the other bars and it's also casual enough that you can wear jeans and still fit in.
The crowd includes older locals, professionals, and families.
8. Rebellion FXBG
If you're looking for a masculine bar bar (as opposed to the restaurants on this list), Rebellion FXBG will be right up your alley.
It's dark, with an industrial style, and always packed on the weekends.
It is focused on whiskey, although they offer beer and wine as well. You can find their drink menu here, to make sure there's something for the pickier members of your group.
Rebellion FXBG offers a large menu of bar-style foods so you don't have to go somewhere else to eat.
Their drink prices are very reasonable, especially during happy hour!
9. Spirits
It's nothing fancy, and you certainly wouldn't come here for an elegant evening. But Spirits is laid back, always busy, and fun. If you're looking for a place that lets you come as you are, Spirits is right up your alley.
They have a great selection of beers on tap and affordable food.
Their decor is quirky and kinda cool.
You can play pool, darts, or billiards while you drink.
Enjoy the downtown scene!
Fredericksburg is a town that takes its drinking seriously, and with so many great bars to choose from, it can be hard to know where to start. That's why we've put together this list of the best bars in Fredericksburg, VA. Whether you're looking for a place to relax after work or want to celebrate St. Patrick's Day in style, these bars have something for everyone. So what are you waiting for? Start planning your night out now!