Charlottesville is a town with some of the best restaurants in Virginia. A focus on local and sustainable ingredients, plenty of nearby vineyards, and a big nearby university guarantee some of the tastiest places to eat in the state.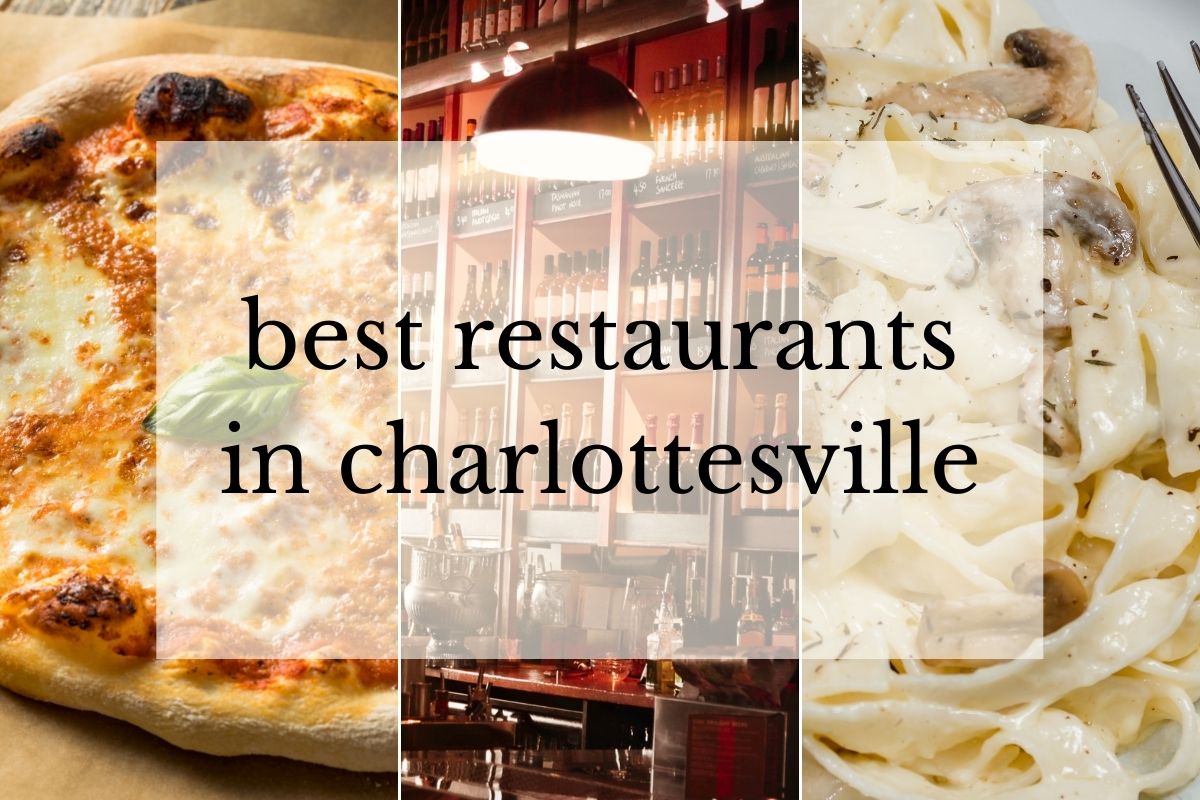 Here are the 14 BEST restaurants in Charlottesville Virginia.
🌮 Our picks: The Ivy Restaurant is an institution and everyone should try it. But for the absolute best food in town, you can't miss Little Star, The Whiskey Jar, and Orzo Kitchen. (Okay, okay…our very favorite is The Whiskey Jar.)
1. Carmello's Restaurant & Wine Bar
This restaurant might not look like much from the outside, but you'll find one of the best Italian restaurants in town inside.
They have an extensive wine list, excellent food at reasonable prices, and lots of comfortable seating for big groups. Don't miss the lasagna or the crab-stuffed mushroom appetizer.
2. The Whiskey Jar
Nothing fancy or pretentious at this relaxed spot. All you'll find are delicious, classic dishes, done well.
The food is sustainably sourced and freshly prepared and you'll find a lot of the menu changes with the seasons. You'll love the bright but rustic interior: there's a big and comfortable bar with plenty of (obviously) whiskey, and a beautiful patio.
3. Hamilton's At First and Main
Hamilton's is a Charlottesville institution since 1962. A popular spot for delicious afternoon lunches or romantic dinners, it's in the heart of Downtown's shopping and dining district. There's a cozy atmosphere, good service, and a menu with enough choices for everyone.
It's definitely one of the most elegant restaurants in Charlottesville but it doesn't feel stuffy at all.
(Be sure to try the crab bisque and flourless chocolate cake!)
4. Tavola
A cozy spot serving delicious Italian food, Tavola is popular with locals. They have an upscale but accessible menu offering popular pasta dishes made from scratch. Most items are classic Itailan dishes.
With delicious food, an excellent wine selection, and a very comfortable atmosphere, it's easy to see why Tavola is one of the best restaurants in Charlottesville.
5. Orzo Kitchen & Wine Bar
Orzo Kitchen & Wine Bar, located in historic downtown Charlottesville, channels the Mediterranean's warm and gracious vibe. They have a menu that changes with the seasons, offering fresh, high-quality ingredients.
It's a casual but upscale restaurant that feels like it could be anywhere in Europe. They're only open for dinner and we would recommend reservations.
6. The Alley Light
In the downtown mall, you'll find this cute restaurant that feels like a cozy bar and serves delicious food. It's tucked away and sort of hidden. There is a huge cocktail menu and a menu of small plates to share with friends. (If you prefer a multi-course dinner, you can get that too!)
The service here is friendly and so is the atmosphere.
7. Little Star
An absolutely amazing spot serving Spanish and Mexican cusine, Little Star offers some of the most creative food in Charlottesville.
If you come with a group, be sure to get the sangria pitcher and plenty of small plates to share.
Little Star is only open for dinner, and only Thursday-Sunday. But if you're in town for the weekend, be sure to stop by thi modern Mexican restaurant.
8. The Ivy Inn Restaurant
Located within walking distance of the University of Virginia, the Ivy Inn is a Charlottesville classic.
Their menu is seasonal and features local ingredients whenever possible. (Our picks: the local braised short ribs and creme brulee)
There is a covered patio that's enclosed and heated in the winter, giving this restaurant plenty of dining room space.
Sit back, relax, and enjoy your meal at one of the best restaurants in Charlottesville.
9. Lampo
This casual yet upscale pizza is a great place to eat. Offering delicious, homemade pasta and plenty of antipasti options, Lampo is a favorite among locals.
It's located in Charlottesville's Belmont neighborhood and has a nice patio for outdoor dining. There are several indoor tables as well but they can fill up quickly.
Note, the menu isn't that big: this is mostly a pizza place. But the pizza is amazing!
10. Duner's Restaurant
An elegant spot with reasonable prices, Duner's has a classic but delicious menu featuring staples like crab cakes and tender steak dishes.
It's a few minutes outside of Charlottesville itself, but is worth a trip if you're in town for a few days.
All the restaurants on this list have good service, but Duner's has really good service. You'll feel comfortable right away here.
11. Brasserie Saison
In the heart of downtown Charlottesville, you'll find this restaurant with a farmhouse feel and a menu of French-inspired food.
Their steak dishes are amazing and the duck is to die for.
Brasserie Saison has a warm, comfortable atmosphere and friendly service. It's a great place for a date or just drinks with friends.
12. C&O Restaurant
A lovely, cozy, and upscale spot, the C&O Restaurant is great for a special date or celebration. It's much more elegant (and pricy) than most restaurants on this list, but when you want something delicious and memorable, this is your spot.
13. Bizou
We love Bizou! The menu is a blend of French and American cuisine, and it's constantly changing with the seasons.
We recommend the mussels and fries (they're delicious!) and the oysters.
And if you like wine, make sure to get a recommendation from your server; there's an extensive wine list.
14. The White Spot Cafe
Another Charlottesville classic, this restaurant serves American classics like burgers and sandwiches with fresh ingredients. Great for breakfast or lunch if you're looking for a quick bite!
This is definitely more of a diner or cafe, not a restaurant with fancy service. It's busy, it moves fast, and it's full of regulars.
More to do nearby
Charlottesville is a great foodie destination
Like most college towns, Charlottesville has a lot of restaurants. Charlottesville is known for its diverse population and a rich cosmopolitan heritage that is reflected in both local and foreign foods.
Charlottesville is a town that takes its food seriously. With everything from Italian to Indian, there's something for everyone who visits this charming Virginia city. If you can't decide where to eat, start with our list of the 4 best restaurants in Charlottesville and see where your taste buds take you!