Have you been searching for winery bus tours in Virginia that cover the best of the rolling Blue Ridge Mountains? From full-blown party buses to quaint private tours, we've handpicked the best of the bunch for wine tastings!
We'll be the first to admit that there's no shortage of wineries and vineyards in Virginia (there are over 300, to be exact!).
You can thank the mild climate and impressive variety of soils for that!
But with so much choice out there, it can be tricky to find those award-winning wines and cozy tasting rooms.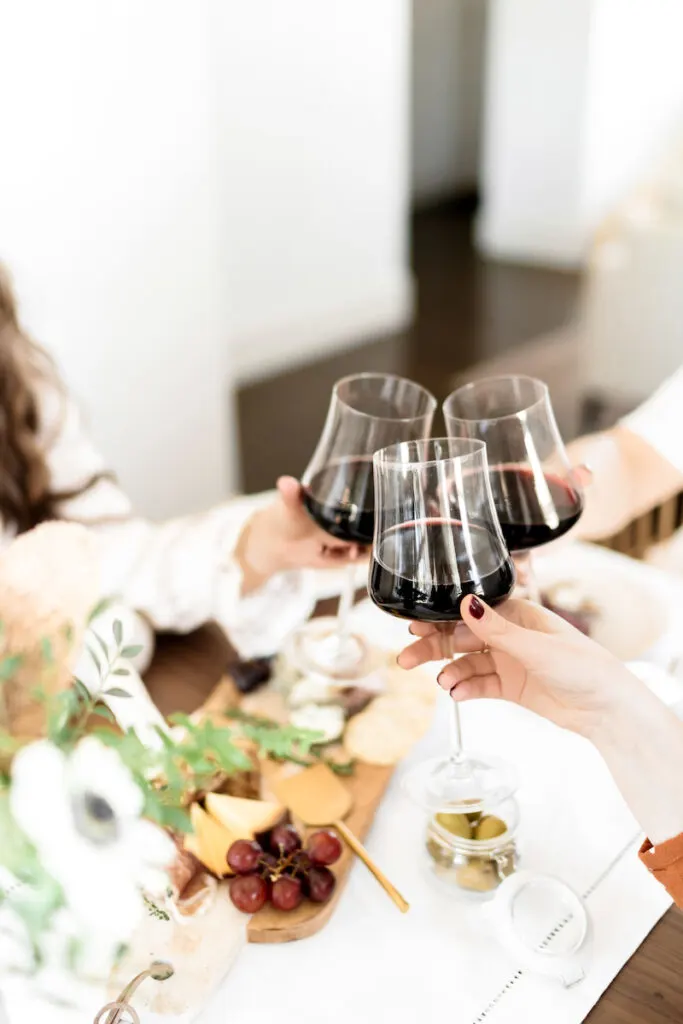 If you are planning to explore both small boutique wineries and vast vineyards, we'll take out the guesswork.
In this rundown of the best winery bus tours in Virginia, we'll give you several options to choose from. These companies have professional drivers that will bring you to award-winning wineries for the perfect way to enjoy your day with a group of friends or your loved ones.
Plus, you won't need to panic about planning the perfect route on Google Maps either. The logistics are more than handled here!
Now, let's do this thing, shall we?
DiVine Wine Tours of Virginia
If you are on the hunt for winery bus tours in Virginia that include all the best vineyards, make a beeline for DiVine. This company offers several shared and private wine tour packages (including a Romantic Wine Tour for Two!). So, you can easily narrow down the perfect choice for your group size.
Most tours include tasting fees at multiple wineries, transportation for an entire day, and even corporate wine boxes depending on your booking! That's right, these tour packages do it ALL.
If you can't schedule a tour immediately or want to give one away, you can also grab a gift certificate for an experience!
Although you can't customize the experiences here, this tour aims to take the stress out of the experience with a fine-tuned best-of-the-best itinerary.
Related Post: 15 Stunning Wineries Near Charlottesville You Must See!
Blue Ridge Wine Excursions
No list of the best winery bus tours in Virginia would be complete without Blue Ridge Wine Excursions. Tucked away in Charlottesville, this adaptable service has been taking luxury seriously since 2009.
The size of your bus will depend on how many people are in your group, but every vehicle is bougie, spacious, and organized.
Throw in the views of the Blue Ridge Mountains as you drive through the countryside and you'll be sold!
Their All-Inclusive Tours are most popular and take you to 3 wineries of your choice (from their set itinerary). You are welcome to add more stops and tastings if you like, but you will be charged an extra fee. Don't worry though – the tasting fees for those first 3 stops are included in the price!
If you want to control your entire trip, their Custom Wine Tour lets you select everything from your vehicle to the wineries you visit. With more than 400 five-star reviews, you know this private tour is worth it!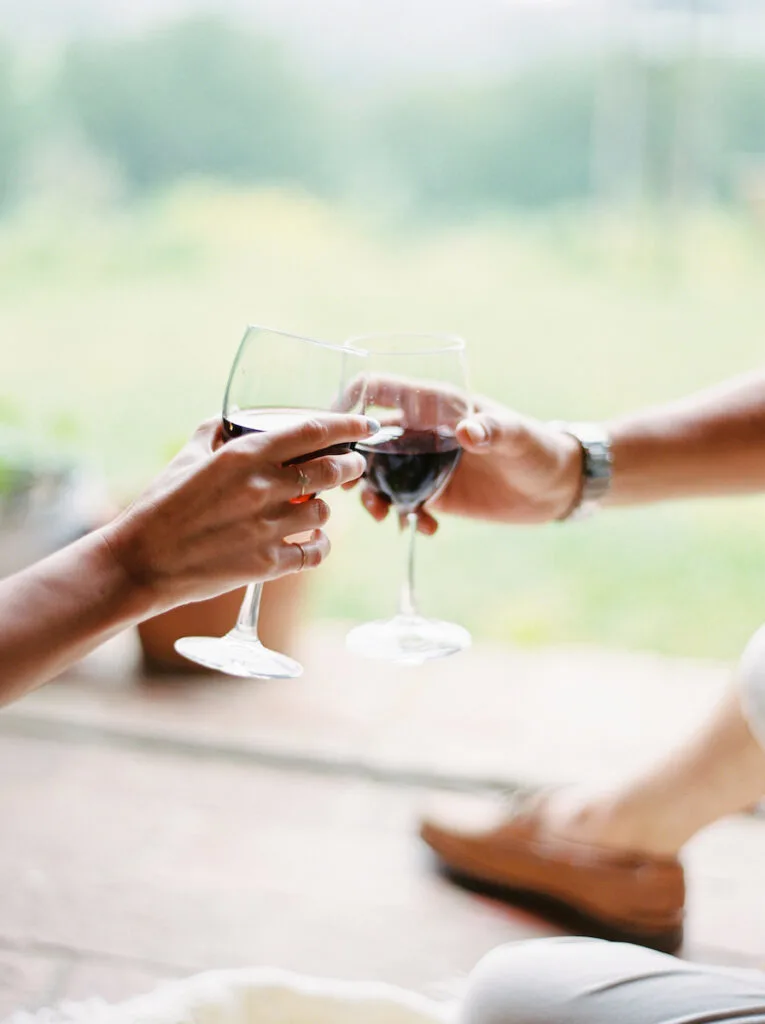 Reston Limousine Service
If you want to explore the best of Virginia's Wine Country, Reston Limousine Service has got your back. These guys hire some of the most experienced drivers around and offer public trips to the countryside every weekend.
You will only get to hit 2 wineries on your trip, but the convenient pick-up and drop-off in Northern Virginia completely takes the stress out of the experience.
Expect a typical tour to last for around 6.5 hours. But as you have 40 wineries to choose from, the distances can make trips slightly longer or shorter. And if you want more privacy, you can pick a customized tour of any size to any winery in Virginia.
Oh, and did we mention that these guys have been in the Virginia Wine Lover's Best Of Annual Awards since 2012? Talk about a seal of approval!
Related Post: 14 Must-Try Restaurants in Charlottesville, VA
Fruits & Roots Wine Tours
Want to combine American history with great food and amazing pours? If so, you will want to check out the next spot on our rundown of winery bus tours in Virginia – Fruits & Roots.
We will be honest and say that these tours are expensive. But when you throw in the convenient pickup locations, Chesapeake history tidbits, midday luncheons, and sandwich platters? Well, you get more than your money's worth.
What we love about this spot is that they offer several tours. From a Colonial Virginia Haunted Wine Trail to a trip through the mountains and a Northern Virginia-focused tour, you will be spoiled for choice.
To make things even sweeter, this is one of the winery bus tours in Virginia that starts with a complimentary breakfast and free mimosas! Ah, bliss.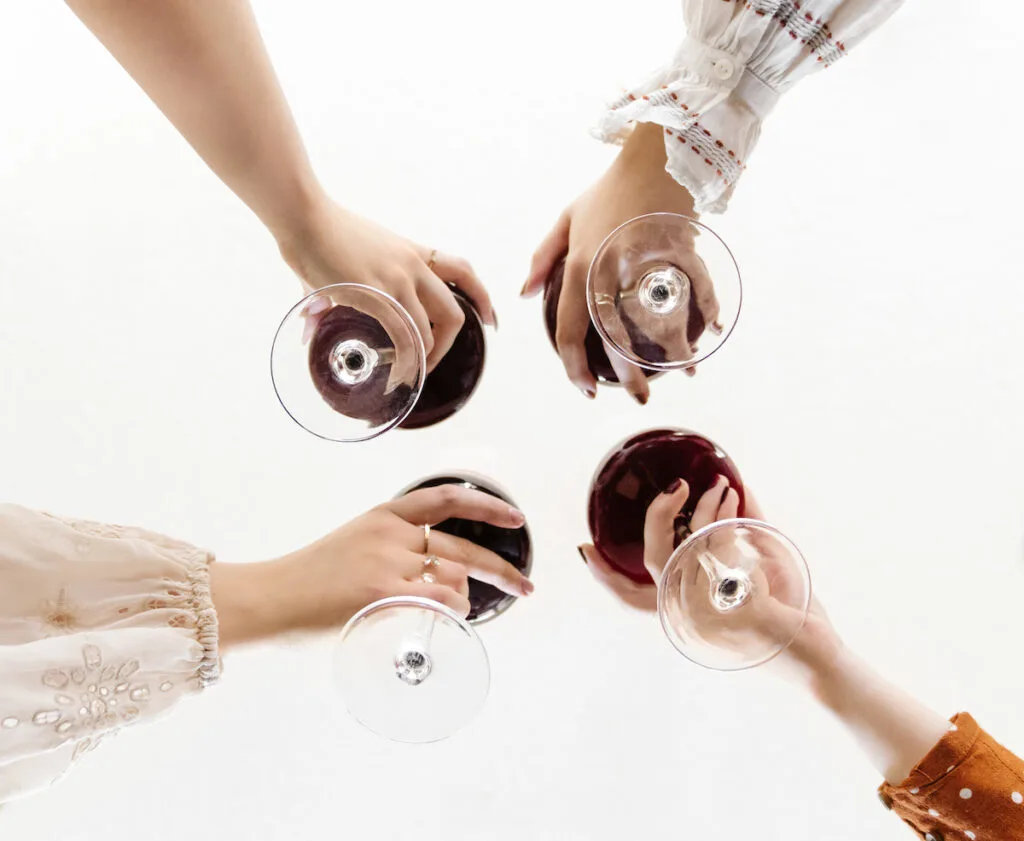 Wish Wish Wine Tours
If you are on the hunt for winery bus tours in Virginia that are super customizable, you can't beat Wish Wish Wine Tours. This company has been dominating TripAdvisor's Travelers' Choice Awards for years as their Hop-On wine tours are uber-popular.
You visit 3 pre-picked wineries and a cidery (hooray for options!), but you can always take a private tour and pick your own destinations.
But as we mentioned, it is the fully customizable Wine Tour Planner that makes this a great place for winery bus tours in Virginia.
You simply select a pickup location and group size before adding stops from their huge venue map. From 12 Ridges Vineyard to Stone Mountain Vineyard and Gray Ghost Vineyards, the options are endless!
And to top it all off, your tour will be led by a private and knowledgeable driver.
Related Post: Fun Things to Do in Charlottesville
Uptown Bus
Head into Virginia Wine Country's rolling green hills and immense history by hopping on an Uptown Bus! We love how affordable these guys are, and you will get to ride in style with a soundtrack of your choice, a party atmosphere, and an on-board bar.
This is one of the best winery bus tours in Virginia for pre-wedding bashes, big birthdays, girlfriend getaways and any other special occasion!
These wine tasting tours can cover parties from 2 to 40 depending on what you are looking for. Just be warned that the larger the party, the bigger the quoted price. For that reason, we suggest pricing up these party buses before channeling your inner Thomas Jefferson and sipping award-winning wines. When you are set, just book a reservation online and enjoy the unique experience!
Shenandoah Wine Tours
Feel like hitting the award-winning Shenandoah Valley instead of the vineyards of Loudoun County? Well, you are in luck as Shenandoah Wine Tours offers a great experience for folks on a budget. That's right, it comes in at just $59 per person for a 3-winery tour through the backroads of Virginia.
Just be warned that you will need to purchase anything at the wineries yourself, so make sure that's worked into your budget.
You should expect to hit Shenandoah Vineyards, but Winery at Kindred Pointe and Muse Vineyards are 2 other major stops. Oh, and you even get a complimentary snack box included in the price of your tour to soak up the alcohol!
From Rieslings and Chardonnays to Pinot Noirs and Cabernet Francs, you'll have your pick of pours on this tour.
Related Post: Best Ice Cream Parlors in Northern Virginia
Cville Hop on Tours
Our next pick on this rundown of the best winery bus tours in Virginia is Cville Hop on Tours! They offer complimentary hotel pick up (and drop off!) for all 11 am tours around Charlottesville.
Now, it's impossible to list all of the locations you can choose from to curate your experience. But Veritas Vineyard, Chestnut Oak Winery, and Cardinal Point Winery are all popular pitstops!
It is worth mentioning that all of the tours here are customizable, and you are able to pick and choose wineries based on your preferences. You will also go out as individual groups, which gives you maximum time to enjoy the wineries you are interested in!
Plus, these guys are locally owned and operated, and we are all about supporting local businesses. Add in the pumping tunes (of your choice!), the snacks, and a knowledgeable chauffeur and you will be exploring those wine trails in style.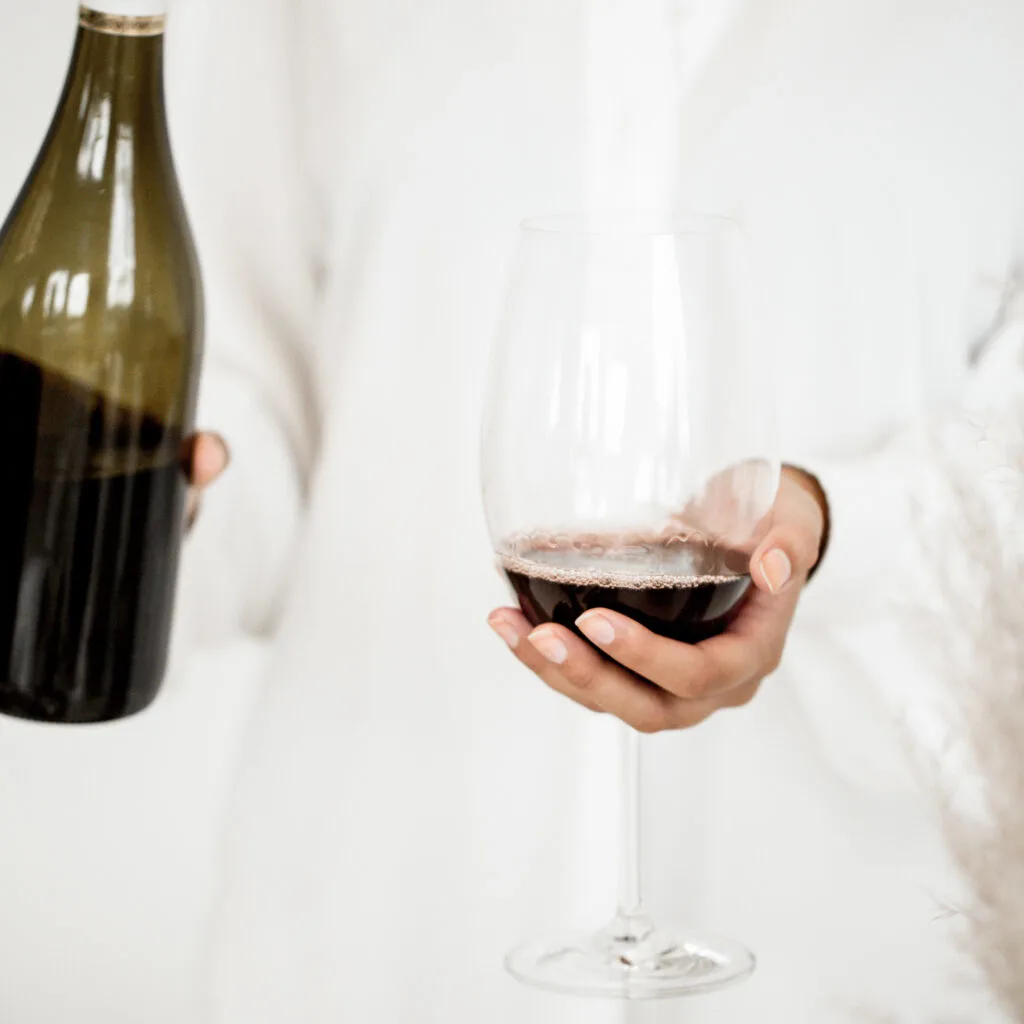 Monticello Wine Tour and Coach
Offering everything from custom wine tours to corporate gigs and shuttle services, Monticello Wine Tour knows what's up. Their typical tours run for a minimum of 5 hours and you stop at 3 or 4 different wineries along the way.
What puts this place over the top is that their vehicles and itineraries are fully customized for your individual group. Plus, you will travel in ultimate comfort in plush Mercedes or Suburban vehicles! Glorious, right?
You can choose virtually any winery in Charlottesville for your tour, but you will need to account for the travel distance between each one. So, you might not get to visit quite as many vineyards if you are heading across town each time.
Vintage VW Bus Wine Tour
Okay, so this one is a splurge! But, wow, the photos you can take and the opportunities to travel in a vintage VW bus are worth it!
Your private tour in Mable, the vintage VW bus, is every boho-lovers dream come true! Up to 8 people can explore three wineries in this teal blue van that will definitely turn heads!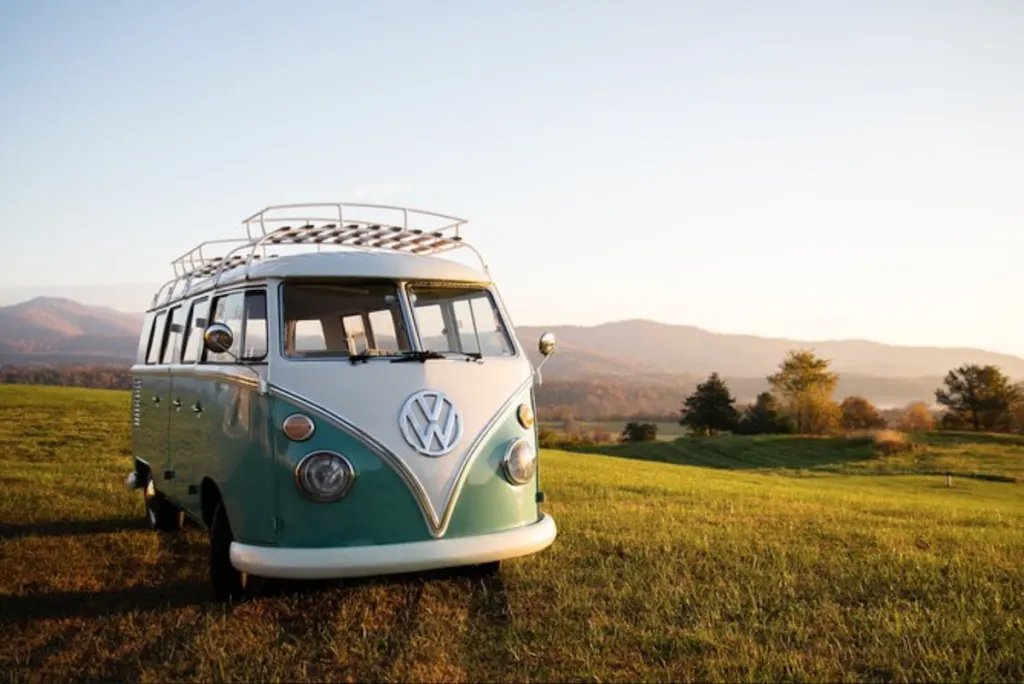 Among the winery options to choose from are Blenheim Vineyards, which is owned by Dave Matthews (yes, of the Dave Matthews Band fame!), which is one of our favorite wineries in Charlottesville.
Tesla Wine Tours
Prefer an ultra-modern way of touring wineries, instead? Schedule a Private Tesla Wine Tour in the Charlottesville area.
Not only will you be transported in the quiet luxury of a Tesla Model Y, you can also choose from wineries, breweries or cideries on this tour! That's right, you can schedule beer tours, too, if you'd prefer!
Perfect when everyone has different tastes!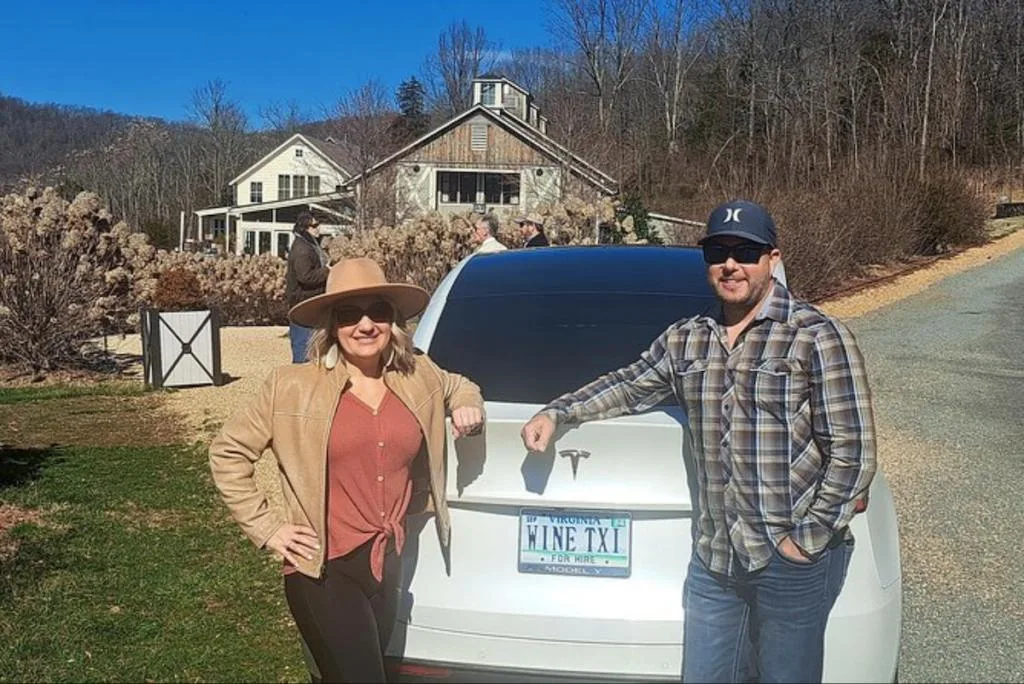 Central Virginia Wine Tours & Transportation
To round off our list of the best winery bus tours in Virginia, it's Central Virginia Wine Tours & Transportation! This fully licensed transportation company offers a memorable experience with a 5 to 7-hour guided tour.
This usually includes between 3 and 5 different wineries and a lunch stop of your choice (though you need to pay for this yourself!).
Oh, and did we mention that you also get a full tour of at least 1 winery facility? Bonus feature alert!
Pickup points are from anywhere within a 50-mile radius of where you are touring which is a huge plus. We just recommend choosing an earlier tour if you can (either 11 am or 12 pm works) to get plenty of exploring time. If you're wondering why, it is because most local wineries close at 5 pm or so.
Covering everything from private tours to 35-seat bashes, this is one of the Central Virginia winery tours that's well worth checking out.
Kid-Friendly Wine Tour
Most wine tours are not kid-friendly, we get it. But sometimes mom and dad need a vacation from the vacation, you know?
This Private Northern Virginia Wine Country tour allows kids. You will visit three vineyards and not have to worry about driving! Finally, a relaxing getaway for the adults!
Virginia Wine Tour from Washington D.C.
Not everyone is staying in the Virginia area, we get it! So if you are a Washington D.C. local or just want a fun day trip to Virginia wineries while visiting the nation's capital, you will want to book a Spirited Tours.
The small guided tours pick up at a Washington D.C. location and bring you to Virginia to enjoy two wineries.
Want more stops along the way without joining other people? Then consider this Loudon County Virginia Wine Country Private Tour which picks up anywhere in the DC metro area and visits three wineries.
If you are looking for a a great time and want private wine tours, these bus wine tours in Virginia are the best way for wine lovers to enjoy their day and drink as much as they'd like along the way.