Williamsburg is one of the absolute best places to explore in Virginia at Christmastime, and there are plenty of activities and events to keep you busy. History lovers have a special place in their heart for Virginia's historic triangle and it's easy to see why during the holidays.
1. Experience a Colonial Williamsburg Christmas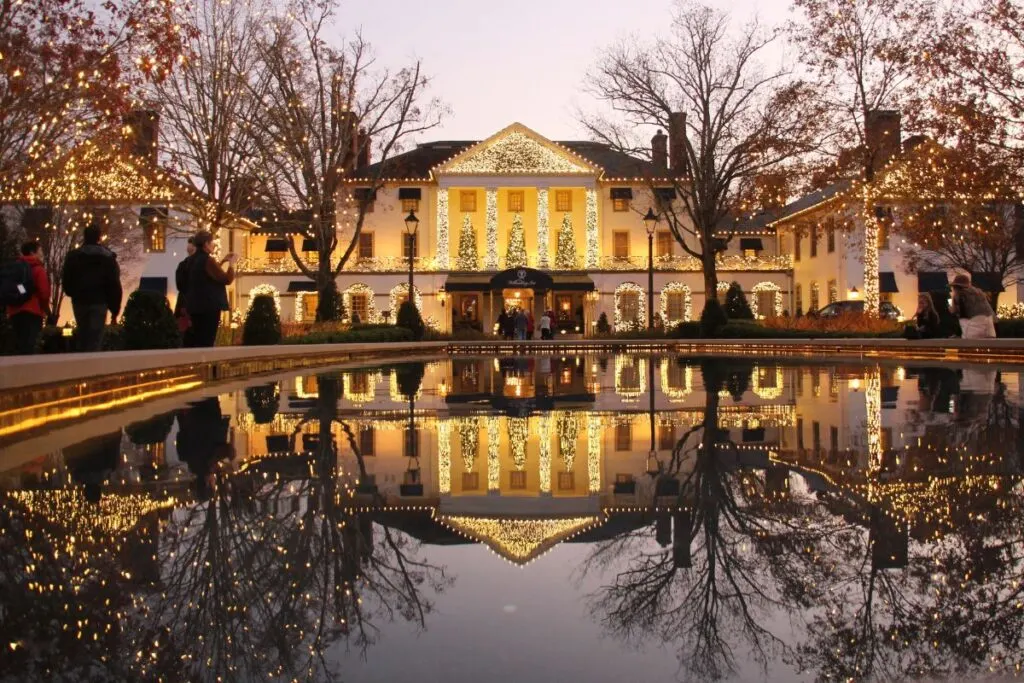 There's no better way to experience Christmas than by visiting Colonial Williamsburg! The tree-lighting ceremony is a must-see, and the Governor's Palace is decked out in all its colonial glory.
Even if you can't make it to Williamsburg during Christmastime, don't worry – there are plenty of other events happening throughout the month. Duke of Gloucester Street is still beautifully decorated, so be sure to take a stroll down there if you're in town. Happy holidays!
2. Christmas Shopping in Williamsburg
If you are looking for fun Christmas shopping places, look no further than Colonial Williamsburg. There is a unique combination of historical items, unusual ornaments and traditional decorations to get your home ready for the holiday season.
The Christmas Shop in Merchants Square is a great place to find unique ornaments and collectibles. If you're looking for something special, this is the place to go.
Along Duke of Gloucester Street, stop by the open trade shops to learn more about 18th Century American life. Be sure to ask a few questions at each shop so you can get the most out of your visit.
Finally, don't miss out on the main street for Williamsburg – it offers plenty of shops and attractions.
Williamsburg is a great place to find Christmas décor during the holidays – so don't wait any longer and start planning your trip today!
When you need a break from shopping, enjoy lunch or dinner at one of our favorite restaurants near Colonial Williamsburg.
3. Witnessing The Marvelous Grand Illumination Of Colonial Williamsburg
If you are anywhere near the Williamsburg, VA area during December, you'll definitely want to witness the Grand Illumination. This special event is a holiday tradition that celebrates the beginning of Christmas festivities in the city.
The fun starts in the evening, but be sure to get there early if you want a good spot to view the fireworks show!
There are three great locations where you can see everything that's going on: Merchant's Square, Market Square, and Duke of Gloucester Street. And don't worry–you won't miss any of the action no matter where you are in Williamsburg; all of the streets will be lit up with beautiful displays!
The Grand Illumination is always a marvel to behold. If you're looking for something special to do during Christmastime, this event is definitely worth checking out!
Williamsburg is one of the most magical things to do in Virginia at Christmas. Be sure to see our other top picks!
4. Williamsburg's Marvelous 18th Century Holiday Tradition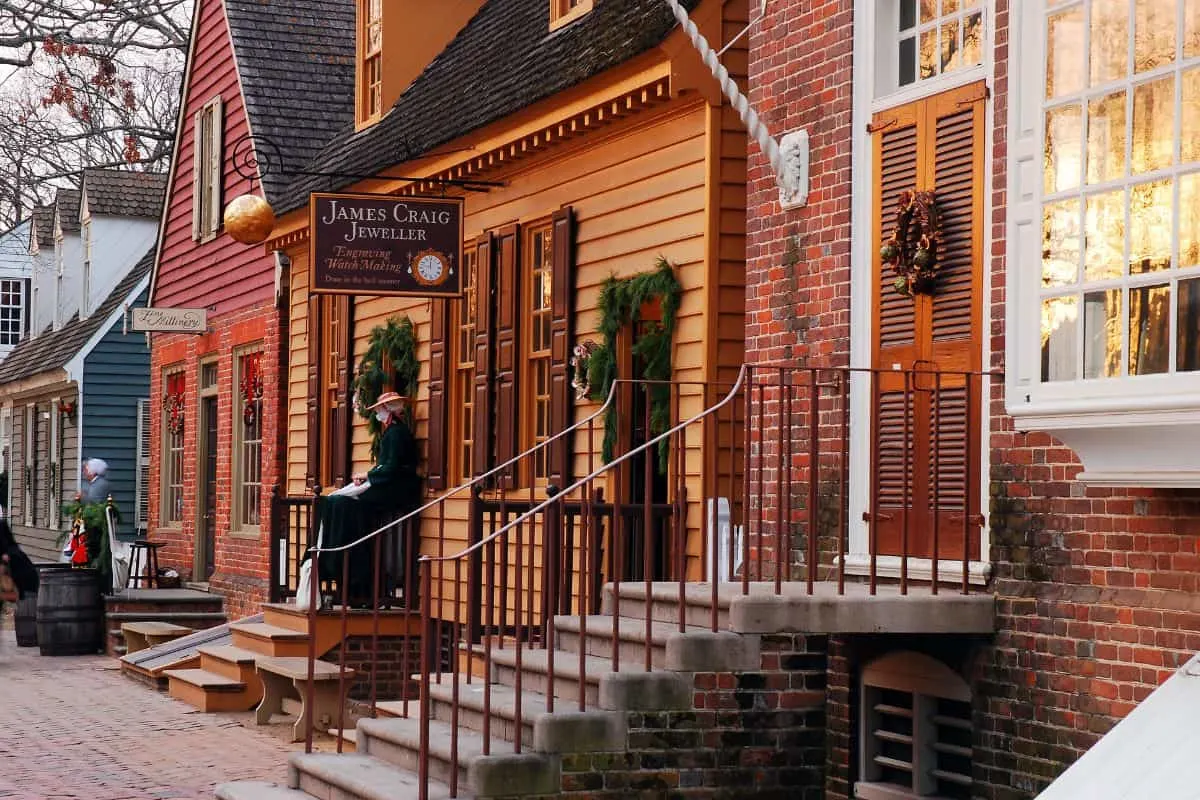 The 18th century Christmas tradition in Williamsburg is lighting the cressets. This event takes place on Duke of Gloucester Street from mid-December to Christmas Eve. Cressets are large, metal baskets that hang from a frame and have a handle. They were used to carry lighted candles or torches. The flame was often used as a signal or warning.
There are many events and performances happening throughout the holiday season, including walking tours that highlight Colonial Christmas decorations.
There is also the Grand Illumination Celebration where visitors can see buildings and homes all dressed up for the holidays with thousands of lights!
5. Busch Gardens Christmas Town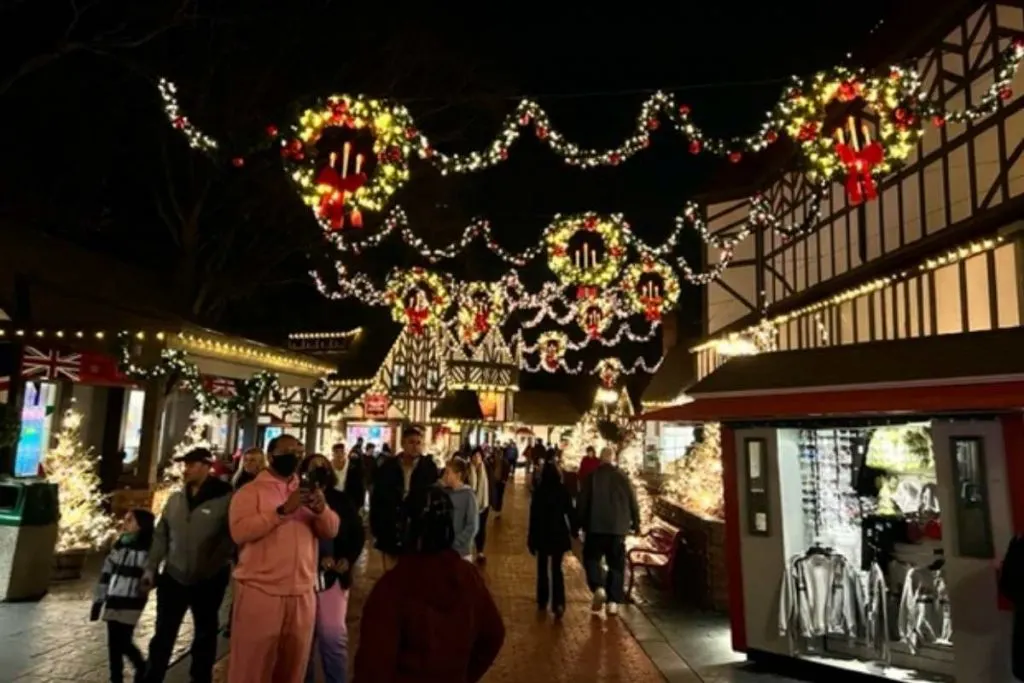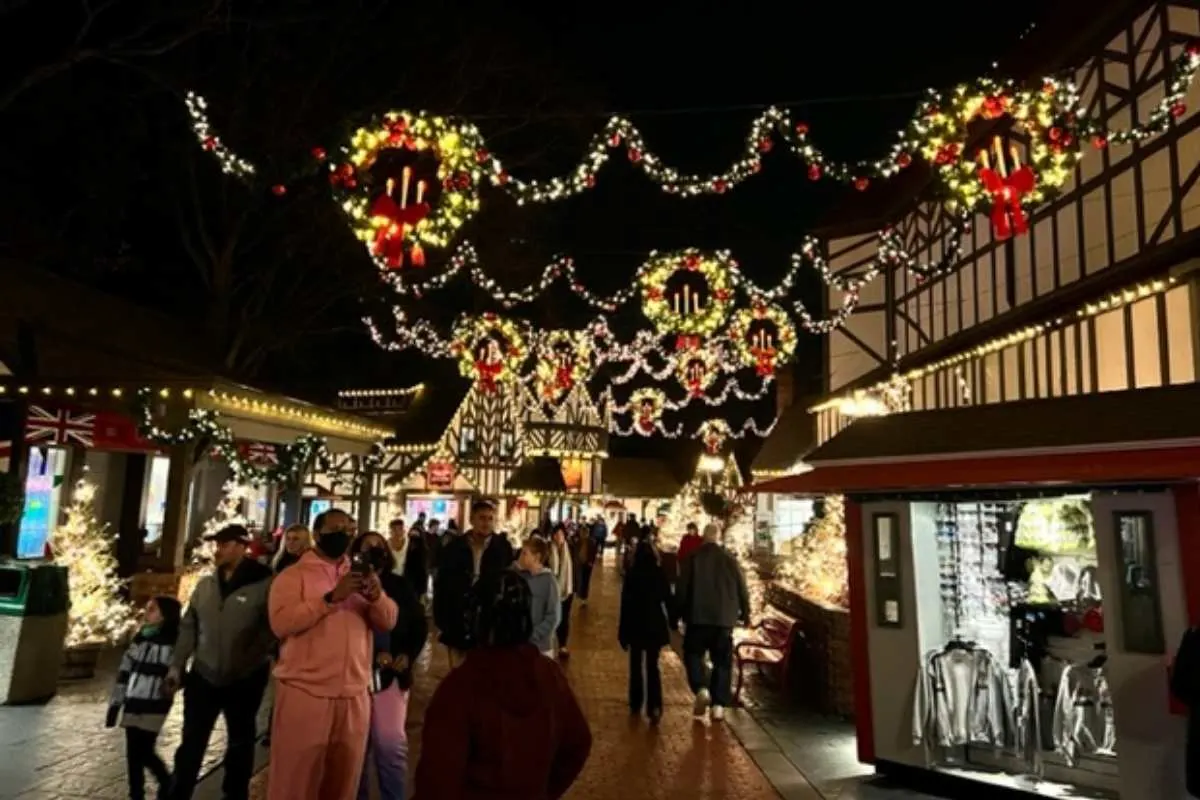 Christmas Town at Busch Gardens is a must-see for anyone looking to get into the holiday spirit! This theme park features all of the classic Christmas attractions, like Santa Claus and Mrs. Claus, an ice skating show, and a light display that will take your breath away.
In addition, there are plenty of festive food options available throughout the park.
Busch Gardens has added a new attraction to their lineup: the Christmas Town Express train. Board this steam locomotive for a relaxing ride through the park as you take in all of the holiday sights and sounds. And don't worry – jolly old St. Nick himself will be on board to make sure everyone has a good time!
See our guide to Christmas Town at Busch Gardens Williamsburg for more helpful information about visiting.
6. Williamsburg Premium Outlets
If you are looking for a great place to shop during the Christmas season, Williamsburg Premium Outlets is definitely worth checking out! This shopping destination has more than 120 stores, including Kate Spade and Coach.
7. Jamestown Settlement and Yorktown Foundation
The Jamestown Settlement and Yorktown Foundation offer holiday programs for visitors. These programs include special interpretive tours, holiday films, and seasonal activities on both historic sites.
The Jamestown Settlement is hosting Christmastide events to show off how Christmas was celebrated in the 17th and 18th century.
At Historic Jamestown, enjoy the "At Christmas Be Mery" celebration. This special ticket event recreates an early Virginia Christmas celebration circa 1621 with caroling, a bonfire, a cappella singers and costumed interpreters.
Jamestown is just one of the many fun things to do in Williamsburg with kids, which makes this a great family activity.
✅ Check out our Virginia Christmas Tree Farm Guide!
8. Colonial Williamsburg Hotel Christmas Packages
Planning on visiting Colonial Williamsburg during the Christmas season? Why not stay at one of the many hotels or resorts in the area!
Colonial Williamsburg Resorts offer a Holiday Getaway Package valid from Thanksgiving through New Year's. This package includes a variety of great benefits, such as admission to all of the Historic Area attractions and discounts on merchandise at select shops.
If you're looking for a luxurious option, the Williamsburg Inn is a 5-star Regency-style luxury hotel. It features beautiful rooms and suites, award-winning dining options, and an indoor pool.
If you're looking for something with more family appeal, check out Kingsmill Resort. It offers condos with access to golf courses and swimming pools.
For those who prefer bed and breakfast accommodations, The Cedars of Williamsburg Bed and Breakfast is a charming colonial inn located close to everything Colonial Williamsburg has to offer, including restaurants, shopping, and sightseeing opportunities. All of its beautifully decorated rooms include private baths and free Wi-Fi service.
If traveling with kids, you may be interested in the Great Wolf Lodge. We are not big fans of this property as you can see in our honest review of Great Wolf Lodge Williamsburg, but you may enjoy it.
No matter what type of accommodation you choose in Colonial Williamsburg, you can be sure that you will enjoy some great perks like free breakfast or discounts on admission to local attractions!
9. Holiday Dining at Colonial Williamsburg
Colonial Williamsburg offers a variety of dining options for visitors during the holiday season.
There are four taverns in the Historic Area which serve authentic 18th-century food, including:
King's Arms Tavern
Shields Tavern
Chowning's Tavern
Christiana Campbell's Tavern
The Tavern at Williamsburg is open year-round.
10. Mistletoe Market
Sponsored by the York County Tourism Development Board, the Mistletoe Market on December 9, 2023 offers a variety of gift options for those looking for unique presents.
This market is located on Riverwalk Landing in Yorktown. Visitors can find baked goods, hot and hearty soups and chowders, handmade goods, candles and soaps, among other items.
Unique activities include a colonial ornament craft opportunity and ice carving demonstrations.
11. Yule Log Celebration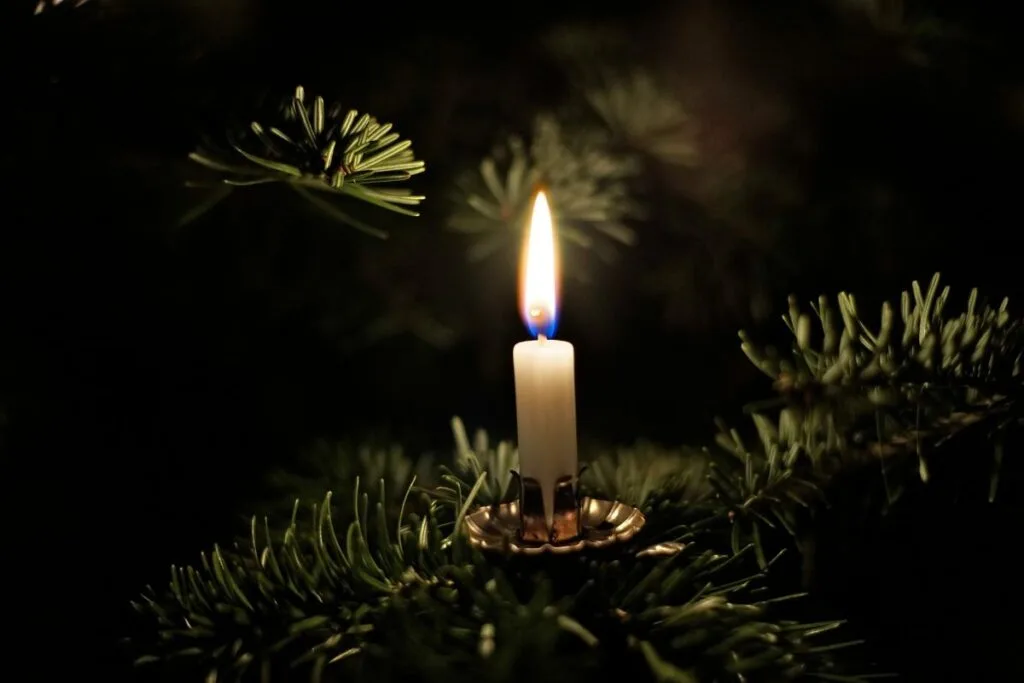 The Yule Log Celebration is an annual tradition that takes place in Colonial Williamsburg.
It is a cherished tradition in Williamsburg, Virginia. Every year on the day after Thanksgiving, residents, and visitors alike gather around a giant bonfire to watch as the yule log is burned. The event is free and open to the public, and everyone is welcome to join in the fun.
There's something special about gathering around a fire and watching the flames dance. It's a time to reflect on the past year and give thanks for all that we have. The Yule Log Celebration is a wonderful way to start off the holiday season.
There are plenty of things to do in Williamsburg at Christmas, including shopping, attending parades exploring world-famous Colonial Williamsburg. If you are looking for something truly unique, though, be sure to check out the Jamestown Settlement and American Revolution Museum at Yorktown. These two museums offer a rare look into how Christmas was celebrated in 17th and 18th century Virginia.
While in Williamsburg for Christmas, you may also enjoy these activities: