Everyone knows about the famous DC cherry blossoms, but did you know that Virginia has some of the best places to see cherry blossoms in the country? From early March to mid-April, these trees burst into blooms of pink and white, signaling the start of spring. Here are the best places to see cherry blossoms in Virginia.
1. Meadowlark Botanical Gardens, Vienna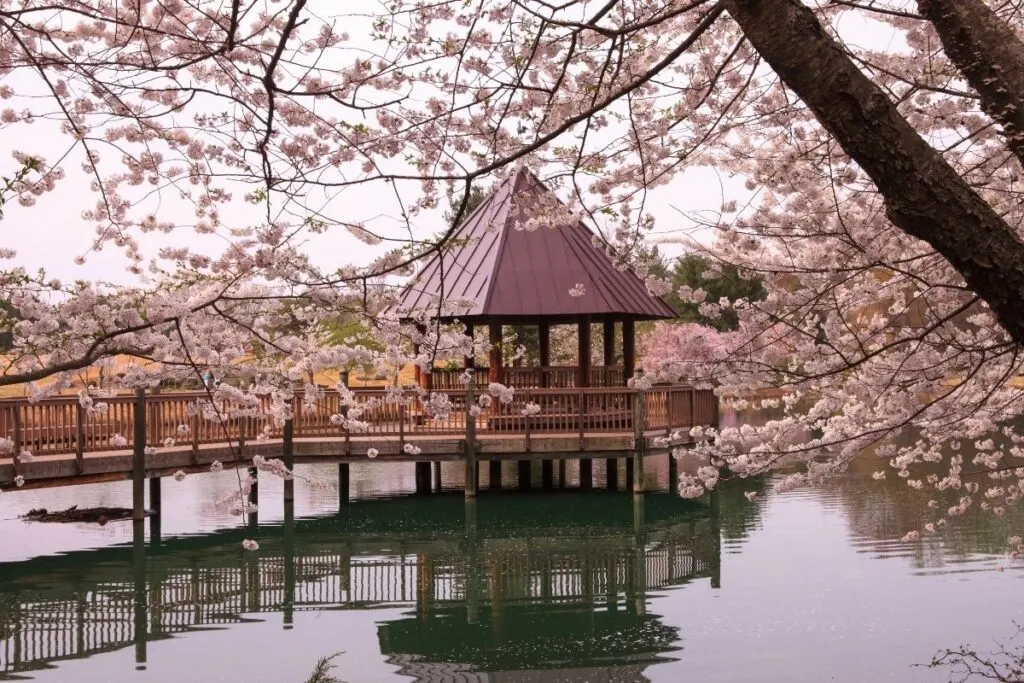 The Meadowlark Botanical Gardens is a great place to visit if you want to see cherry blossoms. They have a cherry tree photography workshop, and 30 different gardens that you can explore.
Meadowlark is scenic year-round! The admission fee is $6.00. The garden has a wheelchair-accessible path by the pond. There are rocking chairs near the front entrance for those with limited mobility so they can enjoy the view and cherry blossoms in comfort.
2. Arlington National Cemetery, Arlington
Arlington National Cemetery is a beautiful and moving place to visit, with views in all seasons. The cemetery has a lot of cherry trees, which bloom later into May. The Cemetery is a sacred place and full of power, no matter what time of year you visit.
3. Alexander Bell Drive, Reston
If you're looking for a great place to view cherry blossoms in Northern Virginia, Alexander Bell Drive in Reston is definitely worth considering. The George Washington Masonic Memorial in Alexandria has a live stream of the National Mall, so you can get an idea of what the trees look like there.
4. Green Spring Gardens
The Green Spring Gardens cherry blossom is one of the most beautiful sights in Virginia. Each spring, the trees burst into bloom, creating a sea of pink and white blossoms that is simply breathtaking. If you're lucky enough to be in herem during cherry blossom season, be sure to take a stroll through Green Spring Gardens and enjoy the beauty of these special trees.
5. Van Gogh Bridge at Lake Anne, Reston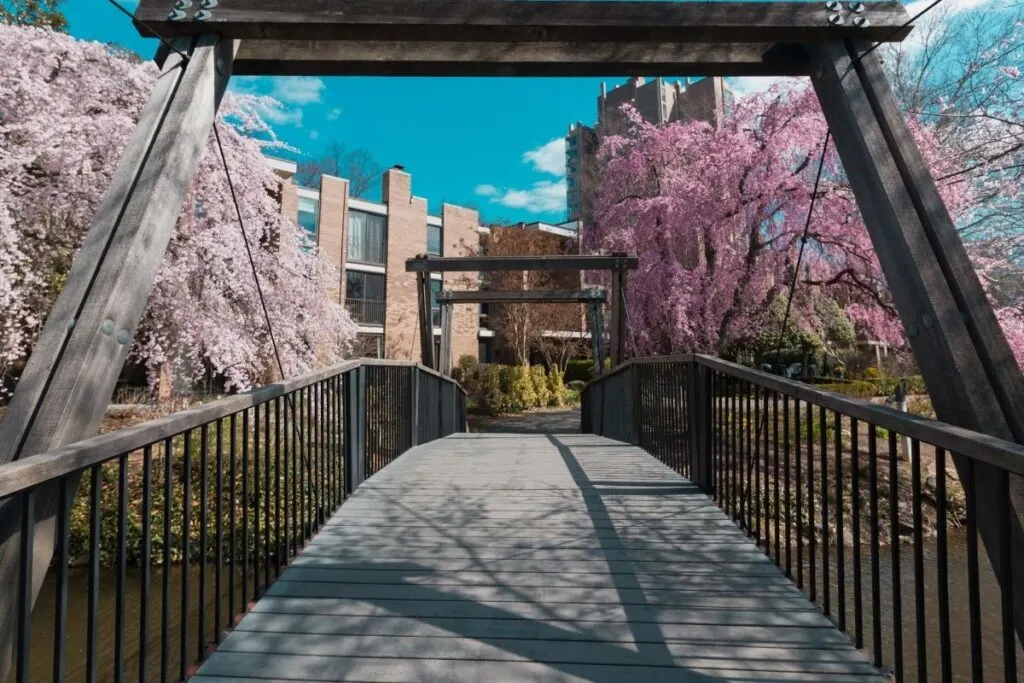 The Van Gogh Bridge at Lake Anne in Reston, VA is a great place to see cherry blossoms. The weeping cherry trees by the bridge make for good photo spots.
6. Ad Hoc Road, Great Falls
If you're looking for a scenic drive in Virginia, be sure to check out Ad Hoc Road in Great Falls. The trees along this road typically bloom later than those in other parts of the state, so you can enjoy their beauty from late March to early April.
7. Shouse Village, Vienna
The Kwanzan cherry trees line Shouse Road and connecting streets in the Shouse Village neighborhood. These trees are ornamental and typically planted in parks and other public areas.
8. Baron Cameron Park
Baron Cameron Park is a great place to see cherry blossoms in Virginia. The park has a playground, so it's perfect for kids. It also has plenty of open space, so dog-lovers can bring their pets along.If you're looking for a pretty spot to take photos, the cherry trees next to Baron Cameron Park's playground are a great choice.
9. George Washington Masonic National Memorial
This memorial is located in Alexandria and is dedicated to the first U.S. president. The grounds feature a beautiful display of cherry trees.
The Masonic Temple is home to cherry trees and provides a great view. If you're looking for a place to see some beautiful cherry blossom trees, the George Washington Masonic National Memorial is a must-visit.
10. Lewis Ginter Botanical Garden
This garden is also located in Richmond and features an amazing assortment of plants, flowers, and trees, including some lovely cherry blossoms.
11. Old Town Alexandria
This charming town has a number of old-fashioned streets lined with beautiful cherry trees.
12. River Farm
This picturesque farm is located just outside of Washington D.C., and offers lovely views of the river as well as blooming fruit trees, including cherries.
13. Founder's Park
If you're looking for a place to see the cherry blossoms in Alexandria, Virginia, look no further than Founder's Park. It offers a great view of the Potomac River and is located in Old Town Alexandria. The park also has a playground, picnic areas and restrooms.
14. Mount Vernon
If you're looking for a place to see cherry blossoms without the crowds, Mount Vernon is a great option. The Mount Vernon Trail is a path that runs along the Potomac River, and you'll find blooming cherries intermittently on the path, in various locations.
15. Ben Brenman Park
Ben Brenman Park is a beautiful park, which is great for cherry blossom viewing. With Lots of Cherry trees giving this park tons of beauty, it's definitely a must see!
What time of day is best for viewing cherry blossoms in Virginia?
The best time of day to view cherry blossoms in Virginia is early in the morning, when they are at their peak. However, if you're looking to avoid crowds, evening viewing may be a better option for you. Keep in mind that parking can be limited near popular viewing areas, so alternate transportation is advised.
You'll also love
Final Thoughts
If you're looking for a beautiful place to see cherry blossom trees in bloom, look no further than Virginia! With locations throughout the state, there's sure to be a spot that's perfect for you. The best time of year to visit is typically in March or April, but be sure to check ahead for peak bloom times as they can vary from year to year.