It can be hard to find a great winery that offers tastings and tours near you.
Not to worry, we've got you covered! We've compiled a list of the 10 best wineries in Northern Virginia for you to check out.
Whether you're looking for a day trip or just a new place to enjoy a glass of wine, these wineries are sure to please. So what are you waiting for? Grab a friend and head to one of these spots today!
1. The Winery at Bull Run
The Winery at Bull Run is one of the closest wineries to Washington D.C. located on the Manassas National Battlefield Park. It has a unique historic vibe, with pieces of its former structures preserved in the landscape. This winery is conveniently located and wine enthusiasts with an interest in American history will enjoy The Winery at Bull Run.
2. The Winery at La Grange
The Winery at La Grange is a premier winery in Prince William County, Virginia. The red brick manor house has been restored and now serves as the tasting room.
The Winery at La Grange offers a unique experience. They allow leashed dogs to join you and you can bring your own food. They have wine clubs and an exclusive events program.
3. Paradise Springs Winery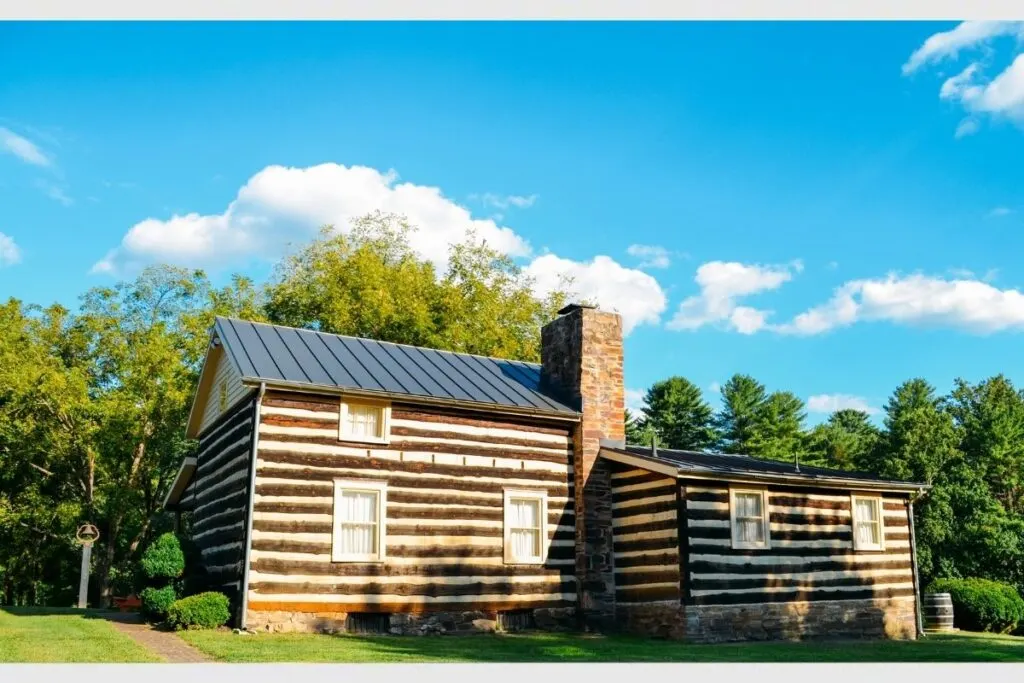 This family-owned and operated winery has been in business since 1716, and it was renovated in 1955. You can enjoy live music on Saturdays and Sundays, as well as family-friendly festivities like hayrides and picnic areas on weekends.
The tasting room at Paradise Springs to explore all the wines they have on offer. And if you want to bring along your furry friend, don't worry – dogs are allowed on leash in the yard only!
One of our favorite wines from Paradise Springs is the Chill red wine. It's dry with high antioxidants, making it perfect for any occasion. Plus, with designated adult and children areas at the winery, everyone will be able to find something fun to do.
If you're looking for a relaxing day out surrounded by beautiful vineyards, be sure to check out Paradise Springs Winery!
4. Granite Heights Winery
Granite Heights Winery is a smaller winery that specializes in high quality wine. The tasting here is leisurely, and the wines are sourced from a farmhouse which dates back to the 19th century. They even let you bring your dog! However, COVID-19 has caused some wineries to limit reservations. So if you want to visit Granite Heights Winery, be sure to check their website for availability first!
5. Boxwood Estate Winery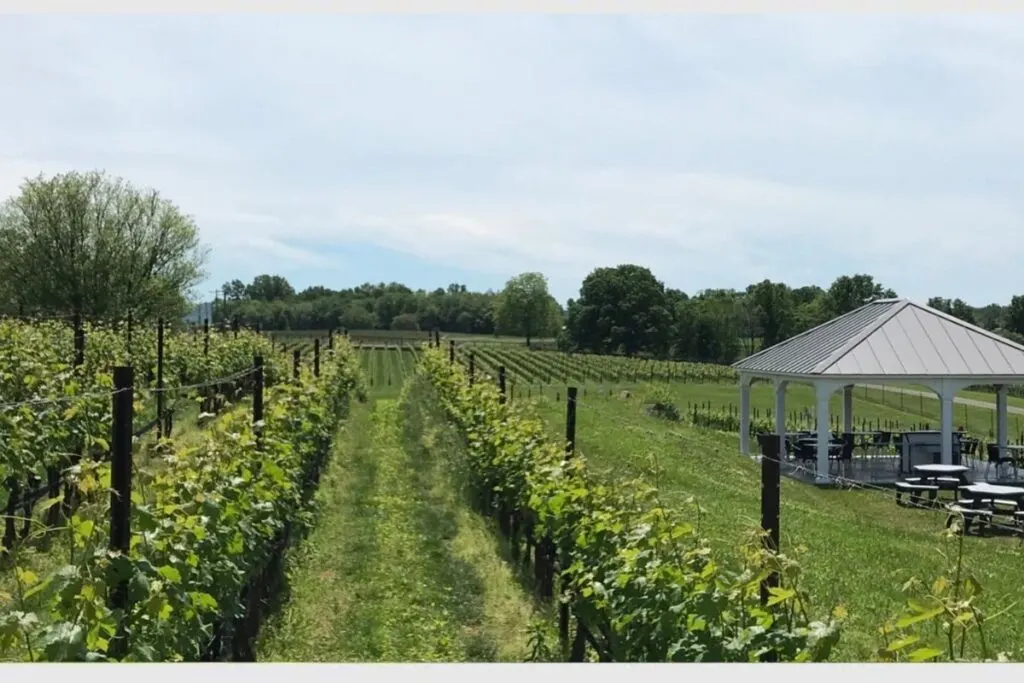 Boxwood Estate Winery is a sleek yet cozy space, with delicious wines. The venue is close to world-famous horse farms and close to historic downtown Middleburg. Boxwood Estate Winery has really great food and wine. Middleburg is a great destination for all kinds of things, including wine tasting.
6. Narmada Winery
The Narmada Winery is located in Amissville, Virginia. It's about an hour and a half drive from Washington D.C., making it a great option for those looking to get out of the city for a bit. The winery is owned by two people who are originally from India, so you can expect some unique wines on offer!
One thing that sets Narmada Winery apart is that children are allowed inside as long as they're supervised. This makes it a perfect destination for families with kids who want to do some wine tasting. You can also bring your dog along, which is always a bonus!
Narmada Winery offers some great food and wine pairings. One of my favourites is the 2015 Yash-Vir with Rasika's Green Masala Chicken. If you're not in the mood for Indian food, don't worry – there are plenty of other options available too!
Wine tasting, buying wines to go, and picnics are all available features of the Narmada Winery. So if you're looking for an enjoyable day out in Northern Virginia, I'd definitely recommend paying this place a visit!
7. Chateau O'Brien at Northpoint
Chateau O'Brien at Northpoint is a family-owned and operated winery that is quickly gaining a reputation for its delicious wines. The Tannat wine, made with Virginia apples, is world-renowned and has won awards from some of the most prestigious wine competitions in the country.
The tasting rooms are intimate and provide an enjoyable experience for locals or visitors to the area. With beautiful views from its patio, Chateau O'Brien at Northpoint is definitely worth a visit!
8. Fox Meadow Winery
Fox Meadow Winery is a family-owned and operated winery in Linden, VA. They are located on the Blue Mountain range near DC. Fox Meadow's wine tasting room is open 7 days a week from 11am to 5pm.
Their White is a popular choice with notes of coconut and tropical fruits. They have a unique take on classics such as oaked chardonnay and pinot grigio, which are local favorites. Fox Meadow Winery also offers live music events every weekend!
9. 8 Chains North Winery
8 Chains North Winery is located in Loudoun County, Virginia. It specializes in Old World style wines and has a wine tasting room with beautiful views of the vineyard. The winery also allows pets on the premises, has child-friendly policies, and is open Monday through Saturday (Except Wednesday). 8 Chains North is about 55 miles from Washington D.C., making it a great option for those who live in or near the city.
10. Potomac Point Winery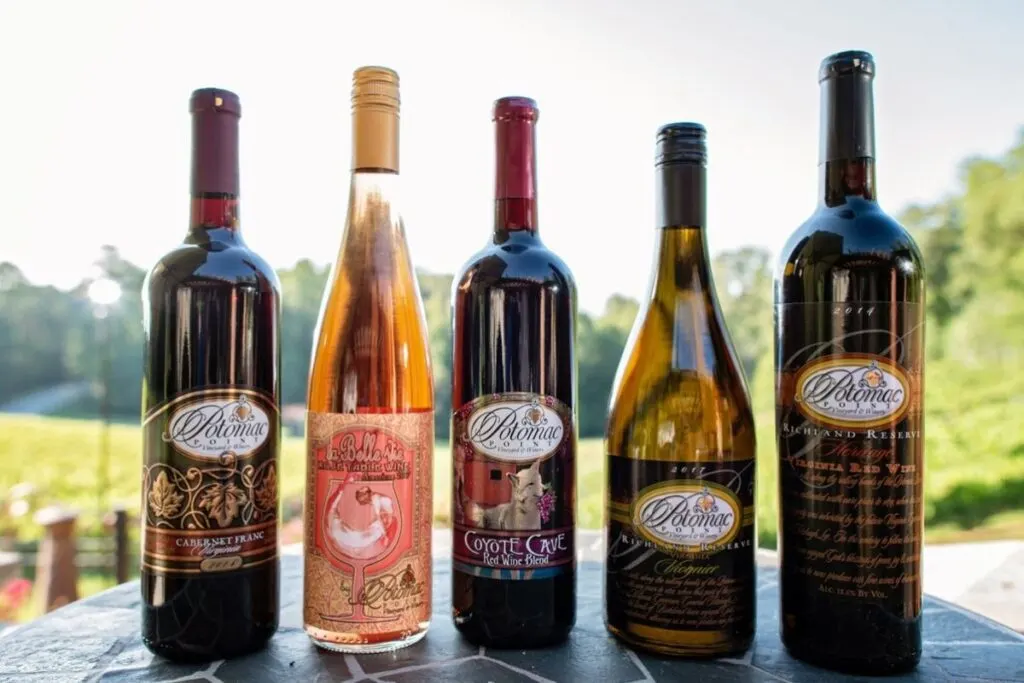 Potomac Point Winery is one of the many wineries in Northern Virginia. It offers a range of activities and is spacious for groups. The bistro offers live music on Fridays, with reservations available for tastings selected days. Potomac Point Winery also hosts private events.
These wineries are sure to please, offering tastings, tours, and beautiful views. So grab a friend and head to one of these spots today for a perfect day trip.
You'll also love