Colonial Beach doesn't have a big reputation, but there's plenty of fun to be had in this small town.
From exploring the National Monument to enjoying the fresh seafood at Stepp's Harbor View Marina, there's something for everyone on this list.
Here are some of the best.
1. Bayside Marina
The Bayside Marina is located in Colonial Beach, Virginia. The marina has a dock for boats to tie up at, and it is close to other water activities like fishing. The best thing about the marina is that it has a restaurant! So if you're looking for a place to eat or want to grab a drink, the Bayside Marina is the perfect spot.
2. James Monroe Birthplace
The James Monroe Birthplace is a historic site located near Oak Grove and Colonial Beach, Virginia. It was the birthplace of the fifth President of the United States, James Monroe. The archaeological team found an abandoned house and some destroyed rooms in a 500 acre area, but also discovered items from other eras as well. It is not clear if these artifacts are authentic or if they were made to look like old ones, but it was an expensive project nonetheless.
3. Colonial Beach Brewing
If you're looking for a great place to hang out with friends and enjoy some delicious craft beers, look no further than Colonial Beach Brewing. This brewery is located in Colonial Beach, VA and has a large outdoor area where you can relax and have a good time.
The beers at this brewery are all very good, but my personal favorite is the sunken sailboat beer. And if you're feeling hungry, there's plenty of food options nearby thanks to the many restaurants in the same area. So be sure to check out Colonial Beach Brewing when you're in town!
4. George Washington Birthplace National Monument
George Washington was born in 1732 at his family's plantation on Pope's Creek in Westmoreland County, Virginia. In the early 1800s, Washington's great-grandson, George Washington Parke Custis, began to preserve the land and erect buildings in commemoration of his famous ancestor.
In 1930, Congress authorized the creation of a national monument at George Washington's birthplace and directed the National Park Service to administer it. The Birthplace Monument was dedicated on October 27, 1932 by President Herbert Hoover.
The grounds are beautiful and easy walking with a nice view of Pope's Creek. Visitors can view the Washington home at George Washington's Birthplace as well as other monuments erected on the property in commemoration of America's first president.
5. Colonial Beach Municipal Pier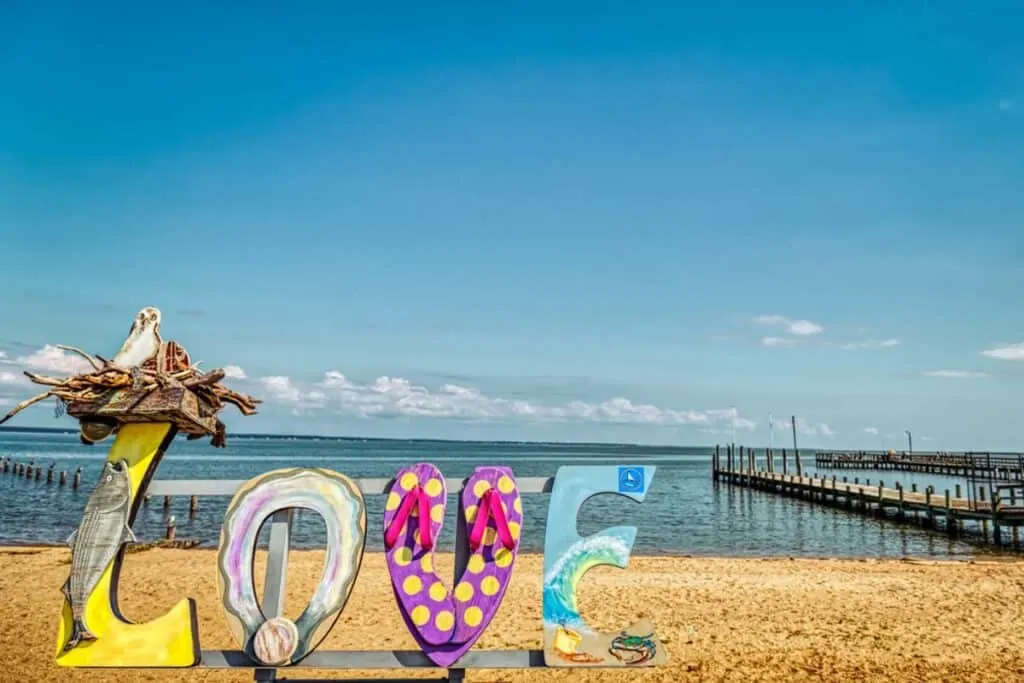 The Colonial Beach Municipal Pier is a popular spot in town, and it's not hard to see why. It offers great views of the Chesapeake Bay, it's clean and respectful, and fishing is a popular pastime there. In fact, many people come to the pier simply to enjoy a walk with their furry friends.
The pier is also one of the most popular spots in town for crabbing. And if you're looking for something to do on a rainy day, the pier makes for a great place to check out some art.
6. Peddlers Market
If you're looking for a unique shopping experience, Peddlers Market is the place for you! This market offers a variety of new and used merchandise, from seaside to country. You'll find wonderful surprises around every corner to make your shopping experience fun and exciting.
7. Stepp's Harbor View Marina
If you're looking for a great place to dock your boat while exploring Colonial Beach, Virginia, look no further than Stepp's Harbor View Marina! This marina is open 365 days a year and offers fresh seafood and drinks for visitors. In addition, the marina has restaurants available for guests to enjoy food and drinks in.
8. Westmoreland State Park
Westmoreland State Park is a beautiful 1,300-acre park that consists of beaches, hiking trails, and boat rentals. The park is perfect for a day trip or an overnight stay.
The housekeeping cabins were clean and cozy for our stay at the park. The cabins are equipped with a decent AC unit, which was much needed on hot days. The cabin also came supplied with one bundle of firewood, which was great because you'll be able to make s'mores around the campfire one night. Overall, you'll have a great experience at Westmoreland State Park and would highly recommend it to anyone looking for a fun-filled weekend escape.
Final Thoughts
There are plenty of things to do in Colonial Beach, Virginia. From historical monuments to state parks and marinas, you're sure to find something that interests you.
You'll also love