Fredericksburg Virginia isn't exactly a coastal town, but there are beaches to be found nearby. Don't expect white sands and giant waves, but there's plenty of fun to be had at these local beaches.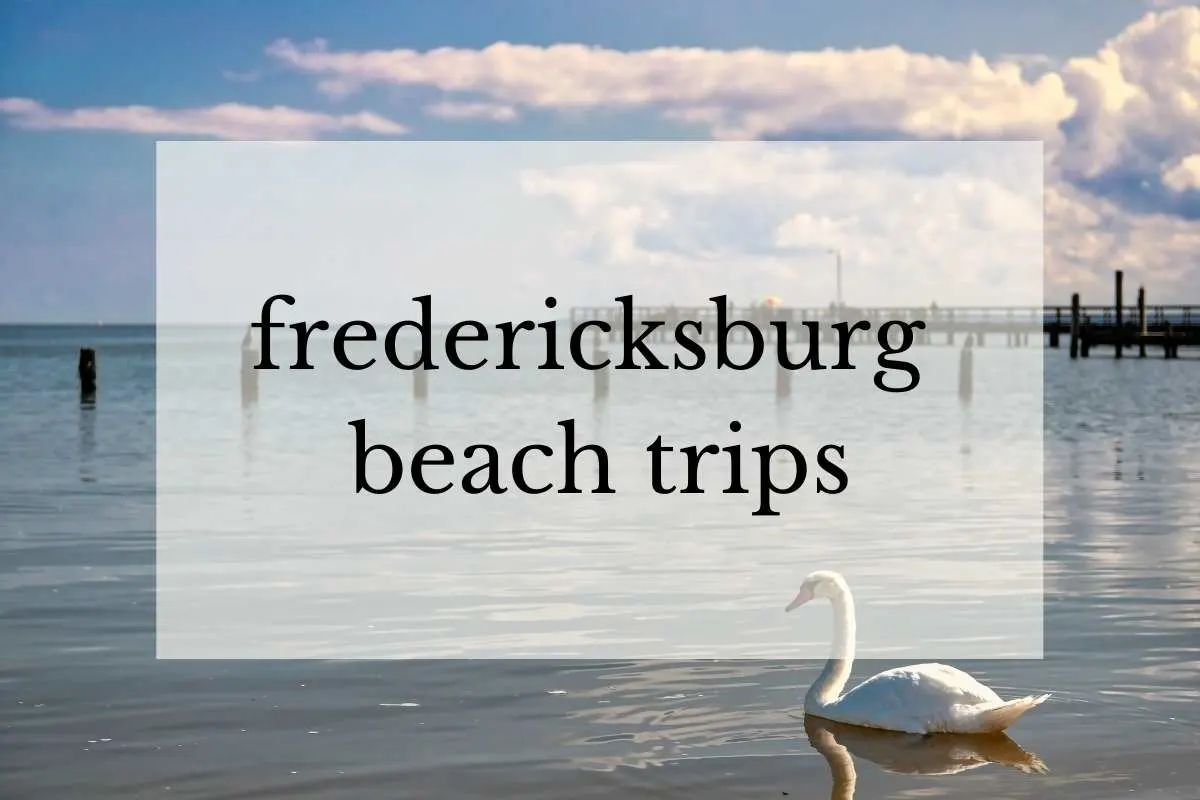 The best beaches in the Fredericksburg area
🌴 Our favorites: The best on the list is Colonial Beach, but it's a hike. Need something closer? Pick Fairview Beach for adult waterfront dining and drinks, or Lake Anna for a kid-friendly beach day.
Fossil Beach at Westmoreland State Park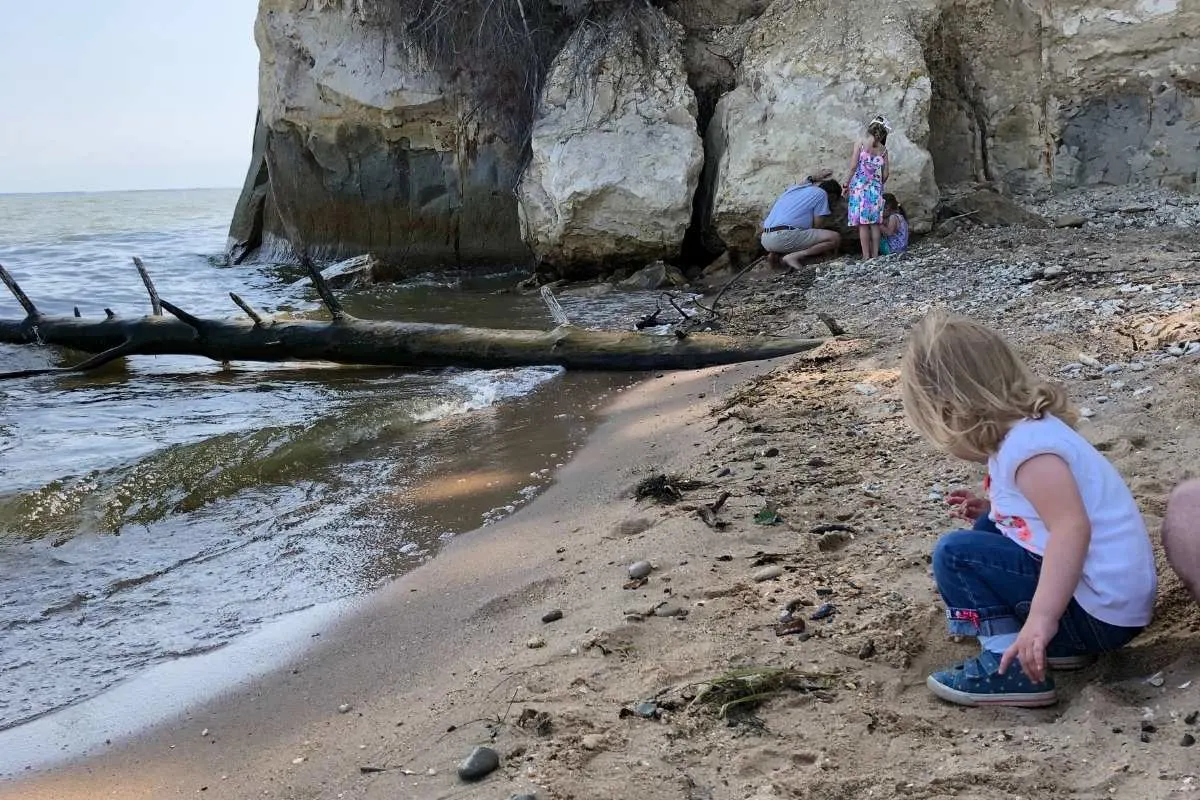 Westmoreland State Park is a 5-mile long public recreation area located along the Potomac River in Westmoreland County, Virginia. The park offers opportunities for fishing, swimming, boating, and hiking as well as providing spectacular views of the river.
Westmoreland State Park is a great place to visit if you're looking for a beach getaway near Fredericksburg VA. There are plenty of camping and lodging options, including wooden cabins that can be rented on a short-term basis.
The beach here, known as Fossil Beach, is a little rocky and requires a walk to get to, but it's fun and never too crowded. The park offers many guided tours, some of which are suitable for kids.
Westmoreland State Park is a great place to visit if you're looking for a relaxing day outdoors. The park is never particularly busy, so you'll be able to enjoy the quiet surroundings and take in the natural beauty of the area.
Overall: If your family is into hiking and exploring, you'll love it. It's beautiful. But if you want a relaxing beach day, look elsewhere.
Fairview Beach
Here, there are plenty of activities to keep visitors busy, including fishing, crabbing, swimming, and sunbathing.
Of all the beaches on this list, it has the most "oceany" feel. It faces the Potomac with beautiful views and plenty of fun waterfront dining. The town feels like a beach resort, while the others feel more like (and are!) lakes and rivers.
You can rent boats or put in your own. There is some public beach access at Fairview Beach, but not really enough to make a day of.
(The best sand is to be found at the restaurant Ricks on the River, where you'll find an artificial beach area with volleyball and kid's games set up during the high season.)
Overall: The beach itself is small and not super clean. But it's a cute area with fun restaurants and a vacation vibe.
Colonial Beach
It's like a real oceany beach over here. You'll find palm trees, a motel, and lots of sand.
There are plenty of public beaches at this location, and they are clean and nice.
You'll see an abundance of golf carts traveling the streets of this quaint town, which are available for rent at numerous sites – you must have a valid driver's license to snag one.
There's even a low-key walkable downtown area with seafood restaurants and coffee shops,
If you're up for some history, stop by the Colonial Beach Museum on Hawthorne Street. Check for times, but it's typically open weekends April through December.
Overall: A charming town with a nice beach. Worth the drive if you can manage it.
The Beach at Lake Anna State Park Near Fredericksburg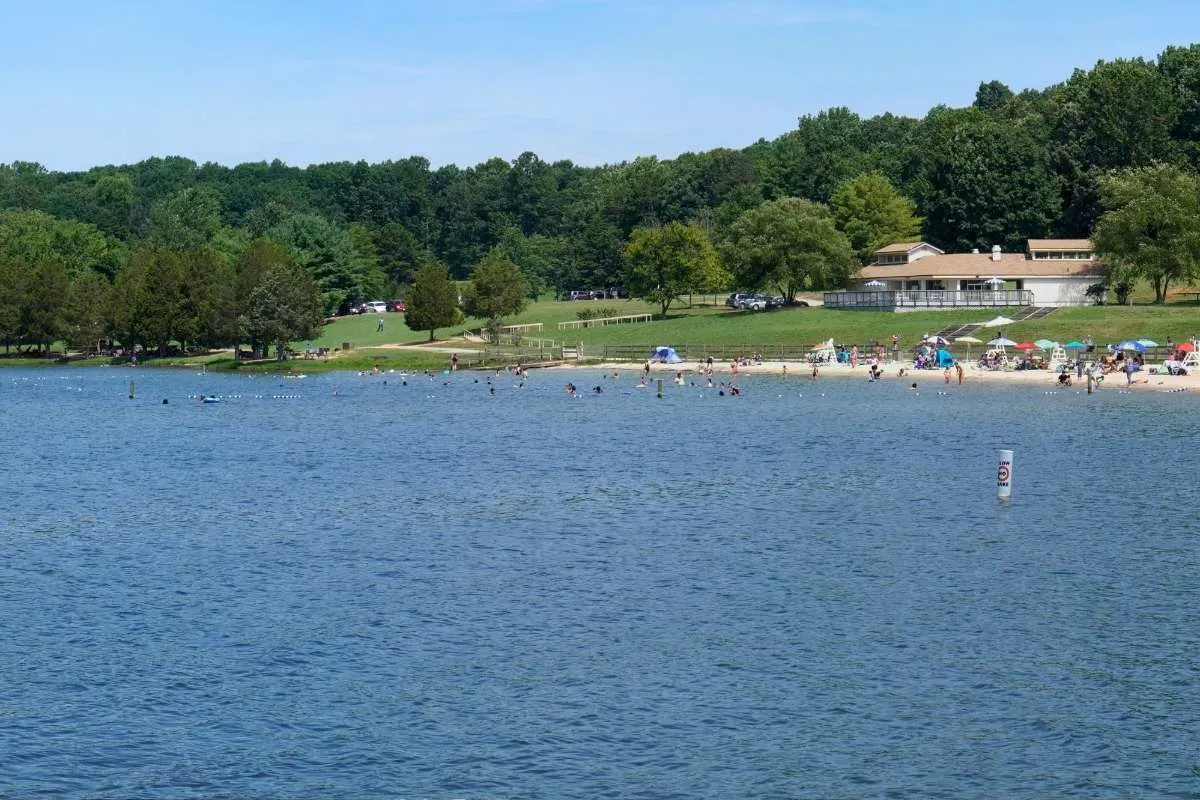 .Lake Anna State Park is a beautiful place to visit, and it offers plenty of activities for people of all ages. One popular attraction is the beach, which features lifeguards from Memorial Day weekend through Labor Day. The park also has a playground, hiking trails, and a picnic area. There is a small fee to park and another small swimming fee.
Lake Anna State Park is a great place to go if you want a completely beach-focused day trip. It has the widest and sandiest of all the beaches, and you can absolutely spend an entire day here. The park offers a marina as well as paddleboard and kayak rentals.
Lake Anna State Park is a great place to go if you want a completely beach-focused day trip. It's also a great place for boating, fishing, and camping.
Beach umbrellas are welcome on the sand, but you'll have to erect larger sun shelters on the open grassy area around the beach. You'll find a bathhouse and snack bar just up the hill. Hours vary so phone ahead, but both are typically open from 10 am until late afternoon/early evening through the summer.
Overall: Super fun place to take the kids even small children, but there will be crowds on a summer weekend.
Falmouth Beach
The Rappahannock River is a great place to visit for riverfront beaches. One of the more popular areas is Falmouth Park, which offers plenty of parking. It's the nearest beach to Fredericksburg and has a mix of older fishers, college students, and locals with families.
It's on the north side of the Rappahannock, just a short drive from downtown.
The Rappahannock River is a great place to take a swim, but please be aware of the potential dangers. The water can be high at any time and the rocks can be slippery, so swimming is at your own risk. Unfortuately, there are multiple drownings here every year.
The Rappahannock River is a popular spot for fishing, so be sure to wear shoes when you're casting your line. You never know when you might snag a toe on a hook
The Rappahannock River is a great place to find nature and relax. The river flows 213 miles from the Blue Ridge Mountains to the Chesapeake Bay, making it a popular spot for fishing, kayaking, and swimming.
Overall: Fun, easily accessible spot from downtown Fredericksburg. It's great for picnics and sunbathing, but too dangerous to swim.
More seasonal fun in the area:
Enjoy your beach day!
The beaches near Fredericksburg VA offer a variety of fun activities for visitors. Whether you're looking to relax by the water, fish from shoreline rocks, or sunbathe on a sandy beach, there's something here for everyone.