Nothing says fall quite like a crisp fall day spent picking apples. (Except perhaps munching on apple cider donuts.)
And Virginia is loaded with gorgeous apple orchards tucked into the Blue Ridge mountains.
Here are 11 of the best apple orchards in Virginia for a perfect day trip.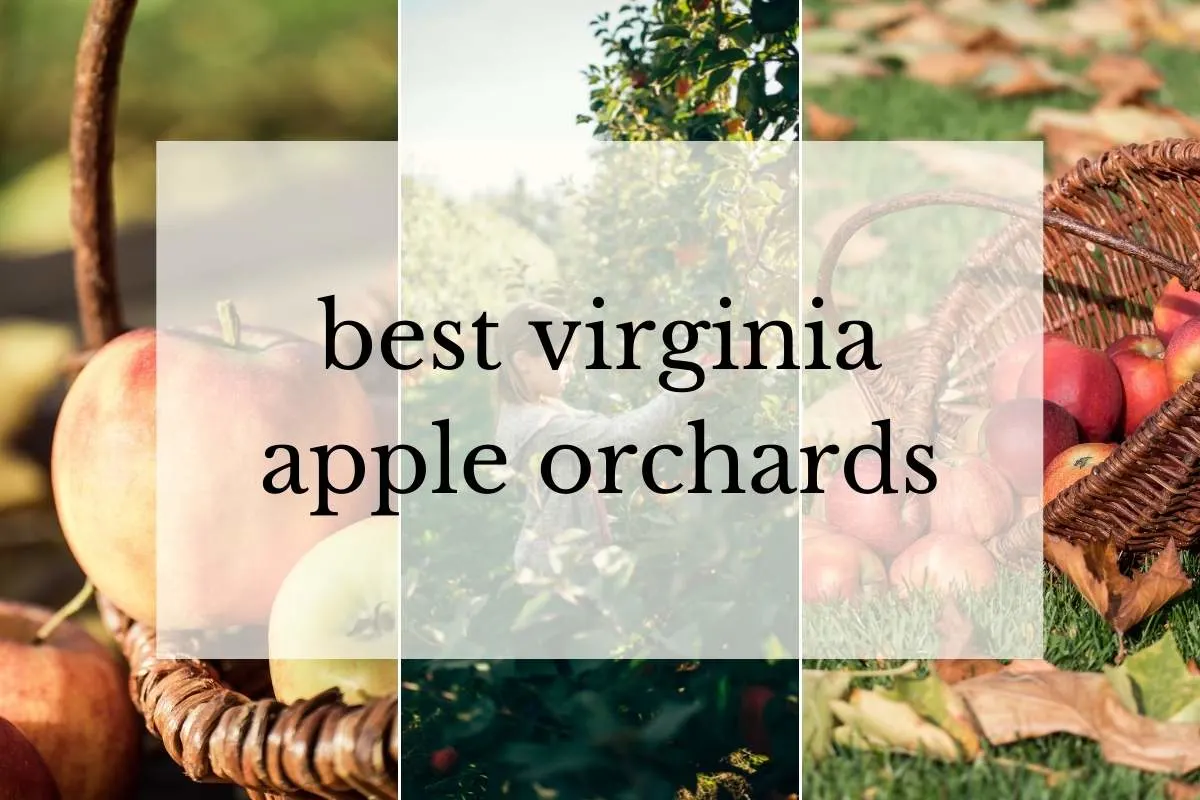 Best Virginia apple picking
For more fall fun, be sure to check our guide to the best Virginia fall foilage and the best central Virginia pumpkin patches.
Most of these apple orchards are located near the Blue Ridge mountains, where the lower humidity and cooler weather helps the trees thrive.
1. Crooked Run Orchard in Purcelville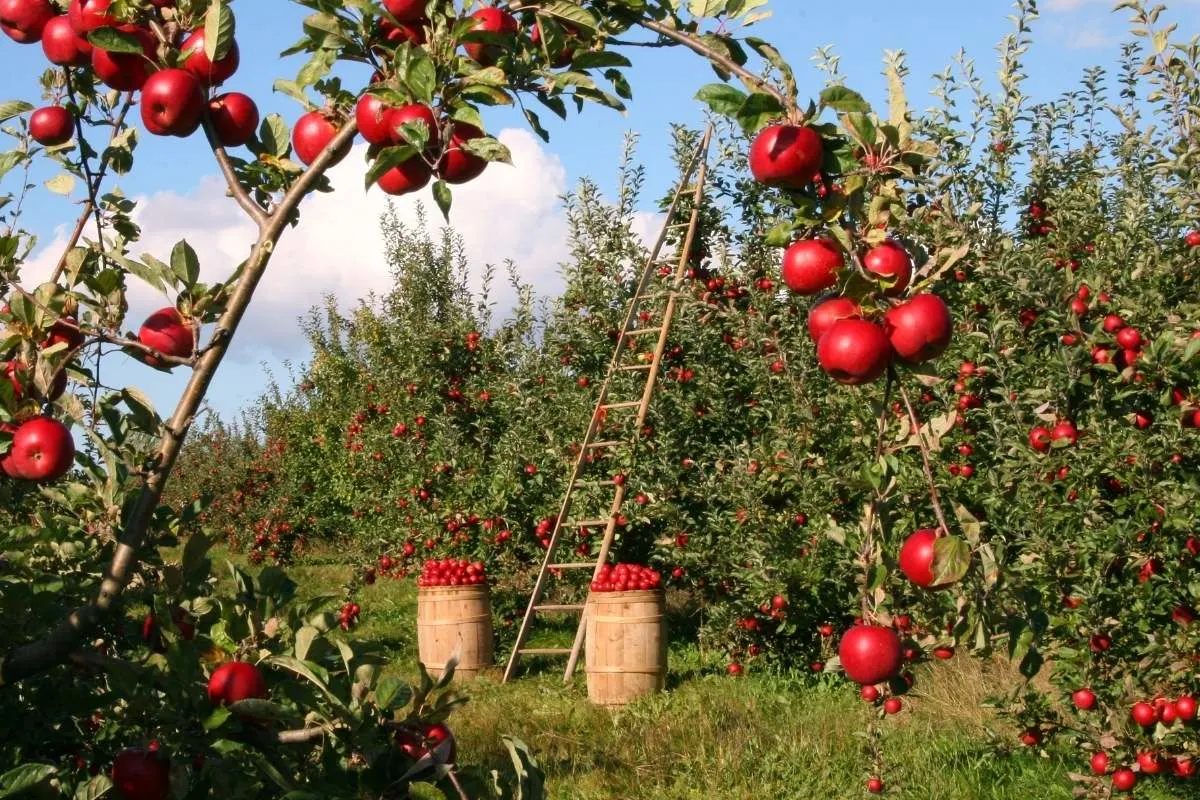 Crooked Run Orchard is a family-owned and operated apple orchard in Purcelville, in Loudon Country. The orchard is open on Monday and Tuesday for pre-picked apples, but the pick-your-own hours vary. Be sure to check their website before you go! They have a wide variety of apples available, including: Honeycrisp, Golden Delicious, Granny Smith, Rome, Jonathan Apples, and more!
Crooked Run Orchard is a great place to go apple picking in Virginia. Not only does the orchard sell delicious apple cider, but it also has a variety of other produce available for purchase. In addition, visitors can pick blackberries and peaches at the orchard during their respective seasons. Pets are allowed on the premises, and there are portable restrooms and picnic tables available for use.
2. Hartland Orchard in Markham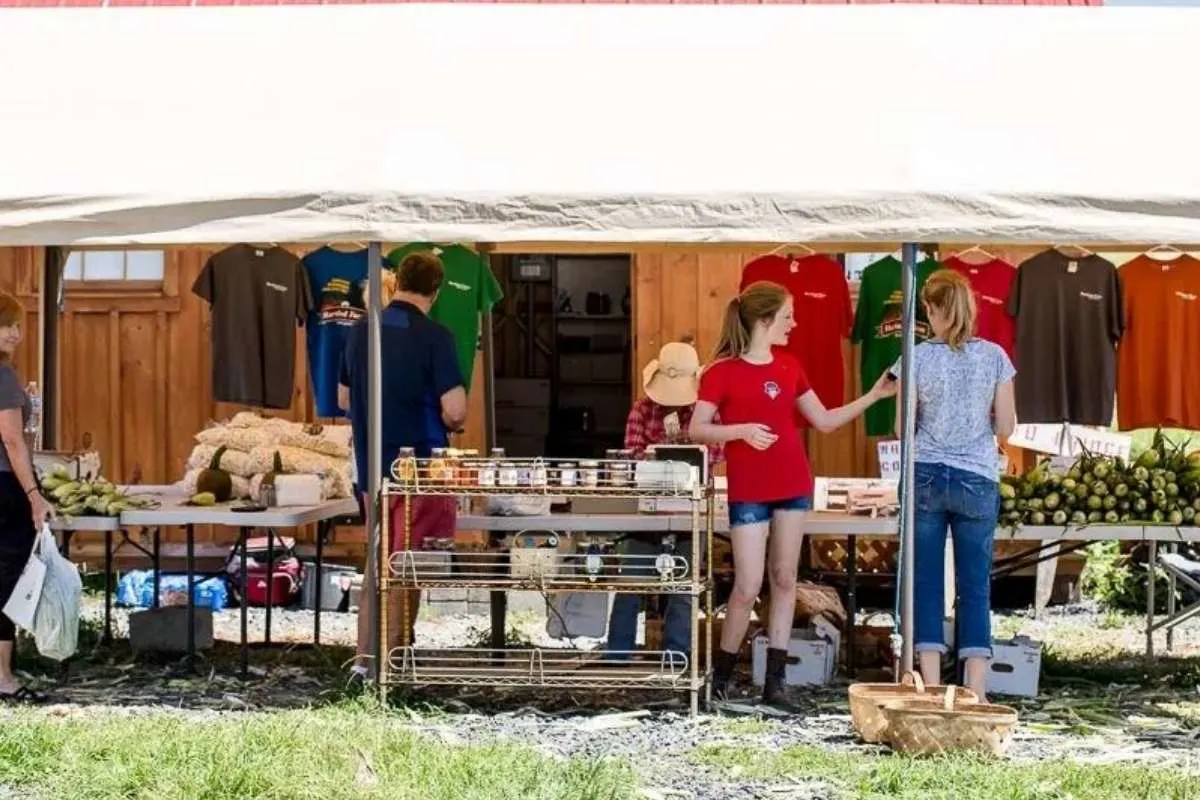 Hartland Orchard is located in Markham, VA. They offer u-pick apples, cherries, peaches, and blueberries during the season.
In addition to apple picking, Hartland Orchard also has a pumpkin patch in Autumn and a fall festival. The festival includes activities like a petting zoo, corn maze, hayrides, and more!
Hartland Orchard is a great place to go apple picking with the whole family. The orchard has something for everyone and is pet-friendly! (They also have great Christmas trees in December!)
3. Stribling Orchard in Markham
Stribling Orchard is a family-owned and operated apple orchard in Markham, Virginia. The orchard has been growing apples on the property since the 1700s. Today, Stribling Orchard has a variety of apple varieties, including McIntosh, Granny Smith, Tydeman Red, Braeburn, Fuji , Pink Lady, York, and so many other types. In addition to apples,
Stribling Orchard also has an awesome farm store sells pumpkins, gourds, jams and jellies, and even their farm-raised beef.
Check them out on Facebook here.
4. Carter Mountain Orchard near Charlottesville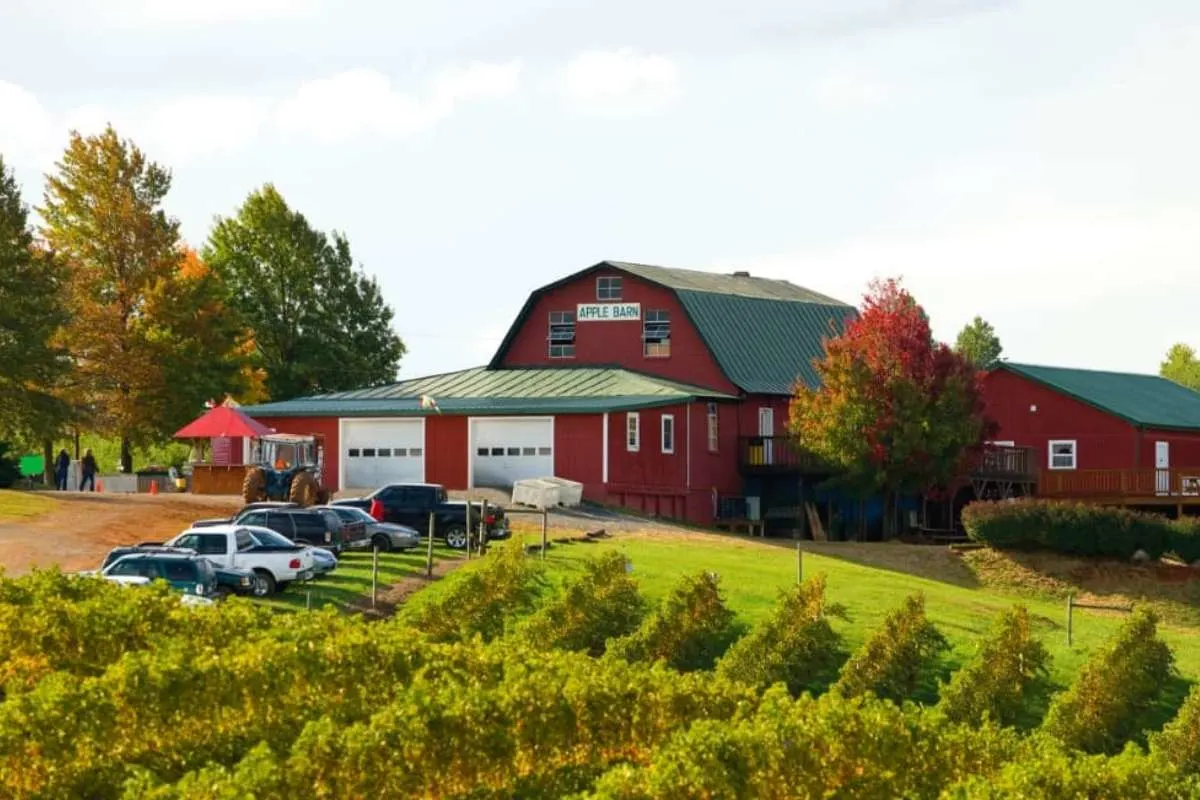 Carter Mountain Orchard is a beautiful apple orchard. It is open from July to November each year, and offers a variety of activities for visitors to enjoy, including picking apples, picking pumpkins, visiting the petting zoo, and more.
Apple picking is a favorite autumn tradition for many people, and Carter Mountain Orchard in Virginia is one of the best places to do it. The orchard is open from July through November, and it's best to visit during the peak season. There are various activities available at the orchard, such as tractor-drawn wagon rides, live music, and a playground for kids. In addition, there are several different types of apples available for picking.
They also have a vineyard with a tasting room and a full hard cider brewery.
5. Hollin Farms in Fauquier County
Hollin Farms is a beautiful farm that offers an extraordinary variety of delicious apples, other fruits, and homegrown vegetables. The farm is open to the public from September to November and is a great place for families to visit. There are plenty of activities to keep everyone entertained, including apple picking, pumpkin picking, hayrides, and more.
At Hollin Farms, visitors can enjoy a plethora of activities in addition to apple picking. For instance, the farm market offers fresh produce for purchase, and guests can also enjoy a picnic lunch on the grounds. Hayrides and pony rides are available for younger visitors, and everyone can savor the taste of delicious apples picked straight from the tree.
6. Great Country Farms in Bluemont
Great Country Farms is a popular destination for apple picking in Virginia. The farm is located in Bluemont, near Harper's Ferry and offers a range of produce, including (of course) apples. Apple season at Great Country Farms begins late August and lasts through early October.
In addition to apple picking, Great Country Farms also offers a corn maze, hay rides, pumpkin picking, and more. You can watch an old-fashioned cider press, visit the farm store for some local honey, or simply stop in for some apple cider donuts and fresh coffee.
One of our favorites.
Check out their schedule here.
7. Dickie Brothers Orchard in Roseland
Dickie Brothers Orchard is located in Roseland on the edge of the gorgeous Blue Ridge mountains and is a great place to go apple picking. They have a wide variety of apples to choose from and also offer other activities, such as pumpkin picking and hay rides.
Dickie Brothers Orchard is a great place to go apple picking in Virginia. The orchard offers a variety of apples to pick from July-November. They also have a farm store where you can buy high-quality produce when you're done picking apples.
They've been in business since 1750.
8. Mount Pleasant Farms in Chesapeake
Mount Pleasant Farms is a fruit and vegetable farm located in Chesapeake, Virginia. The farm grows a variety of fruits and vegetables, including apples, and opened in 2011.
In addition, the apple picking season at Mount Pleasant Farms lasts from early July to the end of August. There are other family-friendly attractions on the farm such as pony rides, a playground, and farm animals to pet. So come out and enjoy some fresh air while you pick some delicious apples.
This family farm keeps a well-stocked store selling fresh eggs, honey, soaps and lotions, and apple butter.
For more information check out their website.
Virginia Apple Picking Tips + Tricks
Check the weather before you go apple picking. You don't want to be stuck in the rain or too cold weather. Keep in mind that most of these orchards are near the mountains, where the weather can be different from where you are.
Wear comfortable shoes since you will be doing a lot of walking.
Bring a reusable bag or basket to put your apples in.
Call ahead or check the website of the apple orchards to double check their hours.
When is the best time for apple picking in Virginia?
Generally, the best time for apple picking is in the late summer or early fall.
But there is no definitive answer to this question since the best time for apple picking in Virginia varies from year to year and location to location.
Some of the orchards on our list grow over 20 varieties of apples, so picking options change week to week.
Summer apple varieties like Lodi and Rambo ripen in early August, followed by Macintosh, Gala, and other late summer fruit.
Popular September apples include Honey Crisp and Red and Gold Delicious.
October varieties include Granny Smith and Fuji.
Weather and crowds can change what is available in the orchard from day-to-day. Follow the links to find out what is available for picking at the orchard you plan to visit
Apple picking is a fun fall activity that can be enjoyed by people of all ages. In Virginia, you can get the chance to pick your own apples from late August through early October. There are many apple orchards in the state with most offering other activities as well such as pumpkin picking, hay rides and corn mazes. If you're looking for a beautiful fall day trip, check out one of these stunning apple orchards in Virginia.