Front Royal is a short drive from the Northern Virginia suburbs but feels like a mountain town in the middle of the countryside. It has everything from views of the Blue Ridge mountains to cute boutiques on the mainstreet. Even with its remote feel, there's plenty to do in this historic town, from gorgeous Virginia vineyards to outdoor adventures.
Here are some of our favorites.
What to do in Front Royal Virginia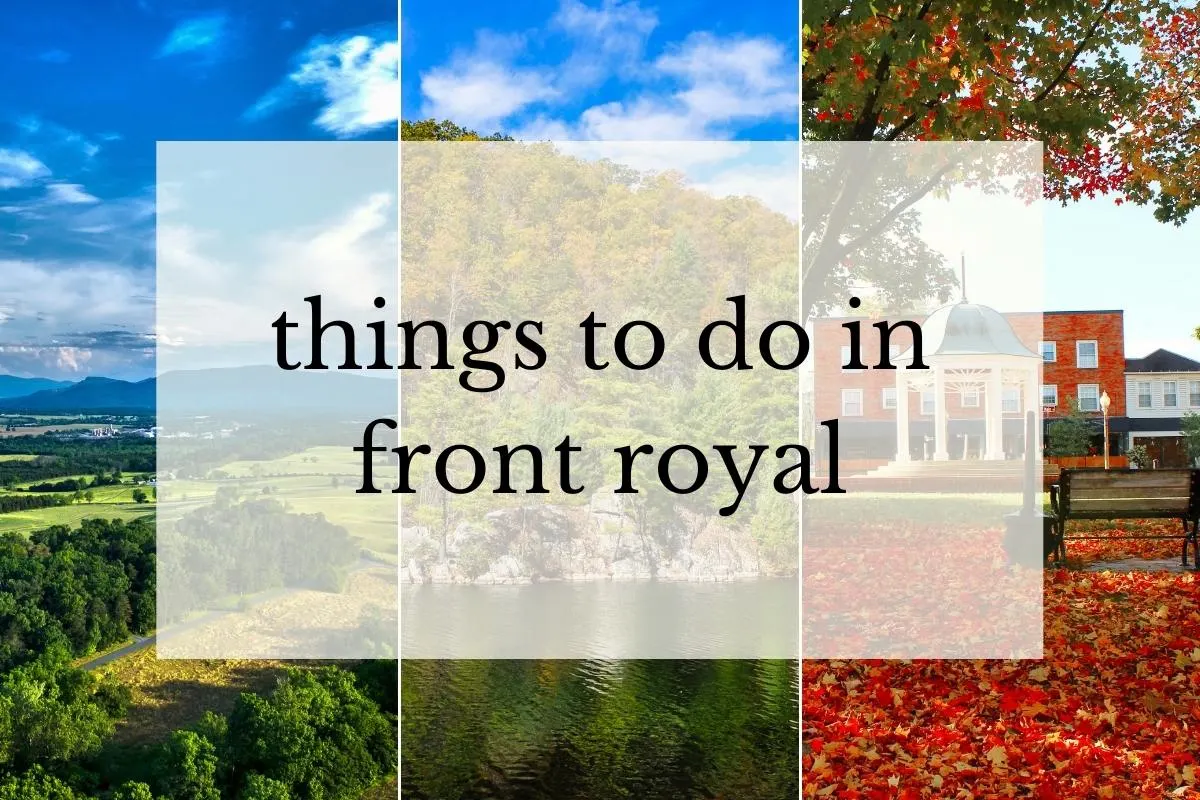 Walk through historic Main Street
When you visit Front Royal, VA make sure to explore Main Street! The renaissance of this street has been a mix of small businesses, local vendors and artisans. It's the perfect place to find that unique gift or souvenir.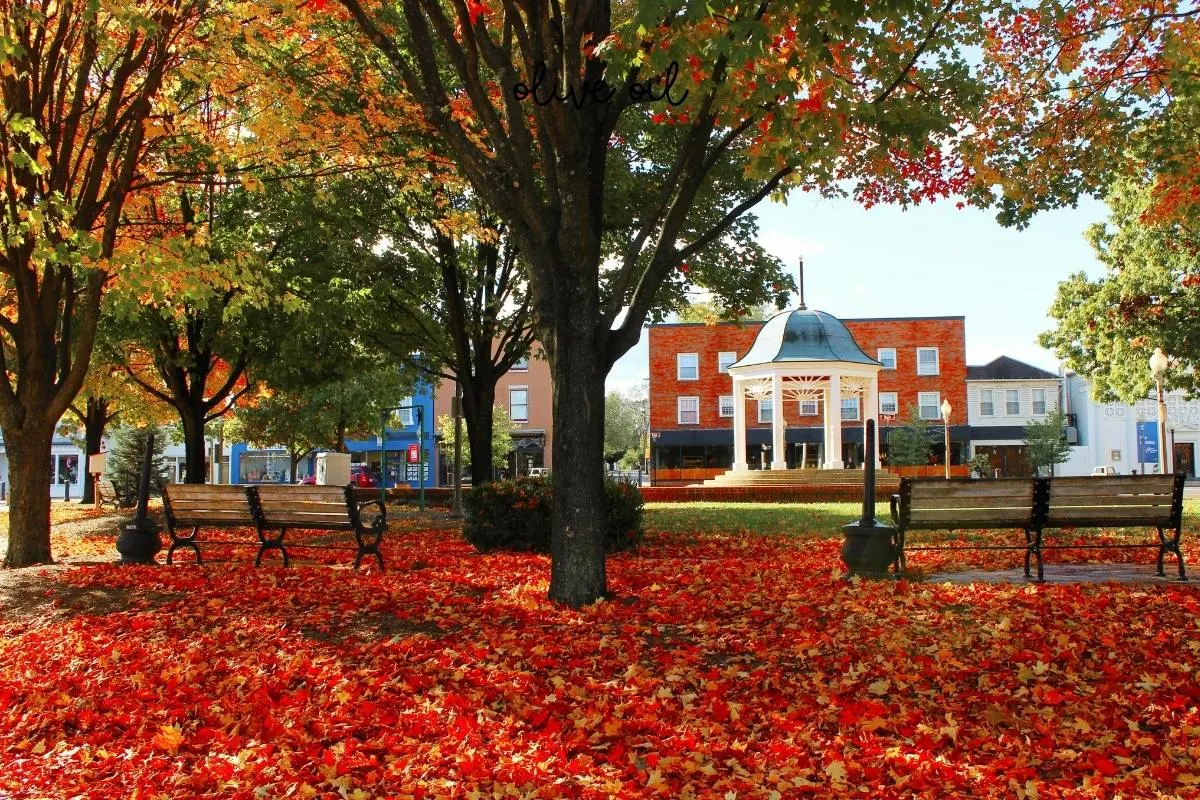 If you're looking for a great meal, Manor Line Market offers farm-to-table meals and features women-owned businesses. And if you need some outdoor gear before your next adventure in Shenandoah National Park, stop by Mountain Trails. They have all the feels of REI!
Enjoy the beautiful Shenandoah River
The Shenandoah River is a popular destination for kayakers and canoeists. The river offers a variety of experiences, making it an ideal spot for both novice and experienced adventurers. You can take out canoes and kayaks from the boat ramp in Front Royal for just $6. This makes it an affordable way to spend hours on the water enjoying the natural beauty of the Shenandoah Valley.
If you're looking for a more adventurous experience, consider taking one of the guided tours offered on the river. Participants are not able to choose their own itinerary, but this tour is perfect for those who want to see as much of the valley as possible.
Visit a local art gallery
There are many art galleries in the Front Royal, VA area. However, the hours vary from one to the next.
The Kiln Doctor is an art gallery that specializes in ceramics and pottery. It is open from 2pm-5:30pm on Wednesdays through Sundays except during July and August when it closes at 4:30pm to 5:00pm.
Local art gallery hours vary, so it is best to check online or call ahead before you visit.
Check out the Ivy Lodge Museum for local history
The Ivy Lodge Museum is a great place to explore the history of Front Royal. The museum has exhibits and artifacts on the history of the Native American population, early settlers, and industry and agriculture. You can also buy tickets to Balthis House and Belle Boyd Cottage at Ivy Lodge Museum.
There used to be an educational school here; also housed officials from it. The Ivy Lodge Museum is a center for history about the prestigious Front Royal Academy. Fellows at the academy taught girls manners and calisthenics, and art.
Go back in time at the Country Store Museum
This museum celebrates historical lifestyles across the country. Front Royal's Country Store Museum is a great place to start. The Country Store Museum was originally built as a general store in the late 1800s and has been transformed into a museu.
Study Civil War History at the Belle Boyd Cottage
The Belle Boyd Cottage is one of the oldest buildings in Front Royal and has associations with many American historical figures. The Union officers used the hotel as their headquarters during the Civil War, but Belle Boyd helped General "Stonewall" Jackson win the Battle of Front Royal on May 23, 1862.
Today, the self-guided walking tour is a unique way to learn about the history of the town.
Try your hand at axe throwing at the Shenandoah Valley Axe Throwing Co.
The Shenandoah Valley Axe Throwing Co. is the perfect place to unleash your inner warrior! This company offers axe-throwing as a recreational activity, and it's open to all ages. In addition, axe-throwing lessons are included in your visit so that you can learn how to throw axes as accurately and safely as possible.
The experience at this company is unforgettable for groups of all sizes and ages. The eight lanes can fit six people each, so there's plenty of space for everyone to have a good time. Competitive pricing makes the Shenandoah Valley Axe Throwing Co. an affordable option for an exciting day out with friends or family. Plus, booking online guarantees that you'll have a spot when you arrive!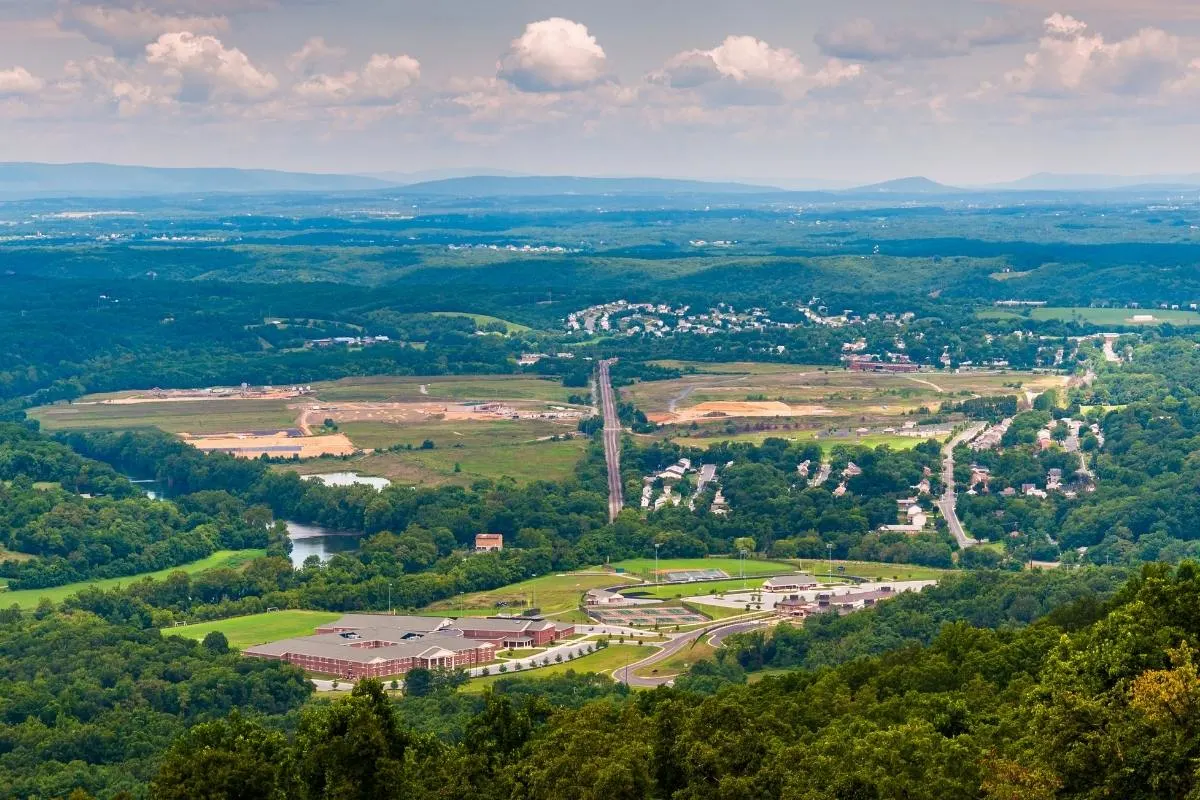 Go horseback riding at the Royal Horseshoe Farms
If you're looking for a great place to ride horses, look no further than the Royal Horseshoe Farms! They offer hour-long sessions and two-hour trail rides, as well as riding camps for all skill levels. Plus, their horses are beautiful and well-trained.
Before saddling up and hitting the trails, be sure to ask one of the farm's certified instructors to teach you how to ride. That way, you'll know what to do in case something happens while out on the trail.
The Royal Horseshoe Farms are a great place for families to go horseback riding together. The trails are 1.5 miles long and take riders through varying levels of difficulty. There's also a historic 1740s era farmhouse on the premises that visitors can check out!
Explore outdoor history at Cedar Creek & Belle Grove
If you're looking for a fun and educational outdoor activity to do in Front Royal, VA, Cedar Creek & Belle Grove Park is the perfect spot! This National Historical Park is home to Native Americans, pioneers, and wheat production exhibits. It's also just 17 minutes from Front Royal.
This park was established in 1936 and has been designated as a National Historic Landmark site. There's definitely plenty to see and do here! One of the highlights is the Battle of Cedar Creek battlefield. This battle helped secure Union victory in the Civil War for their final victory.
In addition to the interesting stops mentioned above, there's also an old plantation that was once home to slaves. You can explore this site and learn more about its history at the 1797 Manor House. Cedar Creek & Belle Grove State Parks are definitely worth visiting if you're looking for an enlightening outdoor experience!
Dinosaurland
Dinosaurland is an outsider art museum located on a highway in Front Royal, VA. This museum features fossilized dinosaurs that have been converted into items like jewelry and furniture. The paleontological themes of this museum are juxtaposed with the artistic creativity of the sculptures, making for a divergent experience from other museums.
Burwell-Morgan Mill
The Burwell-Morgan Mill is located 13 miles from Front Royal, Virginia. The mill was built in 1811 and features an original water wheel mill used to grind grain into meal for flour. It still uses a "manual" system, meaning that the mill is run by hand. The 18th-century has been the most recent time in which major changes have occurred at this mill.
Patsy Cline's Childhood Home and Grave
Patsy Cline is an American country music singer and songwriter who was born in Winchester, Virginia. When Patsy was only eleven years old, her family moved to Front Royal, Virginia. This is where Patsy's childhood home is located today. The house is 18 miles from the town of Front Royal and it is open for tours year-round.
The grand ole opry's big voice came from a small home in rural Virginia where she was eventually buried. In September 2019, there will be an exhibit in her childhood home and grave. If you are a fan of Patsy Cline or just enjoy learning about history, then this is definitely something you don't want to miss!
Take the Front Royal Walking Tour
If you're looking for a fun way to learn about the history of Front Royal, VA, take the self-guided walking tour! You'll get to see some of the town's most historical sites, including homes and churches.
The Chester Street Way is a piece of original road that you can walk along to see some of the historical homes in town. The Mullan-Trout House belonged to Reverend Trout and is located on Chester Street near 15th street. Take 14 Chester Street, where Mr. Scott lived, for an interesting architectural perspective on the town. The first funeral home on Main Street in Front Royal was operated by Scott.
Enjoy the beauty of Shenandoah River State Park
The Shenandoah River State Park is a scenic spot along the South Fork of the Shenandoah River. The park has 24 miles of trails which are great for biking and hiking. It also offers an overlook with views of Massanutten Mountain and Shenandoah National Park in the distance.
The park is close proximity to Front Royal, VA and it's a short train ride away from the towns of Winchester, Harrisonburg, and Lexington. There are plenty of attractions to explore in your time there!
Relax with a glass at Glen Manor Vineyard & Winery
The Glen Manor Vineyard & Winery is located in Front Royal, VA. Jeff Raymond White manages and runs the vineyard today, a tribute to his great-grandfather Stephen Clifton Lawson who bought the land from William Woodward in 1901. The winery is surrounded by green fields, hills and other natural features. It features a pretty comfortable outdoor seating area with picturesque views.
You can visit the Glen Manor Vineyards to taste their wine or tour the grounds. The company offers a wide variety of wines, including Sauvignon Blancs, Petit Verdot, Cabernet Francs and many more types of wines.
Go fishing at Eastham Park
Eastham Park is a beautiful park in Front Royal, VA that offers a variety of activities and amenities for visitors. The park has a picnic area, outdoor classroom, three athletic fields, and Department of Game and Inland Fisheries Public.
Eastham Park is the place to go in Front Royal if you're looking for something to do. The park has many fun facilities, including an outdoor pool, playgrounds, and batting cages. It's also well maintained and clean, making it a good place for families to visit.
If you're looking for a relaxing environment where you can see wildlife, Sky Line Drive is the place to go. The road is limited to 35 mph, so visitors can enjoy the 75 overlooks without having to worry about speed limits. Deer, black bear, and wild turkey are commonly seen there.
Have a yummy iced coffee at the daily grind
There are plenty of great coffee shops in Front Royal, VA. The Daily Grind is the perfect place to start your day.
Daily Grind has a great selection of gluten-free desserts and drinks for later in the day. You can stop by The Daily Grind for a nice dessert that you may want to pick up for later in the day.
There are plenty of fun things to do in Front Royal, VA. You can visit the Glen Manor Vineyards and Winery, go fishing at Eastham Park, or take a walk down The Chester Street Way. Whether you're into adventures or just exploring a charming town, Front Royal is worth a visit.