Looking for a charming spot near DC with great restaurants and a small-town feel? There's nothing better than the Alexandria neighborhood of Del Ray, one of Northern Virginia's coziest spots.
Here at the best things to do (and eat!) in Del Ray, VA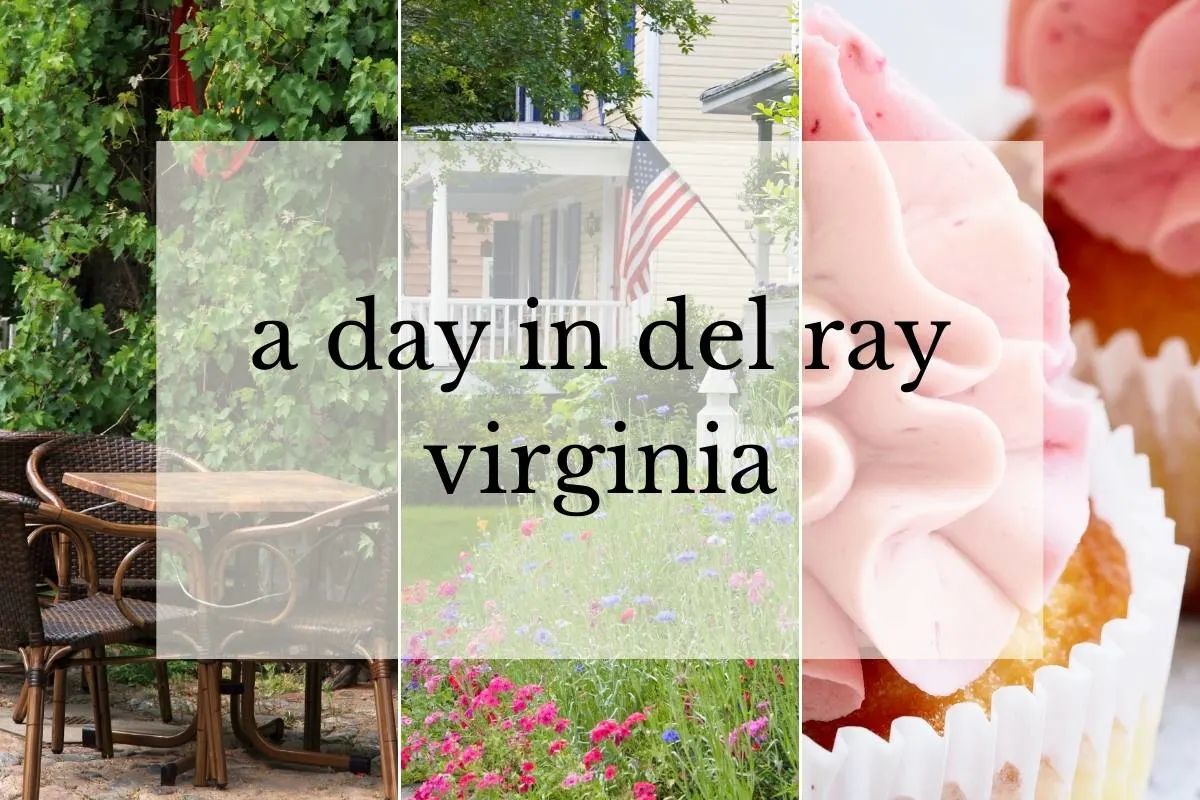 Del Ray is a neighborhood within Alexandria, but it has a totally different feel from Old Town.
The best thing about Del Ray is all the independent shops and restaurants: each one is unique and worth exploring. There isn't much of a tourist scene here because there isn't much "to do" in the sense of museums or historical sites.
Let the surrounding areas have all those. Here are our favorite laid-back spots in this delightful corner of Alexandria.
1. The Del Ray Cafe
In the heart of charming Del Ray, a sophisticated yet laid-back French café offers locals, natural and organic food. It's open for three meals a day and has a busy takeout business as well.
The Del Ray Cafe has a super popular brunch featuring farm-to-table items such as croissant and eggs bendict.
The café takes pride in its community spirit and donors of food to local businesses. If it's your first time here, this cafe is a must-visit.
Visit their website here to see the full menu.
2. Evening Star Cafe
The Evening Star Cafe is a lively neighborhood favorite in Del Ray, Virginia. Since 1997, the Evening Star has been recognized for its friendly atmosphere and convivial atmosphere, and it continues to shine thanks to a fiercely loyal following. The restaurant combines great service with a crowd-pleasing American menu. In the summer, the chefs use produce grown on their rooftop garden.
There are a few distinct "sections" of the evening star cafe. You can sit on their front porch, in the backyard, or enjoy the lounge that has more of a bar-like feel.
3. Del Ray Artisans
Del Ray Artisans is an art gallery with a fun relaxed atmosphere. The gallery looks like a residence and has a very welcoming feel. They have at least ten shows a year and you're welcome even if you're just browsing.
They also offer workshops, camps, and live drawing lessons.
Their hours vary and some event require reservations so be sure to check their website before stopping by.
4. Stomping Ground
Stomping Ground is the closest Del Ray gets to having a bar with live music, but it's still far from rowdy. It hosts talented local artists and musicians most nights of the week, so you can hang out with friends while enjoying some great drinks and good music.
The plant shop offers live plants and flowers for sale
They have great cocktails, specialty coffees, and the most amazing fried chicken. If you're looking for an evening destination, this is a great spot.
5. Pork Barrel BBQ
If you're hungry for hearty American food, head to Pork Barrel BBQ. This place has some of the best barbecue in town.
You can't go wrong by picking one of their specialty sandwiches (our favorite is the brisket), and don't miss the cornbread or homemade potato salad.
6. Swing's Del Ray Coffee Bar
Looking for a great cup of coffee during your visit to Del Ray?
Swing's Del Ray Coffee Bar has fantastic brews, both hot and cold. Swing's is less pretentious than other specialty shops—it doesn't have the intimidating "coffee menu" you see at too many places.
The atmosphere is laid-back and in a light-filled industrial space that still manages to feel warm and inviting.
You can do more than just get a cup of coffee here: the beans are roasted on site and visitors are welcome to poke around.
7. Smallcakes Cupcakes and Creamery
Looking for something sweet?
Smallcakes is the spot. You can find cupcakes, ice cream, and a rotating menu of specials. (Be sure to try our favorite, the lemon drop cupcake!)
They do sometimes run out of particular favors, so if you have your heart set on something, reserve it online ahead of time. (But seriously, get the lemon drop cupcake.)
8. Judy Lowe Neighborhood Park
A small but very sweet park in the heart of Del Ray, if you have little ones, this is the perfect spot. Bring your coffee and cupcake and let the kids climb on log-like play structures, walk along the walls on the edge of the park, or play with other pint-sized park goers.
You'll find tons of kids having fun on the playground so if you have your own little ones, this is a great place to meet up with friends while taking the kiddos out for some fresh air.
9. The Del Ray Farmer's Market
Only open Saturday mornings, this farmer's market is busy, full of offerings, and a place where everyone seems to know everyone else. It's like stepping back in time. Even if you're visiting and have no desire to drive home with a load of vegetables, be sure to stop by and at least snag a jar of honey or jam.
10. Kiskadee Store
A fun yellow exterior hints at the stylish and colorful finds inside this shop. You'll find great customer service and the perfect blend of clothing, accessories, and gifts. This is one of the rare stores that will help you pick out something personalized and give great advice.
(This one is definitely for the ladies.)
More fun and dining nearby:
Enjoy your day trip to Del Ray
Del Ray is a charming neighborhood in Alexandria, VA that offers a variety of restaurants, parks, and coffee shops. It's one of the most desirable places to live in Alexandria, with beautiful homes and friendly neighbors.
You can't go wrong visiting any of these places. Just don't come to Del Ray expecting a day packed full of tourist attractions. Enjoy it for what it is, and you won't be disappointed.